Do you suffer from travel anxiety?
We can help you overcome anxiety and see the world.
This sponsored blog post – the best places to travel to with a baby or toddler in 2022 – is written in collaboration with Original Travel.
When it comes to travelling with babies or toddlers, I firmly believe that parents fall into one of two camps.
Firstly, there are those parents who think nothing of travelling with a newborn or small children. Artfully slotting their babies into effortlessly arranged slings, they laugh away fears of deviated schedules and instead board their flight with all the confidence and optimism of a fresh-faced gap year student.
There is then the second camp – my own, preferred, camp. This camp agonise over destinations; unearthing calculators from desk drawers to figure out time differences, adjusted bedtimes and altered nap schedules. Even once a destination has been decided upon, the anxiety doesn't let up.
Instead, this camp boards their flight like the condemned: lines of ashen and expressionless faces, clutching bags of snack-sized raisins and portfolios of electronic devices.
Of course, I desperately wish I could channel the laid back attitude of the first camp. Travel is something I love – something I'm not sure I could live without. Making it work alongside motherhood is therefore something I want to do; will have to do. I just need to find a way, or ideally, a travel company, that can help make this transition easier.
Thankfully, that's where Original Travel come in.
Curating tailor-made holidays for adventurers of all shapes and sizes, Original Travel not only take the stress out of organising a trip, but offer a whole host of additional services that make travelling (especially with a baby or toddler) a veritable breeze.
Having recently spoken to their team, and in desperate need of some inspiration (and reassurance), Original Travel were more than happy to put together a list of some of the best places to travel to with a baby or toddler in 2022.
Destinations to suit even the most foot-loose and fancy-free of families, and of course, life's more neurotic sorts, we wanted to share this list in the hope of inspiring you to pack your bags, scoop up your babies and head off on a much needed post-pandemic adventure.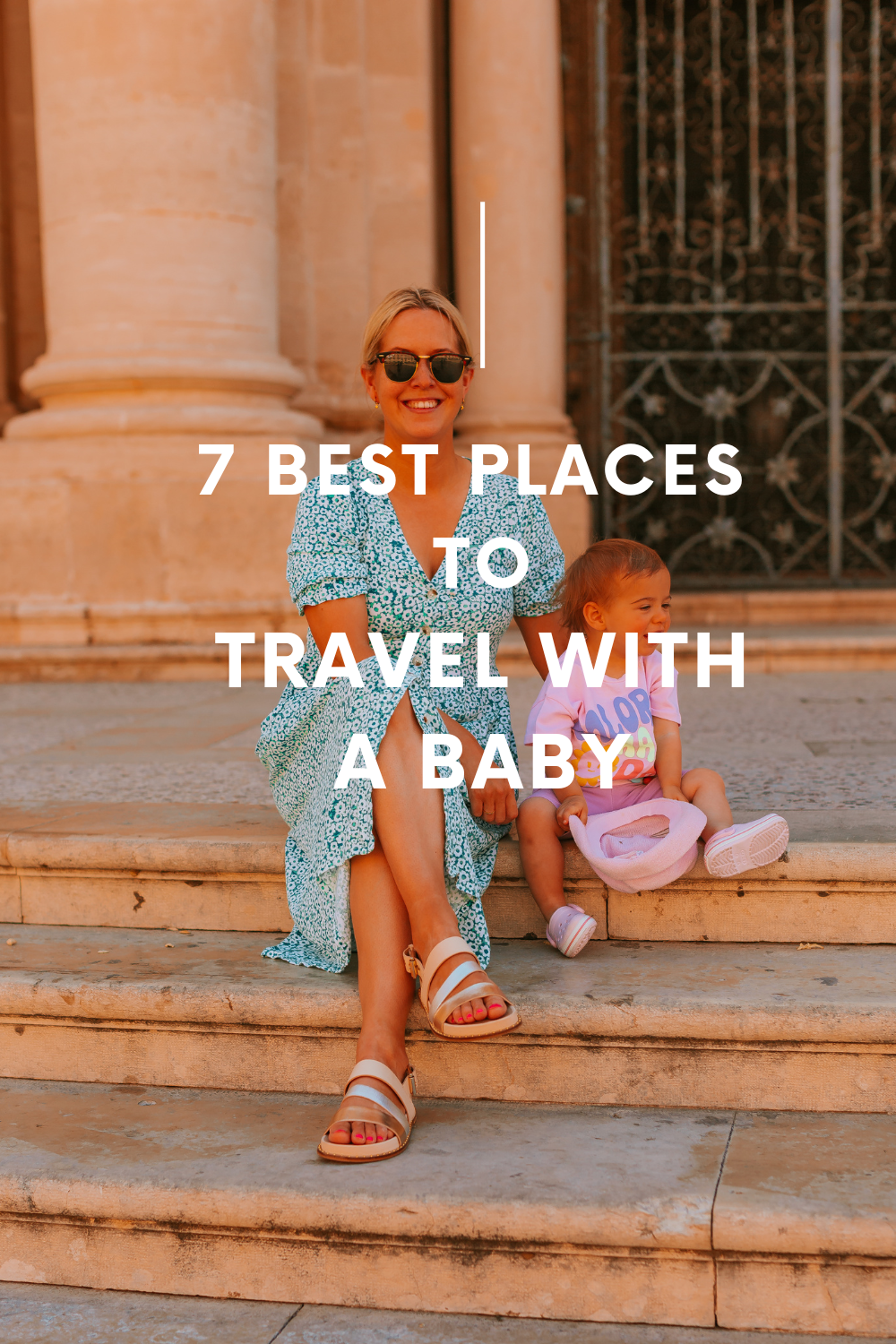 The Best Places to Travel with a Baby or Toddler to in 2022
We have graded the destinations below according to ease and distance, providing a location for every type of parent (from the uptight to the adventurous).
1. Portugal (Easy)
Algarve
Prior to having our babies, we were already a little starry-eyed when it came to Portugal.
Having spent many of those blissful, pre-Covid days exploring the Algarve, we fell in love with its dramatic, coastal beauty and sleepy, white-washed towns.
Reflecting on these adventures, it's probably Lagos – a laid-back, surfer-inspired destination – that would make for the best holidays with newborns.
Indeed, Praia do Camilo is ideal for both paddling and swimming, thanks to its secluded location and calm, shallow waters. Likewise, Praia Dona Ana is an easy walk from Lagos itself; filled with small restaurants and plenty of space for children to run and play. There is even a miniature tourist train that leaves Lagos' marina every hour, which will take you to both beaches and back (tickets cost €3.50 and include 7 stops).
For a change of scene, Lagos is also a short drive from some of the Algarve's prettiest towns, including Tavira and Vilamoura.
Best Activities to do with a Baby or Toddler: head to the beach or enjoy Lagos' marina, which offers a hoard of family fun activities (with dolphin tours aplenty). Parque Aventura Lagos, just five minutes from Lagos, is also incredibly popular with families; offering everything from paintball to high ropes.
When to Visit: alongside the summer months, April and May are lovely times to visit the Algarve, for slightly milder temperatures and fewer people.
Original Travel's Tour Ideas: Family Fun in the Sun.
Lisbon
For those wishing to swap beaches for winding, city streets, then the tram-filled city of Lisbon is your answer.
Easily one of the best places to travel to with a baby or toddler in 2022, Lisbon is a vision of yellow trams, arty cafes, steaming custards tarts and impressive coastal views. It's also incredibly child friendly.
From Lisbon, you can also easily reach some of Portugal's most magical towns. Jump on a tram and you can escape to the sandy haven of Cascais, a coastal town just 20 minutes away. Alternatively, you can head to the magical, fairytale palace of Sintra. Candy coloured and boasting soaring turrets, this palace is a fantastic spot to explore with children.
Best Activities to do with a Baby or Toddler: for public transport obsessed toddlers, Lisbon's funiculars will, alone, provide a stellar source of entertainment. In particular, be sure to hop on Lisbon's much loved Route 28 tram, to take in all of the city's sights.
Lisbon's Aquarium (Oceanario Lisboa) is also a beautiful spot to visit with a toddler or baby, and offers its very own 'concert for babies' (very refined).
When to Visit: Lisbon is a city to be visited all year round, but makes for an ideal spring or autumn break.
Original Travel's Tour Ideas: Lisbon City Break.
2. Italy (Easy)
With one of us having married in Tuscany, it's been our dream to take our babies back to Italy in 2022.
An incredibly child friendly country, boasting diverse cities, beautiful beaches, soaring mountains and rolling countryside, Italy offers a smorgasbord of adventures for families.
Tuscany
With sweeping hills and spacious villas boasting private swimming pools and self-catering amenities, the Tuscan countryside is the ideal place to base yourself when travelling with a baby or toddler. Here you can not only relax, but enjoy easy access to the region's achingly beautiful towns, including stunning Pienza, Montepulciano and San Gimignano.
Best Activities to do with a Baby or Toddler: thanks to its surrounding countryside, Tuscany demands that you hire a bike (with accompanying baby or toddler seat) and set off on two wheels for a biking adventure. don't forget to pack a picnic.
Original Travel's Tour Ideas: A Luxury Family Trip to Florence and Tuscany. 
When To Visit: Tuscany doesn't tend to get as hot as other parts of Italy during the summer months and is therefore an ideal destination to visit during the holidays.
Puglia
If you're looking for a traditional beach holiday in Italy, then Puglia is the place to go. A region decorated with white cone topped 'trulli', 500 miles of coastline and copious amounts of gelato, exploring Puglia makes for a fantastic family holiday. If there's one spot you must definitely visit, it's the Trulli Houses in Alberobello – 14th century homes that are also available as holiday rentals.
Best Activities to do with a Baby or Toddler: Alongside soaking up Puglia's unique landscape, there are also plenty of baby and toddler friendly activities throughout the area. Fasana Zoo offers its own take on an 'African safari', whilst the pretty seaside town of Polignano al Mare makes for a lovely day trip.
Original Travel's Tour Ideas: Pint-sized Puglia. 
When To Visit: Puglia can get very hot during the summer months and so is best visited during early spring or autumn.
Sicily
Last summer, we took Olive back to one of our favourite Italian destinations: Sicily as our first holiday abroad with a toddler. We returned to the incredibly beautiful Syracuse, staying in a villa just outside of this ancient city. An island brimming with history, culture, sparkling turquoise seas and plenty of Sicilian Lemon Granita, Sicily is a destination that'll please both parents and children.
While we were visiting Syracuse, we took a day trip to the wonderful Noto. Olive loved the colourful steps of the city and exploring its cobbled streets. At just under an hour's drive from Syracuse, it made for an easy day trip with a toddler.
Best Activities to do with a Baby or Toddler: Why not couple amusing your toddler with a hint culture, and head to one of Sicily's traditional puppet theatres? This traditional puppet theatre, based in Syracuse, offers the chance to experience a traditional Sicilian puppet show, complete with handsome knights and damsels in distress.
Original Travel's Tour Ideas: Sicily Road Trip.
3. Spain (Andalucía) with a toddler (Easy)
I have recently returned from a week exploring Seville with a toddler, and now firmly believe it makes for one of the best toddler holidays abroad. Despite it being the end of December, the sun shone brightly and averaged 18-22 degrees every day; ideal weather for travel with a baby or toddler.
Seville is particularly toddler friendly, with big parks, an aquarium, a mini theme park and plenty of space to run around under orange groves. During our stay, we also took two day trips by train to Córdoba and Jerez de la Frontera. Both were incredibly easy to achieve with a toddler, and Olive adored exploring both cities under the warm winter sun.
4. Morocco (Easy-Medium)
For the slightly more adventurous parents amongst you, Morocco would certainly make for one of the best places to travel to with a baby or toddler in 2022. Far enough away to feel positively exotic, yet only 3 hours by plane, Morocco allows you to tick off a new continent, without the long haul flight or dose of jet lag.
Having been to Morocco multiple times and having seen many babies and toddlers amongst the tourists, we've been inspired to take our own toddlers here one day.
Marrakech
The ideal winter escape, Marrakech guarantees sun, culture, delicious food and a real sense of adventure. A city of sprawling souks, vibrant colours and family friendly hotels, Marrakech is a brilliant alternative to the more traditional European city breaks.
For those looking to add an extra dose adventure to their holiday, then Marrakech is also surrounded by the towering Atlas mountains and the expansive Agafay Desert. For an adventure loving toddler, we would highly recommend a magical overnight stay at the luxury desert camp – La Pause.  Offering, camel rides, dune surfing and a night in a canopy tent, a night here is an unforgettable one.
Best Activities to do with a Baby or Toddler: a sensory overload for babies or toddlers, exploring the bustling souks of Marrakech is an ideal activity for children (and adults).
Alternatively, and whilst Marrakech's old town offers a real sense of history and culture, its new town boasts all the facilities and attractions you'd expect to find at any other holiday destination. Oasiria waterpark, for example, comes with acres of manicured gardens, 8 swimming pools and over 20 attractions; making it a fantastic family day.
Essaouira
For those looking for some sand and sea, then the Moroccan coastal town of Essaouira is an ideal option for those traveling with a baby and toddler.  A three-hour car journey from Marrakech, this is an easy city to visit and can be combined with Marrakech to create a multi-centre trip.
Filled with sea air and sandy beaches, Essaouira makes for a more chilled and laid-back holiday, whilst still offering the winding souks and delicious, fresh cuisine you'd expect from a trip to Morocco.
Best Activities to do with a Baby or Toddler: head to the Kasbah to let your little adventurer explore this breezy fortification (Game of Thrones was filmed here). The colourful medina is also an exciting labyrinth for an inquisitive mind to explore.
Original Travel's Tour Ideas: Moroccan Family Adventure. 
When To Visit: Morocco is best visited September, October, March and April, when it is still wonderfully warm, but not sweltering.
5. United Arab Emirates (Abu Dhabi) (Easy- Medium)
For families looking for adventures a little further afield, Abu Dhabi is definitely one of the best places to travel to with a baby or toddler in 2022.
A 7 hour flight from London, Abu Dhabi is a medium haul destination and therefore absolutely achievable for a family getaway. When we visited Abu Dhabi, we flew overnight with Emirates, which would work well with children –  arriving early the next morning ready for the day.
Abu Dhabi is overflowing with unashamedly luxurious, yet incredibly family friendly, hotels with a private sandy beach. Geared towards offering everything a family might need when visiting, a trip here is usually of the all inclusive kind; offering fuss free relaxation and high end accommodation.
However, and outside of the hotels, there are still plenty of sights to see in Abu Dhabi. In fact, we would argue that compared to its neighbour, Dubai, it is a fantastically cultural destination. Indeed, why not leave the waterparks behind and let your toddler roam the breath taking Louvre Abu Dhabi, or the Presidential Palace, Qasr Al Watan?
Once you've had your cultural fix, we would next recommend a desert escape, staying at the phenomenal Al Wathba resort.
We were treated to a night at this luxury retreat during our own visit to Abu Dhabi, staying in a family bungalow that came complete with private pool and even a room and kitchen for a nanny (!). The resort also held child-friendly activities, including a Falcon show in the evening.
Best Activities to do with a Baby or Toddler: enjoy Abu Dhabi's famous Corniche beach, or head to Yas Island, where you'll find an enormous range of family-friendly activities, including an impressive water park.
Original Travel's Tour Ideas: Travel from Dubai to Oman.
When To Visit: October to April are the best times to visit Abu Dhabi, before the summer heat really peaks.
6. Finnish Lapland (Easy- Medium)
If there's one place to tick off on a toddler (and adult's) bucket list, it's a winter trip to Lapland.
A land of cotton candy skies, mystical northern lights, ice hotels and snowy white reindeer, a visit to Lapland is a once in a lifetime trip for both you and your little companions.
We were fortunate enough to visit Finnish Lapland in 2020 and were utterly captivated by the experience – regularly commenting on how perfect the holiday would be for children and families.
Surprisingly, it is an incredibly easy destination to reach. A direct flight from London Gatwick operates (during the winter months) to Ivalo, which lies right at the heart of the Finnish Arctic Circle. We were surprised to discover that the flight was just over 3 hours long; making it relatively painless if travelling with a baby or toddler. From Ivalo, it is then just a 20 minute transfer to Saariselkä, where the real magic begins.
Best Activities to do with a Baby or Toddler: there are almost too many to list here, but just a few ideas include: reindeer rides, tobogganing, cross country skiing and northern lights spotting. Many hotels in Saariselka also provide brilliant family friendly resorts over the festive months, including gingerbread making with Mrs Claus.
Original Travel's Tour Ideas: A Finnish Family Christmas.
When To Visit: November to February, to truly embrace Lapland's Christmas magic.
7. America's Pacific North West (Medium – Hard)
In 2019, we headed off on the road trip of a lifetime: travelling from Seattle to San Francisco as we explored America's beautiful Pacific North West.
Although baby free at the time, it is a road trip you could very easily enjoy with a little one. Alternatively, and if you don't have the time (or patience) to travel the entire length of the coast, you could opt to visit just a few of the locations en route, such as atmospheric Seattle, laid back Portland or the dramatic, ancient Redwoods.
Personally, I would head back to Seattle in an instant – taking Henry with me. Filled with fantastic museums (many kid friendly) and just a stone's throw from some incredible hikes and scenery, it's a city that appeals to both adults and children. Seattle's Children's Museum, for example, boasts a whopping 18,000 square feet of play space, including slides, soft play, an arts and crafts centre and immersive play areas, including a mock 'Alps' setting.
Best Activities to do with a Baby or Toddler: The Oregon coast, whilst perhaps eclipsed by the sunnier Californian coast, is the perfect place to explore with a baby or toddler. Windswept and wild, with mountainous sand dunes and vast expanses of beach to roam, this piece of coastline is both cheaper and less crowded to visit than its southerly neighbour.
Original Travel's Tour Ideas: The Grand Tour, an Iconic US Road Trip.
When To Visit: When we visited the Pacific North West, we decided to skip the summer crowds and instead visit as autumn fell. The result was crimson red forests and snow-peaked mountains, coupled with cosy hot chocolates and cold, crisp mornings.
Best Places to Travel to With a Baby or Toddler 2022: Perks of Travelling with Original Travel
Original Travel offer some incredibly helpful services, all of which make travelling with a baby or a toddler that little bit easier.
Airport Lounges
One of the best offerings from Original Travel is free access to airport lounges, even when flying economy. As huge fans of airpot lounges anyway – offering a place to escape the hustle and bustle of the airport – this is an ideal service when travelling with a baby or toddler.  Even better, a member of staff will meet you at check-in, to fast track you through the often stressful security queues.
Expert Hotel Knowledge
Attempting to keep your baby or toddler in a routine when on holiday can be one of the biggest headaches for parents (particularly for the neurotic sorts, such as ourselves). Fortunately, Original Travel can make keeping your baby on a rough schedule much easier, by recommending hotels that include services such as toddler dining times and babysitting services.
Concierge Service
Both before and during your holiday, Original Travel offer a Concierge Service to ensure your trip runs as smoothly as possible. An extra pair of hands to advise on the best restaurant in town, or to book that last minute activity, Original Travel are like the nanny you never had.
We hope that this list of the best places to travel to with a baby or toddler in 2022 was helpful. If you have any other suggestions, let us know in the comment section below.
Pin it: Best Places to Travel with a Baby or Toddler in 2023