Do you suffer from travel anxiety?
We can help you overcome anxiety and see the world.
This guide to the best day trip from Gdansk contains affiliate links.
Prior to our own short break to Gdansk we were also keen to plan some day trips from Gdansk.
Aware that this beautiful city sits tantalisingly close to the blue waters of the Polish coast, and having heard rumours about the existence of some spectacular Gdansk beaches, we began to do a little research.
It didn't take long before we came across Sopot – one of Poland's most popular beach resorts, lying just a short (and incredibly cheap) train journey from Gdansk.
Part of the original Tri-City (which is made up of Gdansk, Sopot and Gdynia), Sopot is an eclectic blend of white handsome villas, vast stretches of golden beach and cheerful holiday crowds.
One of Poland's original spa towns, Sopot boasts beautiful 100 year old architecture, a famous pier (or 'Molo') – said to be the longest wooden pier in Europe – a smattering of luxury hotels and handsome tree-lined boulevards.
Our own day trip to Sopot was a lovely one. We hired a beach cabana and wiled away a warm June afternoon on its soft sandy beaches. We also explored Sopot's quieter, flower-lined streets and enjoyed a fantastic seafood lunch, before walking Sopot's famous Pier – ice-creams in hand.
Definitely one of the best day trips from Gdansk, below is a summary of our time in Sopot: including details on the train from Gdansk to Sopot, things to do in Sopot and where to find the best bar in town.

How Do I Get from Gdansk to Sopot?
Lying just north of Gdansk, a mere 21 miles away, it's incredible easy to get to Sopot from Gdansk.
Trains to Sopot from Gdansk
By far the easiest option is to take the train from Gdansk to Sopot. This is what we did and it was a complete breeze.
Simply walk to Gdansk train station (or get an Uber, as the walk on a summer's day did feel a little long) and then hop on the next available train. All trains between Gdansk and Gdynia stop in Sopot, with the SKM commuter trains running every 5-10 minutes (at peak times).
Tickets are incredibly cheap – around 3.80zł (or 70p), which is another reason why the train to Sopot from Gdansk is such a good idea.
In total, the train took around 10 minutes and was a really easy journey. From Sopot train station, just follow the crowds down towards the seafront, with the Pier sitting just 1km away.
Driving Gdansk to Sopot
If you happen to have a hire car, you can easily drive from Gdansk to Sopot – with the journey taking around 20 minutes. There is free parking in Sopot along the quieter, residential streets, or you can pay for metered parking along the main sea front. Thankfully, paid parking is very cheap – with five hours parking setting you back about £1.
Alternatively, get an Uber from Gdansk to Sopot (they're much cheaper than taxis and easier to organise).
Bus from Gdansk to Sopot
There are regular buses from Gdansk to Sopot, taking around 30 minutes and departing from Gdansk bus station.
However, buses seem to be much more expensive than the train (around £4) and take longer – so I'd definitely recommend you opt for the train over the bus.
Things to do in Sopot – Poland's Riviera
You've finally arrived in Sopot, ready for your day trip from Gdansk, so what next? What is there to do in Sopot?
Wildly popular in summer, there are plenty of things to do in Sopot – whether that be lying motionless on the beach or exploring some of the town's eclectic architecture.
Wandering around Sopot, you'll notice that a real blend of people visit this Baltic resort – from elderly couples wandering hand-in-hand, to newly monied couples roaring past in Ferraris and Porsches. On the beach you'll see plenty of families, covered in ice-cream and sand, alongside sun-worshippers lying under pinstriped sunshades. It's a fantastic place to come and people watch.
Below are what we think are (some of the other) best things to do in Sopot, Poland.

1. Stroll Sopot's Beautiful Beach
One thing you perhaps aren't expecting when researching day trips from Gdansk, is the fact that after just a ten minute train ride, you can find yourself on a soft, golden shoreline.
This is exactly what Sopot offers – particularly during those warm summer months when the Baltic Coast shimmers and sparkles. Indeed, if you're wondering if Sopot, Poland, is worth visiting then yes, absolutely. I'd definitely recommend visiting during the area's 'golden autumn' (złota jesień) in September and October, when the crowds have thinned and the trees are turning a crimson red.
Sopot beach spans several miles and is protected by an established dune system, filled with swaying grasses and wild flowers. Connecting these dune systems – and beaches – is a long stretch of boardwalk, which meanders through oak and chestnut trees and includes 34 separate entrances to this 4km stretch of beach.
Grab an ice-cream and your camera, and enjoy a walk through these dunes, relaxing into life on the Polish riviera. Alternatively, if you don't want to walk, you can hire a bike instead.
2. Book a Cabana on the Beach (Sopot's Beach Clubs)
Sopot Beach is divided into several sections.
There are private sections, belonging to the luxury hotels that sit along Sopot's waterfront (e.g.  the Sheraton Sopot Hotel), and then there are large sections of public beach – open to all visitors.
These public beaches are absolutely fine, but offer just the basic amenities (i.e. public toilets and access to, well – sand and the sea). You'll therefore need to bring your own towels and sunshades (if you want them), and head to the nearby kiosks for food and drink.
During our own day trip from Gdansk to Sopot, we decided to splurge a little: using the amenities of one of Sopot's many private beach clubs, provided by the nearby hotels.
Handily, some of these clubs are open to paying visitors (not just hotel guests) and you can pay on arrival (just find the attendants). We paid £15 each for our own cabana at the Sofitel Grand Sopot and in return got 'table service (i.e. someone brought us our drinks), free access to changing rooms and showers. For an entire day, we don't think this was a bad price at all.
As a result, we spent the day overlooking Sopot beach, Aperol Spritz (or two) in hand. It was the most perfect way to spend a day trip from Gdansk.
For those of you wondering if you can swim at Sopot, the answer is absolutely yes. There are 10 guarded bathing areas, which operate July – August. They are located between entrances 4 and 33 on the beach.
3. Visit Sopot Pier
Often topping lists of things to do in Sopot is a visit to its immensely popular wooden pier.
During our own visit to Sopot, the queue to access the pier was lengthy (this was June). This is because you need to buy a ticket to walk the pier during the summer months (May – September) – costing 9/4,50zł each.
Once through the gates, you're welcome to walk the full length of the pier – all 511.5 metres of it. Reaching out into the waters of Gdansk Bay, this pier is a slightly more refined affair than those you might find in Brighton or Weston-Super-Mare. At the start of the pier you'll find some cafes and little eateries, but this is not a pier filled with rides or kiosks.
It is, quite simply, a walk – a place to take in fresh air and enjoy views of Sopot's coastline.
4. Enjoy a Seafood Lunch
One of the highlights of our day trip from Gdansk, was our delicious seafood lunch in Sopot.
For this, we headed to the celebrated Bulaj – claimed to be one of the best restaurants in Northern Poland (mains start at around £10). Led by chef, Artur Moroz, here guests can sample freshly caught fish, alongside traditional dishes of rabbit and duck.
To find this restaurant, look for the number 12 beach entrance.
If you're looking for other places to eat in Sopot, why not try one of the town's many milk bars. We loved eating at these during our time in Gdansk, thanks to their tasty traditional Polish fare and cheap prices. One great milk bar (or Bar Mleczny) in Sopot is Bar Bursztyn – featuring pizzas (alongside the expected dumplings).
5. Visit Sopot's Crooked House
Regularly cited as one of the best things to do in Sopot is a visit to its famous 'Crooked House' (or Krzywy Domek, as it's also known) .
Now, I'll admit, during our own day trip to Sopot from Gdansk, I found this house a little underwhelming. Now home to Sopot's resident Costa Coffee, this warped house – designed by architects Szotynscy & Zaleski – is said to be inspired by the children's book illustrations of Jan Szancer.
I'll admit, the house is fun to look at – but that's perhaps about it. There's nothing to see on the inside and it's somewhat unceremoniously surrounded by businesses and chain shops.
However, and given that you'll walk past it on your stroll from Sopot train station, it's worth a quick peek at.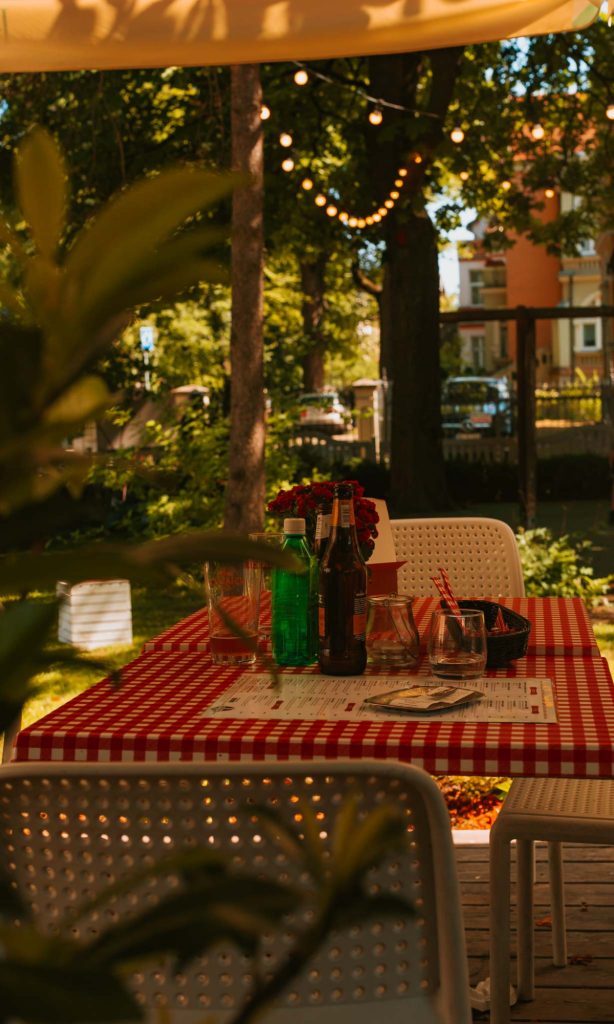 6. Enjoy the Best Cafes in Sopot
One of my favourite ways to get to know a destination is to sample its coffee-shop culture; something I also enjoyed while in Sopot.
One of our favourite spots was the arty Cafe Kultura. Situated away from the crowds, this cosy cafe was filled with art work and had a lovely atmosphere, alongside a great menu (we loved their iced coffees). For a rustic spot, head to Las – offering a vegan menu and speciality coffees. The interior has a surprisingly downtown LA sort of feel and serves up a really fantastic cup of Joe.
7. Explore Sopot's Pretty Neighbourhoods
While Sopot's main strip – the Monte Cassino – is no doubt the most popular drag in town, walk away from here and you'll find some much prettier parts of Sopot.
On our own day trip from Gdansk, we took a wander around Sopot's quieter streets – down its boardwalk beach paths and up into its various neighbourhoods.
It's here that Sopot really comes into its own. Its beautiful 100-year old spa town architecture  suddenly reveals itself – grand villas covered in wild roses, leafy boulevards and handsome mansions hidden behind mighty oak trees.
In terms of the most beautiful buildings in Sopot, be sure to visit Villa Claaszena (ul. J. Poniatowski 8), Berger Villa (ul. Obrońców Westerplatte 24), the residence of Fridrich Wilhelm Juncke (ul. Goyki 3), the famous Grand Hotel Sopot (Powstańców Warszawy 12/14) and the impossibly cute Dworek Sierakowskich (ul. Józef Czyżewski 12).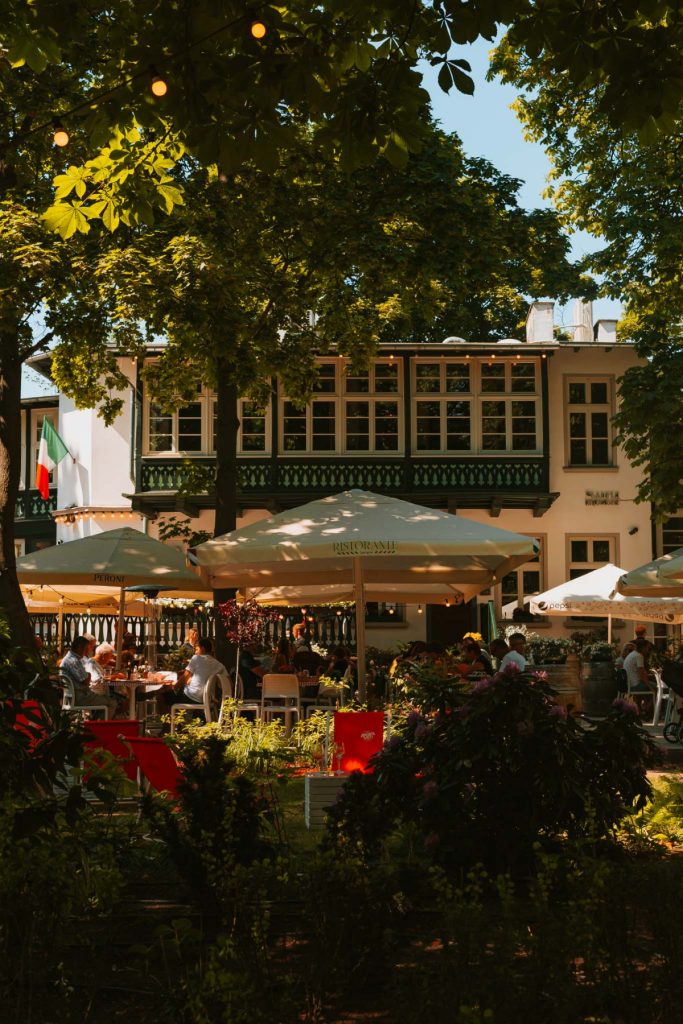 8. Enjoy a Spa Visit
Founded as a spa town thanks to its mineral rich water, today Sopot still celebrates this past – offering visitors the chance to indulge in a spa treatment or two.
Although a little different to perhaps the original bathing establishments that would have operated in Sopot, today these spas are luxury affairs: places to come when the heavens open and you're in the mood for some r'n'r.
By far the best rated spa in Sopot is Oxo Luxury Spa, part of the Boutique Apartments Sopot complex. Likewise, the spa at the Sheraton Hotel in Sopot also comes highly rated.
9. Visit an Inhalation Mushroom
I know, I too was completely baffled when I read about the inhalation mushrooms dotted around Sopot. However, often cited as one of the best things to do in Sopot, I decided we better give them a go.
In short, these 'mushrooms' can be traced back to Sopot's origins as a spa and health resort. Built upon the healing waters of the St Adalbert's Spring (Sw. Wojciecha), the water here is high in bromide and iodine, with large quantities of magnesium potassium and potassium iodine trapped inside.
As well as diluting this water so that it's drinkable and encouraging people to bathe in it, throughout the town are dome-shaped mushrooms. Here, visitors are encouraged to come and breathe in the iodine-rich air that drifts up from the spring below – improving lung and respiratory health.
These mushrooms can be found in the Southern Park, next to the Southern Baths and in front of the entrance to the Balneology House.
If you want to try Sopot's magic water during your day trip from Gdansk, you can sample a cup in the café on the third floor of the Sopot Tourism Association (inside the Dom Zdrojowy or Spa House).
10. A Night at the Legendary Spatif
Although Sopot is the picture of family-friendly bliss during the daytime, come evening time and the town comes alive with revellers and party-goers.
One particular institution that you must head to is Spatif – the best bar in Sopot. Filled with eclectic vintage furniture and kitsch decor, Spatif is an incredibly popular hangout and gets pretty rowdy as the night goes on.
If you're looking for a night out after your day trip from Gdansk, then this is the place to come.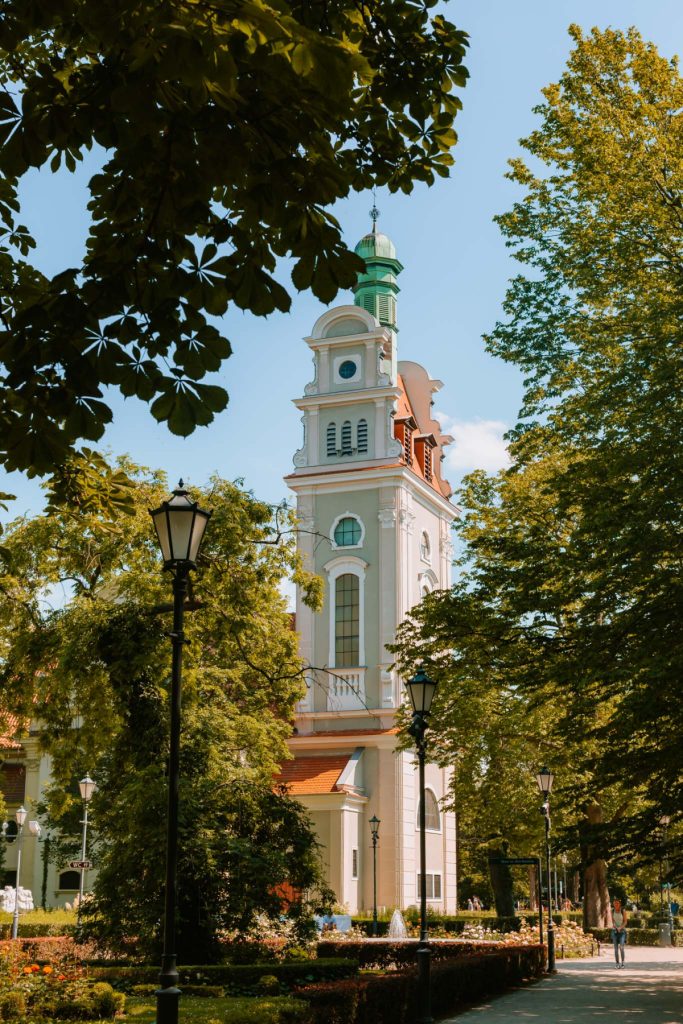 11. Visit the Very Photogenic Fishing Harbour
In terms of the prettiest places in Sopot, the fishing harbour is one.
A small beach filled with incredibly colourful fishing boats – painted a rainbow of colours – this part of Sopot (especially on a sunny day) is a picturesque place to visit. Here you can also grab some fresh fish and chips, or traditional smoked fish, and enjoy the sound of the waves lapping at the coastline.
This is a far quieter part of town than where you'll find the pier and it has an almost Mediterranean feel to it.
An afternoon here would be the perfect way to end a day trip from Gdansk.