We were fortunate enough to experience the best hotels in Saariselkä while on a paid press trip with Inghams. All opinions, however, are our own.
Planning a trip to Finnish Lapland can be an exciting, yet slightly overwhelming, experience.
A wild, wintery wilderness featuring more reindeer than people, our first concern was whether hotels even existed in this remote region. With premonitions of (our own) poorly made igloos and icy log cabins, we made the assumption that accommodation here might be – at best – basic.
Thankfully, we were proven wrong entirely.
Having been fortunate enough to experience not one, but three hotels, whilst staying in Saariselkä, we thought it might be useful to put together a guide to the surprisingly luxury lodges on offer. Far from draughty, stripped-back dwellings, the hotels we experienced here were luxurious, cosy and utterly magical.
In fact, it was perhaps these hotels that made our trip to Finnish Lapland so special. From roaring fires to hearty food, authentic saunas to glass aurora cabins, the hotels in Saariselkä made our trip to the Arctic an unforgettable one.
Where is Saariselkä?
Saariselkä resort is the northernmost developed Lapland resort in Finland, located 260km north of the Arctic Circle.
Just a short 30 minute drive (30km) from Ivalo Airport, this beautiful spot is incredibly easy to get to and retains a quieter, more authentic feel, than some of Lapland's other resorts.
Surrounded by the Urho Kekkonen National Park, Saariselkä is small and compact, with all hotels within a 10 minute drive of one another. There's also a well-stocked supermarket, as well as a ski run, restaurant and coffee shop, located at the top of Kaunispää Mountain (tip: this is also a great place to spot those elusive Northern Lights).
Do I Need a Car in Saariselkä?
Thankfully, there is little need for a car when visiting Saariselkä. The ski slope, hiking trails, saunas and restaurants are all within walking distance of most hotels, and transfers are readily available to and from the airport (or can be arranged by your booking provider, such as Inghams).
The Best Hotels in Saariselkä
Wilderness Hotel Muotka
Typical price: £150 per night (dependent on the season)
Best for: friends or couples looking for an authentic, relaxed experience or evening drinks by the fire.
Arriving as the polar sun began to set across the Finnish Arctic, our first hotel in Saariselkä was the enticingly cosy Wilderness Hotel Muotka.
A family-run enterprise, Muotka has recently been lovingly restored – transforming the small resort into a warm, welcoming and incredibly comfortable Arctic retreat.
Hurrying in from the cold with our luggage and many layers of clothing, we discovered a warm haven in the hotel's main lodge: complete with roaring fire, cosy armchairs, glowing candles and a busy bar and restaurant.
This was where we would spend most of our downtime: curling up by the fire with a book and a glass of wine.
Note: Wifi is only available in the main lodge (this is intentional to ensure guests truly embrace their remote surroundings). For those in a panic, 4G is readily available in the rooms, although switching off from all things digital only enhances your stay here.
Aurora Alert
Before leaving the main lodge, we were each given an intriguing looking alarm; the type given in fast food restaurants. Carefully inspecting the little device, we were told that these handy gadgets are actually used to alert guests when the Northern Lights appear.
Entranced by this alarm (which stay on high alert until 1am), I carefully tucked it in my pocket; ready to spring into action if it sounded. It was small touches like these that really added to our stay at Wilderness Hotel Muotka.
Note: the Aurora Alert comes at an additional price and can be secured online before your arrival.
Food at the Wilderness Hotel Muotka 
The hotel offers a traditional Lappish restaurant, with warming, hearty dishes such as reindeer stew, fresh fish and deliciously sweet apple crumble. Locally sourced, all food is presented in a buffet style, with plenty of dishes to suit vegetarian and gluten intolerant guests.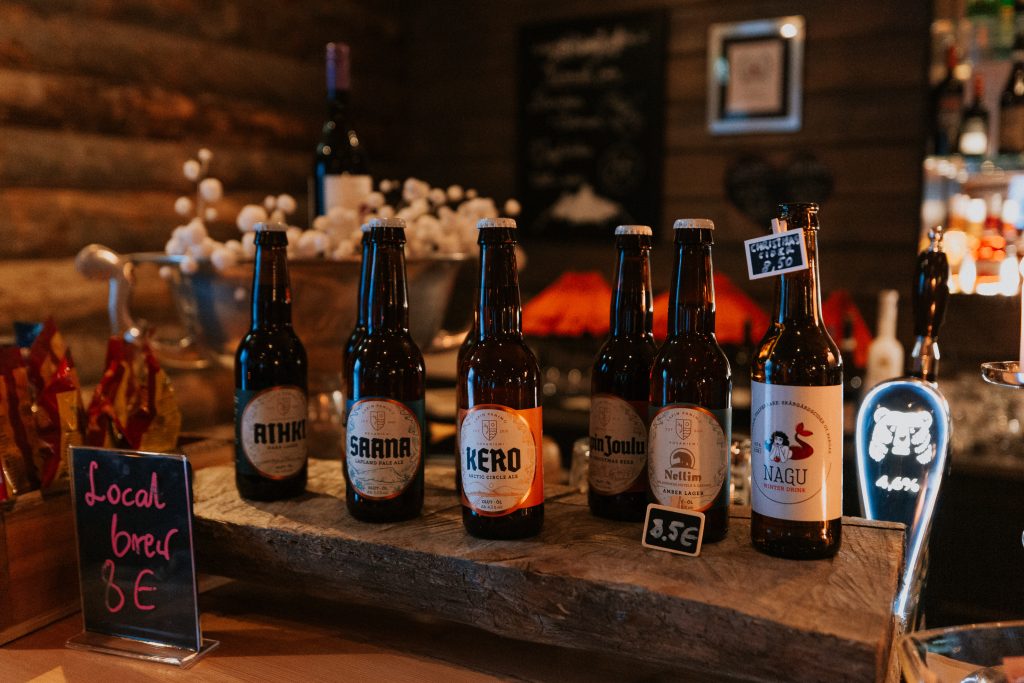 The hotel offers full board (breakfast, lunch and dinner) and half-board (breakfast and dinner) options, as well as a bar for snacks and drinks, which are served throughout the day.
For those looking to sample local drinks, a traditional Finnish 'long drink' of vodka and berries is recommended by the hotel's bar staff. Be careful: they're so tasty it's easy to drink more than you think.
Clothing Hire
Muotka offer a comprehensive range of clothing and accessories that can be rented by guests. We made full use of this: hiring large boiler suits, snow boots, balaclavas and snow gloves for the duration of our stay.
For those booking the hotel's winter packages, clothing hire comes free of charge.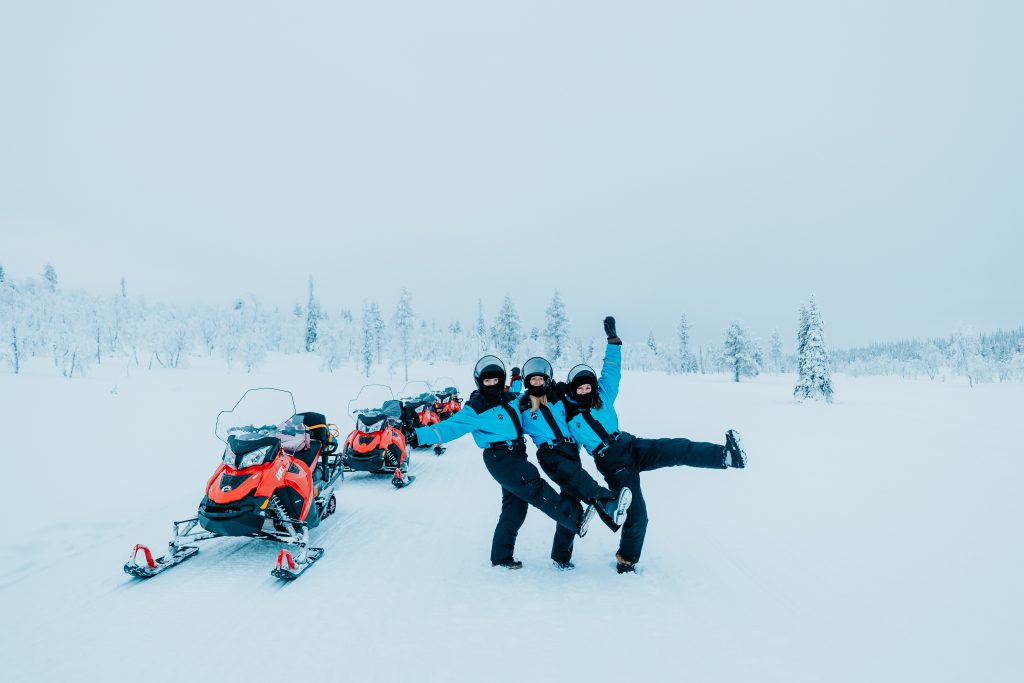 Accommodation at the Wilderness Hotel Muotka
During our stay at the Wilderness Hotel Muotka, we stayed in a Superior Room with Sauna.
That's right – our own private sauna.
After an early start at Gatwick airport, being able to relax in our private sauna was utter bliss. For those looking for an affordable treat, this room comes highly recommended.
Aside from the sauna, the first thing we noticed in our room was the complete silence that enveloped us like a blanket. Indeed, to help you switch off further, all rooms are TV free.
As someone who lives by a busy road, falling asleep to nothing but the sound of a nearby owl was a real treat and a reminder of just how rare silence is these days.
The hotel offers a large variety of rooms and lodges to suit most budgets. These range from simple Wilderness Rooms through to Riverside Cabins and Aurora Cabins.
You can browse the full range of accommodation offered at Wilderness Hotel Muotka here.
The Sauna at Wilderness Hotel Muotka
The highlight of our stay at Muotka was our traditional sauna and ice pool experience. The hotel offers private sauna bookings for all its guests, so you can enjoy the rustic wood smoked sauna in peace with your friends and family (just remember: naked is best!)
After a long day of snowmobiling, we headed down to the sauna for a little bit of group relaxation. Entering through a small door, we were met with a candlelit dressing area, where we quickly undressed; the cold already creeping in.
Opening an even smaller door, we were greeted by a large two-story sauna; the heat and delicious smell of wood smoke luring us in.
Just a few minutes later – and having reached the upper limits of sweatiness – we braced ourselves for the moment we had all been waiting for. Swinging open the sauna door, we gingerly picked our way down the icy path towards the dark waters that were waiting for us.
Screaming, swearing and with our teeth chattering, we plunged ourselves into the water – the cold swiftly taking our breath away. Seconds later, we were scrambling out; running back up the path towards our little glowing hut. Now laughing hysterically, we bundled back into the sauna –  a natural high making us all giddy.
It was a fantastic experience.
Note: it is free to book your own private sauna session at the hotel and we highly recommend making full use of these incredible facilities.
Activities at Wilderness Hotel Muotka
The hotel offers a varied array of activities and experiences, including ice fishing, cross country skiing, reindeer rides and aurora hunting.
During our time at the hotel, we went on a half day snowmobiling adventure (190 euros per adult) and visited their 'aurora camp' (115 euros per adult). Both of the activities left directly from the hotel and were seamless in their running and organisation (read more about our experience of both activities here).
Our stay at Wilderness Hotel Muotka was a brilliant way to introduce us to Saariselkä – allowing us to relax in a warm, personalised and incredibly peaceful setting.
Luxurious yet authentic, this is a resort that encourages guests to truly embrace their natural surroundings: free of digital distractions and glowing televisions.
Northern Lights Village, Saariselkä
Typical price: £500 per night (season dependent)
Best for: Families or couples looking for a luxury stay
Despite being located just a few minutes down the road from Muotka, the Northern Lights Village Saariselkä offers an altogether different experience. From the rustic intimacy of the Wilderness Hotel, the Northern Lights Village is, in comparison, an incredibly luxurious and stylish retreat.
Geared towards families (and couples), the Northern Lights Village prides itself on providing experiences and activities to suit the desires of all its visitors. Not only that, all activities can be found on site, meaning visitors can enjoy a relaxed and stress-free break.
Accommodation
During our visit to the Northern Lights Village, we were treated to a peek inside one of the 80 Aurora Cabins located on site. The glass cabins are the only accommodation offered here, hence the higher price tag, particularly when compared to the likes of the Wilderness Hotel Muotka.
Yet, what a treat these cabins are.
Stepping inside from the cold, we were greeted by a small, but perfectly formed, glass cabin – complete with laser-heated glass to ensure the sky above remained bright and clear. Gazing up from the snuggly bed, we watched as the clear blue skies began to change to a pastel pink; the early afternoon light already fading.
It was utter magic and certainly a big bucket list tick for those looking for an unforgettable experience.
Note: the cabins sleep up to four people and come complete with en-suite and unlimited free wifi.
Complimentary Aurora Service
With the Northern Lights Village heftier price tag comes (thankfully) a few additional extras, including a complimentary Aurora Service. This is a built in alert in each cabin, which sounds when the Northern Lights make their magical appearance.
The alert also works as a handy interactive service tool, through which you can pay your hotel or restaurant bills, call other cabins and request house keeping.
Activities at the Northern Lights Village, Saariselkä
During our visit to the Northern Lights Village, we were introduced to just a few of the activities that take place at the resort. All begin from outside the hotel restaurant and include: aurora hunting, snow mobiles, husky experiences, horse riding and cultural experiences, such as museum excursions to learn more about the native Sámi people.
Much to our delight, we were taken to the hotel's reindeer paddock, ready to meet Lapland's famous residents. Met by a jolly, red-cheeked reindeer handler, we were allowed to feed the lovely animals and learn more about these magical creatures.
Indeed, did you know that just 1 in 10,000 reindeer are white? Or that their eye colour changes seasonally? No, neither did we – but they are facts we'll definitely never forget.
With the reindeer (quite literally) on your doorstop, the Northern Lights Village is a resort that really does have it all.
Note: For all activities, you can hire your 'Arctic Kit' from the Northern Lights Village at no extra cost.
Activities for Families and Children 
During the winter months, the Northern Lights Village puts on an array of family inspired packages that, even at the age of 33, I was excited to experience. The 'Searching for Santa' adventure, which includes a morning of gingerbread baking, reindeer sleigh riding and searching for Santa's secret cabin, sounded particularly enticing.
Having watched some children sledging whilst we were at the resort – their faces plastered with excitement –  I can only imagine how special a family trip here must be.
The Sauna at The Northern Lights Village, Saariselkä
Before settling down for lunch, we were invited to try the Village's traditional Finnish Sauna. Offering a roomy wood sauna, outside ice pool and large outdoor hot tub, the sauna at the resort is set up for an easy and relaxed (once you're out of the icy pool) experience.
Now dab hands at 'saunaing', we spent an hour dashing between the sweltering walls of the lodge and the icy cold waters of the pool. We finished in the outdoor hot tub, our breath swirling above us as we (a little giddily) discussed our new found love for this sacrosanct Finnish pastime.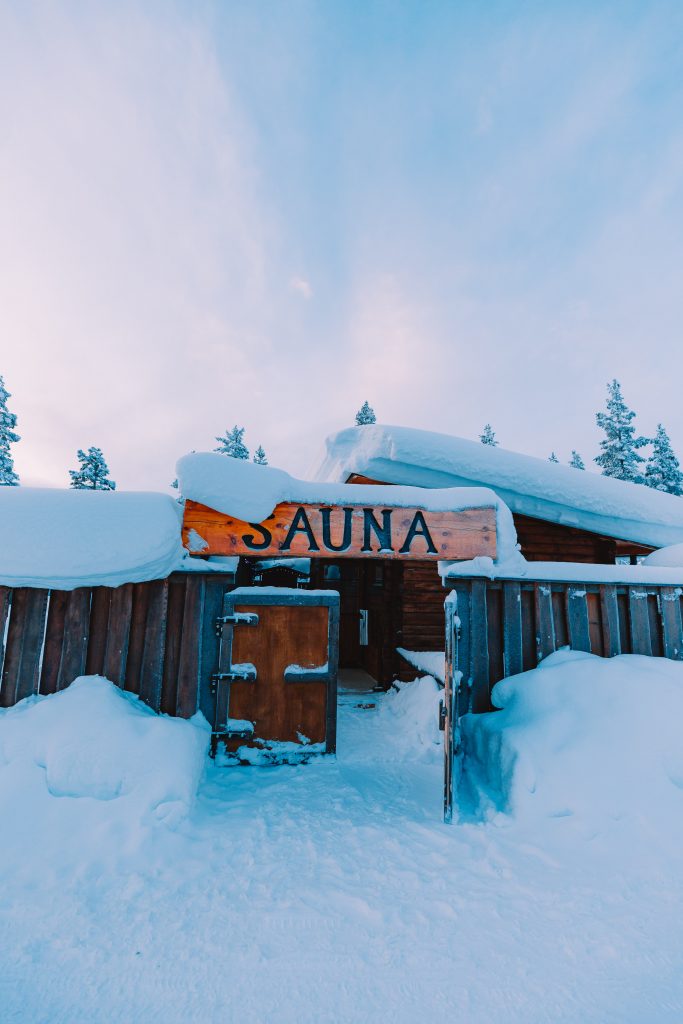 Whilst both sauna and ice pool experiences were fantastic, I perhaps enjoyed the more rustic and traditional sauna at Wilderness Hotel Muotka a little more. With a wood smoked sauna and natural icy pool, it felt a little more authentic, whilst the sauna at the Northern Lights Village seemed more geared towards a spa experience.
Food and Drink at the Northern Lights Village, Saariselkä
Similar to the Wilderness Hotel Muotka, the restaurant at the Northern Lights Village is buffet based. Fear not, however, the buffet still maintains a high quality of dishes; all inspired by Lapland and the Barents Sea region.
Here we enjoyed a delicious lunch of creamy mash potato, vegetable patties, (more) reindeer stew followed by velvety chocolate cake. The glass walled restaurant, surrounded by snow piled trees, was a beautiful space and felt both relaxed and refined.
Before leaving the hotel, we took our mugs of steaming hot chocolate outside for one final walk around the grounds. With not a soul in sight, we made our way down a winding track to find a traditional Sámi tent waiting for us – complete with a roaring fire inside.
With glowing fairy lights decorating the trees that stood next to it, we stood in complete awe – wondering if we'd accidentally entered Narnia.
Taking our seats by the fire, we listened to the sound of crackling logs and the gentle tread of the reindeers close by.
Indeed, as luxurious and shiny as it may be, the Northern Lights Village has also masterfully maintained an authentic sense of Lappish hospitality.
We'll certainly be back (their midnight sun package looks particularly memorable).
Star Arctic Hotel
Typical price: £350 night (superior suite)
Best for: couples and groups of friends
For the final stay of our visit to Saariselkä, we headed upwards, towards the Star Arctic Hotel.
Located at the top of Kaunispää Mountain, the Star Arctic Hotel offers unmatched views of the glittering Saariselkä below.
Arriving just in time to witness one of the most magnificent sunsets I've ever seen, we scrambled onto the restaurant's balcony, ready to watch the sky blush a rosy pink.
If this incredible scene was anything to go by, the Star Arctic Hotel was going to be a particularly special stay.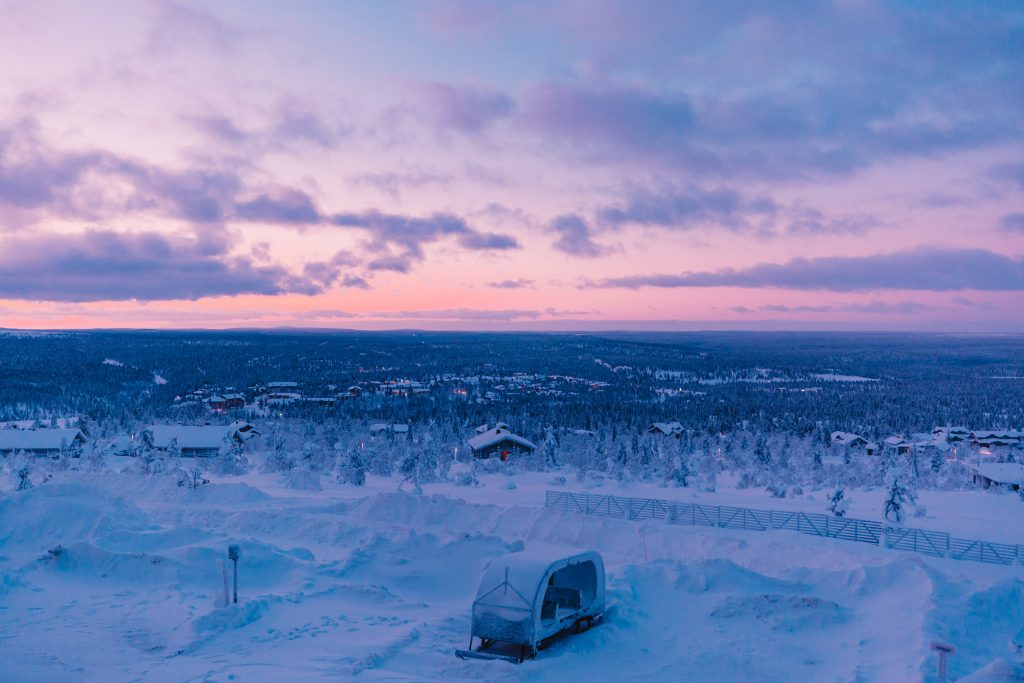 Accommodation at the Star Arctic Hotel
Although I really enjoyed all of the hotels we visited in Saariselkä, it was the Star Arctic Hotel that I was particularly excited to visit.
Making our way towards our private cabin, my feet picked up pace and my anticipation grew. It was finally time to experience our very own aurora glass cabin.
With a wilting snowman greeting us on the cabin's porch, we eagerly opened the door to discover what can only be described as a winter's paradise. Above us, twilight poured through the glass ceiling and the walls glowed under a silvery light.
It was like nothing we'd ever experienced before.
Stumbling into action, we shook off our snowy boots and hastily made our way towards the bed, flopping onto cosy blankets ready to gaze upwards. With the first of the night's stars beginning to twinkle above, we lay in silence as our cabin grew dark and our ceiling turned into a glittering, cosmic masterpiece.
Similar to the cabins at the Northern Lights Village, the Aurora Glass Cabin at the Star Arctic Hotel comes complete with heated glass to ensure a crystal clear view of the sky above (this was something that would prove particularly handy later on in our stay).
Dazzling aurora cabins aside, the hotel also offers Scenic View Suites and a Scenic View Suite with Sauna. Both are beautiful accommodations in their own right and allow visitors to still embrace the snowy landscape that surrounds them.
Note: All accommodation comes with free wifi.
Activities at the Star Arctic Hotel
During our stay at the resort, we were treated to a day we fondly referred to as 'Animal Day'.
Collected by a private mini bus on our final day in Saariselkä, we were taken to the resort owned 'Wilderness Centre'. From here, we embarked on an adventure to remember, thanks to a reindeer safari, steaming mugs of berry juice and the moment we had all been waiting for: a husky safari.
The Wilderness Centre aside, the resort also offers many more activities including a Visit Santa activity for families, downhill skiing and snowboarding, ice fishing  and Northern Lights tours.
Note: winter kit is provided free of charge when booking an activity.
Saariselkä Ski Centre
Handily located just a few minutes walk from the Star Arctic Hotel lies Saariselkä's Ski & Sport Resort. From here, guests can ski or – as we did – embark on Europe's longest toboggan run.
Grabbing a toboggan from outside of the resort's reception (you'll find them dotted across the hotel), we hastily made our way to the slope where the sun was just beginning to set. Surrounded by a crowd of children, we squatted down onto our small toboggan and took off.
We were not prepared for what was to come.
In what felt like seconds, we had gathered intense speed and were flying down the slope; the icy air causing a confusing mix of hysterics and tears. With fellow tobogganers jumping out the way, we veered erratically down the slope – scarves flapping behind us.
The whole journey took around 2 minutes and will now forever be one of my favourite travel memories; the arctic sun glowing ahead of us as we whizzed down a snowy Finnish mountain.
For those looking for an extra magical experience, you can also book an aurora toboggan experience through the ski centre.
Food and Drink at the Star Arctic Hotel
Despite the fantastic buffet restaurants at the previous hotels, we were pleased to discover that the Star Arctic Hotel offers a celebrated a la carte menu. Described as 'casually elegant', the food here was an unexpected surprise, with the fish sourced from the nearby Inari Lake and the reindeer meat bought straight from the surrounding Sámi reindeer breeders.
With the menu allowing for a slower, more formal dining setting, our two dinners at the Star Arctic Restaurant were the perfect way to catch up after a long day of adventuring.
The Northern Lights at the Star Arctic Hotel
Waking up suddenly, my eyes opened to an eery green glow above me. Seizing my glasses, I launched out of the bed, yelling for Laura to wake up.
"It's happening, it's finally happening," I shrieked.
Our aurora glass cabin now bathed in blue and green lights, I could barely get my words out as I watched the long awaited Northern Lights dance above me.
Rushing back to bed, I lay snuggled under my duvet as we watched the lights swirl and dance above our heads. Barely able to believe what we were seeing, we lay mesmerised for hours; not daring to close our eyes.
Tip: having been lucky enough to experience the Northern Lights from an aurora cabin, I can now safely say this is a once-in-a-lifetime experience and well worth the expense.
The Best Hotels in Saariselkä: Final Thoughts
Our five days exploring the best hotels in Saariselkä made for a truly once-in-a-lifetime experience.
Rather than being met with the chilly and remote cabins that I'd been expecting, the hotels we experienced in Saariselkä were luxurious, cosy and surreally beautiful.
With each proudly possessing their own unique character and style, Saariselkä's hotels are able to cater to every taste and demand.
From the rustic, authentic glowing cabins of Wilderness Hotel Muotka, to the sleek luxury of the Northern Lights Village, visitors to Saariselkä are truly spoilt when it comes to deciding where to stay.
In fact, we were so enamoured by them all that we're now busy planning our summer return: ready to replace those polar nights with Finland's midnight sun, and the snowy tundras for lush, green fields.
We cannot wait.