Opening my laptop and searching 'Airbnb Gdansk', I scrolled hundreds of apartments until my (now tired) thumb came to a sudden stop.
Hovering over photos of a bright, sunny apartment with large windows overlooking Gdansk's most famous square, I immediately knew I'd found a hidden gem.
Boasting an unbeatable central location, a beautiful homely interior, a comfy king-size bed and unbelievable views, this had to be the best Airbnb in Gdansk. I booked it without a moment's hesitation.
Ideal for 2-4 people, Sabina's Place made for a totally stress free and comfortable stay, and we haven't stopped suggesting it to others since.
So, if you're on the look out for the best Airbnb in Gdansk, then look no further than this beautiful little apartment. Below are all the reasons why we think this home makes for such a fantastic place to stay while in the city – and is a place we hope you'll get to enjoy, too.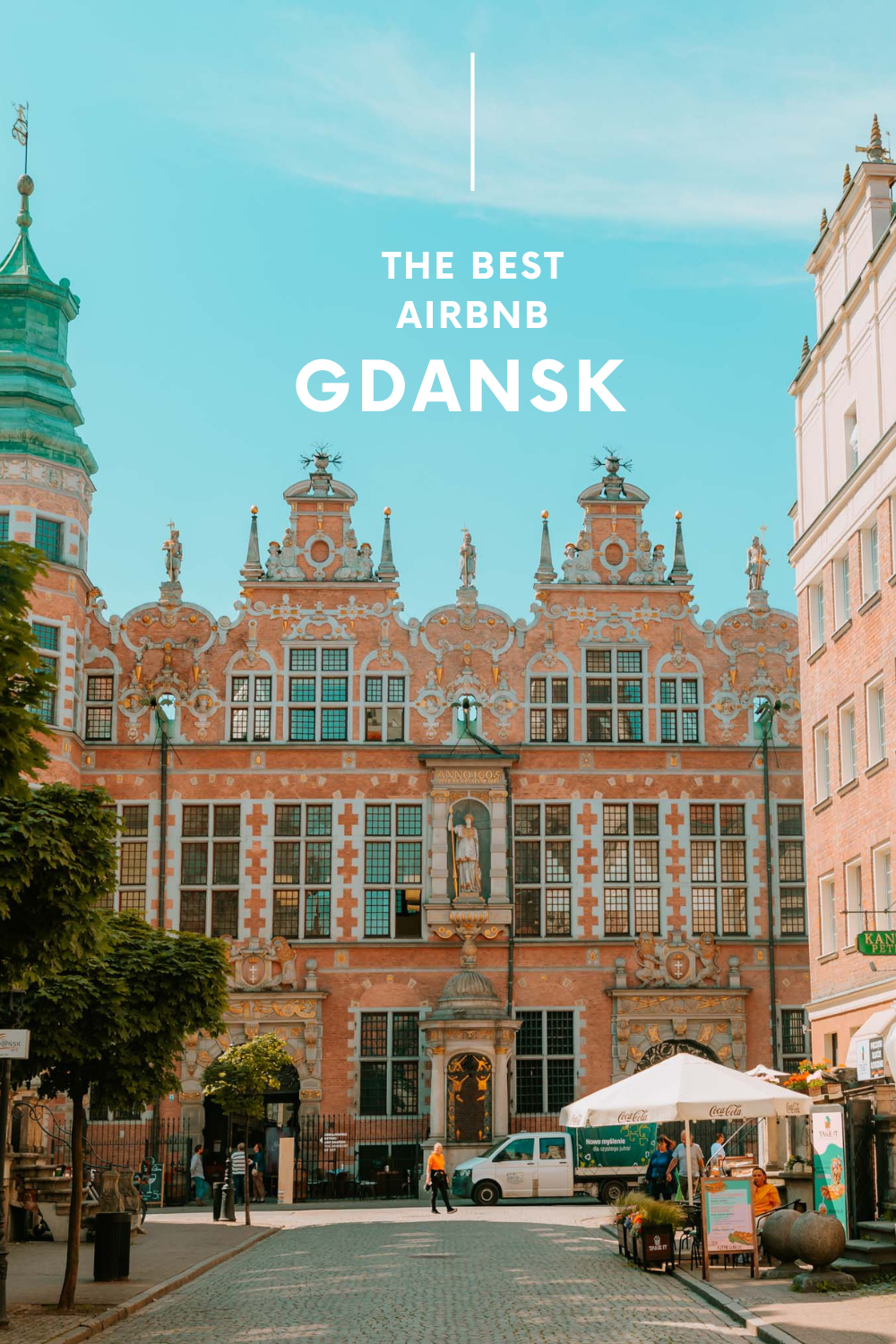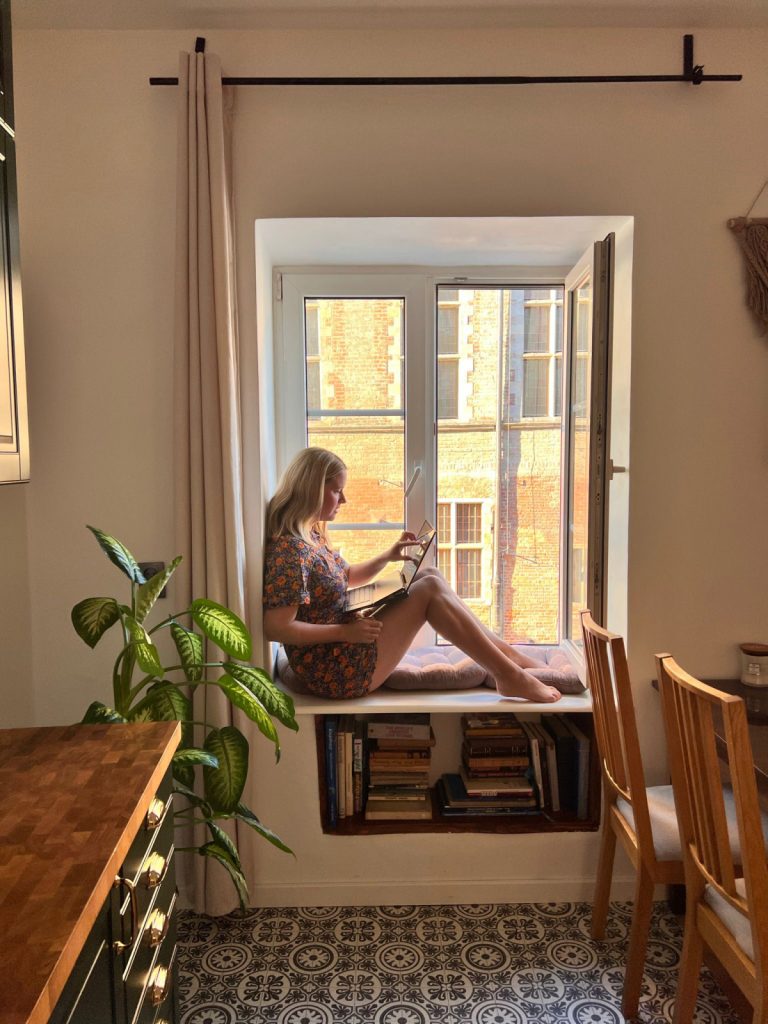 1. Airbnb with a Central Location in Gdansk
During our short break to Gdansk, we were hunting for an Airbnb with a central location. Wanting to roll out of bed and enjoy a Polish breakfast within a matter of minutes, staying in a centrally-located apartment was top of our list.
Our chosen Airbnb in Gdansk couldn't get more central and is located in the heart of the beautiful old town, opposite the handsome Town Hall. Situated inside a historic tenement house, the apartment boasts unbeatable views of Neptune's Fountain and the other pastel coloured tenement houses that line this historic square.
In fact, the apartment is so centrally located that we went from being fast asleep during an afternoon nap, to finding ourselves at the top of the Town Hall Tower in approximately 9 minutes.
I'm not sure if I would advise this to other visitors (it was a bit of a shock to the system), but the location really did allow us to make the most of our time in the city.
My favourite time of day in the apartment was as dusk settled over Gdansk, and crowds gathered to watch street performers and the sun set over the city's picturesque skyline.
For those of you who love people watching, then this is the apartment for you.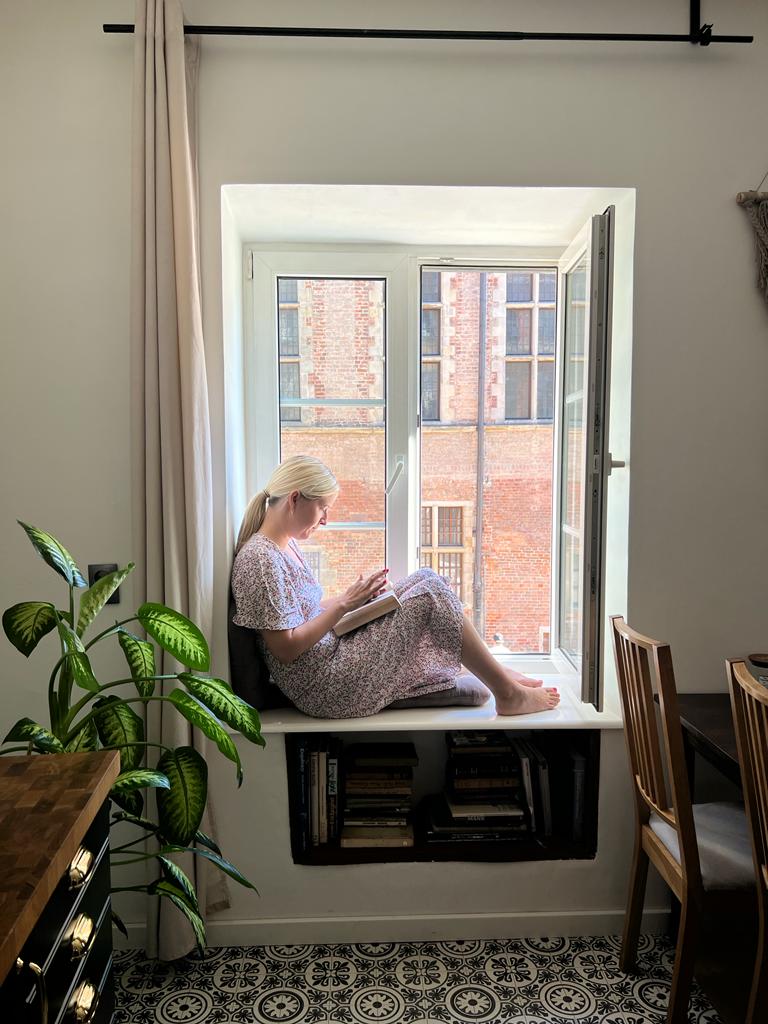 2. Best Budget Airbnb in Gdansk
Gdansk makes for the ideal budget European city break. Considerably cheaper than its neighbours (thanks to the fact that it retained the traditional Polish Kroner), we wanted to find accommodation in Gdansk that was in line with our own modest budgets.
Dependent on the time of year you visit Gdansk, you can book Sabina's Place for as little as £49 a night.
When we visited in June 2022, during the summer season, prices were higher. For 3 nights, we paid a total of £270.89, which included the service and cleaning charge. We still felt this was a great price, costing us £135 each for a 3 night visit.
3. Spacious and Large Apartment in Gdansk
Despite being an apartment set inside a historical building, our Airbnb was surprisingly spacious, light and beautifully decorated.
According to its owner, Sabina, who was an incredibly friendly and knowledgeable host, the apartment had been in her family for over 70 years. This was reflected in the decor and furniture found inside the apartment, with many family heirlooms being lovingly restored and housed there.
Unlike other bland, characterless holiday rentals, Sabina's place felt like a home-away-from-home and one that was warm and welcoming.
The bedroom in the Airbnb was located at the back of the apartment, overlooking a peaceful courtyard. It had an unexpectedly comfy king-size bed, TV with Netflix, a big, comfy sofa and vanity desk and mirror.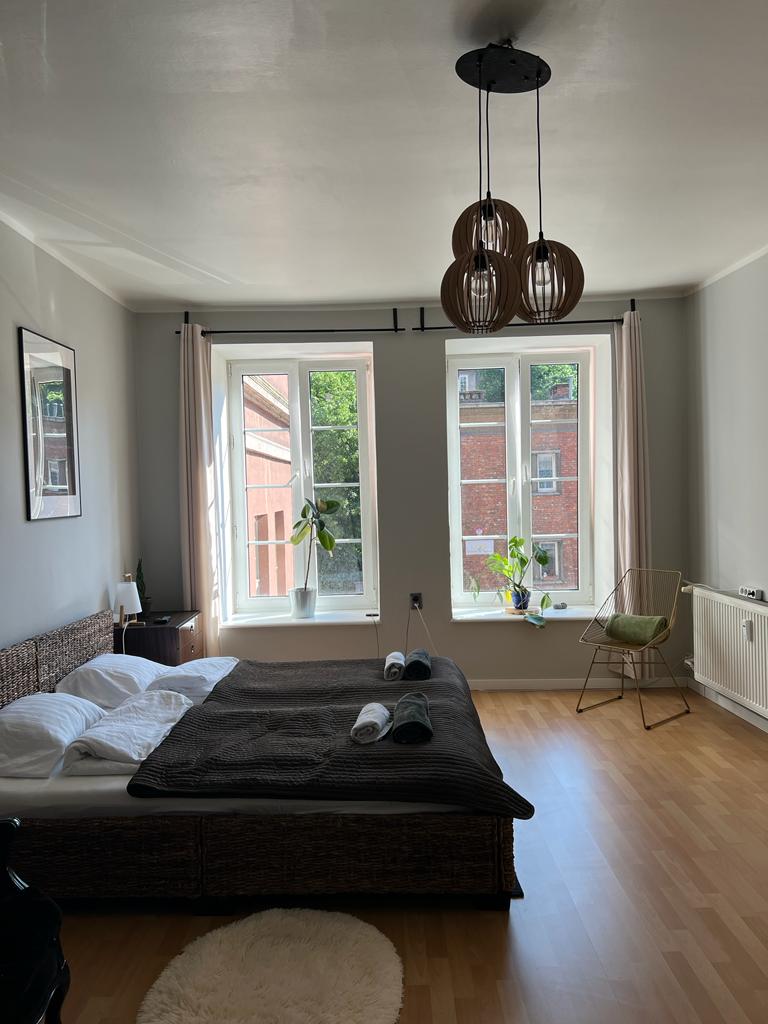 Bright and breezy, the bedroom wasn't somewhere to dump your suitcases and run (like many apartments we've stayed in). We enjoyed lounging around in here, in between exploring the city, and spent a few hours reading our books on the bed, while bathed in the lovely summer sunshine.
The bathroom inside the best Airbnb Gdansk offers everything you need and more. Sabina had taken great care to include plenty of toiletries for her guests to use, including: shower gels, soaps, deodorant and perfumes (we even found tampons and sanitary towels).
The bathroom also has a washing machine and handy dryer to dry your clothes.
The crowning jewel of this best Airbnb in Gdansk was the kitchenette and lounge. Beautifully restored and remodelled, the green kitchen, the ridiculously cute window seat (complete with 'book nook'), the table and chairs and the comfy sofa provided everything we needed for our short break to Gdansk.
We even had access to candles, which made our evenings here even cosier.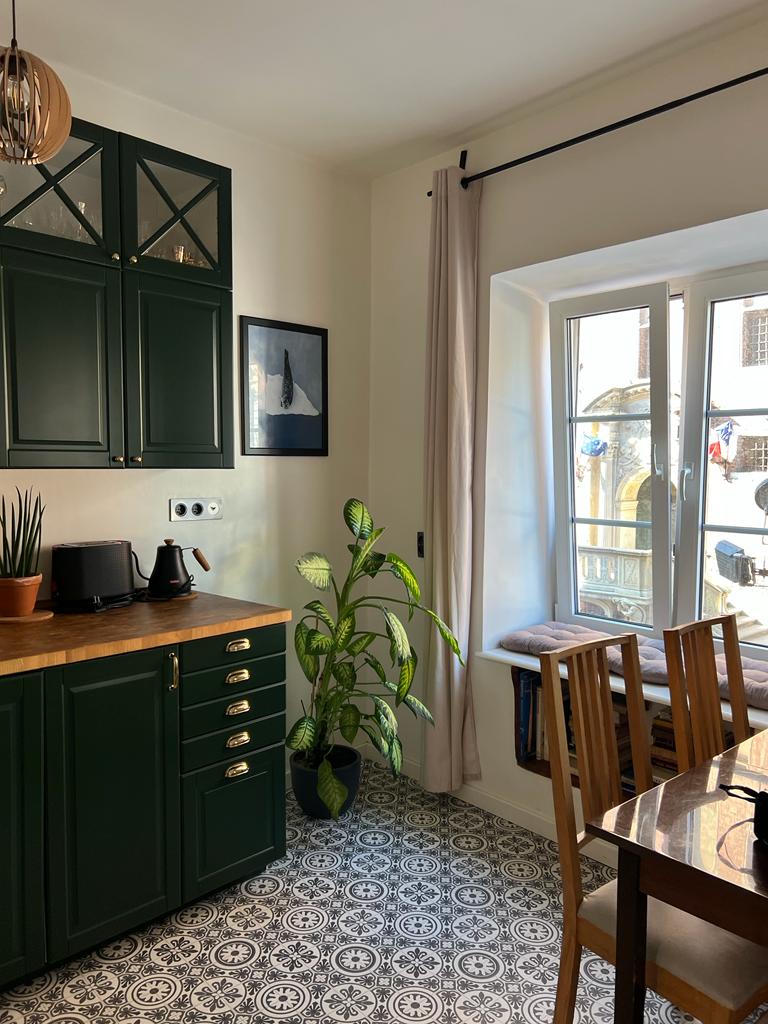 If you do stay here, make sure you make the most of the window seat, especially if you're visiting the city during the summer months. We squabbled continually over who got to sit in the little nook each evening, with a book and glass of wine in hand.
(Although we stayed in the Airbnb as a two, the sofa bed can be used to accomodate another two guests, and a travel cot can also be provided on request).
4. Work Friendly Airbnb in Gdansk
During our weekend in Gdansk, we knew we needed to do some work and therefore needed an apartment with good WiFi and somewhere to sit (comfortably) with our laptops.
Sabina's Place has, thankfully, taken remote visitors into account, with plenty of workspace in the kitchen, overlooking the bustling square and fountain.
For a more romantic view while working, the window seat in the kitchen also makes for an ideal workplace.
The WiFi was excellent and we both speculated that had we not needed to get home to two toddlers, we could have worked from this lovely Gdansk Airbnb all summer long.
5. Easy Access to Restaurants and Traditional Polish Dining
Despite having a lovely kitchenette in this best Airbnb in Gdansk, we still definitely took advantage of the cheap dining options surrounding us.
When we first arrived at the apartment – stomachs rumbling after an early morning flight – Sabina recommended the Pomelo Bistro Bar for brunch. This is located the street behind the Airbnb and is a brilliant spot for a delicious Polish breakfast. Thanks to an unseasonably hot June, we sat outside on (all three of) our visits to Pomelo and counted our lucky stars we had such a delicious restaurant so close by.
If you're looking for dining with a view, then head to the prettiest street in Gdansk, Mariacka Street. This street is less than a five-minute walk from the apartment and is a lovely place to spend a lazy weekend morning, over a cup of coffee or two.
For more suggestions for eating and shopping in the city, head over to our guide to Gdansk.
View this post on Instagram
6. Airbnb with Parking in Gdansk
This special Airbnb does offer parking, behind the apartment and opposite the kindergarten. Unfortunately, this can't be guaranteed, but during our stay we saw plenty of spaces, both during the day and at night.
We didn't need a car at all during our visit and simply caught the bus from the airport to the Old Town. From here, it was a pretty 8-10 minute walk to the apartment. On our homeward journey, we ordered a taxi, which conveniently picked us up around the back of the apartment and cost us approximately £10.
All of this combined made our stay in Gdansk relaxed and stress-free – and is why we definitely think this is the best Airbnb in Gdansk.