13 Best Things to do in Córdoba: A Day Trip Guide
During a recent winter's trip to Seville, we were keen to take a couple of day trips from the city. With a toddler in tow, and without a hire car, we therefore researched the best train journeys from Seville before our visit.
Thankfully, I realised that Córdoba – a city I've always wanted to visit – was just a 45 minute train journey from Seville. A city boasting a mosque-cathedral, flower-filled courtyards, an Alcazar, synagogue and lots of beautiful palaces, Córdoba definitely seemed to be the ideal day trip from Seville.
After a perfect day exploring the city with my toddler, here's my guide to the 13 best things to do in Córdoba, Spain.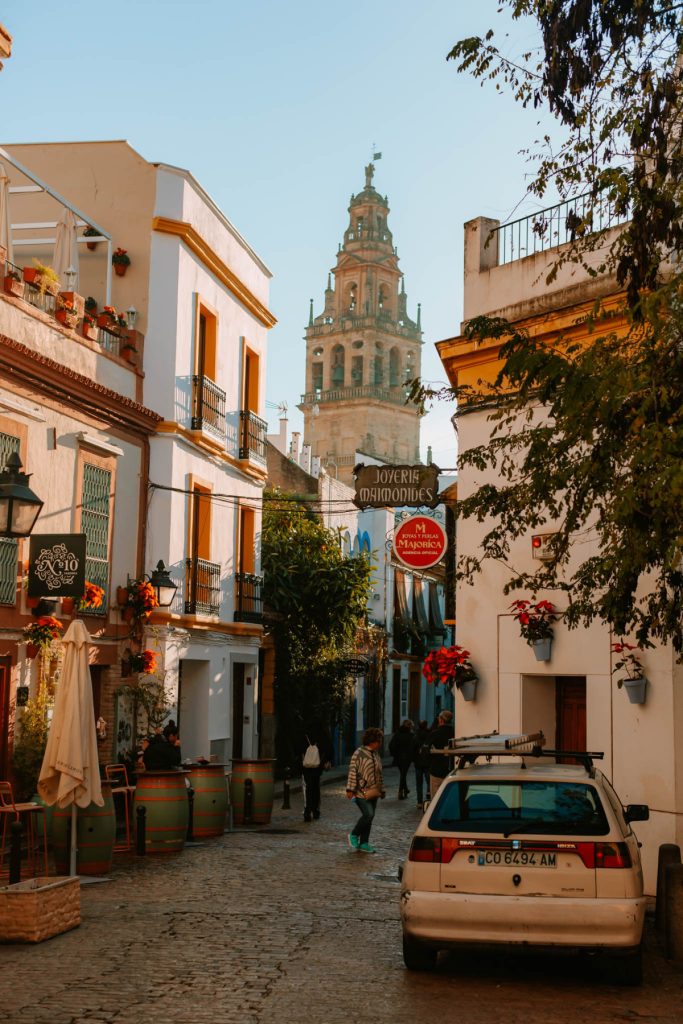 A Quick History of Córdoba
Although today Córdoba may seem like a small, flower-filled city, 1000 years ago it was the largest city in the world. Staggeringly, its population was once three times larger than it is now (today it has around 325,000 residents).
Indeed, although it might be hard to wrap your head around this fact as you walk through its sleepy cobbled streets, this city was once the capital of Caliphate of Córdoba. This caliphate controlled the entire Iberian peninsula, therefore making it an incredibly strong and much respected city. Wander the city today and you'll still see glimpses of this powerful past – most notably when visiting Córdoba's mosque-cathedral.
Read on to find out how you can make the most of a day trip to Córdoba, Spain.
13 Best Things to do in Córdoba
1. Visit Cordoba's Mosque-Cathedral (Mezquita)
Price: 10 euros for adults & 5 euros for children
Tip: Queues can be long and entry isn't guaranteed, so pre-book your visit.
On arrival in Córdoba, our first stop was the city's famous mosque-cathedral. As we only had one day exploring the city, we wanted to make sure we saw Córdoba's most famous sight first.
A dazzling amalgamation of both Muslim and Christian architecture, Córdoba's mosque-cathedral is truly as breathtaking as it looks in the guide books.
Originally purchased by Abd ar-Rahman I for the Muslim community's Friday prayers, a new mosque was added to the existing church in AD 784. Three further extensions followed, to create the multi-arched Mesquita you see today.
The only small difference today, however, is that there's now a cathedral placed in the centre of the mosque. This surprising addition occurred in the 16th century, after the Christian conquest of Córdoba in 1236.
King Carlos ordered the centre of the mosque to be ripped out and replaced with a main Christian altar and choir stand. The cathedral took a whopping 250 years to complete, hence the hybrid mix of architectural styles, including Spanish baroque and late Renaissance design.
This intertwining of history and religions has resulted in a truly unique building. Despite the crowds, the Mesquita – with its endless high arches – provides a light and airy space to roam around. This proved a great hit with my nearly 2-year old, who enjoyed playing 'peekaboo' from behind the mosque's many pillars.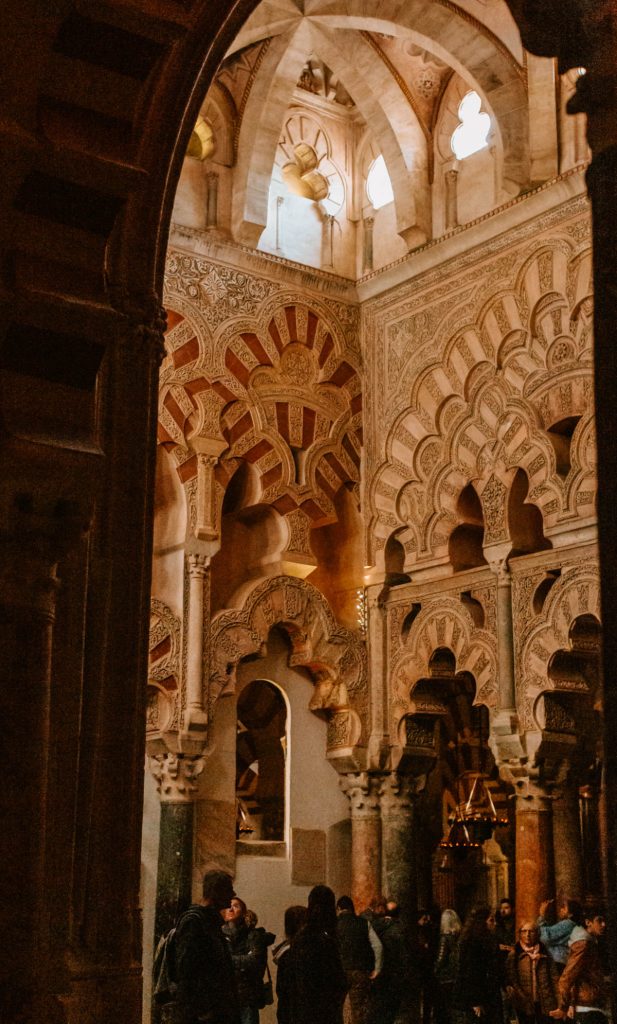 2. Patio de los Naranjos
One of the best things to do in Córdoba is to roam the mosque-cathedral's orange, palm and cypress tree courtyard – known as Patio de los Naranjos. In fact, I think we spent just as much time in the courtyard as we did exploring the inside of the building.
Patio de los Naranjos was originally the site of ritual abulations before prayer in the mosque, and is now a tranquil escape from the bustling streets that surround the building.
This is another toddler-friendly spot in Córdoba and Olive really enjoyed running between the trees and splashing in the fountain.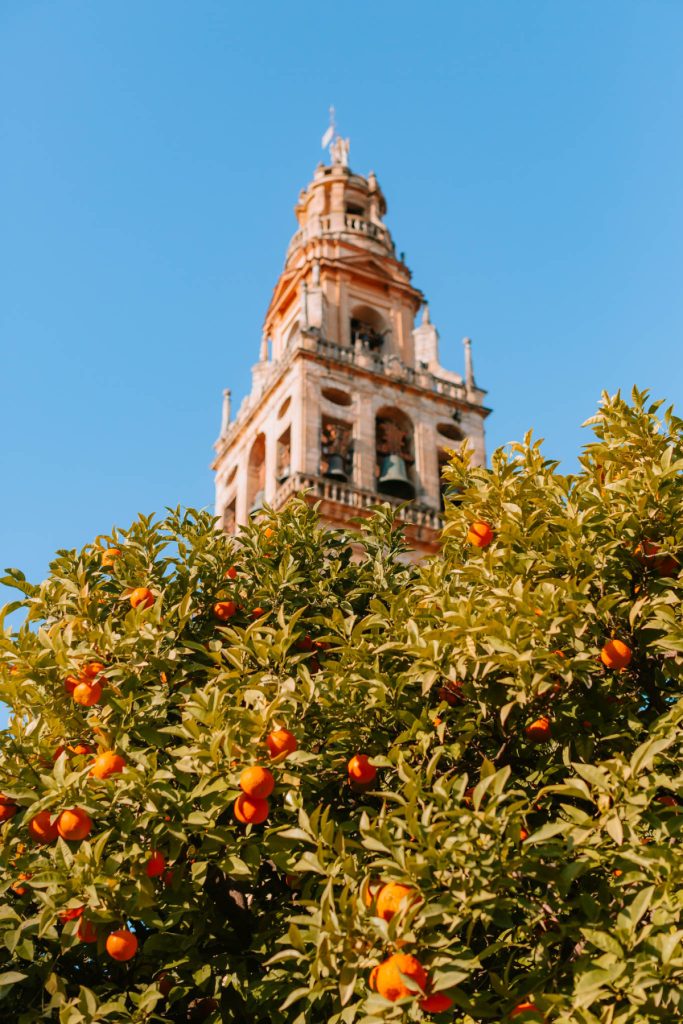 3. Bell Tower (Torre Campanario)
Price: 2 euros per person
If you're feeling energetic after your tour of the mosque-cathedral, it's time to climb Torre Campanario, the cathedral's bell tower. At 54 metres high, the tower offers incredible panoramic views across the city.
Tip: I would definitely recommend booking ahead, as only 20 people are allowed to climb the tower every half an hour.
4. Alcazar de los Reyes Cristianos
Adult: 4 euros/children free
After you've got your fix of the cathedral's unique atmosphere, it's time to move to the next most prominent building in the city.
Alcazar de los Reyes Cristianos, is a fort-cum-palace, built in the 13th and 14th centuries. Although not as extensive as Seville's Alcazar, this palace is still a delight to stroll around. The gardens are filled with fish ponds, orange trees, colourful flowers and fountains, and make for an ideal adventure ground for a toddler.
Although we didn't tour the inside of the Palace (due to said toddler), this building looked really interesting. One of the Palace's halls even displays an extensive Roman mosaic, which was excavated from the centre of the city in the 1950s.
5. Callejas de las Flores
Tucked up a small street in the historic centre of Córdoba, is the Instagram famous Callejas de las Flores (definitely one of the best things to do in Córdoba).
What makes this small passageway and square so special is the geranium and carnation flower pots that adorn its walls. Even during our visit in December, this was an incredibly colourful and pretty street to explore.
For picture-perfect views of Torre Campanario, walk to the courtyard at the top of the passage and look backwards from where you came. From here, the tower of the mosque-cathedral sits perfectly between the buildings that line the passage.
Callejas de las Flores aside, one of the best things to do in Cordoba is to enjoy its seemingly endless flower-filled patios. As the hottest city in Europe, the city exists around these cool, shady patios and exploring them is a must.
6. Córdoba's Roman Bridge (Puente Romano)
A stroll along Córdoba's Roman Bridge on a sunny day is definitely one of the best things to do in Córdoba.
Little remains of the original Puente Romano, with most of the structure that you see today built during Medieval times. The views out over the bridge, however, still provide an excellent introduction to the city.
Bustling with musicians and artists, this is a particularly lively and vibrant spot.
Tip: if you're looking for the best angle of the bridge, head to its southern end and follow the path around to the right. Here you'll find the perfect spot for a view of the bridge – and city on the other side.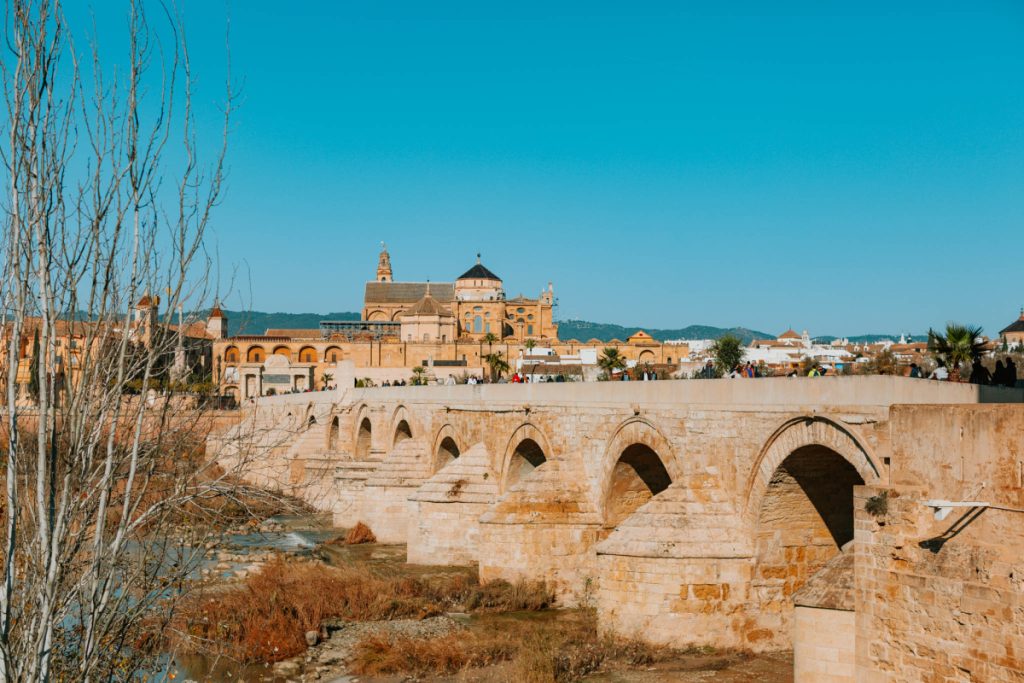 7. Torre de la Calahorra
Price: 4 euros per person (includes entry to the museum)
At the south end of Córdoba's Roman Bridge sits Torre de la Calahorra. Eager to enjoy a bird's eye view of the city, I decided to climb the tower while my husband kindly took Olive to play in a nearby park.
The tower, built under Islamic rule, is also a museum – Museo Vivo de Al-Andalus. The museum is dedicated to Al-Andalus, the Muslim-ruled area of the Iberian Peninsula. The 4 euro entry includes an audio guide, which is very much needed as you tour the rooms alone.
Due to its squat nature, the tower was an easy climb and provided glorious, sun-filled views out over the bridge, across to the city on the other side of the river.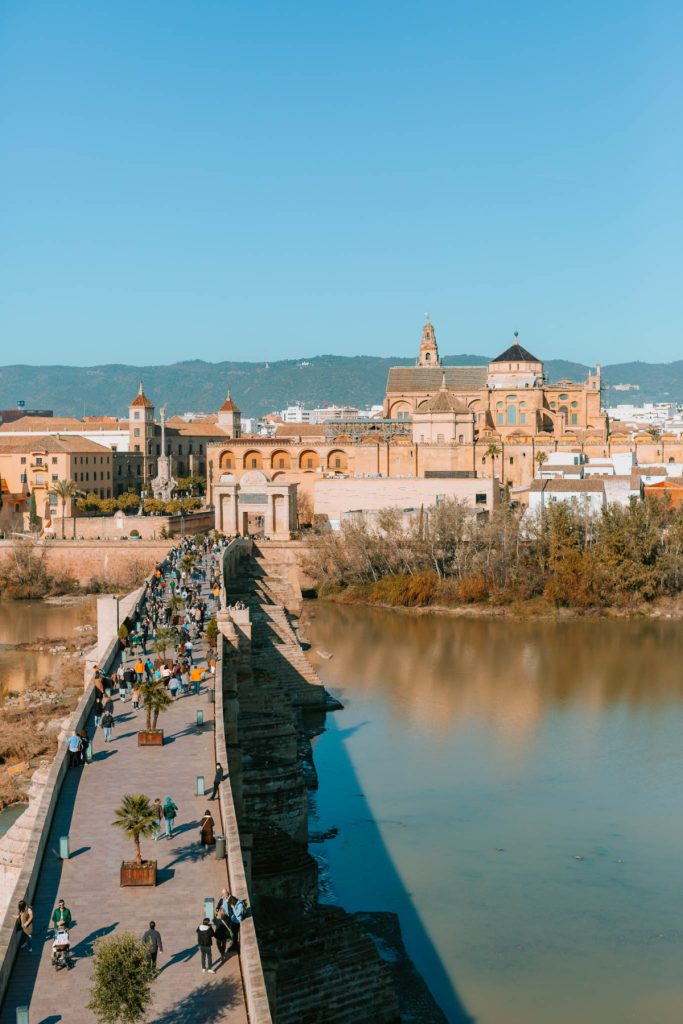 8. Roman Temple of Córdoba
During our walk to Palacio de Viana (more on that below), we stumbled across the unexpected site of a Roman Temple. Although it's not open to visitors, you can see the temple perfectly well from the street, with its 11 tall white columns. It looks particularly striking at night time, when the columns are lit from below.
The temple was dedicated to emperor worship and would have originally been built to face a huge Roman circus. I read in my Lonely Planet guide that a group of cats also like to frequent the Roman temple and, much to mine and my toddler's delight, I discovered plenty on our visit.
Sunning themselves amongst the gleaming columns, they made for a lovely sight.
9. Palacio de Viana
Price: 8 euros for the whole house (entry to just the 12 patios is free)
A visit to Palacio de Viana should come high on your list of best things to do in Córdoba. A heart-achingly beautiful Renaissance Palace, boasting 12 serene, flower-filled courtyards, Palacio de Viana was my favourite spot in Córdoba.
As we were visiting the Palace while Olive was napping, we decided to only tour the courtyards, rather than the whole house. To our surprise, touring the courtyard was completely free, making it a cheap thing to do in Córdoba.
Bursting with flowers, fountains, sculptures and art, we walked through the 12 patios with a spring in our step. Incredibly relaxing and peaceful, the courtyards alone make a visit to Palacio de Viana more than worth it.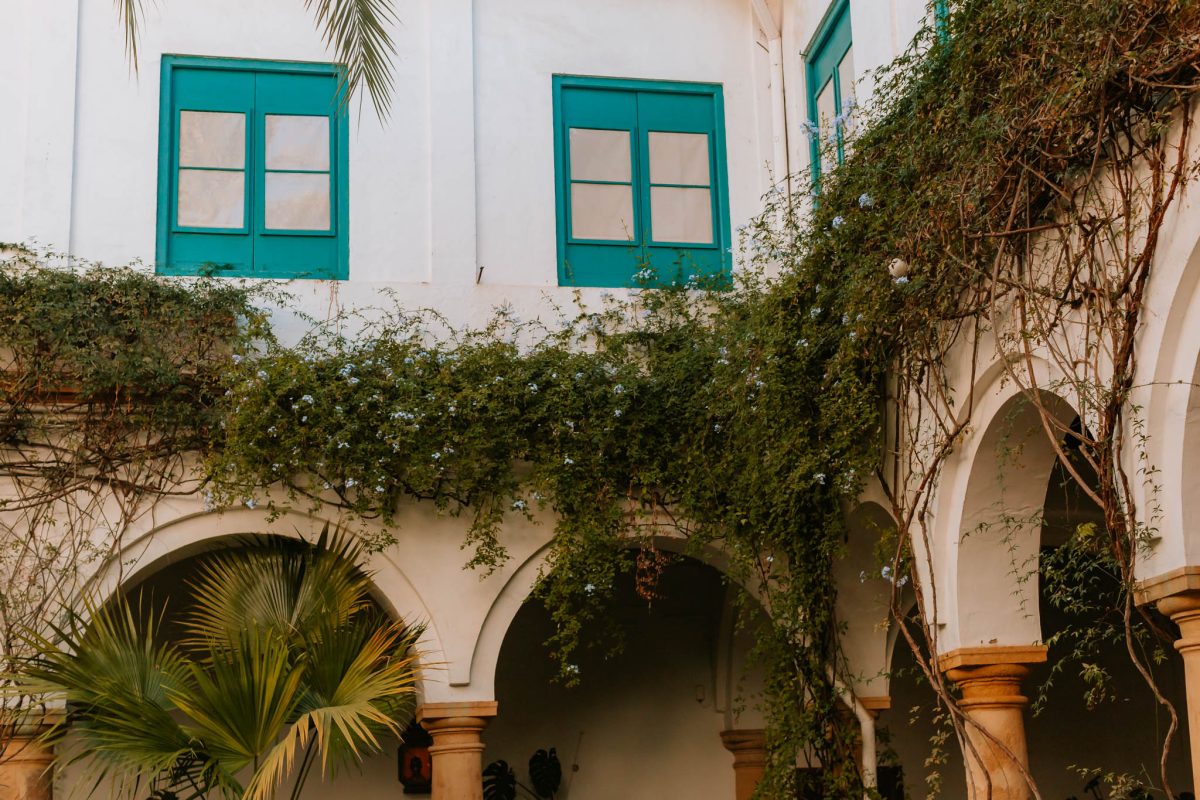 10. Córdoba Synagogue
Price: 0.30 euros per person
Another spot that should come top of your list of things to do in Córdoba, is a visit to the city's synagogue. Built in 1315, Córdoba's synagogue would have probably been erected as a private place of worship. Located in the Jewish quarter of the city, this is the oldest surviving Jewish presence in medieval Andalucía (and beautiful, with it).
11. Centro Flamenco Fosforito Museum
For flamenco fans, a trip to the Flamenco Museum is definitely a fun thing to do in Córdoba. This interactive museum (which is also brilliant for children) takes visitors through the history of flamenco and the Spanish guitar.
Our little toddler loved it.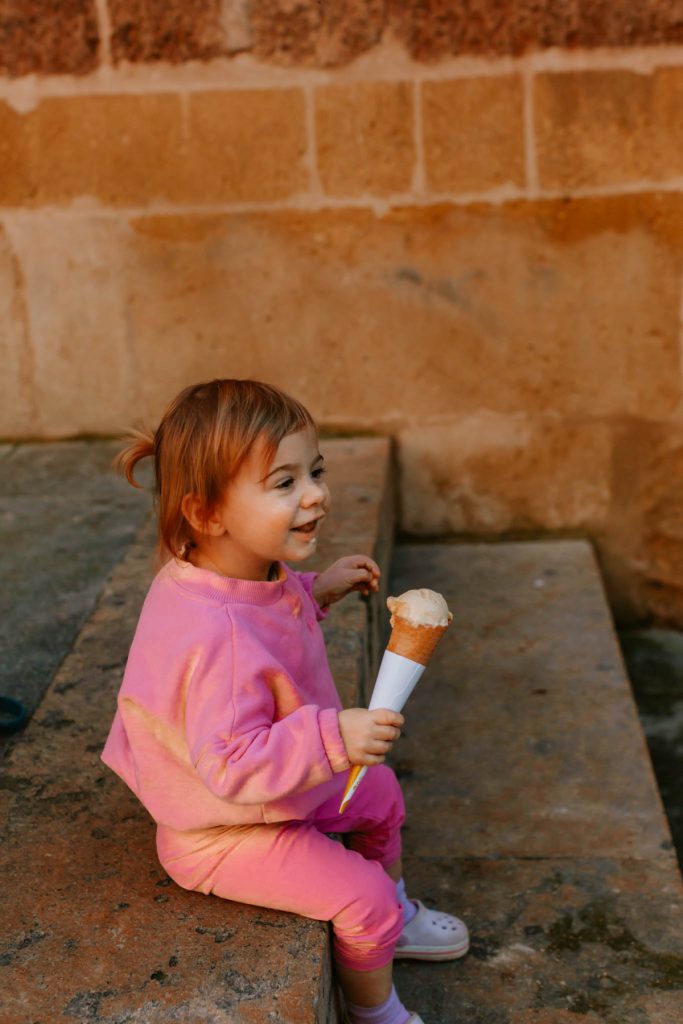 12. Medina Azahara
If you're looking for best things to do in Córdoba that are slightly further afield, head 8km west of the city to Medina Azahara.
I was desperate to visit this ancient, palace-city – but sadly we didn't have time before our train back to Seville. Once the home of Caliph Abd ar-Rahman III in the 10th century, the remaining palace sits on the hillside, overlooking where the gardens and fields once were. Fascinatingly, the residential areas that would have sat either side of the palace remain unexcavated.
It's said that Abd ar-Rahman III built Medina Azahara for his favourite wife, Az-Zahra. To try and cure her homesickness for the snow capped mountains of Syria, legend has it that Abd ar-Rahman III surrounded the city with cherry and almond tress. This was to replace snow with white blossom (how romantic).
There is an excellent, modern museum that sits below that site, which takes you through history and construction of Medina Azahara.
13. Hammam Al Andalus: Córdoba
Price: £44 for 75 minutes (without additional spa treatment)
As a true Hammam lover after trips to Morocco and Istanbul, I cannot recommend a visit to Hammam Al Andalus enough. Offering you a chance to rest and revitalise in traditional Arab baths, Al Andalus also offers massages and other spa treatments.
The perfect way to end a day exploring Córdoba.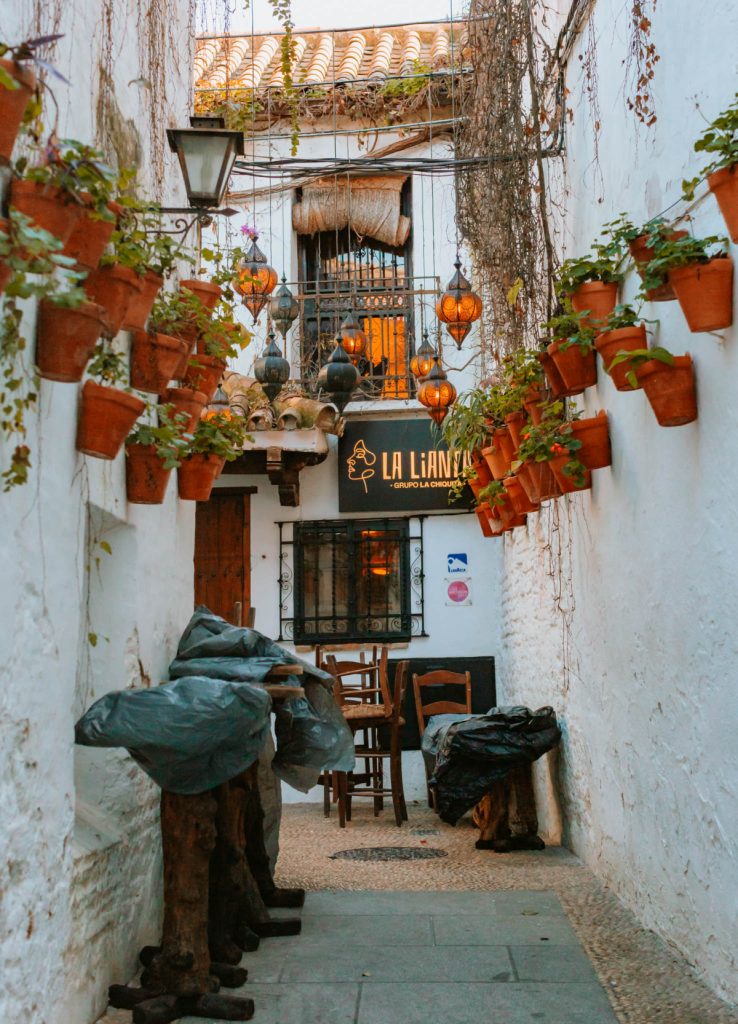 How to Get to Córdoba from Seville
1. Train from Seville to Córdoba
Duration: 40 minutes
For our day trip from Seville to Córdoba, we caught the fast train, bound for Barcelona. There are cheaper (longer) options, but given that we only had the day to explore – and an impatient toddler with us – we decided to pay more for the fastest train.
Admittedly, we did leave booking our train until the morning we left, which meant the prices were steep and cost us £48 each, return. If you're planning a trip to Córdoba from Seville, I highly recommend booking well in advance for the cheapest price.
Another tip is to make sure you book your train directly with the provider, rather than using a third party app, such as Trainline. On the day of travel, we nearly didn't book as the Trainline app had hiked the price by an additional 25 euros each overnight. By booking directly, however, we saved 25 euros each on the train fare.
The train was a pleasant surprise, with spacious seats, a buffet cart, charging plugs and large clean toilets.
2. Driving from Seville to Córdoba
If you do have a rental car while visiting Andalucía, the drive from Seville to Córdoba is approximately 1 hours 45 minutes (in light, good traffic).
3. Bus from Seville to Córdoba
The final option when travelling from Seville to Córdoba is to get the direct bus. This is around a 2 hour journey, with tickets purchased from 7 euros per person. This would be an ideal option for those travelling Spain on a budget.
When is the Best Time of Year to Visit Córdoba, Spain?
Córdoba is the hottest city in Europe and as such, is best visited outside of the summer months. Unless you enjoy exploring a city in 40 degree heat, Córdoba is best visited in spring, autumn or winter.
I visited at the end of December, when temperatures were ideal for exploring the city with a toddler. Despite it being the last week of the year, we enjoyed 20 degree heat and glorious sunshine. If you're looking for a post-Christmas break in Europe – one that still offers blue skies and t-shirt weather – Córdoba is a brilliant destination to add to your list.