This blog post on a day trip from Taormina to Syracuse was updated in June 2022, after spending an additional week in Syracuse.
During our visit to Sicily, I was keen to plan a day trip from Taormina to Syracuse. Having stumbled across images of this magnificent ancient city in my trusty Lonely Planet guide, I'd immediately added it to our Sicily bucket list.
A city that was once the largest of its kind in the ancient world, we discovered that Syracuse makes for a truly fascinating visit. It's a place where visitors can move seamlessly between both ancient and modern day worlds, with Greek ruins sitting alongside pretty, lively piazzas. Indeed, having developed a small obsession with the ancient Greeks and Romans during our time in Taormina, Syracuse proved to be one of the highlights of our time in Sicily.
To help plan your own day trip from Taormina to Syracuse, below is a quick guide to the city. This includes the best way to get from Taormina to Syracuse and how to make the most of your day trip to this ancient metropolis.
A Day Trip From Taormina: How to get to Syracuse
Before diving in to what to see and do in Syracuse, below is a quick round-up of the best ways to get to the city. There are a number of transport options from Taormina – all of which suit a range of budgets and itineraries.
1) Train from Taormina to Syracuse
For our day trip from Taormina to Syracuse, we chose to travel by train, which proved both cheap and easy. The trains from Taormina run regularly and take roughly 2 hours 45 minutes. The journey itself is an enjoyable one, with the train passing the looming Mt Etna, before following the coastline down to Syracuse.
With temperatures hitting 38 degrees on the day of our visit, the air conditioned train came as a welcome relief and was a relaxed way to traverse Sicily's east coast.
Syracuse's small train station is centrally located and we were able to walk from here to our first site: Parco Archeologico della Neapolis.
2) Bus from Taormina to Syracuse
Alternatively, travelling by bus from Taormina to Syracuse is an inexpensive option; albeit a far longer one. Buses to Syracuse run from Catania (half way between Taormina and Syracuse) and so will require a change.
Typically the bus journey will take around 3.5 hours.
3) Taxi to Syracuse from Taormina
For those with money to burn, a taxi to Syracuse from Taormina is a viable option, although an expensive one. Unfortunately, we discovered this for ourselves when we were forced to get a taxi home after forest fires closed the train tracks. The journey took around 1 hour 45 minutes and cost – gulp – €150.
We were able to pick up a taxi outside the train station, but there are plenty of other taxi ranks throughout Syracuse.
4) Private transfer to Syracuse from Taormina 
Whilst in Taormina, I came across a lot of tour companies offering private transfers to Syracuse. I enquired with Experience Sicily and was given a quote for €16o euros (each way) for a Mercedes E Class and driver.
This is (yet another) expensive option, but a possible one for those looking to explore Sicily in real luxury.
Public Transport in Syracuse, Sicily
Arriving on our day trip from Taormina – the stifling 38 degree heat hanging over the city – we were eager to keep our step count down. Thankfully, before leaving Taormina, we had done a little research on public transport around Syracuse. Handily, we discovered that there are shuttle buses running along three tourist friendly routes in the city.
One of these routes runs past the station to Ortygia (a useful website containing more information on these routes can be found here).
Alternatively, taxis are freely available in the city, with plenty of taxi ranks. We grabbed a taxi from Ortygia back to the train station (before we were aware of the forest fires). It should be noted, however, that this was another expensive journey, costing us €10 for a 10 minute drive.
Pin it: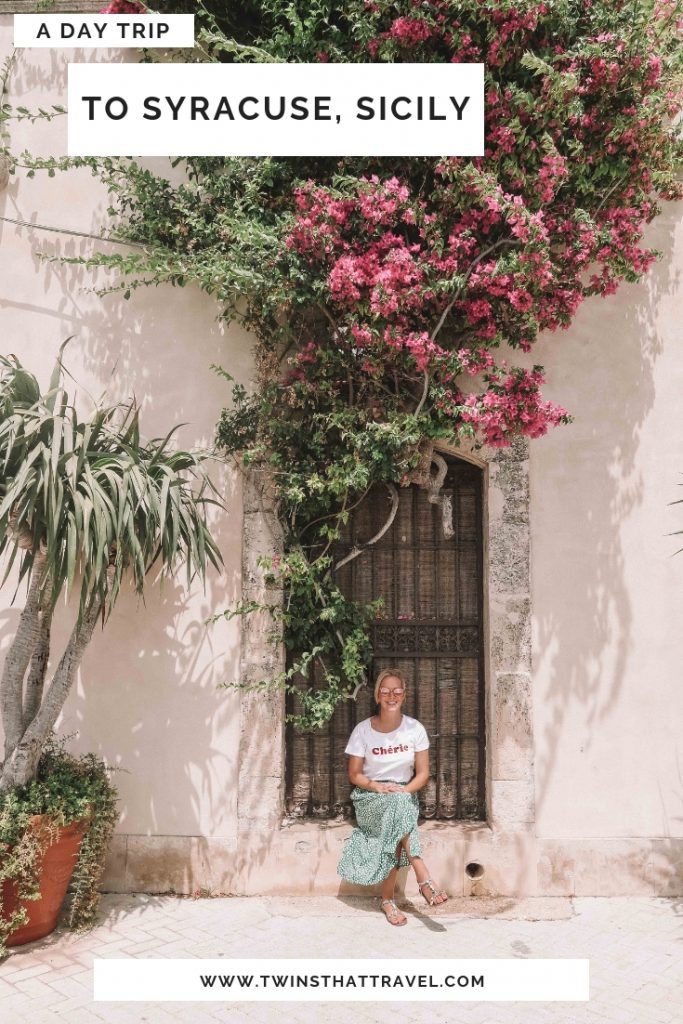 History of Syracuse, Sicily
Once larger than Athens or Corinth, Syracuse began life in 734 BC. It was the city's island, Ortygia, that was founded first by the Corinthians, before the population expanded onto the main land just four years later.
A rambling Greek metropolis of nearly half a million people, the tyrants of Syracuse not only ruled the island, but the surrounding Mediterranean.
When Syracuse's most powerful tyrant, Hiero II died, the city was conquered by the Romans in 212 BC. It continued to flourish under the Roman Empire, becoming the capital of Sicily until 878 when it was brought under Arab rule. After this, Syracuse fell into decline and Palermo became the new capital. Syracuse continued to lessen in significance over the following centuries; in fact, it wasn't until the 1940s that Syracuse began to flourish again into a bustling city.
Things to do in Syracuse, Sicily
Mainland Syracuse may not be as pretty as Ortygia, but it's still well worth devoting a couple of hours to exploring. For archeological lovers, mainland Syracuse is not only home to Parco Archeologico della Neapolis (summarised below), but a fascinating archeological museum. This is a treasure trove of objects, including fascinating underground catacombs that date back to the Roman Era.
It also happens to be the perfect place to head to in order to escape the Sicilian heat.
With only a day to explore Syracuse, we opted to just visit the larger archaeological park and we're so pleased that we did. Below is a full round-up of what to see in Parco Archeologico della Neapolis: a place where time has stood still.
Parco Archeologico della Neapolis
How to get to Parco Archeologico della Neapolis
Walkable from the train station, we headed here first as soon as we arrived in Syracuse. For those not coming directly from the train station, however, it is possible to catch the Sd'A Trasporti minibus (number 2) from Ortygia. Alternatively, if the weather isn't too hot, the park is a 30 minute walk from Ortygia.
Housing the once 'new' city of Syracuse from 738BC, Parco Archeologica is one of Sicily's greatest archeological sites. Although some of it was unfortunately plundered in the 16th century when Spaniards decided to use the ancient city as a quarry, the park is still home to some fascinating Greek and Roman structures. Below are just a few of the park's highlights.
Teatro Greco 
Similar to Taormina, Parco Archeologico della Neapoli boasts a 5th century BC Teatro Greco. Seating 16,000, the arena hosted – rather mind boggling – the very last tragedies of Aeschylus, who came to watch the performance at the Teatro Greco.
Today, and during May to early July, the Teatro Greco comes to life with classical concerts. Whilst we were visiting, one of my favourite composers, Ludovico Einaudi, was performing there. Gazing around this beautiful spot, I couldn't imagine a more perfect setting for such a performance.
Aside from the still used Teatro Greco, the park is also home to a smaller Greek amphitheatre that unfortunately hasn't retained so much of its structure, thanks to the Spanish. This far smaller 2nd-century building would have been used by the Greeks for horse races and gladiatorial combats.
The Orecchio di Dionisio (Ear of Dionysius)
Drawn to this part of the park by the sounds of whistling and singing, the Orecchio di Dionisio is a curious site. A soaring 65m grotto that was said to once hold the water for the city, 'the Ear of Dionysius' provides almost perfect acoustics. So much so, in fact, it's said that one of Syracuse's tyrants, Dionysiusm, used to loiter in the grotto in order to eavesdrop on his prisoners.
Now, it's simply a quirky spot in the park to test the acoustics of your own whistle.
Other notable sites within the park include the original quarry used to build the ancient city. This is filled with catacombs and is where 7,000 survivors of the war between Athens and Syracuse hid in 413BC. A 3rd century BC sacrifice altar can also still be found within the park; another site I found oddly fascinating.
With so much to see, I would recommended 2-3 hours to fully explore Parco Archeologico della Neapolis.
Tip: make use of the self-guided walking tour on offer, it's incredibly useful and provides much needed context to the ruins. 
2. Ortygia Island, Syracuse
Having had our fix of ancient remains, it was time to head towards the irresistible scent of salty sea air and the glinting white buildings of Ortygia.
The jewel of Syracuse, Ortygia is a genuine delight to explore. A maze of winding streets, bustling restaurants and pearly buildings lapped by the turquoise sea, Ortygia is an island paradise.
Travelling here via the handy minibus that runs between the archeological park and Ortygia, we were met by a picture-perfect scene of waves crashing against flower-lined homes. Gazing down, and now feeling particularly hot and sweaty, it took all my willpower not to join the locals jumping into the foaming sea below.
Before making any particular plan to explore Ortygia, we allowed ourselves a slow hour to amble its cobbled back streets before settling on a quiet, shaded cafe for a slow lunch of seafood pasta. Not wanting to waste too much of our day trip from Taormina, however, we hatched a small plan to ensure that we saw all of Ortygia'a best sites. Indeed, although small in size, this ancient city has plenty to offer.
Piazza del Duomo
A show-stopper of a piazza, Ortygia's cathedral square is a dazzling white masterpiece.
Rounding a winding street onto Piazza del Duomo was quite the experience; the dazzling blue sky contrasting against the gleaming, pearly 'pallazis' that surround the rectangular piazza. Alongside the Duomo, the square is also home to the city's library, housing rare 13th century manuscripts and art galleries.
Piazza del Duomo sits on what would have once been Syracuse's ancient acropolis; another reminder of the many layers of history that sleepy Ortygia rests upon. Indeed, as mentioned below, the Ancient Greek columns of the acropolis can still be seen on the city's Duomo, which is also situated in the square.
Although having visited many of Italy's piazzas, including Bologna, Sienna and Florence, this was perhaps my favourite piazza to date.
Syracuse's Duomo
No visit to an Italian city would be complete without a visit to a soaring Duomo – and Ortygia's certainly didn't disappoint.
Built over the existing 5th-century BC Greek temple, its almost inexplicably old, original columns are still visible both inside and out of the Duomo. The structure became a church when the island was evangelised, with an impressive columned baroque facade added after the earthquake of 1693.
A cool haven away from the midday heat, Ortygia's Duomo is steeped in history. Remember to look out for the Ancient Greek 'krater' (large vase) that's situated to your right as you enter.
Castello Maniace
Located on the blustery seafront, Castello Maniace is Ortygia's 13th-century castle. With the scorching summer heat leaving us increasingly sweaty, this breezy part of Ortygia was a welcome spot to explore. The castle would have once guarded the island's southern tip and today houses two exhibitions. These fantastic displays add a little context behind how the fortress evolved over the centuries and offer an interesting display of archeological objects.
Tip: there is a small cafe onsite here, so grab yourself a tub of 'granite', take a seat and enjoy the salty sea air that typifies this lovely corner of Ortygia. In fact, this was the ideal way to end our day trip from Taormina to Syracuse.
3. Enjoying the beach of Ortigia, Syracuse
If you're visiting Ortigia Island for the day and are looking to relax on a beach, there is a small pebbled beach called Spiaggia di Cala Rossa that's located down some steep steps at the southern end of the island. Although it's not a sandy, amenity filled beach, it would do just fine for a few hours of paddling and sunbathing.
Note: this beach is best in the morning before shade creeps in during the afternoon.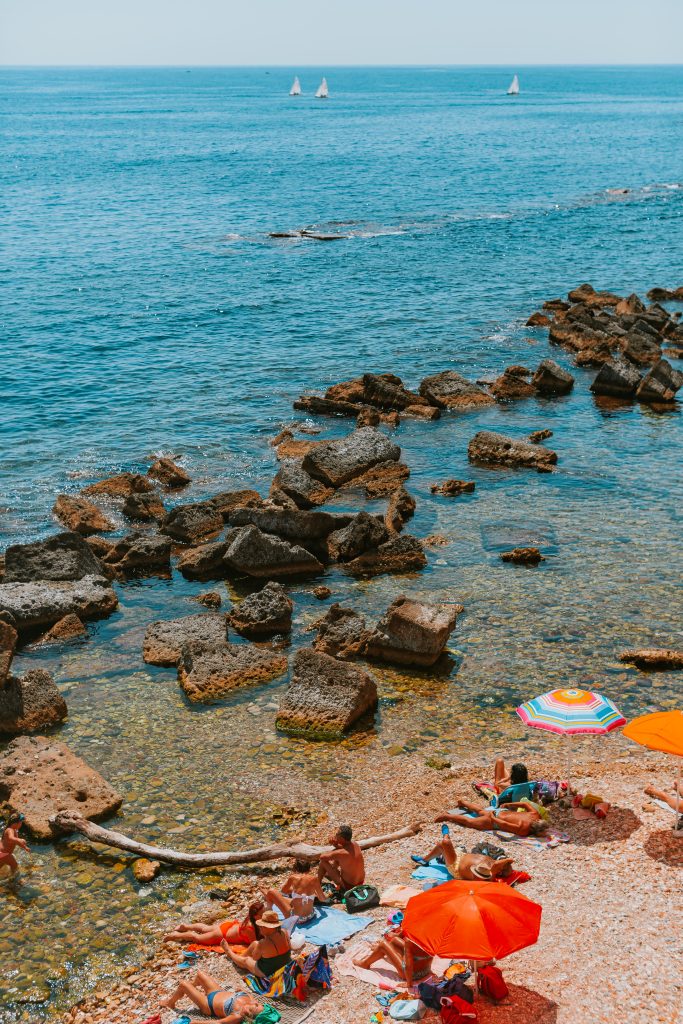 Alternatively, during the summer months, the island erects solariums or sundecks around the coastline. Some of these are free, whilst other more 'beach club' style sundecks are available for a fee.
4. Nearby Beaches to Syracuse
For those with longer to explore the surrounding areas of Syracuse, there are some incredibly beautiful beaches within a 15km radius of the city. Many of these beaches are part of a nature reserve the runs down the south east coast of Sicily and vary in shape and size.
During our second visit to Syracuse, we explored a number of these beaches, ranging from the bustling and very popular Spiaggia Fontane Bianche to quieter, hidden coves. While both have their merits (Fontane Bianche offers sun loungers, food, drink, toilets and free aerobic classes if you so wish), it was the quieter coves that I particularly enjoyed with my toddler in tow.
These coves are also excellent for snorkelling, with crystal clear water and an abundance of colourful fish.
4. Shopping and Eating in Ortigia Island, Syracuse
No trip to the island would be complete with a leisurely stroll through the colourful streets of Ortigia; browsing the independent shops and stopping for plenty of delicious Sicilian food. From a handful of larger brand stores, such as Zara through to boutique shops selling home goods, food, clothing and children's toys, shopping in Ortigia was one of my favourite pastimes during my week long visit.