Like a chocolate box of glittering treats, Abu Dhabi is a city that offers some of the most luxurious hotels in the world.  Not known for doing things by half, the UAE's capital boasts an almost endless portfolio of opulent accommodation options – from bygone glamour to modernist architectural visions.  With so many luxury hotels on offer, however, it can prove unexpectedly difficult to decide where to base yourself during your stay. Indeed, having browsed 'the best hotels in Abu Dhabi', you might come away feeling mildly panicked.
After a recent luxury 4-day trip to the UAE, we've put together a guide to three of the best hotels in Abu Dhabi, in the hope of making things a little easier for you.  Each hotel offers a taste of the many different sides to Abu Dhabi – from life in the heat of the city, to a stay on its sugary soft beaches and even a trip to the arid and eerily beautiful desert.
We hope that you enjoy.
Luxury Beach Hotel Abu Dhabi: Jumeirah Saadiyat Island
Nestled on one of Abu Dhabi's pristine beaches, Jumeriah Saadiyat Island is the place to come to escape the hustle and bustle of the city. Occupying one of the most sought after locations in Abu Dhabi, the resort is situated on the 27km stretch of Saadiyat Island; an area that has undergone an £18 million development programme. Neighbouring some of the city's most exciting cultural sights – including The Louvre Abu Dhabi – Jumeirah Saadiyat is the sleek, shiny, new kid on the block; having opened its doors in November 2018.
Just twenty minutes from Abu Dhabi's international airport and ten minutes from the heart of the city, it's easily accessible whilst still offering a quiet and peaceful refuge from downtown living.
Having caught an overnight flight to Abu Dhabi from London, arriving at this pearly white paradise was the perfect antidote for two weary, dishevelled travellers. Designed to resemble a laid back 'summer house' (albeit it, a particularly luxurious one), Jumeirah Saadiyat Island offers a low-key luxury.
Serene, calm and welcoming, this is the ideal resort for those looking to unwind and enjoy a decidedly tepid sea breeze. Offering 293 rooms, suites and villas, there are plenty of accommodation options for guests to choose from. We were both treated to a 'Resort Deluxe King Room' that offered a bright and breezy room, complete with private balcony, huge bathroom and king-sized bed.
For those looking to really push the boat out, the villas (2, 3 and 4 bedrooms) looked particularly inviting, complete with private pools.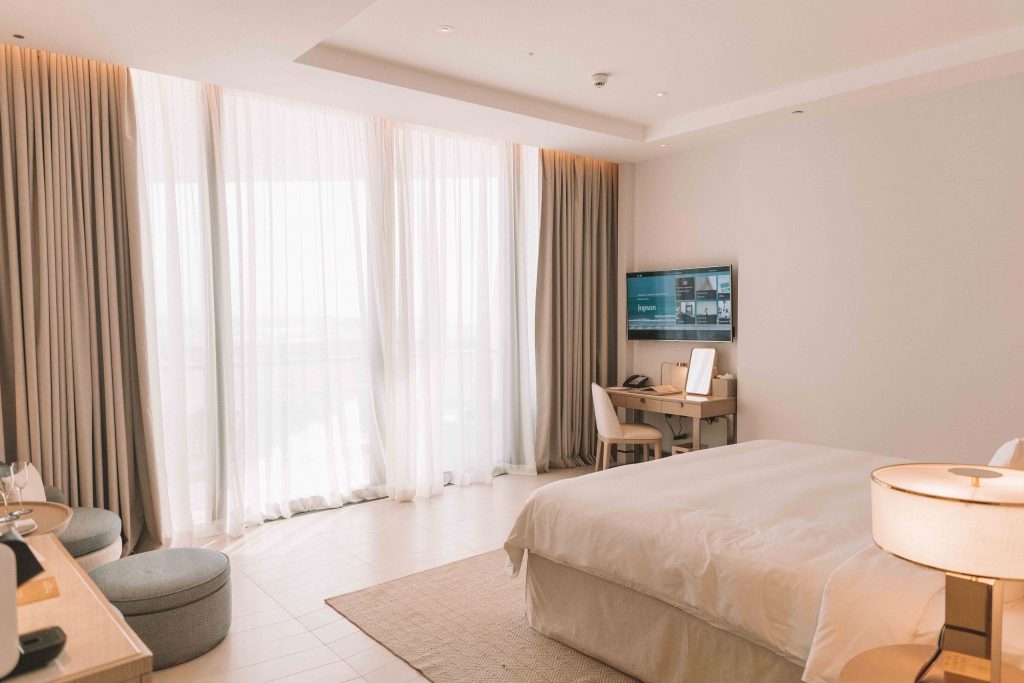 Our stomachs rumbling after some lack-lustre plane food, we headed straight to the hotel's impressive breakfast buffet. Not quite your typical collection of pastries and fruit, Jumeirah's breakfast (as we discovered) was fit for a king. Dining at the resort was a delight, and we were sure to make use of thehotel's seven restaurants  during our stay.
As we were visiting during Ramadan, we were treated to a particularly special dining experience; enjoying the hotel's Iftar each evening. This was a slightly overwhelming and extravagant buffet, that offered traditional cuisine and delicacies from the wider Arabian peninsula.
Eco-Conscious
Jumeirah Saadiyat Island was announced as the Jumeriah group's first eco- conscious resort.
Fundamentally, this is due to the resort's location on the island's sandy beaches, which is resident to the endangered Hawksbill Turtle and Bottlenose Dolphin. In order to help protect its surrounding eco-system, Jumeirah Saadiyat Island has removed single-use plastic from the hotel. On arrival, guests are instead given a colourful water bottle to use during their stay, with filtered water stations scattered around the resort.
We were thrilled by this touch, having recently stayed at the similarly plastic-free Iberostar resort, and therefore made full use of our brightly coloured bottles during our stay.
Additionally, guests will find a rather cute, turtle-shaped guide in their rooms, with tips on how to ensure hatching turtles make it safely to the sea. Advice includes making sure that your room's curtains are closed at night to ensure that the lights don't distract the turtles from their pilgrimage (they should instead be guided by the light of the moon to the sea).
Reassured that this was not only a luxury resort, but one dedicated to protecting the environment and surrounding ecosystem, we were incredibly impressed by Jumeirah Saadiyat Island.
The 400m of pristine beach aside, the hotel also boasts three swimming pools and a spa. Visiting just as the low season was beginning (when temperatures begin to soar), we took early morning dips in the gloriously warm waters of the Arabian Gulf, before lazing by the shade of the pool. Our evenings at Jumeirah Saadiyat Island similarly took place on the beach, as we watched the sky turn a candy floss pink before setting somewhere beyond the horizon. Indeed, the sunsets here were an unexpected surprise; not something we would have initially associated with Abu Dhabi.
Guests also have the option of enjoying nature's watercolour spectacle from the hotel's beautiful rooftop bar.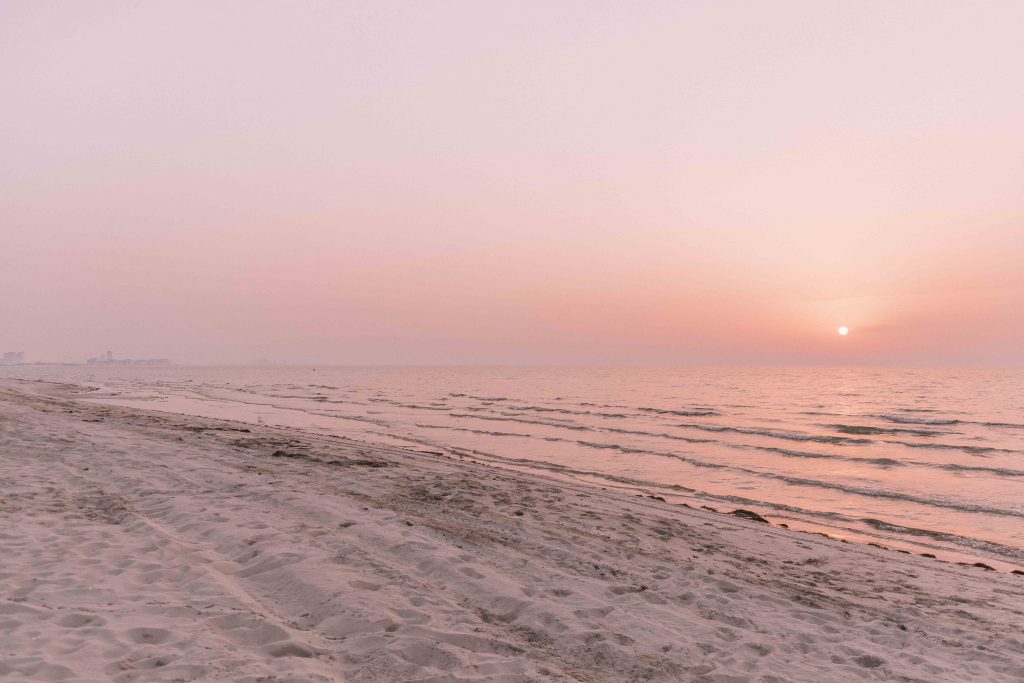 Sufficiently relaxed after experiencing 'island life', we packed our bags and headed into the bright lights of the city for a truly memorable stay at what is said to be one of the best hotels in the world.
Luxury City Hotel Abu Dhabi: Emirates Palaces
The Emirates Palace is known around the world as the crowning jewel in Abu Dhabi's crown. Costing an eye-watering £3 billion to build (the third most expensive in the world) and carrying the unofficial rating of a seven star hotel, things don't get much more luxurious than a stay at the Emirates Palace.
How two, distinctly average, travel bloggers from Milton Keynes came to stay here is beyond us.
A whirlwind of sumptuous luxury from the moment that you walk through its doors, it's evident that the Emirates Palace is a special place.
The preferred hotel of the world's elite (including our own Royal family) the hotel even has its own six 'Ruler Suites'; reserved for only the UAE's Sheikhs and dignitaries. Indeed, not even the world's most famous stars can stay here – even Elton John was turned away.
Ruler Suites aside, and unbeknownst to us on our arrival, we had been treated to one of the Palace's most luxurious accommodations: the Khaleej Deluxe Suite. Once home to guests such as Prince Andrew and Pamela Anderson, this is – quite literally – a suite fit for a prince.
Stumbling through the suite's doors (rooms are accessed using a 'gold' Emirates coin), our butler politely ignored our screams as we entered a space that was larger than most central London apartments. Decorated with gold and marble, the suite included a dining room, a lounge with a presidential style desk, an enormous bedroom, and a marble-filled bathroom complete with sunken bath.
A private wrap-around balcony – with views out across the peninsula – was also thrown in for good measure.
Attempting to calm ourselves down, we took a seat in the lounge to take a bite of the personalised chocolate mousse cake that had been left for us. As it turns out, this was the most incredible cake we have ever eaten; the sugar and deliciousness of it only fuelling our adrenaline levels. This was truly a once in a lifetime experience and one we were desperate to make the most of.
Regardless of whether you're staying in a suite, please be rest assured that every room of the 394 residences in the Emirates Palace offer a glittering slice of luxury. The full room list can be found here.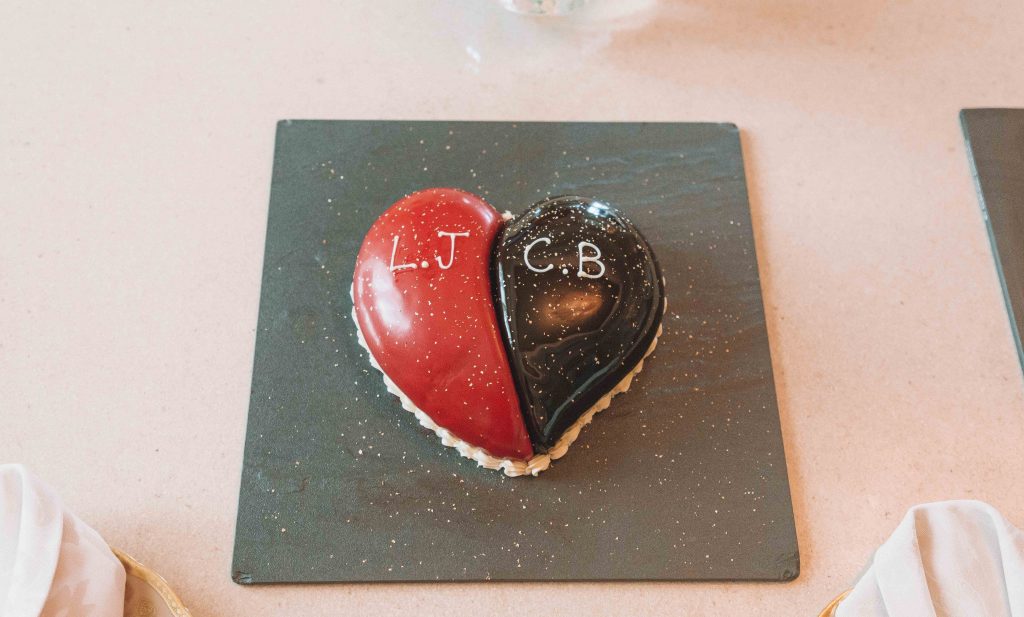 Forcing ourselves out the door of our suite, the thought that we only had 24 hours to experience the Emirates Palace propelled us forward. Panicked, we jogged to the hotel's 'East Wing' pool as the heat of the day began to retreat.
The hotel is divided into two wings, with a central domed (gold, of course) atrium in the middle. Pools are available at both wings, and include water slides, a 1.3km stretch of private sandy beach and a private marina.
Settling down in our sun loungers – ice-cold water and fresh towels kindly delivered to us on arrival – we lay back and stared in complete awe at our surroundings. The juxtaposition of the glinting, steely skyscrapers of the city set against the gentle swaying palm trees was mesmerising.
For our dinner at the Emirates Palace, we were in for another rare treat and were kindly invited to the hotel's infamous Iftar. Housed within its own purpose-built marquee, this is one of the city's most extravagant Iftars on offer. It proved a thoroughly enjoyable night with world-class food and entertainment, coupled with peaceful beach views.
Watching as family and friends arrived to enjoy an evening together, experiencing Iftar at the Emirates Palace allowed us a fascinating insight into this holy month and the sense of contagious celebration that it brings.
Thinking of visiting the UAE during Ramadan? Take a read here.
For those not visiting during Ramadan, fear not – the Emirates Palace boasts ten restaurants and three bars. Including Spanish, Indian, traditional Middle-Eastern and Asian cuisine, this is a hotel that caters to every palate.
For those looking for a particularly sweet treat, head to Palace Cappuccino for a hot chocolate sprinkled with 23 karat gold flakes. Without a doubt, it will be the most luxurious hot chocolate you'll ever try.
With less than 24 hours to experience the Emirates Palace, and the majority of that time spent in our suite, we can firmly say that you'll need to give yourself at least 3 nights here to truly enjoy all that it offers. We will be back!
Luxury Desert Hotel Abu Dhabi: Jumeirah Al Wathba Desert Resort and Spa
Having begun your stay in Abu Dhabi at a Jumeirah resort, it's only fitting to end your visit at one of its sister hotels. Replacing the pristine beaches of the Arabian Gulf with the sand of the Arabian desert, Jumeriah Al Wathba offers a very different hotel experience.
Opened just three months ago in April 2019, this brand new boutique resort is the ideal location to end your time in Abu Dhabi: in the very desert that the glittering metropolis of Abu Dhabi grew from.
Much like Saadiyat Island, Jumeriah Al Wathba is conveniently located just a thirty minute drive from the airport, yet still manages to maintain a feeling of complete isolation. Drawing up at the resort, with not another soul in sight, it felt as though we had arrived in an Arabian wilderness – all without the lengthy journey.
For those living in Abu Dhabi, this hotel would make for the ideal weekend escape for anyone hoping to get away from it all, with clear starry skies and first class pampering on offer.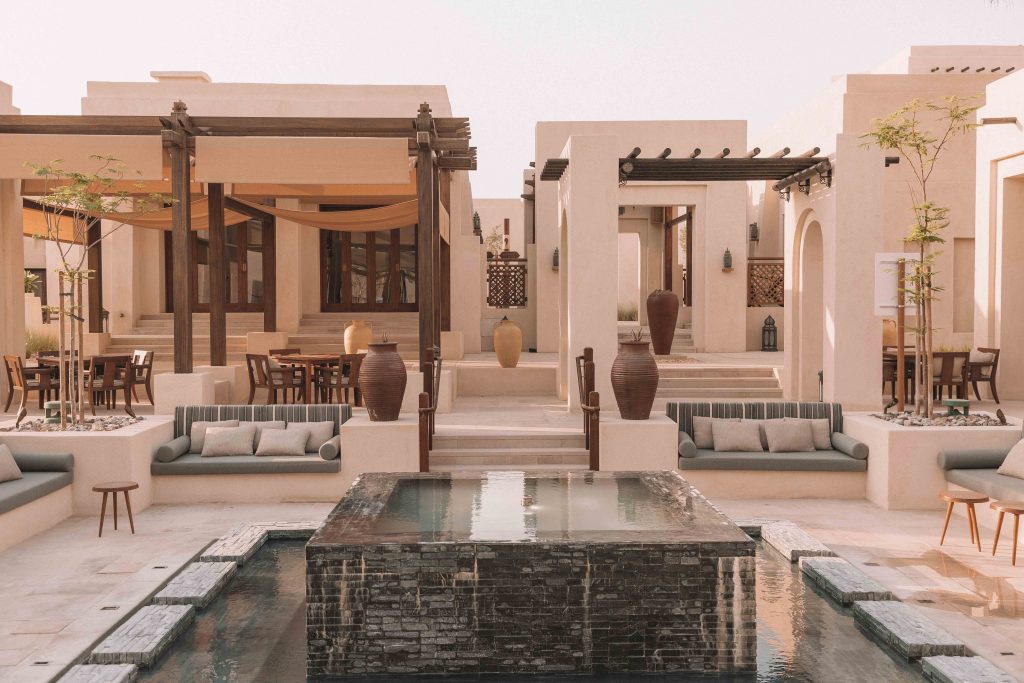 The boutique resort offers 103 rooms and villas, and we were fortunate (once again) to be staying in a two-bedroom private villa complete with pool.
Arriving outside our new home, we eagerly pushed opened our villa's deep mahogany doors and entered an oasis of calm and luxury. An expansive, spacious villa with lounge, dining room, kitchen, two bedrooms, exquisite bathrooms, private balcony and plunge pool, this was an entirely breath-taking place to stay.
With just the sound of birds chirping outside and a gentle rustle from the palm trees, we dumped our bags and collapsed on our luxurious terrace, complete with cabanas, sun loungers and sofas. We were getting rather too used to this new luxury lifestyle.
Having enjoyed an afternoon in our villa, dipping into the plunge pool when the desert heat dictated, we were treated to a full tour of the resort and had a quick peek at the other rooms on offer. Again, private villas aside, all of the rooms around this boutique resort are of the highest of quality and we would have been thrilled to stay in any of them.
Below is an example of the Arabian Deluxe Room (twin bedroom).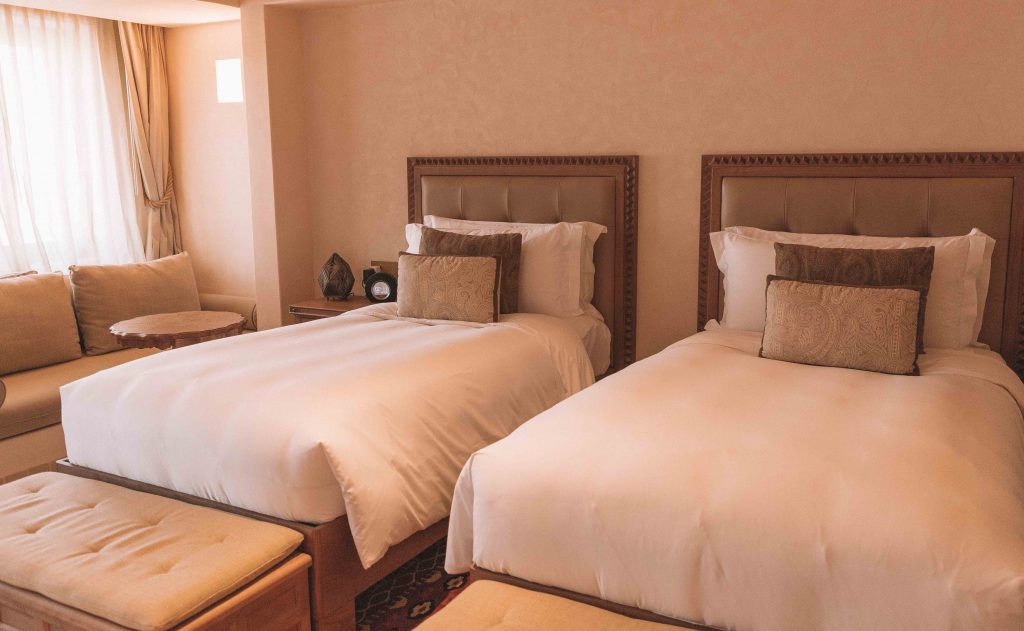 Tour complete, and the desert sun beginning to dip behind the sandy dunes, we made our way over to the edge of the resort for a very special display.
As the national bird of the UAE, falcons are incredibly important in Abu Dhabi, with falconry shows particularly popular throughout the state. A small group forming, we sat fascinated as we were taught about the falcon, before we were shown its hunting and flying prowess. My favourite fact of the evening was that falcons from the UAE must travel first class when being moved by plane, even if their handlers have to sit in economy.
Falcon shows aside, Jumeriah Al Wathba also offers some brilliant activities, including a sunrise horse ride, nocturnal animal safari (something I'm desperate to do) and camel racing. With all these activities on offer – and the resort's kids club often in full swing – this hotel would also suit families after a luxury break.
One of the resort's defining features is its Talise Spa, which we were eager to try.
Stepping through the spa's doors, the sun having just set across the desert, the soft light of twinkling candles greeted us. An oasis of calm, we were led into the spa's relaxation rooms complete with plunge pools, saunas, steam rooms, ice caves and a traditional Turkish Hamman. The scent of soothing oils filling the air, we floated around in the plunge pool before it was time for our hour long aromatherapy massages.
"That was the best massage of my life," we both chimed, as we met back in the spa's inner sanctuary. Unlike some of the spa packages you'll find at other hotels, the Talise Spa felt intimate, high-end and personalised. From the initial foot cleaning ceremony and scrub, to the mint tea served in the relaxation room at the end, we can confidently say that this spa experience was the best we've ever had whilst on our travels.
Sufficiently relaxed after our evening massages, we floated to Terra Secca – the resort's Italian-inspired restaurant – for a delicious dinner under the stars.
The resort boasts six other restaurants, including a traditional bedouin inspired restaurant, poolside bar and rooftop dining. For a small, boutique resort, we were pleasantly surprised by the amount of restaurants on offer and vowed to return here to make the most of them all.
After a deliciously deep sleep in our huge king-sized beds, we left Jumeirah Al Wathba with a heavy heart. Much like all of the hotels we had experienced in Abu Dhabi, one night was simply not enough and we would recommend at least 3 nights here.
Final Thoughts
A city bursting with some of the world's finest hotels, finding a luxury place to stay in Abu Dhabi is not a difficult task. Yet selecting hotels that will allow you to experience all that the city has to offer – beach, city and desert – can be a little more overwhelming. Our time at Jumeirah Saadiyat Island, Emirates Palace and Jumeirah Al Wathba, was therefore the perfect way to experience all three facets of the city; whilst never compromising on luxury.
Indeed, all three of our hotel stays in Abu Dhabi were once in a lifetime experiences; creating memories that we'll look back on (yearningly) for years to come.
We hope you get to experience them, too.
Thank you to all of the hotels for hosting us and to Kenwood Travel for organising such a brilliant trip to Abu Dhabi.