This review of our Inghams Lapland Adventure is a sponsored post.
To book your own Arctic adventure, see here.
Fly just three hours north – over the lights of Stockholm and Helsinki – and you'll find yourself passing over a frontier.
Far beneath you, surrounded by snow-burdened boreal forests and icy blue waters, lies Finland's Arctic Circle: the roof of the world. A precise 66°33′46.3″ north of the equator, this imaginary circle marks our planet's most northerly point.
However, far more than just a geographical boundary – crossing here means passing into another world entirely.
Finland's Lapland is a place that, come the winter, lives in perpetual darkness; the inky black of its polar nights settling across fells and tiny, glowing villages. It's a place where reindeer outnumber people, where fires burn nightly and where the sky is illuminated by celestial lights. It's the home of Father Christmas, of trolls and of packs of blue-eyed dogs that run through the night.
It is a place that once you visit, you'll never forget.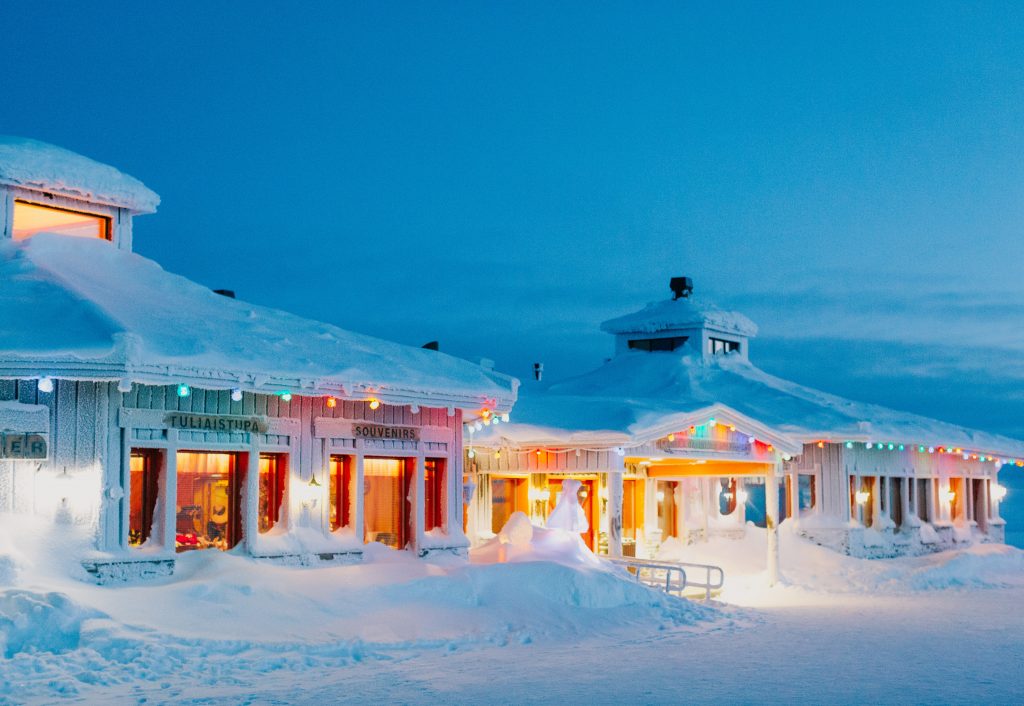 A trip to Finnish Lapland has long dominated my bucket list, particularly since Claire's own trip to the Swedish Arctic.
Harbouring dreams of crackling wood fires, the quiet of a snow-filled landscape and dusky pink skies, I struggled to imagine a place more magical – more other worldly- to visit. 
All I needed was an excuse to go.
An Inghams Lapland Adventure
At the end of last year, an email arrived in our inbox: would we be interested in visiting the Finnish Arctic, courtesy of Inghams?
Connoisseurs of the winter holiday – with ski, mountain and lake holiday packages on offer – Inghams also happen to specialise in one particular adventure: Lapland holidays.
With over twenty years experience of organising these distinctly snowy adventures, Inghams offer some of the best hotels in Lapland, arrange flights and – perhaps best of all – put together bespoke itineraries brimming with Arctic experiences: from snowmobiling to husky sledding, Aurora hunting to ice fishing.
It would be one of these itineraries that we'd be experiencing, heading to Finland to enjoy our very own 5 day adventure.
Day 1: Travel Day
How Do You Get to Finnish Lapland?
Perhaps it is its mythical reputation, or its dreamlike landscapes, but I'd always imagined that getting to Finnish Lapland would not only be a logistical nightmare, but an incredibly expensive one, too.
Save hitching a ride with Santa, I was mystified as to how we'd get there.
As it turns out, the reality is a little more straightforward. As part of our trip, Inghams booked flights from Gatwick airport direct to Ivalo: the heart of Finland's Arctic Circle.
Flying via Finnair, the entire journey would take just over three hours.
This direct (and seasonal) route was launched by Finnair in 2017, with flights running twice weekly (Thursdays and Sunday) throughout the winter season, from early December until late March.
Prices for a return flight in December 2020 currently begin at £270 per person, but can be found for cheaper in January 2021.
The Best Place to Stay in Finnish Lapland: Saariselkä
When it comes to booking your Inghams Lapland holiday, you might be surprised to find that this area is not just a small, festive slice of Finland – but one of the country's largest regions.
It's the size of Portugal, in fact.
As such, you might be a little stumped when it comes to deciding exactly where in Lapland you wish to stake your ground.
Throughout our Inghams Lapland adventure, we stayed in and around Saariselkä: a small, quiet and relatively uncommercialised resort in the heart of Finnish Sámi country.
Surrounded by piney fells, never ending expanses of snowy tundra and with some of the clearest (and darkest) skies I've seen, this is a place to come to for quiet reflection, space and that unique strand of Arctic isolation.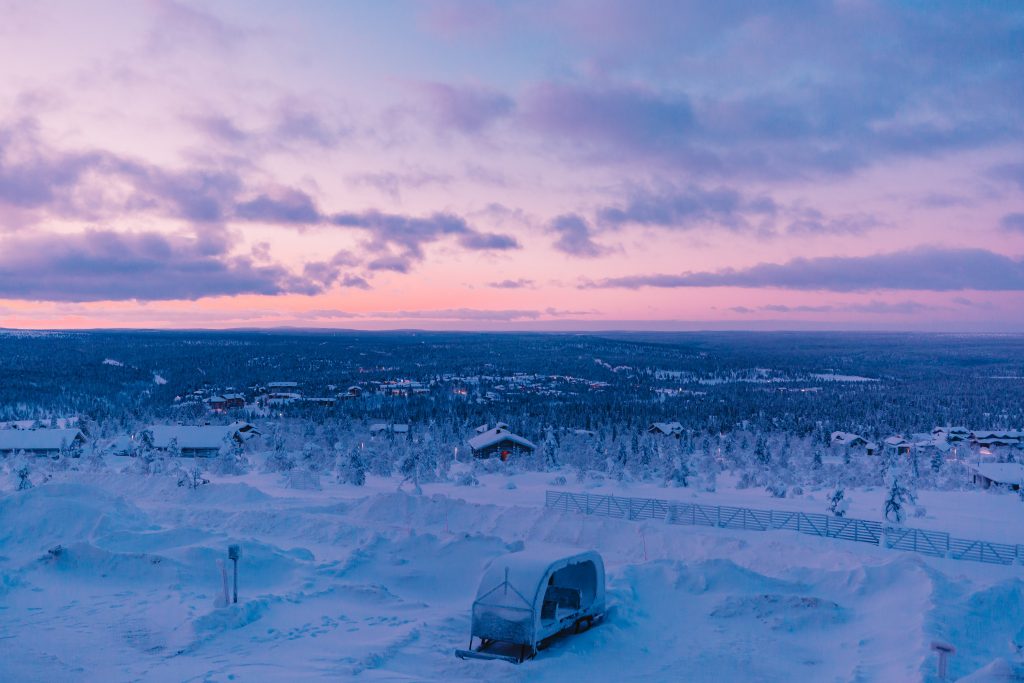 In many ways, this stands in contrast to nearby Rovaniemi: Lapland's glittering capital.
Geared entirely towards everybody's favourite bearded chap – Santa Claus – Rovaniemi can feel a little Christmas market-esque: crammed with stalls primed for tourism and costly memorabilia.
Additionally, and throughout December, it's an incredibly busy spot, overflowing with families and children. A bit of an Arctic theme park, Rovaniemi is one of Finland's biggest tourist attractions.
However, and while a trip there would no doubt be a magical experience, it might lack the very thing that makes Finnish Lapland just so magical: its complete and utter stillness.
Thankfully, spots like Saariselkä have worked to retain their sense of remote tranquility; balancing just the right amount of Arctic novelty with a genuine sense of peace.
Arriving at Ivalo Airport
Having left Gatwick at 8.30am early on a Sunday morning (tip: a trip to Lapland is not only much cheaper in January, but much quieter too), we touched down on an ice-lined runway in Ivalo, Finland at 2.30pm.
Although early afternoon, the skies over Ivalo blushed a dusky pink; evening already vignetting its pastel edges. It looked as though the sun – having put in a short shift – was rapidly retreating below the horizon: illuminating the glittering edges of the blanched landscape.
Stepping out into the freezing air, the first thing I noticed was the deafening silence. Despite being at an airport, the heavy layer of snow surrounding us seemed to place everything – and everyone – on mute.
There was no roar of traffic, no distance hum of a city – not even the sound of bird song.
It was all completely silent.
Checking In At Wilderness Hotel Muotka
Another reason to stay in Saariselkä is its close proximity to Ivalo airport.
While I'd imagined a long and arduous journey through the wilds of the Finnish Arctic (on our very own Ranulph Fiennes like expedition), our transfer from Ivalo to our hotel took just 20 minutes.
Watching as the sky darkened- our bus weaving its way through dunes of fresh snow – we headed towards the first hotel of our trip: Wilderness Hotel Muotka.
Tip: private transfers to and from Ivalo can be arranged by the Lodge, or – and to save some pennies – a public bus is also available: Eskelisen Lapin Linjat.
Teetering on the edge of the Urho-Kekkonen National Park, the Lodge appeared through the darkness like something from a fairytale: its main building sparkling with fairy lights and wood smoke pouring from its chimneys.
Entirely family run, Inghams explained that the Lodge was far removed from the larger, more commercialised hotels that you might find in Lapland. Instead, this was a warm, cosy and deliberately authentic place to rest your head.
Invited in and immediately handed mugs of hot berry juice, we gathered around a table laden with reindeer skins and blankets. In the corner, a fire crackled and glittering stars hung from the windows. It was everything you could want from a Lapland hotel; its wood-clad walls and flickering candles offering up a sense of Finnish seclusion.
Handed our own 'aurora alarms', thermal suits, gloves, snow boots and thick wool socks, we were sent to our rooms to unpack (beautiful Sauna Suites), before tucking into a traditional meal of reindeer stew and mash.
Day 2: Snowmobiling, Saunaing & Aurora Hunting
Having woken up to the Arctic's deafening silence, we walked through the inky darkness to breakfast at the Lodge. Despite it being nearly 10am, the sun was still yet to appear – the polar night stretching on almost infinitely.
After a traditional Finnish breakfast of elk meatballs (surprisingly delicious) and having piled on endless layers of clothes, it was time for the first full day of our Inghams Lapland adventure.
According to our itinerary, we would be trying our hand at snowmobiling, warming up in a traditional Finnish sauna and embarking on a nocturnal adventure: seeking out those elusive Northern Lights.
Snowmobiling 
Handily, the majority of hotels throughout Lapland offer and organise their own distinctly Lappish activities (which, for ease, can also be booked via Inghams).
Wilderness Hotel Muotka was no different, with a wide range of adventures and excursions on offer (suitable for small kids through to adults).
We began our Arctic adventure with a snowmobiling experience, gliding through fir-filled fells, across snowy tundras and along deserted roads and tracks.
Although I was initially nervous about driving one of these weighty looking machines, it turns out that snowmobiling is incredibly easy. All you need is insurance, a driving licence and a pair of warm gloves – and you are ready to go (the hotel provides helmets, which must be worn).
Sat on top of (what is effectively) two giant skis – complete with a petrol engine – the snowmobile follows the tracks of the vehicles in front, meaning you don't have to steer too much. In fact, and as the instructor advised, it's best to stay as relaxed as possible.
Leaving the Lodge at twilight, we weaved our way through forests of pine; virgin snow surrounding us. Over the course of the next four hours, we explored the wider Urho-Kekkonen National Park, climbed high onto the brows of wind-beaten hills and descended down through snowy valleys.
Stopping for lunch (a steaming bowl of salmon soup), we arrived back at the Lodge around 2pm, just as daylight was ebbing away.
It was a surreal, beautiful and unforgettable experience.
Tip: the 4 hour snowmobiling experience at Wilderness Hotel Muotka begins at €133 per person and includes helmets. Be sure that your winter sports insurance covers snowmobiling, as this is an activity that's often excluded.
A Finnish Sauna & Plunge Pool
During our last trip to Helsinki and the Finnish Lakes, we were introduced to Finland's visceral attachment to the sauna.
Not just an activity, but a religion, 'saunaing' in Finland is a weekly, if not daily, affair; one that friends, families, colleagues and strangers enjoy together and en masse.
Naturally, our time in Finnish Lapland had to include such a visit.
Indeed, with the temperature outside reading -15 degrees and the darkness already sweeping in, what better way could there be to warm up than inside our very own wood-built steam lodge?
Unlike the sort of sauna you might come across at your local gym or hotel, the sauna at Wilderness Hotel Muotka was perhaps one of the most atmospheric places I've visited (whilst wearing a swimming costume).
Built entirely from wood and without any overhead lighting, the sauna was a (deliberately) dark refuge: lit only by flickering candles and beams of moonlight. Entirely quiet, aside from the sound of the steam rising from the hot coals, our time in this sauna was easily one of the highlights of our trip.
Surrounded by snow and utter stillness, sitting in the shadowy lodge – our fingers and toes thawing – was nothing short of blissful.
Of course, this relaxation was to come to an abrupt end – thanks to an obligatory dip in the pool of icy water that was waiting outside.
Indeed, as is the custom in Finland, what goes up, must go down – temperature wise. Now satisfactorily sweaty, it was time to get our hearts and endorphins pumping – plunging ourselves into an inky black pool of sub zero water.
Now, I'll freely admit that I found this part of our sauna experience harrowing.
The icy cold water was almost unbearable – so much so that I found it difficult to breathe (saving just enough to scream, of course). At one point, I wondered if cardiac arrest could be on the cards.
However, once out – and having run back inside the warm confines of the sauna – the epiphany happened. With my heart pounding, blood flowing and skin tingling, it was difficult not to feel fantastic.
Incredible, in fact.
Of course, the idea is to then repeat this painful cycle: the lurch between hot and cold creating some sort of life-affirming buzz. However, now lovely and warm, I failed to brave the cold water again – instead opting for a 30 minute sauna session.
I vow to be a little bit braver next time.
Tip: the sauna at the Lodge can be booked for your own private use, just ask at reception.
A Trip to the Auora Camp
Despite a day of wrangling with snowmobiles and lowering ourselves into sub zero waters, there was still more to come: the pièce de résistance, perhaps, of our stay at the Wilderness Hotel Muotka.
That evening, and as part of our Inghams Lapland adventure, we would be heading out to an Aurora Camp; spending our night looking upwards in search of the elusive 'tricky lady'.
Leaving in wooden sleighs from outside the Lodge, we were led (via snowmobile) into the dark fells, where a cabin waited for us.
Filled with the glowing light of a burning fire, the cabin would be our base for the evening; an impossibly cosy hideaway to warm our hands, drink steaming cups of berry juice (Finland has 38 different types of edible berries – so expect endless varieties of the stuff) and to toast marshmallows.
Outside, a large bonfire also roared to life, just in case the Aurora Borealis decided to make an appearance.
Sadly for us, and as the hours passed, it became obvious that the heavy cloud cover meant that whilst the lights might be dancing overhead, we wouldn't be able to see them.
However, this didn't detract from just how lovely the Aurora Camp was.
Gathered around the fire in the hut, we chatted with other guests, quizzed our guides on life in the Arctic Circle and listened as the kettle whistled. Outside, the forest stood entirely silent; lit only by the dancing flames of our fire.
It was a truly magical evening (even without the lights) and an experience I'd highly recommend.
Day 3: Aurora Cabins and Taboganing
After another lovely candle-lit breakfast, it was time to leave Wilderness Hotel Muotka in order to explore more of the Lappish accommodation on offer via Inghams.
Exploring the Northern Lights Village
After a short 10 minute transfer, we arrived at the beautifully designed Northern Lights Village, where we'd be spending the day.
Still within Saariselkä, but entirely different to the Wilderness Hotel Muotka, the Northern Lights Village had a modern and deliberately stylish feel. With another site in nearby Levi, the resorts were designed to be a 'one-stop-shop' for anyone after a convenient and seamless Arctic adventure.
Offering all activities entirely on site – from Santa Claus experiences, to ice karting – guests at the Village needn't ever leave the hotel. Cutting down on costs, transfer fees and the need for any additional planning, staying here is a fantastically relaxing and hassle free way to enjoy Finnish Lapland. Glass cabin excursions at the Northern Lights Village can be booked via Inghams here.
The vision of Markku Inkilä – a man who was (unbelievably) born under the Northern Lights – this blissfully quiet resort boasts 80 aurora cabins, a beautifully sleek restaurant (serving only local food), a reindeer paddock, a tobogganing hill and an active 'wilderness programme' (snow-shoeing, anyone?)
Having left our bags behind, we spent the rest of the day experiencing a slice of what the resort had to offer. In just three hours we met the resident reindeer, explored a nearby Sámi tent, sampled their sauna and plunge pool, and gorged on their lunch buffet (I'd highly recommend the salmon chowder).
It was a truly magical, sublimely quiet and peaceful place to explore.
Checking In at the Star Arctic Hotel
With the light already beginning to fade, and having spent hours walking the quiet grounds of the Northern Lights Village, we took a transfer to the final hotel of our trip: the nearby Star Arctic Hotel.
Teetering on the side of a mountain, the Star Arctic Hotel boasts unbridled vistas of Lapland's snowy tundras, with panoramic views on offer from nearly every angle.
Complete with a nearby ski slope (and lift), a thoroughly modern restaurant and – you guessed it – even more sleekly designed glass aurora cabins, the Star Arctic Hotel is one of Saariselkä's newest kids on the block.
Luckily for us, we would be staying here for two nights – experiencing one of its many north-facing aurora cabins.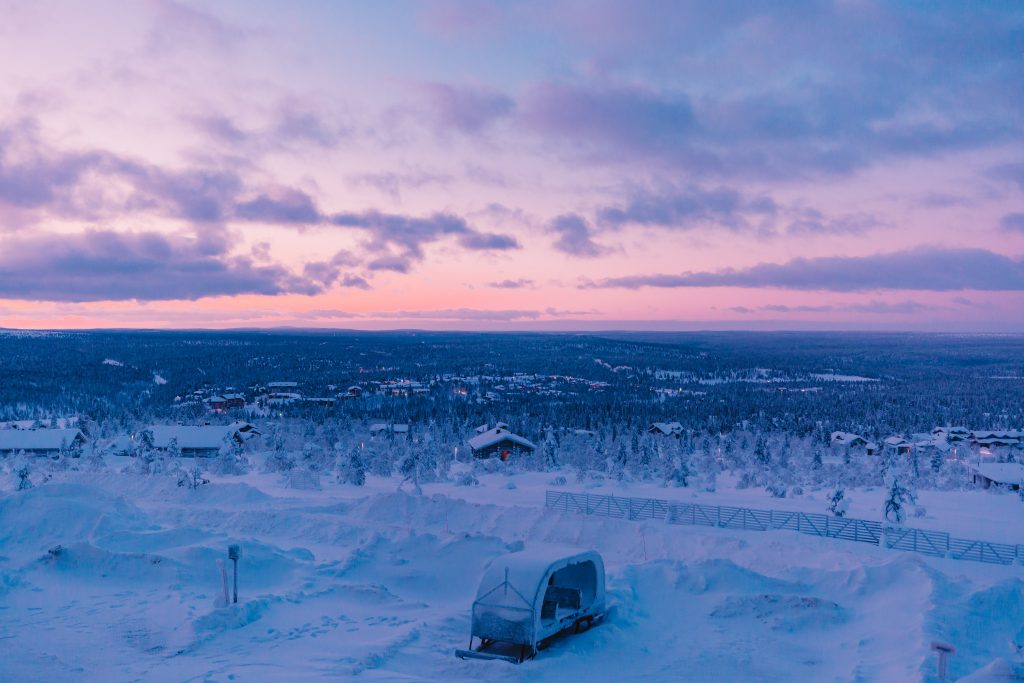 Arriving just as the landscape glowed under a crimson sunset, we checked into our cabins and watched as the ice miraculously disappeared from their domed roofs (thanks to the inbuilt infra-red heaters).
Sleekly designed – a mix of Danish design and Finnish practicality  – we stared upwards at the candy pink skies, wondering if tonight would be the night that we'd (finally) witness Finland's carnival of lights.

Europe's Longest Toboggan Run
Although it wasn't mentioned in our itinerary, our Inghams Lapland adventure offered up another unexpected experience: a chance to hurtle down (what is said to be) Europe's longest toboggan run.
Conveniently placed next to our aurora cabin, all we had to do was grab a spare sledge from outside the hotel's reception and assume our positions.
Balancing ourselves at the top of the icy slope – the run seeming to disappear into the sunset below – we took a deep breath, pulled down our hats and pushed off, hurtling past a group of school children.
Now, I should say for anyone considering taking a similar trip – please wear a balaclava. Speeding down the hill, the snow hit our faces like an icy exfoliant; blasting away our mascara, hats and several layers of skin.
Lasting a whopping two minutes, our descent down into the sunset was hilarious, painful and vaguely terrifying. In fact, it was the only time that Lapland's steady silence seemed to be broken; instead filled by the screams of troupes of small children (and two sisters in their thirties).
Tip: the toboggan run at the Star Arctic Hotel is entirely free to use by guests.
Witnessing the Northern Lights
They say that on average, the Aurora Borealis is visible 200 times a year in northern Finland. 
I figured that our chances were therefore fairly high and after (a delicious dinner), we set off through the vicious Arctic winds towards the nearby hilly peak; clutching tripods, our phones (complete with Aurora apps) and cameras.
Now, for the Northern Lights to appear, you need two things: a completely clear sky and some fairly active solar activity (or, what everyone else knowingly called 'KP' – or geomagnetic conditions). If you have one without the other, you're unlikely to see anything other than a few stars or some passing clouds.
On this particular night, the sky was entirely clear: excellent. However, it didn't look like our KP rating was particularly high.
Arriving at the peak of the hill, we strained into the darkness – searching for something, anything, in fact. Joining the crowds, we stared skywards en masse: regularly mistaking a cloud for the start of the celestial dance.
Eventually, someone shouted that they were there: the Aurora Boraralis had arrived.
Now, what I would say is – prepare to be initially underwhelmed.
Despite the photographs, the Lights are not always a firework display of citrus tones or flamboyant pinks. Instead, they can appear like a giant cloud; a glowing stairway to heaven.
On this particular night, this is how they looked. Seeming to reach from one corner of the sky to the other, the Lights were entirely still – a band of glowing, pulsating colour – faint but recognisable.
They weren't dancing and they weren't particularly vivid, but they were definitely there – and that's all that mattered.
Day 4: A Reindeer Farm, Husking Sledding and an Unforgettable Display
The final day of our Inghams Lapland adventure was dedicated to an aspect of the winter wonderland that I'd been looking forward to: its animals.
After breakfast, the plan was to take a transfer to a Wilderness Camp owned by the Star Arctic Hotel. Here, fields of snowy white reindeer and packs of howling huskies were waiting.
Just a ten minute ride later and we arrived in an open clearing: the sky awash with a palette of blue and pink. After a night of heavy snowfall, the entire landscape was pristine: snow covering, coating and decorating everything in sight.
The result was a landscape almost too beautiful to describe: a perfectly formed little snow globe scene.
A Reindeer Sleigh Ride
Stepping out into the cold, clear day and we were met by an extremely excited border collie; his owner smiling widely as she attempted to calm him down.
Next to her stood Bjorn; the owner of the resident reindeer and a proud Sámi.
Sensing that we had already spotted the nearby animals, we were immediately led towards the paddocks. Here we'd not only get to meet the magical reindeer, but feed some of the babies that had just arrived.
I was finding it hard to keep my composure.
Handing us each fistful of lichens (a variety known, fittingly, as 'reindeer moss'), we hunkered down and waited as the baby reindeer trotted towards us; their soft noses nuzzling our hands.
Explaining that the adult reindeer surrounding us were only male (females aren't used for sleigh pulling, as most are raising – or are pregnant – with calves), we next received a masterclass in reindeer farming: what to look out for (brown eagles and wolverines) and how to recognise your own reindeer in a country that has 200,000 of them.
Having spent thirty minutes fussing over the soft, quiet babies – it was time to see the adults in action. It was time for a sleigh ride.
Unbelievably strong, each sled had just one reindeer pulling it – with each swiftly delivering us around the short loop (albeit, a little grumpily).
Short but sweet, and snuggled under layers of reindeer skins and blankets, it was a lovely way to experience life as a traditional Sámi farmer, and to better understand the importance of these animals to (not only Father Christmas), but to an entire nation of people.
A Sami Experience
Reluctantly leaving behind the reindeer, we headed towards the warmth of the traditional Sámi tent (known as a 'lavvu'), where we had the chance to warm up by the fire and drink (yet more) berry juice.
Settled inside – dry birch wood piled high on the open fire – we had the chance to ask about life as a Sámi in Finland.
Whilst Sámi are a protected people and found across Finland, Sweden, Russia and Norway, there are around 10,000 in Lapland alone.
Explaining that there were three main Sámi tribes in the country – the North Sámi, Inari Sámi and Skolt Sámi – these indigenous people are well represented and respected, with their own Sámi Parliament of Finland (known as the 'Saamelaiskäräjät').
With each Tribe the proud owner of its own language, heritage and history, Bjorn explained that it would soon be national Sámi Day (February 6th): a chance for all tribes to come together, wear their colourful and vibrant ceremonial dress (known as the 'gàkti') and fly the shared Sámi flag.
It sounded like a brilliant, colourful and incredibly fun day.
Husky Sledding
After a lovely lunch of tomato soup and fresh salmon, we headed back into the cold ready to meet our next noble steads: several packs of howling, excitable huskies.
Of course, browse any Lapland holiday and you'll be hard-pressed to avoid photographs of husky sledding: gangs of blue-eyed dogs hurtling through the snow, with smiling tourists clinging on for dear life at the back.
Indeed, husky sledding is a bucket list activity, a rite of passage: an activity we had to do while in the Finnish Arctic.
Against the backdrop of barking and howling, we had a quick lesson on how to drive our sledges (in short: hold on tightly and push the brake as much as possible), before it was time to go.
Huskies are born to run – they want to run. Leaping, jumping and straining to get going, these beautiful dogs only fall silent once they begin to canter through the snow.
Inevitably – and the moment we released our brakes – our dogs took off like small furry rockets, their barking silenced and their azure-blue eyes fixed on the landscape ahead.
Compared to the slow, rocking of the reindeer, husky sledding was like wrangling with a pogoing Ferarri.
Passing through a maze of fir trees, our thirty minutes as bonafide 'mushers' was fantastic and filled only with the sound of panting, happy dogs.  It was a bucket list dream come true.
The Final Display
After a short trip back to the Star Arctic Hotel, it was time to pack and meet for one final meal.
Eating at the privately run restaurant – enjoying piles of soda bread and Finnish beer – we all but forgot about the Northern Lights.
Chatting about the tiny reindeer, the beautiful huskies, the euphoric rush that came from the sauna and the icy pool, and the sound of the vicious Arctic winds that blew outside, I almost forgot that spotting the Aurora Borealis was a possibility.
Returning to our aurora cabins later that night, we turned out the lights and closed our eyes – completely oblivious to what was about to take place.
Thirty minutes later and I was jerked awake by Claire pointing upwards. Above me, our glass roof was glowing, shimmering and dancing with acid green lights – great swirls of colour that decorated the sky.
Lying back, we lay in stunned silence for over an hour – watching as the lights formed a giant causeway across the sky, before snaking across the darkness like a shimmering serpent. Watching as they shifted shape and colour, it was easy to understand just why these lights had captured (and terrified) generations of people.
Indeed, although they might be explained by magnetic fields and molecular reactions, it's easy to imagine just why you might believe these lights were something else entirely.
According to Finnish lore, for example, they are the sparks of snow sent skywards by a fleeing fox; a hunter following close behind.  For the Sámi people, the Lights were a dangerous force – able to take children and babies. In Norway, they believed the lights were dancing maidens or animals, whilst far across in Canada, they were thought to be the torches of giants.
Lying there until the early hours of the morning  – watching as the sky swirled like a cosmic kaleidoscope – it was difficult not to hope that they were more than just a reaction between Sun and Earth.
Maybe they were something other-worldly after all.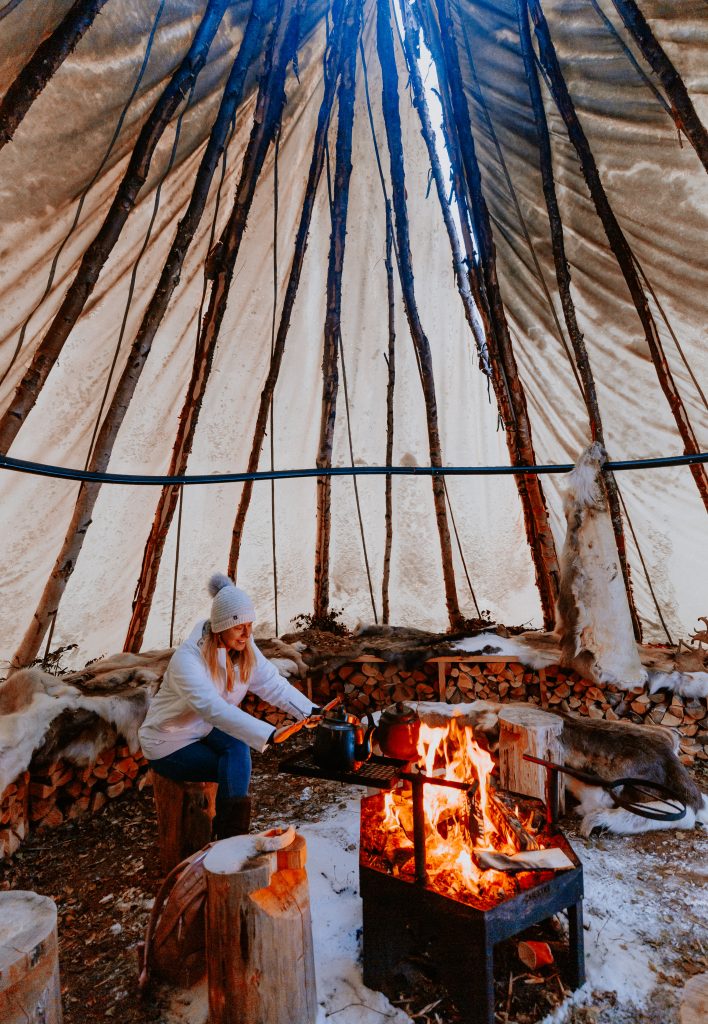 Day 5: Travel
Flying Home
Leaving the darkness of Lapland at 5.30am, we reluctantly left behind our aurora  cabins and with it – our last chance to see the incredible dancing lights.
After a short transfer back to Ivalo airport (note, there's not an awful lot to do there, so no need to rush), we boarded a 7.55am flight back to Gatwick airport, via Finnair.
Landing back home – London a predictable vision of grey – it was difficult to believe that our trip had happened.
Watching as we passed bleak fields and lanes of queuing traffic, I struggled to imagine that Finnish Lapland – its quiet stillness, snowy tundras and carnival of lights – still existed; tucked away high in those northern lands.
It was another world entirely – a place that if I'd not seen it, I'd struggle to believe was real.
Our 5 days in Lapland was a trip that is difficult to describe – one that ticked so many of my bucket list wishes; all whilst surpassing them all. From the colour of those Arctic skies, to the sound of its silent landscapes, the Finnish Arctic was like no other place I've visited – and unlike anywhere I'm likely to see again.
Mythical, magical and isolated, it's a place I feel incredibly lucky to have experienced and one I hope you'll visit one day, too.
Thank you to Inghams for inviting us on this adventure.
A similar 7 day package begins at £1919 per person, including flights, accommodation, activities and transfers.and Holiday