Things to do in the Algarve, Portugal
Prior to visiting the Algarve for the first time, I'll admit that I'd not really given Portugal's rugged Atlantic coastline much thought. With my summer travels instead focused on the Mediterranean, I didn't imagine that there were many things to do in the Algarve; particularly when compared with the likes of Sicily or Bologna. Unfairly, I instead dismissed it as a place that's probably best for family travel: a place offering sunny holidays spent in waterparks, family villas and on golf courses.
However, after an (unexpected) flurry of trips to the Algarve this summer, I discovered that Portugal's seaside region is in fact a fascinating jewel in the Atlantic's crown. Boasting idyllic villages and picture-perfect towns, there are plenty of pretty – and historically significant – spots across the Algarve waiting to be discovered.
Below is a summary of things to do in the Algarve, including some of its prettiest spots. From discovering Lagos' ancient past to kayaking through turquoise waters, the Algarve offers a dazzling array of activities able to satisfy even the most adventurous of travellers.
Things to do in the Algarve
1. Visit Lagos, Algarve
Lagos (pronounced 'lah-goosh') is a blustery, colourful city nestled on the Western Algarve. Hidden within four hills, Lagos is a city that sprang to life during the 15th and 16th centuries, when trade with Africa began. Now a tourist town attracting care-free surfers from across the world, this is a city with a perhaps unexpectedly laid-back and bohemian feel.
Where to stay in Lagos, Portugal
During our first visit to the Algarve, we stayed just outside Lagos at the brilliant 5* all-inclusive Iberostar Selection Lagos Algarve resort. The hotel offers an ideal location for those looking to combine city walks with all the trimmings of a beachside resort.
Things to do in Lagos, Algarve 
A city defined by the water that surrounds it, it is seafood, beaches and yachts that top the list of Lagos' activities. Plunge beneath its surface, however, and Lagos has a long-forgotten and turbulent history. Below is a round-up of the top sights in Lagos, including its beaches, cuisine and unexpected past.
1. Marina de Lagos
In contrast to the city's ancient winding streets, Lagos is perched beside a busy, wholly modern marina.
Perhaps the best place to begin when visiting Lagos (most of the parking is also found here), the marina provides a decidedly glitzy introduction to the city. Opened in 1994, the marina boasts accommodation, shopping and leisure activities, which surround the many yachts at its centre. A walk along the edge of the marina is also a nice way to familiarise yourself with the steep skyline of this hilly city. You'll find this area is dotted with small stalls, ice cream vans and tour guides selling nautical adventures, including kayaking trips to the nearby beaches (more on this below).
2. Lagos' Churches
Wandering down one of Lagos' lanes, we stumbled across a sign to the entrance of the church of Santo António: one of the finest and most ornate churches in Portugal. So revered by the Portuguese, the church has been classified as a national monument; quite the find during our city stroll. Unassuming on the outside, it's the interior of the church that makes it so special. Adorned with shimmering gold leaf, the inside of the church is an unexpected and lavish surprise.
Indeed, it's certainly worth a look if you've got the 4 euro entry fee to spare.
3. Lagos Slave Market
The Lagos Slave Market (known as 'Mercado de Escravos') is thought to have been the first slave market in Europe.
A sobering (yet fascinating) visit, Lagos' Slave Market is a strong reminder of the city's past; one far different to the relaxed, tourist-filled streets found here today. Indeed, the building housing the market – known as Praca do Infante Dom Henrique – may look unassuming from the outside, but inside it houses a tragic past.
The market opened in 1444, when a trading post was set up between Lagos and West Africa. The traumatic and miserable process of selling slaves – tearing families apart to be sold separately – continued for 10 years in Lagos, with an estimated 800 slaves sold in total. Once separated, male slaves were generally sent to work as sweepers, labourers and fishermen in the city, whilst women were employed to sell produce in the streets, including seafood, coal and water. After the death of Prince Henry the Navigator – who initiated the slave trade in Lagos – the trade then moved to Lisbon.
The museum found at the former market comprises of a small, ground floor exhibition, which houses artefacts from the original building, alongside an upper floor gallery featuring further bleak displays.
In terms of things to do in the Algarve, this is an important place to visit and a stark reminder of Lagos' often overlooked past.
4. The Best Beaches in Lagos, Algarve
A 25 minute walk from Lagos' city centre lies some of the Algarve's prettiest beaches. Known as the 'gold coast' due to its yellow rugged rocks, the walk here is breath taking. In fact, I'd even go as far as to say that the beaches and coves along Lagos' coastline are perhaps some of the prettiest beaches I've seen in Europe (read our two-week Europe guide here).
For those pushed for time, there is a mini-train that leaves the marina every hour, that travels along the coast to Dona Ana Beach and Ponta da Piedade. We opted to walk to Ponta da Piedade so that we could take our time, before getting the train back after a particularly long and leisurely lunch at Bar Sol Nascente. This fantastic restaurant is located just above the cliffs of Ponta da Piedade and is handily where the tourist train drops you off.
Praia Dona Ana Beach
Praia Dona Ana is the first beach you'll pass if travelling by foot and is around 20 minutes from Lagos' centre.
A popular, easy-going beach surrounded by small cafes, this is a nice spot for those not looking to stray too far from the city. It should be noted, however, that like all the beaches mentioned here, Praia Dona Ana is accessed by steep, wooden steps and therefore may not be suitable for those with mobility issues.
For those looking for a more accessible spot, head to Meia Praia beach.
Praia do Camilo Beach
A wooden stairway of 200 steps leads down to one of Europe's prettiest beaches. A secluded bay filled with clear water, soft white sand, limestone cliffs and sun worshippers, Praia do Camilo is the place to come for sun, sea and relaxation. Small but perfectly formed, this is a very popular beach in the summer, so do arrive early to secure your spot.
Just above the beach sits the trendy restaurant 'O Camilo'. Be warned, this is an incredibly busy restaurant during peak season (it would have been an hour long wait for a table when we visited), so please book ahead.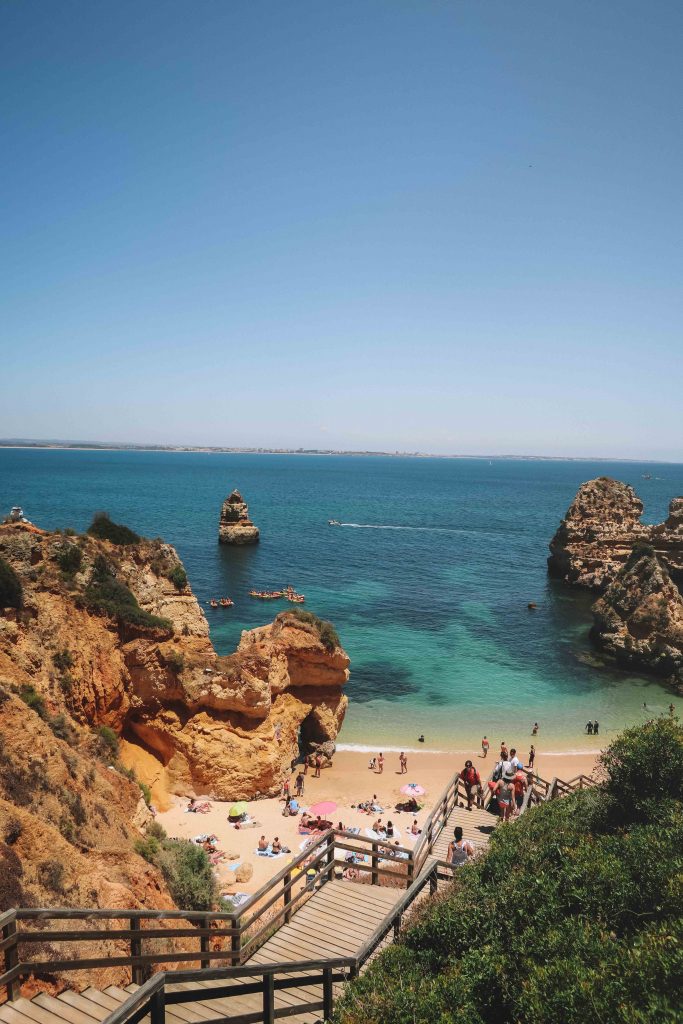 Ponta da Piedade Beach
The crowning jewel of the region, Ponta da Piedade (translated as 'Piety Point'), is a spectacular display of limestone cliffs, hidden grottoes and craggy rock arches. Unlike its neighbour – Praia do Camilo – it's not the beach that draws the crowds to Ponta da Piedade, but its spectacular cliffs and unusual rock formations.
A clifftop board walk ensures that you get the best views of the headland, with another (dreaded) set of 200 stairs leading down to the beach's small cove.
For those more adventurous folk amongst you, you can also access Ponta da Piedade by sea, exploring its hidden grottos and archways by kayak or boat. All of these activities can be booked along Lagos' marina and leave from either the marina or a nearby beach.
Where to Eat in Lagos, Algarve
The Garden, Restaurant
The Garden is a bohemian paradise, located in an overgrown garden full of vintage trinkets and mismatched chairs. Offering excellently priced dishes (fresh fish and a beer for just 10 euros), this is the ideal location for those looking for a lazy and relaxed meal.
Craft Beer in Lagos
Located 40 minutes from Lagos (near Carvoeiro) is Dos Santos Craft Beer. This was handily located close to the villa complex we were staying in and was a bit of an unexpected find.
An artisan brewery located on rolling vineyards, Dos Santos offers a chic restaurant and bar, dazzling white courtyard and on-trend brewery. We enjoyed traditional tapas here, along with plenty of cool, delicious beers.
2. Visit Tavira
The pretty little town of Tavira sits 30km east of Faro and makes for the perfect day trip from Lagos.
Known as the region's most charming town, Tavira lies just 25km from the Spanish border, making it a Moorish inspired, flower-filled, haven. Indeed, perhaps it was this Moorish influence that made me warm to the town so much; the picture-perfect yellow and white tiled villas transporting me back to my favourite city – Seville.
Unlike its busier neighbours, Tavira feels remarkably quiet. Slower paced and more (perhaps) authentic, Tavira is said to be a good representation of how the Algarve was, before its wave of tourism. Indeed, long before the Irish pubs and golf courses took over, much of the Algarve would have resembled sleepy, colourful Tavira.
Tavira Architecture 
Straddling the lazy river of Gilão, Tavira is a town of two halves. Begin your visit by tracing the banks of the river, meandering down its quiet cobbled lanes and admiring the traditional architecture. With many of the houses still boasting the original wooden latticed doors (devised by Arabs to let air and sound in), the town's traditional homes are a delight to explore. Keep wandering and you'll also discover Tavira's original Islamic walls.
Tavira Castle
Tavira Castelo is home to the remains of an original Moorish castle and offers dazzling views across the town. The castle was left in ruins in 1755 after an earthquake, but has since been transformed into a beautiful garden. On a warm summer's day, wandering through this garden (before tackling the many steps that lead to the tower), is a must whilst visiting Tavira.
Churches in Tavira
Tavira is home to a whopping 37 churches; each an eclectic mix of medieval, moorish and renaissance design. Perhaps the most beautiful church is Igreja da Misericordia, with an interior lined with bright blue tiles portraying Biblical tales. Quite unlike a lot of the baroque churches found in the country, the colourful Misericordia makes for a fascinating visit.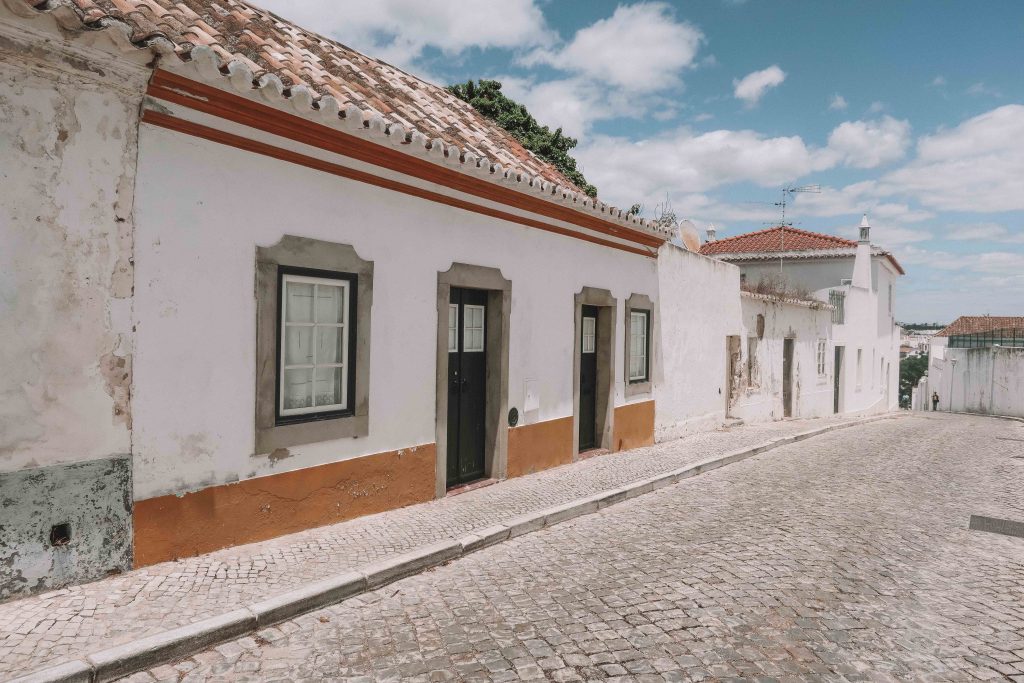 Tavira Beach
Tavira is flanked by a beautiful coastline filled with soft golden sands. The closest beach to the town is Praia de Tavira, which requires a ferry journey to visit. This is a result of the beaches of Tavira (so unspoilt that they're protected by the Parque Natural da Ria Formosa), being separated from the town by mudflats and waterways. However, it's their secluded location that makes these beaches so special.
3. Vilamoura
In stark contrast to Tavira, Vilamoura is the place to come for those looking for night life and energy.
An area most certainly embracing tourism, we stopped here for a quick lunch and stroll around. With the rustic charm of many of the Algarve's towns replaced with sleek marinas, Vilamoura has an entirely different feel to its neighbours: Lagos and Tavira. I'd suggest that the best part of this town is its beautiful beach: a 5km sandy stretch called Praia da Falésia.
Once a destination that I presumed was better suited to young families and golfers, my time in the Algarve proved that I had this region entirely wrong. Boasting dazzling limestone beaches, quiet cobbled lanes and an impressive amount of history, the Algarve is a place I'll certainly be returning to time and time again.
A rugged, breezy slice of European living, complete with a distinctly bohemian feel, there's plenty of places to visit in the Algarve and is ideal for salty seaside adventures and a much needed rest.
Pin for later: Things to do in the Algarve