Whilst our Pacific Northwest road trip had been an unforgettable experience, it had also proven to be unforgettably expensive.
With Seattle currently reigning as the US' eighth most expensive city, and San Francisco playing host to the country's third largest population of billionaires, this road trip had landed firmly outside of the 'shoestring' category.
Consequently, and by the time we reached Portland, we had become ardent Martin Lewis types; fuelled only by a passion for voucher codes and one-time-only deals.
Thankfully, having done some research, and having formed a vague outline of Portland, we were optimistic that it would be here that our credit cards would receive some respite. Indeed, if there was anywhere on the Pacific Northwest where we could enjoy wholesome, outdoor activities, surely it would be here – in this liberal, off-kilter city?
Buoyed by this thought, I set about researching free things to do in Portland. Disappointingly, the initial results were (surprisingly) scant. Like its PNW neighbours, Portland – home to Nike executives and Intel professionals – was undeniably expensive. Even the city's many coffee roastaries and micro-breweries were unimmune to the West Coast price tag.
Over the course of our two days in Portland, we therefore set ourselves a challenge: to find as many free things to do in Portland as possible. Thankfully, it was not a difficult task.
From woodland hikes, to browsing the world's largest second hand book store, we not only found plenty of free things to do in Portland, but were positively spoilt for choice.
Our only challenge? Deciding what we wanted to do first.
10 Free Things to do in Portland
1. Portland International Rose Test Garden
Perched high above the city in the wilds of Washington Park, the Portland International Rose Test Garden is a peaceful, secluded and wonderfully aromatic place.
Boasting spectacular views across Portland, including of the snow-capped Mt. Hood, these immaculately kept gardens are home to over 10,000 hybrid roses. Crowned America's oldest rose test garden, this pretty spot has offered a flowery refuge to busy Portlanders for nearly a century – filling lazy summer afternoons with shades of yellow, pink, purple and red.
The Garden began as a safe haven for Europe's roses during World War I. Botanical refugees, the roses began their journey to Portland in 1918, with enough eventually arriving to fill an entire garden and amphitheatre. Safe from the spray of gunfire and bombs, here the roses thrived; eventually providing Portland with its pretty nickname: 'the city of roses'.
The Garden looks its best from May – September (with full bloom happening in June). Limited parking is available nearby, but I'd encourage you to take the (cheap) MAX Light Rail to Washington Park Station, to ensure getting caught out.
Alongside free entry to the Gardens, there are also free tours available, beginning at 1pm each day. Just make sure you are ready and waiting by the sign for the 'Rose Garden Store'.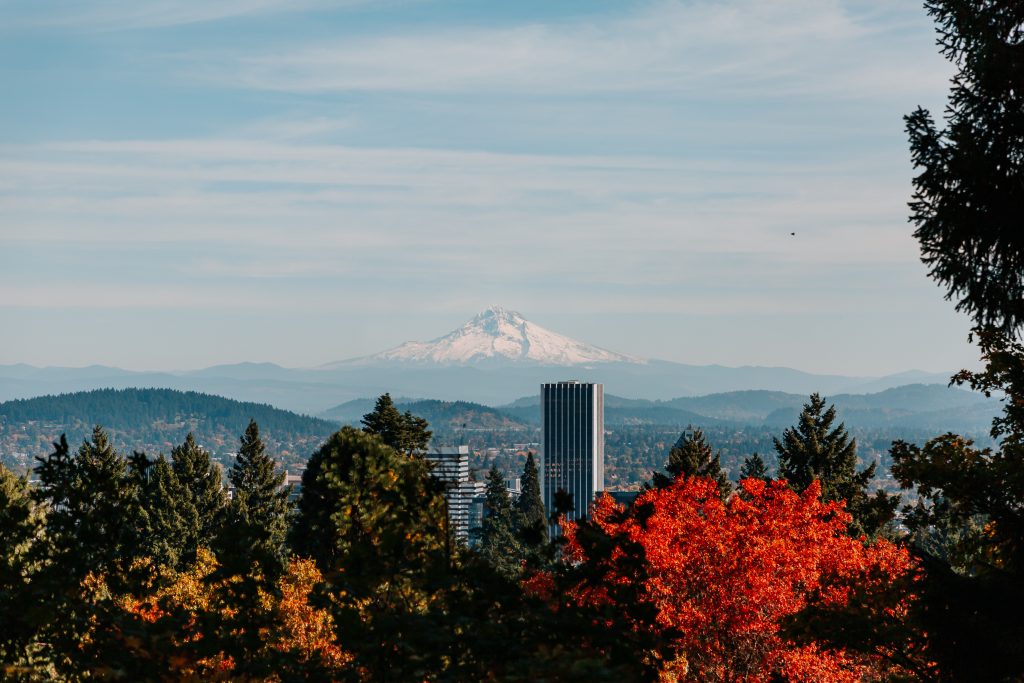 2. Alberta Arts District
If there's one street that encapsulates Portland's eccentric character, it's the Alberta Arts District.
Located in the Northeast quadrant of the city, the area has gained notoriety as one of Portland's most successful grass-roots communities: with street art, independent stores, unassuming (yet brilliant) restaurants and small businesses lining its 1.5 miles.
Whilst there is plenty here to tempt you financially (not least the mouth-watering ice cream offered at Salt & Straw), you can still get a fantastic sense of the place simply by walking its leafy lanes and exploring its many stores.
In the summer months, and on the last Thursday of every month, the District comes alive thanks to its highly popular 'Art Walk' – also known as Last Thursday.
Covering 15 blocks (and running from 6 – 9pm), over 150 of the city's boutique vendors arrive in NE Alberta to take part in Last Thursday, offering up stalls overflowing with artwork, jewellery, woodwork, sculptures and mouth-watering food.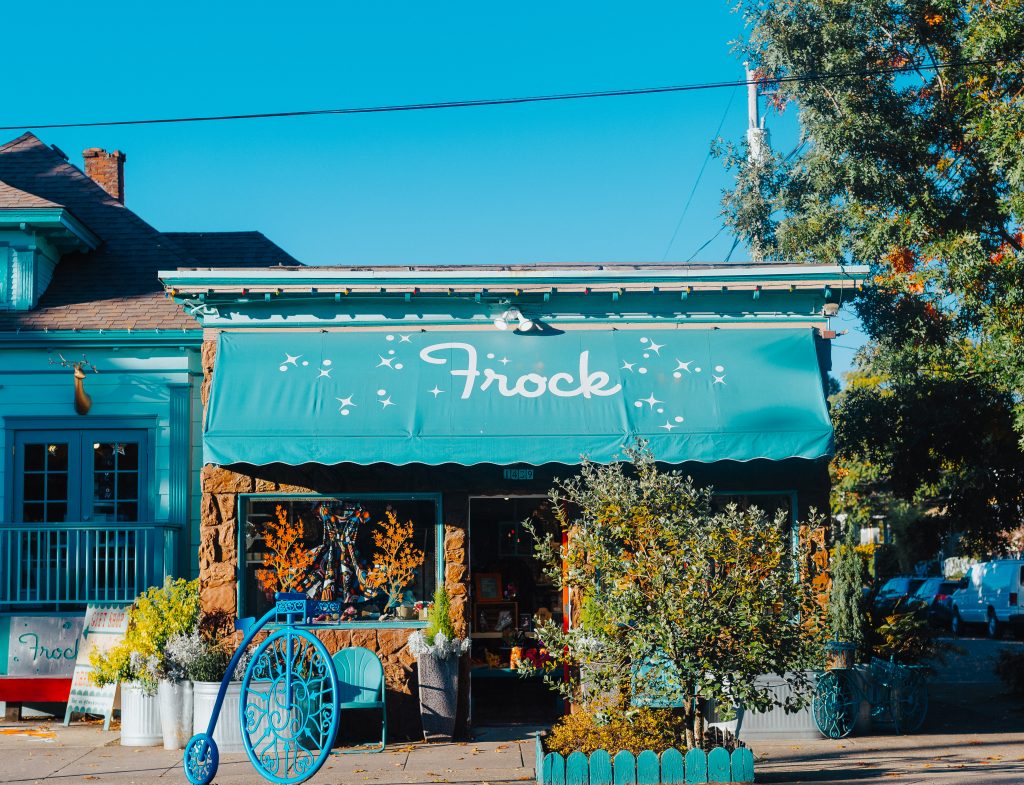 3. Explore Portland's Historic Theatres & Vaudeville Playhouses
Before researching free things to do in Portland, I was completley unaware that the city boasted its very own 'Broadway'.
Once dubbed 'the brightest street in the world', Portland's Broadway housed the city's many theatres and vaudeville playhouses, alongside their famous neon signs and bulb-lit entrances. Here, fairy lights were strung between buildings and restaurants flashed under signs for 'Jolly Joan' and 'Paramount'.
Sadly, many of the theatres were closed in the 1960s – 1970s. However, look hard enough and you'll discover that some theatres (and their iconic signs) still exist.
In particular, the 1920s Arlene Schnitzer Concert Hall is incredibly beautiful – particularly inside. Free tours of the Hall are available to the public, taking place on Saturdays (11am – 1pm) and Wednesdays (1pm).
Outside of Broadway, Portland is also home to a number of brilliantly eclectic movie theatres – all of which (and I'm loathe to use the word) are extremely 'instagrammable'. In particular, the Baghdad Theatre & Pub are worth visiting, alongside the Hollywood Theatre, the Laurelhurst Theatre and the Avalon Theatre and Nickel Arcade.
4. Take Advantage of Portland's Many Trails & Hikes
Portland is a city wedded to the dark forests that surround it, with allusions to the city's famous 'Big Foot' filling its shops, museums and popular culture.
One park in particular – Forest Park – dwarfs the city; its 5,000 acres offering an alpine haven from downtown living. With over 113km of different trails, you'll find yourselves spoilt for choice when it comes to planning a ramble.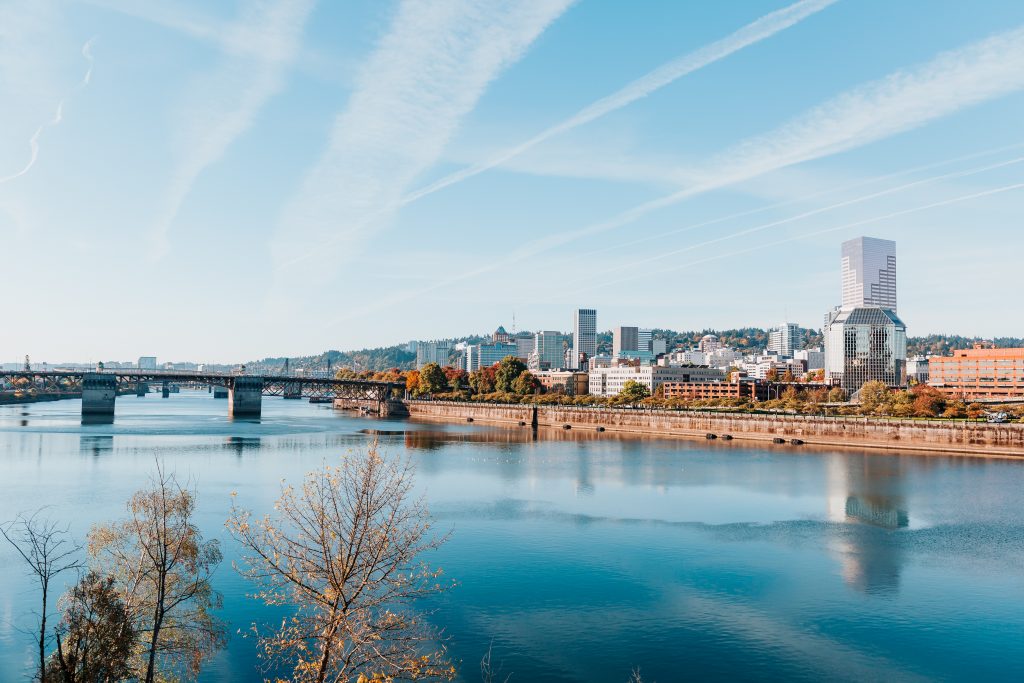 Thankfully, a large looped walk around the Park helps solve this; particularly the Wildwood Trail. Although 30 miles in length, this trail also offers short routes for those looking for more a leisurely stroll.
Additionally, the 5 mile Lower Macleay Trail is also a popular option; guiding visitors from Lower Macleay Park to the Pittock Mansion. Following the gurgles and flow of the Park's Balch Creek, this route will take you past mysterious ravines and the wickedly named 'Witch's Castle'.
Hoyt Arboretum 
Considered another popular free thing to do in Portland, the city's Hoyt Arboretum spans 12 miles and features a large garden that overlooks the city's Zoo.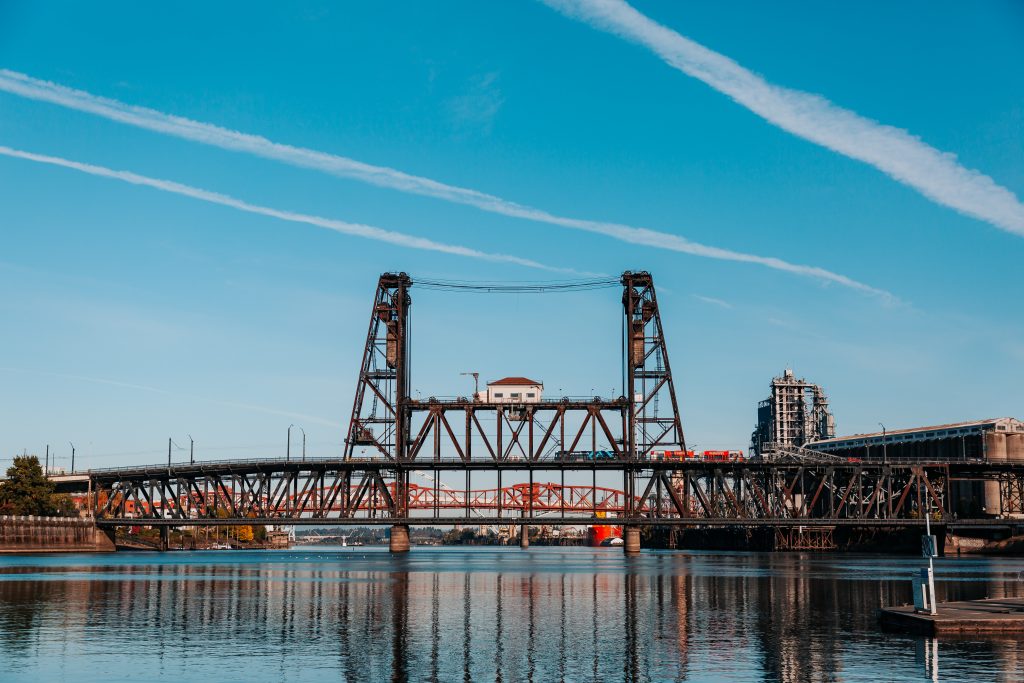 Here you'll not only be able to explore the Visitor Centre (free entry), the Arboretum's 6,000 species of plants and trees, but you can also head off on longer – much more testing – walks.
5. Wander Portland's Saturday Market (10am – 5pm)
If, like me, you find the lure of a weekend market difficult to resist, then you'll be thrilled to learn of Portland's much beloved Saturday Market.
Located in the city's Old Town-Chinatown, this market is more than simply a gathering of stalls selling bargain basement electrical items.
Hugging the city's waterfront and now in its 44th year, the market comprises of over 252 booths that showcase a variety of arts & crafts made by PNW locals.
The largest continuously operating weekly open-air craft market in America, vendors here are held to a high standard. Indeed, they must submit their items to a panel for review and are strictly quality controlled. As such, what you'll find here is less unwanted tat, and more one-of-a-kind items.
Arriving on a cold, autumnal morning, a walk through this market was easily one of our favourite free things to do in Portland. Head to Becca Paisley Designs to browse some beautiful contemporary jewellery and Emma Geddie Art to browse animal-inspired prints.
6. Browse Powell's City of Books
For those of you who find happiness amongst the pages of well-thumbed books, then a visit to Powell's City of Books is a must.
Sprawled across an entire block in the city's Pearl District, Powell's claim to have over 1 million items in their inventory: covering everything from Immanuel Kant to the latest Manga comics.
Throughout the store you'll find cosy spots filled with worn velvet sofas and even a coffee shop, where you can take a seat and browse pre-loved literature.
Of course, you shouldn't feel obligated to buy anything. We spent over an hour exploring this cavern of literature and walked away empty handed (not through lack of wanting to buy shelves of books, of course).
7. Visit Portland's Smallest Park – Mills End Park
Perhaps one of the silliest free things to do in Portland is to take a (fleeting) trip to its miniature sized park.
Dubbed 'Mills End Park' and measuring just 452 sq in, the park is the proud owner of the accolade 'the Smallest Park in the World' – something recognised by the Guinness Book of Records.
Initially intended to be a space for a light pole, things took an unusual turn when the pole didn't arrive and weeds began to fill the space. Dick Fagan, a columnist for the Oregon Journal, looked over this weed-filled site from his desk and – perhaps finding the view a little depressing – decided to plant flowers there; naming the site after his column (Mills End).
Today, the Park is still lovingly cared for by locals and has, in its time, featured a swimming pool for butterflies, a Leprechaun and a miniature ferris wheel.
8. Attend a (Coffee) Public Tasting
Portland – like its neighbour, Seattle – is a city of coffee aficionados. As such, it's difficult to navigate any street without coming across some house-plant filled hangout, filled with the sound of whirring coffee machines and chatter.
However, if you're really looking to save, then why not enjoy this coffee for free?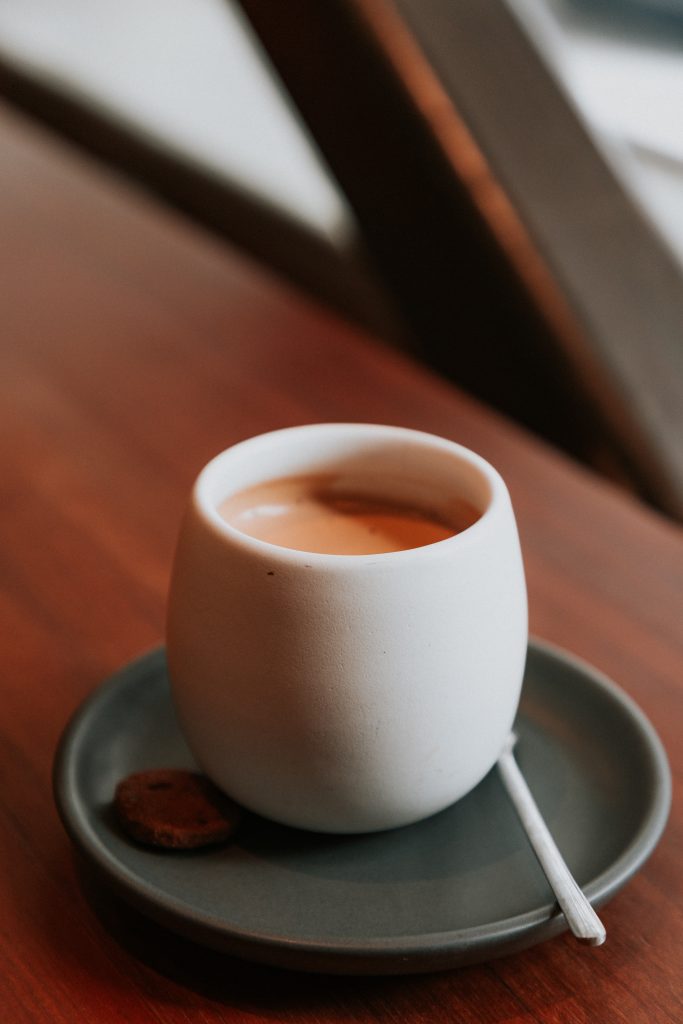 Whilst in the city, I noticed that Stumptown (Portland's old nickname) Coffee Roasters offer free sampling events  every Friday at 2pm, held at their HQ on Salmon Street.
Free artisan coffee? What's not to love?
9. A Picnic at Pittock Mansion
On a sunny day, why not pack a (no doubt organic) picnic and head up into the city's West Hills in order to visit Portland's historic 'Mansion on the Hill'.
Built between 1912 – 1914, by newspaper publisher and all round entrepreneur, Henry Pittock, Pittock Mansion was rescued by the city in 1965 after years of neglect.
Transformed into a 'historic house' museum, you will need to pay to enter ($12 for adults), but are equally welcome to roam and enjoy its grounds for free.
Like the Rose Garden, the Mansion enjoys one of the city's best views from its 1,000 ft high perch, including of Mt. Hood, Mt. Jefferson and Mt. St. Helens. The park is open daily until 9pm.
10. Enjoy a Free Brewery Tour
Whilst coffee might perhaps be Portland's first love, its second is most certainly beer.
Boasting 58 local breweries, tours here are both popular and frequent – albeit often expensive. However, do a little research and you'll discover that there are multiple free brewery tours available, many of which include free tastings.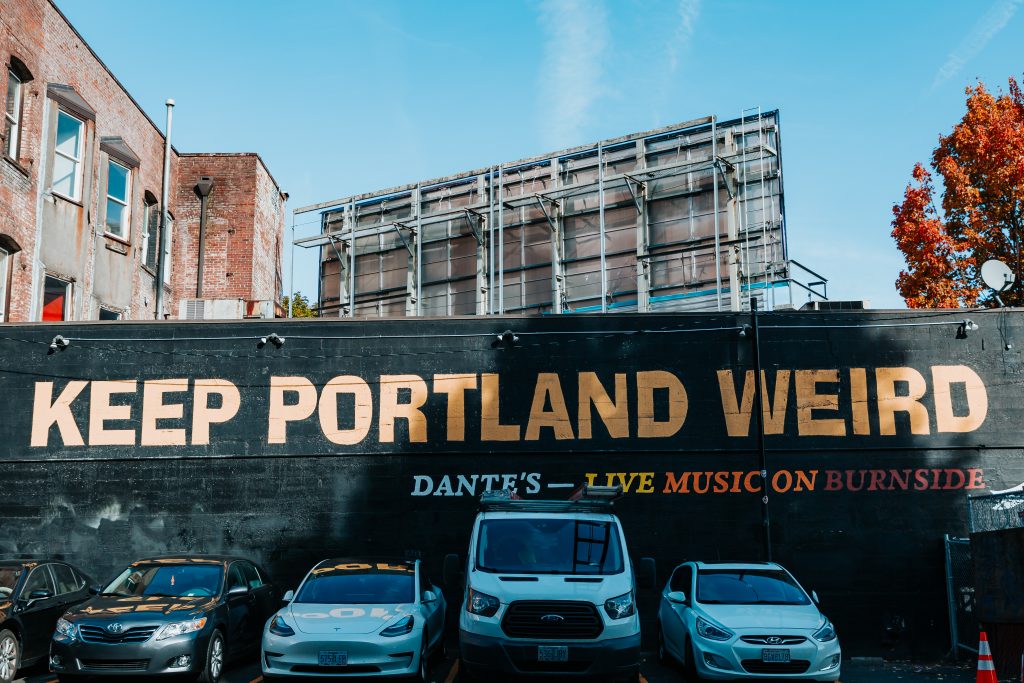 With the majority of these self-guided, visitors are often able to simply walk in and request the tour. For more information, take a look at Hub brewery tour, Ground Breaker Brewing (gluten free beer), Ecliptic Brewing and Kells Brewery.
Note – you'll need to wear closed toe shoes for all of these tours.
Pin it: