There's no escaping it: as beautiful, nature-filled and outdoorsy as Seattle might be, this is a city that comes with a price tag.
A rather hefty one.
With average budgets (for a three day trip) coming in at $500 per person, the high cost of the city's ticketed attractions, its restaurants and its cool rooftop bars quickly add up. This is certainly something we experienced when we visited the city during our own road trip from Seattle to San Francisco. In fact, out of all the spots we visited throughout our trip – Seattle, Portland and San Francisco – it was Seattle that inflicted the most damage on our bank accounts.
By the end of our first day in the city, we had both hemorrhaged $200.
So, and for those of you who (like us) perhaps don't have money to burn, I thought it might be helpful to put together a list of the best cheap and affordable things to do in Seattle.
Featuring some entirely free attractions, and others costing a little under $20 per person, I hope these ideas will help soften Seattle's financial blow; ensuring you have a fantastic time in this brilliant city.
10 Cheap and Affordable Things to do in Seattle
1. Visit Seattle Public Library (Central)
Cost: Free to Enter
Opening Times: 10am – 8pm Monday to Thursday, reduced hours Friday to Sunday.
Somewhere between Seattle's towering Space Needle and the fluorescent signs of Pike Place Market, the remainder of the city's downtown area is often overlooked by visitors.
Indeed, with most heads turned towards the vistas of the distant Mount Rainer, or downwards towards the city's shoreline, it's easy to forget to look up: taking in some of the city's beautiful and world-leading architecture.
The city's Public Library is one of these such buildings: a towering triumph of glass, light-filled atriums and floating platforms.
Designed by Dutch architect, Rem Koolhaus, and completed in 2004, the Library – complete with neon green escalators – is a beautiful space to explore. For the best photographs, make sure you head to the top floor for incredible views over the atrium and across downtown Seattle.
At sunset, the entire building is illuminated by golden tones.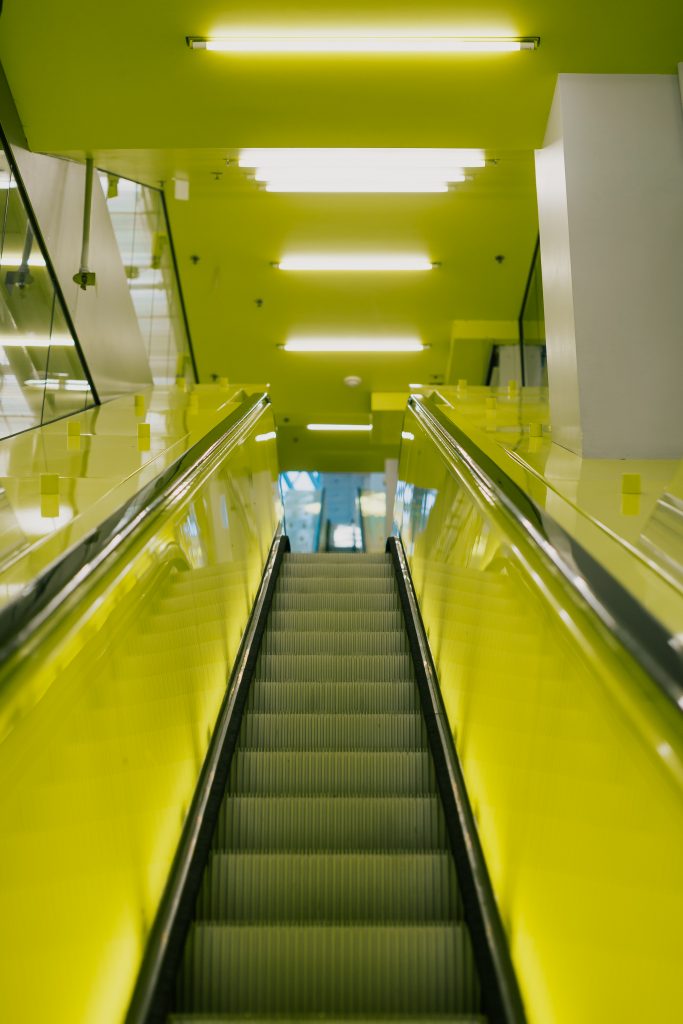 2. Seattle Olympic Sculpture Park
Cost: Free to Enter
Regularly topping the list of cheap and affordable things to do in Seattle is a peaceful visit to the city's calm and collected Olympic Sculpture Park.
Part of the Seattle Art Museum (SAM), this beautiful area spreads across 9 green acres; representing the city's largest green space. With beautiful views across Seattle – and with the iconic Space Needle looming overhead – a visit here provides a sense of Seattle's affinity with the great outdoors and the icy waters surrounding it.
For those art aficionados amongst you, free public tours also take place, including the 'Site, Sculpture, Shoreline: Discover the Olympic Sculpture Park' tour.
Lasting 60 minutes, this detailed hour provides the history, context and background of the Sculpture Park, and includes detailed narratives on each installation.
Tip: visit the Olympic Sculpture Park in the early morning for stunning views of the mist slowly drifting away from the surrounding waters.
3. The Seattle Centre
Cost: the open spaces are free to enter
As we discovered during our own trip to the city, there are parts of the Seattle Centre that are (definitely) neither cheap nor particularly affordable.
Having parted with nearly $150 to ride the Space Needle and to roam the nearby Chihuly Garden and Glass (tip – if you do want to visit these, ensure you buy a city pass first), our visit to the Seattle Centre was the first – and last –  thing we did on that particular day.
However, a visit here doesn't have to bring your day to an abrupt end (as it did with us). Spanning 74 acres and originally built to host the World's Fair in 1962, the grounds surrounding the Seattle Centre are beautiful – filled with towering trees, hidden sculptures and secluded places to sit and enjoy those rare glimpses of Seattle sunshine.
We spent an hour wandering this beautiful park; grabbing a sandwich and coffee and watching as the Space Needle rotated high above us.
4. The Bill & Melinda Gates Foundation Discovery Centre
Cost: Free to Enter
Opening Times: Tuesday to Saturday, from 10:00 a.m. to 5:00 p.m
Another entirely free spot to visit within the Seattle Centre is the Bill & Melinda Gates Foundation Discovery Centre.
Built in order to encourage the public to better understand and appreciate the work of this philanthropic foundation, the Discovery Centre is a warren of interactive, hands-on and informative displays, covering everything from Malaria to homelessness.
Alongside encouraging visitors to think up solutions to some of the world's most pressing problems, the Centre is also a beautifully designed building. Sustainably focused, its floors, benches and structures are made from reclaimed ash wood, whilst its walls are insulated by 2,300 pairs of recycled blue jeans.
Enjoying one of the free tours on offer here, we explored exhibits dedicated to the world's most prominent Young Leaders (We The Future), alongside learning what scientists are doing to combat modern disease and infection.
Although the idea of an afternoon spent learning about global challenges might not seem immediately appealing (you're on vacation, after all), I promise that a visit here is fascinating, eye-opening and satisfyingly hands on. In fact, our own jaunt around the Discovery Centre was easily one of my favourite free things to do in Seattle.
5. Tour Pike Place Market
Cost: Free to Enter (aside from a mouth-watering snack or two)
Opening Times: Pike Place Market springs loudly to life at 6am, with restaurants opening as early as 6.30am.
As synonymous with Seattle as Frasier or Clam Chowder, no visit to this brilliant city would be complete without a visit to the frenetic, atmospheric and foodie Mecca that is Pike Place Market.
Established in 1907 and spanning an entire neighbourhood, Pike Place Market is more than just a collection of vendors.
It is a Seattle institution.
Meandering through 9 sprawling acres, the Market is nestled in and amongst some of the city's most historic and beautiful buildings. Offering some of the best food that Seattle has to offer, here you'll also find brilliantly small and independent businesses, thrift shops and vintage stores.
Proudly represented by its mascot, Rachel the Piggybank, we lost an entire afternoon walking Pike Place Market; enjoying the sounds of its loud and charismatic vendors (make sure you catch sight of the Market's famous 'fish throwing'), exploring craft stalls, catching sight of impromptu magic tricks, browsing vinyl records and collectables, and even passing by the very first Starbucks restaurant.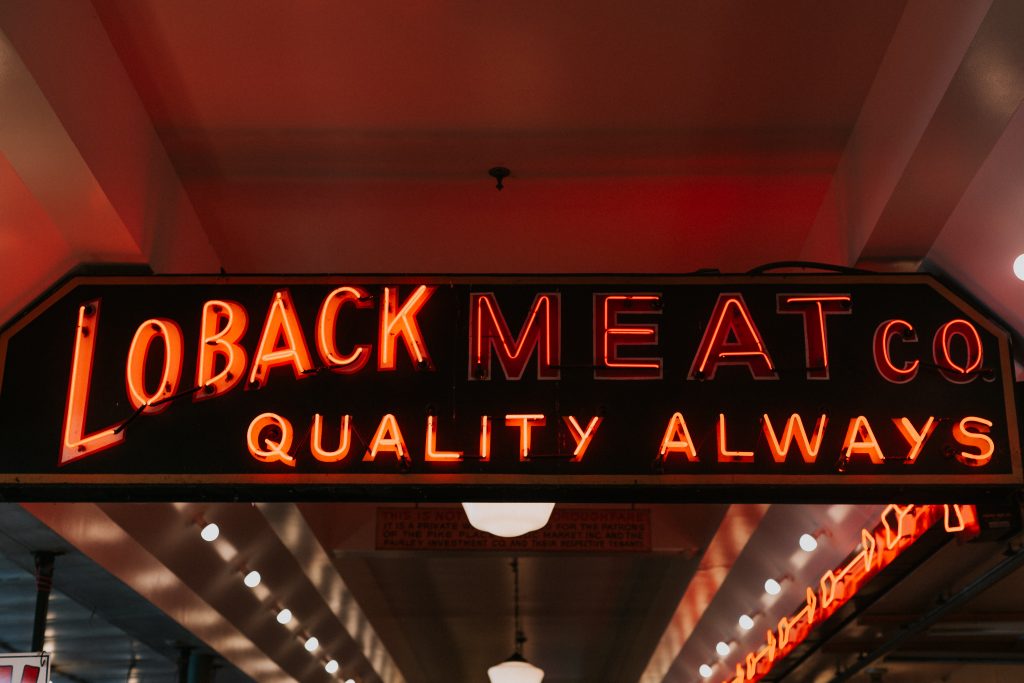 Also worth a peek at is the (vaguely unsavoury) Market Theatre Gum Wall (located in Post Alley).  Here, and since 1933, patrons of the former theatre and market have ceremoniously stuck their used gum to the wall; creating a unique collage of colour, textures and – unavoidably – smells.
Whilst Seattle's local authorities regularly scrub down and hose the wall, new gum inevitably reappears the next day: a die-hard tradition that is unlikely to leave the city.
Although you can pay for guided tours of the Market, it's cheaper to simply follow this downloadable map – taking you through some of the Market's most historic (and tasty) sites. A fantastic (and thorough) visitor's guide can also be found here.
Tip: for a wholly authentic experience, arrive at the Market for 6am, just as the stall holders begin their daily grind and the place stirs to life.
6. Visit the Amazon Headquarters
Cost: Free to Enter
Opening Times: guided tours of the Amazon Campus take place on Tuesdays and Thursdays at 10:00 a.m and 2:00 p.m. Each tour lasts 90 minutes and will be open to bookings from March 2020.
Whilst San Francisco and the wider Bay area might be known for some of the world's most recent tech start-ups, it was Seattle that formerly wore this entrepreneurial crown.
With Microsoft setting up sticks in the city's suburbs in the late 1970s, it wasn't long before a new disrupter came to town: Amazon.
Today, Amazon is not only the city's biggest employer, but an acting doggy day care – with over 6,000 four-legged honorary members of staff.
It's also a tourist attraction in its own right, offering free tours of its futuristic and architecturally innovative campus.
Particularly worth exploring are Amazon's 'Seattle Spheres'. Opened in 2018, the two enormous glass domes were based on the famous glass (and plant filled) buildings of Kew Gardens and the Mitchell Park Conservatory, Milwaukee.
With each sphere made up of 2,643 panes of glass, both domes are now light-filled conservatories, overflowing with plants from across the world. Boasting 400 different species of cloud forest plants, visitors have the opportunity to visit tiny epiphytes that cling to a 50-foot living wall and Rubi, a 49-year-old ficus tree.
Offering a tantalising taste of life inside the Amazon machine, a trip here is easily one of the (best) cheap and affordable things to do in Seattle.
Opening Times: visitors are welcome to visit The Spheres (for free) two Saturdays a month across Amazon's free weekend open house dates. Unguided visits must be booked via their reservation system (opening again to bookings in March 2020).
7. Visit Seattle's Cat Cafe
Cost: $11 per person for 55 minutes with the cats, which is donated to the charity. Drinks and snacks come at an additional cost.
Although this might not appeal to everyone (dog lovers, for example) a visit to Neko –  the city's resident cat cafe – is a relaxing, sweet and fun way to pass a lunchtime in Seattle.
Costing just over $10 to enter, visitors can then spend nearly an hour stroking, playing with and cuddling the resident cats (all of whom are waiting to be re-homed).
Irresistibly photogenic (and primed for Instagram), the cafe also sells hot drinks and miniature cat-shaped biscuits and cookies. And, if you happen to fall in love with one of the cats, you can adopt one (Seattle residents only).
A relatively low cost activity, we spent a happy lunchtime at this feline-dedicated cafe and had a brilliant time.
8. Museum of Pop Culture (MoPop)
Cost: $28 (excluding access to the current Minecraft Exhibition)
The most costly item on this list of cheap and affordable things to do in Seattle, I had to include a visit to the irresistibly vibrant and fun MoPop, Seattle.
Located within the wider Seattle Centre, MoPop was designed by leading architect, Frank O. Gehry – the visionary behind LA's Walt Disney Concert Hall and the Guggenheim in Bilbao. As such, its interior is expectedly vibrant, colourful and unexpected; filled with unique spaces and equally unique exhibitions.
Dedicated to showcasing the creativity that stems from pop culture, MoPop offers a range of permanent and ever-changing displays, including immersive exhibitions dedicated to the likes of Pearl Jam, Nirvana, Hendrix, the horror film genre and our global tattoo culture.
For guitar devotees, there's also the opportunity to try your hand at one of the Museum's resident electric guitars and even record your own pop song.
Yes, it may cost $28 to enter, but I promise a visit here is worth every penny.
9. Biscuit Bitch
Cost: an affordable brunch spot, with biscuits beginning at $7.10.
Yet another cheap spot for food, a visit to Biscuit Bitch is a must when visiting Seattle.
Another city-wide institution – this time carrying the proud slogan 'Trailer Park to Table' – Biscuit Bitch offers mouth watering Southern inspired biscuits, drizzled in everything from traditional sausage gravy to maple peanut butter.
Head here for a cheap brunch packed full of flavour. With plenty of vegan options available, you'll find something to suit everyone's taste.
10. A Ferry to Bainbridge
Cost: $8.65 for pedestrians, with a free ride back to Seattle from Bainbridge.
For those after a sentimental (and most probably, drizzly) experience whilst in Seattle, it's time to catch a ferry across Seattle's famous body of water – Puget Sound.
Your destination? Bainbridge Island.
Just a 35 minute boat ride from downtown Seattle, Bainbridge Island provides an escape from the maddening crowds of the big city. Filled with rolling countryside, waterfront taverns and restaurants, and small towns filled with antique stores and seafood restaurants, Bainbridge is an island oasis for many Seattleites (with many residents making it their permanent home).
For those keen to see further afield, bike rentals can be round across the island (try Bike Barn). Alternatively, Bainbridge is well serviced by a bus route (via Kitsap Transit).
For those willing to spend a little more, however, there are a fantastic array of island tours available; offering everything from winery tours to beach guides. Tour Bainbridge provides perhaps the best of these, with whole day excursions to the beautiful Bloedel Reserve available, and a popular Island Essentials Adventure tour.
For those of you going it alone, a fantastic annotated map of the island – complete with must see spots – can be found here.