Name one of the biggest twin clichés you can think of; the sort of cliché that makes you smile, but also feel vaguely uncomfortable at the same time.
Identical twins dressing alike? Maybe. Twins that are adamant they are telepathic? Perhaps. Twin sisters that fall pregnant at the very same time? Definitely.
What sort of grown, self-respecting women would allow that to happen?
Well, ladies and gentlemen, we have news – we would.
Surreally, incredibly, bizarrely and embarrassingly, we're both pregnant – at the very same time.
Wait, Was This Planned?
Let me answer this as definitively as I can: no.
Despite all evidence suggesting otherwise, Claire and I are genuinely adamant that we live independent and fairly separate lives.
This is especially true of the 'adult' part of our lives. For these parts, we've always been keen to draw a big fat line between us: preferably with a permanent marker. For example, Claire, has been with her husband for years and was engaged and married by the time I had just met my partner. We had no intention of shared engagements or mutual bridal journeys. We're also part of different friendship circles and outside of the blog, we work in completely different sectors.
This is largely to avoid something I like to call the 'Peter Pan Curse'.  You see, there's something about being a twin that means you're never truly viewed as a mature adult. In fact, the moment people discover you're a twin, you as an individual evaporates. Poof – gone. You're no longer someone's colleague, friend or peer, but a strange, ageless Benjamin Button sort of entity.
A (said breathlessly) 'identical twin'.
Instead of asking how your deadline went, or how your partner is, people begin to ask slightly weird questions. Do I love to spend all my time with my twin? I bet we share the favourite colour. Do we like to wear the same clothes? Do we like to share a hotel room when we travel – to feel close?
Anything that makes us similar is seized upon and anything that makes us different is forgotten.
The result is that rather than being viewed as two adult women, we're instead treated as creepy, eternal children – who (presumably) live in a weird, asexual, Neverland.
A bit like Jedward.
Because of this, we've always been adamant that we keep our adult lives separate and distinct; anything to stop the similarities piling up.
This is something we definitely applied to having children – an event we always imagined would happen a couple of years apart. I guess we presumed that if we were pregnant at the same time, it would just make the weird twin thing even weirder – something to definitely be avoided.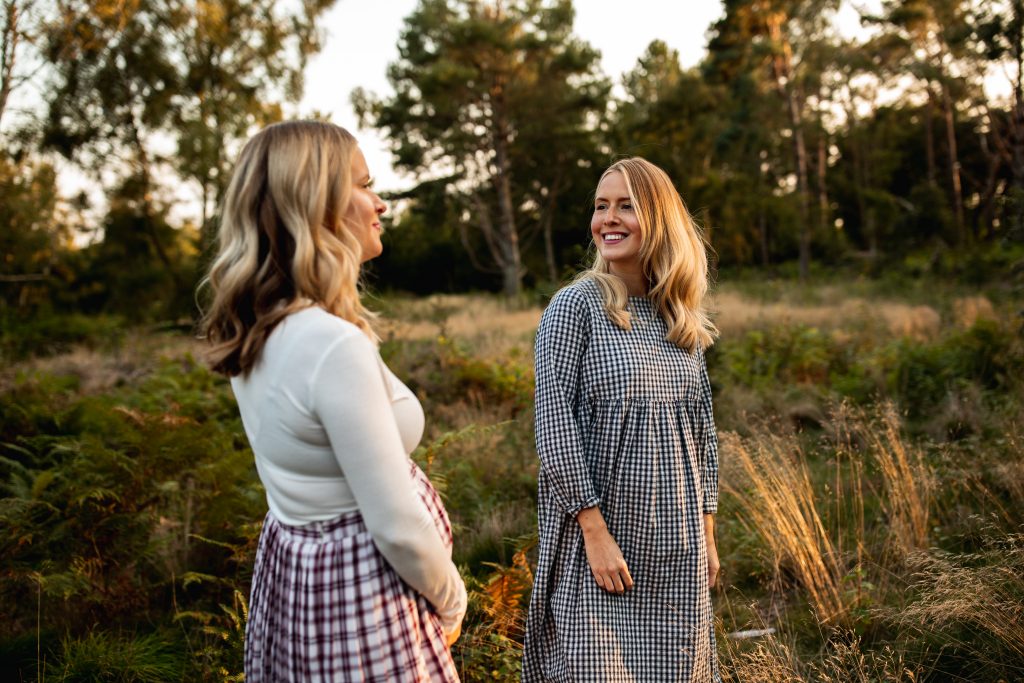 So, Are You Calling this 'Fate'?
Of course not.
Divine intervention would probably be a better phrase.
2020 has been full of surprises and was definitely not one we imagined would feature our own pregnancy announcements. Although kids have always been part of our plans, I'm not sure either of us thought this would be the year for them. As far as we were concerned, we had travel to do – Petra to see and Canada to explore.
But, life works in mysterious ways. Thanks to Covid-19, our travel plans turned into a distant memory and we were instead faced with the sobering reality that travel (in its traditional form) might not resume for at least a couple of years.
As it was, a year that we had thought would be filled with adventures instead became one in which we took a step back. Suddenly, we had time to think about the bigger picture: what we wanted, when we wanted it and what was next for our relationships.
Weirdly, however, this wasn't something we actually discussed. There was no moment when we thought that maybe this was a good time to think about starting families or syncing our cycles. I definitely did not want to know about Claire's sex life.
As far as I was aware, she was still in mourning for travel, with no sign of recovering any time soon.
It turns out she had other things on her mind.
While I fell pregnant in May, Claire became pregnant just a few weeks later. Convinced the process would take her a while, she decided to start trying – guessing it would take at least a year. She couldn't have been more wrong.
In a bizarre and surreal twist of fate – we both fell pregnant just three weeks apart (the title of Cliché of the Year presumably in the post).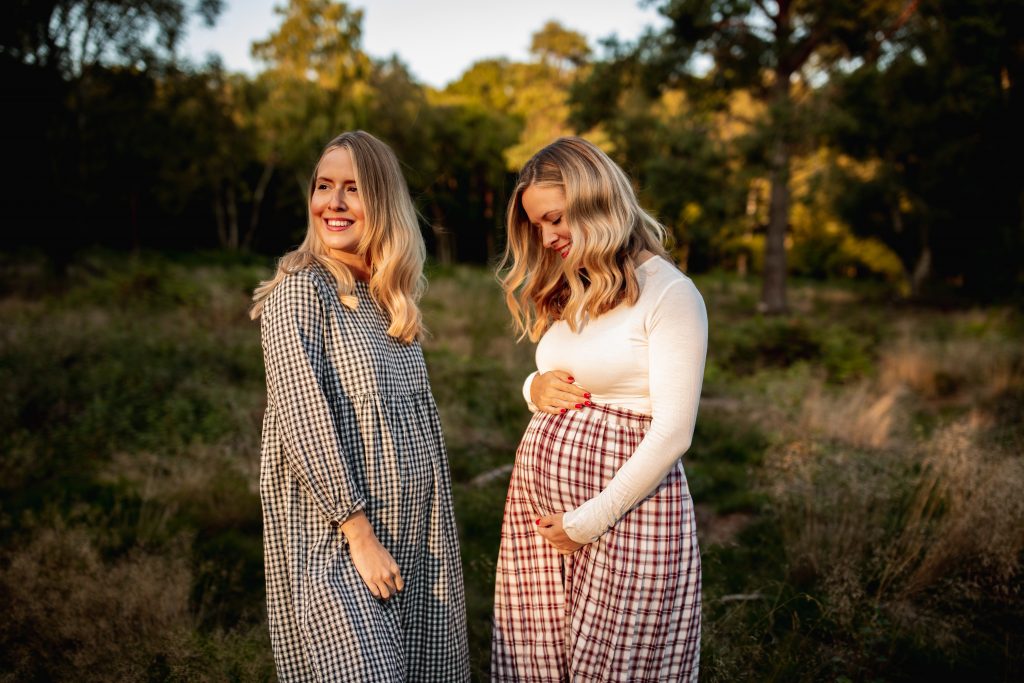 How Did You React?
Oh, we cringed. We cringed hard.
I know a lot of people hoped we leapt about, hugging each other and dabbing away (happy) tears, but the reality was that we were both a bit freaked out.
I was still getting my head around the fact that I was pregnant and because of this, Claire was my pillar of normality – someone to talk to about things other than the rapidly dividing bundle of cells in my womb.
Finding out she was pregnant was therefore a bit of a double whammy. Now rather than just one of us strapped into the rollercoaster, we both were.
Added to this was the fact that we were both initially embarrassed about our synchronised conceptions. As I mentioned, we honestly believe (ironic snort) that we are fairly independent people with separate private lives. The idea that people might think we planned this therefore triggered my anxiety in a big way.
Would people think that this was a covert operation? One that involved hushed phone calls late at night during which I'd whisper 'Geronimo' or 'we have lift off!' down the phone – before passing Claire the Baton of Fertility? I was worried people would assume we had synced our cycles or engaged in a cult-like twin conception ceremony.
However, now nearly five months down the line, we are learning to 'own' our cliché and really enjoy it.
Pregnancy is a huge change – a transition like no other. It's amazing, but also nerve-wracking and strange. It's therefore been a (and I'm loathe to use this word) 'blessing' that we're going through these changes together.
Handily for Claire, as I'm three weeks ahead, she can also check in with me to see how I felt at certain points; providing her with a bit of reassurance that things do get better (something that happened a lot during the first trimester).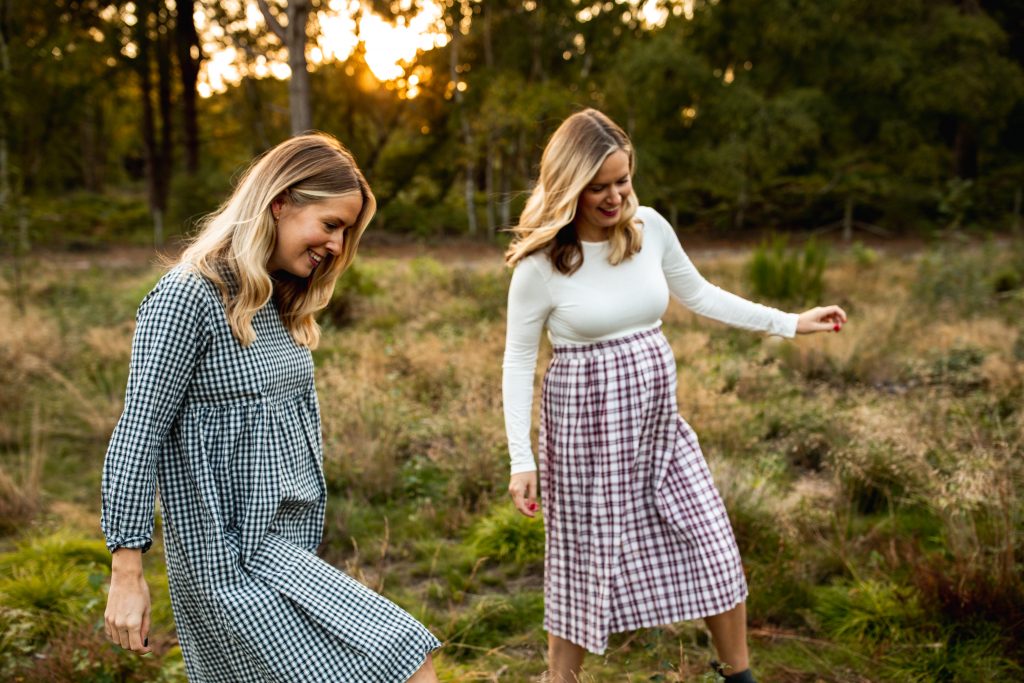 How Did Others React?
There's been two types of reactions to the news.
Firstly, there's been those that have responded with a slight eye roll and a 'of course you are' (our Dad being a case in point). It's been a bit of an anti-climax, like they've guessed the punch line of the joke before I've had a chance to tell it.
Then there are the 'mind blown' crowd – those that are only just processing that one of us is pregnant, before they are hit with the second round of news. These have been the happiest of reactions and have involved a lot of capital letters and exclamation marks. Our Mum was definitely one of these people and, I assume, believes the babies are the result of two instances of immaculate conception.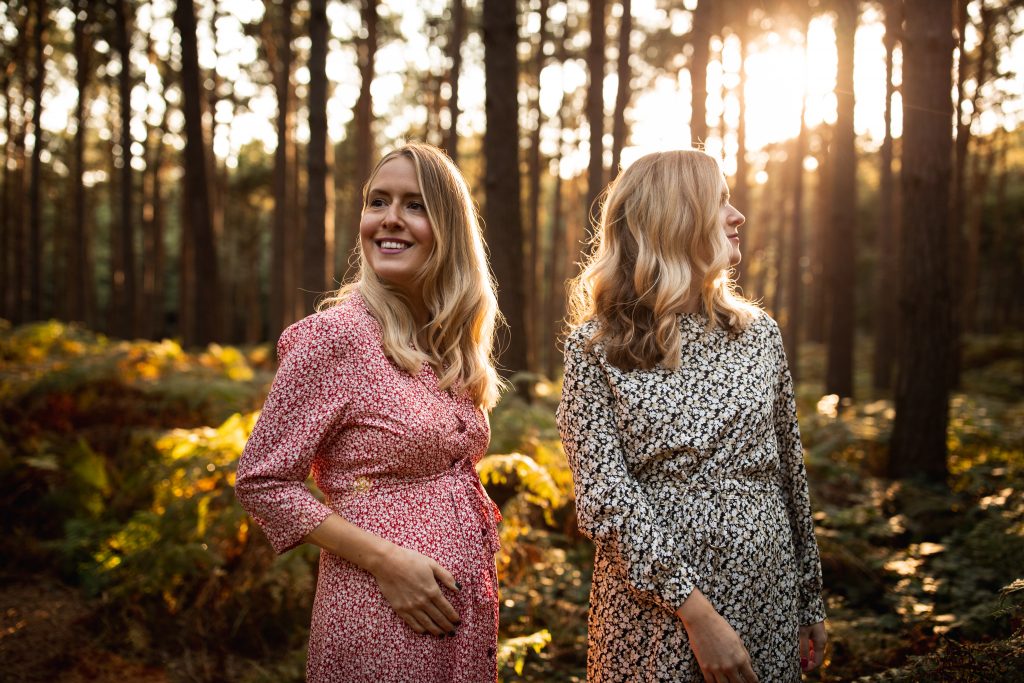 How Far Along Are you Both?
When this blog is eventually published, Laura will be 25 weeks pregnant (6 months) and Claire will be 21 weeks. Surreally, that's already halfway through our pregnancies.
When Are the Babies Due?
Laura's baby is due late January and Claire's is due mid-February. Our parents joke that one of us will be late and the other early – and they'll arrive on the same day.
That's the sort of banter that makes me feel nervous and sweaty. I don't want to hear Claire shouting about the state of her perineum, thank you.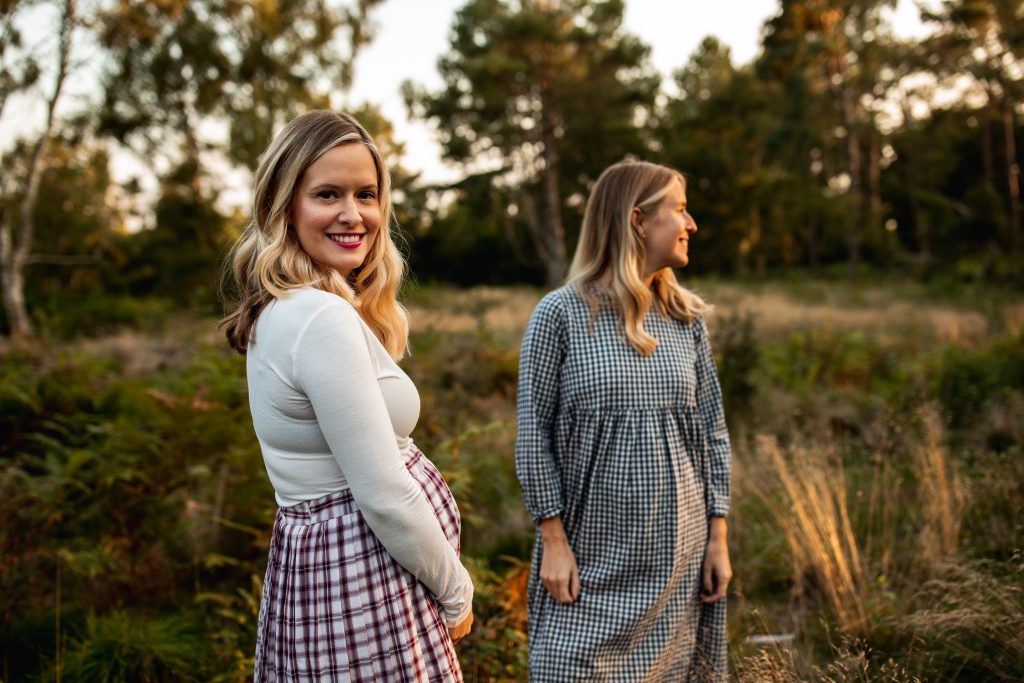 What Is It Like Being Pregnant During a Global Pandemic?
Falling pregnant in the middle of the Coronavirus pandemic was both a blessing and a curse.
In terms of the good bit – there is nothing more that a pregnant woman wants during her first trimester than complete and utter social isolation. The excuse to barely get dressed in the morning, to lie on the sofa all day and to keep all social interaction to a minimum (all while staying approximately five feet from the bathroom) was therefore nothing short of a miracle.
Being able to stay at home for nearly 12 straight weeks – with the perfect excuse not to see anyone – was perhaps the only good thing to come out of the Coronavirus pandemic. I didn't have to make excuses for not drinking, for looking like complete and utter trash, and never needn't to explain why I was abruptly bursting into tears for no reason.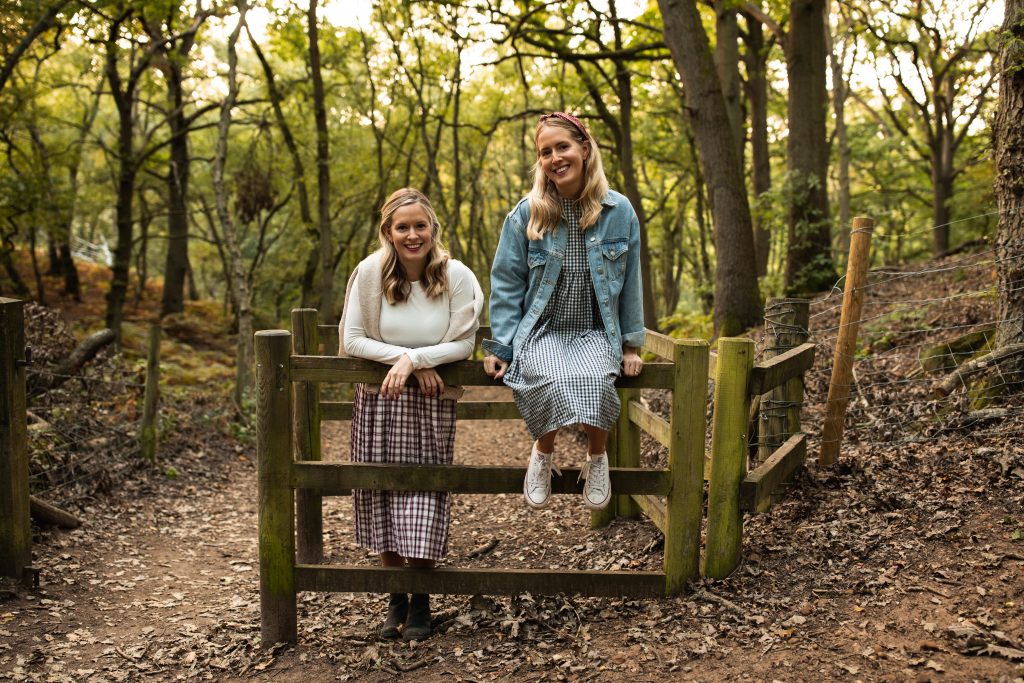 However, and while all this was great, a lot about being pregnant during a pandemic was (and is) a lot harder. When you're feeling perpetually nauseous and deathly tired, the last thing you want is to just be sat at home with your own thoughts. A little distraction – going shopping for baby things, or meeting with a friend for a tea – can go a long way in helping to keep those symptoms at bay.
Added to this, the fact we couldn't go to the gym, swim or book in for pregnancy yoga – all things guaranteed to keep us sane – was disappointing. My midwife appointments have also largely been on the phone and scans have involved masks, hurried appointments and general faff. The pregnancy I pictured – one in which I met friends and their babies for (decaf) coffee, shopped for pretty clothes and bobbed around in a swimming pool – has been largely derailed.
Even my own parents couldn't hug me when I told them our news.
However, with restrictions now lifting, things have got a bit better. I'm venturing out more, have started a pregnancy Pilates class and am able to see a few more friends for support.
Fingers crossed things can stay that way for a little while longer. 
Are You Having Similar Pregnancies?
Fairly, similar – yes.
While Claire will disagree with this, I think we both got off quite lightly during our first trimesters. While it was definitely rough – daily nausea, sickness, exhaustion and headaches – it was still possible to get up, get dressed and see the day out.
Now in our second trimesters, we've both transformed from feeling like death, to feeling almost completely 'unpregnant'. It's been a complete 360 in terms of symptoms and one I couldn't be happier about.  I cannot tell you what a joy it is to open the fridge without heaving into a tea towel.
I guess we'll wait to see what the third trimester holds.
What Will Happen to Twin Perspectives?
Well, the good news is that if you'll still have us, we'll be going nowhere.
You'll probably remember that a few months ago we 'rebranded' (remember the artists formally known as Twins That Travel?) and this was something we'd planned both pre and post pregnancy news.
Travel is, and will still remain, a focus of this blog – I would love nothing more than to show the fruit of my womb the world. However, all this will come alongside the usual nonsense and drivel that has unexpectedly come to characterise Twin Perspectives. I guess you could say the blog will continue to revolve around our innate dullness and average-ness (which I say with nothing other than beaming pride).
However, and for now at least, our plan is to keep any 'motherhood' or 'parenting' content largely to the blog, rather than Instagram.
This is for two reasons.
Firstly, posting it over here on the blog, rather than slathering it all over Instagram, gives people the choice as to whether they want to engage with this sort of thing. If they are genuinely interested in the babies, then they're most welcome to pop on over here for a nosey.
However, if not, we'll try to maintain a respectful distance.
Secondly, Instagram, whilst a fantastic place, also seems to be a particularly treacherous landscape for mums (especially new mums). The Mummy Bloggers of Instagram definitely receive a significant amount of online abuse and trolling – something we're keen to avoid. Additionally, I'm not sure either of us feel completely comfortable creating endless content about our little humans – tiny people who nonetheless deserve their own dose of privacy. In doing this and keeping things to the blog (where we can control the narrative a little more), we both feel more comfortable.
Ultimately, we're fairly relaxed when it comes to this corner of the internet, as I guess we always have been. We don't have a particular image to portray, or agenda to push, so are happy to see how things go – the good, the bad and the ugly.
So, we'll simply go with the flow and see where it takes us.
Who knows, it could be our best chapter yet.