I've been so excited to share this post with you all. It's a post that's only fair after my incessant mentions of it over the last 18 months: my Tuscan wedding. Remembering next to nothing of the day itself thanks to a mixture of nerves, adrenaline and alcohol, being able to look through all 800 photos this week has been really special.
Below is a round-up of our Tuscan wedding on the 8 June 2016. I would like to take credit for how beautiful it was, but the majority of that credit should go towards our wedding planners Exclusive Weddings Italy and all the people mentioned below.
Not interested in reading about it? You can watch it here instead, or better yet, do both!
Claire&James – Wedding videography at Terre di Nano, Italy from Matteo Castelluccia on Vimeo.
Tuscany wedding venue: Terre di Nano, Montepulciano
Our Tuscan wedding venue was the highlight of our three day celebrations.
Located deep in the Tuscan hills, Terre di Nano sits on a vineyard, surrounded by beautiful views and lush gardens. The team at Terre di Nano (notably Giorgio and Ilaria) are truly amazing, going out of their way to make the wedding experience as easy and relaxed as possible. We even held a pizza party the night before the wedding with Raffaello travelling from Naples to make the most delicious pizzas I have ever tasted.
Freshly cooked and piping hot, the pizzas kept coming until everyone was fit to bursting.
The dress: Maggie Sotterro and Midgley from Ellie Sanderson, Oxford. 
When I was looking for a dress, I was eager for it to feel bridal but also relaxed so that I wasn't a sweaty mess in my photos. I found my dress on the fourth "go" and instantly knew it was the one for me. I loved the delicate beading and the lace train, but most of all, I loved how comfortable and breathable it was. As I kept reiterating to people, if I've paid for 40 people to enjoy the 6 courses of delicious Italian food, I'd be damned if I wasn't going to enjoy it too.
Although, ironically, despite my spacious dress, I still couldn't eat much on the day – clearly on an adrenaline high.
Flowers: Swallows and Damsons
By chance, Laura stumbled across Swallows and Damsons on Instagram and after showing me a few of their photos, I immediately emailed Anna, the owner, and Hannah to see whether they would consider travelling to Italy for me. A lot of people have asked why I didn't just get an Italian florist. My first answer is: look at the photos on their Instagram and you'll understand. Secondly, it wasn't actually as stressful as people might presume – the wholesalers were located in Italy and so there was no transporting of flowers from the UK to Italy (that would be insane). One of my favourite memories from the wedding is seeing Anna and Hannah arrive in a big white van, absolutely bursting full of flowers, ready to adorn the arch, tables and our bouquets.
I cannot recommend these girls enough – the flowers were absolutely breathtaking and it was such a pleasure to have them there to share our day. Don't just take my word for it – take a look at their Instagram page .
Bridesmaids dresses: Ghost
As we had an evening wedding ceremony, I was looking for sleek and breathable dresses for the girls. We decided on these gorgeous deep purple slinky dresses – they all looked beautiful! And it's nice to know that these dresses can be worn again for an evening event and won't (hopefully) end up in a wardrobe gathering dust for the rest of their days. I hope you're reading this girls. Take note.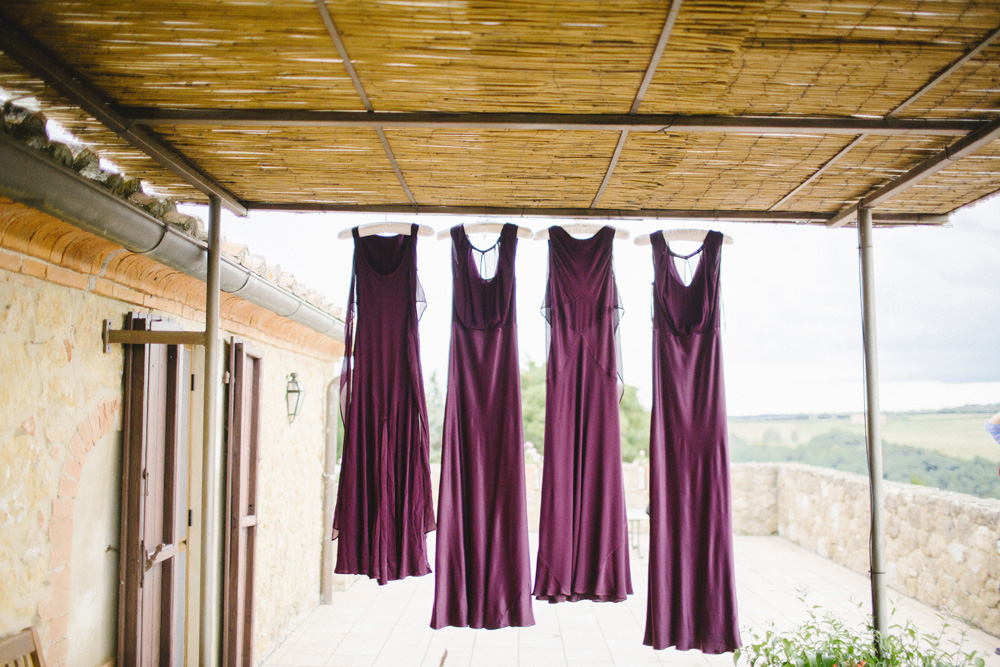 My beautiful bridesmaids were Laura (obviously), our other sister Katy, and my two best friends from school, Emily and Rhiannon. I was so happy to have them walking down the aisle with me; even if we did all walk at different speeds and generally fail to look like the floating dreamboats we had imagined.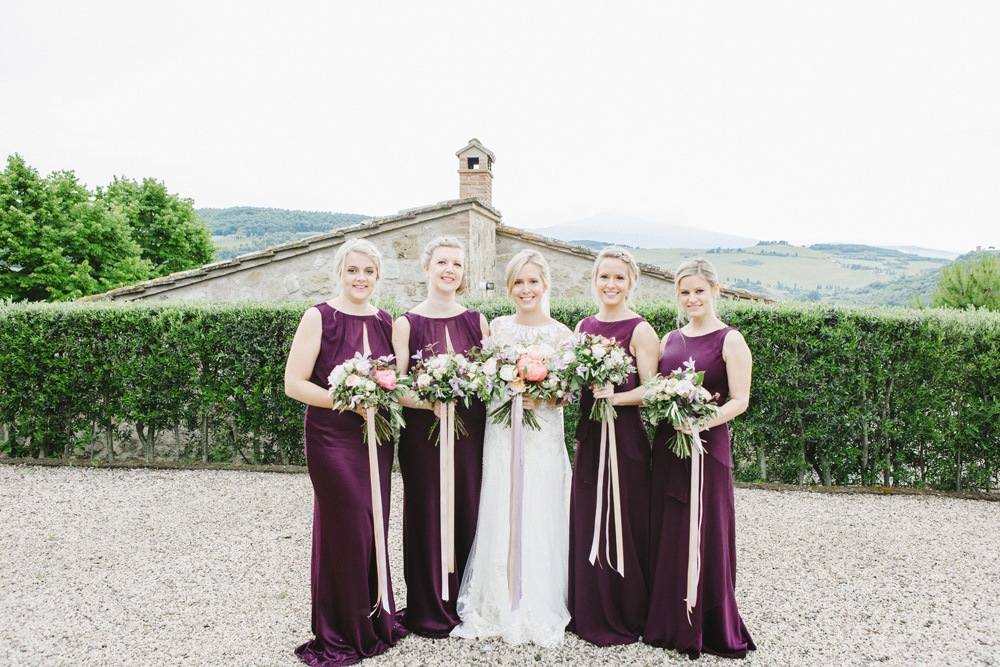 Italian wedding ceremony: symbolic ceremony conducted by Jo Bertolino, Tuscan Pledges
Our wedding ceremony was a symbolic ceremony *cough, may have got officially married back in England, cough* but it was beautiful and meant so much to both of us. We had our own vows and during the ceremony we sealed (when I say sealed, I mean aggressively hammer some nails into) a wine case, which held a bottle of wine made by Terre di Nano and little messages from our guests. We'll open this on our one year anniversary! Our celebrant, Jo, was brilliant and kept me nice and calm before the ceremony when the rain was still coming down.
We had a string quartet to play before, during and after the ceremony, which I hear were great but thanks to my adrenaline filled brain, I don't remember them playing. The quartet were hired through the Alma Project who are listed below.
Our Tuscan wedding was held on the grounds of Terre di Nano, overlooking the rolling Tuscan hills. It had rained all afternoon prior to the ceremony, which had worried me. Once the rain stopped, however, a beautiful mist rolled in and made the setting even more magical, particularly under our beautiful floral arch. It was a dream.
Wedding photographers and videographers: Les Amis and Matteo Castellucia
On the advice of our wedding planners, we hired Les Amis for our photography and, as I'm sure you'll agree, we made the right choice. Erica and Elena were discreet, relaxed and very patient with me as I grappled with my dress amongst the olive groves. I am incredibly happy with our photos and love the style; with only a few of those awkward staged photos that the parents insist on.
For the videographer we hired Matteo Castellucia. This man is incredibly talented and turned our day into a magical story. He arrived with a drone, which I was very envious of, and only one assistant. He was, again, so relaxed to work with and made the 'posing' bits seem easy.
Hair and makeup: Giulia Cresci
My hair and makeup (and the bridesmaids and mums) were done by the lovely Giulia and her team. When I met Giulia, a couple of days before the wedding, she immediately promised that she wouldn't make me look like a traditional Italian bride e.g. thick blue eye shadow and huge hair with enough hairspray to go up in flames. This was music to my ears and instead we went for a relaxed look with a braided up-do and simple makeup. It was perfect. I still looked myself, just a significantly improved version of myself.
The bridesmaids all had variations of my hair with the plaits. With us all being blonde and with similar hairstyles, I felt I had built an excellent bridal gang of beauties. My Mum claims that it was the makeover of her life and has been trying to recreate the look ever since.
Wedding stationery: Bella Collection
Working in marketing, I'm big on consistent branding and so of course, I did the only thing I knew how when beginning the design of my wedding stationery: I created a mini brand for myself. We found Bella Collection online – run by the lovely Evie and George, and we couldn't have had a better experience with them. The layered design, complete with a mini me and James (and even our cat), ran throughout our save the dates, invitations, order of ceremony and menu.
Wedding breakfast: Terre di Nano
Our wedding dinner was traditionally Tuscan, which means traditionally filling. For starters we had risotto with pecorino cheese and balsamic vinegar, and pasta with pesto of zucchini, leeks and salty ricotta cheese, Our mains (!) were roast pig in sweet and sour pork with roast potatoes and rosemary followed by sliced beef with white beans of Monticchiello in tomato sauce. Dribbling yet? This was all washed down with Terre di Nano's own Vino Nobile d'Montepulciano red wine. It's a good job I didn't go for a corseted dress.
We also opted for a traditional Italian wedding cake of strawberries and mille feuille and it blew my mind. Forget dry sponge and icing, this was the most delicious thing I've ever tasted. It also made an appearance at brunch the next day, which I was ecstatic about. I still day dream about the cake, it was just too good.
Party (music and lighting): Alma project
Around 11pm the party finally arrived and oh how people were ready to par-taay! Even if I do say so myself, this was one of the best wedding parties I've been too – no song too old or cheesy was neglected, and combined with a free bar and a beautiful Italian evening outside, we carried on until the early (or late?) hours of the morning. It was so worth the pain the next day. For all the lighting (including fairy lights in the olive trees) and music, we hired the Alma Project. I'm not sure whether things are different in the UK, but I was not expecting the crowd of beautifully suited Italian man who appeared on the night to assist with the music and lighting – even the DJ was in a suit. It was a beautiful thing to behold.
The great thing about having an intimate Tuscan wedding is that all our guests were staying onsite or just down the road, and so there was no abrupt end to the party – people could take themselves off to bed whenever their dancing feet got too weary.
My Tuscan wedding
I've never been the type of person (I was going to say girl here but I don't see why boys can't too) to dream of my ideal wedding when I was younger. Ironically, up until the day before I got engaged, I maintained that a wedding day wasn't important: I have most certainly proved myself wrong. My little, or not so little as it turned out, Tuscan wedding was the best day of my life and I would do it all again in a heart beat. Despite hiring what seemed like a mini industry to make the day happen, it still felt intimate, relaxed and full of my nearest and dearest.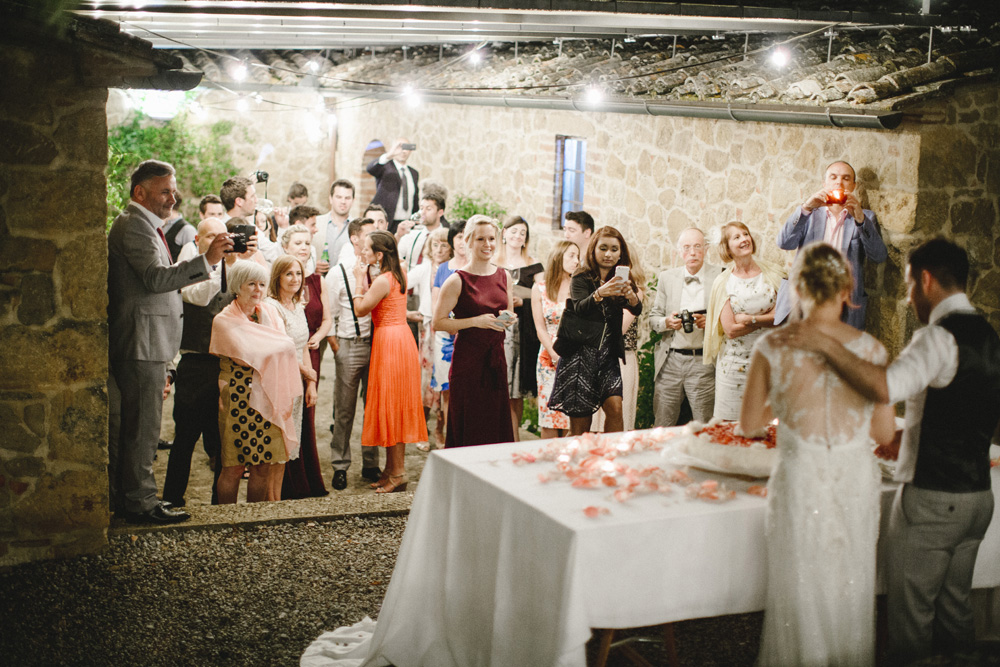 Thank you to all the talented bunch of photographers, videographers, florists, make up artists, musicians, cooks and wedding planners who made our Tuscan wedding simply perfect.
Pin it: My Tuscan Wedding