Do you suffer from travel anxiety?
We can help you overcome anxiety and see the world.
Is Noto Worth Visiting?
I was in two minds as to whether I should write this blog post about our day trip to Noto, Sicily.
It's not because I don't think Noto is a city worth visiting – quite the contrary. Instead, I don't want to encourage any more visitors to it. A city that flies a little under the radar, Noto – unlike many of its Sicilian neighbours – has remained relatively untouched by mass tourism.
A fact that may now change after its recent feature in the world-wide hit, White Lotus. 
Offering the architectural splendour of cities such as Rome, whilst still retaining the authenticity of a laid-back, breezy seaside town, Noto is a far nicer destination than other busy Sicilian cities, such as Taormina.
Filled with groups of retired gentlemen crammed around tables playing cards and smoking cigars, Noto remains an 'everyday' working city. Retaining its authentic Italian charm, Noto is a place to escape, relax and to enjoy a dose of Sicily as it once was.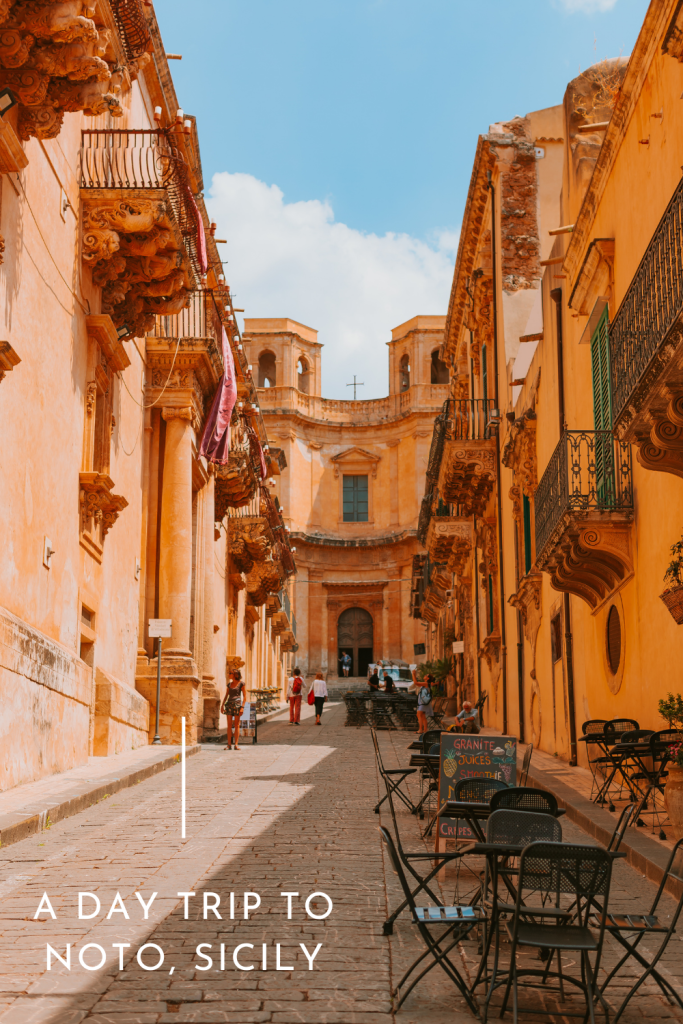 Where is Noto in Sicily?
Located in southeastern Sicily, Noto is situated in the commune of Syracuse.
Majestically perched on the Hyblaei Hills, Noto lies southwest of the city of Syracuse and is just a 20 minute drive from some of the prettiest beaches and hidden coves in Sicily.
Its location makes for the ideal base for those exploring the southern end of the island; where a morning spent strolling Baroque-styled streets can easily melt into a lazy afternoon on a soft sandy beach.
The History of Noto, Sicily
Noto is a city with two distinct pasts.
In 1693, the town – then known as Netum – was hit by an earthquake that completely obliterated it. Killing 60,000 people and causing tsunamis that went on to wipe out many coastal villages and towns, this was the second largest earthquake to ever hit the country.
Having been destroyed by the earthquake, Netum was rebuilt in the 1700s, 10km from its original site. Under the supervision of three architects: Labisi, Sinatra and Gagliardi, Netum was transformed into the Baroque inspired Noto that you see today.
Built on a hill, the city was divided into three parts – with nobility living at the top of the hill, clergy in the middle and the general masses taking up residence on the lower levels.
A masterpiece of limestone, Noto is now a UNESCO World Heritage Site, along with the neighbouring towns of Ragusa, Modica and Scicli.
How to Get to Noto, Sicily
What's the Nearest Airport to Noto, Sicily?
The nearest international airport to Noto is Catania airport, which we flew into whilst staying in Syracuse. From here, it's around a 1.5 hour drive to Noto. For those not in Europe or the UK, you may need to fly in to Palermo, which is a 3 hour drive from Noto.
If you're flying into Palermo, I would suggest breaking up the drive with stops along the eastern coast, including Taormina and Syracuse.
Driving to Noto, Sicily
On our most recent holiday to Syracuse, Noto was the ideal day trip destination as it was just a 40 minute drive away. It was an incredibly straightforward drive and we found ample parking in the city centre (although you do need to pay to park).
Although there are some public transport options from Catania Airport to Noto (train and bus), these are incredibly lengthy, taking 5-6 hours. Instead, I would highly recommend hiring a car whilst in Sicily, so you can easily explore Noto and its surrounding beaches.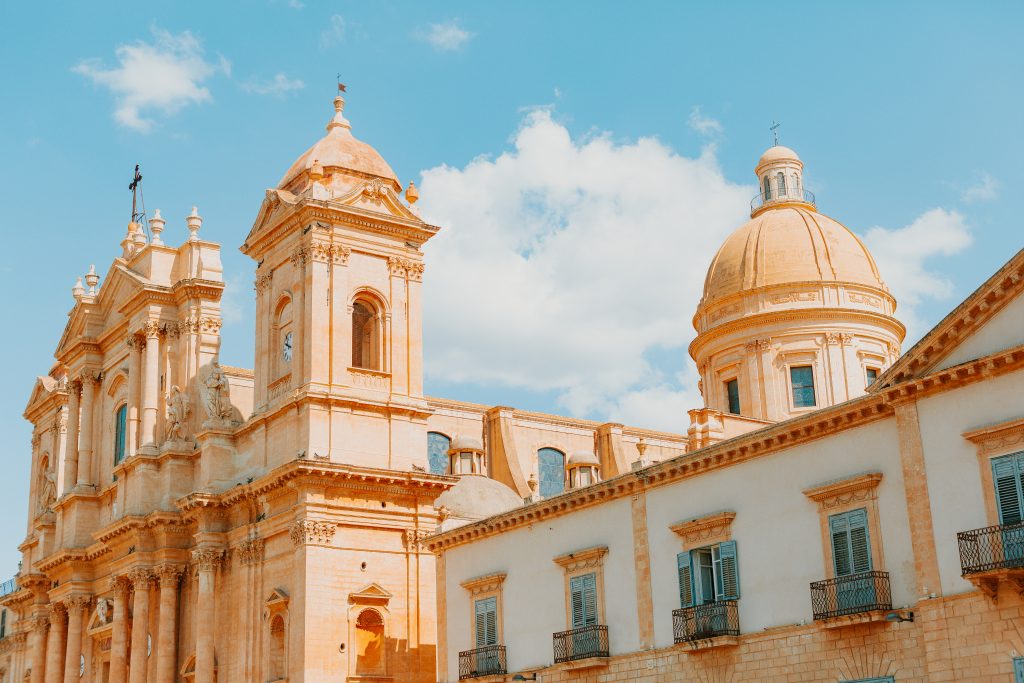 Things to do in Noto, Sicily
Small but perfectly formed, a day is all you need to explore Noto.
A city to be enjoyed at a leisurely pace – gazing up at Baroque balconies before stopping for an icy lemon granita – Noto is a place to really savour.
Below is a brief round up of things to do in Noto and the surrounding area. Although I have listed lots of architectural gems to visit, Noto is also an ideal place to bring a toddler. Small and compact, without throngs of tourists, it was a city easy to explore with Olive.
Admittedly, with a toddler in tow, we couldn't visit all that the city has to offer, but simply strolling the streets as Olive chased pigeons and cats, still made for a really enjoyable day out.
1. Be Mesmerised by Noto's Baroque Architecture
As mentioned above, Noto was rebuilt in the 1700s after a devastating earthquake. Meticulously redesigned in the distinct Sicilian Baroque architecture of the 1700 and 1800s, most of the buildings in Noto are built from limestone.
During sunset, the limestone brick transforms the city into a magical scene of luminous ochre. Achingly beautiful, dusk is the ideal time to explore this city, as the buildings gently glow and  swallows swoop and circle above.
If you enjoy Baroque architecture, visits to nearby to Ortigia Island (the 'White Pearl' of Syracuse), Modica, Ragusa and Scicli should also be added to your list.
2. Visit San Nicolò Cathedral, Noto
Noto's Cathedral, San Nicolò is impossible to miss.
A Baroque limestone masterpiece, complete with sweeping steps to its entrance, the exterior of the Cathedral will likely stop you in your tracks.
Built immediately after the earthquake of 1693, San Nicolò Cathedral needed further repairs in 1996, when yet another earthquake caused the dramatic collapse of its dome. Inside, the Cathedral holds the remains of the city's Patron Saint, installed within an impressive 16th silver arc.
Like much of the city, the Cathedral looks particularly breathtaking at night, when soft lighting adds to its limestone glow. It's also a meeting point for families and friends, who spread out along its steps for a catch-up as dusk creeps in.
3. Visit Palazzo Ducezio
Directly opposite Noto's Cathedral (and where I took the above photo from), is Palazzo Ducezio. Now the city's Town Hall, the 17th century French inspired Palazzo Ducezio is open to visitors, including its higher floors, from where you can get some great views of the city.
4. Walk Corso Vittorio Emanuele, Noto
Corso Vittorio Emanuele is the main street running through Noto and handily provides visitors with a route through the city's main sights. It's also the street to stop to enjoy some famed gelato or a morning coffee.
Lined by churches and three pretty piazzas, leave plenty of time to wander down this wide, elegant walkway; looking out for the city's famous art that adorns its stairways.
5. The 'Infiorata'  (Flower Festival)
Before heading to Noto, I did my usual Google search of the city. The results from this returned endless images of flower filled streets, showcasing dazzling displays of colour and design.
Welcome to Noto's famous Flower Festival, known as 'The Infiorata'.
Taking place yearly for three days in May, Noto's Flower Festival transforms 700m of Via Nicolaci into a spectacular carpet of colour and petals. Although focused on this street, artists spread out along other alleyways – each provided with their own patch to create a piece of flower art.
This is a truly unique sight and if you can time your visit to the city during this festival, then please do.
Dates for Noto's annual Flower Festival can be found here.
6. Head up Il Campanile Di San Carlo
If there's one rule we have when visiting an Italian city, it's to head up the nearest bell tower. Something of a tradition on our Italian holidays, we were oddly disappointed to realise that we couldn't climb Noto's bell tower when visiting with little Olive.
Although she was an early walker, and now unnervingly quick, we felt that manoeuvring her up a few hundred steps might well end in disaster.
At least it gives us the perfect reason to return when Olive's legs are a little longer.
The Tower costs two euros two enter and (with most churches in Italy) requires modest dress for entering.
7. Visit the Beaches near Noto
Another selling point for Noto is the dazzling beaches that lay close by. For those looking to enjoy some of the most scenic beaches in Sicily, here are some suggestions of where to visit:
1.Fontane Bianche
While many of the beaches in Sicily are rocky, pebbled coves, the beaches located near Noto offer soft, sandy expanses.
Located just a 25 minute drive from Noto is Spiaggia Fontane Bianche beach. Complete with restaurants, bars and sun loungers to rent, this is a popular beach and ideal for families.
Expect crystal clear waters, fine soft sand and views across a mesmerising coastline.
2. Spiaggia Marianeddi 
For those looking for a more secluded spot, head to Spiaggia Marianeddi, which is located in the Vendicari Nature Reserve.
During out latest trip to Syracuse, we were tantalisingly close to many of these more secluded spots – but they often require a long walk to reach them and offer little in the way of amenities. They aren't therefore particularly family friendly, but are ideal for those looking to escape the crowds.
Please note that this beach is popular with naturists.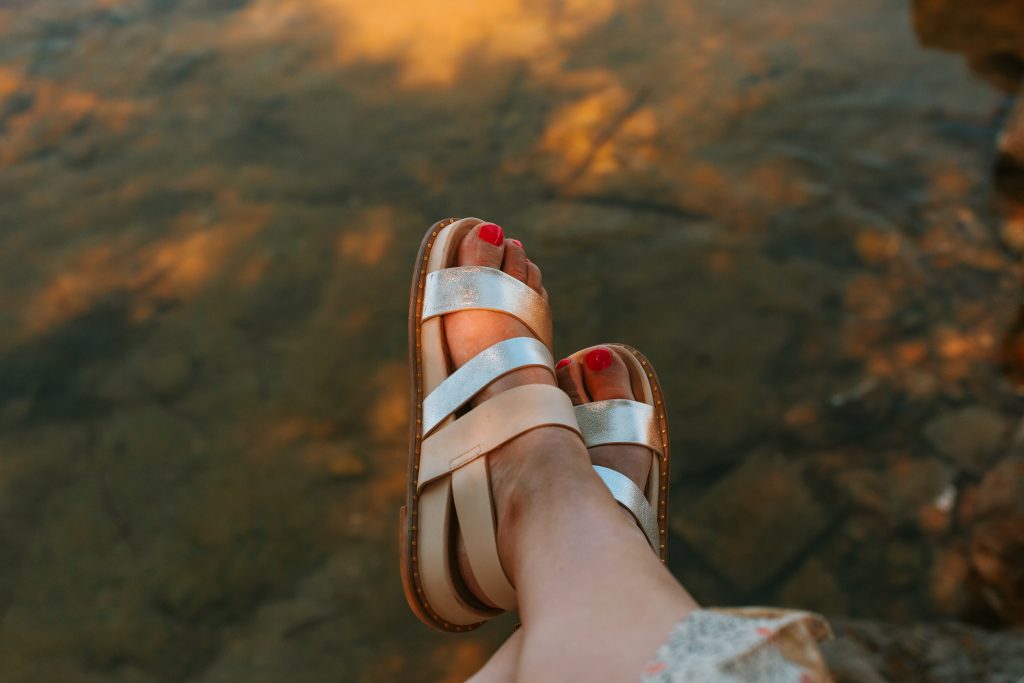 Where's Best to Stay in Noto, Sicily?
The Best Hotels in Noto
1.Gagliardi Boutique Hotel (£££)
Let's get the most expensive suggestion out of the way first – with the boutique luxury hotel Gagliardi Boutique Hotel. We spotted this hotel during our day trip to Noto and have fantasised about revisiting (without the baby) ever since.
Just 500 metres from Noto's Cathedral, this centrally located hotel is a special and thoroughly romantic place to stay in Noto.
For those on a tighter budget when visiting the Noto, B&B Novecento Siciliano makes for an ideal alternative. Located in central Noto, the cosy rooms – each dedicated to a different film set in the city – offer air conditioning and private bathrooms.
There is also a shared kitchen for those wishing to prepare their own meals.
For those looking for private parking and a garden to relax in during their stay in Noto, take a look at Michael Garden.
Located a little further out of the city centre (0.6 miles from the Cathedral), Michael Garden offers a place to escape in self contained apartments, complete with private bathroom, TV and fridge.
Breakfast is also available for those who wish to book it.
For those looking to book an Airbnb in Noto, take a look at this handy guide from Along Dusty Roads.