When it comes to pitting two of the UAE's most popular destinations against each other – Abu Dhabi vs Dubai – it might initially feel as though you're comparing like for like.
Surely these states – both relatively new and surrounded by swirling sands – are fairly similar? Is there really any difference between Abu Dhabi and Dubai?
In our opinion, yes there is – and an enormous difference at that. Whilst one is focused on parties, impressive nightlife and a dizzying sense of wealth, the other is a quieter (but in no way less dazzling) destination, focused on the UAE's rich creative and cultural history.
Now, we might be biased, but it's for this reason that we much prefer Abu Dhabi over Dubai. Whilst Dubai is undoubtedly fun, dazzling and intoxicating, it perhaps lacks the depth and context that Abu Dhabi delivers – making it the much more interesting Emirate.
To justify our reasoning a little more, below are our 10 reasons why we think Abu Dhabi is better than Dubai.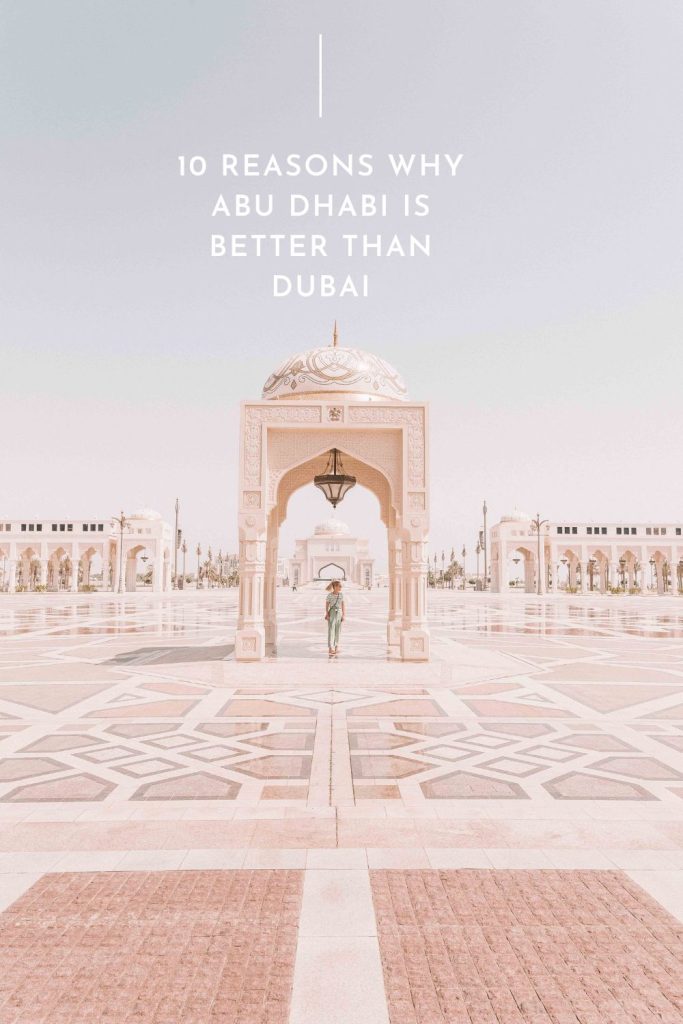 Abu Dhabi vs Dubai:
10 Reasons Why Abu Dhabi is Better than Dubai
1. It's One of the World's Most Cultural Capitals
One of our most persuasive arguments why Abu Dhabi is better than Dubai, centres around the incredible creative vision that it offers.
Whilst Dubai has focused on its luxury offering, Abu Dhabi has carved out a name for itself as a global, cultural powerhouse.
In 2007, the UAE's capital formed a partnership with France, based around a cultural exchange; resulting in the Arab world's first universal museum – Louvre Abu Dhabi (found on Abu Dhabi's Saadiyat Island ). Not just celebrating international art, the Louvre Abu Dhabi also showcases the UAE's own cultural heritage; allowing visitors to sample its rich history and creative prowess.
Named the 'Museum City on the Sea', The Louvre Abu Dhabi is entirely unlike its namesake in Paris. Opened in November 2017, the gallery covers a staggering 24,000 square metres – 8,000 of which is gallery space – and is entirely surrounded by spectacular architecture.
Abu Dhabi is also soon to welcome the magnificent Zayed National Museum (due to open in 2022). An incredible architectural feat, the Museum is not only incredible to look at, but will provide visitors with the opportunity to learn about the phenomenal transformation that the UAE has undergone since it was founded in 1971.
In 2025, Saadiyat Island's Cultural District will be completed by the opening of Abu Dhabi's very own Guggenheim – a place we cannot wait to visit ourselves.
For those wondering what Abu Dhabi is like compared with Dubai, we'd therefore simply point to this enormous emphasis on creative culture; something that Dubai simply does not have.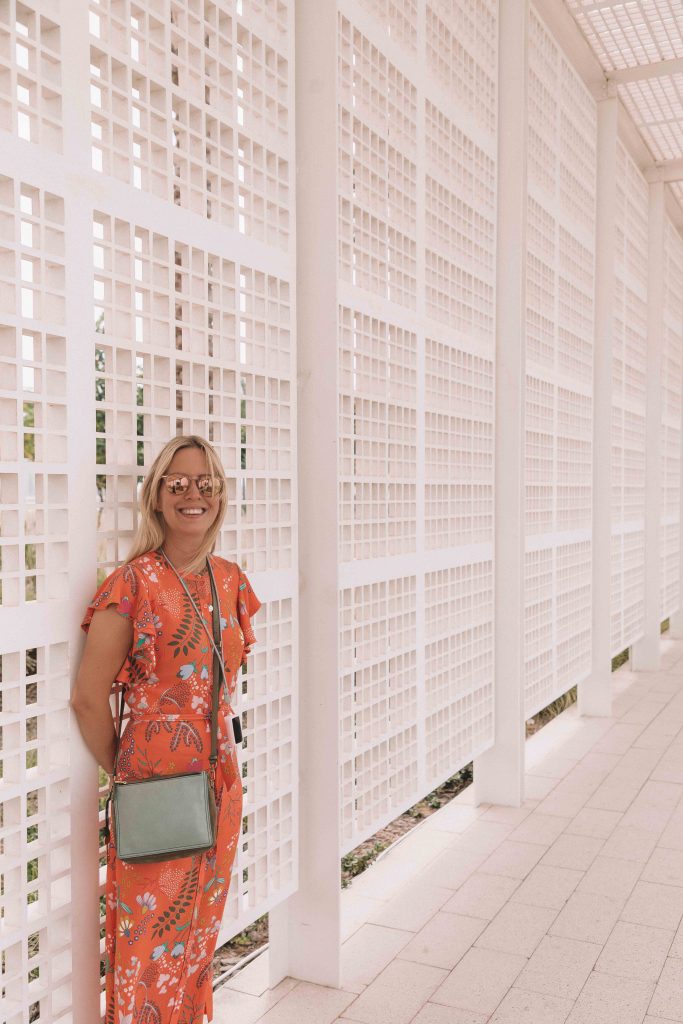 2. It's More Authentic Than Dubai
One charge often levelled against Dubai is that it exists within a cultural vacuum. You could be anywhere in the world when staying there; it's all so anonymously beautiful.
When it comes to Abu Dhabi, however, this is not a problem.
Rather than trying to make itself pan global – a place that appeals to all – Abu Dhabi holds firmly (and proudly) to its roots; celebrating the cultures, beliefs and heritages that make up the UAE. Of course, whilst some might see this as a negative (it means, for example, that Abu Dhabi is stricter than Dubai), we believe it's this authenticity that makes it such an appealing destination.
To really get a sense of this character, be sure to visit both Qasr Al Hosn Fort and Palace and the House of Artisans.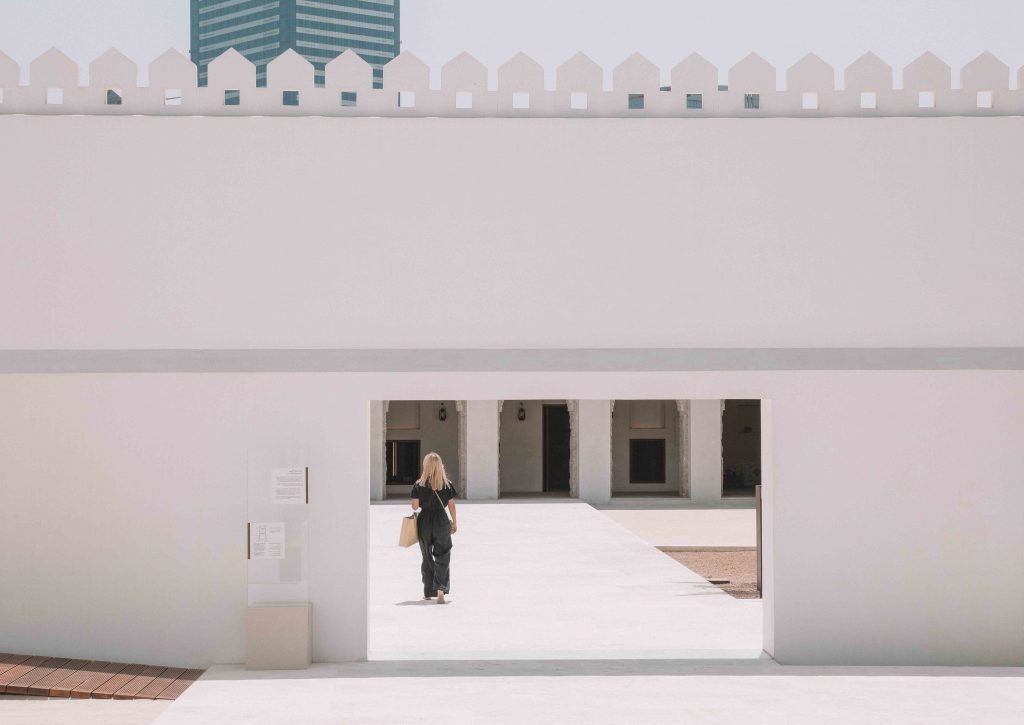 Deemed the oldest and most important buildings in Abu Dhabi, Qasr Al Hosn was the first permanent structure in the Emirate, originally built as a watch tower in the 1790s. The Outer Palace was then added to the tower, between 1939-45, and soon became the official palace of the ruling family – the Al Nahyans.
It's a place that really drives home just how far the UAE has come – from a small and humble structure by a fishing port, to a glittering and fantastically wealthy destination.
The Palace has recreated many of the traditional rooms once frequented by the Sheikh; helping guests to imagine the far more modest way of life that this ruling family would have once experienced.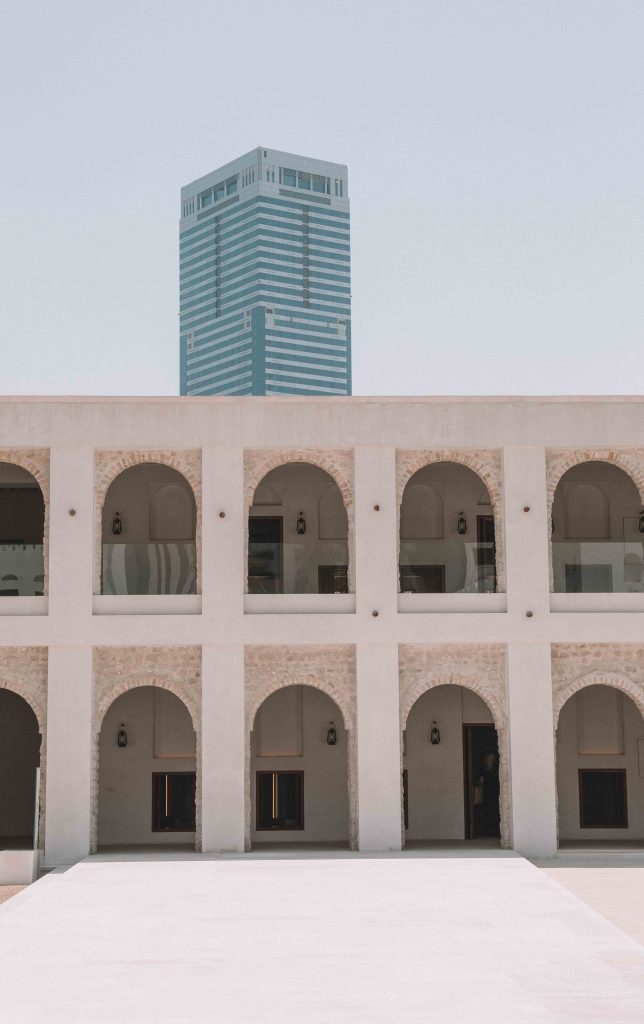 Sitting on the same site as the Palace is the (free to enter) House of Artisans, home to a series of detailed exhibitions celebrating Abu Dhabi's craft heritage.
With videos, imagery and opportunities to try traditional crafts yourself, the House offers an incredibly interesting insight into traditional, tribal life in the UAE. Bedouin women are also on hand throughout the exhibition to bring to life traditional crafts, such as 'Khoos' – a weaving technique using date palm leaves to make baskets –  and 'Talli', an intricate method of embroidery used to decorate women's robes.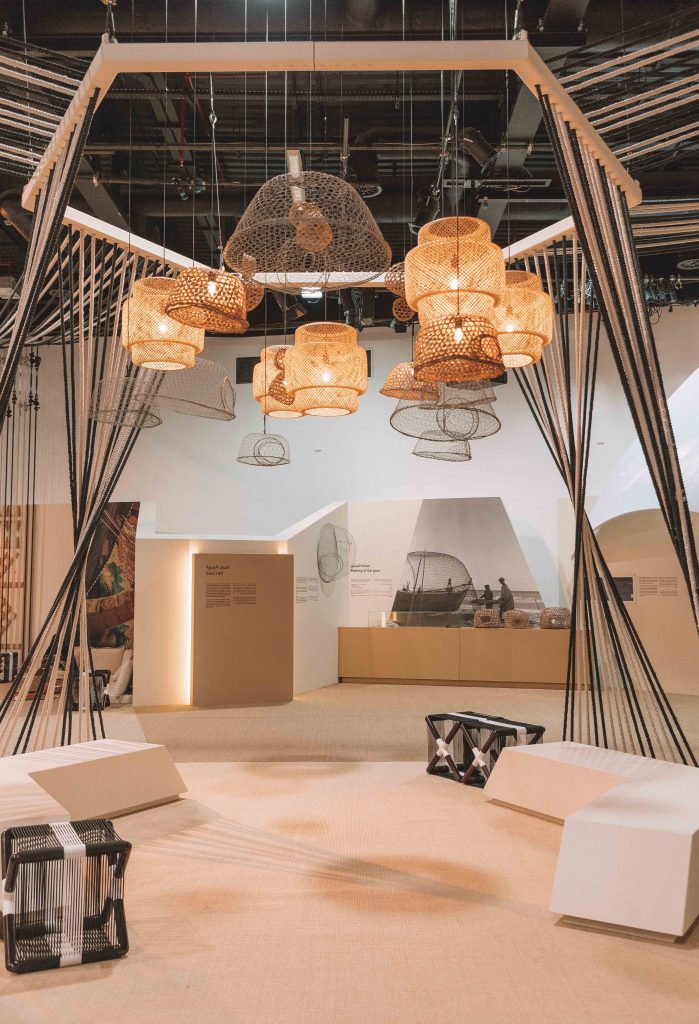 3. Abu Dhabi's Presidential Palace
Abu Dhabi is the capital of the UAE – its political and cultural heart.
As such, it's home to the UAE's Presidential Palace – a spectacular, glittering and opulent building that, since 2017, has been open to visitors.
Our own visit to the Presidential Palace – known as Qasr Al Watan – was something that cemented our belief that Abu Dhabi is better than Dubai. It's a place with a real sense of grandeur; and not just a manufactured, faux-grandeur devised to impress tourists. In fact, the Palace is so beautiful that it was named one of the top 20 landmarks of art and culture in the world.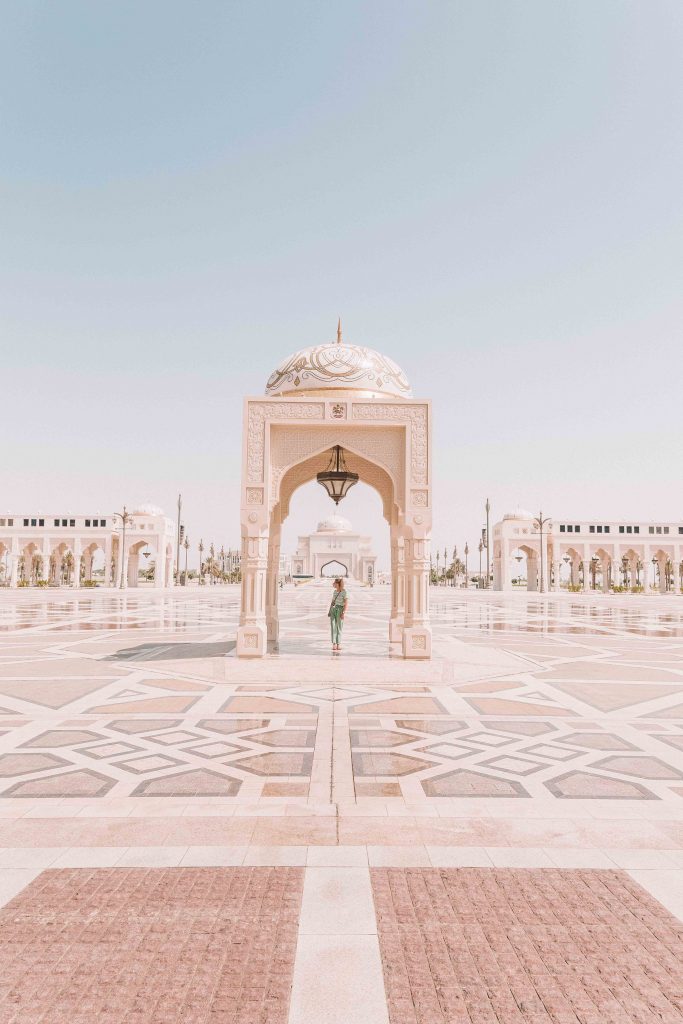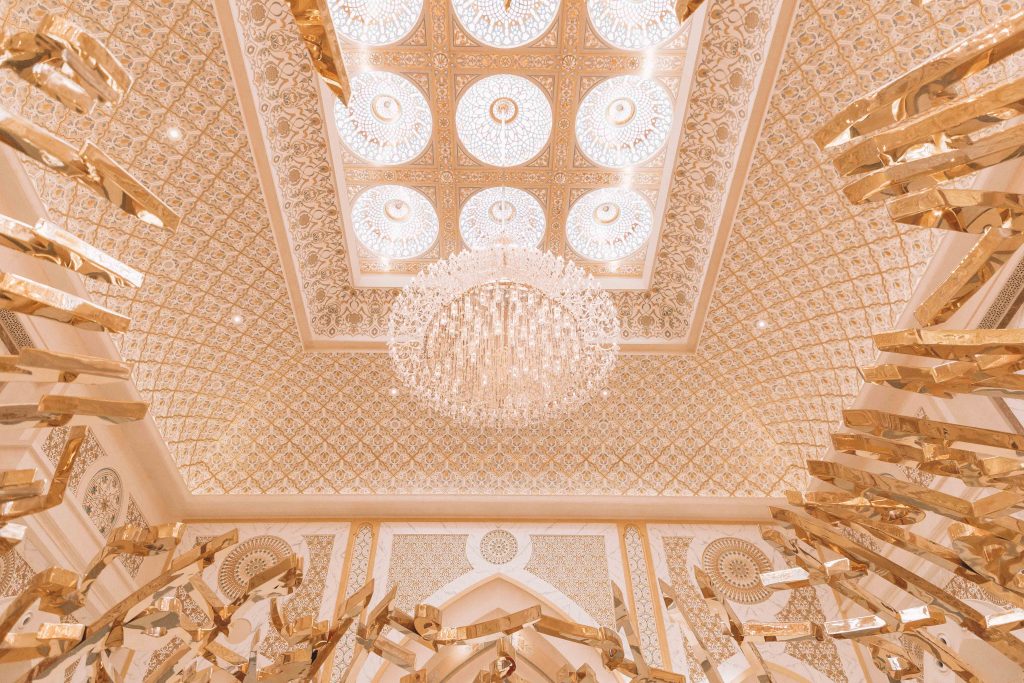 The inside of the Palace (which is still a working palace – hosting politicians, royalty and diplomats alike) is a sight to behold, featuring a 60m high dome (one of the largest in the world) and interiors dripping in shimmering gold leaf.
Aside from the grand entrance, Qasr Al Watan is divided into further, equally impressive rooms that house some fascinating exhibitions – including a display of gifts donated to Abu Dhabi during state visits. The Library, in particular, is also well worth a visit.
When it comes to Abu Dhabi vs Dubai, surely this Palace alone helps settle the debate?
4. It Has One of the World's Most Beautiful Mosques
As you'll perhaps have noticed, Abu Dhabi is a place defined by incredible architecture.
From the grandeur of Qasr Al Watan, to the visionary modernism displayed by the Zayed National Museum, this Emirate is one that wholly embraces bold and disruptive design.
However, it's also a destination filled with more traditional architecture; something that's no better represented than by the majestic Sheikh Zayed Grand Mosque.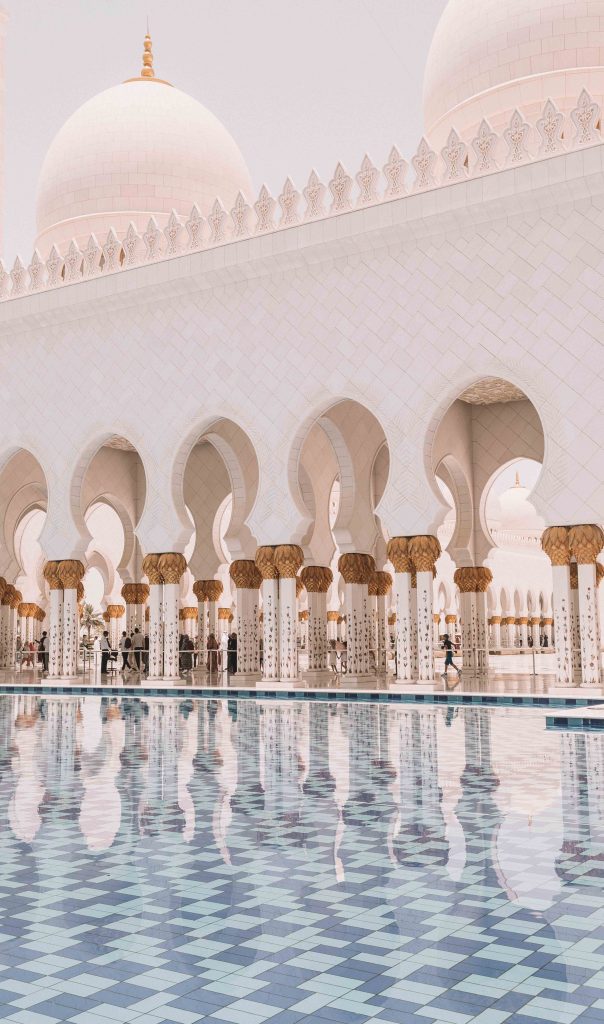 One of the world's largest (and most striking) mosques, the Sheikh Zayed Mosque was built to represent diversity across different Muslim civilisations. Indeed, architects from all over the world were responsible for its design, including those from the UK and Italy.
The exterior and interior design of the building are equally diverse; inspired by Egyptian, Moroccan and Pakistani influences. With a capacity to welcome a whopping 40,000 worshippers, the Mosque is free to visit and welcomes tourists and worshippers from all over the world. Allow yourself at least 1.5 hours to truly enjoy Abu Dhabi's Grand Mosque – this is not a place to be rushed.
Note: female visitors will be given a full length gown to wear during the visit (for free). If you'd rather wear your own clothes, your arms, legs and head will need to be entirely covered.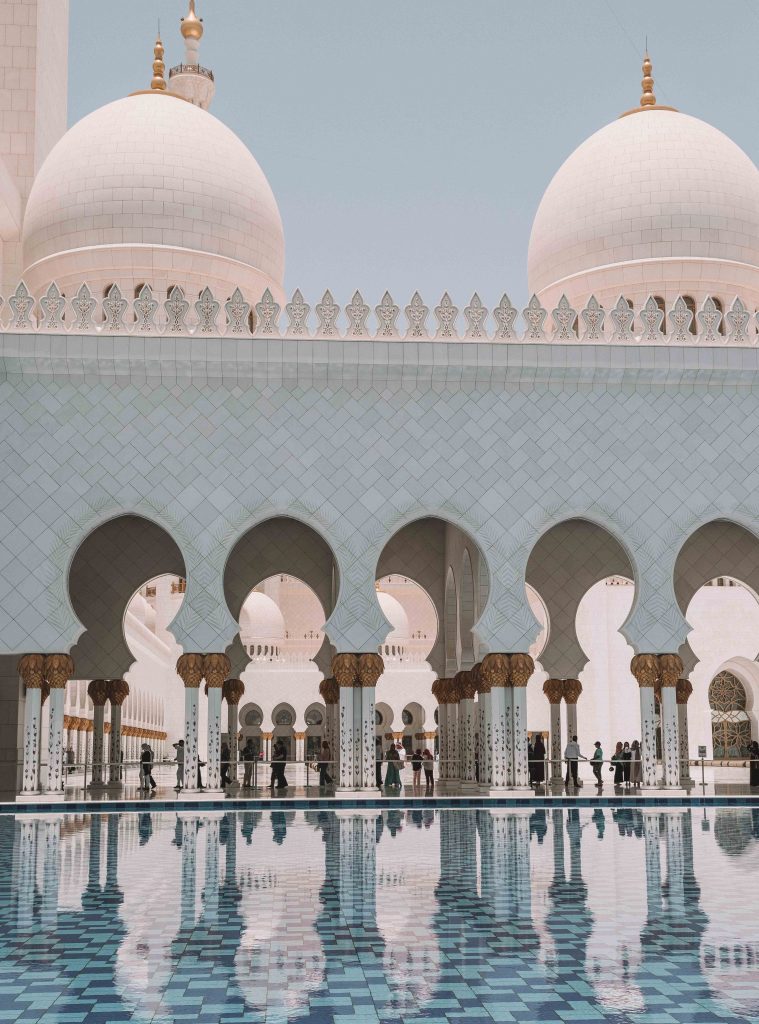 5. Diverse Hotels
When it comes to Abu Dhabi vs Dubai, particularly for a family holiday, we can at least concede that both Emirates do deliver on one thing – high quality, luxury hotels.
The UAE's USP (if you will), is its ability to deliver 5* quality accommodation, whether that be on palm tree shaped islands, or within shady desert hideaways.
We've sampled a few of the best hotels in Abu Dhabi and can highly recommend the following.
Jumeirah at Saadiyat Island
Nestled on one of Abu Dhabi's pristine beaches, Jumeriah Saadiyat Island is the place to come to escape the hustle and bustle of downtown Abu Dhabi.
Occupying one of the most sought after locations in Abu Dhabi, the resort is situated on the 27km stretch of Saadiyat Island; an area that has undergone an £18 million development programme.
Neighbouring some of the city's most exciting cultural sights – including The Louvre Abu Dhabi – Jumeirah Saadiyat Island first opened in 2018.
Serene, calm and welcoming, this is the ideal resort for those looking to unwind and enjoy a decidedly tepid sea breeze. Offering 293 rooms, suites and villas, there are plenty of accommodation options to choose from. We stayed in a  Resort Deluxe King Room that offered a bright and breezy room, complete with private balcony, huge bathroom and king-sized bed.
For those looking to really push the boat out, the villas (2, 3 and 4 bedrooms) look particularly inviting, complete with private pools.
Emirates Palace, Abu Dhabi
For those that say Abu Dhabi's hotels are not as luxurious as Dubai's – look no further than the sprawling Emirates Palace.
The Emirates Palace is known around the world as the crowning jewel in Abu Dhabi's crown. Costing 3 billion to build (the third most expensive in the world) and carrying the unofficial rating of a seven star hotel, things don't get much more special than a stay here.
The preferred hotel of the world's elite (including our own Royal Family), it even has its own six 'Ruler Suites'; reserved for the UAE's Sheikhs and dignitaries alone.
The Emirates Palace also boasts ten restaurants and three bars. Including Spanish, Indian, traditional Middle-Eastern and Asian cuisine, this is a place that caters to every palate. For those looking for a particularly sweet treat, head to Palace Cappuccino for a hot chocolate sprinkled with 23 karat gold flakes.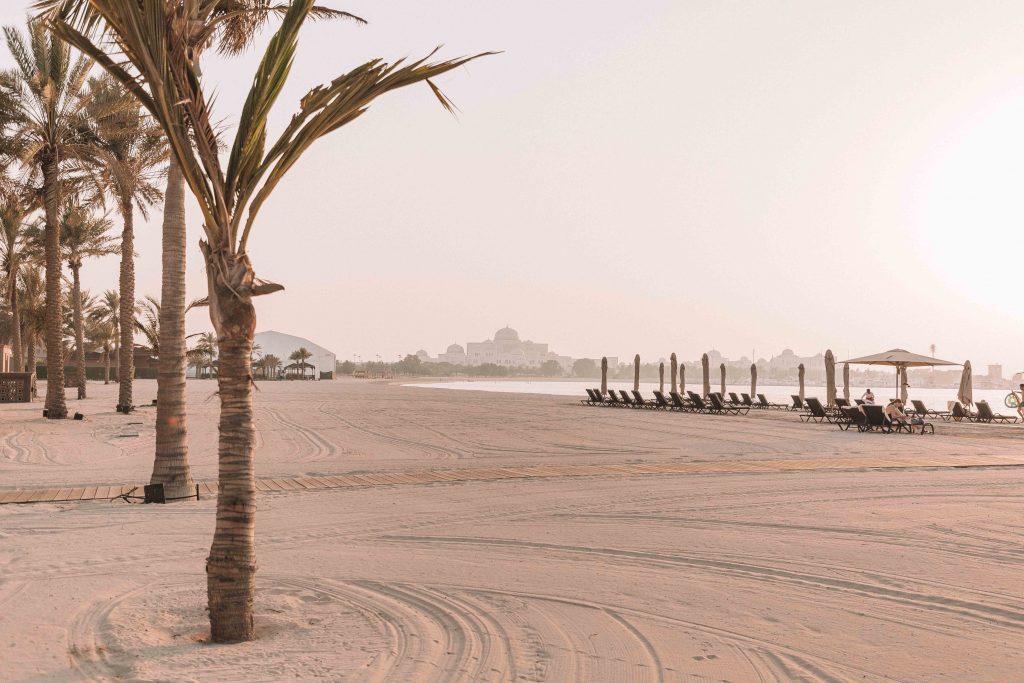 Jumeirah Al Wathba Desert Resort and Spa
Replacing the pristine beaches of the Arabian Gulf with the sand of the Arabian desert, Jumeriah Al Wathba offers a very different hotel experience.
Opened in April 2019, this boutique resort is the ideal place to escape the busy metropolis of downtown Abu Dhabi; soaking up the silence of the UAE's golden desert.
Boasting villas with quiet, private pools, seven restaurants and an incredible spa, the Jumeriah Al Wathba Desert Resort and Spa offers peaceful and modest luxury; a place for reflection and unfettered relaxation.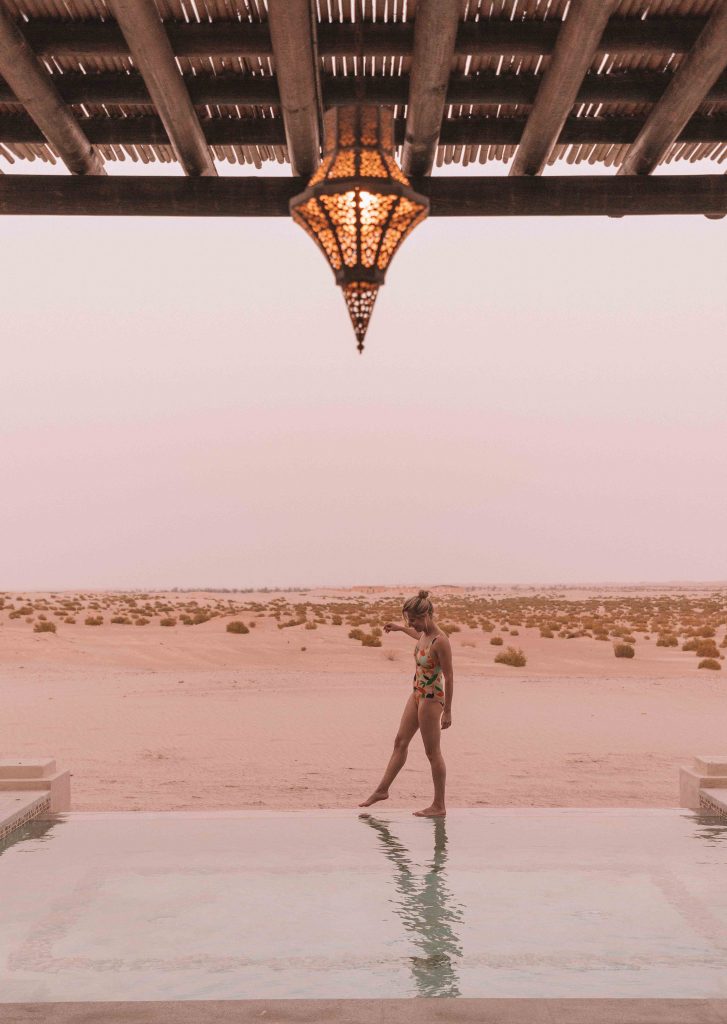 6. Quieter, Prettier Beaches
We definitely believe that Abu Dhabi has better beaches than Dubai.
Of course, Dubai is not without some fantastic beaches, however – they perhaps lack some of the tranquility offered by Abu Dhabi's sandy shores. Furthermore, head to the right stretch of coastline in Abu Dhabi and you'll discover a surprising abundance of wildlife – from endangered Hawksbill turtles to dolphins.
Some of the prettiest beaches in Abu Dhabi can be found on Saadiyat Island and at Corniche.
Saadiyat Beach is a 9km stretch of pristine, powder-soft white sand. Offering the most beautiful sunsets we've ever witnessed, this beach is by far the most beautiful not only in Abu Dhabi, but in the UAE. Thanks to its calm, warm waters – it's also the perfect spot to visit with children.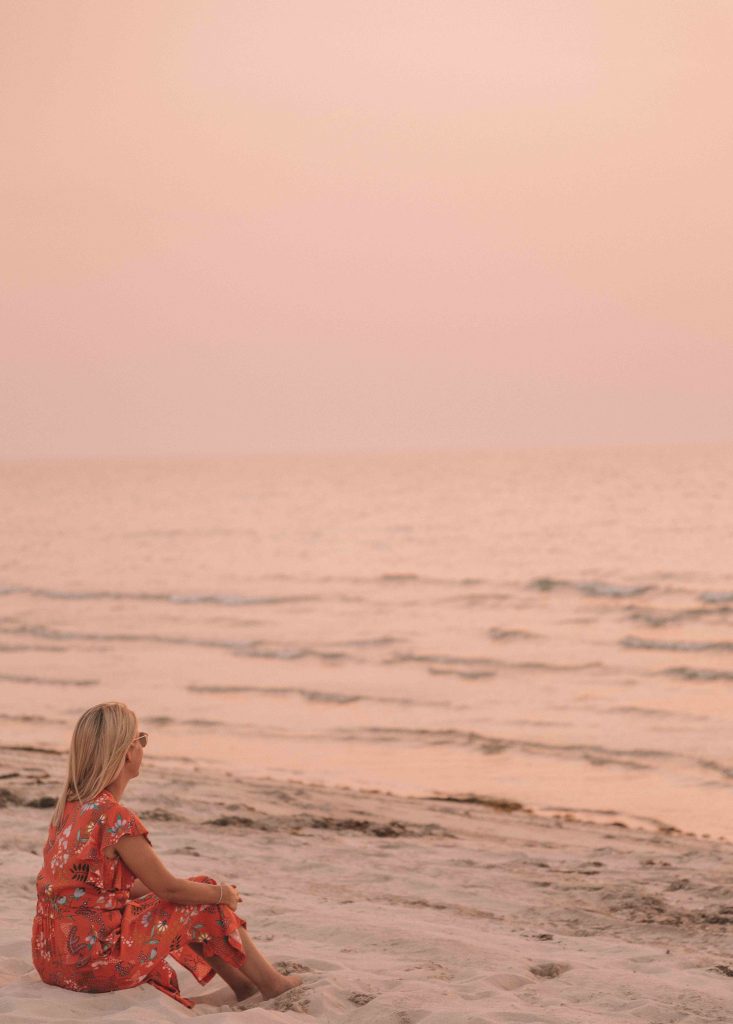 Featuring dune protection zones and restricted areas, the local authorities are also dedicated to preserving the Island's local wildlife and eco-systems – another tick in the box for Abu Dubai when comparing it with Dubai.
Corniche beach is another beautiful stretch of shoreline in Abu Dhabi – and one that is increasingly popular with tourists. The beach is carefully organised into quiet, family and group zones – ensuring everyone enjoys their time here. There are a number of restaurants on this site, alongside play areas for children, showers and changing facilities.
7. Sir Bani Yas Island 
Another reason why we believe that Abu Dhabi is worth visiting over Dubai, is because of the incredible natural environment that's both promoted and sustained here.
An ideal place to experience this is Abu Dhabi's Sir Bani Yas Island; an ancient 'desert island' that is not only home to 17,000 animals, but a Christian monastery – thought to have been built around 600AD. Declared the World's Leading Sustainable Tourism Destination (2014), half of the island is made up of the fantastic Arabian Wildlife Park – where visitors can spot giraffes, hyenas and cheetahs.
When visiting the Island, you can also book 4×4 safaris (UAE style), visit and ride at its state-of-the-art equestrian centre (think sunset dune rides) – and even stay at one of the three luxury resorts on Sir Bani Yas Island.
8. Jubail Mangrove Park
Another spectacular place to experience Abu Dhabi's natural environment is the Jubail Mangrove Park.
Describing itself as the UAE's first self-contained nature and leisure destination, the Park is an unimaginably green and lush haven, filled with exotic marine life and birds. As well as being able to walk the Park's (beautifully designed) boardwalk, visitors can also book kayaks (including incredible looking night-glow kayaks), SUPs and electric dragon boats.
Compared to the somewhat sterile cityscapes that make up much of modern day UAE, this tropical park is a reminder of what Abu Dhabi's natural environment once was – and, indeed, still is.
9. It's More Peaceful Than Dubai
Although we'll admit that this comes entirely down to personal preference, when it comes to whether it's better to visit Abu Dhabi or Dubai, we'd champion Abu Dhabi simply due to its more peaceful atmosphere.
Yes, this might mean that Abu Dhabi is stricter than Dubai, but not in a way that we found to be negative. Instead, it simply required us to be respectful and observant of the UAE's religious and political culture; something that we felt privileged to do. In fact, and particularly as we visited during Ramadan, it allowed us to genuinely experience Emirati culture, rather than just holiday within a one-size-fits-all environment.
When we were within our hotel or resort, we were free to wear what we wished (although don't sunbathe topless and do wear appropriate swimwear). However, outside of the resort, we dressed conservatively (covering ankles and shoulders) and did not eat or drink in front of locals observing Ramadan – purely out of respect.
We'll also add that when it comes to Dubai vs Abu Dhabi, Abu Dhabi is more focused on families and family life (rather than boozy brunches or nightlife), making it a fantastically safe and beautiful place for a family holiday.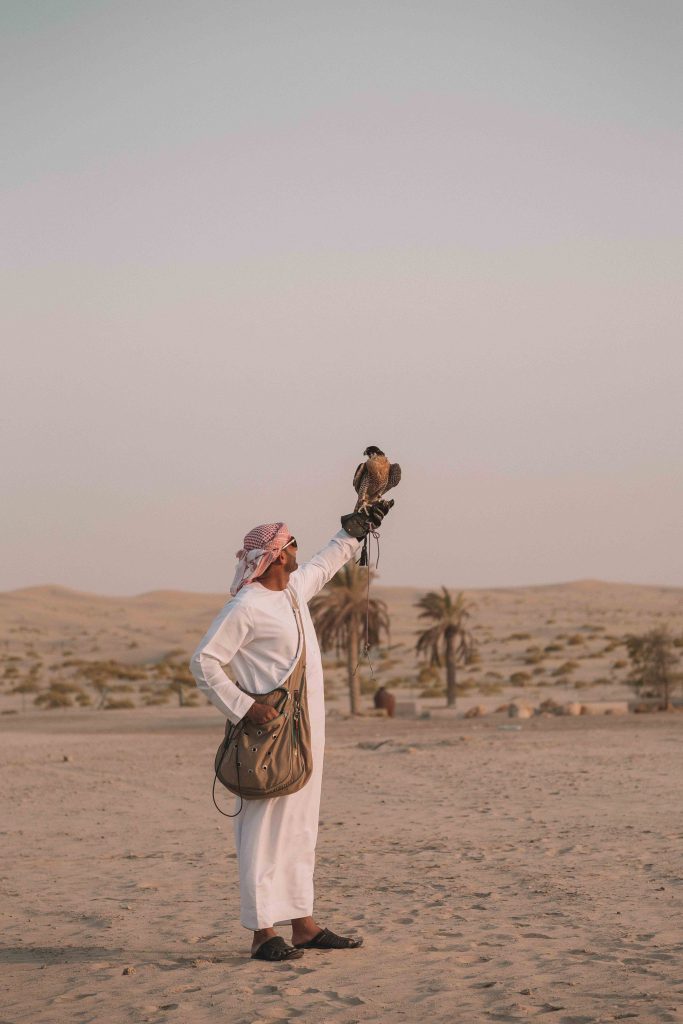 10. Abu Dhabi's Festivals
Thanks to its prominent cultural agenda, Abu Dhabi stages some fantastic festivals and events, all of which are well worth experiencing.
While many might be familiar with the Abu Dhabi Grand Prix, there are a host of other incredibly impressive (and expensively produced) festivals to join.
Perhaps the biggest date on the calendar is the Sheikh Zayed Heritage Festival – sponsored by His Highness Sheikh Khalifa bin Zayed Al Nahyan, President of the UAE. Spanning an incredible four months and taking place in Al Wathba (around a 40 minute drive from downtown Abu Dhabi), this dazzling festival involves every imaginable celebration.
Beginning on Abu Dhabi's National Day Celebrations (2nd December) and running into the New Year, the festival includes global theatre shows, nightly firework displays, funfairs, an ice-skating rink, parades, Arabian Horse shows and dazzling falconry shows.
The Mother of the Nation festival is also held yearly (in December) on the Corniche – lasting 10 days. Geared towards families, this event offers guests access to six zones – an amusement park, a thrill zone, an inspire space, a music arena, a shopping district and a foodie hub.