This Seattle to San Francisco road trip itinerary contains affiliate links.
Traditionally, Pacific North West road trip itineraries are limited to the states of Washington and Oregon; with the option to drive north if you're feeling particularly adventurous.
However, what if you were to go further afield – turning your back on BC's snow-capped mountains in favour of North California?
What if you decide on a Seattle to San Francisco road trip, instead?
I decided to take this very same journey, beginning my time in misty Seattle before eventually arriving in the golden-tipped city of San Francisco. An adventure spanning over 800 miles and three states, this Pacific Northwest road trip featured radically changing landscapes, rising temperatures and some of America's most beautiful cities.
Although perhaps a little different to traditional PNW road trips, the itinerary that I eventually settled upon – and the one you'll find below – brought together two wholly different experiences; blending formidable mountain ranges with majestic forests, and the valleys of Oregon's coastline with the climbing hills of San Francisco.
In fact, this Seattle to San Francisco road trip itinerary leads you down a coastline that, in my opinion, might just be the most beautiful in the world.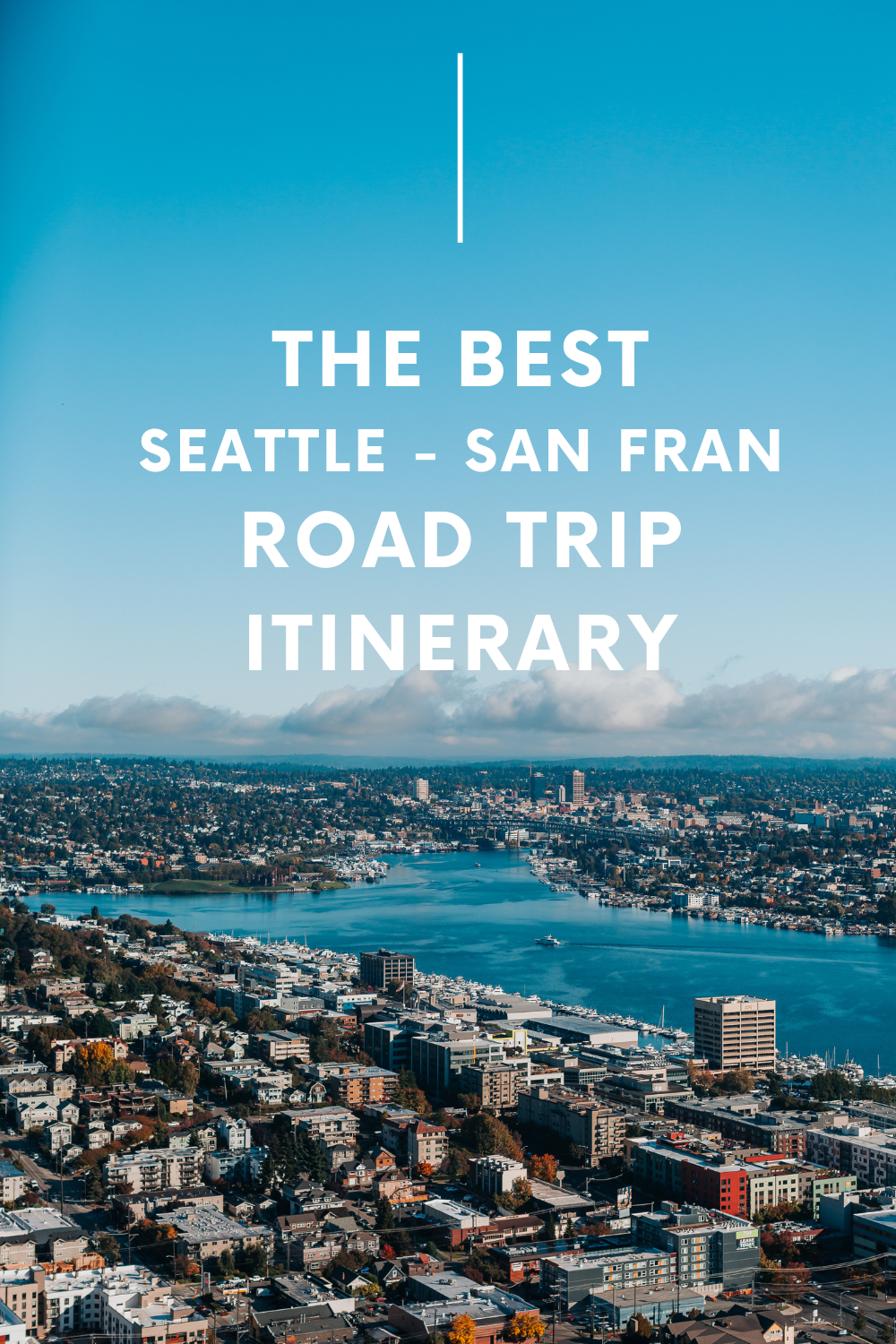 Planning your Seattle to Francisco Road Trip
Distance from Seattle to San Francisco by Car
The Seattle to San Francisco distance spans approximately 808 miles and the drive time from Seattle to San Francisco is between 12-13 hours (if you drive non-stop, that is).
However, conscious that we wanted to spread this journey out, we dedicated nine days to driving Seattle to San Francisco. This included five different stops along the way.
However, if you've had a chance to read my guide to planning your own Pacific Northwest road trip, you'll see that I (on reflection) would definitely set aside at least a fortnight for this journey.
This will ensure that you not only get a little more down time, but are able to explore some of Washington and Oregon's jaw-dropping national parks.
Booking a Hire Car
A car will, of course, be crucial for your Seattle to San Francisco road trip. To avoid higher prices, be sure to book your car ahead of time.
A quick note: as you'll be driving Seattle to San Francisco and therefore dropping your hire car back at a different location, the price of hire will be more expensive (also known as a 'one-way' fee).
This is due to the cost of returning the car to its original hire location.
This additional expense is always worth factoring in when budgeting for your hire. In our case, the additional cost was around $200.
Flights
Additionally (and a little unfairly), you'll also notice that one-way flights are more expensive than booking a round trip.
As such, flying into San Francisco and flying out of Seattle may be more expensive than simply a return to and from a destination.
San Francisco to Seattle Road Trip
A quick note on the itinerary below. If you want to reverse it, and instead embark on a San Francisco to Seattle road trip, then just flip the journey around – this is an itinerary that will work perfectly both ways.
The drive time from San Francisco to Seattle will be identical, although it may take you a little longer to get out of San Fran due to its notorious traffic (than it would for Seattle).
Driving Seattle to San Francisco Road Trip Itinerary
Day 1: Seattle
5pm – Land in Seattle:
If you're flying from the UK, you're likely to land on the West Coast in the afternoon or late evening. Bear in mind that your body clock will still be firmly wedded to GMT and so you'll be navigating arrivals, a hire car and a journey into Seattle on little sleep.
Keep those car windows wound down.
8pm – Check in at Your Hotel:
Never underestimate how long customs in the US can take.
After an agonising hour of queuing and an additional 30 minutes arranging the hire car, it was gone 8pm by the time we arrived at our hotel.
In terms of the best hotel in Seattle, we definitely think it's the Ace Hotel. Quirky, fun and located in the Belltown neighbourhood of Seattle, this hotel is just 750 metres from the fantastic Pike Place Market.
We absolutely loved our stay here.
8.30pm – Dinner at Ivar's Acres of Clams:
For anyone travelling from the east, dragging yourselves out for dinner – after 24 hours of travelling – might seem less than desirable. However, your body clock will thank you if you can wrestle open those eyelids and get outside.
Our hotel was located just 10 minutes from Pike Place Market and Pier 54. It's here that one of Seattle's great food institutions is found: Ivar's Acres of Clams – a great place to kickstart your Seattle to San Francisco road trip (or, end your San Francisco to Seattle road trip).
Dishing up freshly caught seafood since 1938, dinner here is a cosy and no-frills affair. Despite our circadian rhythms expecting breakfast, we opted to try a selection of the chowders – something I would highly recommend.
Note: for Brits used to paying under £10 for their fish supper, expect to be a little surprised. Our meal – a chowder selection, two rounds of fish and chips and two beers – came to nearly $90.
10pm – Bed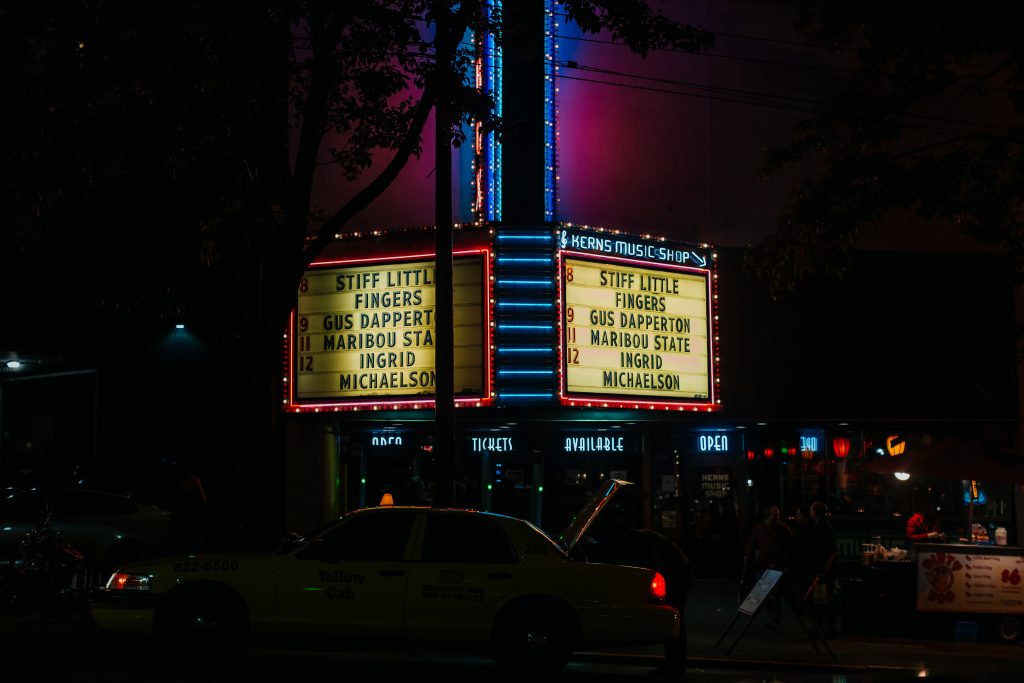 Day 2: Seattle
Why the early start, you ask? Well, if you're flying in from the east, you'll soon understand why.
Awake since 4.30am, we were up and out the hotel door by 7.30am on our first day in Seattle: a mixture of delirium and excitement fuelling us.
7.30am – Breakfast at Biscuit Bitch, Seattle:
A Seattle institution, Biscuit Bitch came highly recommended as a breakfast venue.
With the tagline 'Trailer Park to Table', this wildly popular chain offers hearty Southern inspired biscuits (somewhere between a scone and fried bread), drizzled in everything from traditional sausage gravy to maple peanut butter.
A short walk from our hotel (10 minutes or so), we ate at the cafe located in Belltown.
It did not disappoint.
Tip: try their 'Earl Grey Steamer' for a new twist on the humble cuppa. It was an unexpected highlight during our drive Seattle to San Francisco.
8.30am – Walk to Seattle's Olympic Sculpture Park:
While it might be tempting to speed around Seattle in an Uber, I'd highly recommend walking in order to get a feel for the city and obligatory lung-fulls of fresh Pacific air.
Our walk from Belltown towards the Olympic Park traced the seafront; a sunny and jogger-filled walkway with mountains to our left and the city's famous skyline to our right.
The Olympic Sculpture Park (part of the Seattle Art Museum) is spread across 9 green acres and is the city's largest green space. With beautiful views back across the city – and with the iconic Space Needle looming overhead – visit here to get a sense of Seattle's affinity with the great outdoors and the water surrounding it.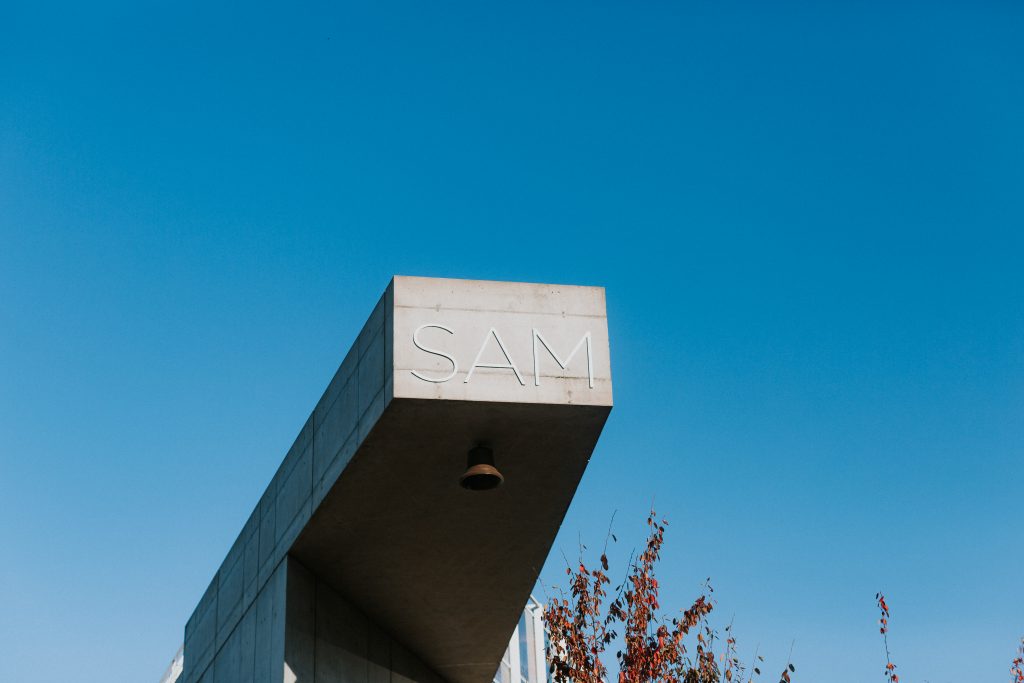 9am – Walk to the Seattle Centre:
A 15 minute walk (uphill) from the Olympic Sculpture Park lies Seattle's tourism heart: the Seattle Centre.
Built in 1962 for Seattle's World Fair, the Centre contains some of the city's key sights, including the Space Needle, the Chihuly Garden and Glass, the Bill and Melinda Gates Foundation Discovery Centre, the Pacific Science Centre and the Museum of Modern Pop Culture (MOPOP).
Aside from these attractions, the wider grounds or 'campus' are beautifully curated and presented, offering outdoor artwork and quiet spots to enjoy a cup of coffee.
9.30am – Ride the Space Needle:
Given the crowds that flock here, it's best to arrive at the Space Needle when it first opens (9.30am).
Despite my difficult relationship with heights, I decided I couldn't miss the opportunity to not only view Seattle from above, but to gaze at the mighty Mt. Rainer.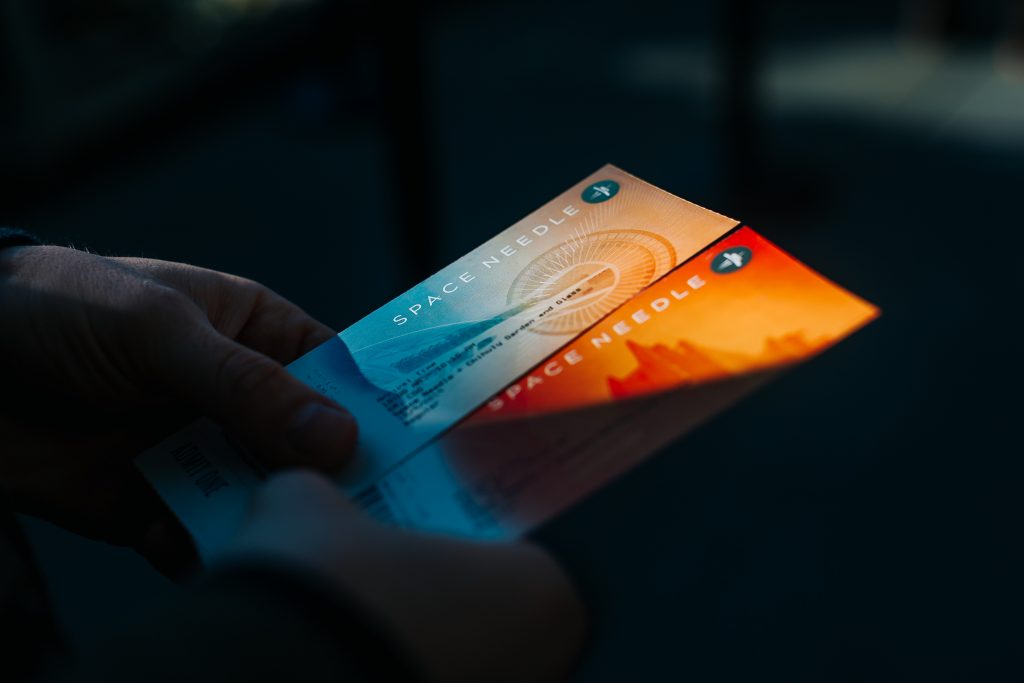 Indeed, it's rare for the mountain to be fully visible from Seattle, due to regular cloud coverage. However, on this particular day – a bright and clear morning – it was almost possible to see the mountain's snow glisten.
The cruel folks at the Space Needle have installed a rotating glass floor – The Loupe – offering up views of the Seattle Centre below. Not for the faint hearted, here we found tourists lying belly down, watching as crowds drifted by below them.
For those with queasier stomachs, it might be best to visit the floor above this, where you'll find 'floor-to-forever' glass walls, offering spectacular views of Seattle, including Elliot Bay, the Olympic and Cascade mountains, Mt. Baker and Mt. Rainer.
10.30am – Chihuly Garden and Glass:
This place was one of my favourite spots on our Seattle to San Francisco road trip.
Having had a glimpse of Dale Chihuly's work at Kew Gardens, I was keen to experience Seattle's mesmeric Chihuly Garden and Glass.
Located next to the Space Needle, the museum offers a seamless blend of indoor gallery space and outdoor gardens, including its centrepiece – the light-filled Glasshouse.
Inspired by Paris' Sainte-Chapelle and London's Crystal Palace, I found Chihuly's Glasshouse difficult to leave. Indeed, many visitors had already made themselves at home on the floor; gazing upwards at the 100-foot glass sculpture suspended from the ceiling.
A delicately beautiful, calm and unique space, I would make a visit to the Chihuly Garden a priority when driving Seattle to San Francisco.
11.30am – Museum of Modern Pop Culture (MoPop):
Although we didn't have quite enough time to visit this Museum, it was a place I was keen to experience.
Including interactive 'Sound Labs' where you can try your hand at turntables and drums, MoPop also offers topical exhibitions on the likes of Hendrix, Pearl Jam and Minecraft.
The Guitar Gallery also looks like a brilliant place to wander.
12.30pm – Coffee at the Cat Cafe, Neko:
Whilst this might not be to everybody's taste, we decided to spend our lunchtime surrounded by Seattle's feline population – at Neko, the city's resident cat cafe.
Housing cats ready for adoption (if I lived in the city, I'd have taken them all), this cafe not only does great coffee and cat-themed biscuits, but is a lovely initiative.
Visitors have to pay $22 per person for 45 minutes with the cats, which is also a donation to the charity.
12.30pm – Walk to Pike Place Market:
If your legs haven't given way yet, walk back down to the waterfront (and Elliott Bay) towards Seattle's loudest, busiest and most vibrant of neighbourhoods: Pike Place Market.
Indeed, this is part of our Seattle to San Francisco road trip itinerary you definitely cannot miss.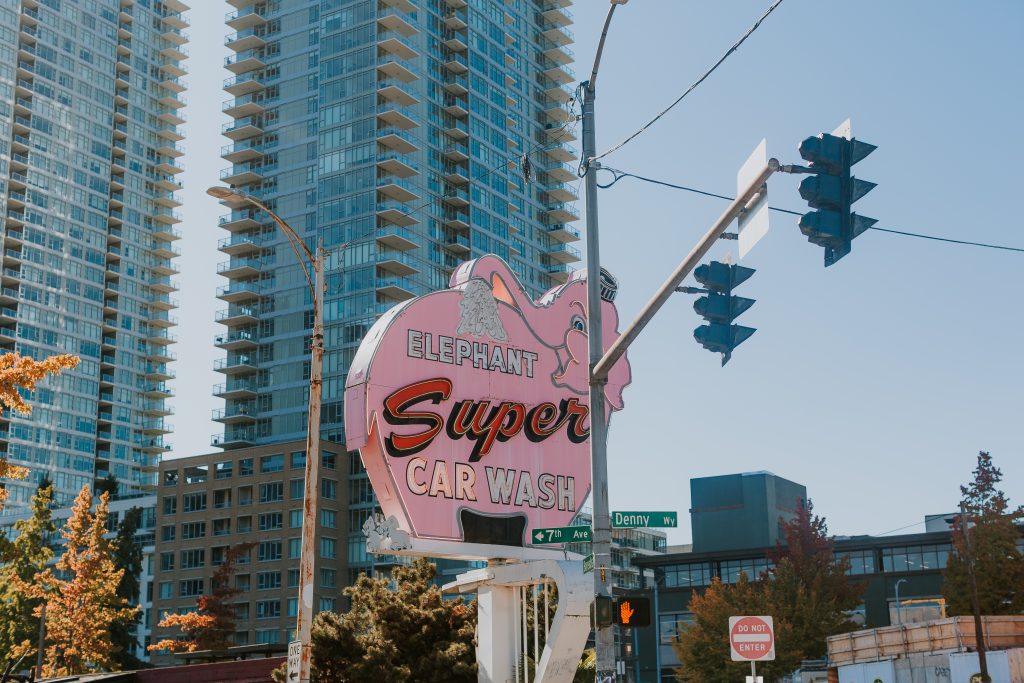 A historic maze covering 9 acres, Pike Place Market has long provided a breeding ground for the city's entrepreneurs, tradesmen, craftsmen and creatives: a place where you can not only buy the world's best Mac'n'Cheese, but browse vintage comic stores, pay a visit to the original Starbucks cafe and sample first-class dishes.
It's best to simply dive into the chaos rather than make any discerning plans; exploring alleyways, neon lit stalls and artisan stores as you go.
Do make sure you stop by Beecher's Handmade Cheese for lunch – sampling its (mind-blowingly) good Mac'n'Cheese. The Three Girls Bakery is also well worth a visit. Open since 1912, this popular – albeit tiny – bakery serves some of the city's best 'Bear Claws' (similar to a Danish Pastry).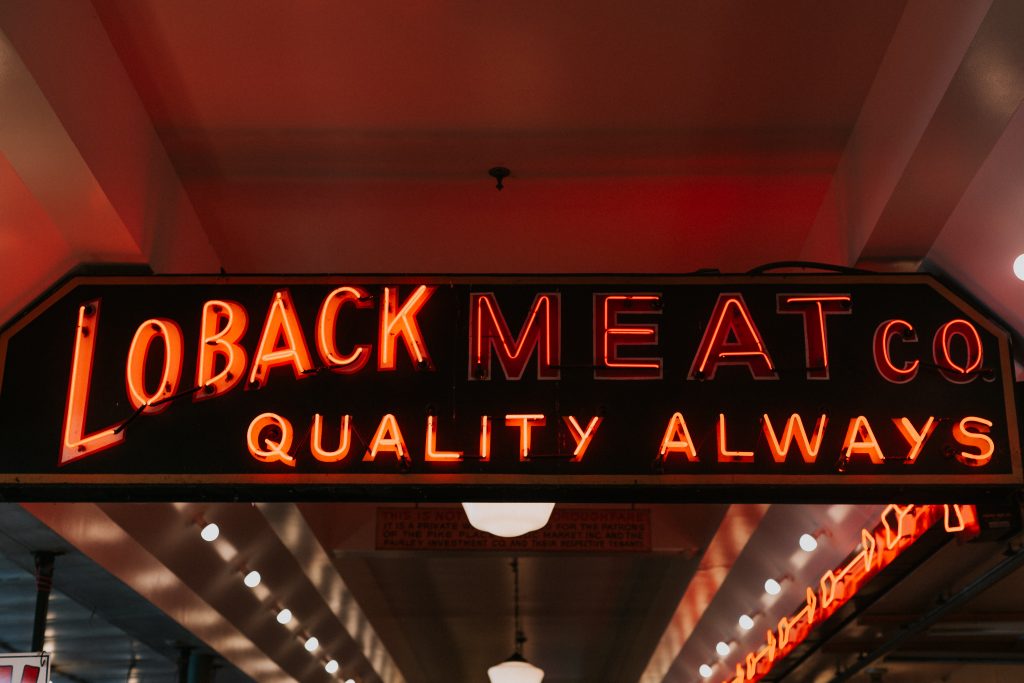 4pm – The Seattle Public Library (Central Library):
Spend at least a few hours exploring Pike Place Market (including watching its famous 'fish throwing' between vendors), before experiencing a very different side to Seattle: the highly photogenic Seattle Public Library.
Designed by Dutch architect, Rem Koolhaus, and completed in 2004, the Library – complete with neon green escalators – is a vision of glass, light and futuristic touches.
Make sure you head to the top floor for incredible views over the atrium and across downtown Seattle.
7pm – Sunset Drinks at the Nest: 
As an evening chill settled over Seattle, we headed to the much lauded The Nest bar for sunset drinks.
Located above the Thompson Seattle (a hotel), The Nest offers sublime views across Elliott Bay and the neighbouring Olympic Mountain Range (alongside Mt Rainer).
At sunset, this small bar quickly becomes crowded, so make sure you arrive early to grab a chair and watch as Pike Place's neon signs start to glow and departing ferries disappear into the sunset.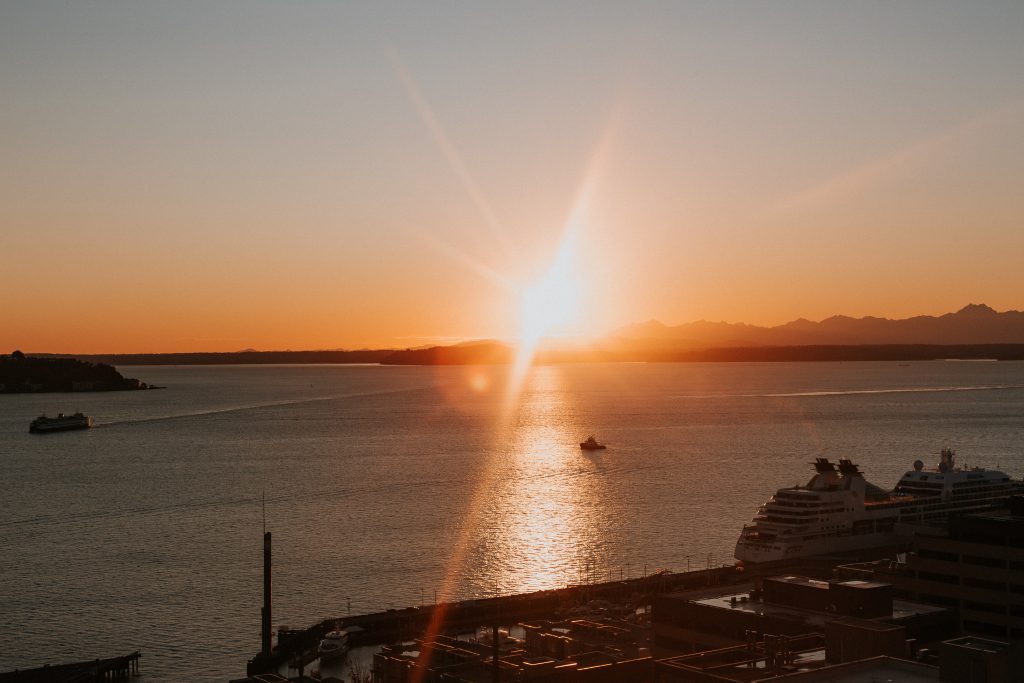 Day 3: Portland
Our time in Seattle had been fantastic (albeit brief), and if we had more time, we'd have stayed an extra night.
However, with just one week remaining of our drive from Seattle to San Francisco, it was time to head to our next stop: Portland.
If you're embarking on a Seattle to San Francisco road trip (or, San Francisco to Seattle road trip), Portland is a place you have to – must – stop at.
9.15am – Leave Seattle
Avoid the early morning traffic and depart Seattle just after 9am, heading towards the i5. Delivering you seamlessly to Portland in just over three hours, this is perhaps the easiest section of road when driving Seattle to San Francisco.
Midday – Arrive in Portland and Boise Neighbourhood:
Given the lack of public parking in Portland and the costly price of valet parking at hotels ($60 per night in most cases), we decided to instead book an Air BnB whilst in the city.
After a little bit of research, we decided to book an incredible little space in the Boise neighbourhood – located in the northeast of the city (and part of the Airbnb Plus scheme).
Located between the highly desirable, hipster and vibrant neighbourhoods of Mississippi Avenue and the Alberta Arts District, this was a fantastic place to base ourselves, giving us a taste of 'authentic' Portland living.
2pm – Lunch on Williams Ave:
A 5 minute walk from our apartment was the foodie haven of Williams Ave. Get your first taste (quite literally) of Portland's infamous Food Truck culture here and wile away the hours in its many independent coffee shops.
Be sure to stop by the delicious MF Tasty Food Truck to sample Southwestern and Mexican inspired dishes.
3pm – Stroll Over to the Alberta Arts District:
Your next stop on this Seattle to San Francisco road trip itinerary is Portland's Alberta Arts District.
A 20 minute walk from our Air BnB, the Alberta Arts District is a (seemingly never ending) street filled with independent cafes, food trucks, restaurants and stores – including a 'Tiny Massage Cart'.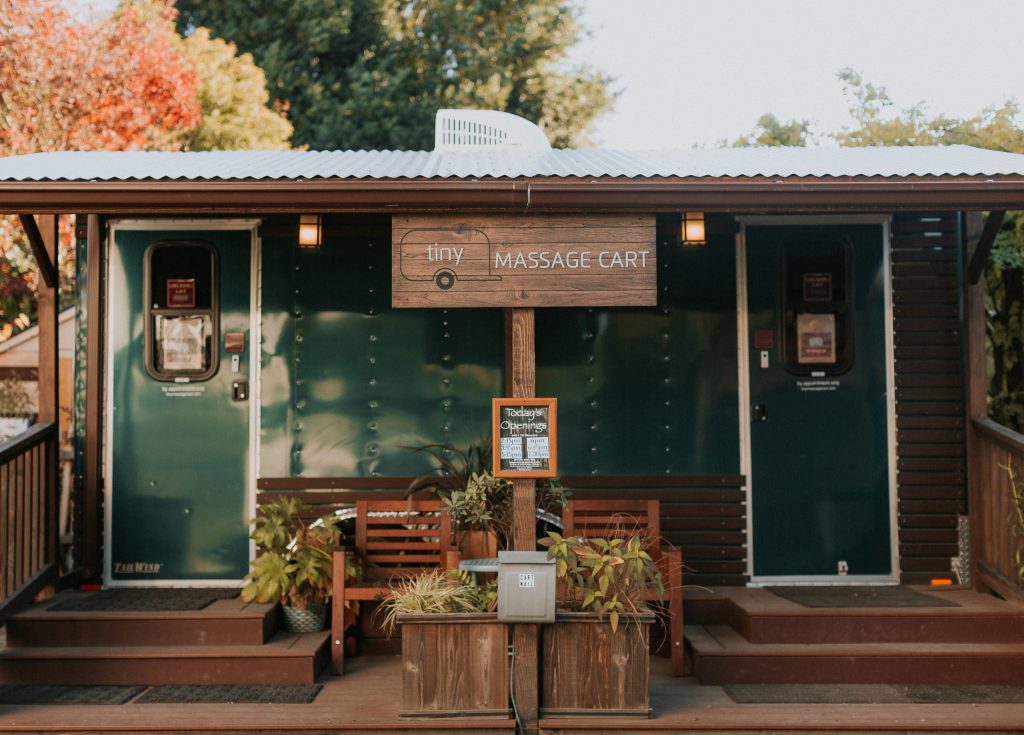 Here, you'll also find the famous 'Salt and Straw' ice-cream parlour (blue cheese and pear flavour included), and an assortment of local breweries.
We enjoyed a few beers at the Alberta Street Pub – watching as the fairy lights began to sparkle and friends gathered to celebrate the end of the working day.
This district was – perhaps controversially – my favourite part of our journey driving Seattle to San Francisco.
7pm – Dinner at Lovely's Fifty Fifty:
Found on Mississipi Avenue, just a 10 minute walk from our apartment, this wood fired pizza restaurant was recommended by our Air BnB host – and did not disappoint.
Just make sure you wear forgiving trousers when dining here.
Day 4: Portland
7.30am – Breakfast at Gravy:
Our first full day in Portland began with an early visit to what is said to be one of Portland's best breakfast spots – Gravy.
Located on the fantastic Mississippi Avenue, this humble cafe attracts queues of waiting diners during weekend hours, so be sure to arrive when doors open at 7.30am.
Friendly, warm and filled with the sounds of local radio and brewing coffee, Gravy had a classic 'diner' feel to it. We enjoyed eating here so much that we returned again the next morning.
Definitely try the classic Biscuit with 'Hearty Veggie Gravy' and don't miss the Oatmeal Brulee – it's one of the most delicious things I've tasted.
9am – Walk into Downtown Portland:
The walk from Portland's northerly neighbourhoods into the city centre took around 50 minutes, taking us past Portland's historic industrial port and over its many bridges.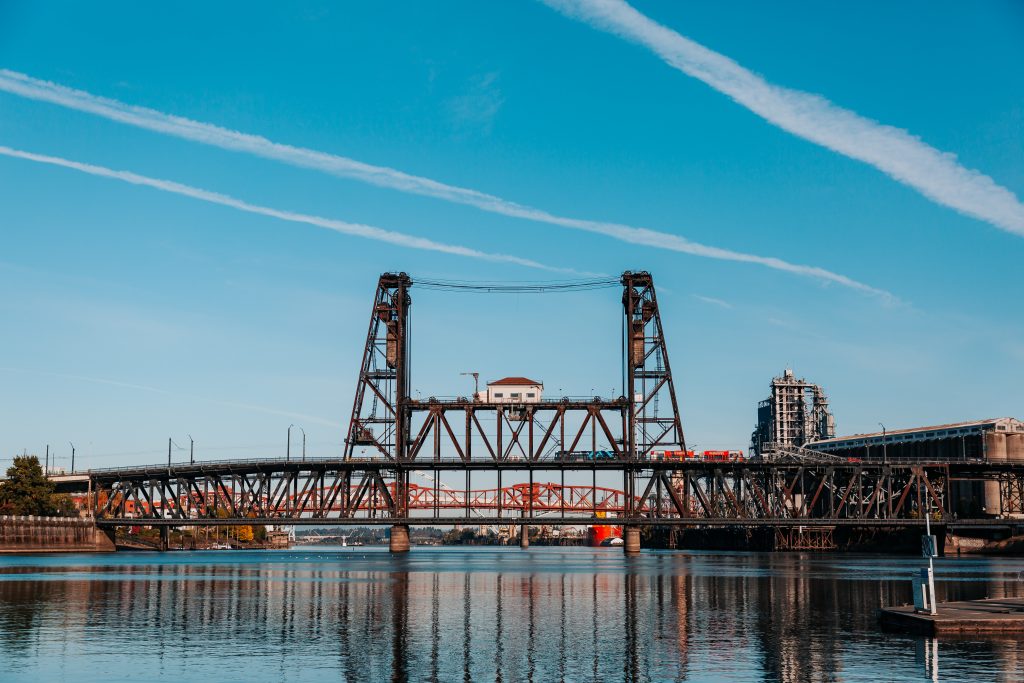 9.45am – Stop for a Photo of Portland's Famous 'White Stag' Sign:
One reason we had wanted to walk into downtown Portland was to ensure that we secured a (token) sighting of the city's famous White Stag sign.
For the best views, walk to Burnside Bridge and head towards the downtown area.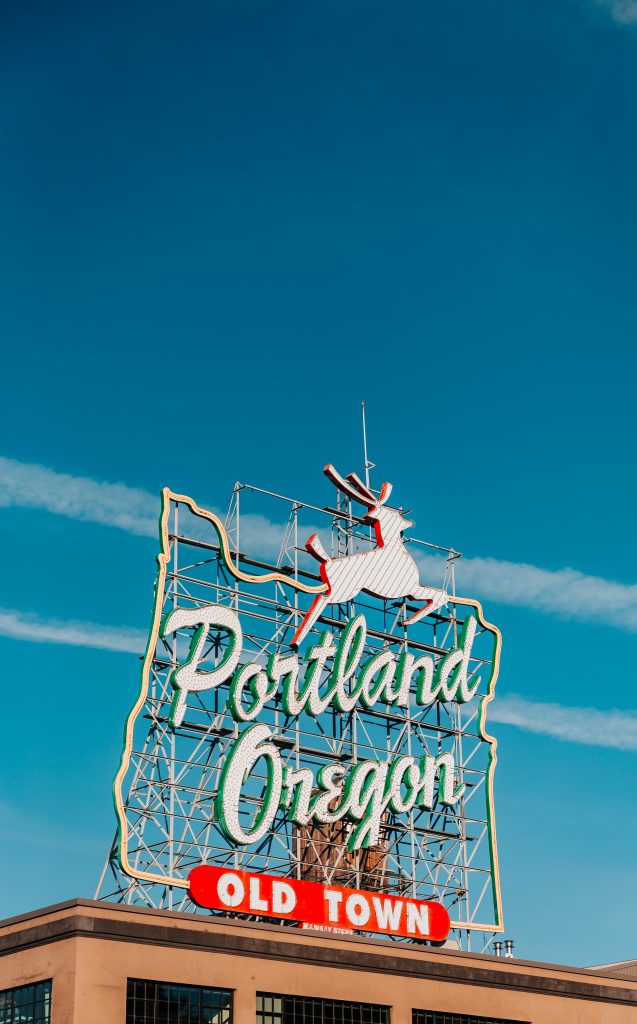 10am –  Visit Portland's Historic Theatres:
I'm not entirely sure what I'd expected from Portland's downtown area. Celebrated for its niche neighbourhoods and independent stores, I hadn't imagined that Portland was a place for high rise buildings or sleek offices.
Of course, Portland does have these – but not in abundance. Furthermore, they are broken up by some of the city's (far more interesting) historic buildings, including its plethora of incredibly photogenic theatres and concert halls.
One incredibly beautiful spot is the Arlene Schnitzer Concert Hall (also known locally as 'The Schnitz').
Whilst many of the theatres on Portland's Broadway have long been replaced, this sumptuous Concert Hall – with its Italian Rococo Revival inspired architecture – remains a vestige to a more glamorous time in Portland's history.
Whilst it is closed to the public (outside of performances), guided tours do take place on Wednesdays at 1 pm and on Saturdays, 11 am to 1 pm.
11am – Visit Blue Star Donuts:
With some of Portland's history explored, it's time to engage in the city's favourite past time: eating.
Whilst many might suggest you visit Portland's sugary institution – Vooodoo Doughnut – I'd instead suggest you make the short walk to Blue Star Donuts (which I'd say is better).
With flavours ranging from passion fruit to CPD oil infused, ensure you visit here for freshly made, warm-to-the-touch doughnuts and a cup of filter coffee.
11.30am – Powell's City of Books:
As much a Portland institution as the city's theatres or food trucks, a trip to Powell's second hand bookstore is a must when driving Seattle to San Francisco.
Sprawling an entire block in Portland's Pearl District, this mesmerising maze of shelves and polished floorboards contains over 1 million items: ranging from Foucault to a guide on how to knit using your cat's furballs.
There is also a very cosy cafe at the back of the store (keep walking and you'll find it), which is a worthy spot for a cup of Joe.
For bibliophiles amongst you, making the San Francisco to Seattle road trip (or vice versa), a visit here really is a must.
12.30pm – Walk to the Portland Japanese Gardens (or take an Uber):
From Powell's bookstore (and now weighted down by several centuries worth of literature), we began the upwards hike towards Portland's green oasis: the Portland Japanese Garden.
Had I known what an uphill struggle this walk would be, I would have arranged an Uber – and recommend that you do.
Said to be the most 'beautiful and authentic Japanese garden in the world outside of Japan', this hilltop sanctuary of quiet temples, winding streams and tea houses, has been providing a place for peace and contemplation since 1961.
Covering 5.5 acres and 5 exquisitely designed gardens, this romantic spot is well worth the $21.95 entry fee (if booked ahead).
Whilst it was difficult not to get lost amongst the fiery red Japanese Acer trees and the quiet fishing ponds, we ensured that we headed to one of the Gardens' most famous spots: its views of the towering Mt. Hood.
With clear blue skies and the sun overhead, Mt. Hood looked almost like a watercolour painting; its famous white peak framed by the red of the trees.
It was more than worth the climb.
6pm – An Early Dinner at Little Big Burger:
After hours of walking, we caught an Uber back to our AirBnB and headed back to the nearby Mississipi Avenue for dinner.
Here we visited the wildly popular Little Big Burger, gorging on truffle fries and freshly cooked cheese burgers. Of all the places on this Seattle to San Francisco road trip itinerary, this is definitely one place you have to visit.
Day 5: The Oregon Coast and Florence
With just 9 days to drive Seattle to San Francisco, it was inevitable that a day or two would have to involve some time behind the wheel. This day was a case in point as we journeyed from Portland to the seaside town of Florence, Oregon.
9am – Leave Portland:
Leave Portland and navigate your way to Highway 101 – the West Coast's picturesque coastal highway.
11am – Astoria and Cannon Beach:
A short drive from Portland lies the pretty seaside town of Astoria and the magnificent Cannon Beach. Unfortunately, we didn't have time to visit either – although we certainly wish we had.
Forming the backdrop to the film 'The Goonies', both spots are atmospheric, beautiful and brilliant spots to reminisce about all things Americana (and the 1980s).
3pm – Arrive in the Seaside Town of Florence:
A three hour drive later (remain on Highway 101) and you'll arrive in the little seaside town of Florence.
Over the course of your drive, you'll no doubt pass through several of these seafaring towns – small communities selling Salt Water Taffy and offering Orca spotting boat trips.
However, and whilst we could have stopped over at any of these coastal towns, we decided to stay in Florence due to its (relatively) large size and proximity to the mighty Oregon Dunes National Recreation Area.
The largest expanse of coastal sand dunes in the world, this hypnotic landscape is definitely worth visiting during a San Francisco to Seattle road trip (or a Seattle to San Francisco road trip).
4pm – Explore the Sand Dunes and Sea Lion Caves:
Make the most of your time in Florence and explore the Dunes by foot. For those after a little more adrenaline, book onto one of the many Dune Buggy rides and tours on offer in the area.
Alternatively, why not visit Florence's nearby Sea Lion Caves? Said to be the largest sea cave in America, visitors are invited to take a glass elevator down into the cave, where Sea Lions and their pups regularly reside.
6pm – Dinner at The Waterfront Depot, Florence:
For dinner, we headed into the centre of Florence and towards its historic waterfront. Here, we enjoyed a lovely dinner at The Waterfront Depot, one of the town's most popular restaurants.
With beautiful views across the water and an unexpectedly hipster exterior, our evening here was a pleasant surprise (do book ahead to avoid waiting during peak times).
9pm – Bedtime in Florence:
Whilst in Florence, we decided to book another Air BnB, this time staying in this Airstream close to the beach. Fairly cheap, atmospheric and hosted by a lovely family, the Airstream boasted a bathroom, hot water and the cosiest of beds.
Day 6: The Redwoods
7am – Leave Florence for the Redwoods:
Day 6 marks the longest day of your drive from Seattle to San Francisco, requiring 6 hours at the wheel.
However, thanks to Highway 101 and the scenic route we followed, the drive was far from tedious or painful, and even included a quick stop for lunch in pretty Crescent City.
1pm – Stop for Lunch in Crescent City:
Mid-way through our journey we stopped in Crescent City for a tasty lunch at the Lonely Planet rated Chart Room.
A busy, bright and friendly seafood diner, here we enjoyed fish tacos and crab sandwiches, listening as we went to the raucous taking place outside thanks to the resident Sea Lions.
4pm – Arrive at the Avenue of the Giants, Humboldt National Park:
Whilst driving towards the world-famous Avenue of the Giants, you may be confused to see that you pass multiple signs for Redwood National and State Parks.
I too was confused, as I'd always assumed that there was simply 'one' unified Redwood National Park.
In fact, these historic trees are scattered through a number of parks, including Jedediah Smith Redwoods State Park, Prairie Creek Redwoods State Park and Lady Bird Johnson Grove in Redwoods National Park.
Whilst all these parks are dominated by the centuries old giants, each offers something a little different: ranging from grasslands to elk, ferns to canyons.
In the end – and as we were limited time wise during our Seattle to San Francisco road trip – we decided to head straight to the mighty Avenue of the Giants, found in Humboldt State Park.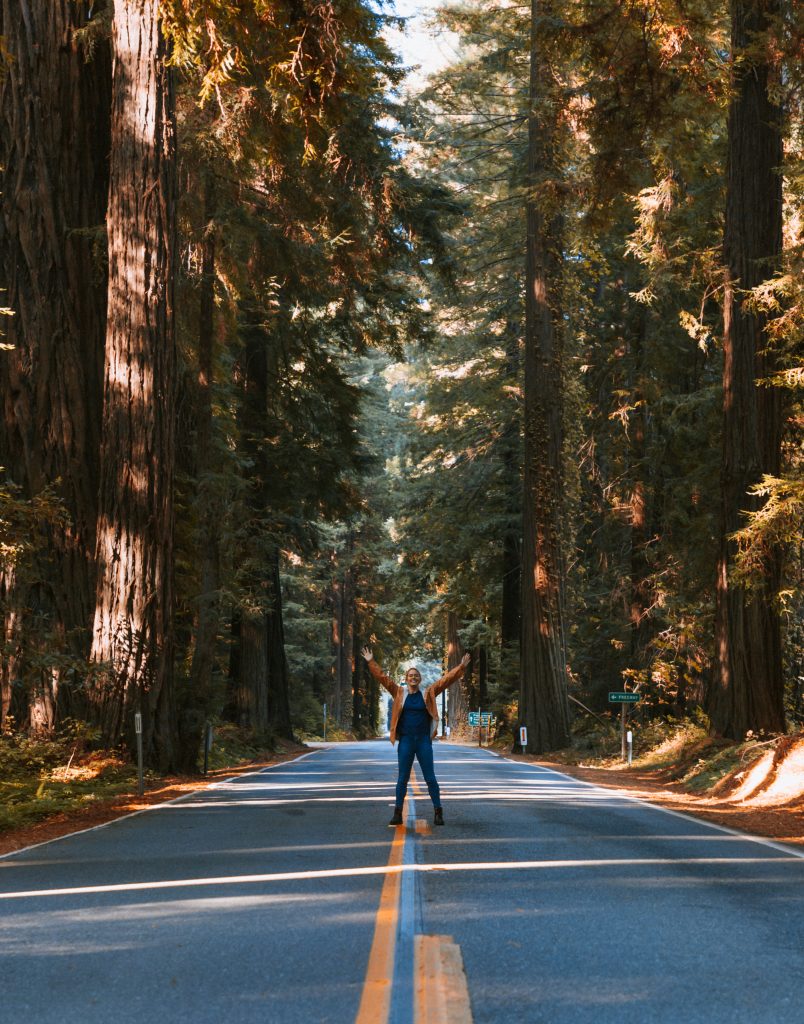 4 – 5pm – Drive the Avenue of the Giants:
The Avenue of the Giants, perhaps deceivingly, is in fact a considerably long road – filled with various campsites, trails and areas to stop for a picnic.
As it was a little late in the day, we didn't walk any trails (although I would highly recommend that you do) and instead simply drove the Avenue, stopping frequently for photographs.
Filled with a hazy filtered light, the sound of woodpeckers and the scent of warm earth, the Avenue of the Giants was surreally beautiful.
7pm – Overnight Stay in Miranda, Avenue of the Giants:
Deep in the heart of Humboldt County sits the tiny town of Miranda: the place where we would be staying for the night.
Again, we booked an Air BnB for this particular visit, staying in the most incredible family home with views across the mighty Redwoods and the county's Eel River (it even included a secluded sauna).
We made our own dinner on this particular night after a visit to the lovely (and organic) Miranda Market – a fairly big food store.
Day 7: San Francisco
9am – Leave Miranda:
The final leg of this Seattle to San Francisco road trip itinerary is here, with a mere 4 hour drive remaining.
Once again, simply head for the 101 (south) and watch as the forests fall away, replaced instead by large expanses of rolling vineyards and historic ranches.
Welcome to California.
1pm – Stop in Sausalito for Views of the Golden Gate Bridge:
Whilst driving Seattle to San Francisco, I was conscious that we would be arriving in the city from its northern end; the iconic Golden Gate Bridge leading us across the water.
Consequently, I was a little preoccupied with where we might get the best views of the Bridge from, with many suggesting a quick diversion to the small town of Sausalito.
Eventually, and as we learnt, for the best views, simply turn off the 101 (just before you cross the Golden Gate Bridge) and head for the Vista Point in Sausalito.
Here you'll be treated to some truly beautiful vistas of the soaring red bridge.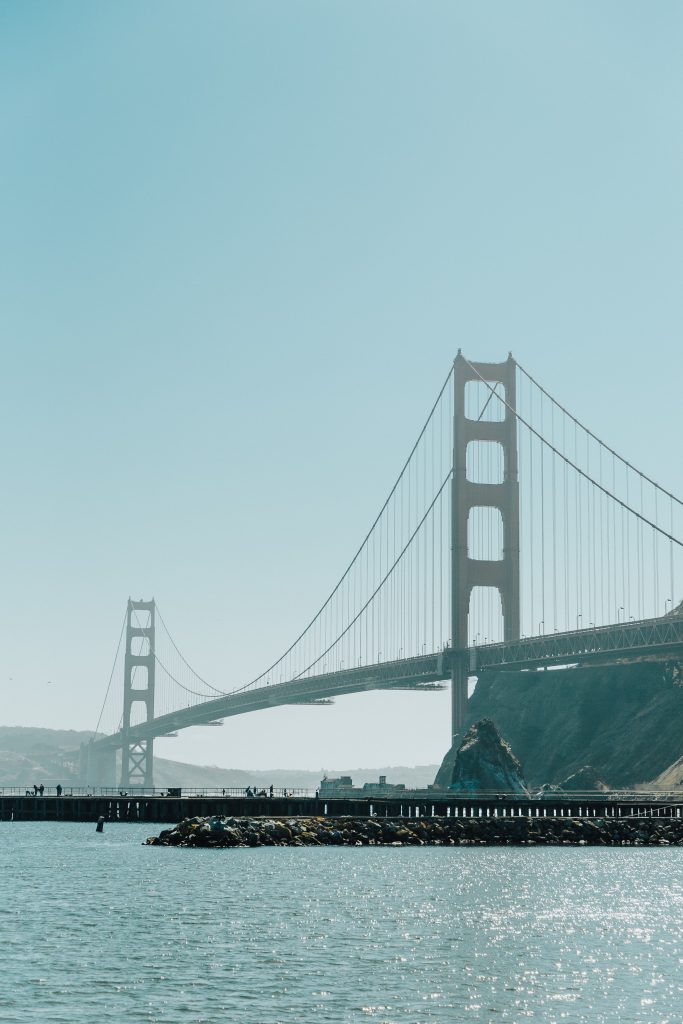 2pm – Drop your Car Back:
Rather than face the extortionate parking charges in San Francisco, we dropped our car back in downtown San Francisco, walking the remaining 1 minute to our hotel.
An Uber to the airport (at a later date) will cost you around $40.
2.15pm – Check in at Hotel Nikko:
Now at the end of our Seattle to San Francisco road trip (or, at the start, if you decide to do a San Francisco to Seattle road trip), treat yourself with a stay at Hotel Nikko.
Situated in the heart of downtown San Francisco – just a stone's throw from Union Square – this Asian inspired hotel boasts not only incredible views (particularly for those staying in the Imperial Club Rooms) and a sublime Japanese inspired restaurant, but even has its own canine ambassador: Buster.
With a beautiful swimming pool enclosed within a glass atrium, a small pet run for visiting dogs and large, immaculate rooms – our stay here was a perfect (and sumptuous) way to end our Seattle to San Francisco road trip itinerary.
4pm – Walk Through China Town:
A little like Los Angeles, San Francisco is not one wholly connected or homogenous city. Instead, it's made up of distinct, individualistic and entirely different neighbourhoods.
As it was only a short walk from our hotel, we decided to begin our adventures in one of these distinct districts: San Francisco's historic Chinatown.
The oldest Chinatown in the US, this iconic neighbourhood can be accessed via the town's legendary Dragon's Gate – as featured in the 1980s classic: 'Big Trouble in Little China'.
Home to over 100,000 people and endless stalls selling sizzling salted squid, San Francisco's Chinatown is frenetic, crowded and intoxicating. Whilst it's difficult to tear your eyes away from the crowds, be sure to look upwards – ornamental buildings are towering above you.
5pm – Walk Towards Lombard Street:
As one of San Francisco's most famous streets, Lombard Street regularly tops lists dedicated to what to see in San Francisco.
Despite its 27% grade, the walk up here (one that pushed my lungs and calf muscles to their limit), provided us with perhaps our first real glimpse of the San Francisco I'd been expecting: one of steep rolling streets, hydrangea lined pathways and large, bay-windowed mansions.
The road itself, a topographical marvel, is said to be the world's most crooked street – featuring eight hair-pin turns. It's here that tourists gather to watch the city's cars attempt to navigate the steeply angled turns, all whilst surrounded by flowers and lilac bushes.
While you'll only need 10 minutes here, it's still worth a visit – even if it's just to marvel at resident driver's clutch control.
6.30pm – Dinner at In-N-Out Burger:
No visit to the US would be complete without a visit to In-N-Out Burger – a national institution.
Although San Francisco has several of these restaurants, we decided to walk from Lombard Street to the Fisherman's Wharf for ours.
Be prepared to queue and make sure you order from the 'Secret Menu' – requesting 'Animal Fries'.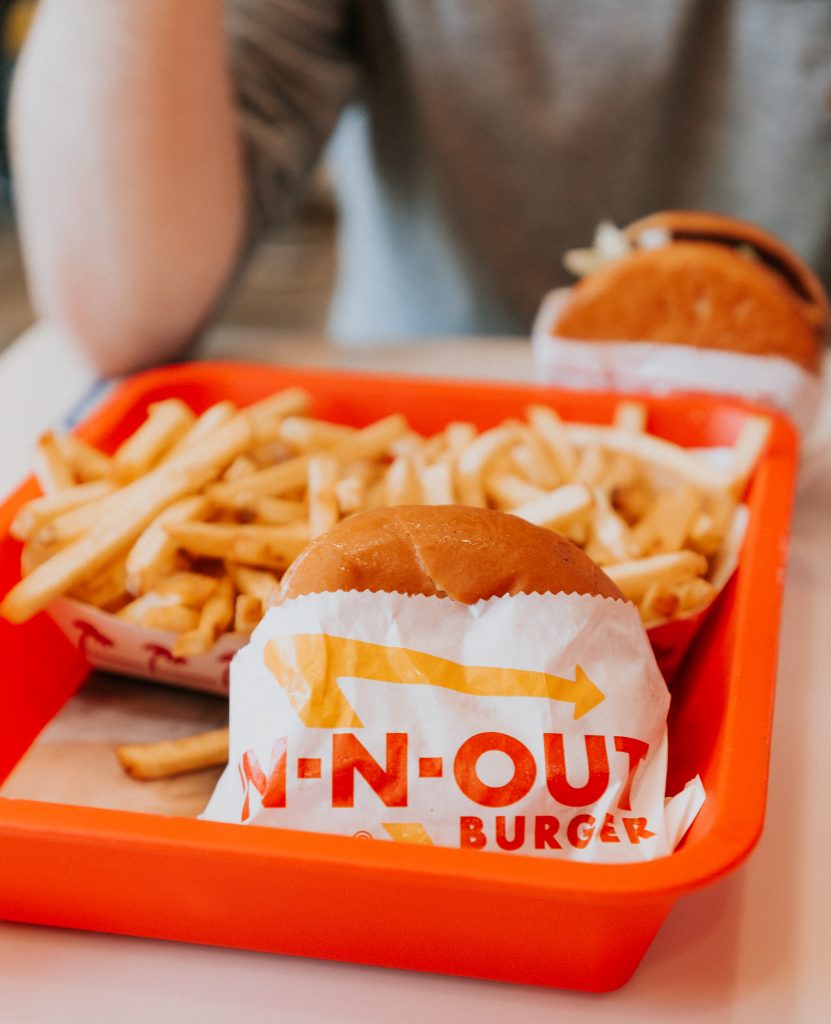 7.30pm – Explore Fisherman's Wharf and the Ferry Building:
One of San Francisco's most iconic areas, Fisherman's Wharf and its surrounding piers is a place that tourists flock to, enjoying views of bathing sea lions and the lurking island of Alcatraz.
Although typically touristy in parts, with large areas dedicated to magnet shops and San Francisco memorabilia, it's difficult not to get swept up in the seaside atmosphere. Visit here and try your hand at kiosk games before joining the crowds at Pier 39 to watch the resident sea lions play and (more likely) squabble.
From the Wharf – and with the sun now setting behind the city's skyline – we walked up towards the city's handsome Ferry Building. Whilst the exterior warrants a visit in itself, it's what is inside this building that makes it the attraction that it is.
Indeed, inside you'll find some of the city's best merchants, including Biscuit Bender, Blue Bottle Coffee, Humphry Slocombe (ice-cream) and the Donut Farm.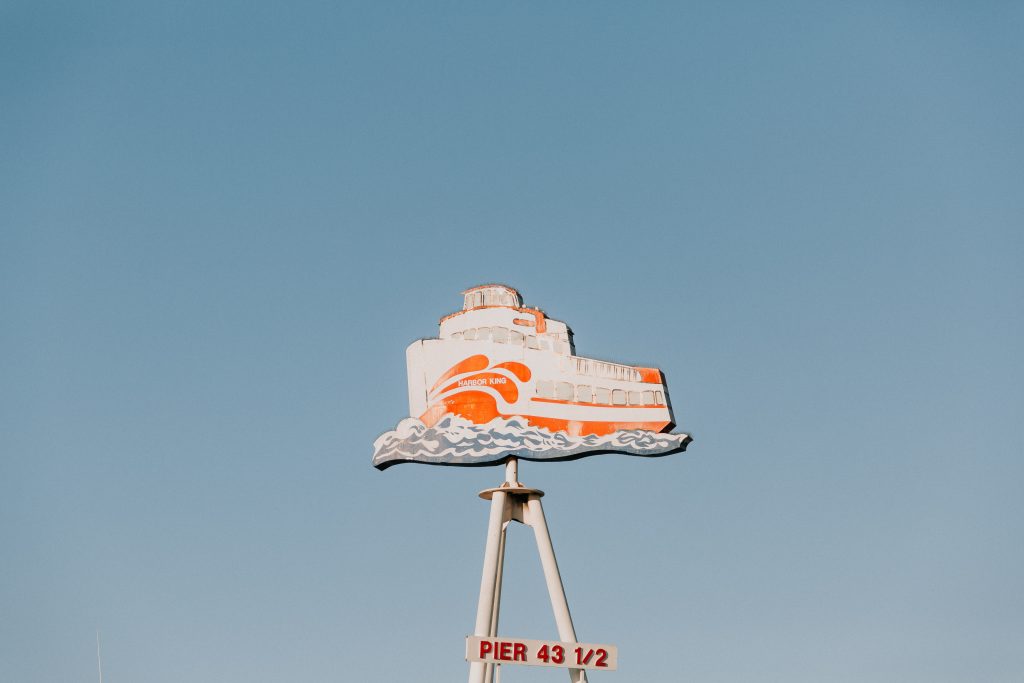 Day 8 – San Francisco
8am – Breakfast at Boudin Bakery:
A San Francisco institution, we were lucky enough to have a Boudin Bakery across the road from our hotel.
Head here for traditional San Francisco sourdough sandwiches and delectable French Toast. It's a must stop on any Seattle to San Francisco road trip (and a great starting point if you're instead doing a San Francisco to Seattle road trip).
9am – Walk to Haight-Ashbury:
Haight -Ashbury was one area of San Francisco that I was very keen to visit, not least because of its historic roots in the 1960s Summer of Love and its famously hippie inspired sub-culture.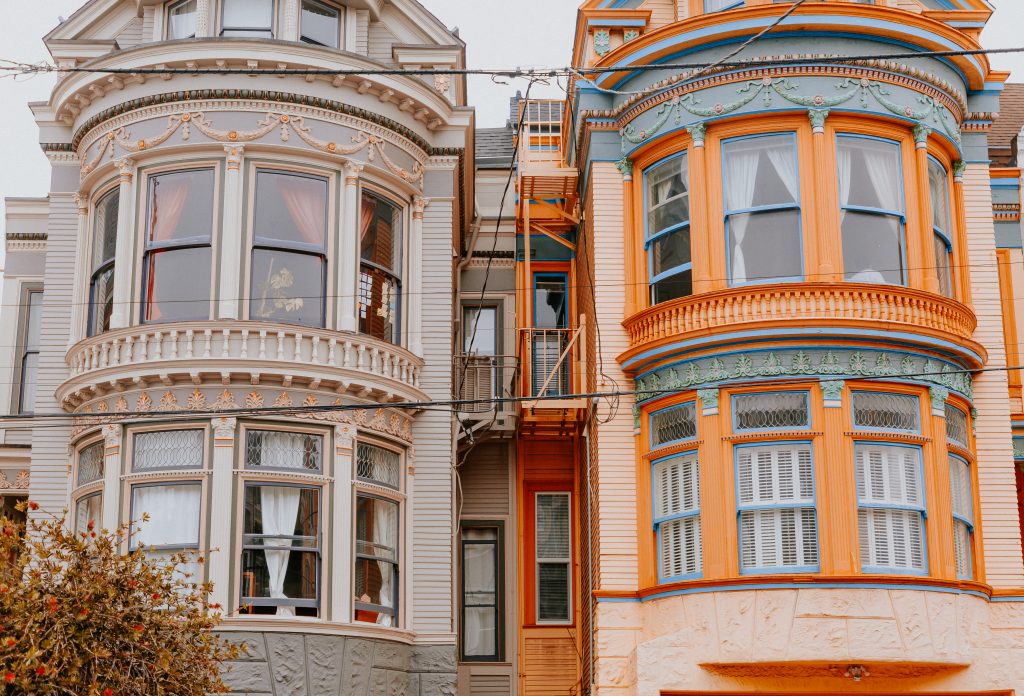 The home of psychedelic shops, marijuana vendors and stores selling everything from incense to crystals, this area of San Francisco remains an alternative neighbourhood; attracting the city's punks, hipsters and yogis.
Thankfully, many alternative stores remain here, including Amoeba Music, Loved to Death (a taxidermy store) and The Booksmith – home to many a radical reading.
Lined with gothic-inspired Victorian mansions, Haight-Ashbury is also incredibly photogenic, with lurid green homes and dazzling pink mansions lining its streets.
For Japanese stationery lovers, I would also highly recommend visiting Topdrawer, located on Upper Haight. Said to offer 'tools for nomads', the store is a little expensive, but absolutely worth a browse.
11am – Take in the Painted Ladies, 710–720 Steiner Street:
A 15 minute walk from Haight-Ashbury awaits San Francisco's most famous residents: its blushing 'Painted Ladies'.
Located opposite Alamo Square – with sweeping views of downtown San Francisco – the Ladies are a collection of Victorian and Edwardian (style) homes, each painted a different dusky shade. Having appeared in over 70 films, television shows and adverts, this small selection of San Francisco's real estate is the city's most famous.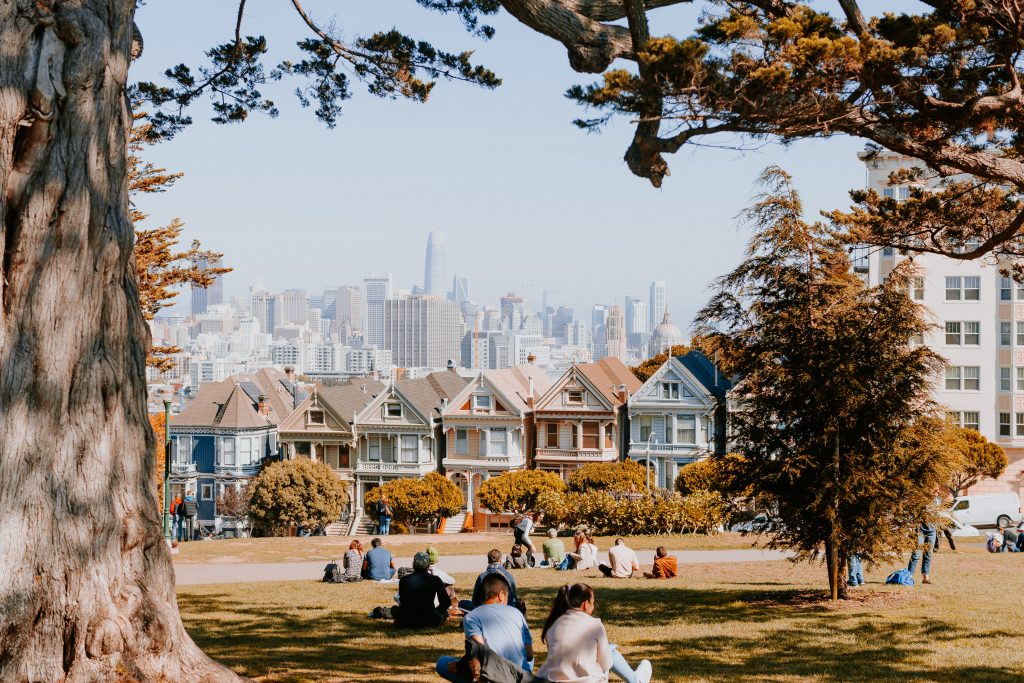 Visit when the sun is shining and (like us), take a seat on the grassy Alamo Square. From here you'll be treated to views not only of the iconic homes, but of the vast cityscape behind them.
12pm – Golden Gate Park and the Conservatory of Flowers:
We ended up in Golden Gate Park purely by accident, thanks to tired limbs and the quest for a bench.
One of San Francisco's largest green areas, covering some 1,000 acres, Golden Gate Park sits high above the city as an oasis of lily ponds, rose gardens and hidden pavilions.
Walking through its quiet trails, we arrived unexpectedly at a beautiful Victorian glasshouse, its white exterior dazzling in the midday sun. Resident in the city since 1878, this peaceful spot, filled with exotic plants and ornamental foliage, is one of the city's most popular attractions – its much beloved Conservatory of Flowers.
The Conservatory was a haven of calm when we entered at midday on that Wednesday morning. Boasting 5 different rooms (or galleries), each is filled with mist-shrouded tropical plants, ornamental lily ponds and archways shrouded in purple orchids and dark green ferns.
It's a beautiful place to visit and one we were happy to have stumbled across.
3pm – Explore Colourful Castro:
From the lofty heights of Golden Gate Park, we headed downhill to one of San Francisco's most colourful neighbourhoods: Castro.
A vision of rainbow-painted walkways and flying flags, Castro has long been the city's LGBTQ heartland. Filled with businesses flaunting wicked double-entendre names, decorated theatres and fabulous thrift stores, you could dedicate an entire afternoon to exploring this technicolour community.
We enjoyed a brilliant lunch here at the tongue-in-cheek Sausage Factory, before sampling mug fulls of coffee at Castro Coffee. After browsing the area's fantastic stores, we ended the day with a much-needed lie down in Mission Dolores Park; just a short walk from Castro.
With breathtaking views and a chance to people watch, ending our day here was the perfect way to see out the day in San Francisco.
9pm – Dinner at Anzu, Hotel Nikko:
Having completed what felt to be a marathon-esque distance, we decided to save ourselves yet more legwork and eat at our hotel's Asian-inspired restaurant, Anzu.
Opting for the set menu, the meal was truly one of the best we had during our entire Seattle to San Francisco road trip. As such, it comes highly recommended.
Day 9: San Francisco
It's unavoidable: the final day of your road trip from Seattle to San Francisco – is regrettably here (alternatively, if you're making the San Francisco to Seattle road trip – then hurrah, you're just at the start of your journey).
9am – Take an Uber to The Mission & Balmy Alley:
Whilst the guidebooks might attempt to warn you away from this area, try not to be too deterred from visiting The Mission.
It's here, in an unassuming bloc passage – Balmy Alley – that you'll find San Francisco's most concentrated collection of murals, each tackling issues ranging from gentrification to Human Rights.
The murals here – and throughout the wider area – were inspired by Diego Rivera's 1930s street art. As such, you'll see regular homages to him around the Mission, including of his wife, Frida Kahlo.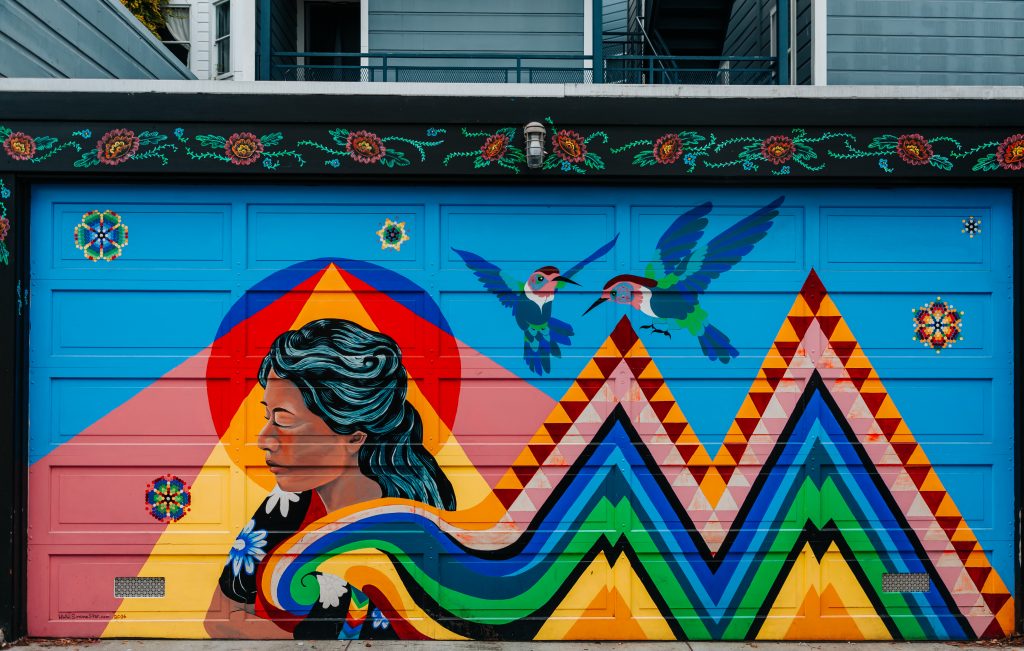 From Balmy Alley, walk to Clarion Alley, where you'll find another explosion of highly politicised murals, before finishing your journey at the Women's Building.
This exceptional building is entirely covered by one beautiful mural – MaestraPeace – completed by seven female artists. It's an awe-inspiring tribute to women, their bodies and their power.
12pm – Visit Oracle Park:
From The Mission, find your way to Market Street and follow it all the way to the waterfront. Here you'll discover San Francisco's historic warehouse district and its two stadiums: the Chase Center (basketball) and the city's beloved Oracle Park (baseball).
Home to San Francisco's baseball team, The Giants, Oracle Park is worth at least walking by, if only to gawp at its giant Cocoa Cola bottle and baseball statues. For anyone hoping to see a little more, there are also tours  available.
Tip: for those hoping to see a game, be warned, Oracle Park is said to be America's most expensive ball ground – with tickets for a family of four costing over $400. Weekday games tend to be cheaper than those at the weekend.
6pm – An Evening Tour of Alcatraz Island:
From the peaky ridges of Washington, to the warmth of California, our road trip from Seattle to San Francisco was finally coming to a close.
As such, and now thoroughly depressed, I could think of only one way to see out the final hours of our adventure: via an evening tour of Alcatraz Island.
As synonymous with San Francisco as its hills or cable cars, Alcatraz has long peered longingly across the tempestuous strait towards the city. However, it wasn't until 1934 that it received global recognition, when it opened as one of the country's most notorious prisons.
Harbouring inmates such as Al Capone and Machine Gun Kelly, the prison has spawned its own myths and legend; a fascinating place that – since its closure – has remained open to the public.
Whilst tours of the Island run throughout the day, I'd highly recommend booking an evening tour. Arriving on the island just as the shadows begin to lengthen, the prison's dark corners and cells seem to come alive once darkness falls, making the whole experience all the more atmospheric.
It was a haunting, but unforgettable, way to end to our drive Seattle to San Francisco.
Final Thoughts on a Seattle to San Francisco Road Trip Itinerary
Given the sheer length of this blog post and the amount of time dedicated to writing it, it's a little surreal to think that we achieved just so much in 9 days.
Spanning 3 states, nearly 1,000 miles and some of the US' most iconic sights, our Pacific Northwest road trip (with a difference) brought together two unforgettable experiences.
From sipping freshly brewed coffee in Seattle, to enjoying Portland's fiercely independent food scene, I was thrilled to finally experience the much-coveted Pacific Northwest lifestyle. Indeed, had we only experienced these two cities, our trip would have been memorable enough.
However, having decided to pair the dark blue hues of the PNW's coastline with the sunshine of California, our road trip took on a new character: this time framed by giant redwood forests and eclectic neighbourhoods.
On reflection, by driving Seattle to San Francisco, we were able to ensure that our road trip was not simply one adventure: but a whole series of adventures: each new state, city and suburb offering up a new experience.
Of course, we could have done with a little more time and perhaps – if we were being ambitious – we might have begun a little further north (like Vancouver).
However, in just 9 days we're experienced more than we would in an entire year at home. And for this very reason, I would say that this particular Pacific Northwest road trip was nothing short of a huge success.
(A quick note, you can easily use this itinerary if you want to complete a San Francisco to Seattle road trip, instead).