Lisbon is the city of seven hills. And when I say seven hills, I mean seven steep hills. So, let's get one tip out of the way now: if you're visiting Lisbon, take appropriate footwear. As I write this, I'm sat with elephant sized feet, which remain in shock after having to walk kilometer after kilometer in sandals, up and down cobbled streets.
Sandals? No. Trainers with comfy padding? Yes.
So, before I digressed, Lisbon is the city of seven hills and is every bit as charming, colourful and disorientating as I had hoped. Like most destinations we visit, Lisbon has been on our wish list for some time. Lured by photos of vibrant yellow trams;  talk of delicious custard tarts; and promises of nearby mystical towns, hovering in the clouds, we decided that Lisbon was a must.
Where to stay in Lisbon
We stayed in a wonderful Airbnb in Alfama. This is the historic centre of Lisbon, where winding pebbled lanes are decorated with drying laundry, intricate tiles, and filled with the melancholy sounds of Fado music drifting out of the bars. If you're looking for tips on where to stay, Alfama is most certainly the place.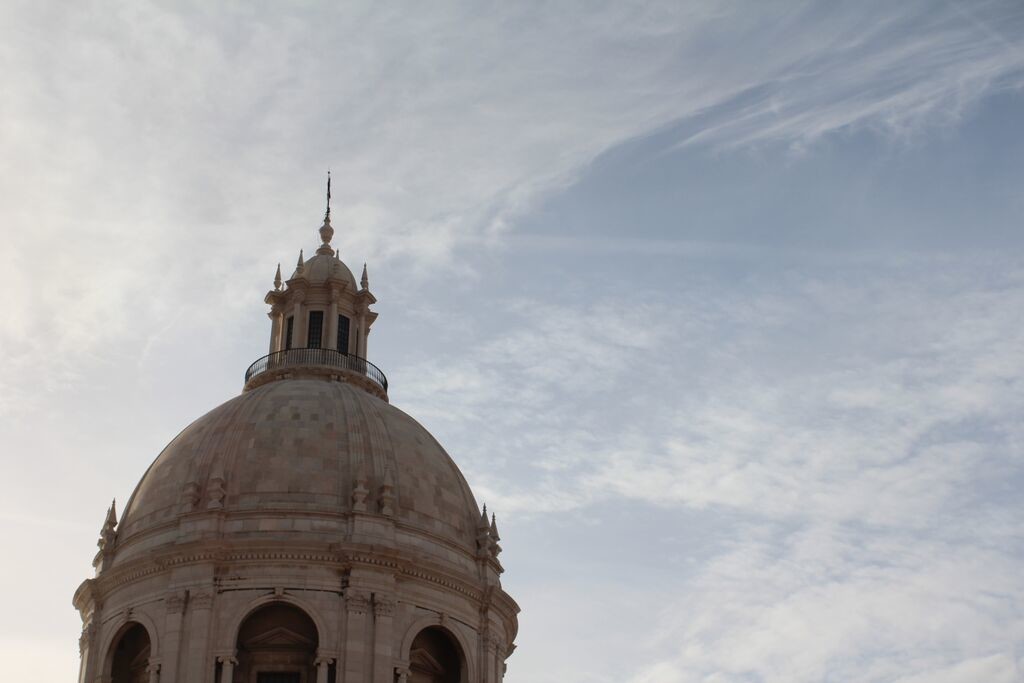 We arrived early in Lisbon and had planned to leave our suitcases at the train station until check-in. Unfortunately, the lockers were full and so we naively decided we'd walk with our suitcases to the apartment. Another tip: don't do this. Lugging a suitcase up an 100% incline hill, over pebbles, in the increasingly heavy rain, was quite an experience. Taxis are cheap in Lisbon and so definitely take one to and from the airport (less than 1o euros), unless you're staying downtown, in which case the Aerobus is a steal at 2 euros each.
To avoid a lengthy blog post, I've listed the top sights in Lisbon below (excluding our day trip to Sintra, which can be read here).
Lisbon Cards
To access most monuments and museums, we used our Lisbon Cards for either free access or to qualify for a discount. These cards are around 39 euros each for three days and also allow for free travel on all public transport, including trains to Sintra.
Exploring Belem, Lisbon
Belem is a breezy and spacious part of the city, best accessed by the tram or a taxi (it cost us 5 euros to get there from Alfama). We were visiting Belem primarily to visit the the Jeronimos Monastery, but eventually stayed most of the day. The fresh Atlantic breeze, crashing waves and its famous bakeries, kept us more than entertained. I'd say this was one of my favourite parts of the city.
The Jeronimos Monastery is one of the most popular tourist spots in Lisbon and so expect crowds; plenty of cruise ship crowds. We arrived around 10.30 and it felt like the rest of the world was already there! Tip: pick your timings carefully. My favourite part of the Monastery, by far, were the cloisters where the morning sun cast the most beautiful shadows through the ornate pillars.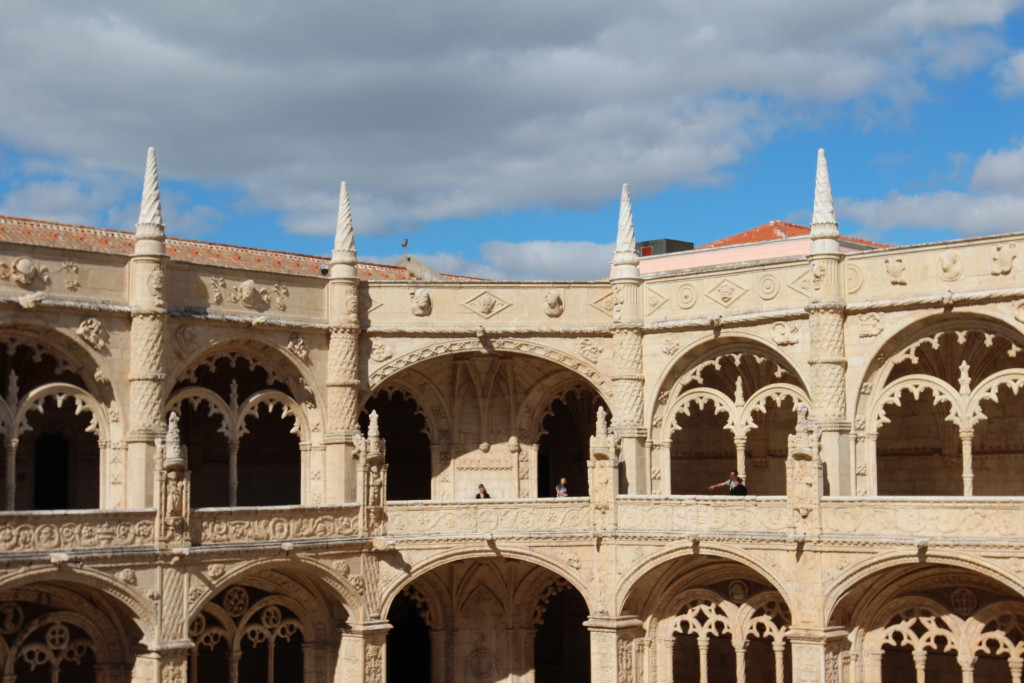 After absorbing the beauty of the Monastery we decided to experience a different form of beauty at the Museu Colecao Berardo (modern art museum). Now, we're not modern art lovers and I'm sure far more knowledgable folk would think this place a treasure trove. Unfortunately for us, our visit lasted around twenty minutes, fifteen minutes of which were spent staring at a photo of a nipple.
Before making our way to the Belem Tower, we stopped for lunch at the bustling park. This is such a lovely spot for lunch (we enjoyed a focaccia and beer on a picnic mat) with the steady breeze, giant bubble blowers and river views. And of course, we took an amble over to the notorious Pastel de Belem bakery to buy our stash of the best custard tarts in the city. Heavenly and a definite must, if custard tarts are your thing.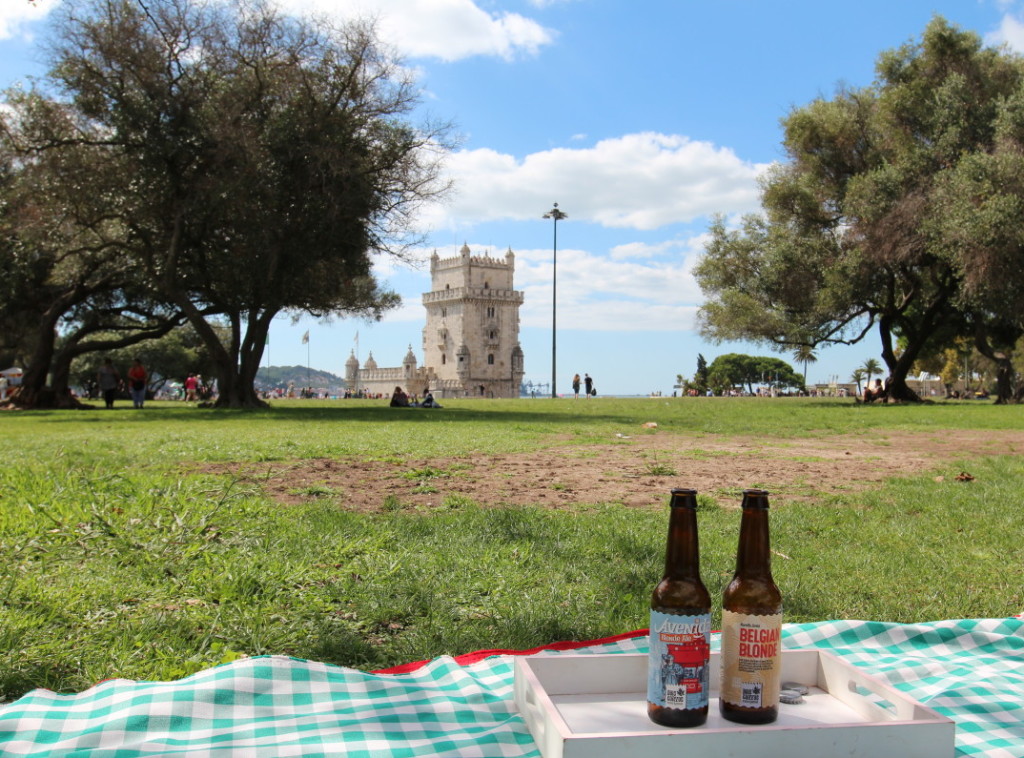 We also took a super quick lift up the Padrao dos Descobrimentos (Discoveries Monument) to enjoy more views over a slightly surreal scene of Lisbon's largest bridge. This looks much like the Golden Gate Bridge and is Lisbon's equivalent to Christ the Redeemer monument, sitting over the river. This monument is dedicated to all explorers of Portugal and is a very impressive sight to behold.
2) Alfama
As I mentioned above, Alfama is the historic centre of Lisbon and is the 'nook and cranny' area of the city. We were fortunate enough to be a 30 second walk from the famous weekly Flea market in Alfama, which was held on the Tuesday. After an excellent night's sleep in our cosy little apartment, we woke early to enjoy the early morning light over the jumbling maze of stalls. This is an amazing flea market,  stretching up and down the winding streets. I could have quite easily spent my whole day rifling through the eclectic piles of clothes, jewellery, antiques, pictures and shoes. You name it, it was there.
Alfama is a place to get lost. Forget a map and explore the streets and hidden staircases, whilst debating which tiles that adorn the houses you'd like best in your bathroom (that was a lengthy debate). Unfortunately for us, we decided to embark on this 'getting lost' walk just before a biblical-sized flood hit Lisbon. Huddled with a group of strangers under a covered fountain for 45 minutes, we got more than a little damp. We gave this walk another go the next day when the sun was shining and it was completely charming.
Another must do in Lisbon is to spend an evening enjoying the beautiful and hypnotic 'Fado' in one of its many bars. This is a little like Portugal's equivalent to the flamenco shows in Seville, during which you can enjoy a meal whilst enjoying music and entertainment. As with the shows in Seville, my tip would be to eat first and find a more relaxed bar where you can just enjoy the music over a few drinks, as the quality of the food is never that great.
3) Trams
You cannot come to Lisbon without seeing a tram and you cannot come to Lisbon without taking a tram ride. The famous tram of the city is Tram 28. This is one of the existing Remodelado trams built in the 1930s, still creaking and winding its way through the main spots of the city. This is a great and ideal way to see Lisbon; a bit like one of those open top tour buses, but inside a tiny vintage tin can instead. As you might expect, this tram ride is very popular and even picking it up from its beginning point at Martim Moniz meant a 45 minute wait! Once we'd finally boarded the tram, we settled into the polished wooden seats and set off on a clattering tour of the city.
The tour was a little tense at times, with an elderly Portuguese lady getting mad over someone standing on her toe and a car driving into the side of the tram, but all in all it was a lot of fun and the perfect way to take plenty of snaps of the city from a unique angle. Definitely a must do experience in Lisbon.
4) Urban art
Lisbon is renowned for its tiles, colourful buildings and cobbled lanes. However, as with any city, this isn't found everywhere and the further out of the centre you go, the more urban art you start to find. Thanks to our Lonely Planet guide, we had read about an area of the city where some of the best urban art could be found  (especially commissioned for the city) and so we decided to jump on the metro to take a look. I'm so glad we took the time to visit these amazing murals that dominate the derelict apartment blocks just outside Picoas metro stop. This was 'modern' art I could enjoy and it was great to see a city embracing this form of artistry alongside the traditional.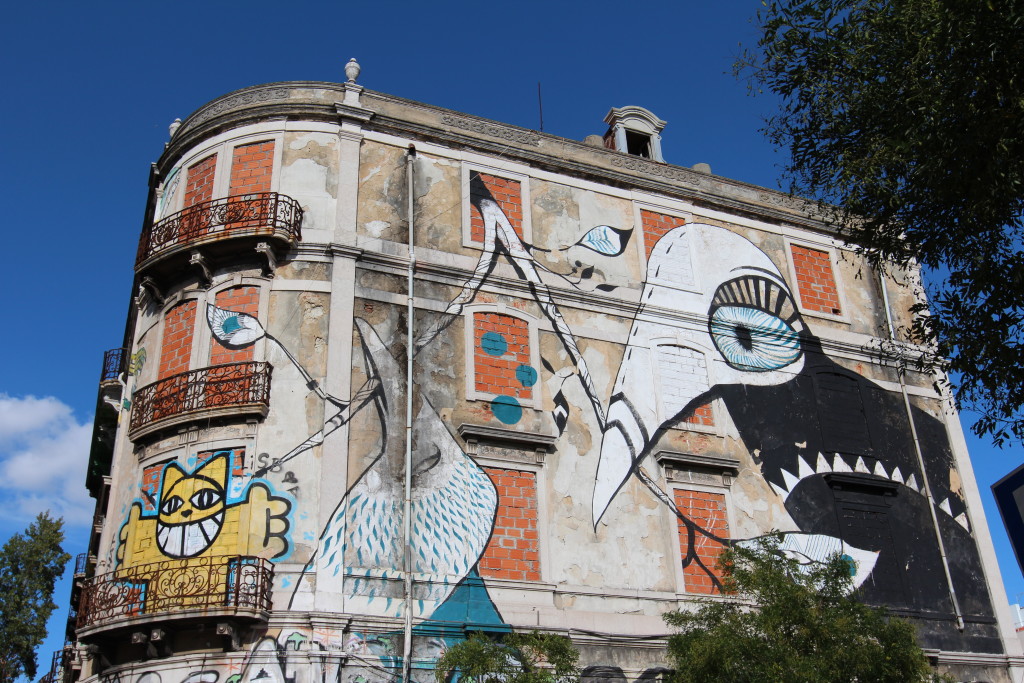 6) Sao Jorge Castle
This is another top tourist spot in Lisbon but worth a visit, mainly for the view it provides up the turrets and over the city. The Moorish castle sits atop one of the hills and is the most visible sight in Lisbon. As well as enjoying a mooch around the castle's fortifications, it was also a great little walk up to the castle, with more cobbled lanes and colourful sights. Amazing!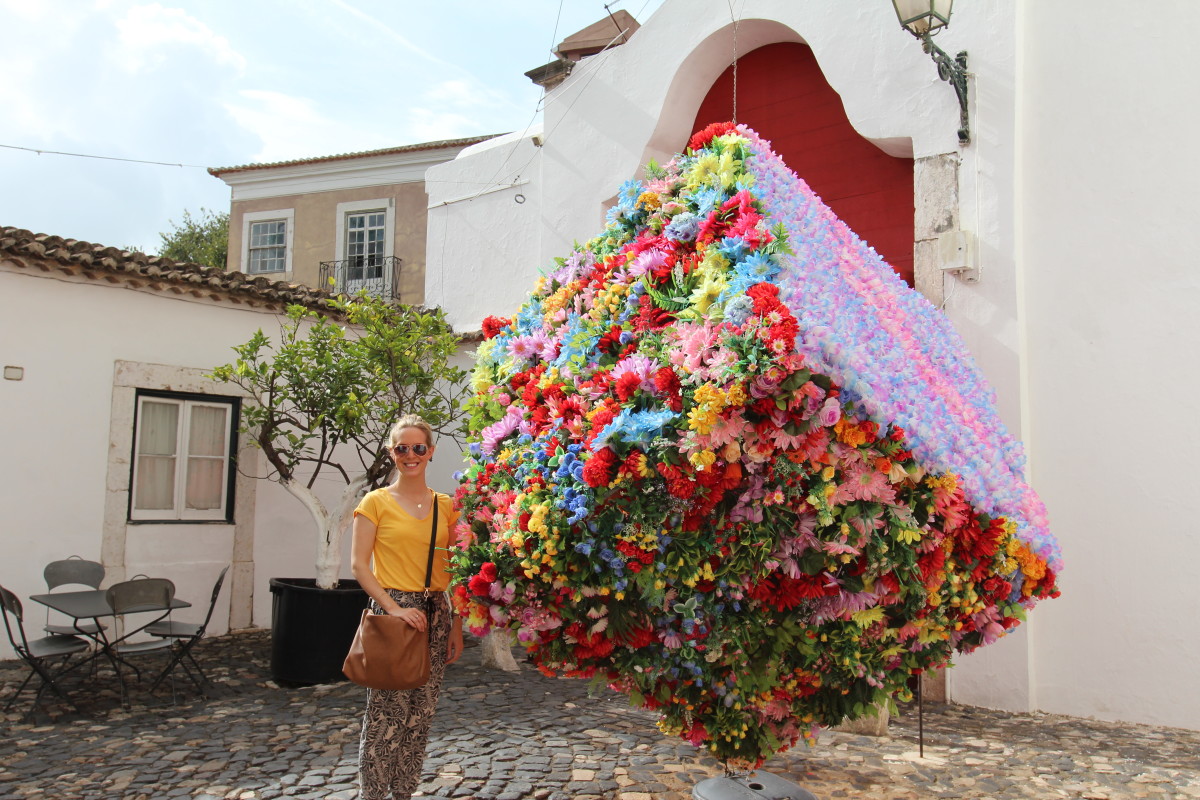 If you're looking for a lively night out, head to the famous hilltop Bairro Alto district with it's bustling bars and buzzy atmosphere late into the night. It's also a place to shop if you're looking for quirky and vintage finds and a great thing about these shops is that they're open until midnight (although we wouldn't advise shopping after a couple of drinks, it can end in a credit card disaster!) Lisbon is a great place for a party, with dancing and drinking going on in the cobbled streets well into the night.
As with any city break visit, this is only a quick summary of Lisbon and there was plenty more for us to explore. The yellow buildings against blue skies; fresh sea food; wafting smell of roasting chestnuts and freshly cooked custard tarts, will have us returning again and again. This is a ridiculously diverse city and as cliche as it sounds, really has something for any every traveller. Go!