A Lisbon city break is as charming, colourful and disorientating as you might hope. A city of seven hills, it's home to vibrant yellow trams; delicious custard tarts; and promises of nearby mystical towns, complete with a coral pink Palace.
The ideal European weekend getaway, here's how to make the most of your Lisbon city break.
Getting Around Lisbon
Lisbon Cards
To access most monuments and museums, we used our Lisbon Cards for either free access or to qualify for a discount. These cards start from 21 euros each, and also allow for free travel on all public transport, including trains to Sintra.
How to Get To and From Lisbon Airport
Taxi from Lisbon Airport €10-15
The taxis to and from Lisbon airport are surprisingly cheap, due to the central location of the airport. Expect to pay between €10-15 for your journey.
A taxi is useful if you have a lot of luggage – the cobbled hills of Lisbon are steep, and dragging heavy suitcases to your accommodation isn't particularly easy.
Metro: €1.45 single fare
Lisbon airport has its own Metro station, which handily takes you straight to the city centre. The line is called 'Aeroporto-Saldanha' and will get you to downtown Lisbon in around 20 minutes.
Bus from Lisbon Airport: €1.80 single fare
There are a number of bus lines that stop at the arrivals terminal but please be aware there is a maximum baggage allowance of the buses of 50x40x20cm.
Ways to Get Around Lisbon
Although Lisbon is a series of steep hills and cobbles, navigating your way around the city is surprisingly easy. As well as the famous trams of the city (it would be criminal not to ride Tram 28E), the city also offers buses, metro and suburban trains.
The Viva Viagem (€0.50) is a travel card that will allow you to access the metro and all buses, trains, boats and trams serving Lisbon and its neighouring cities. This not makes travel around the city extremely easy but also allows travelling on a budget much more achievable.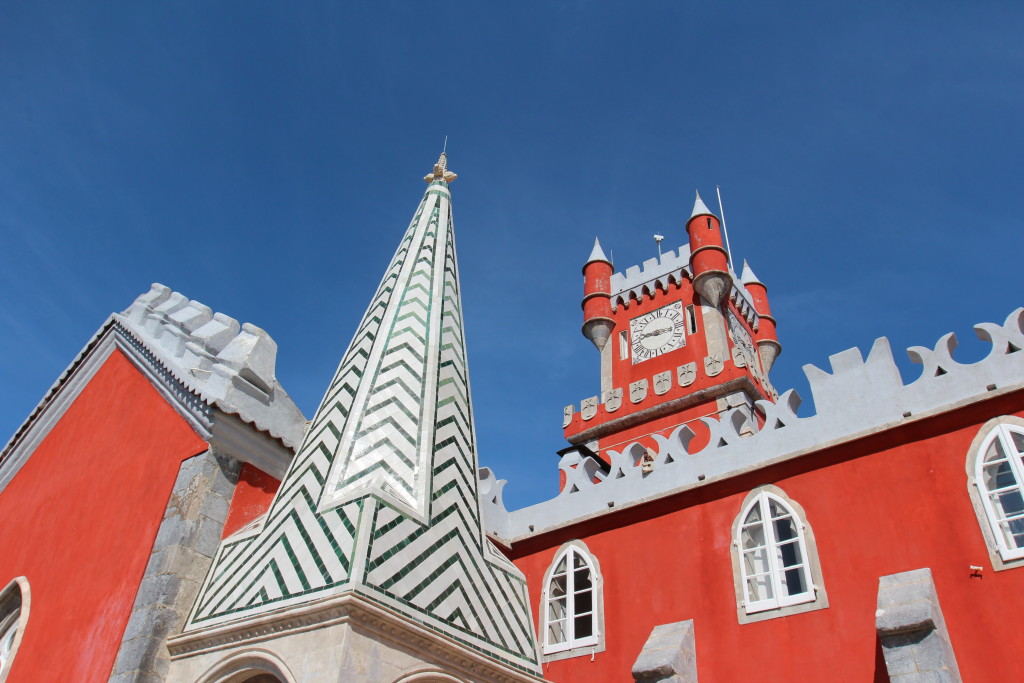 Walking its historic centre may require more sturdier footwear than in other European cities, thanks to the seven hills and steep cobbled streets. Indeed, walking Lisbon in the summer, particularly the Alfama, Mouraira and Madragoa districts is quite the challenge and so come prepared (flimsy sandals won't cut the mustard here).
Things To Do in Lisbon
1. Explore Belem, Lisbon
Belem is a breezy and spacious part of the city, best accessed by the tram or a taxi (it cost us 5 euros to get there from Alfama). We were visiting Belem primarily to visit the the Jeronimos Monastery, but eventually stayed most of the day. The fresh Atlantic breeze, crashing waves and its famous bakeries, kept us more than entertained and I'd say this was one of my favourite parts of the city.
The Jeronimos Monastery is one of the most popular tourist spots in Lisbon and so expect crowds; plenty of cruise ship crowds. We arrived around 10.30 and it felt like the rest of the world was already there, and so a big  tip would be to pick your timings carefully. My favourite part of the Monastery, by far, were the cloisters where the morning sun cast the most beautiful shadows through the ornate pillars.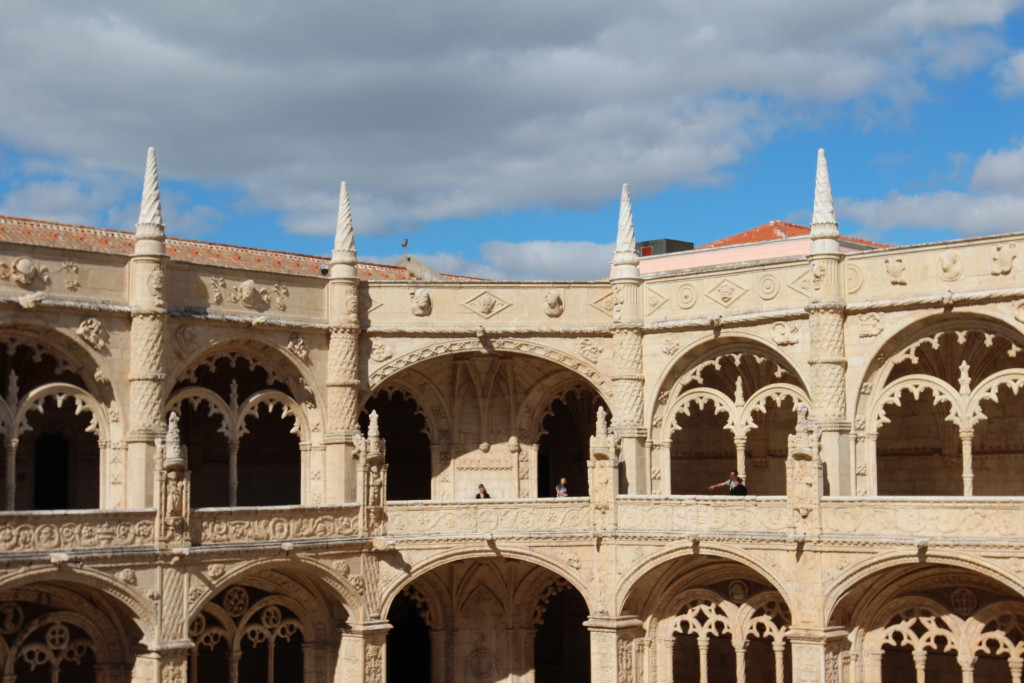 After absorbing the beauty of the Monastery we decided to experience a different form of beauty at the Museu Colecao Berardo (modern art museum). We're not modern art lovers but this was a fascinating museum to explore.
Before making our way to Belem Tower, we stopped for lunch at the bustling park. This is such a lovely spot for lunch (we enjoyed a focaccia and beer on a picnic mat from local stall vendors) with a steady breeze, giant bubble blowers and river views.
And of course, we took an amble over to the notorious Pastel de Belem Bakery to buy our stash of the best custard tarts in the city. Heavenly and a definite must, if custard tarts are your thing.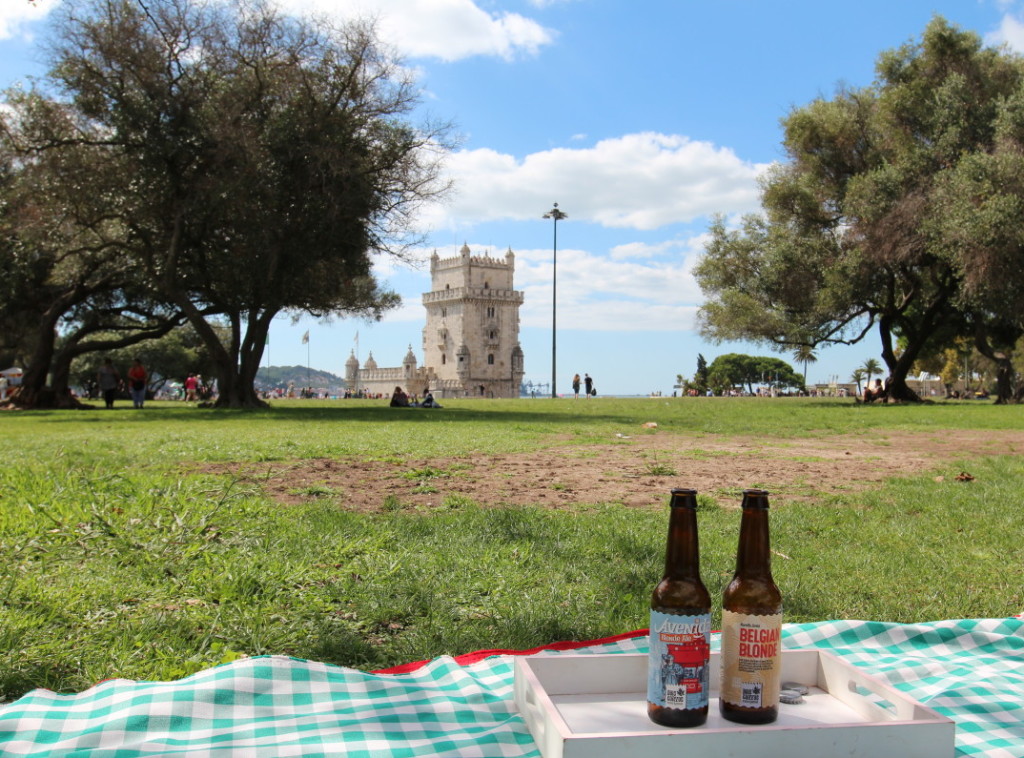 We also took a super quick lift up the Padrao dos Descobrimentos (Discoveries Monument) to enjoy more views over a slightly surreal scene of Lisbon's largest bridge. This looks much like the Golden Gate Bridge and is Lisbon's equivalent to Christ the Redeemer monument, sitting over the river.
This monument is dedicated to all explorers of Portugal and is a very impressive sight to behold.
2) Explore Alfama
Alfama is the historic centre of Lisbon and is the 'nook and cranny' area of the city. We were fortunate enough to be just a 30 second walk from the famous weekly Flea market in Alfama, which was held on the Tuesday.
After an excellent night's sleep in our cosy little apartment, we woke early to enjoy the early morning light over the jumbling maze of stalls. This is an amazing flea market,  stretching up and down the winding streets. I could have quite easily spent my whole day rifling through the eclectic piles of clothes, jewellery, antiques, pictures and shoes. You name it, it was there.
Aside from flea markets, Alfama is a place to get lost.
Forget a map and explore the streets and hidden staircases, whilst debating which tiles that adorn the houses you'd like best in your bathroom (that was a lengthy debate). On a sunny day, this neighbourhood is completely charming. Just be warned, Alfama is set on one of the seven hills of the city, and so wandering downhill rather than up would be strongly advised.
Another must do in Lisbon is to spend an evening enjoying the beautiful and hypnotic 'Fado' in one of its many bars. This is a little like Portugal's equivalent to the flamenco shows in Seville, during which you can enjoy a meal whilst enjoying music and entertainment.
As with the shows in Seville, my tip would be to eat first and find a more relaxed bar where you can just enjoy the music over a few drinks, as the quality of the food is never that great.
3) Ride the trams of Lisbon
You cannot enjoy a Lisbon city break without taking a ride on Tram 28.
This is one of the existing Remodelado trams built in the 1930s, still creaking and winding its way through the main spots of the city (you can see the Tram 28 Route Map). This is a great and ideal way to see Lisbon; a bit like one of those open top tour buses, but inside a tiny vintage tin can instead.
As you might expect, this tram ride is very popular and even picking it up from its beginning point at Martim Moniz meant a 45 minute wait for us. Once we'd finally boarded the tram, we settled into the polished wooden seats and set off on a clattering tour of the city.
It was a lot of fun and the perfect way to take plenty of snaps of the city from a unique angle.
Definitely a must do experience during a Lisbon city break.
4) Enjoy the Urban Art of Lisbon
Lisbon is renowned for its tiles, colourful buildings and cobbled lanes. However, as with any city, this isn't found everywhere and the further out of the centre you go, the more urban art you start to find.
Thanks to our Lonely Planet guide, we had read about an area of the city where some of the best urban art  (especially commissioned for the city) could be found, and so we decided to jump on the metro to take a look. I'm so glad we took the time to visit these amazing murals that dominate the derelict apartment blocks just outside Picoas metro stop. This was 'modern' art I could enjoy and it was great to see a city embracing this form of artistry alongside the traditional.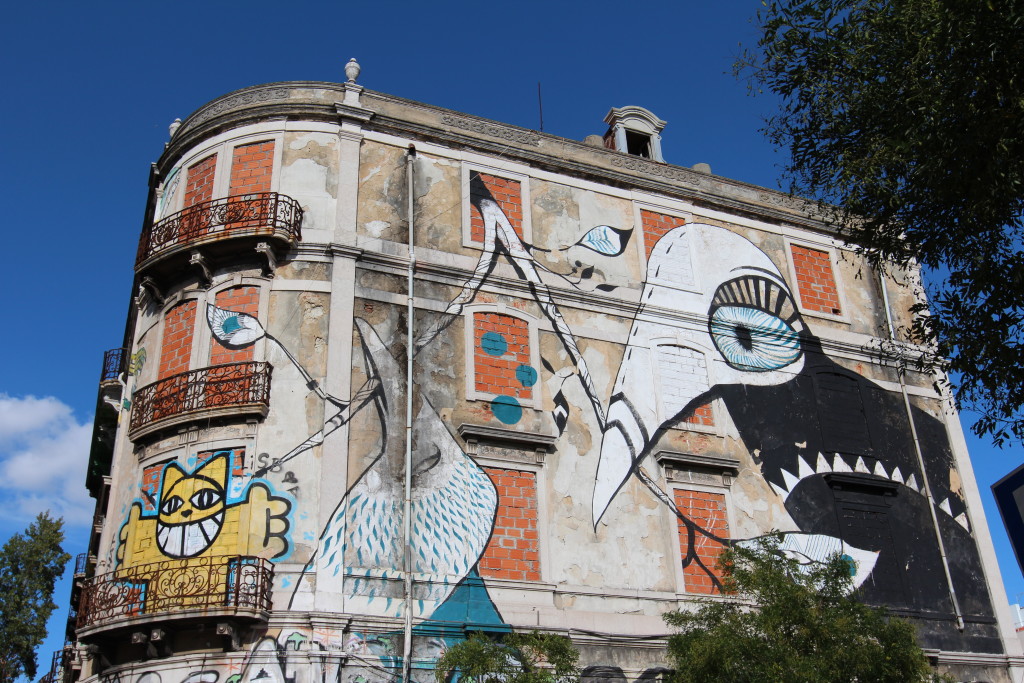 5) Visit Sao Jorge Castle
This is another top tourist spot in Lisbon but worth a visit, mainly for the view it provides up the turrets and over the city. The Moorish castle sits atop one of the hills and is the most visible sight in Lisbon. As well as enjoying a mooch around the castle's fortifications, it was also a great little walk up to the castle, with more cobbled lanes and colourful sights.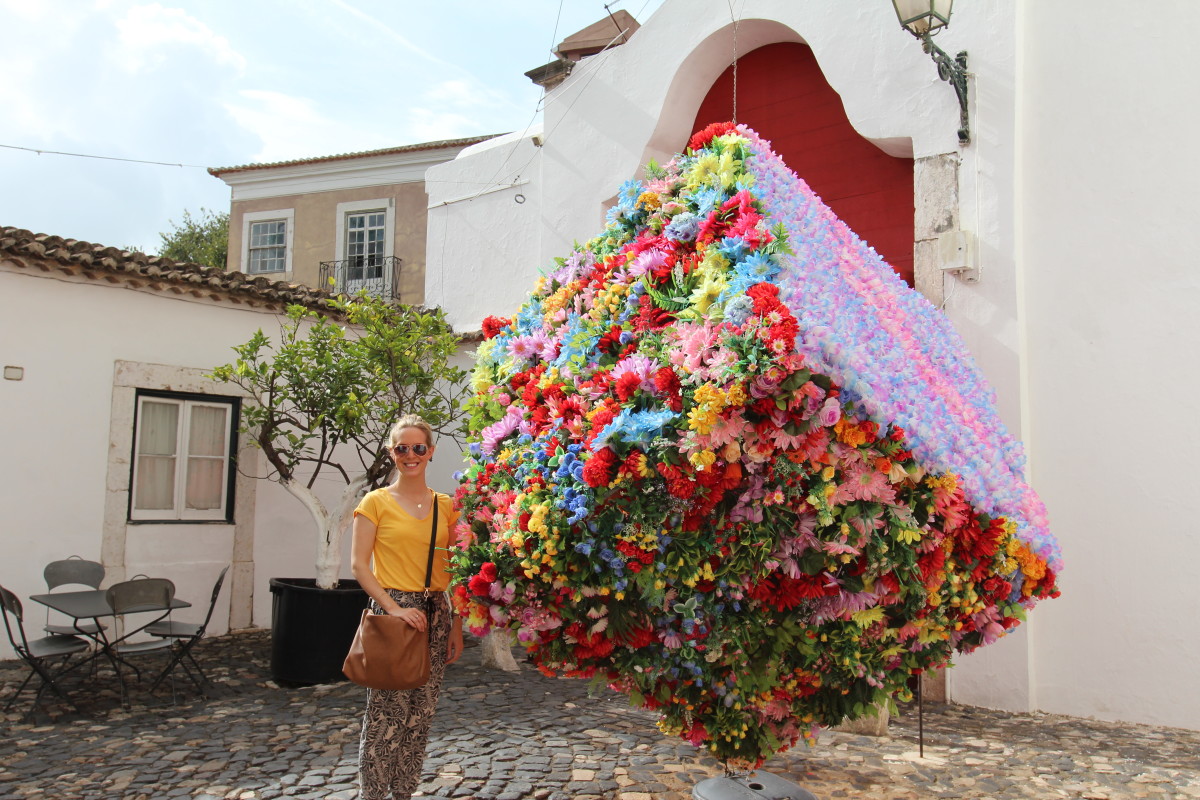 If you're looking for a lively night out, head to the famous hilltop Bairro Alto district with it's bustling bars and buzzy atmosphere late into the night. It's also a place to shop if you're looking for quirky and vintage finds and a great thing about these shops is that they're open until midnight (although we wouldn't advise shopping after a couple of drinks, it can end in a credit card disaster!)
Lisbon is a great place for a party, with dancing and drinking going on in the cobbled streets well into the night.
7. Day trip to Sintra
How to Get to Sintra from Lisbon
The easiest way to get to Sintra, is to jump on the train from Rossio Station (departs every 30 minutes) that takes you to Sintra in just 45 minutes.
During our Lisbon city break, we took a day trip to the fairy tale land of Sintra. An area surrounded by thick forests, mountains and dotted with colourful palaces, exotic gardens and Atlantic views, Sintra is a must-do side trip from your time in Lisbon.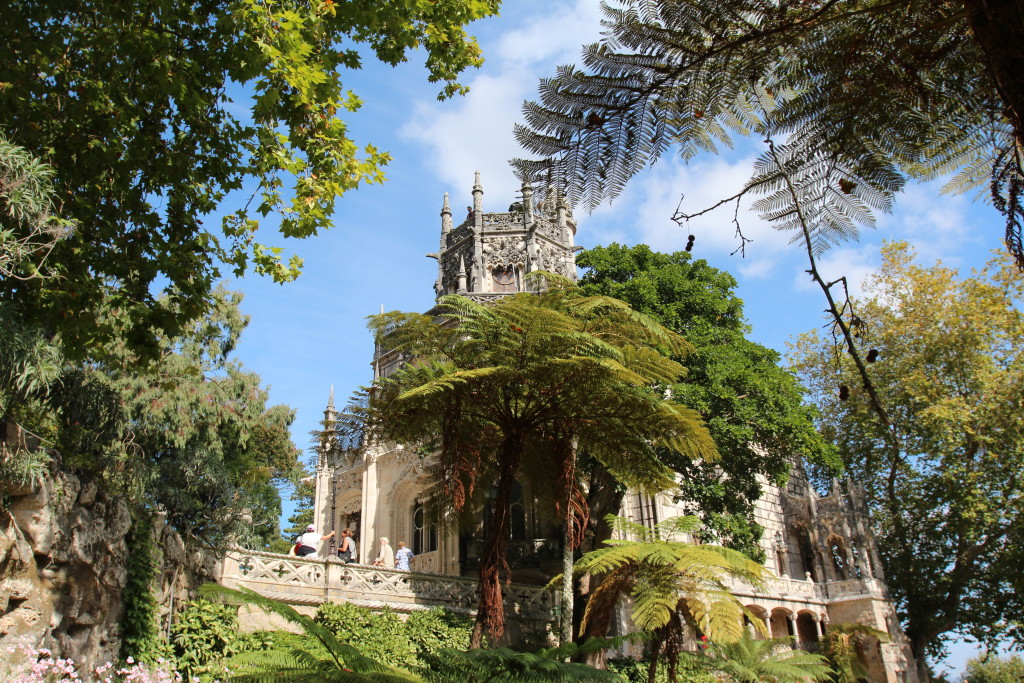 Although there is plenty to see in Sintra, including Palacio Nacional de Sintra with its gleaming twin conical chimneys and lavish Moorsh inspired interior, it is Pena Palace that many come to see in Sintra.
A national monument, Pena Palace is a Romanticist castle, that sits atop a hill in the Sintra mountains. A heady mix of onion domes, Moorish gates, stone snakes and pink and lemon walls and turrets, Pena Palace is a surreal delight to explore.
On a clear day, you can see Lisbon and much of the surrounding area.

8. Catch the Train the Cascais Beach
How to get to Cascais from Lisbon:
Getting to Cascais from Lisbon is incredibly easy. A train departs Lisbon every 20 minutes and the journey takes 33-40 minutes, dependent on the train you hop on.
Cascais (pronounced kush-kaish) was our last stop during our Lisbon city break. Once a sleepy fishing village, Cascais has become a popular summertime jaunt for Lisbon locals, since King Luis took a swim in the village in 1870.
Boasting three bays of golden sands, Cascais is the ideal place to end a weekend in Lisbon. As the sunset, we grabbed an ice cream and watched the fishing boats bob gently under a pink and pastel sky.
If you're looking for a lively night out by the beach, Cascais has an abundance of bars.