As the convoy of black 4WDs pulled in front of our Marrakech hotel, I watched as piles of our suitcases, floppy hats and colourful scarves were loaded in. "It's like we're in a Sex and the City movie," I whispered to Laura, surveying the mountain of luggage. In the midst of our first Twins That Travel Tour, and having spent the last few days exploring the chaos and heat of Marrakech, our group were headed to the quiet of the desert, for a stay at La Pause Marrakech.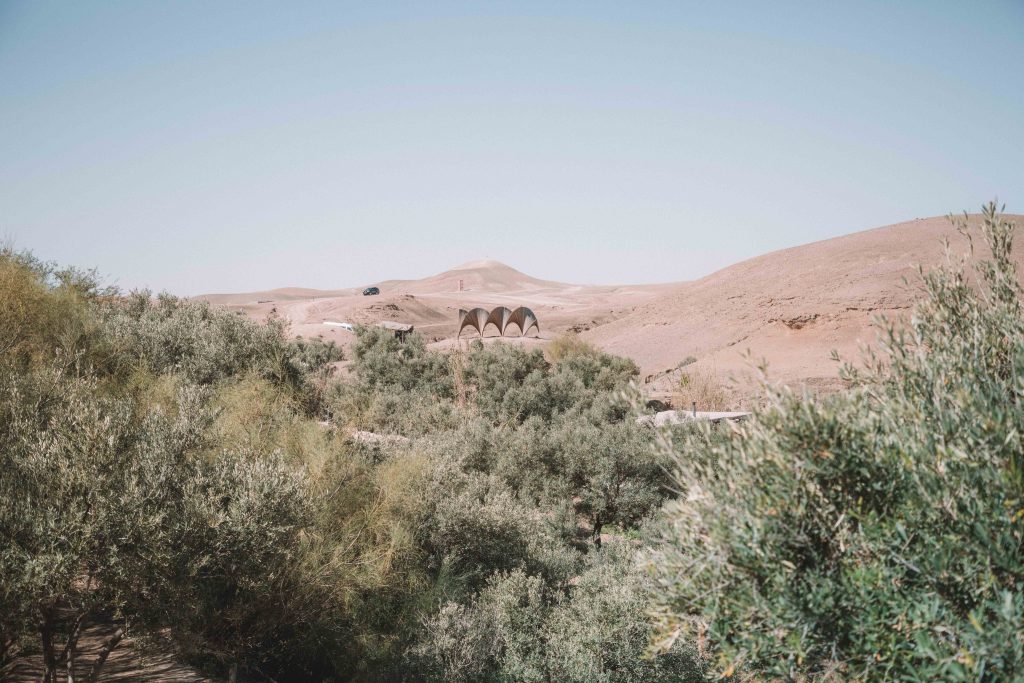 With the promise of sunset camel rides, bedouin tents complete with ensuite bathrooms, and fine dining under the stars, this luxury eco-lodge was the sort of camping that I could get used to.
Winding down the windows, I watched as our cars wound their way out of Marrakech's streets and into the wilds of the Agafay desert. With no electricity or wifi at the camp, it was time to press pause on the outside world and enjoy our very own sandy sanctuary.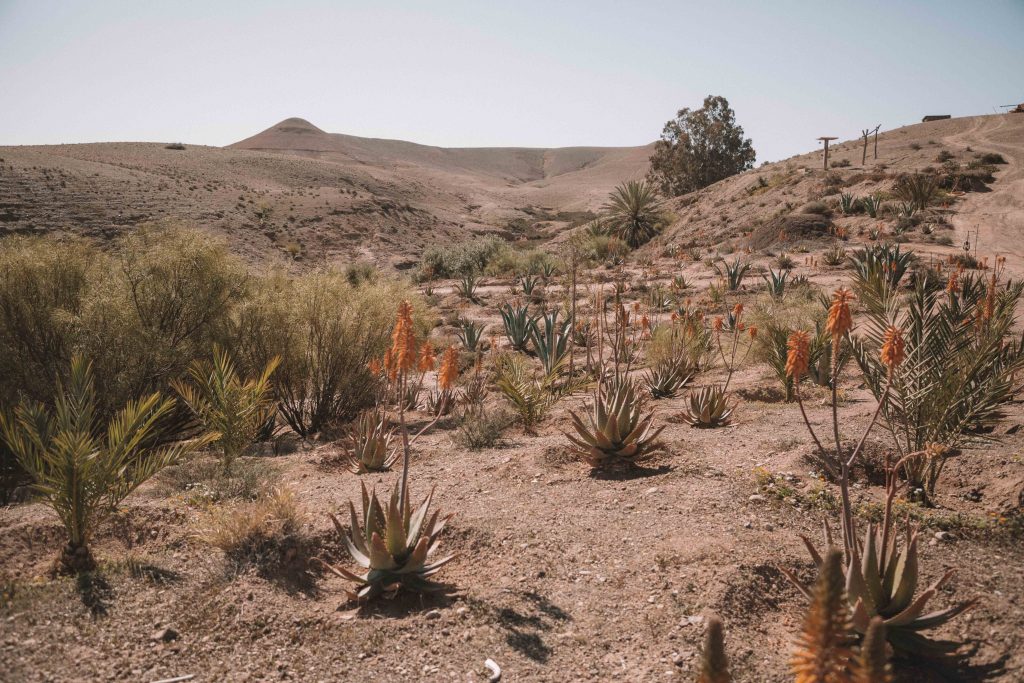 Getting to La Pause Marrakech
Located just 20 miles (30km) south of Marrakech, getting to La Pause camp is unexpectedly easy. Forget an eight hour journey out into the Sahara Desert, La Pause Marrakech makes for the ideal overnight break, allowing visitors to blend both city slicking with desert camping. Indeed, the dry, moon-like desert of the Agafay is often overlooked for its sandy neighbour, the Sahara, despite it being – quite literally – on Marrakech's doorstep.
4WD transport is necessary for the rocky terrain surrounding La Pause Marrakech. A private transfer to the camp can be organised on booking for $80 from central Marrakech. 
"Hold onto your hats," our guide, Tariq, laughed as our 4WD turned towards a soaring, stony dune. Before I had time to process what was happening, the engine revved and we launched at speed, upwards. Screaming in both excitement and terror, our driver laughed as we raced up the incline before coming to a dramatic halt. Breathlessly, I turned to my fellow passengers to check that they were still intact, before shouting, "Can we do that again?"
For those travelling out to La Pause, a bit of 'dune bashing' comes highly recommended (if your driver will allow for it).
Accommodation at La Pause Marrakech
Discovered by chance when La Pause's owner – Parisian born, Frédéric Alaime – was on a desert horseback ride, La Pause Marrakech was once a derelict house on the edge of an oasis. Immediately offering to lease the site from a Berber olive farmer, the eccentric owner set about lovingly turning the land into a luxury eco lodge, opening its doors in 2003.
La Pause Marrakech is now home to luxury lodges, bedouin tents, a restaurant, pool and plenty of quiet spots to ensure that guests are able to enjoy the sublime silence of the Agafay desert.
The Lodges
Built using the traditional Berber 'pise' (mud and straw), the lodges at La Pause merge seamlessly into their surroundings. Discreetly placed far enough apart to ensure privacy, the eight lodges are more reminiscent of Africa's eastern lying countries than perhaps Morocco. Simply yet beautifully designed, the lodges come equipped with extravagantly large beds with luxurious bedding, deep red Berber carpets, open fires, sofas, oil lamps and an indoor shower and bathroom.
The lodges start from £250 a night, with half board.
Glamping
We had opted for the bedouin tent accommodation whilst visiting La Pause Marrakech; an entirely different experience to the generally miserable endeavour of camping in the UK. Located on the other side of a cluster of large moon rocks, the 12 white tents are set in an equally secluded spot; with breathtaking views out across the dry valley.
Eagerly making our way into our tent, we were greeted by two cosy single beds, an adjoining ensuite bathroom (complete with a hot water shower and luxury orange blossom toiletries), glowing lights and reclining chairs on our terrace. Less of a tent and more a hotel room, I collapsed onto my bed, unsure if I needed to see the rest of the camp.
This tiny bolthole was all that I needed after a busy two days running our TTT tour through the streets of Marrakech.
It's at night, however, when the tents truly come into their own; the campsite lit by dozens of flickering candles. Having returned from dinner, we found our tent had been lovingly prepared for the night, a small glowing light in the corner of our room and bathroom to help guide our way.
Easing ourselves into bed, we were in for one final treat. Wiggling my feet under the covers, I discovered a deliciously warm bed that had been heated by a hot water bottle. A small but thoughtful gesture, we drifted off to sleep as the sound of the desert's nightlife surrounded us.
Bedouin tentsstart from £49.
Facilities at La Pause Marrakech
Aside from the luxury bedouin tents and lodges, La Pause Marrakech is home to a surprising number of facilities, despite its remote location. Indeed, although nestled in the dry, arid hills of the desert, La Pause Marrakech boasts a sparkling swimming pool, surrounded by low hanging olive trees and sumptuous day beds.
Flopping onto one, I watched as swallows ducked and dived into the pool; scooping small beakfulls of water. To my right, a fellow guest was taking an afternoon snooze in a linen hammock, the gentle rocking motion making my eyelids droop.
Without the distractions of wifi or electricity, the camp offered the sort of serenity that I hadn't experienced in many years. Used to the ever present soundtrack of vehicles, music and the buzz of technology, La Pause offered a silence that seemed almost unachievable in today's age. It was a quiet that wrapped around me like a thick blanket; making life seem slower, calmer, more present.
Its glittering pool aside, La Pause Marrakech overflows with other quiet spots and hidden corners to wile away the hours. Dotted with traditional nomad tents, filled with colourfully decorated cushions, finding your own slice of silence here couldn't be easier. In the mid-afternoon heat, our group scattered amongst the tents, each of us finding our own spot to relax in.
Just behind the pool lies the camp's very own organic garden. The alfalfa, rocket and grapes used in the salads are all grown here, along with the camp's own (delicious) olive oil. A small store is also situated onsite, selling beautiful ceramics and jewellery, all of which is made locally.
Sunset Drinks
One of the highlights of our stay at La Pause Marrakech was the sunset drinks overlooking the valley. As the sun began to dip in the sky, and having disembarked from our camel ride, we collapsed into chairs with wine and nuts. As the other guests congregated atop the camp's tallest dune, we watched as the landscape shifted from a fiery red to a shadowy blue. As dusk settled, staff lit hundreds of candles throughout the camp, each illuminating tents and pathways.
From our hillside perch, La Pause Marrakech looked unbelievably beautiful; as though it were alight with fireflies.
Dining at La Pause Marrakech
Unsure of what to expect in terms of food at the camp, I was a little apprehensive when we arrived at La Pause – a large selection of Pringles lining my suitcase just in case. Harbouring visions of a saucepan of beans over a campfire, I had prepared myself (and the group) for basic dining. Yet what we really experienced, far surpassed any of our expectations.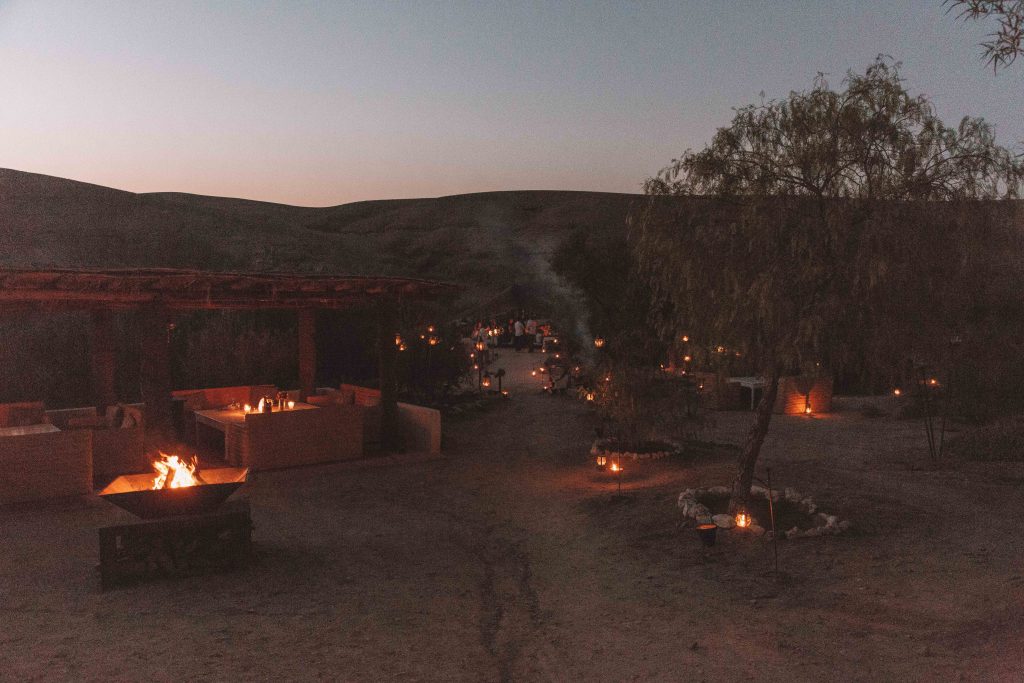 Taking our seats inside a traditional Berber tent – candlelight flickering in the starry night – our waiters arrived with steaming, aromatic tagines. Lifting the lids, the mouth-watering smell of spices greeted us and our stomachs growled in anticipation. Teamed with local wine, this was a true Moroccan feast in the middle of the desert; with not a tin of beans in sight.
As we ate our food, our guide pointed out the starry constellations above us, the inky night sky proving inconceivably clear. Indeed, this candlelit dinner was perhaps one of the most memorable experiences of our entire trip to Morocco.
Our breakfast the following morning was an equally impressive affair. As we made our way sleepily from our tents, we were greeted by a table decorated with fresh flowers and glinting Moroccan teapots. Sat under clear blue skies and a warming African sun, we feasted on orange juice, coffee, pancakes, omelettes and fresh fruit. It was a dreamy way to begin a new day in the desert.
Note: La Pause Marrakech also offers the opportunity for guests to visit just for an evening, enjoying dinner under the stars just as we had. After a hearty meal and plenty of chilled rose wine, however, I was glad for my short walk back to my gently glowing tent.
Activities at La Pause Marrakech
A stay at La Pause Marrakech isn't simply about relaxation and star gazing, however. A place to also discover adventure and adrenaline, La Pause offers a variety of unique, bucket list activities. From the more gentile mountain biking, private yoga and horse riding activities, to the slightly wackier 9-course 'cross country' golf,  quad biking and camel rides, the activities offered at La Pause suit all ages and adventurers.
When planning our Twins That Travel Moroccan Tour, there was one activity our group were all eager to experience: the sunset camel ride. Having briefly experienced a camel ride before in Tunisia – an excursion cut short by my Dad's instant dislike to his camel – I was eager to give it another go whilst in Morocco.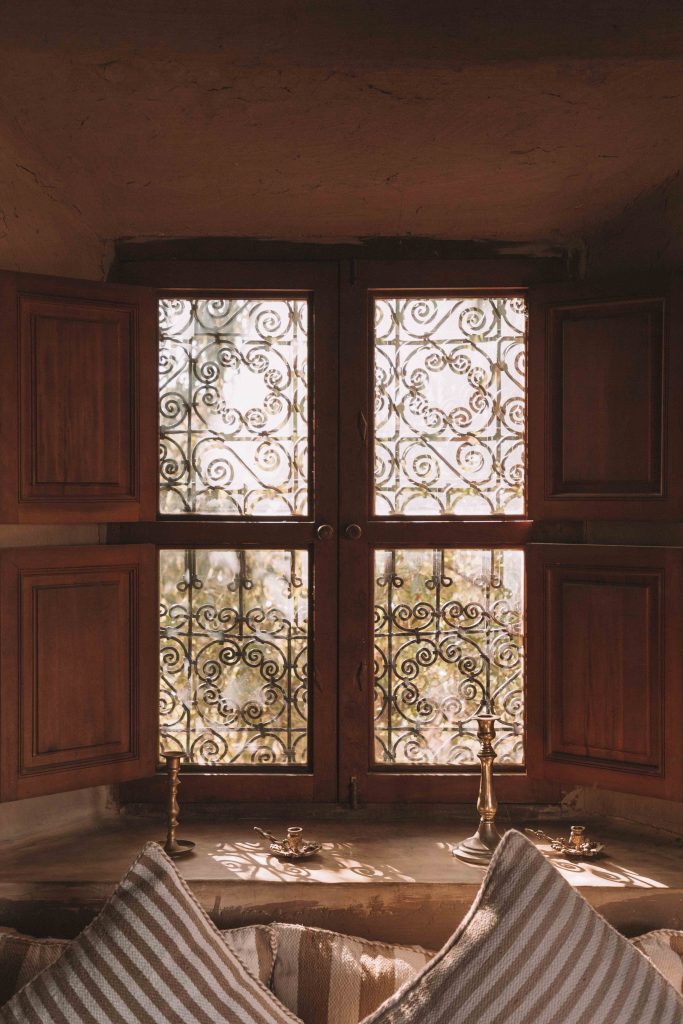 A Sunset Camel Ride
As the sun began to sink below the dunes of the Agafay desert, it was time to tick another item off from my ever-extending bucket list. Changing into something more comfortable (dresses have no place on a camel), we left our camp behind and headed towards the hazy silhouettes that sat atop the neighbouring hill.
A mixture of excitement and apprehension ran through the group as the figures grew closer, our snoozing camels and their attentive owners waiting for us. Unfazed by our arrival – the excitement apparently lost on them – the camels continued to make throaty quips to one another as stared on in awe.
"Getting onto a camel is an experience in itself," Tariq advised as we were assigned our steeds.  My own furry friend now eyeing me suspiciously, I gingerly kicked my leg over the seat. The phrase 'pea on a mountain' springing to mind, I gripped the seat tightly, awaiting the camel's next move.
Ladies now successfully seated – and hip flexers already being pushed to their limits –  it was a dramatic domino effect as our camels stood up, one by one. Camel bottom thrust skywards first, I lurched forward, before dramatically rocking backwards as the camel unfolded itself entirely. It was a furry rollercoaster ride, and our group clapped in achievement as we all successfully survived our ascents.
Our one hour sunset camel ride was as magical and unique as I had hoped; made extra special by the amazing women that I got to share it with. As the sun seemed to burn a deep orange in the sky and the shadows of our camels grew ever longer, I realised this was a bucket list experience that I'll never forget.
Final Thoughts
Rousing myself from a mid-morning nap under the cool shade of a tent, I heard the rumble of cars approaching. Squinting into the distance, I watched as our convoy of 4WDs approached, shining like the black Scarab Beetles that filled the desert. Reluctantly, I stood up and stretched, taking a final sip of fresh mint tea.
Our 24 hour escape into the Agafay desert, courtesy of La Pause Marrakech, had slipped by too fast, my mind and body only now beginning to adjust to the slower pace of desert life. Piling back into the car, I watched as La Pause disappeared behind us in a cloud of red dust.
Like a desert mirage, the camp seemed to evaporate entirely; leaving me questioning whether we had ever been there at all.
The ideal trip to pair with a Marrakech city break, La Pause offers its guests the opportunity to experience their very own digital detox. Isolated yet luxurious, this is a camp of contrasts, yet one that leaves its guests feeling revived, calmed and refreshed.