This guide to things to do in Essaouira contains affiliate links.
In March 2019 we launched our first  TTT Tour. It was an unforgettable adventure that saw us take a group of intrepid female travellers to the dusty and intoxicating city of Marrakech, before finding blissful silence in the desert camp, La Pause.
It was a vibrant, memorable and beautiful trip, and one that left us keen to explore more of Morocco's eclectic towns and cities. Filled with ideas of how we might extend our original tour, we arrived home and began researching alternative destinations to Marrakech.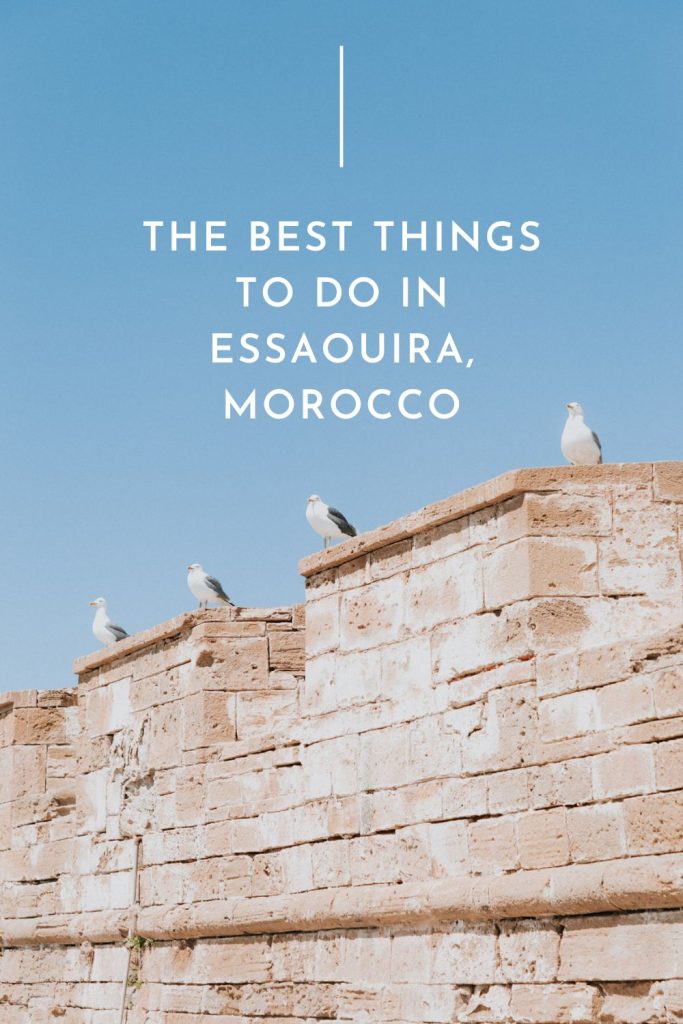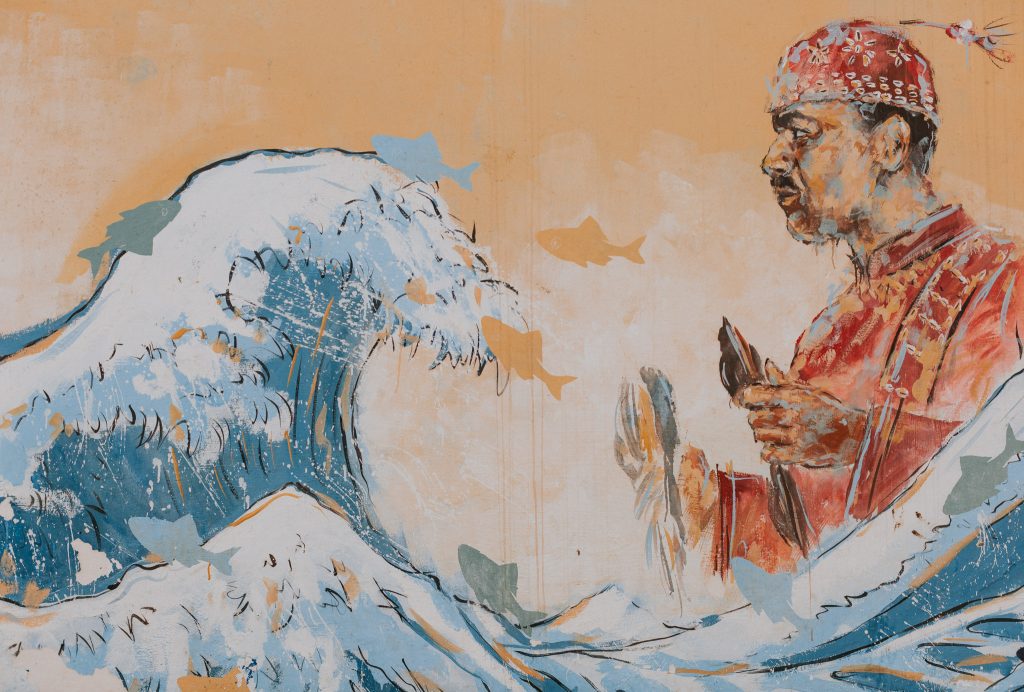 The History of Essaouira, Morocco
Although perhaps not the most obvious choice of destinations when compared with the blue hues of Morocco's Chefchaouen, or with the old-world allure of Fez, there's nonetheless something intoxicating about Essaouira.
Shaped by the strong 'Alizée' or Atlantic wind that blows through its brine-battered alleyways, there are an incredible number of things to do in Essaouira. Indeed, this beach hugging city is both recognisably Moroccan and decidedly Mediterranean, offering guests the chance to experience bustling souks and sandy beaches.
Once a prosperous trading post, Essaouira quickly rose to prominence under the rule of King Mohammad III. Strategically positioned between the trade winds of the Atlantic and the country's most prosperous cities, Marrakech and Agadir, Essaouira was soon redesigned as a handsome fortress.
Within a matter of years, what was once a windswept and largely unoccupied village was transformed into one of Morocco's most important cities.
Is Essaouira worth visting?
Today (and despite a brief hiatus as a French colony) Essaouira remains largely unchanged. With its 18th century fortress still circling the city like a mighty snake, the place remains almost frozen in time.
There are plenty of things to do in Essaouira. Head towards the atmospheric harbour and you'll discover hundreds of colourful fishing boats moored next to each other; flocks of seagulls wheeling overhead as fisherman gut their catch of the day.
A short walk from here and you'll discover Essaouria's beach.
Popular with both sunbathers and watersports enthusiasts (in terms of things to do in Essaouira, watersports is definitely one), Essaouira's beach – complete with fizzing foam and roaring waves – is almost reminiscent of the Algarve.
With the sound of the haunting call to prayer (or 'adhan') reaching the sandy shores, visitors can then make the short walk back towards the city's historic medina; passing under one of Essaouira's imposing stone gates.
A vision of white washed buildings and azure blue frames, the architecture of the medina feels almost Greek – a much more refreshing aesthetic than the dusty red tones of Marrakech. It's also much calmer than Marrakech's chaotic medina (and thankfully free of its petrol bikes). A walk through here is a taste of Essaouira nearly three centuries ago: a place of daily markets, talented artisans and the scent of heady spices.
Laid-back, prettier and (dare I say it) more enjoyable than Marrakech, it is this bygone coastal charm that makes Essaouira such a great place to visit.
13 Best Things To Do in Essaouira, Morocco
Although relatively small and perhaps not as geared towards tourism as Marrakech, there are still plenty of fantastic things to do in Essaouira.
1. Explore the Souks: The Arty 'Kasbah' District
A little like Marrakech, Essaouira spent the 1970s as a Mecca for artists, hippies and life's sandal-wearing wanderers. Today, this bohemian attitude still characterises much of the city, particularly its art scene.
Although a warren of a place, Essaouira's souks have roughly defined districts, one of which is the gallery filled Kasbah area.
Here you'll find a wealth of art galleries and creative boltholes, alongside vibrant textiles hanging from the narrow alleyway walls. One gallery, Galerie la Kasbah, is particularly worth visiting. Something of a city-wide institution, this light and serene place covers 4,300 square feet, showcasing the work of over 22 local artists.
A great place to pick up some unique pieces of artwork and traditional textiles, the gallery is a fantastic introduction to Essaouira's flair for creativity and colour.
2. Explore the Souks: Shopping on Avenue d'Istaqal's
A colourful, intoxicating and busy place, Avenue d'Istaqal is perhaps one of Essaouira's most famous 'shopping lanes'. Known for its small, but perfectly formed stores ('cupboard size', to be specific), this often chaotic avenue meanders through the city's shaded and historic medina.
Here, we not only found crowds of rogue cats, but ancient wooden doorways leading to chic stores selling beautifully crafted textiles, candles, artwork and jewellery.
Having walked the main thoroughfare, take a tangent and head down the narrowing lanes that make up much of the medina. In particular, walk towards the coast, where you'll find Rue de la Skala and the beautifully curated homeware shop 'Minimal'. 
A visit to this street was one of my favourite things to do in Essaouira.
3. Witness Essaouira's Artisans at Work
Essaouira, like many Moroccan cities, is well known for its talent for the arts and crafts – in particular, woodwork.
Using local 'Thuya' wood (a type of wood found largely in Southern Morocco), their marquetry is not only beautifully aromatic, but smooth and intricate.
Head towards the Skala de la Ville to see these craftsmen in action, watching as they polish and decorate gleaming chests and chessboards with  skill and flair.
Tip: as Thuya wood is now said to be endangered, it's perhaps best to simply watch the craftsmen in action, rather than buy any of the finished products.
4. Visit Essaouira's Beach
And now for perhaps my favourite thing to do in Essaouira: it's time to head to the beach.
Thanks to its sheer size, this beautifully clean and golden stretch of sand is rarely crowded, providing visitors with plenty of space to pitch up and sunbathe, read or swim in the (rather chilly) sea.
Indeed, for those wondering – it's absolutely fine to sunbathe in Essaouira, although I would recommend investing in a windbreak, as it's a gusty stretch of coastline.
For those of you looking for a little more comfort, a number of beach clubs run along the sandy strip, offering access to luxury sun loungers and cabanas, complete with table service.
We had a fantastic lunch at MBeach, which also had a beautiful deck area with very comfortable looking loungers and umbrella shades (available to rent).
What Watersports Can You Do in Essaouira?
If it's a little watersports you're after – something Essaouira is popular for – then there are a number of different centres available. Océan Vagabond, found overlooking the beach, offers a mix of surf, windsurfing and kitesurfing lessons, alongside a laid-back beach cafe serving local (and beautifully cold) gris wine.
Prices begin at around 385 dihram per person for a surf lesson, with each lasting two hours.
5. Stroll the Skala du Port: featured in Game of Thrones
Encompassing Essaouira's atmospheric medina is its mighty ramparts – complete with canons, towers and sweeping, fairytale staircases.
Although once intended to protect the city from a possible raid, today the ramparts offer panoramic views across the crashing waves of the Atlantic Ocean and over the snaking maze of lanes below.
In particular, the Skala du Port – a mighty, honey covered edifice, is well worth visiting and often comes top of lists of things to do in Essaouira.
Having made a recent guest appearance in Game of Thrones, this mighty fortress- built against the backdrop of azure blue skies, foaming white seas and diving seagulls – is immaculately preserved. As impressive and handsome now as it would have been in the eighteenth century, visit here for excellent views and the chance to experience Essaouira's famous trade winds (warning – it can get a little nippy).
6. Visit Essaouira's Sidi Mohammed Ben Abdellah Museum
More of a local, rather than an international destination, Essaouira does not have the wide range of world-class museums that perhaps cities such as Marrakech do.
However, the city is the proud owner of one particular museum definitely worth visiting – the Sidi Mohammed Ben Abdellah Museum.
Costing just 10 dirham to enter (around 78p), this museum is not only incredibly cheap to explore (it might even be one of the cheapest things to do in Essaouira), but also offers a lovely introduction to the city and the surrounding region.
Recently refurbished, and found within a beautiful riad once belonging to a local pasha (or 'Lord), this little museum encourages visitors to explore artefacts found throughout Essaouira, including some from the Roman and Phoenician period.
With a rare personal collection of photographs on display –  featuring a sepia toned Essaouira in the late nineteenth century – this small and intimate collection provides a fascinating insight into everyday life in Essaouira.
7. The Best Places for Drinks in Essaouira
With a slightly left-of-centre attitude towards life, Essaouira invites its visitors to relax, slow down and take in its spectacular sunsets with a cold Casablanca beer in hand. There are several great watering holes to be found throughout the city.
For views of the city's main square and harbour, head to Bab Laachour Café for sunset beers (note – beer here is only sold in the evenings).
Close to Bab Laachour Café is the slightly livelier, Taros. With a fairly well stocked bar and a daily happy hour, visit here for cocktails and views of the darkening Atlantic ocean.
Located close to Essaouira's romantic Skala de la Ville, Il Mare is another beautiful spot to enjoy a glass of wine whilst simultaneously drinking in the views of Essaouira's honey-coloured ramparts.
Looking for somewhere to dance the night away? Alongside, perhaps, fire eaters and magicians? Walk towards the heart of Essaouira's medina and discover the famous Caravane Café.
A traditional riad, filled with colour, artwork, exotic plants and Moroccan artefacts, the Caravane Café is one of the city's greatest melting pots. So, grab a drink, dance to live 'gnaoua' music and watch as belly dancers and singers mesmerise your fellow diners.
A night here might just be one of the most unforgettable things to do in Essaouira.
8. The Best Restaurants in Essaouira
Thanks to its location just metres from the cool waters of the Atlantic Ocean, Essaouira offers some of the best seafood in Morocco.
The restaurants mentioned above (Caravane Café, Il Mare, Taros and Bab Laachour Café) all offer lovely menus, particularly Caravane Café, which offers an eclectic assortment of south-east Asian dishes (ideal for those of you who are a little tired of couscous and tagines).
Other restaurants worth visting are, La Table by Madada – a cool, contemporary restaurant tucked away in an old warehouse. Here you'll find a broad range of fresh and contemporary European and Moroccan dishes. It is, however, a very popular spot, so be sure to book ahead.
For those of you hoping to enjoy a meal whilst overlooking Essaouira's beach, Océan Vagabond Beach Restaurant offers local snacks (e.g. lamb brochettes) and tasty meals for a very reasonable price.
9.  Get Tickets for Essaouira's Summer Music Festivals
Whilst Essaouira might be known for its quiet and relaxed approach to life, looks can be deceiving. Indeed, come the summer months, this sunny city comes alive with international music festivals. Often topping lists of things to do in Essaouira, these concerts are a celebration of eclectic and cultural exchanges, with the entire city coming together to celebrate.
In April (normally the 26th – 29th), the festival Alizés arrives in town: a classical musical festival held in intimate venues throughout the city.
Come May and the Gnaoua festival begins, dedicated to traditional North African music. Encompassing the entire city – from the port to the medina – the festival sets the entire city alight with music, dancing and irresistible rhythms.
Rounding up the festival season is the Atlantic Andalusia festival, held each October in Essaouira. Celebrating the city's shared Judeo-Arab  culture, the festival is a reminder of Essaouira's liberal and tolerant history.
Things to do in Essaouira: Day Trips
10. A Trip to Sidi Kaouki
Just 15km south of Essaouira is the charming village of Sidi Kaouiki, a pretty white-washed place with a distinctly bohemian vibe – and, apparently – one of the best windsurfing locations in Morocco. It also used to be one of Jimi Hendrix's favourite Moroccan hideaways.
There is a bus from Essaouira to Sidi Kaouki (taking just over 30 minutes) and costs just 7dh. You'll need the bus that runs on line 2, that can be found in the Bab Doukkala – the square just outside the medina walls.
11. Visiting Imsouane from Essaouira
Although approximately two hours from Essaouira, if you are a real surf lover, then it is definitely worth making the journey to Imsouane. 
Quiet, peaceful and with a largely untouched beach, Imsouane is yet another idyllic coastal town, perched on the Moroccan coast. The town also has plenty of fantastic surf camps, for those planning on staying a little longer.
You can get to Imsouane from Essaouira by either private taxi (haggle the price on the day) or by bus. From Essaouira, take the bus to Agadir and ask to get off at Imsouane (total price around 70 dh and takes 1 hour 50 minutes).
12. Val d'Argan Winery
Another fantastic day trip from Essaouira is to visit the nearby winery, set up by Frenchman , Charles Melia. Val d'Argan is set amongst beautiful olive groves and even has its own swimming pool, which guests are welcome to use. You can both tour the winery, or, alternatively, enjoy a laidback lunch at its wonderful panoramic restaurant.
13. Jardin by Villa Maroc
The sister hotel of the one we stayed in in Essaouira (Villa Maroc), Jardin by Villa Maroc is located just 20 minutes outside of the city; just off the main road to Marrakech.
Sleek, bohemian and laid back, boasting olive groves, a heated swimming pool and a restaurant with a beautiful terrace, head here for a heavenly lunch and chance to unwind. Massages and a traditional Moroccan hammam are also available on request.
How To Get Around Essaouira
Unlike sprawling Marrakech, Essaouira is a fairly small and compact city, and therefore easily navigable by foot.
For those of you staying inside the medina, you'll be met by relevant hotel staff (or independent 'entrepreneurs'), who will be waiting for you outside the 'old' city walls.
As vehicles are not permitted through the ancient gates of the medina, staff will bring with them wooden carts to transport your suitcases – saving you the trouble of having to drag them along yourself.
Tip: do keep some change aside to tip these folk for their trouble. Around 20 dirham should be enough.
Day Trips: when planning what to do in Essaouira, a day trip might come top of your list. If so, you can hire a car from Wind Car – found in the heart of the city. The average rental car will set you back between 450 – 500 dirham, or £35.
Alternatively, taxis are available at the 'grand taxi rank'. For those hoping to explore nearby cities, a taxi to Agadir, for example, will cost in the region of 70 dirham, or £5-6.
Things to do in Essaouria: Final Thoughts
Perhaps a little overshadowed by larger Moroccan cities such as Marrakech, or photogenic towns like Chefchaouen, Essaouira isn't always the most obvious destination when booking a holiday to Morocco.
However, there is something lovely about this; something that makes this ocean-facing city more authentic, more sincere and even more beautiful.
Perfect for a short break (1 or 2 nights) and a refreshing alternative to Marrakech (we suggest pairing the two cities together), there are plenty of things to do in Essaouira that warrant a visit, even if it is a little out the way.
Boasting a beautiful beach, boundless history and a wonderful restaurant scene, Essaouira might just be my favourite Moroccan getaway yet.