This guide to 5 days in Marrakech (or a short break to Marrakech) includes affiliate links.
As part of our TTT Tours, we spent 5 days in Marrakech, exploring the snaking alleyways of the city's Medina, cooking aromatic lamb tagines and spending a magical night under the stars in the Agafay Desert.
So that you can recreate this trip for yourselves, we've put together a 5 day itinerary for visiting Marrakech, based on our own experiences. In terms of how many days you need in Marrakech, we think 5 days is the perfect length of time – as we hope this guide will prove.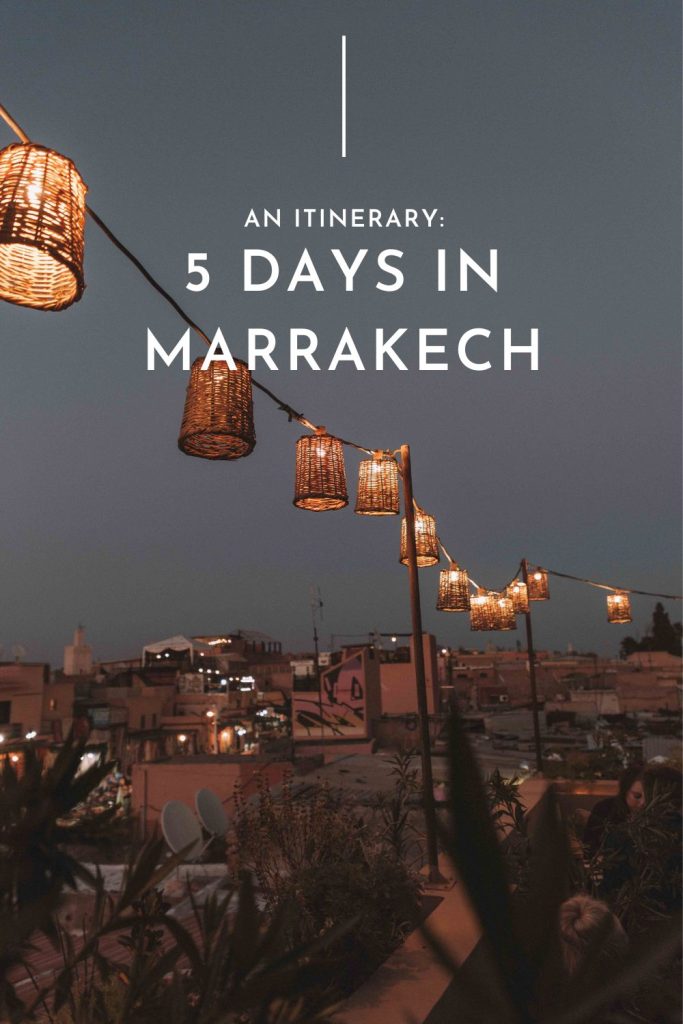 5 Days in Marrakech: Your Itinerary
Day 1
Arriving in Marrakech
We landed in Marrakech airport at 11am. The flight, with British Airways, was surprisingly short (3 hours), with North Africa lying just a stone's throw from the mosaic arches of Seville and Grenada.
Morocco's airport – a vaulted, beautiful art-deco building – was incredibly easy to navigate and after exchanging some money (Morocco has a closed currency, meaning you cannot change money until you are in the country), we met our guide and climbed into our mini bus.
From the airport, it was just a short drive to our hotel for the next few days: the boutique 2Ciels Hotel.
Where To Stay in Marrakech?
When planning our 5 days in Marrakech, we were asked what level of 'luxury' we wanted to provide our guests. Were we budget queens or luxury divas? Our guess was that we – alongside the majority of people our age – were somewhere in between.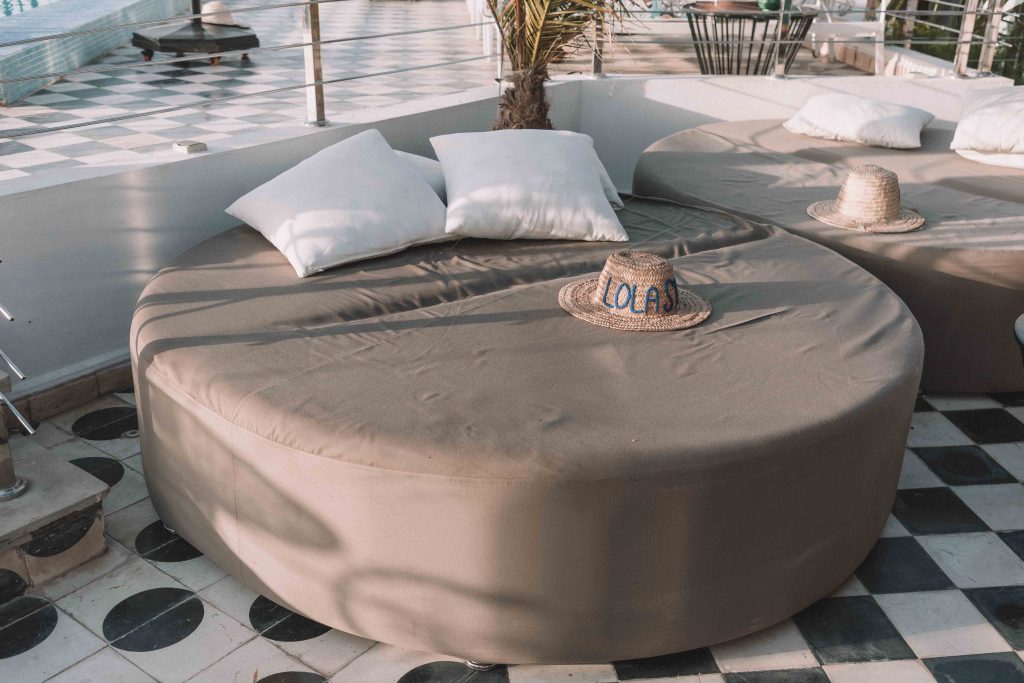 2Ciels Hotel therefore provided us with a nice compromise: a 4* luxury hotel based in Morocco's 'New Town.' Featuring a rooftop bar, spa, infinity pool and large, cool interiors, the hotel was even nicer than I'd been expecting.
Heading straight to the hotel's beautiful rooftop – Lola Skylounge – we were afforded incredible views across the city, with the soaring peaks of the Atlas Mountains visible in the distance. Ordering a few drinks and sitting back in the midday sun, we waited for the rest of our group to arrive.
Afternoon: A Food Tour of Marrakech
Founded in 1062 by the Almoravids, Marrakech's history is as long as it is vibrant.
Now a UNESCO heritage site, the city's Medina is a labyrinth of serpentine lanes, ochre coloured walls and dappled light; hanging rugs and scarves filtering the sunshine. Filled with centuries old buildings and artefacts, including the city's original walls (or ramparts), the Badiâ Palace, the Ben Youssef Merdersa and Les Saâdians Tombs, Marrakech is an open air museum like no other.
Yet, our introduction to Marrakech would not come via its intricately mosaic mosques, but by something else entirely: its food, thanks to a guided food tour of the city.
Beginning at an unassuming restaurant on the edge of the Medina – one filled with locals enjoying sweet smelling tea – we were presented with piles of freshly grilled 'M'smen': a crepe like dish filled with rich, savoury condiments. Next to these arrived heaped baskets of freshly fried 'Svenj' – or Moroccan doughnuts.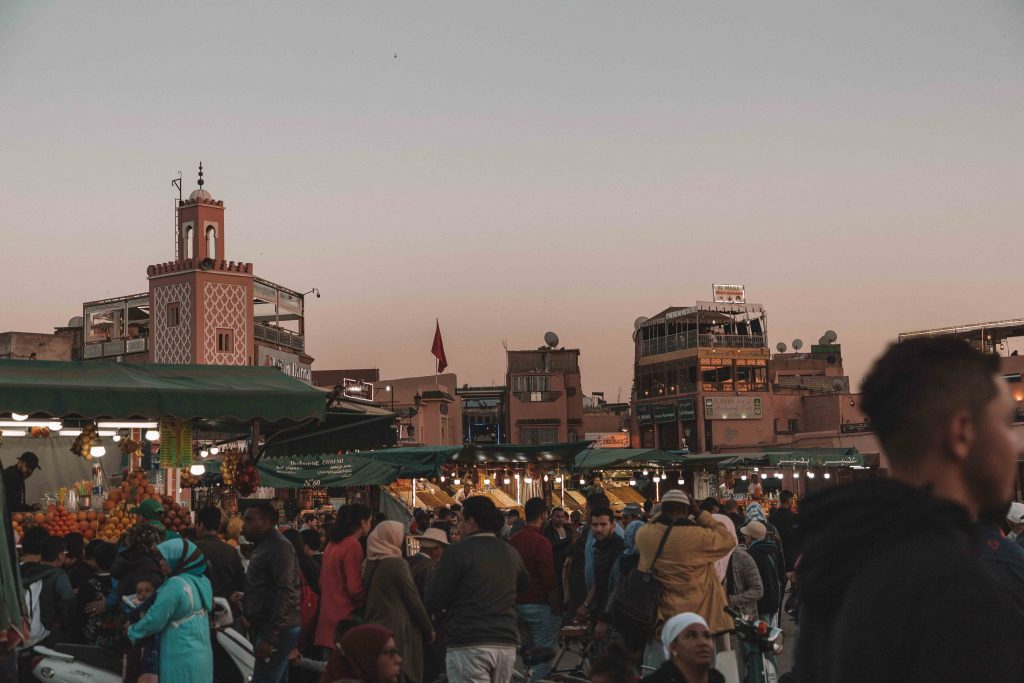 From here, we were taken further into the Medina, eventually emerging in the famous Djemaa El Fna square. Its name – meaning 'assembly of the dead' – is thankfully no longer relevant, and the square is now a lively public space rather than popular execution spot.
Filled with a dizzying number of food stalls selling fresh juices (Marrakech's orange juice is as famous as its souks), sheep's heads, sizzling kebabs, snail soup and sugary mounds of 'B'stilla' (a sweet and savoury pie), the square should certainly feature during your 5 days in Marrakech.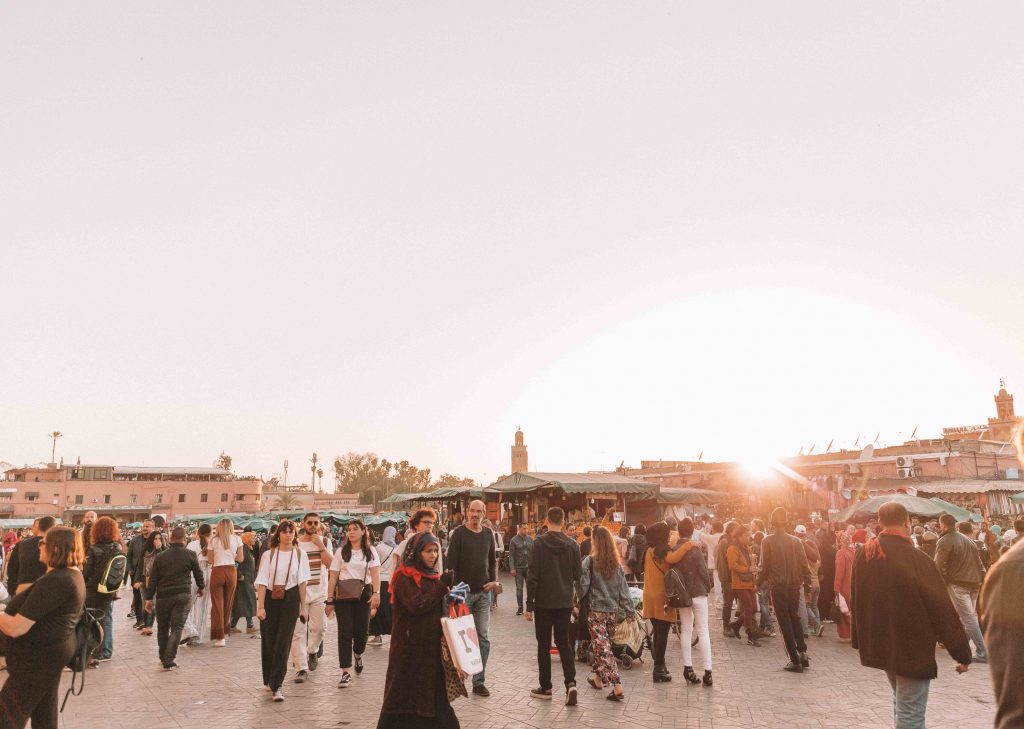 Evening – Dinner at the Best Restaurant in Marrakech, Nomad
Unbelievably, and after three hours of eating, we then headed to our final stop of the day: dinner.
Dusk now settling over Marrakech, the Call to Prayer drifted hypnotically from the city's minarets. Glowing against the bruised blue sky, each minaret appeared like a tiny palace. Passing through the souks as the calls faded, we eventually reached a small doorway; climbing a staircase until we reached a glittering rooftop – Nomad.
Offering unbelievable views across Marrakech's gleaming skyline, Nomad's rooftop terrace was filled with glowing lanterns and flickering candles. One of the best restaurants in Morocco, we ate aromatic tagines and piles of couscous as dusk faded into night.
Day 2
The second day of our 5 days in Marrakech began in a relaxed sort of way – with a leisurely breakfast at 2Ciels Hotel. However, as soon as we had finished our pots of tea, it was time to go again. This time, the Moroccan countryside calling.
Morning: A Moroccan Cookery Class in the Countryside
Climbing in a minivan and leaving the bustle of the Medina behind, it felt as though someone had turned down a dial – the noise of Marrakech suddenly fading away.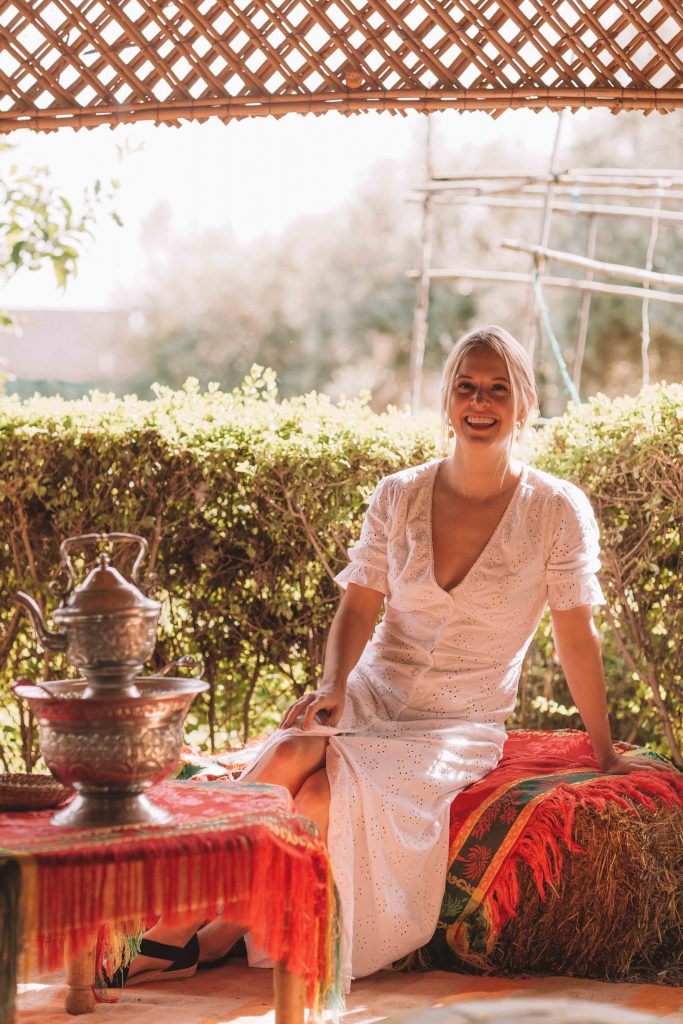 Now 30km outside of Marrakech, we eventually turned down a dirt track near Douar Dchiera, eventually arriving in front of a lush, green archway.
Atelier Chef Tarik, a farm-based cookery school, offers guests not only the opportunity to try their hand at Moroccan cooking and gardening, but is also a dedicated social enterprise. Using cooking to 'break down hierarchies', the school hires women from the neighbouring villages to work there full-time.
Once we were off our minibus, our chef for the day, Ruqayya, led us to a coloured tent: dappled sunlight dancing over brightly stitched rugs and baskets of wild flowers. With only the sound of the nearby cockerels and humming bees for company, we were struck by just how peaceful – how idyllic – Atelier Chef Tarik was.
Settling down in our complimentary aprons and hats, our morning began with a traditional Moroccan tea ceremony.
In Morocco, tea ceremonies demand patience, time and socialisation: a chance for the entire family to catch up whilst the kettle boils slowly over burning charcoals. Making the tea takes time, as traditional green tea leaves are blended with herbs such as spearmint, sage, wild geranium, wild thyme and lemon verbena.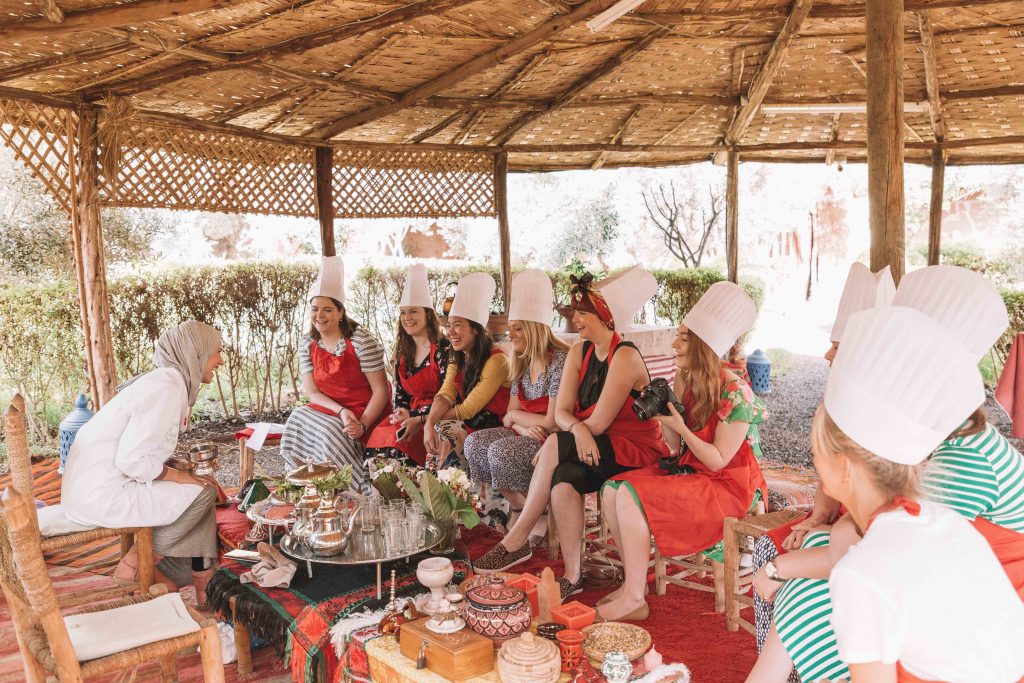 Eventually, the tea is poured from a height (at least 12 inches), before being returned to the 'berrard' (pot) and washed through, ensuring a perfect blend.
After sampling the (delicious) tea we were led to the kitchen. For the next few hours, and under Ruqayya's expert guidance, we cooked three tagines: chicken, lamb and vegetarian.
Cooked within traditional clay tagines, over smouldering open fires, the smell of each dish was mouthwatering: a distinct blend of cumin, cinnamon and ginger.
Before we tucked in, we were provided with one last treat – bread from a traditional Moroccan bread oven. The breads baked in Morocco, also known as 'Khobz', accompany nearly every meal and are cooked not in an oven, but over a hot stove.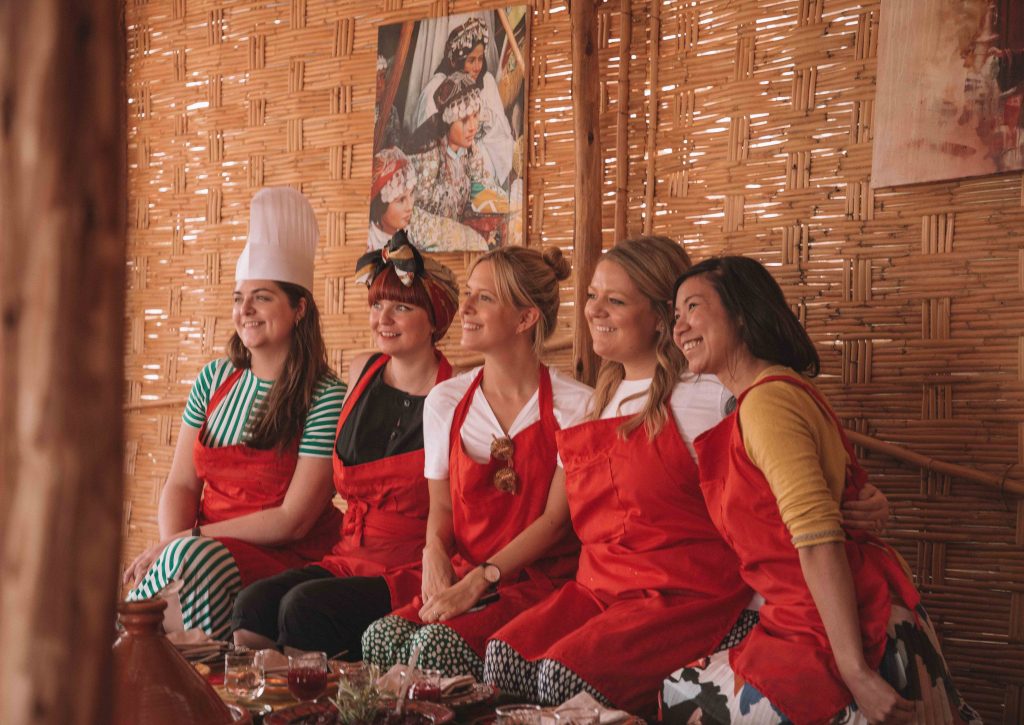 Afternoon: Take A Souk Tour (Marrakech's Old Town)
Leaving the quiet of the countryside behind, we returned to Marrakech and the chaos of the Medina. As the afternoon sun shone overhead – our shadows growing longer – we were led around the hidden spots of the city's many souks on another guided tour.
Leaving the 'new town' for the 'old town', visitors will immediately notice just how much cooler the Medina feels: up to ten degrees cooler, in fact. This isn't a coincidence. The Medina's winding streets are not just the result of haphazard planning, but are in fact deliberate. By causing the air to constantly bend and flow through these meandering alleyways, it has no choice but to keep moving; creating an ancient air conditioning system.
It's surprisingly effective.
Walking past ancient mosques and through small squares filled with trailing jasmine plants and sleeping cats, the souk tour was a brilliant insight into the history and diversity of Marrakech's crowning jewel – its old town.
Although you can explore the souks alone, I'd highly recommend getting a guide – even if it's just for an hour. Experiencing the souks is an unmissable part of our 5 day itinerary for Marrakech – and an adventure you'll want to dedicate time to.
Day 3
After a morning of free time (the group either sunning themselves by the pool or enjoying a spa treatment), it was time to temporarily leave the city behind for the final part of our five days in Marrakech – this time heading into the heat of Morocco's Agafay Desert.
A Luxury Desert Camp Stay
Thirty km from Marrakech, and under the watchful eye of the ruddy Agafay Mountains, lies La Pause – a serene camp hidden in the middle of a lush, green oasis.
Our transfer to the camp, which came courtesy of three black SUVs, took us away from the main roads of Morocco and over the crests of rocky dunes; hot earth and sand clouding our view.
Eventually, and after 50 minutes, our guides pointed us towards a small valley – a crop of palm trees visible in the distance. This would be our home for the night.
Arriving at La Pause felt like arriving on a film set: the billowing sound of the canopied tents filling the air. Ahead of us, and in the valley, lay a small forest of plants and trees; a deep blue swimming pool at its heart. Surrounding this were large tents arranged for dining and lounging, each filled with vases of fresh flowers and large, decorated cushions.
It was perhaps one of the most incredible places that I've ever stayed and the highlight of our five days in Marrakech.
A Desert Camel Ride
Having settled into our tents, we came together for an evening adventure – a camel ride through the dunes of the Agafay Desert.
Included in the price of our stay, the camel ride promised a distinctly Moroccan introduction to desert living. Climbing the dusty hill to where our ride would begin, we were greeted by the sight of ten patient camels. Decorated in brightly sewn blankets and saddles, and with traditional berber guides, things suddenly felt very 'Lawrence of Arabia'.
Dinner Under the Stars
After awkwardly dismounting from the camels, we gathered at the top of the dunes to watch as the sunset. Overhead, the stars were unbelievably bright – the desert providing us with some of the clearest skies I've ever seen.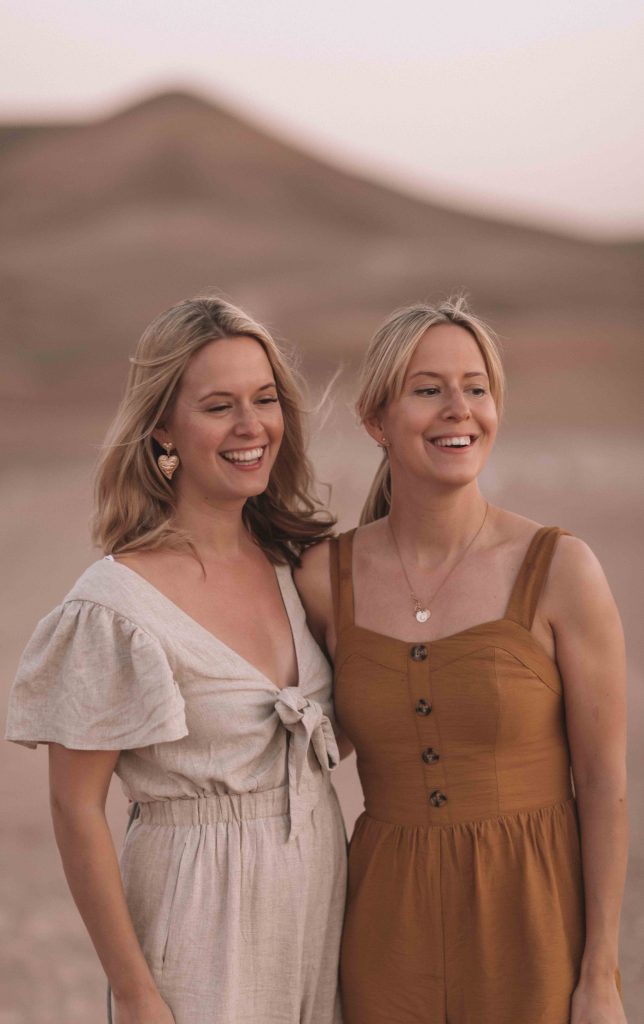 As darkness fell, the camp below us came alive with the flames of flickering candles and open fires. Walking down towards our dinner tent, we could hear the sound of drums and saw a flash of a belly dancer; the evening's entertainment already beginning.
Under the warmth of our own tent, and over the glow of candlelight, we were served with baskets of bread and steaming tagines. It was the most perfect end to a brilliant afternoon in the desert and a key part of this five days in Marrakech itinerary.
Day 4
Morning: Breakfast at La Pause
The next morning, I woke to the sound of crowing cockerels from the neighbouring village.
Outside, the desert sun already felt warm as our tent glowed softly. Looking around at our spacious surroundings, I concluded that staying at La Pause was definitely not the camping experience I'd been expecting. Instead, it felt like a luxury hotel experience, complete with comfortable, thickly quilted beds, warm heaters and delicately scented toiletries.
Joining the others at the main camp, we were treated to a delicious breakfast of eggs, delicate pastries and fresh fruit. Of course, the obligatory pots of mint tea also arrived, alongside glasses of freshly squeezed juice.
Afternoon: Return to Marrakech 
After packing up our bags, we left the beautiful Agafay Desert to return to beautiful Marrakech.
Experience a Traditional Moroccan Hammam
If there's one thing you've got to do when visiting Marrakech, it's to experience a traditional hammam.
Part of the Berber tradition for a millennia, a hammam is the chance to be scrubbed, washed and massaged within every inch of your life. It's exhilarating – sometimes relaxing – and definitely unforgettable.
There are a vast number of hammam to choose from, from public hammams that you'll come across close to any mosque, to private, luxury affairs (the most extravagant is that found at Royal Mansour).
We decided to visit a public spa hammam – Hammam de la Rose. Extravagantly decorated with twinkly lights and emerald green walls, we had a fantastic experience here; feeling thoroughly cleansed and surprisingly relaxed as we left (the scrubbing part is quite rigorous). Hammam options here range from 250 to 450 dirhams (£20 to £36), which, personally, I think is a bargain.
Evening: Dinner at Al Fassia
Following our fantastic hammam, we got ready for our final night in Marrakech. In keeping with the 'all female' theme of our tour, our dinner could not have been at a more apt spot: Al Fassia – a restaurant run entirely by female staff.
Al Fassia, roughly translated as 'the women from Fez', is a restaurant run and owned by sisters Myra and Saida Chab. Dedicated to providing authentic Moroccan cuisine (much of which is derived from the city of Fez), it also ensures that all guests are met and served by women only.
It also happens to be one of the best places to eat in Marrakech.
It was an incredibly positive and warm place to spend the final night of our 5 days in Marrakech, and offered the chance to thank everyone for joining us.
Day 5
Morning: Visit Jardin Majorelle 
What better way to end your 5 days in Marrakech than with a trip to the world renowned Jardin Majorelle.
First thing's first – do book ahead before visiting these gardens; they have become extremely popular in recent years and are often at capacity. If you don't book ahead, you can expect to queue for up to an hour during peak times.
There are a number of ticket options – a cheaper ticket to visit the gardens only (approximately £9.50), a ticket to see the gardens and the Berber Museum/and or the Yves Saint Laurent Museum, or a ticket that combines all three (approximately £15).
Personally, I think (unless you're a Yves Saint Laurent devotee) that the gardens are more than enough to explore. Botanically inspired, with over 300 different species of plants, this beautiful villa and its grounds feature gorgeous architecture and flashes of bright, cobalt blue.
Afternoon: Shopping in Marrakech
Aside from the fantastic shopping (and bartering) opportunities that Marrakech's historic souks offer, there are also some brilliant modern and chic shops worth a visit, within the old town itself.
With just a few hours to go until our short break to Marrakech came to an end, we decided to seek a few of these out.
By far my favourite store was the modern and effortlessly sophisticated Max & Jan. A three-storey shop selling laid back, Marrakeshi fashion, I could have spent an awful lot of money here. Other firm favourites also included Chabi Chic (I found some wonderful ceramics here), V. Barkowski for high-end interior designs and vintage store, Topolina.
Evening: Head to the Airport
Our five days in Marrakech went incredibly fast; a blur of warm, snaking alleyways, fragrant tagines and a night spent under the stars.
With some of the group staying on in the city for a few more days, whilst another group headed to the coastal resort of Essaouira, we boarded our minibus and headed back to the airport.
An unforgettable place that is both exotic, yet close enough to the UK to warrant a short break, I would urge anyone to book and enjoy a short in Marrakech.