Enjoying a cosy UK winter break has become something of my favourite pastime.
While many seem to crave the prickling heat of European city breaks, or the stifling warmth of the UAE once winter rolls around, I've always preferred trips that come laced with something else: early morning frost, the smell of a wood burning stove, the warmth of a mug of tea after a long walk.
In fact, what I crave is the cold: foggy clouds of breath filling a morning walk, pink winter skies and the chill of dark, starry nights.
Unsurprisingly, and as summer lets out its last breath, I feel a very real sense of anticipation. It's during this time that I begin to plot more adventures than I do all year: keen to squeeze in as many UK winter breaks as I can.
Given my obsession with frosty adventures, I've become something of a UK winter breaks aficionado; enjoying the warmth of ancient AGAs in Dartmoor, the morning mist of the Lake District and the bitter cold of Edinburgh nights.
I thought it would therefore be useful to share some of my favourite wintery trips with you – including details on where to stay, eat and what to do. Boasting everything that a good winter break in England (and indeed Scotland) should, I hope you'll be inspired to embrace winter in the UK as much as I do.
Five Ideas for Deliciously Cosy UK Winter Breaks:
1. The Lake District
Where to stay in the Lake District: Another Place Hotel, Ullswater
The Lake District is an area of the UK with an almost poetic quality; a place that has inspired (and continues to inspire) endless artists, poets and hopeless romantics.
Whilst the area comes alive throughout the summer months, with hikers, ramblers and tourists descending on its pretty lakeside towns, it's the winter months here that I much prefer.
It's during this time that the Lake District transforms from a thoroughly outdoorsy destination into one that invites you inside: its glowing fires, candle lit pubs and warm tea rooms enticing visitors in from the cold.
From local breweries to unforgettable gastronomical experiences, winter here is homely, comforting and impossibly relaxing.
Things to Do
Sample the World's Best Gingerbread
One of the first places we visited during our winter break to the Lake District was the little town of Grasmere and its world famous gingerbread kitchen.
Sarah Nelson's Grasmere Gingerbread, a Lake District institution, has been supplying its distinctivly flavoured biscuit since 1854, when Victorian cook, Sarah, began to produce it from inside her fairytale church cottage.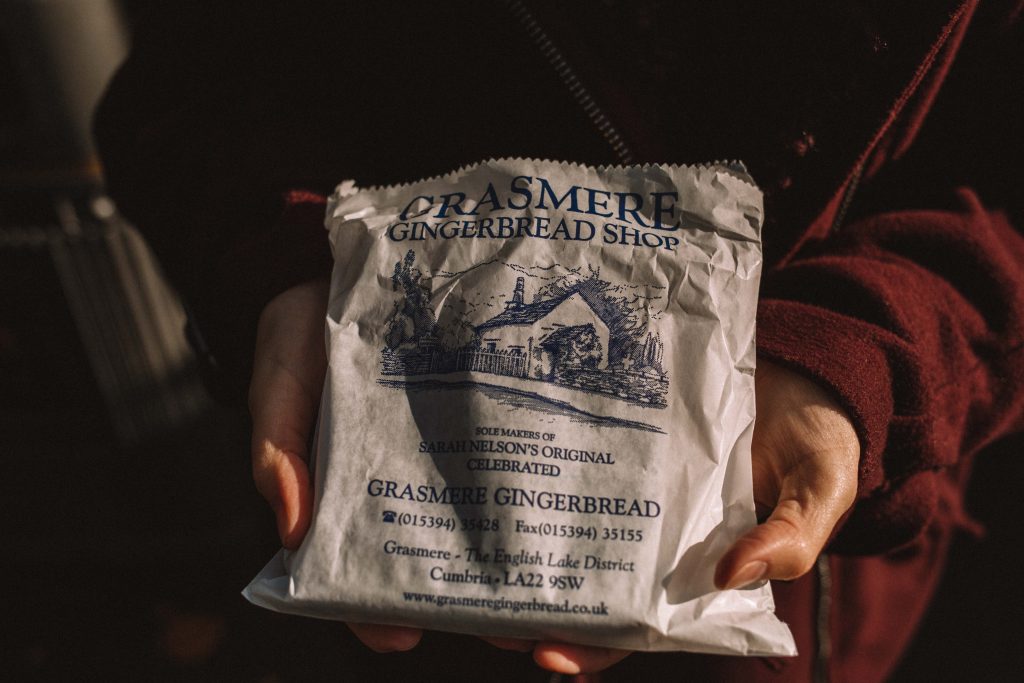 Today, and particularly during those cold winter months, it's impossible to miss the plumes of smoke rising from the little cottage's chimney, or to not be tempted by the sweet smell of sugar and spice as it meanders down Grasmere's lanes.
Pop inside for Victorian-inspired Christmas decorations and a neatly tied package of freshly baked gingerbread.
A Walk to the Lake District's Most Famous Inn 
After donning our wellies and thickly knitted scarves, we began our walk from the pretty town of Ambleside over to Windermere, ready for a drink with a view.
The Mortal Man has been one of the Lake District's resident ale houses since 1689, welcoming thirsty wordsmiths such as Wordsworth, Southey, Coleridge, de Quincey and Ibbetson. However, these names pale in comparison to the Inn's most famous patron: the great giant, Hird, who is said to be buried beneath the pub's floors.
Boasting incredible views across Lake Windermere, a visit to the Mortal Man is worth the walk. Be sure to try the pub's famous Sally Birkitt's ale: you won't find it anywhere else.
Warm Up Next To Beatrix Potter's Fire 
What could epitomise a cosy UK winter break more than visions of chocolate-box cottages, roaring fires and the chance to catch up on some much loved tales?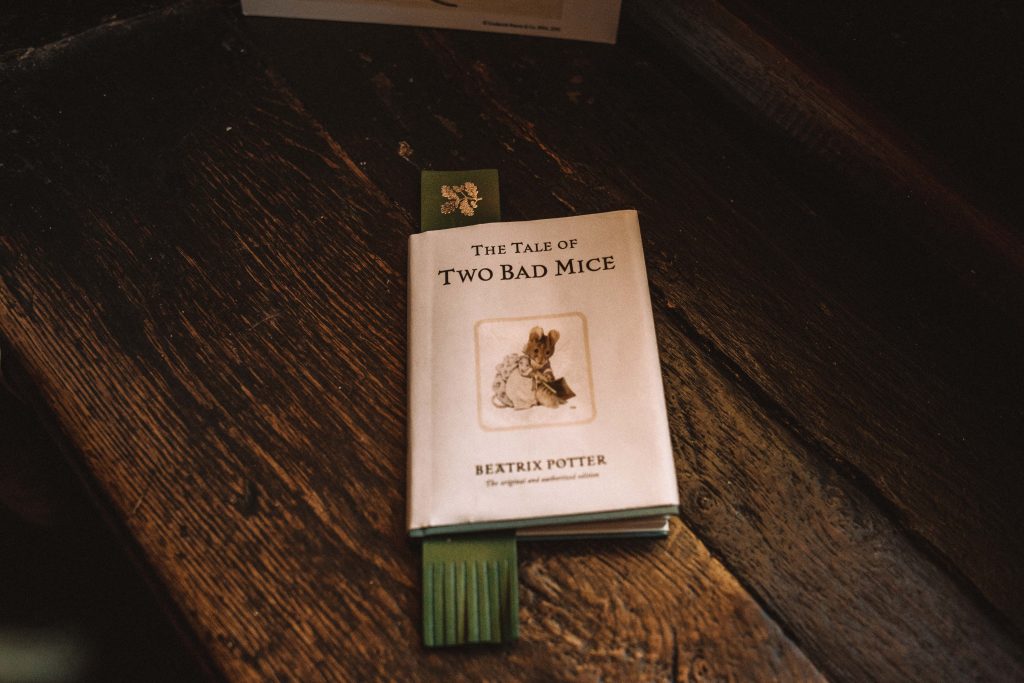 During our own wintery visit to the Lake District, we ensured we made a beeline to the former house of Beatrix Potter: the practically named Hill Top.
Now run by the National Trust, Ms Potter's former home has been restored to how it would have appeared during her time there; complete with her original illustrations scattered throughout.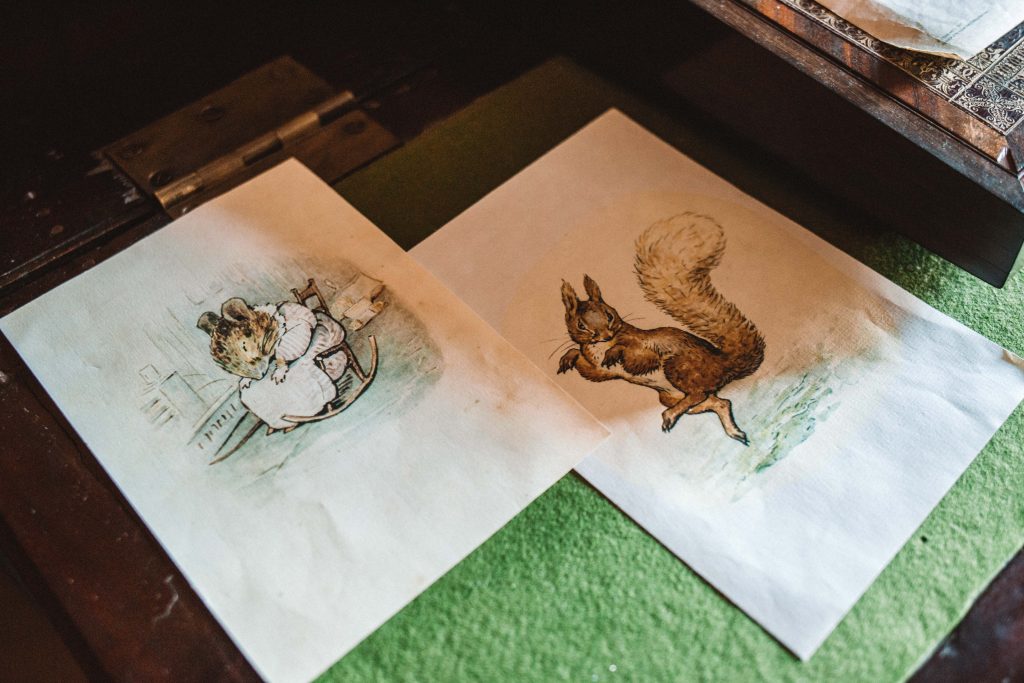 2. Edinburgh
Where to stay in Edinburgh: Nira Caledonia 
For those looking to get into the festive spirit, there's perhaps no better place to head for a UK winter break than Edinburgh.
Dubbed the 'Athens of the North', Edinburgh is a joy to explore, particularly during the winter months when its cobbled lanes and characterful pubs glitter and glow.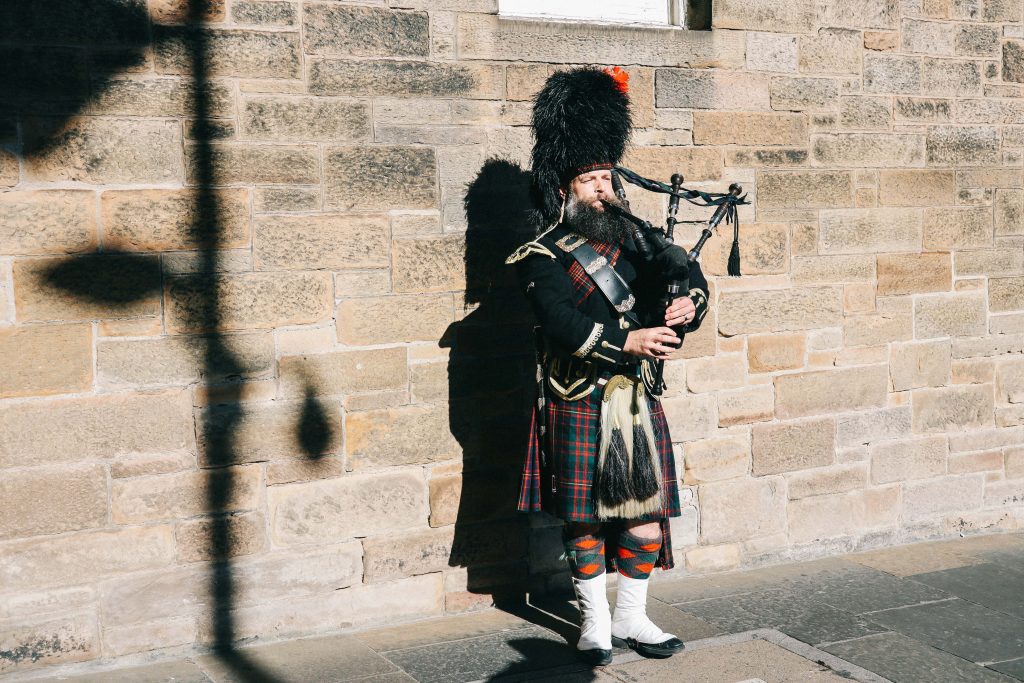 Things to Do 
Explore Dean Village 
For picture-perfect wintery scenes, head to Dean Village, which is located just a short walk from Stockbridge. Once a former milling town with a babbling river running through the middle of it, this historical spot is achingly beautiful on a frosty winter's morning.
A place to come to escape the city's crowds, Dean Village is worth an hour of your time. For the best photographs, walk to the bottom of Hawthorne Bank Lane and cross the small bridge that runs over the river.
Climb Arthur's Seat 
For those looking for a bracing winter's hike to clear the cobwebs, consider an adventure up to Arthur's Seat. Located 251m above Edinburgh (indeed, don't take this walk lightly), this rocky peak – a now extinct volcano – provides panoramic views over the city and the surrounding sea.
It took us around 45 minutes to climb, so prepare appropriately with walking boots and water (or a flask of tea).
Explore Harry Potter's Edinburgh
A city that inspired J. K Rowling's Harry Potter, Edinburgh possesses its own unique magic. For those looking to retrace Rowling's steps, firstly head to Edinburgh's original Diagon Alley: Victoria Street.
A winding road of colourful houses and shops, it's easy to see how the fictional Diagon Alley was born here. Allow an hour or two for browsing and enjoy all the independent stores, many of which sell Harry Potter paraphernalia.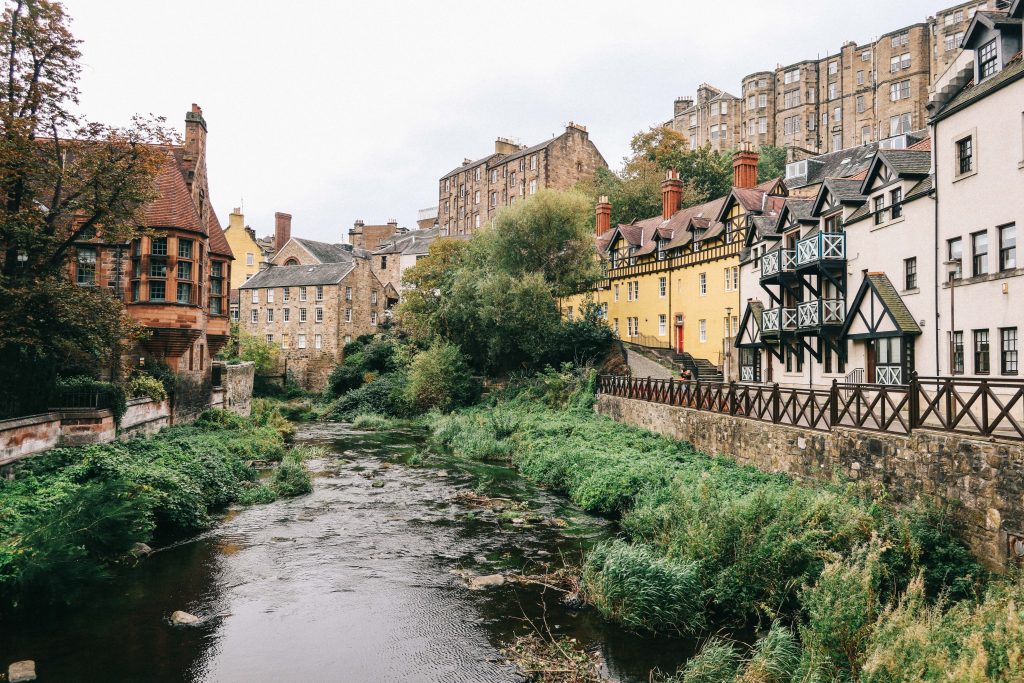 After stocking up on plenty of wizardry merchandise, head to The Elephant House cafe. It's here where Rowling is said to have spent much of her time when writing the early Harry Potter novels. Don't forget to pay a visit to the cafe's toilets in order to admire the eclectic Harry Potter graffiti left by fans.
3. Jersey (Channel Island)
Where to stay in Jersey: Atlantic Hotel 
Admittedly, when contemplating a UK winter break, a visit to the Channel Island of Jersey may not be front of mind.
Indeed, known as the 'summer island', Jersey has long been the poster boy for English summertime. With its endless ribbons of golden beaches and pacific blue waters, summer in Jersey is marked by fresh seafood, endless nights and heady beach festivals.
However, visit Jersey during the winter and you'll discover another side to the island; one that comes complete with its very own 'winter sun'.
Things to Do
Brave the Water at St. Ouen's Bay 
When we arrived at St. Ouen's Bay, it seemed we had the vast expanse of beach to ourselves. With just the spray of sand and water to dodge (thanks to the odd rogue dog), we walked this magnificent stretch of coastline as the sky clouded over and an Atlantic wind set in.
Yet, it was far from cold.
Thanks to its location, Jersey remains positively balmy all year round – with its palm tree lined streets and warm winters providing an almost Canary Island-esque feel.
As such, winter visitors are able to enjoy Jersey's famed water sports as much as the island's summer tourists. Pop by the Bay's beloved Splash Surf Center to book a lesson.
Indulge in Jersey's Food Scene 
Alongside its all year round mild weather, Jersey is also celebrated as one of the UK's gastronomical capitals.
Whilst the summer months see the island overrun with food trucks selling everything from delectable bacon sandwiches to all vegan Sri Lankan food, come the winter and all attention turns indoors – as the island's many Michelin starred restaurants come into their own.
For true luxury, book a spot at Bohemia: claimed to be the 11th best restaurant in the UK. Oyster Box, nestled in the picture-perfect St. Brelade, is also a beautiful place to wile away those wintery nights, alongside the award-winning Ocean Restaurant, found at The Atlantic Hotel.
A Visit to Jersey Zoo 
Throughout the summer months, Jersey Zoo can resemble a small stampede; with children and holidaymakers filling its 32 acres.
However, visit in the winter and you'll find that you'll have this haven of conservation to yourself. Throughout our visit, we were able to watch the feeding of the gorillas entirely alone, alongside enjoying uninterrupted views of the zoo's resident Lemurs and Tamarins.
4. Cotswolds
Where to stay in the Cotswolds: Ivy's Cottage 
I struggle to think of anywhere else quite like the Cotswolds: its golden cottages and film-worthy lanes.
Whilst there might be credible contenders – Cornwall's seaside villages or Somerset's bucolic hamlets, perhaps – none seem to possess the Cotswolds' timeless charm.
Of course, the summer months predictably see this entire area awash with tourists, as many flock to the likes of Stow-On-The-Wold or Bourton-on-the-Water to enjoy afternoon tea and lazy afternoons spent in pub gardens.
However, come the winter – and as the last of the cottage's roses fade – the Cotswolds regain their sense of peace and solitude; as farmer's turn their fields and logs are stacked outside of houses in small, hardy pyramids.
Things to Do
The Cotswolds' Christmas Markets
From the end of November and throughout December, many of the Cotswold villages and towns hold their own (decidedly pretty) Christmas markets.
In late November and just as Advent begins, Cirencester celebrates its Advent Festival (30th November). Complete with craft stalls, fireworks, the turning on of the Christmas lights and live entertainment, the festival is often seen as the start of Christmas here in the Cotswolds.
Alongside Cirencester, the already beautiful town of Bourton-on-the-Water is illuminated from 1st December, with strings of fairy lights reflecting off its famous waterways. Bath – the Cotswolds' largest city – also hosts its own cosy Christmas Market, running from 28th November – 15th December.
A Day at Daylesford Farm
With winter settling over the Cotswolds, be sure to pay a visit to the wholly organic and well-heeled Daylesford Farm.
Located close to the village of Kingham, Daylesford offers visitors access to beautiful restaurants, cafes, florists, gardens and gift stores; all of which are filled with the scent of cinnamon and cloves throughout the winter months.
If you're hoping to relax a little on your cosy UK winter break, then be sure to book in at Daylesford's small, yet perfectly formed, spa.
Visit Hobbit-Like Bibury
If you are lucky enough to visit the Cotswolds just as the snow begins to fall, then be sure to head immediately to the storybook pretty village of Bibury.
Whilst a village in its own right – complete with trout farm and neat row of pubs – Bibury is perhaps best well known for its haphazard row of 17th Century Weavers Cottages. Overlooking an ancient water meadow, this small street is a particularly popular attraction during the spring and summer months, when blossom litters the winding lane and vibrant geraniums hang from window boxes.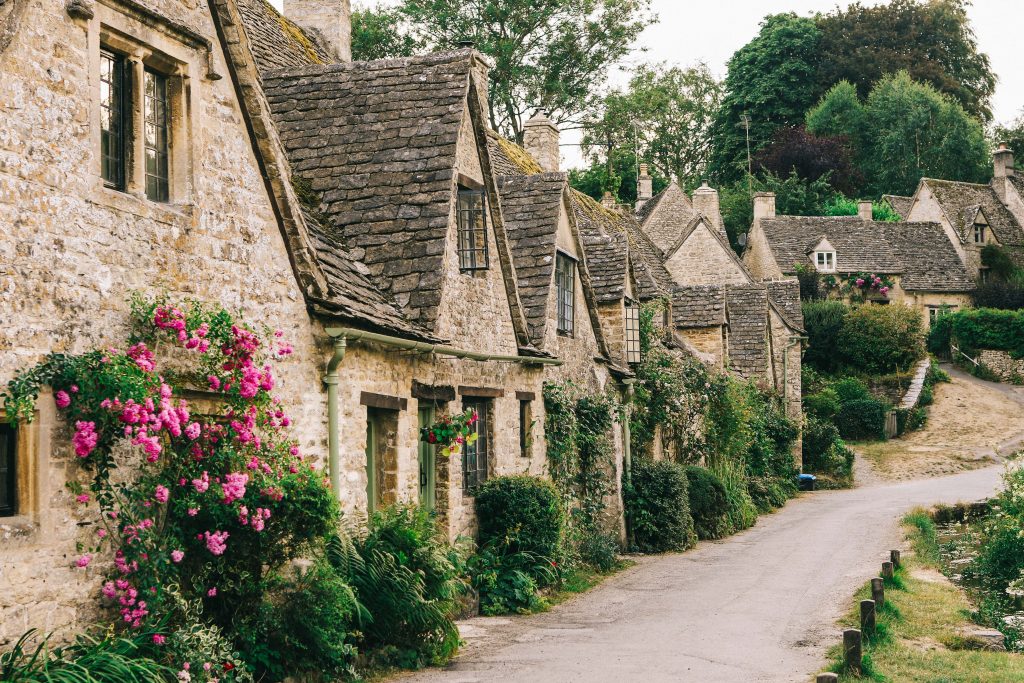 However, and even once the wisteria fades and the trailing roses fall away, Bibury is perhaps more photogenic than ever: plumes of wood smoke drifting away from the crooked chimney stacks and small lights glowing from the shoulder height windows.
After walking up this famous street (taking photographs a plenty), head to the The Swan Hotel for a dinner of Cotswold White Chicken and a warming glass of wine – it'll be the cherry on top of your UK winter break to the Cotswolds.
5. Dartmoor
Where to stay in Dartmoor: The Riddle, Unique Home Stays
Dartmoor, the landscape that inspired Sherlock Holmes and his sinister encounters with the Hound of the Baskervilles, makes for a wholly atmospheric – if not mysterious – UK winter break.
Having visited Dartmoor several times, including as Visit England ambassadors, it's the trip that we took in early November that I remember the most.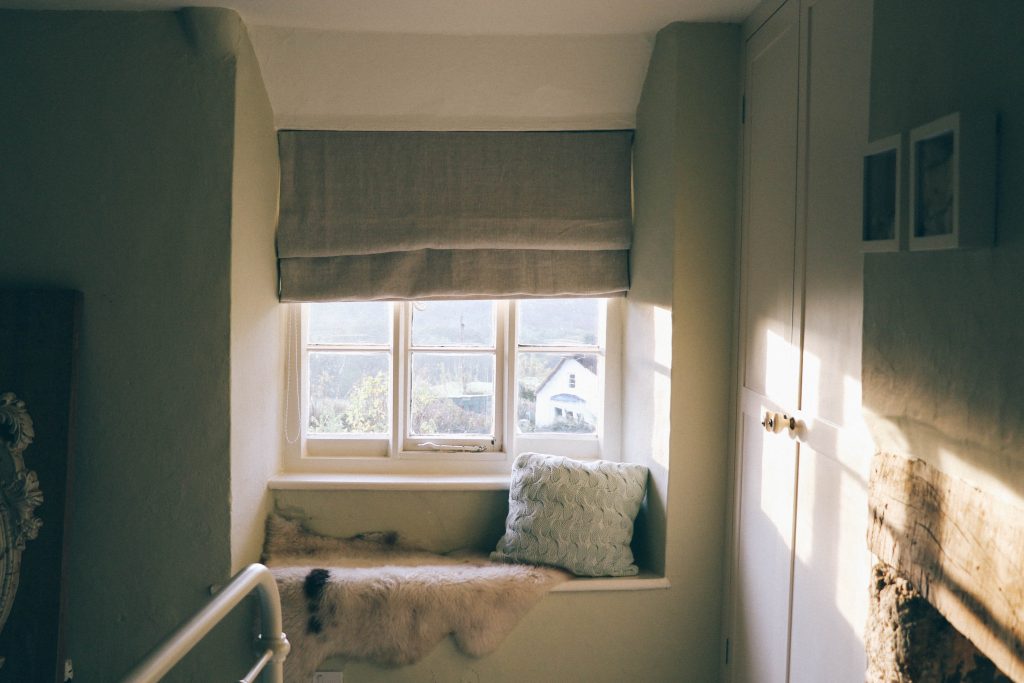 Surrounded by mist-shrouded moors and the sound of hooting owls, our Dartmoor holiday cottage was nestled deep in the heart of Dartmoor National Park; a place renowned for its rocky tors (a rock outcrop) and wild ponies. Here, and over the course of five days, we took cold, frosty walks; ambled to local pubs; visited vibrant seaside towns and explored Dartmoor's very own artisan trail.
It made for the perfect UK winter break.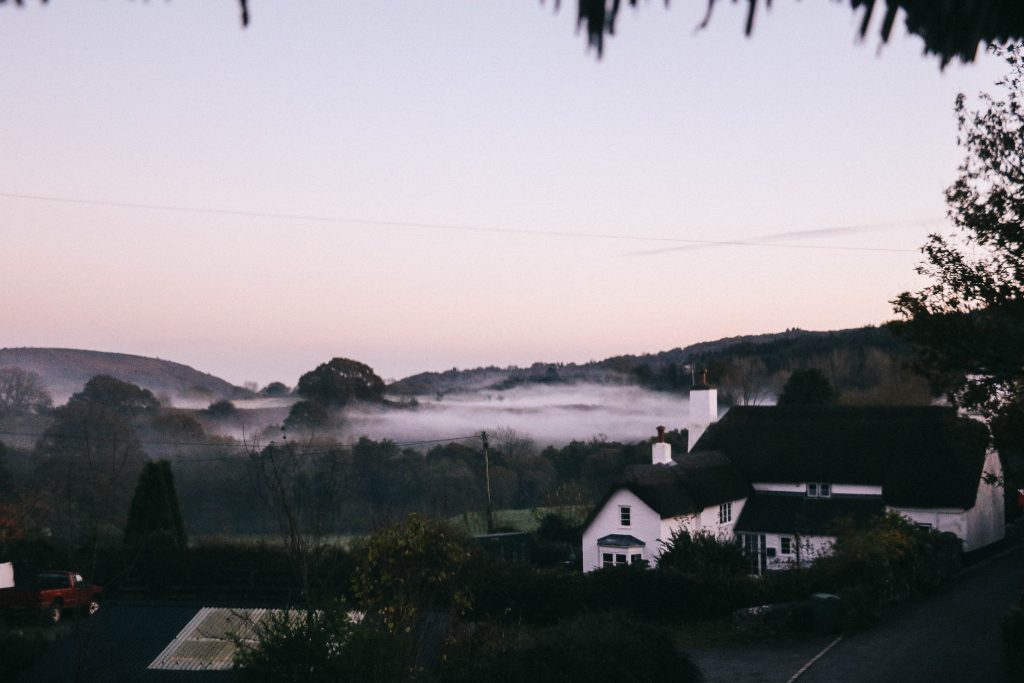 Things to Do
Explore Dartmoor's Artisan Trail
Unbeknownst to us, Dartmoor is one of the south west's creative centres; a place filled with local craftsmen, artisans and artists.
Taking advantage of this uniquely 'crafty' way of life, Dartmoor launched its very own 'artisan trail', allowing visitors to follow a self-guided tour through the studios and workshops of local potters, blacksmiths, felt artists, shoe makers and ceramists.
From visiting the world famous potter, Penny Simpson in Morehampton, to Greg Abel, the local Blacksmith, the trail is a fascinating and intimate insight into life on Dartmoor.
Pay a Visit to Wistman's Woods
A prehistoric piece of woodland, stranded on the slopes of the West Dart River, Wistmans Woods is a mysterious, hauntingly remote and curious looking place.
Once the worshipping place of pagans and Druids, the wood's gnarled trees stand at just 5.5 feet tall; dripping in moss and green, bearded liche.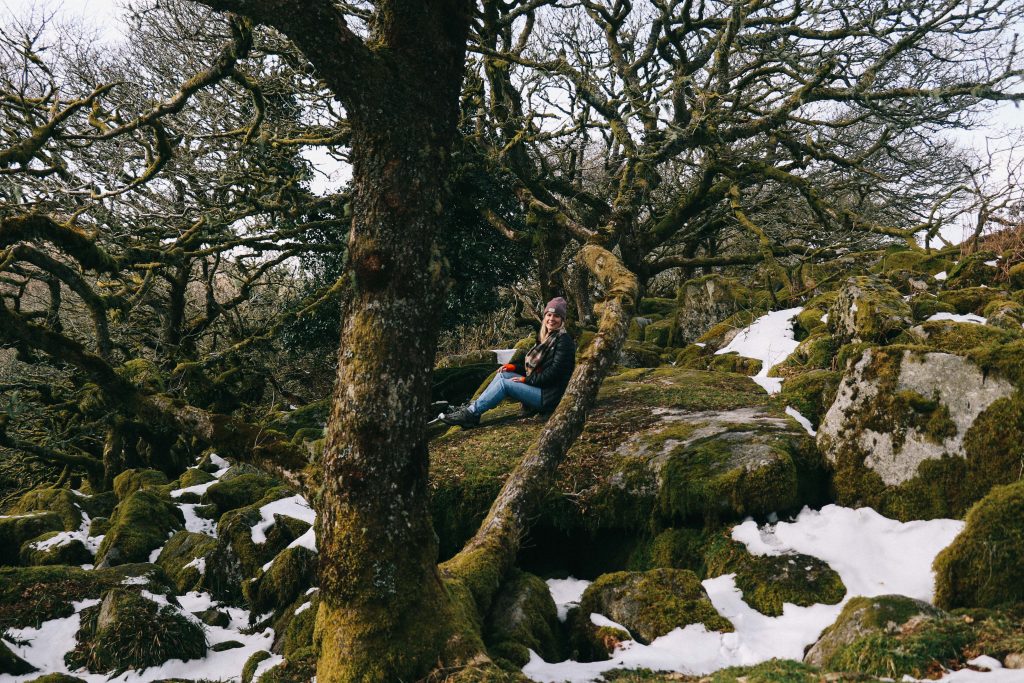 Visit here just as the winter sun begins to dip below the moorland, for a thoroughly spooky experience.
Enjoy Fish & Chips in Dartmouth
A popular seaside resort during the summer months, Dartmouth retains a rainy sort of romance even once the winter chill creeps in.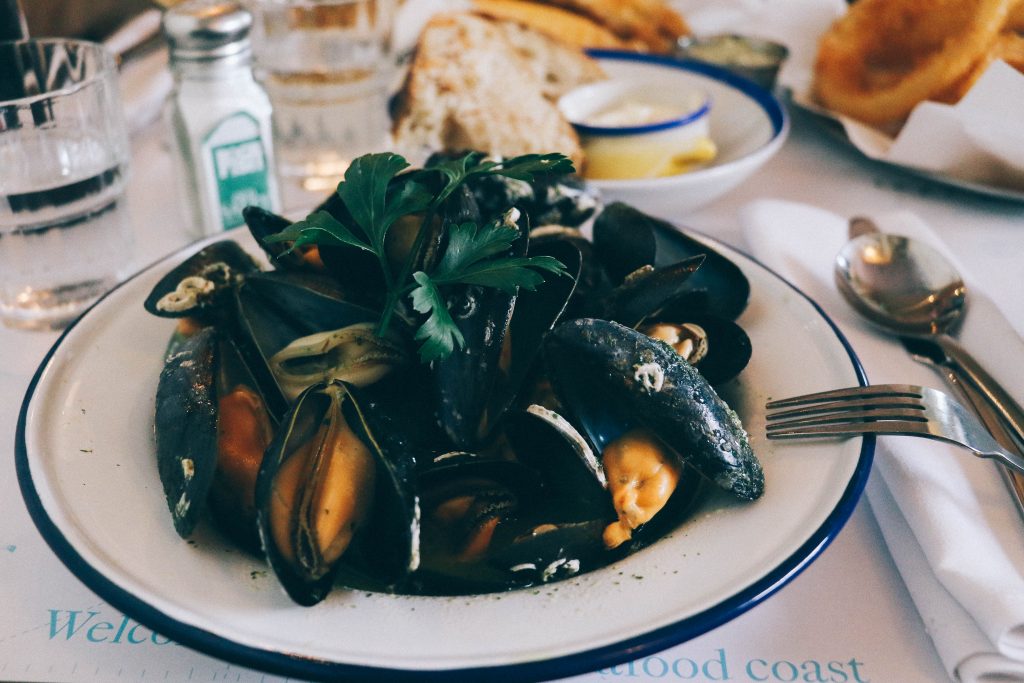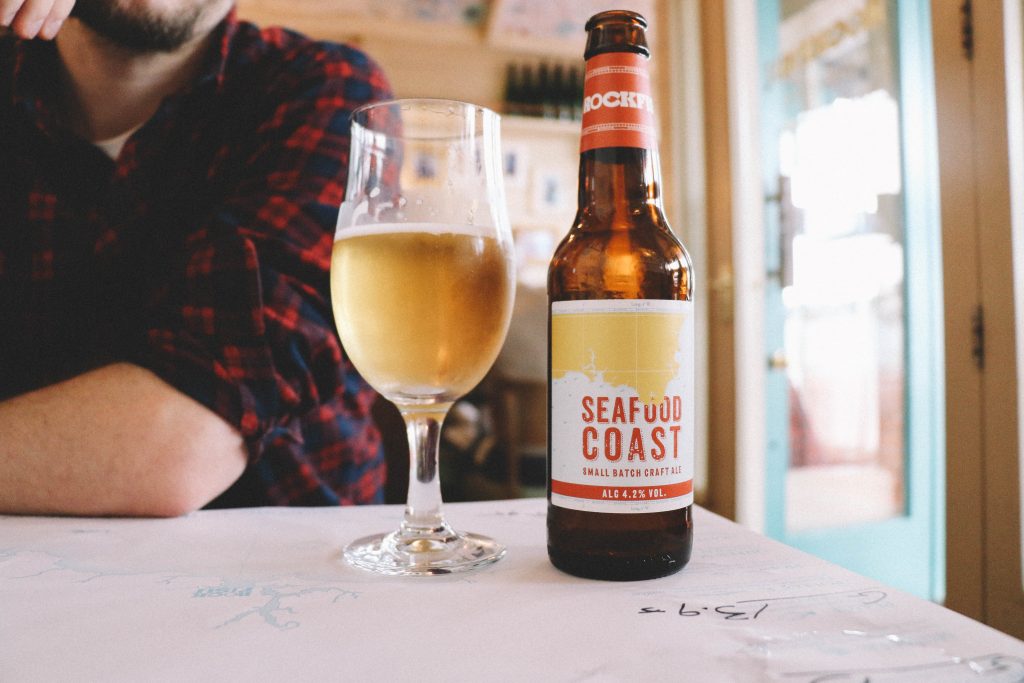 Each time we visit, we make a point of visiting the mouthwateringly fresh Rockfish for refillable chips and silky smooth seabass. Filled with the chatter of visiting families and warm lighting, this restaurant is easily one of my favourite in the  south west.
Pin it: Ideas for Cosy UK Winter Breaks