With England in full bloom and the temperatures rising, we decided to head to the wilderness of Exmoor National Park, for a weekend of walking, ice-cream tasting and general lazing. Working in collaboration with Boutique Retreats, we were generously offered a complimentary stay at one of their beautiful Exmoor holiday cottages: 10 Brushford. Nestled in the sleepy Exmoor village of Brushford, surrounded by flowering allotments, curious ducks and a babbling river, our stay at this Exmoor holiday cottage was nothing short of idyllic. 
For more details on how to book your own stay, please see here. Prices begin at £506 for a long weekend or mid-week stay.
Where to Stay in Exmoor National Park
As you might have guessed by now, we are passionate advocates of the UK micro adventure. Staycation aficionados, some of our most memorable trips have taken place within our island's leafy borders. From Northumberland to Margate, Dartmoor to Durham, we're firm believers that the UK can rival any international destination in terms of its sheer beauty, history and culture.
With summer already in full swing, the scent of cut grass in the air, we therefore thought it was about time to enjoy another brilliantly British adventure; this time heading to the vast moors of Exmoor. Featuring both desolate moorland and leafy forests, plunging sea cliffs and pretty coastal villages, we were confident that Exmoor would provide the perfect weekend getaway.
Searching for a place to stay, we came across Boutique Retreats – a company specialising in the art of the short break. With a number of Exmoor holiday cottages on offer, they suggested we stay at 10 Brushford: a traditional 18th century cottage overlooking the nearby River Barle. 
Browsing photographs of the little cottage – its four duck-egg blue windows, rose filled garden and sloping roof – I was immediately sold. Irresistibly pretty, 10 Brushford is the sort of cottage you might find Goldilocks living in, alongside her 3 sleeping bears. Accessed by a small wooden gate, under an arch of flowers and singing birds, this Exmoor holiday cottage is the perfect poster boy for English summertime.
I couldn't think of anywhere more idyllic to spend a weekend.
How to Get to Exmoor
Based in England's south-west, Exmoor is easily accessed from London and its surrounding counties. 
Based in Bedfordshire, we decided to drive down to the national park: the entire journey taking around three hours. However, do be warned that with the M4 and M5 forming the majority of your route, you might be at risk of the odd traffic jam or two. To be on the safe side, factor in a few more hours then you might need for your journey and travel with a small stash of snacks.
For those intending to travel by train, a regular route operates between London's Paddington station and nearby Taunton station (Somerset), via Great Western Railway. Try to travel off-peak and save yourself a small fortune, with a return ticket costing just £81.30.
Once in Taunton, it's best you hire a car – ensuring you're able to make the most of your time in Exmoor. Thankfully, Taunton has many options regarding car hire, including Enterprise Car Hire, who will collect you from the station.
From Taunton (and if you're planning on staying at 10 Brushford), it's a 50 minute car ride onto the little village, with the pretty town of Dulverton just five minutes away.
Arriving at Our Exmoor Holiday Cottage
Having navigated the congested motorways, we eventually swapped the endless traffic for Exmoor's bottom-gear lanes and pretty farmsteads. Driving over small bridges decorated with thick moss and creeping vines, and past small groups of stumpy ponies, we eventually entered Dulverton – the nearest town to Brushford.
Making a mental note to return here later – the little farm shops and cafes already tempting us in – we drove on, driving alongside the babbling river and its crystal clear waters.
We eventually entered Brushford just as early evening began to settle over Exmoor. The air was warm and still as we drove through the village, both of us keeping our eyes peeled for the village church  – the cottage's nearest landmark.
Rounding the corner and a winding lane opened up to reveal a small row of cottages; their gardens overflowing with purple alliums and yellow roses. To our left, a small group of residents were busy tending to an allotment, a sign for 'Duck Eggs' pinned haphazardly to the fence. Behind them, a small orchard and pond glowed in the evening sun and a pair of pastel-hued ducks pruned their feathers.
Glancing to my right, I noticed that the end cottage already had its gate open – a large number '10' hanging from the wall.
We had arrived at 10 Brushford. 
Parking in the shared parking area opposite the row of houses, we headed towards the end cottage; a pair of stag's antlers mounted above the door. Aside from the sound of our neighbours harvesting their green beans and filling their watering cans, the village was quiet. 
Turning the key in the old, timber door – we pushed it open, our Exmoor holiday cottage ready and waiting for us.
Inside 10 Brushford
Ideal for couples or small families, 10 Brushford is a small (but perfectly formed) country bolthole. 
Featuring a sloped garden overflowing with peonies and roses, and a small front yard visited by chirping sparrows, this 18th century cottage is cosy, welcoming and beautifully presented.
Walking inside and we were met with a small living room; a wood burner stocked ready for the colder months. The room's walls were lined with shelves overflowing with dog-eared maps and books dedicated to Exmoor, and a vase of freshly picked flowers sat on the window sill.
Filled with a big comfy sofa and armchair, a stash of board games and a little dining table, 10 Brushford's living room was designed with relaxation in mind.
Walking through a small doorway we found ourselves in a tiny country kitchen; the evening sunlight shining through its window. Filled with everything you might need, the kitchen had that lovely 'lived in' feel; every corner crowded with pots and pans, dishes and glasses. The cottage's owner had also kindly left us a hamper to enjoy filled with bread, cheese and freshly made brownies.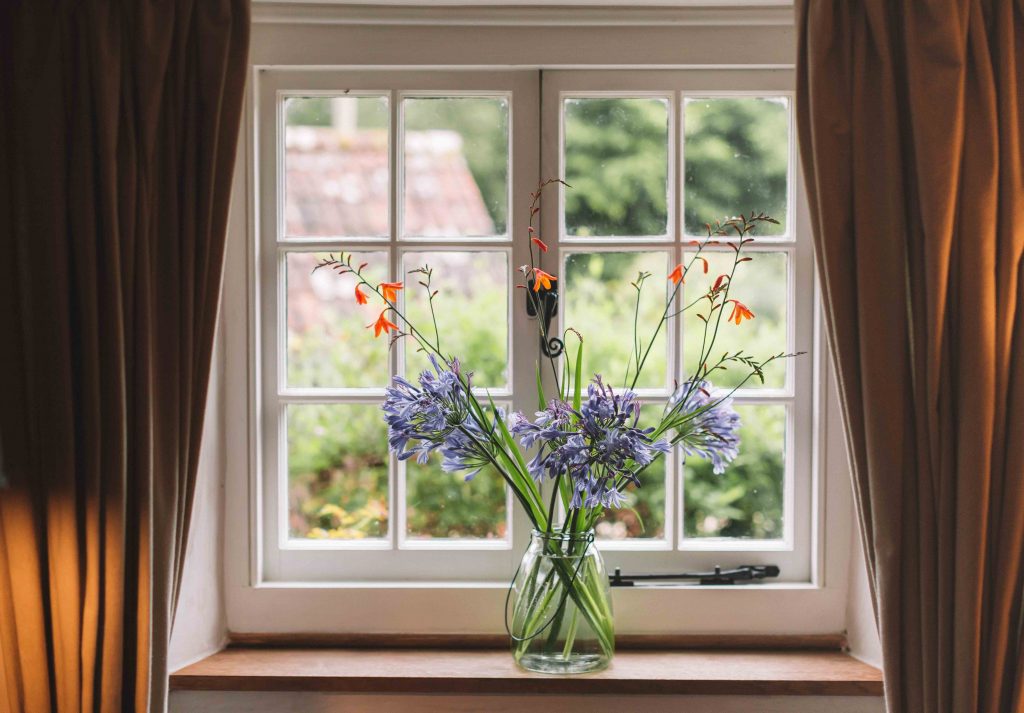 Although an 18th century cottage, the owners of 10 Brushford have managed to blend all things traditional with just the right amount of modern – installing a high end oven, Kitchen Aid kettle and surprisingly fast WiFi. A Smart TV can also be found in the living room, with access to a dizzying number of films, shows and series.
Alongside a lovely bathroom downstairs (complete with locally made soaps and shampoos), the cottage also features two sumptuous upstairs bedrooms. One has been converted for use as a small study and dressing area, and comes complete with a big arm chair ready to welcome any visiting bookworms. 
Next door, the master bedroom comes complete with a king sized bed, fresh flowers, beautifully soft linens and views across the quiet allotment. With two surprisingly large walk in wardrobes (a little like the storage version of Mary Poppins' hat), the room is large enough to feel both spacious and roomy, all without losing that country cottage feel.
Heading downstairs to open the bottle of sparkling wine kindly left for us in the fridge, I noticed that I already felt worryingly at home in our lovely Exmoor holiday cottage.  In fact, 10 minutes into our stay and I never wanted to leave. 
How to Spend a Weekend in Exmoor
Having settled in at 10 Brushford – the cottage's candles now lit and the birds' evening song floating through the window – we set about planning our weekend in Exmoor.
One of Britain's smallest National Parks (spanning just 257 miles) and a designated International Black Sky Reserve, Exmoor National Park is a unique part of the UK. Straddled across the coast of both Devon and West Somerset, the park – filled with over 4,000 red deer and 350 iconic Exmoor ponies – is both desolate and inviting; a mix of lonely moorland and sunny coastal towns.
Drive through Exmoor and you'll pass through deep moorland shrouded in thick fog, before hurtling downwards towards lively towns and warm village pubs. Drive far enough and you'll reach a cliff edge; nothing but a 1,000 foot drop and the Bristol Channel ahead of you.  
Although smaller than other UK national parks, Exmoor offers visitors an incredible amount to see and do. With a choice of heather-filled walks on the moor, a trip to the beach or shopping in the nearby towns, deciding what to do with your weekend here can be difficult.
To help, we've put together the very itinerary that we followed during our own weekend in Exmoor – it's one we hope you enjoy.
Your Itinerary 
Day 1
5pm: Arrive in Exmoor and get settled at 10 Brushford (the cottage is available from 4pm on the day of arrival). If necessary, stop at Farthings Farm Shop in neighbouring Dulverton for any essentials. 
8pm: Head to the nearby Tarr Farm for a cosy dinner (a 20 minute drive away). 
Day 2
8am: With the birds singing, we were awake bright and early on our first morning in Exmoor. After a cup of tea in bed, listening as dog walkers and horse riders ambled by, it was time to get up and tear ourselves away from our Exmoor holiday cottage.
9am: Begin the 'Circular Walk' from Brushford to Dulverton
Approximately 5 miles in total (featuring fairly gentle hills), this walk is a great introduction to Exmoor. Following a small lane that led away from Brushford, we found ourselves in the heart of pastoral Exmoor, passing little farmsteads, crowds of curious cattle and low hanging woodland. 
Climbing over stiles, through kissing gates and along lanes lined with frantic pheasants, we were impressed by just how peaceful Exmoor was. Although close to the nearby towns of Bath, Bristol and Exeter, Exmoor is still remote enough to feel completely closed off from the world. 
Eventually, and after following the yellow arrows that mark the circular walk, we began the steep descent into Dulverton – one of Exmoor's major towns. Passing over a handsome bridge – dogs and families already wading in the crystal clear waters beneath us – we decided to stop here for a cup of coffee and brunch. 
10.30am: Walking through the town – a country market in full swing – we eventually settled outside of Tantivy Shop & Cafe. 
Finding a table in its sun-filled courtyard, we ate local sausages sandwiched inside farmhouse bread.  Watching as locals chatted and visiting families (and their dogs) paused to apply more sunscreen, our brunch here was a lovely introduction to Dulverton.
11am: Browse Dulverton's shops. For book lovers, head to the lovely bookstore, Number Seven Dulverton.
11.30am: Complete the circular walk back to Brushford
To get back to Brushford, head back towards the bridge and take the small lane that weaves its way behind the local garage. If you get lost,  just keep following the river – you can't go wrong.
12.30pm: Back at our Exmoor holiday cottage, we immediately grabbed a pot of coffee and headed into the garden. Surrounded by busy bees and diving swifts, we lay in 10 Dulverton's pretty garden and listened as the church bells rang next door.
2pm: Time for a little detour – head out of the wilds of Exmoor and towards Devon's coastline.
Now, I understand that this part of the itinerary isn't strictly within Exmoor, but it is a detour worth taking – I promise.
For longer than I can remember, I've always wanted to visit the historical village of Clovelly. Having heard tales of this fairytale-like place from my Mum and having seen the obligatory photographs of it plastered across Instagram, the prospect of a visit to Clovelly proved irresistible.
3pm: Arrive in Clovelly
From Brushford, the drive to Clovelly is incredibly straightforward – simply follow the A361 and A39 to get there. In total, it took us just under one hour.
Once in Clovelly, you'll find a large car park for visitors perched at the top of the hill. Please note, there is no parking within the village (as will become apparent later), so ensure you head up here instead.
Once parked, walk to the visitors centre, where you'll be given access to the village. Although this might initially seem a little odd, an introduction to Clovelly will soon explain things.
A privately owned village, Clovelly is quite unique. Completely unknown to the outside world until the 19th century, Clovelly was once owned by William the Conquerer, who gifted this pretty port to his wife. Next acquired by the Giffard family in 1242, this hidden harbour has since been owned by just two families: the Cary and the Hamlyn families.
Today, and although still owned by the Hamlyn family, Clovelly is open to visitors and has welcomed private tenants. To ensure its ongoing conservation, visitors are charged £7.50 to enter (a fee that also covers your parking costs). 
3.15pm: Enter Clovelly
Cascading its way down a pebbled hill, Clovelly is an impossibly picturesque village.
So steep are its hills that your first introduction to it may come in the form of the donkey stables housed at the top of the hill. Indeed, due to its steep incline (and pedestrianised streets), donkeys and wooden sledges are used to transport goods (and often people) up and down the lanes.
Reaching the top of the village and sure enough, we spotted two donkeys stood lazily in the sunshine. 'Welcome to Clovelly!' their owner called; her face hidden under a wide-brimmed sun hat. 
Already, this village felt like something from a story book. 
Featuring just one main street, Clovelly is a sloping cascade of yellow cottages, creeping roses and historical inns. Filled with tea rooms and quiet balconies, seeing this village for the first time can be a surreal experience.
The only way to explore Clovelly is to head downhill. Eventually, around mid-way down, you'll be rewarded with views of tiny fishing boats and turquoise waters; the village's little harbour coming into view.
Passing under shaded arches and hidden alcoves, you'll eventually emerge at the bottom of the hill; Clovelly's curved harbour ahead of you. With the sun shining overhead, there's only one thing to do: grab a beer from the nearby Red Lion Hotel and settle down.
For those of you hoping to stay in this coastal paradise, Clovelly has a number of inns and B&Bs. For anyone hoping for sea views, be sure to book a room at the historic Red Lion Hotel.
6pm: Leave Clovelly and head back to Brushford
8pm: Dinner at 10 Brushford (be sure to head outside at dusk to see if you can spot any red deer).
Day 3
9am: Breakfast in bed at your Exmoor holiday cottage
10.30am: Head to Exmoor's Tarr Steps
With your feet firmly back in Exmoor, spend today exploring its local beauty spots. Just a 20 minute drive from Brushford lies Exmoor's famous 'Tarr Steps'. Nestled within Exmoor's National Park since 1000 BC, the Tarr Steps are in fact a historical 'clapper bridge' – the longest of its kind in Britain.
Constructed from unmortared stone slabs, the steps cross Exmoor's River Barle and form part of a beautiful walk that leads towards the nearby Winsford Hill and its leafy valley.
Arriving just as the nearby visitor car park was beginning to fill up (costing £2 for 2 hours), we parked up and headed downhill; our path becoming increasingly enveloped by the surrounding valley.
Briefly stopping for an ice cream, we began our walk – crossing the smooth, time-worn Tarr Steps to the other side of the bank.
For those feeling adventurous, there is a well sign-posted 12 mile walk that begins at the Tarr Steps and leads to nearby Withypool. However, if (like us), you're looking for a more gentle ramble, then the Tarr Steps also has a lovely 1.8 mile walk  (approximately 1 hour), which leads upstream.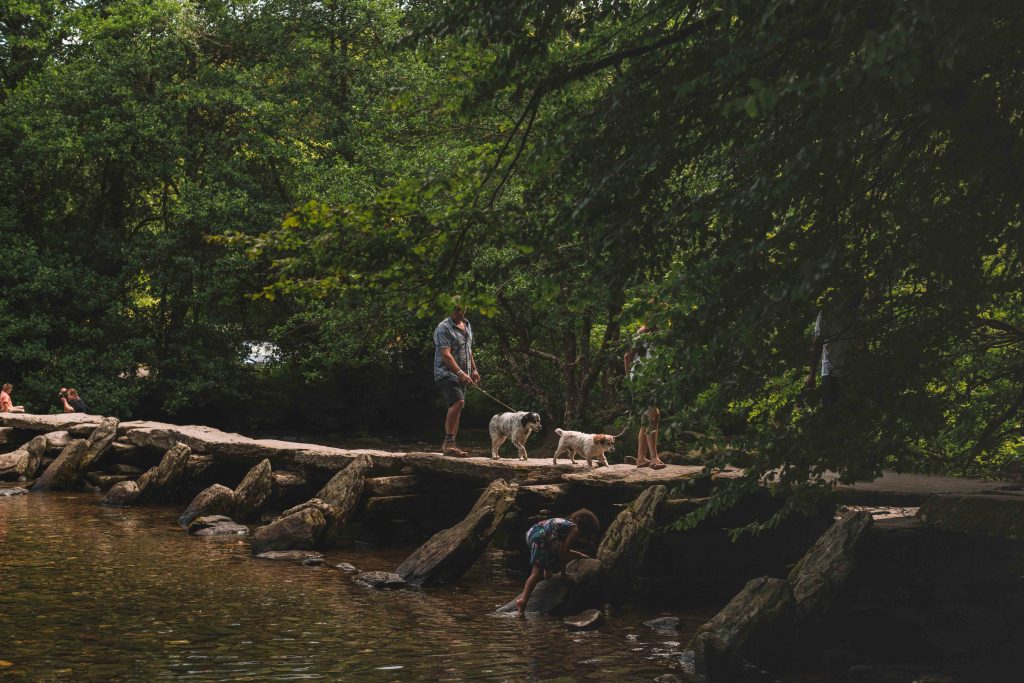 Opting for the short walk, we set off upstream; passing paddling children and swathes of rubber dinghies and fishing nets. Eventually, the route quietened and we entered the now protected woodland – a site declared to be of Special Scientific Interest. Here, we read that ramblers might be fortunate enough to spot red deer, doormice and otters.
2.30pm: Sunday lunch at Woods Bar and Restaurant, Dulverton
Having explored one of Exmoor's most beautiful areas, we returned to Dulverton for Sunday lunch at the much lauded Woods Bar and Restaurant.
Declared by the Telegraph newspaper to be the one place you must visit whilst in Exmoor, Woods is an unassuming, small and pleasingly eclectic little establishment.
Walking in, passing a bar filled with smiling locals and framed pictures of dogs, we were shown to our seats. Nestled next to the window, our table overlooked a large open fire and a wall decorated with various taxidermies, paintings and the odd fishing rod. A wonderfully cosy and homely place, Woods was the perfect setting for a slap up Sunday roast.
For those meat lovers amongst you, I can highly recommend the Roast Loin of Northcomb Lamb, partnered with a lovely glass of red wine.
5pm: Head back to your Exmoor holiday cottage for a cup of tea (and nap)
7pm: With the sun beginning to fade on our last evening in Exmoor, we decided to make the most of our beautiful Exmoor holiday cottage and cook dinner in its kitchen, before eating in the garden.
Watching as the swifts dived overhead and the bats began their nightly rounds, we tried to soak up every last minute of Exmoor's blissful silence and starry skies.
Day 4
10.30am: Check out of 10 Brushford
After a breakfast of freshly laid duck's eggs (scrambled, of course), we reluctantly packed our bags and prepared for the long drive home. 
Watching as our neighbours headed towards their allotment for a morning of gardening, I felt more than a little sad to be leaving this pastoral paradise.
Indeed, at 10 Brushford, Boutique Retreats have created the most idyllic of getaways. Blissfully cocooned within the rolling hills of Exmoor, this special little bolthole is comfortable and beautiful, all without being fussy or contrived.
Instead, this Exmoor holiday cottage reflects perfectly its surroundings: a national park that whilst small and intimate, is full of surprises.
Thank you very much to Boutique Retreats for hosting us at 10 Brushford – we will certainly be back.
Other recommendations for UK Breaks:
Pin it: