As microadventure advocates, and with the January blues setting in, I recently booked a weekend in Bath. A city that I' d visited just once as a child – my tamagotchi taking up most of my attention – I knew very little about one of the UK's prettiest cities. With my bank balance looking decidely gloomy, therefore, a weekend in Bath seemed like a cheap yet interesting mini break option to help me escape the winter blues.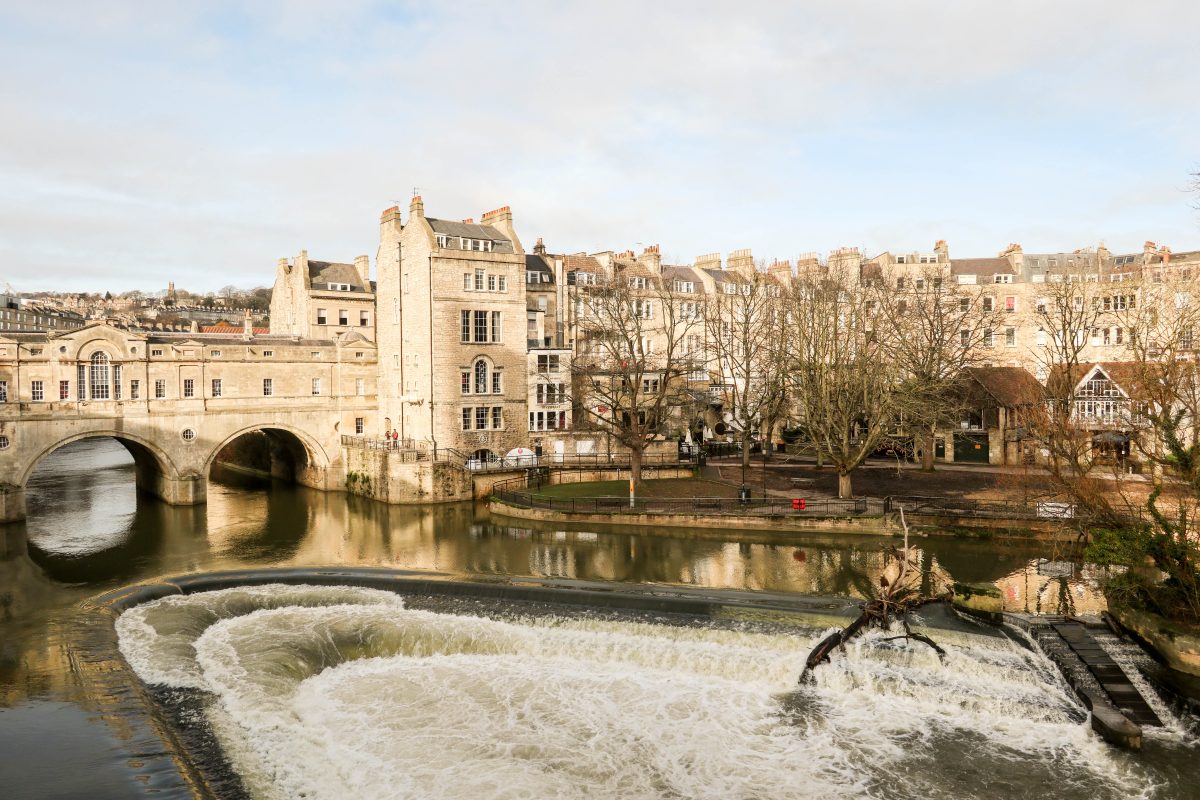 Fortunately, I discovered that my weekend in Bath coincided with a 'Bloggers' Wellness Day' run by Visit Bath. A wellness day in a city that essentially coined the term? I couldn't think of a better place to wash away my January blues. And so, with the help of Visit Bath, a trusty map and many recommendations from the Twitter community, my weekend in Bath proved the perfect antidote to my January blues.
Below you'll find a mini guide to a weekend in Bath; pair this with Laura's previous blog post on Bath, and you'll have the perfect guide to this wonderful city.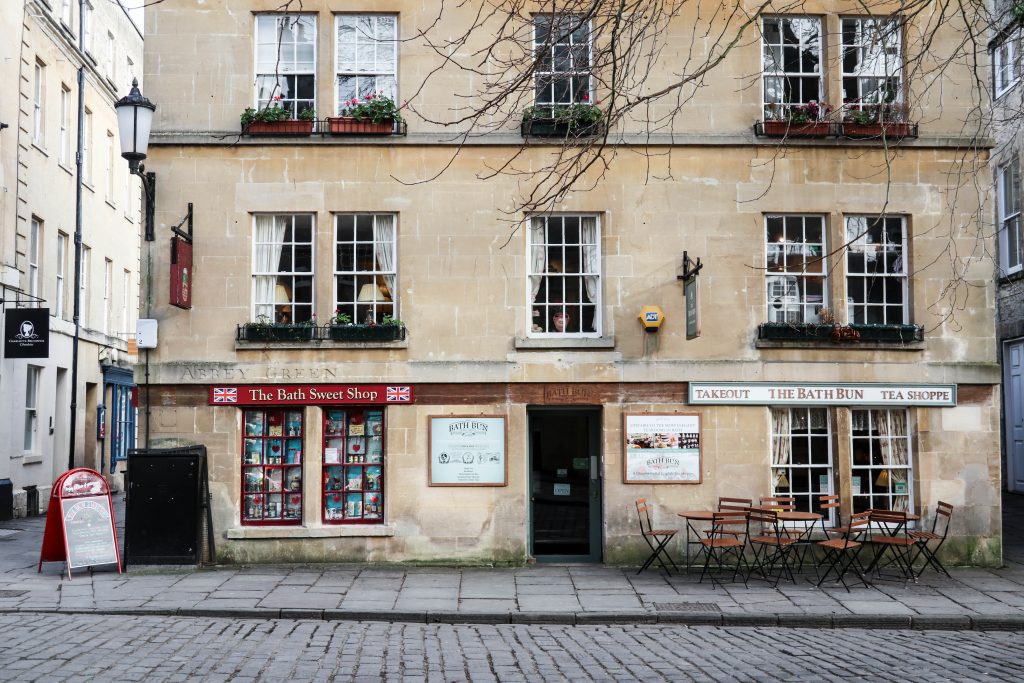 Guide to a Weekend in Bath
Where to stay in Bath
Since our weekend in Bath, we've had the pleasure of returning a number of times for some  very special hotel visits. These include No. 15 Great Pulteney Hotel & Spa, The Queensberry Hotel and The Bath Priory. We couldn't recommend any of these highly enough and are ideal for those looking to add a little luxury to their weekend in Bath.
What to see in Bath
One of the first facts I learned, walking through the calming doors of Thermae Bath Spa, was that the word 'spa' in fact originates from the the Latin phrase 'Salus Per Aquam,' meaning 'health through water'. This was a fact confirmed to me as I tentatively dipped my  hibernating toes into the silky warm water of the rooftop pool. With the sun beginning to dip below the city's spirals, I slid into the 33.5 degree natural spring water – containing over 42 separate minerals – and let out a sigh. With the end of January just a couple of days away, it felt like I was emerging from a winter's coma.
Having watched the sun dip below Bath's spires, I ventured back inside the Spa to discover a further  indoor pool and Wellness suite. Boasting Georgian steam rooms, an ice hamper, an infrared sauna and a roman steam room (how fitting), this was a labyrinth of relaxation.
The Thermae Bath Spa also boasts The Cross Bath: a small, stand alone bath available for private hire. I was fortunate enough to take a sneak peak of this on a tour when I first arrived in Bath, and made an immediate mental note to book this for a future hen party. It even comes equipped with its own private fountain that gently bubbles up from the infamous spring water  2km below.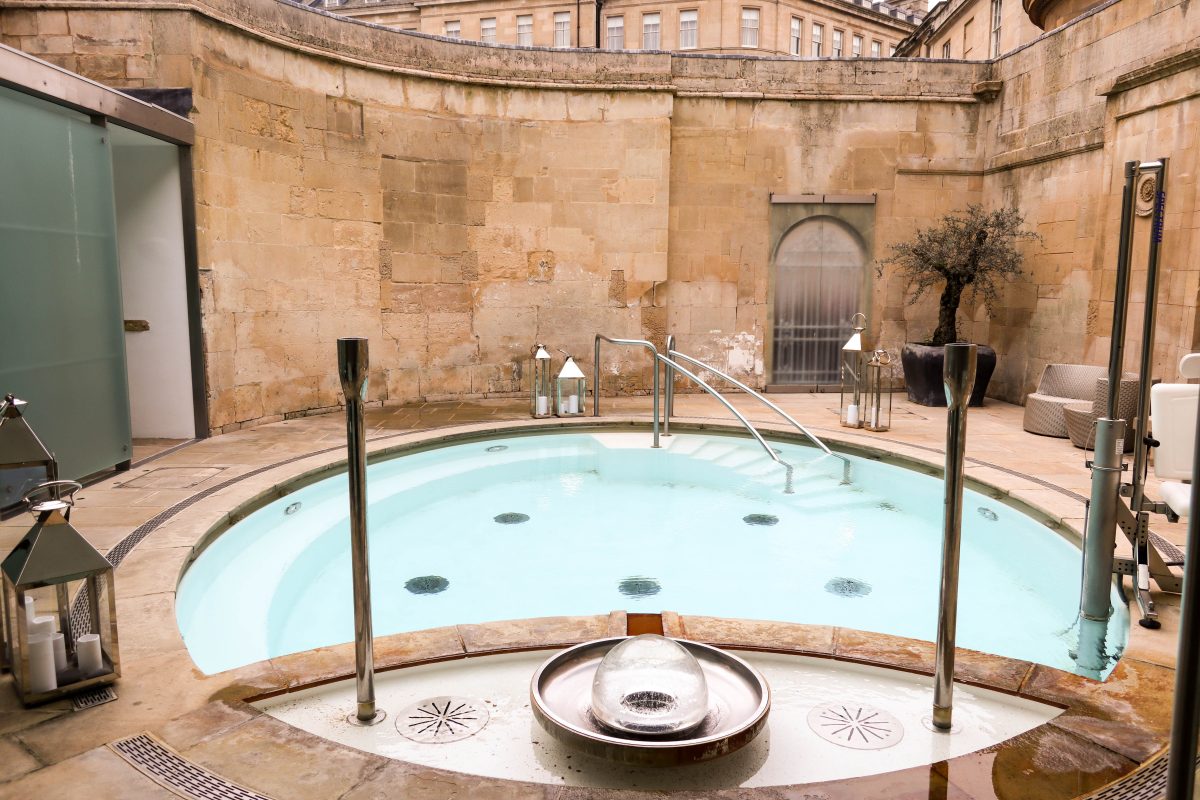 It's impossible to miss the dreaming spires of Bath Abbey that rise above the city during a weekend in Bath. Having scuttled around it several times visiting other sights close by, I decided to seek some respite from the frosty day, heading inside its awe-inspiring vaulted ceilings. A place of Christian worship for over 1,000 years, the building boasts a rich history – the first King of all England being crowned here in 973.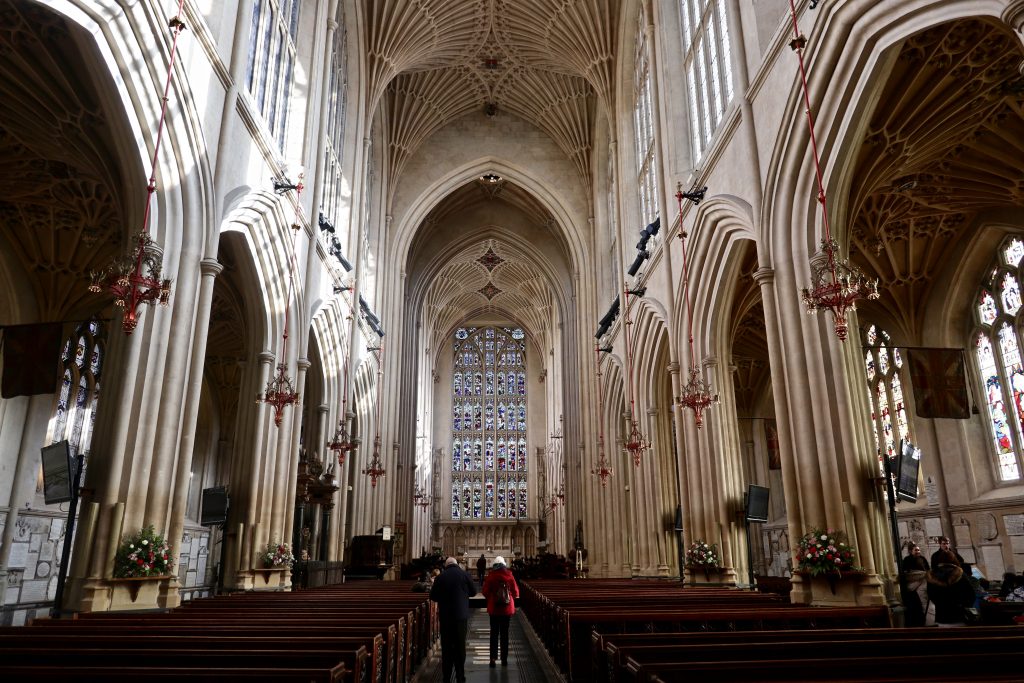 The winter's sun filtering through the towering stain glass windows, the Abbey's interiors were mesmorising. After sitting quietly in the pews – the organ music tinkling across the Abbey – I noticed a sign for a Tower Tour, something I resolutely do on any trip to a new city. I find that seeing a city from above always helps me to pull the fragmented parts of a place into a more cohesive map. According to therapists, it is also a continued way to help me overcome my fear of heights.
The hour-long tour included a chance to look inside the bell tower itself, the clock tower, and to even stand above the vaulted ceiling of the Abbey. The latter experience, however, tested my vertigo after my guide's revelation that the ceiling width (the distance between us and the drop below) was a mere 4cm.
The Tower Tour was an unexpected highlight for me; learning about the history of the bells, which have kept the city moving since the 16th century. I was even allowed to give a cheeky 'dong' of a bell whilst on the tour – my little note ringing out across the city like a chirpy 'hello'.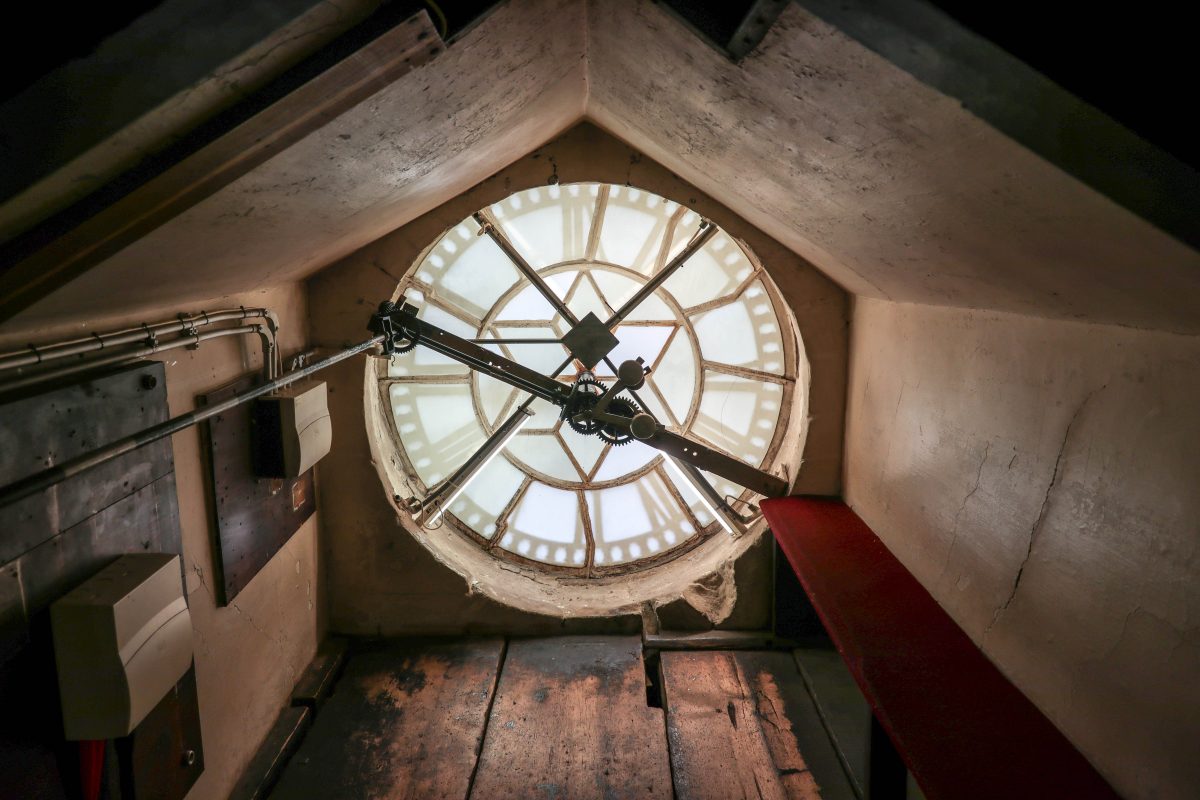 The most iconic tourist hotspot in Bath is, of course, the Roman Baths. Some of the most preserved remains of a religious spa in the ancient world, it's no surprise that this World Heritage Site is one of the most visited attractions in the UK. Having visited here once before, aged 10, I regret to say I had little memory of the Baths. This was in part due to my childhood obsession around that time of my GameBoy, and the fact that the Baths have undergone a £5.5 million pound redevelopment since my last visit back in the late 1990s.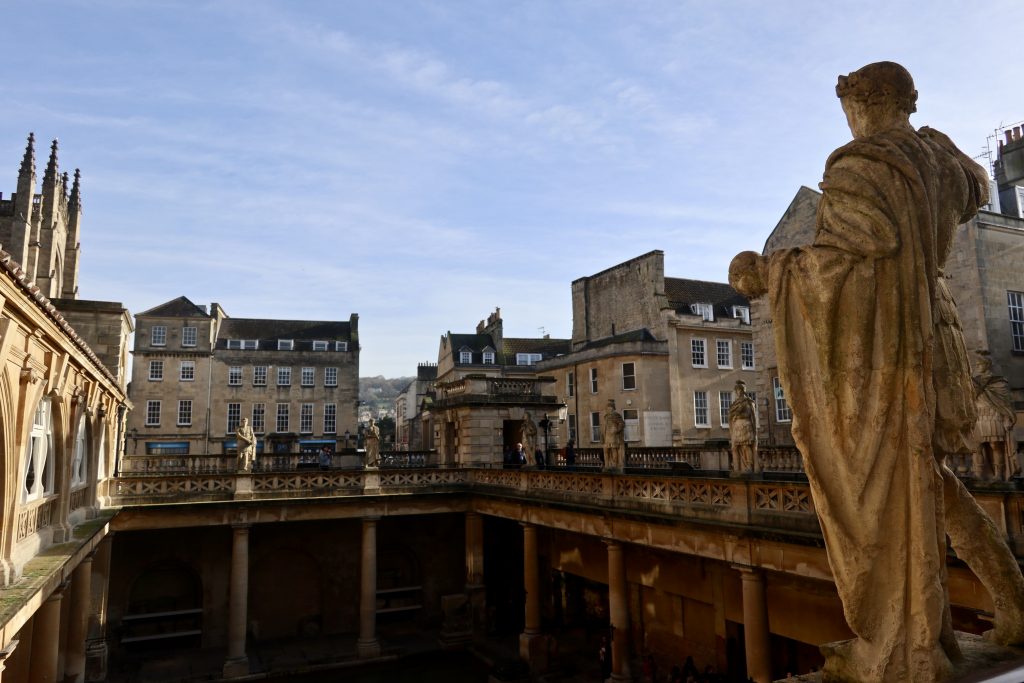 On my second trip to the Baths, 21 years on, I was therefore adamant to learn more – picking up the trusty audio guide as I entered the site. Below street level, on the traditional Roman ground, the site houses four separate places of interest: the Sacred Spring, the Roman Temple, the Roman Bath House and the museum, which houses all the architectural findings from the site.
Watching the steam rising off the waters of the baths, it was eerily easy to imagine them bustling with Roman visitors to the city – known then as 'Aquae Sulis',  meaning 'the waters of Sullis', after the Celtic deity Sulis. I wondered how us humans haven't changed an awful lot since then: a warm bath, a good snack and some local gossip enough to keep most of us content.
Despite being an obvious tourist hotspot in the city, the Roman Baths are an unmissable sight – just be sure to take up the offer of a sip of the waters before you leave. I'll leave the taste as a surprise.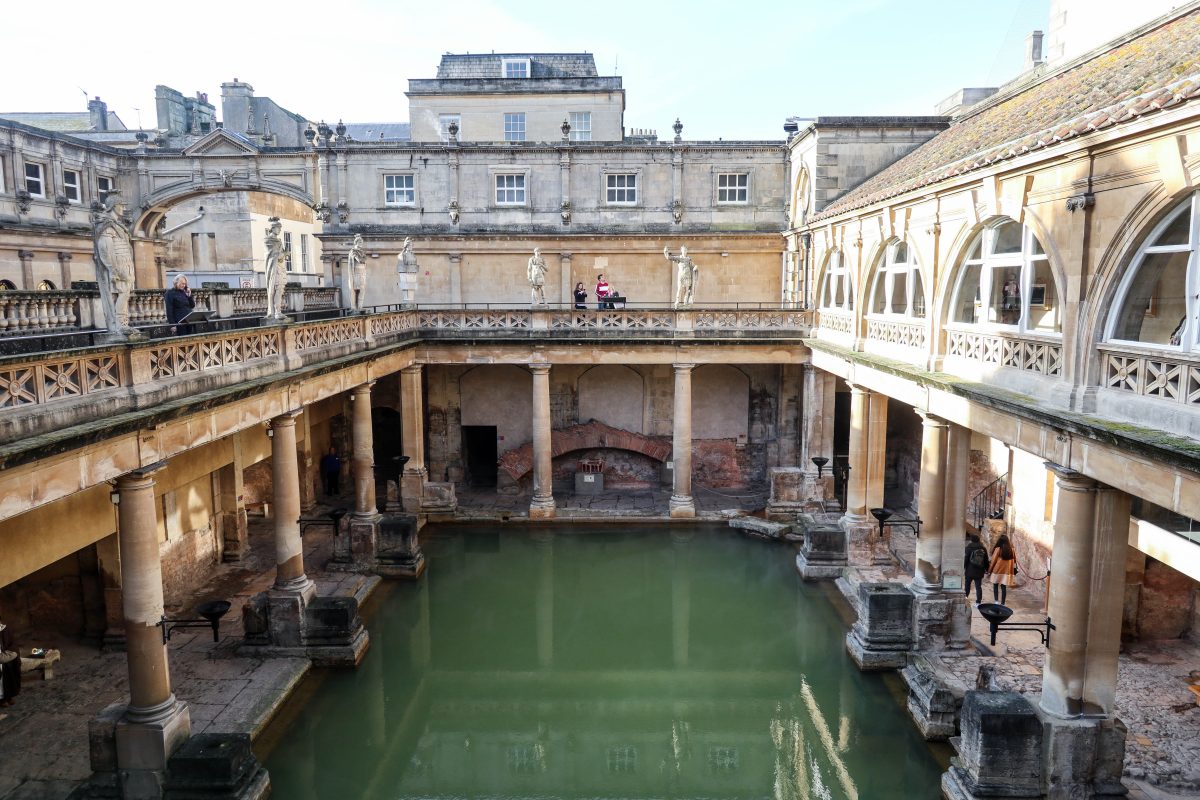 Conveniently located just down the street from my Airbnb, I paid a last-minute visit to the Fashion Museum on my way down to the train station on my final day. Situated in Bath's iconic Assembly Rooms, the Fashion Museum is home to a world-class collection of historic and modern-day dress. As the first guest to arrive on the Wednesday morning, I had the delight of touring the museum entirely alone – discovering this treasure trove of garments. Many of the clothes dated back to the 1800s, which to my slight horror were in better condition than many of my own clothes. The garments on display ranged from the first recorded white wedding dress – a trend created by Queen Victoria on her wedding day – up to the current day, including the Dress of the Year.
Weekend in Bath: Places to Eat
Despite only being in Bath for two nights, I surpassed even my own greedy expectations at the sheer amount of foodie stops I managed to fit in. The wellness day also offered the opportunity for me to experience some vegan and vegetarian dining options in the city, which wouldn't usually be on my hit list.
Demuths Vegetarian Cookery School 
Demuth's was the second stop on my Bath Wellness Day and proved the ideal place to escape the January blues. Donning our aprons, we entered into a colourful Mexican bubble, spending the next couple of hours learning how to make vegetarian and vegan inspired corn tortillas.  After successfully making our dough and pressing it into neat tortilla shapes, we gorged on lime, chilli, coriander and avocado mash with frijoles negros refritos. With vibrant limes, peppers and avocados dotted around the kitchen, any wintery woes were truly banished.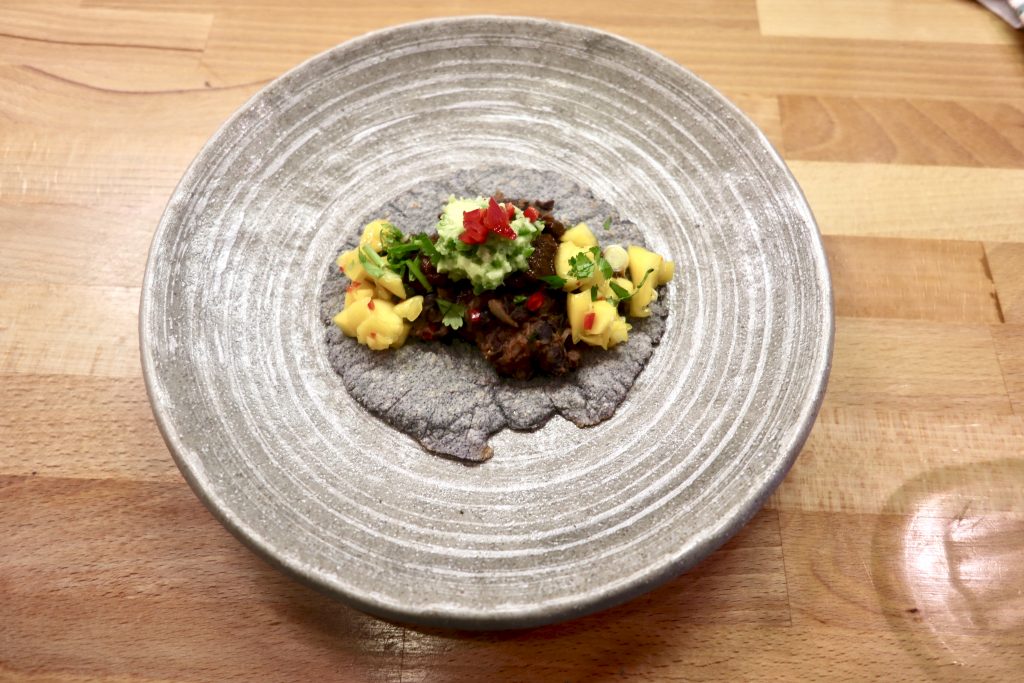 If you're interested in attending your own class, Demuths offers vegetarian and vegan cooking courses throughout the year.
A relative newcomer to the Bath foodie scene, Noya's Kitchen was our third stop on our Wellness Day and the perfect spot for a Vietnamese, vegan inspired lunch. Offering supper and lunch clubs, guests can enjoy delicious Vietnamese cuisine, whilst nestled in the cosy comfort of a traditional Bath home. Noya also runs cookery classes for those looking to improve their Vietnamese cooking skills. Sipping my jasmine tea whilst feasting on delicious, delicate (and vegan!) food was a true highlight of my wellness day. It's a highly recommended stop for those looking for something a little different to the usual British cuisine.
To finish up our vegan inspired morning, our final foodie stop on our Wellness Day took us to Swoon Gelato: home to the best gelato I've tasted outside of Italy. Not taking part in the admirable 'Veganuary' myself, I was a little dubious to try the vegan inspired treat: presumptions of a luck-lustre watery substance replacing the usual creamy delight. I was, however, proven entirely wrong as I took my first bite of the vegan-friendly dark chocolate and orange gelato. So delicious, I returned the following evening for a second round.
And possibly a third.
According to the Twitter community, there was one place I had to visit whilst in Bath: Sally Lunn's Historic Eating House. A small gem in the centre of Bath, history has it that Sally Lunn (or Solange Luyon), a French refugee who found work at the site of a Baker's, on Liliput Alley in 1680. With Sally's arrival came her recipe for French festival breads or 'bunns', which quickly gained notoriety throughout the city. It was these 'bunns' that I had come to sample on the crisp, bright January lunchtime, alongside a traditional afternoon tea.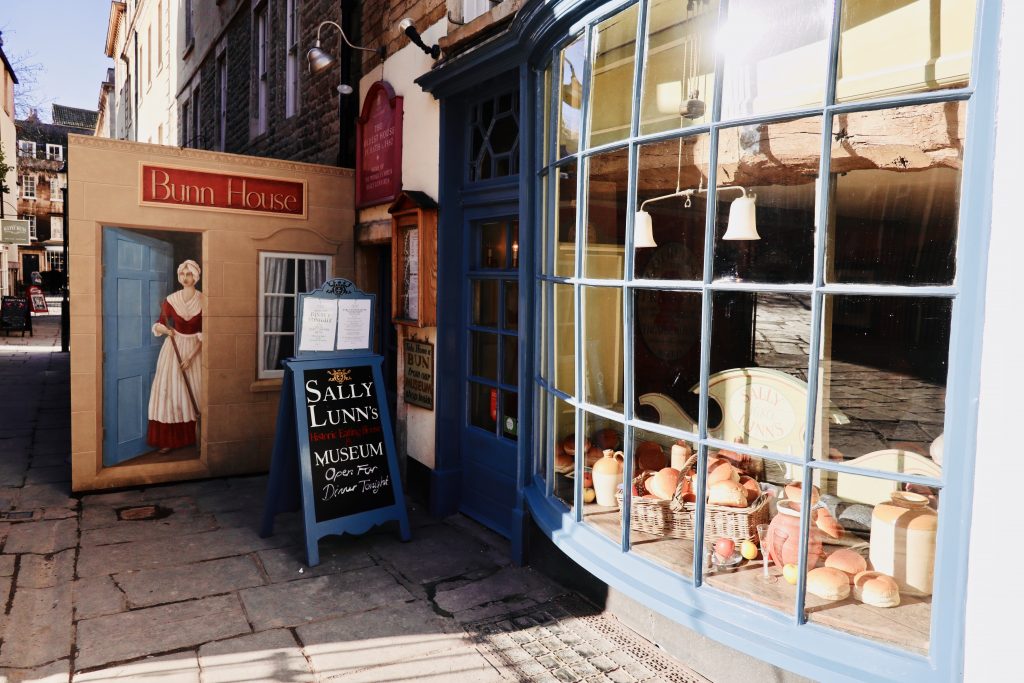 Settling down at my little table in the corner of this cosy timber-framed eating house, the following hour was a true immersion in carbohydrates. Still made to the traditional secret recipe, these brioche bunns were the fluffliest and butteriest buns I've ever had the delight of trying.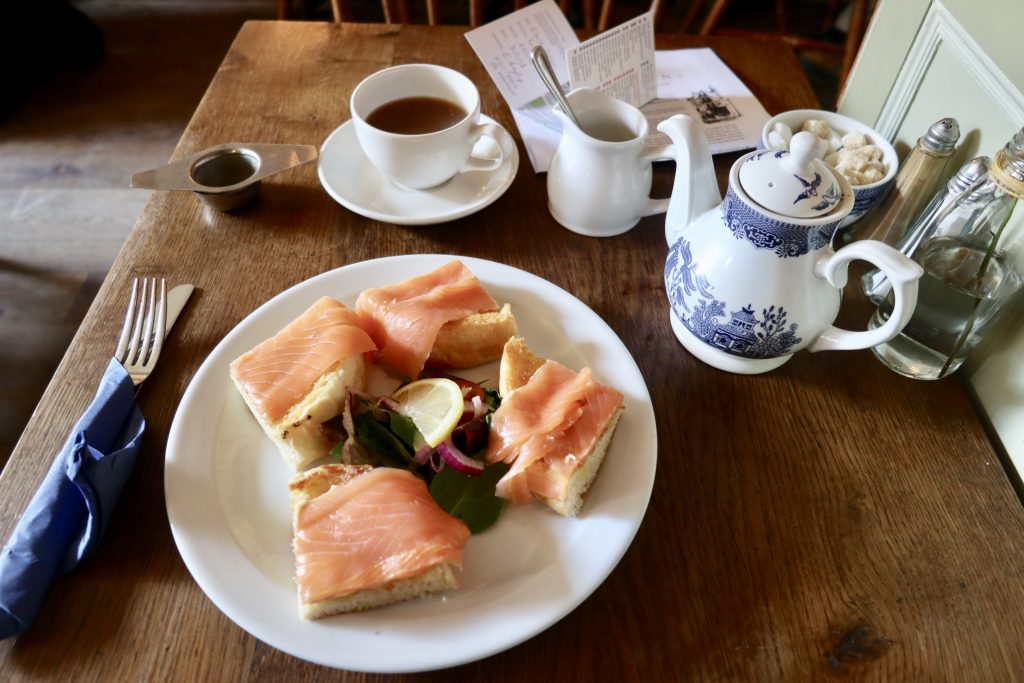 Paired with salmon and lashings of butter for my first round of afternoon tea, followed by a second bunn with traditional jam and clotted cream, I was in a carbohydrate coma as I eventually left. Before leaving Sally's, however, I ventured downstairs to the small museum, which is home to the traditional kitchen that Sally once cooked in. Here, you can also stock-up on your own bunns to take home, which naturally I did: my freezer now crammed full of these brioche delicacies.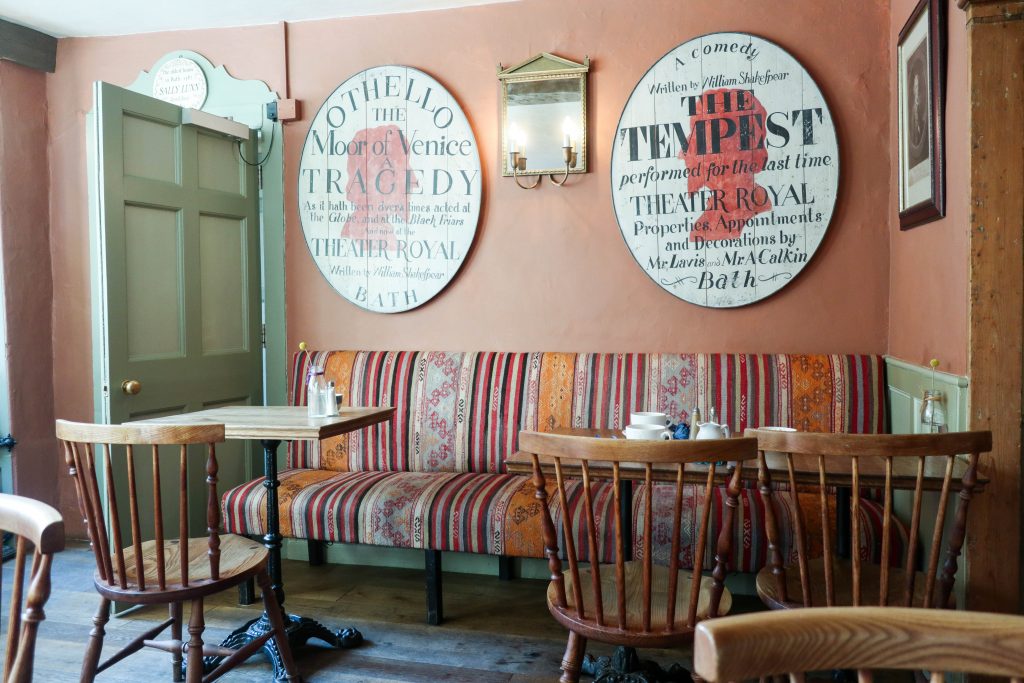 I owe my discovery of this delicious spot to the Twitter community. Sending a quick tweet off into the Twitter universe earlier in the day, I'd asked for suggestions for dinner spots during my weekend in Bath. Yak Yeti Yak quickly became a clear favourite and trusting of my fellow tweeters, I decided to try my first ever Nepalease dinner. Tucked away in the basement building of an old Bath townhouse, Yak Yeti Yak was a welcome escape from the cold January night – the inside transporting us to a place far more exotic. With traditional crossed-legged dining on comfy pillows – or for those whose hamstrings aren't as supple, traditional table dining – Yak Yeti Yak was yet another welcome escape from a dreary winter's night.
Weekend in Bath: Shopping 
Rummaging through bookshops is perhaps one of my favourite past times when exploring a new city, and my weekend in Bath was no exception. Whilst floating in the thermal waters of the Thermae Spa the previous day, the lovely food and Bath based blogger Rough Measures mentioned Toppings Bookshop as a must-see on my tour of the city.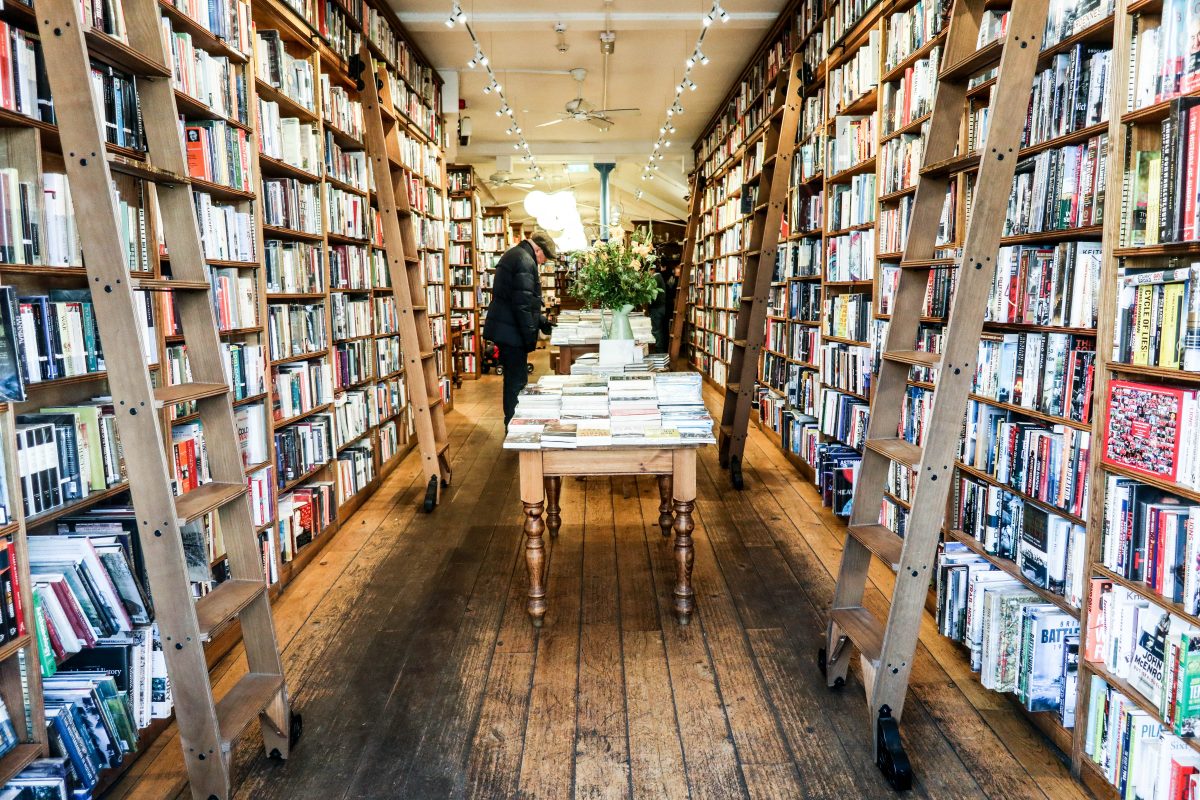 Seizing on this nugget of information, Toppings was my first stop on my second day in Bath and could very easily have been my last, given the pure cosiness of this bookworm's sanctuary. Bustling through the doors in my winter hat, scarf and gloves, I was met by a cheery face who immediately offered me a cup of tea while I perused the towering bookshelves.
Tea and books? I'd stumbled into a tiny paradise.
With my tray of tea and biscuits now nestled on the table next to me, I began to work my way through the bookstore – taking the time to have a sit down every now and again to flick through a few pages, whilst sipping my tea. Similar to Barter Books in Northumberland, this is the perfect place for those looking to escape reality for a while; a warm drink and good book in hand.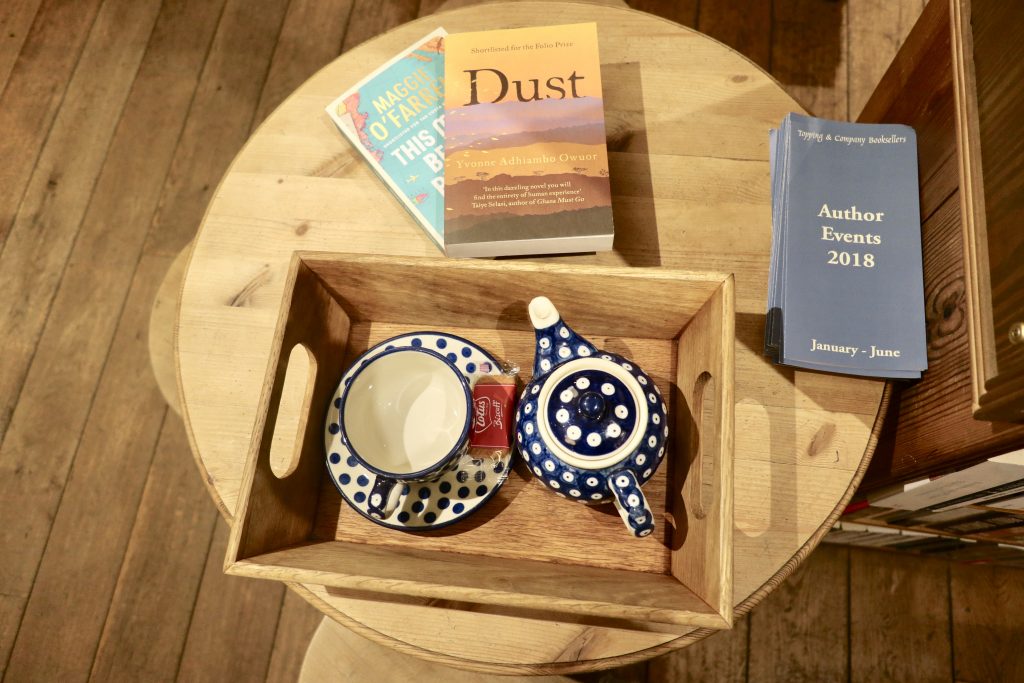 Bath Fudge Kitchen Shop
Unsure whether to put this in the 'food' or 'shopping' section, given the generous amount of samples of delicious fudge I consumed on my visit to this little shop, the Bath Fudge Kitchen Shop is a lovely spot to pick up some sweet treats during a weekend in Bath. Made from the traditional US recipe of using whipped cream rather than butter, this fudge is deliciously creamy, and in keeping with all things 'wellness,' also offers vegan specialities.
How to get to Bath
Driving to Bath city centre
Getting to Bath, a city located snugly in the county of Somerset was easier than I'd presumed. Although I drove down to Bath (around two hours from Milton Keynes) I caught the train home, which was in many ways far less stressful.
Train to Bath
Running every half an hour from the Bath Spa station, the Great Western trains take only 1.5 hours and  conveniently drop you in central London at Paddington Station.
This is ideal for visitors to the UK without a car, or those looking to avoid any motorway traffic.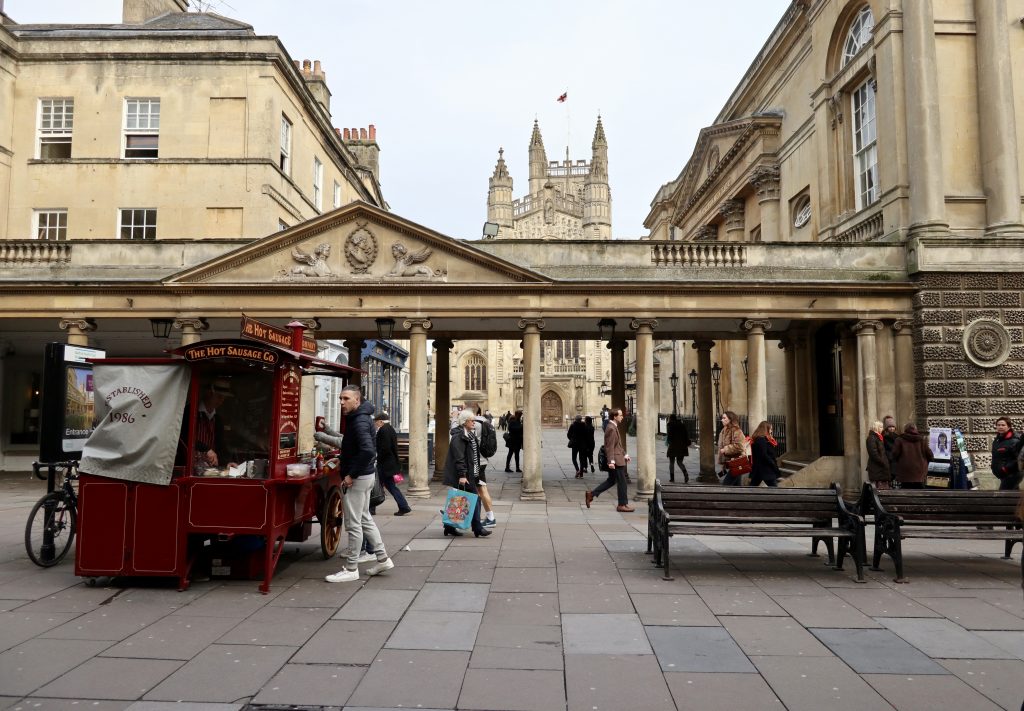 ---
Returning home, the sun streaming through my train window, I reflected on my weekend in Bath. Just a week earlier, the new year felt underwhelming: a vast expanse of unknown days lay ahead, coupled with a distinct lack of motivation to fill them. With just a few days of sunshine, nourishing food, nutrient crammed thermal baths and plenty of sight seeing, however, my outlook on the new year felt entirely different.
Bursting free of my ground-hog day bubble, I'd reminded myself of the adventures that were waiting just around the corner. As I stepped off the train, my begrudging trudge that had led me into the new year was replaced with a little skip.
Thank you to Visit Bath for inviting me to the Wellness Day – it was the ideal remedy to my January Blues!
Pin for later! A Weekend in Bath: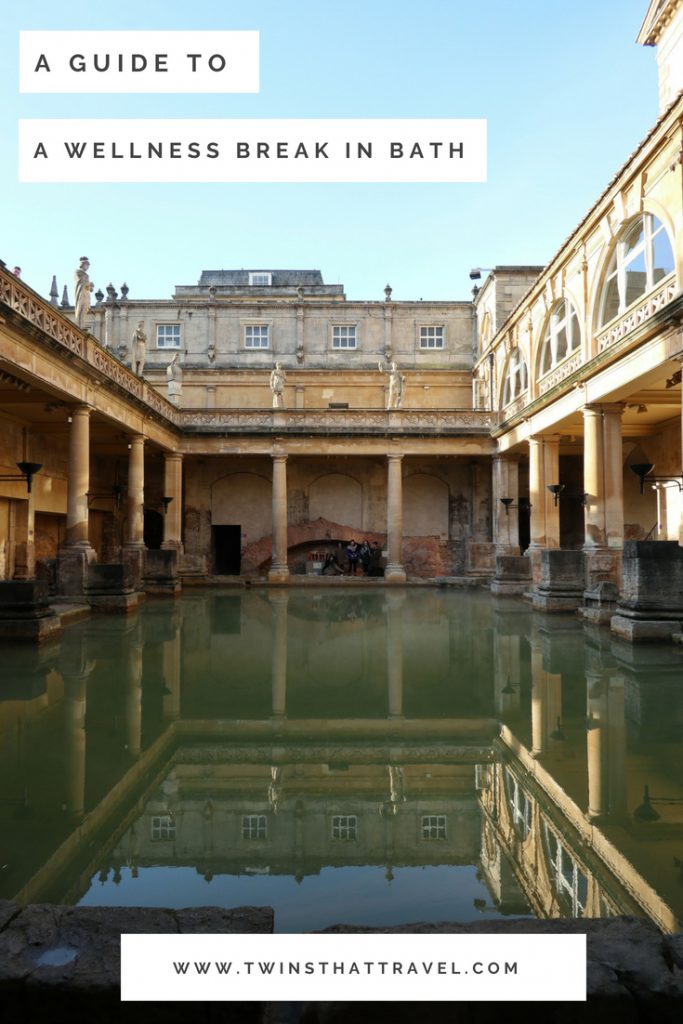 Other mini break ideas: