This guide on what to do in Abu Dhabi came about thanks to a sponsored trip to the UAE courtesy of Kenwood Travel.
Abu Dhabi, a far-flung desert city, has always been a destination that's seemed light-years away from our lives here in the UK. A city that's perhaps intimidated us a little – and one we presumed was reserved only for the rich, brunching sorts – we'll admit that Abu Dhabi has never ranked particularly high on our 'must-see' list.  After all, aside from shopping and lavish dining, what is there to do in Abu Dhabi?
When Kenwood Travel therefore got in touch to invite us on a luxury three day break to the city, we were a little apprehensive. However, having opened up the proposed itinerary and glanced over the unexpectedly busy schedule – one that didn't simply revolve around brunches or beaches – we found ourselves intrigued. Quickly accepting Kenwood's kind invitation, we prepared for what would be a surprisingly rich, historically significant and unforgettable trip.
You see, and as we quickly came to realise during our three day trip to Abu Dhabi, this is a city enveloped in many layers. Wrapped in a shimmering exterior, peel back the glitz and glamour and you'll soon discover a vibrant, dazzling and fascinating heritage, all built on those shifting desert sands.
Below is our 3 day itinerary for what to do in Abu Dhabi, including where to stay, where to eat and places to see in the city.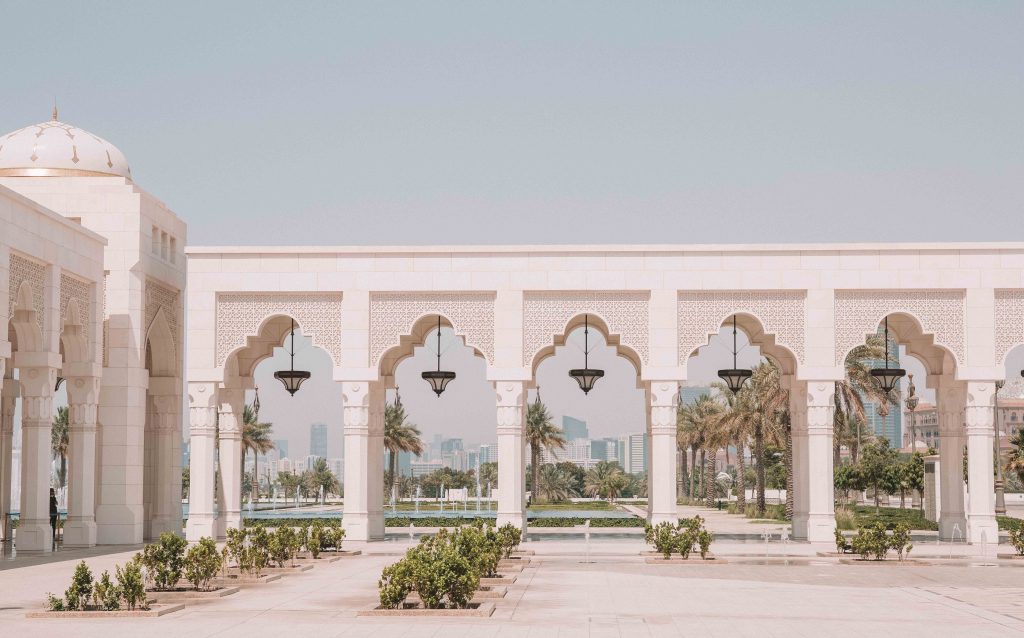 How to get to Abu Dhabi from the UK
With a flight time of approximately 7 hours, Abu Dhabi makes for the perfect long weekend break. Etihad Airways, UAE's national airline, offers the easiest route, operating three flights daily from London Heathrow and twice daily from Manchester.
We flew Etihad economy class, which was incredibly comfortable in the Airbus A380. An economy return ticket from London can cost as little as £400 thanks to their economy saver option.
For those looking for a truly luxurious trip, Etihad offer some of the most lavish upper class accommodation we've seen, including first-class cabins and 'The Residence'.  British Airways are the only other airline to offer a direct flight from the UK, with Turkish Airlines and Pegasus offering connecting flights via Turkey (adding an additional 3 hours or so to your journey).
For those looking to combine Abu Dhabi with a break in Dubai, you also have the option of flying to Dubai and then driving to Abu Dhabi. This is a surprisingly short drive, taking approximately 1.5 hours.
Visas: UK nationals will be given a 30 day free VISA on arrival.
Getting Around Abu Dhabi
Public Transport
A city (partially) based on luxury and opulence, it's perhaps not surprising to hear that public transport isn't particularly popular with locals. Combine that with the intense heat of a desert city, and it's easy to understand why a car is the preferred method of transport here.
Public transport, however, is improving, with the city offering an excellent value bus system (these are the blue and white buses). Air conditioned and operating around the clock, Abu Dhabi's bus system is a reliable option for visitors to the city. A bus timetable can be downloaded here.
Private Chauffeured Car
Throughout our three days in Abu Dhabi, we were treated to a private chauffeured car. Our driver, the lovely Marcia, was on hand whenever we needed her and she made our stay incredibly smooth and stress-free. Used to making our way around a destination thanks to a map and public transport, experiencing the comfort of a private car was a real treat.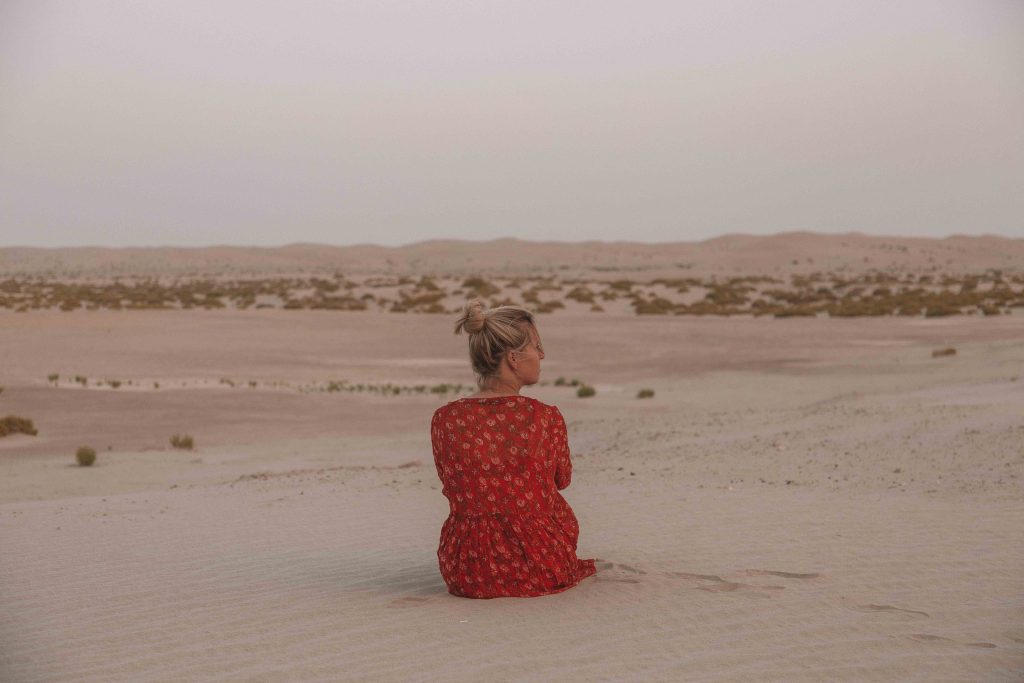 Hire Car
For those who are confident navigating multi-lane highways, hiring a car is an option if you're planning on visiting Abu Dhabi. For those simply staying within the city, we'd suggest that car hire is unnecessary given the sheer abundance of cheap taxi and Uber options available However, it might be an option if you plan on travelling further afield e.g to Dubai or into the desert.
On arrival at Abu Dhabi airport, Hertz, Dollar and Europcar all provide some great and affordable rental options.
Taxi and Uber
Taxis are an easy and hassle free way to get around Abu Dhabi, including when visiting some of its main sites such as The Grand Mosque and The Louvre. Taxi ranks aren't generally available (i.e. at the airport or downtown malls), so you will need to flag one down from the roadside. Street taxis have a yellow and white, or silver, sign.
TransAd is the government run taxi company and bookings can be made by calling 600 535 353.
Uber also operates within the city.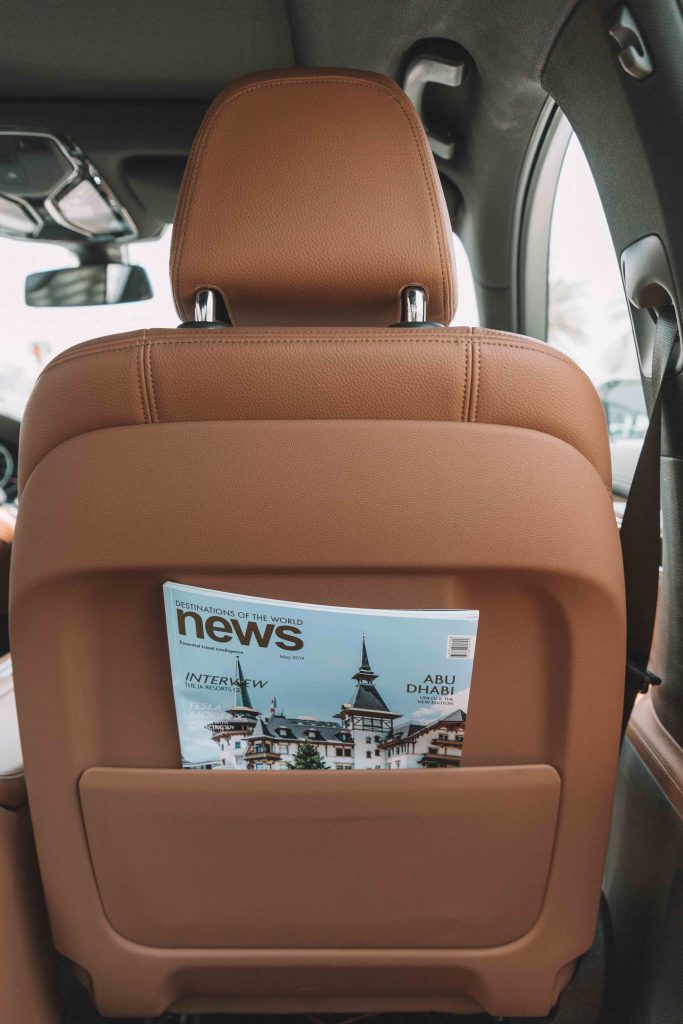 When is the Best Time of Year to Visit Abu Dhabi?
A city located on the Persian Gulf, the desert city of Abu Dhabi is not a destination for those with an aversion to heat.
Unlike Europe, visiting Abu Dhabi is best during winter months – November to April – when temperatures are considerably cooler. During these months, you can expect average temperatures of 25-34 degrees, which make for an enjoyable and comfortable break. From May to October, however, temperatures soar, with the summer months of July, August and September averaging at a whopping 40 + degrees.
Unless your plans for a summer holiday consist of air-conditioned hotel rooms and malls, Abu Dhabi is definitely a city best visited during the cooler months.
We visited Abu Dhabi towards the end of May, when the low season was just beginning.
With (very warm) temperatures during the day (around 38 degrees), visiting Abu Dhabi during this time did make things a little cheaper – albeit a little warm.
Nonetheless, and with hotels half full, we found May a really enjoyable time to visit, with locals describing the temperatures as 'fresh'. This said, we opted to visit (air-conditioned) sights during the hottest hours of the day and enjoyed the warm evening temperatures (around 33 degrees) by the pool or in the sea.
What to do in Abu Dhabi: a 3-day itinerary
What to do in Abu Dhabi: Day One
After catching an overnight flight from London Heathrow, you'll land bright and early at Abu Dhabi airport. We caught the 8.45pm London flight and landed at 7am in the city.
For those looking to make the most of your time, an overnight flight maximises your time in the UAE capital. With the roads still clear, from here it's a relaxed and stress-free drive into the city; sunrise framing the skyscrapers.
Where to stay: Jumeirah Saadiyat Island Resort
A wonderful hotel to begin your three days in Abu Dhabi at is the Jumeriah Saadiyat Island Resort. Located a short 20 minute drive from Abu Dhabi airport, Saadiyat Island is one of the city's newest, but most exciting, areas.
After an overnight flight, opening our balcony doors to calming views of the Persian Gulf was a lovely way to begin our time in the city. Expecting to be surrounded by looming skyscrapers for the majority of our time in Abu Dhabi, discovering this pristine and sandy beach was a real surprise.

After a refreshing nap, luxurious shower and delicious buffet breakfast at Jumeriah Saadiyat Resort, we (momentarily) left the beach behind to discover one of Abu Dhabi's most exciting architectural landmarks: The Louvre.
The Louvre Abu Dhabi
Admission price: 60 AED (around £12-13 per person)
Conveniently located on Saadiyat Island, The Louvre is just a short 10 minute journey from Jumeirah Saadiyat Resort. Undergoing an eye-watering £18 billion redevelopment, the wider Saadiyat Island is set to welcome three new museums, including the long-awaited Guggenheim.
Named a 'Museum City on the Sea', The Louvre Abu Dhabi is entirely unlike its namesake in Paris. Opened in November 2017, the museum is a collaboration between France and Abu Dhabi and brings together world-class art, thought-provoking exhibitions and awe-inspiring architecture. Covering a staggering 24,000 square metres, 8,000 of which is gallery space, this spot is every art lover's dream.
Broken into twelve different 'chapters', The Louvre gallery documents humanity in all its many forms. Beginning with prehistoric artefacts and finishing with contemporary art, The Louvre's diverse chapters take you on a fascinating – and architecturally stunning – journey.
During our visit, The Louvre was hosting a fascinating exhibition titled 'Photographers: An Early Album of the World.' An exhibition apparently made for two curious travellers like ourselves, this was easily one of the most interesting exhibitions we've had the privilege of exploring.
Having devoured the eclectic and fascinating art found within the main gallery auditorium, we next made our way outside into an area of The Louvre Abu Dhabi that we had heard lots about. With the dusty afternoon sunlight pouring through the star-shaped latticework roof, we felt as though we had stepped into our own masterpiece. This outdoor space, complete with the turquoise waters of the Persian Gulf lapping close by, is incredibly serene – if not a little surreal.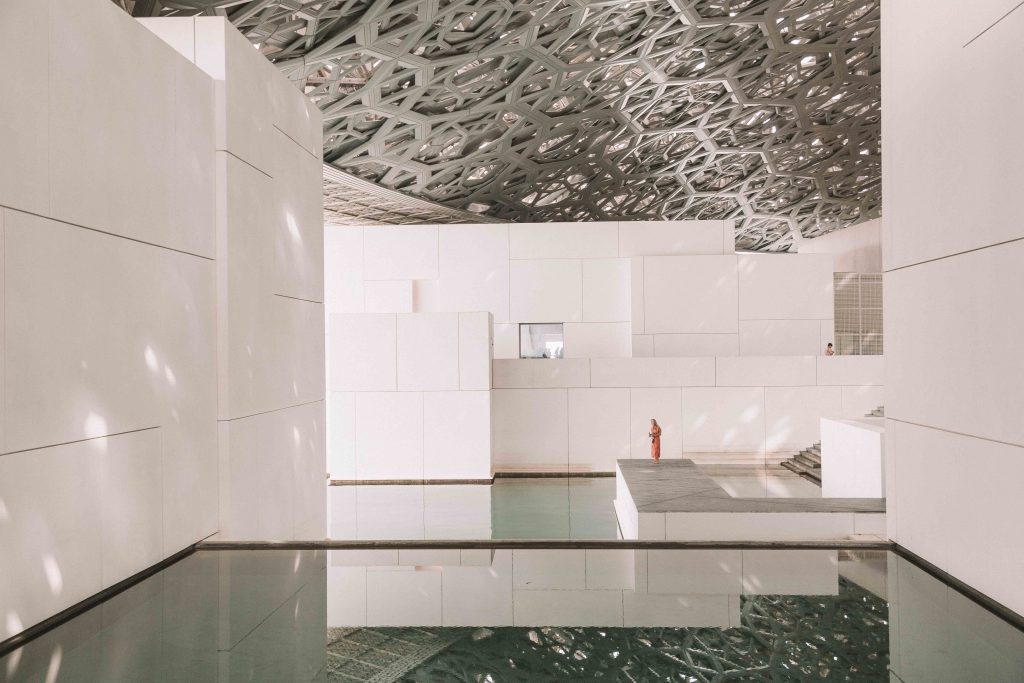 After an afternoon taking in world-class art and architecture, we headed back to Jumeirah Saadiyat Resort for a relaxing evening on the beach, before dinner in one of their 5* restaurants. The hotel also offers a rooftop bar – an ideal place to watch your first sunset in Abu Dhabi. As the sky turned from pink to blue, we watched as the cityscape begin to fade and the haunting call to echoed danced across the city.
As our first day drew to a close, we were beginning to realise that Abu Dhabi was a city with far more depth and richness than we had anticipated.
Watch our Abu Dhabi vlog here:
View this post on Instagram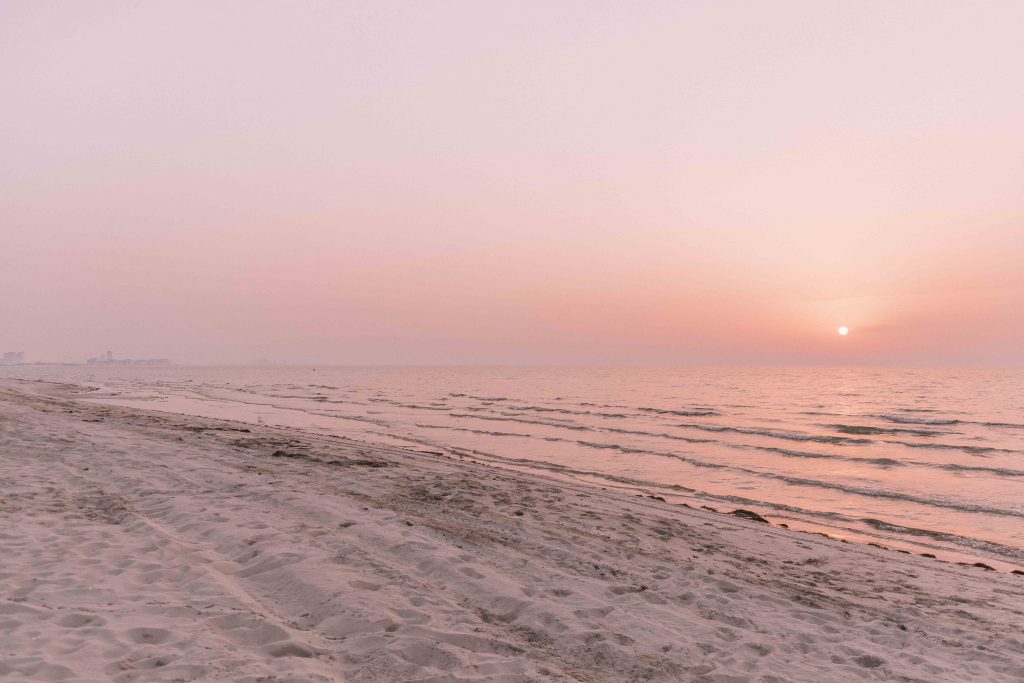 What to do in Abu Dhabi: Day Two
After a luxury overnight stay at the Jumeirah Saadiyat Resort, what better way to wake yourself up than with a dip in the bath-like sea,.The Persian Gulf is a deliciously warm temperature during the summer months, and taking a morning dip before the heat of the day sets in is a must. The water crystal clear, we waded out and bobbed happily for an hour or so, until the sun's rays got too fierce.
Dedicated to supporting the eco-system surrounding it, Jumeirah Saadiyat is an eco-resort, which has banned single-use plastic. This is, in part, due to the original 'guests' of Saadiyat Island: the Hawksbill Sea Turtles. A critically endangered species, Jumeirah Saadiyat has risen to the challenge of helping to protect these little turtles. Within every room of the hotel, guests will find a turtle-friendly guide, with tips such as making sure curtains are fully drawn at night so that the lights don't distract hatchling turtles during their pilgrimage to the sea.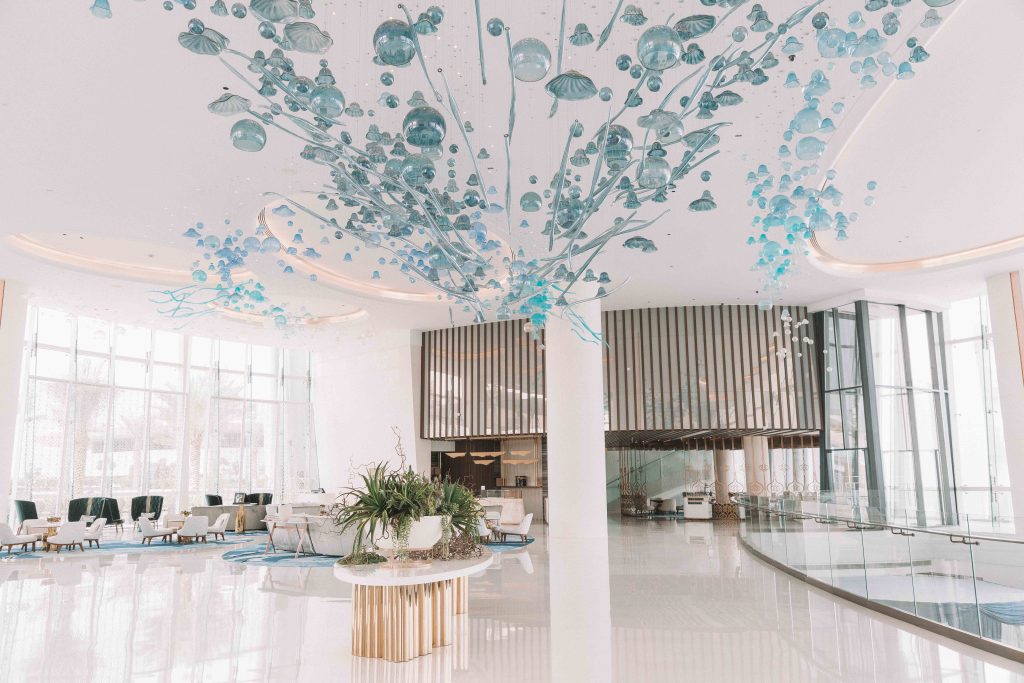 Lunch at Villa Toscana, St. Regis Abu Dhabi
Stepping into the lobby of the iconic St. Regis Abu Dhabi hotel and a heavenly scent enveloped us. "What is that?" Laura asked, her nose following the fragrance around the lobby. Laughing, our lovely guide, Carolin, explained that we were smelling St. Regis' 'signature scent'. Created specifically by the hotel's founder, John Jacob Astor IV, the smell is said to be a tribute to his mother and founding patroness, Caroline Astor -inspired by the flowers that would adorn her ballroom. It's a scent so loved that you can even buy your own St Regis scent in candle, perfume or diffuser form, from the hotel's signature shop.
Founder, John Jacob IV, was one of the passengers aboard the ill-fated Titanic, tragically losing his life on the ship after helping his wife onto one of the last remaining life boats. Within St Regis hotels, it is therefore hard to miss the very prominent references to this great ship; the grand staircases that fill each property. The staircase at the St. Regis Abu Dhabi was no less grand and would certainly not look out of place within the original Titanic movie.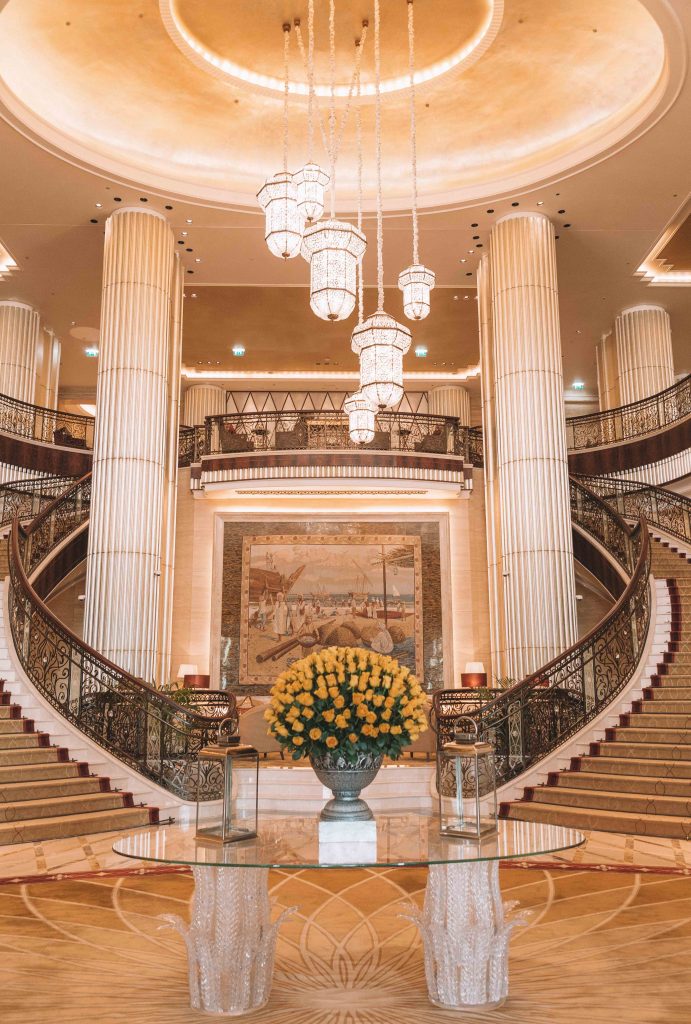 Located in the heart of the Abu Dhabi Corniche – an impressive 8km long seafront road  – St. Regis Abu Dhabi is housed within The Nation Towers. Known as one of the city's best beach clubs, the hotel is home to 228 guest rooms, 55 suites and one of the world's highest suspended suites; found between the two Nation Towers.
Gazing upwards at the Abu Dhabi Suite, the living room suspended between the two towers, Carolin described how the Abu Dhabi Suite boasts 4 bedrooms, a private library, spa, cinema, and a 360 degree view of the city. With our jaws dropping, we were left entirely speechless.
Settling into our seats at the awarded Villa Toscana restaurant, found within the St. Regis Abu Dhabi, we felt unexpectedly cosy and snug after our tour of the lavish hotel. Sunlight pouring in from the balcony outside, we settled down for a delicious Italian buffet lunch (à La Carte dining is also available).
An ideal place for an informal lunch whilst in Abu Dhabi, Villa Toscana offers a warm, rustic and relaxed environment right in the heart of the city. Just remember to wear loose fitting trousers; the dessert tray alone will have your skinny jeans pushed to their limit.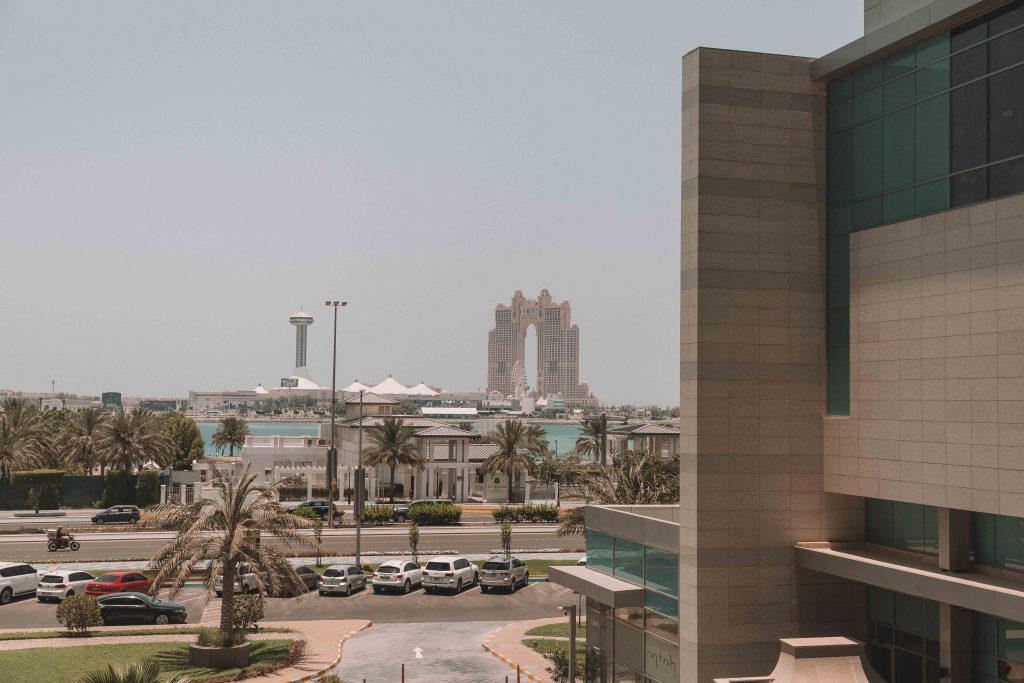 Visit the Abu Dhabi Presidential Palace (Qasr Al Watan)
Admission price: 60 AED (£12-13 per person)
Having filled yourself with soft Italian bread, delicately flavoured pasta and decadent desserts, it's time to stretch your legs and head to one of the world's most extravagant palaces: the Abu Dhabi Presidential Palace. The new cultural landmark of the city, Qasr Al Watan as it is known locally, is a selection of rooms and exhibitions, all set within a working palace.
Stepping off the bus that shuttles visitors from the admissions hall to the grand entrance of the palace, we were left almost blinded by the gleaming marble that surrounded us. Having apparently stepped into a pearly paradise, we stood in awe at the exterior of the palace. Barely registering the 39 degree heat suffocating the city, we gulped at the extravagance of it all.
This was the Abu Dhabi we had been expecting.

Walking through the doors that led into the Grand Hall, and we were greeted with a soaring, glittering spectacle. The 60m high dome that sits in the centre of the hall is one of the largest in the world (and indeed larger than the Grand Mosque), with a 37m diameter. Instantly dwarfing us, we stared up in wonder at the dome, its image reflected a hundred times over by the mirror cubes dotted around the building.
Qasr Al Watan is divided into further, equally impressive rooms that house some fascinating exhibitions, including a display of gifts donated to Abu Dhabi during state visits. The Library, in particular, is also well worth a visit. An 'Instagrammers' dream, the Palace is a truly glittering, Arabic-inspired marvel and a must see when in Abu Dhabi.
Where to Stay: Emirates Palace
There is only one place luxurious enough to stay in after a tour of the Presidential Palace: the illustrious Emirates Palace. Situated just across the road from Qasr Al Watan, this fairytale hotel is world renowned for its luxury and extravagance. We could not believe that we were here to spend the night.
Gently ushered in from the hotel's entrance, we were swiftly checked-in (hot towels, a rose and golden coin-shaped hotel key placed in our hands), we were next guided to our room for the night: an experience that might just be one of our most memorable experiences yet.
"You'll be staying in our Khaleej Deluxe Suite," our guide told us as we neared the end of a glittering and impossibly long corridor. My heart pounding in anticipation, we followed her through to the suite's hallway, which was larger than most London apartments. Barely unable to comprehend what we were seeing, we were given a tour (one that I barely remember now) of our suite, which included a dining room, lounge area, huge bedroom, luxurious bathroom (with sunken jacuzzi) and wrap-around balcony.
A glittering and golden sanctuary, the Khaleej Deluxe Suite was an experience that'll be hard, if not impossible, to beat.
Tearing ourselves away from our suite, we took advantage of the cooler evening weather and headed to the 'East Wing' pool. Boasting two huge pools, jacuzzis, water slides and private beach, there is plenty to explore at the Emirates Palace. In fact, with only one night at the Palace, we barely scratched the surface of what the hotel had to truly offer.
Watching as the sun began to slip from the sky, we excitedly returned to the suite to get ready for a particularly special event: the hotel's Iftar and Sahoor, served in the purpose built Ramadan Pavilion. As guests of the incredibly kind PR & Communications Manager of Emirates Palace, Mohammed Alaoui, we enjoyed an evening full of food, music and excellent company.
Being able to experience Iftar at such an iconic hotel was a truly magical experience; and one that made us realise how special it is to visit the UAE during Ramadan.
What to do in Abu Dhabi: Day Three
Waking early in a bed once slept in by Prince Andrew and Pamela Anderson (not at the same time, I hasten to add), the sense of disappointment at having to leave this pocket of luxury began to creep in. Wandering across the plush carpet, I stepped out onto the balcony; the sound of the sea and animated birdsong breaking the sleepy silence. For those staying at the Emirates Palace, it's safe to say one night is definitely not enough. If finances permit, a three night stay should just about suffice in allowing you to really absorb all that is on offer here.
Bidding a reluctant farewell to a level of luxury that will be hard to match in our lifetime, we next headed into downtown Abu Dhabi for a morning brimming with culture, history and heritage.
Qasr Al Hosn
Admission: 30 AED (around £6)
Qasr Al Hosn Fort and Palace 
In complete contrast to the current Royal Palace, Qasr Al Hosn is a modestly sized series of white buildings that are now surrounded by soaring skyscrapers. Deemed the oldest and most important buildings in Abu Dhabi, Qasr Al Hosn was the first permanent structure in the city, originally built as a watch tower in the 1790s. The Outer Palace was then added to the tower, between 1939-45, and soon became the official palace of the ruling family – the Al Nahyans.
It was during our visit to Qasr al Hosn that we truly began to appreciate the history and heritage of Abu Dhabi. From a simple desert settlement reliant on fishing and pearling to a shining metropolis, Abu Dhabi's journey is an impressive one.
The Palace has recreated many of the traditional rooms once frequented by the Sheikh and his family, including living rooms, bedrooms and kitchens. These rooms help guests imagine a far more simpler and modest way of life for the first ruling family of Abu Dhabi.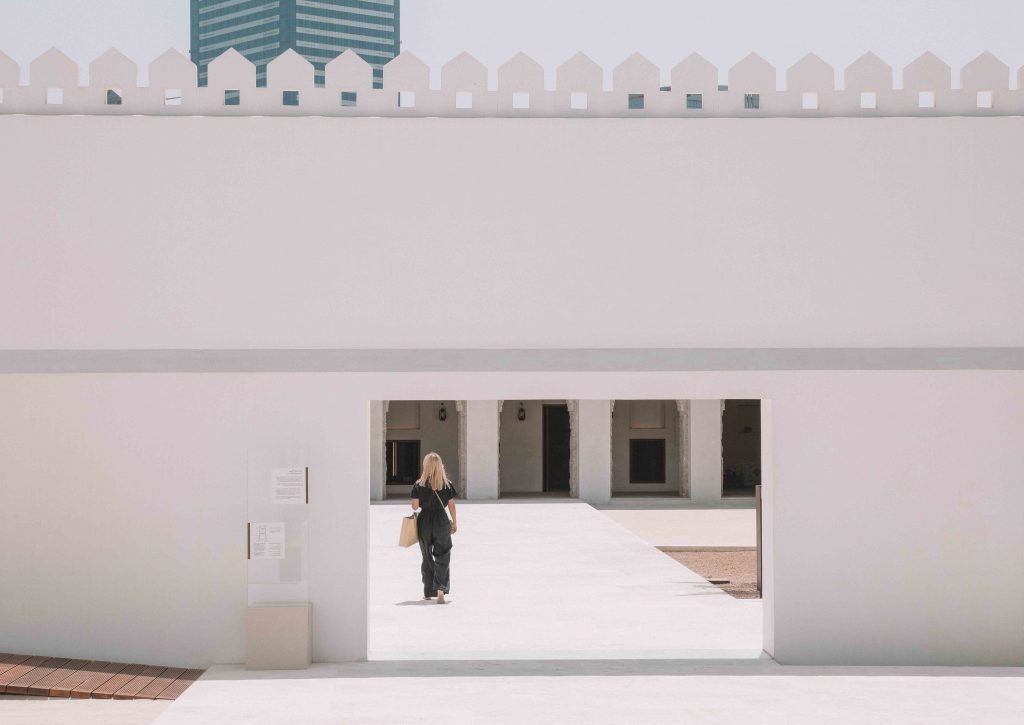 House of Artisans (free to enter)
Sitting on the same site as the Palace is the House of Artisans, home to a series of detailed exhibitions celebrating Abu Dhabi's cultural and craft heritage. With videos, imagery and opportunities to try traditional crafts yourself, we found this an incredibly interesting insight into traditional, tribal life in the UAE. Bedouin women are also on hand throughout the exhibition to bring to life traditional crafts, such as 'Khoos' – a weaving technique using date palm leaves to make baskets –  and 'Talli', an intricate method of embroidery used to decorate women's robes.
After a few hours immersing yourself in the history of Abu Dhabi, and having learnt about some of its traditional crafts, it's time to move to the city's crowning glory: the Sheikh Zayed Grand Mosque.
Sheikh Zayed Grand Mosque
Admission: Free
Of all the places to visit in Abu Dhabi, it was the Sheikh Zayed Grand Mosque that we were most eager to visit. Having seen its gleaming white domes portrayed again and again across social media, this was a destination we were desperate to visit.
One of the world's largest mosques, the Sheikh Zayed Mosque was built to represent diversity across different Muslim civilisations. Indeed, architects from all over the world were responsible for its design, including those from the UK and Italy. The exterior and interior design of the building are equally diverse, inspired by Egyptian, Moroccan and Pakistani influences. With a capacity to welcome a whopping 40,000 worshippers, the Grand Mosque is truly a sight to behold.
Promoting diversity and inclusivity, the Mosque is free to visit and welcomes tourists and worshippers from all over the world.
We visited the Mosque as the midday sun peaked; the white, blue and gold of the building vibrant and bold (sunglasses were certainly in order). We were told, however, that the most beautiful time of day to visit is at sunset, when the Mosque is lit to match the rise and movement of the golden moon. The timing of our visit, however, didn't detract from its beauty; in that midday sun, this stunning building seemed almost iridescent.
Allow yourself at least 1.5 hours to truly enjoy Abu Dhabi's Grand Mosque – this is not a place to be rushed.
Note: female visitors will be given a full length gown to wear during the visit (for free). If you'd rather wear your own clothes, your arms, legs and head will need to be entirely covered. 
Lunch at Ritz-Carlton Abu Dhabi
Located just across the road from the Grand Mosque sits another luxury hotel: the Ritz-Carlton Abu Dhabi, Grand Canal. Walking into yet another breathtaking lobby, we were greeted by the patient Maria, who let us stand dumbly for a few minutes, taking in yet more dazzling surroundings. With its lobby overlooking the Grand Mosque, we had found ourselves in yet another sumptuous, first-class hotel. Our Sex and City dreams were really coming true.
Before we settled down for a delicious lunch, we were treated to a sneak peek at the Ritz-Carlton's exclusive Club Lounge; a lovely area for Club Level guests. With breath-taking views across the beach and city, the Club Lounge offers additional dining and complimentary services to its guests. A quiet, sunny haven, this was just another layer of luxury and relaxation on top of the traditional Ritz-Carlton experience.
Where to stay: Jumeirah Al Wathba Desert Resort and Spa
Having experienced a beach and city stay, there's only one place to head to for your final night in Abu Dhabi: the desert. A city that has quite literally grown from the sand surrounding it, we were eager to experience the silky dunes of Abu Dhabi, and found the perfect place to do so at the Jumeirah Al Wathba Desert Resort and Spa.
Part of the same family of hotels as the Jumeriah Saadiyat Resort, Al Wathba is the new kid on the block – having opened only 4 months previously.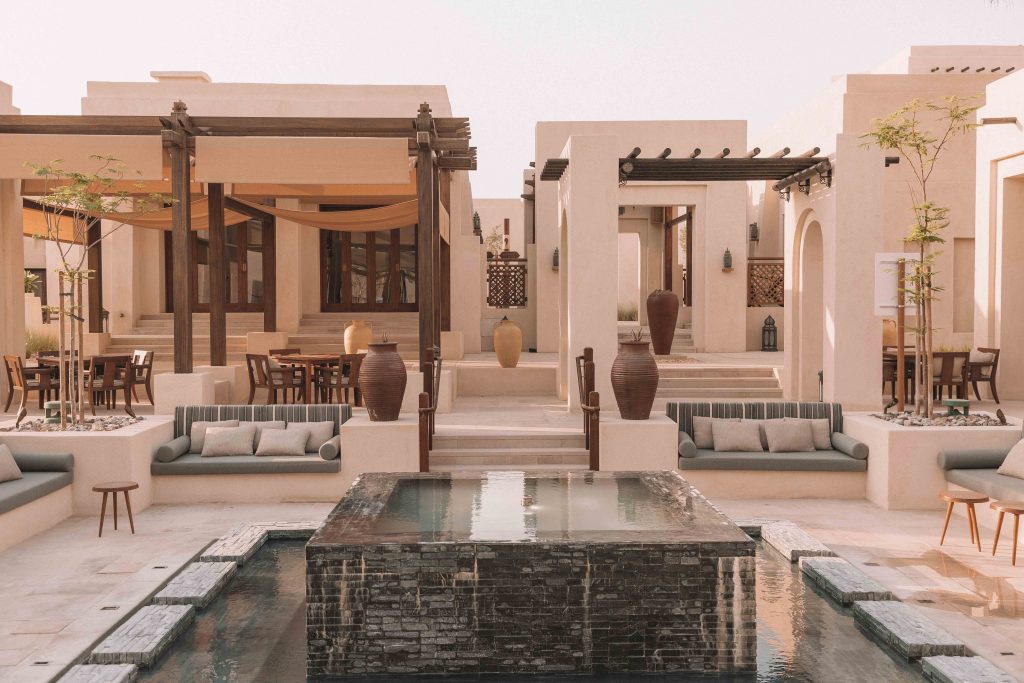 Leaving the city behind, the roads grew increasingly quiet as we headed out into the heat of the desert. Tucked away in a small oasis, Jumeirah Al Wathba was just a 45 minute drive from downtown Abu Dhabi, therefore making it an achievable desert escape for anyone enjoying a three day break in Abu Dhabi. Stepping out the car, a warmth and serenity surrounded us; birds chirping from the nearby fountain. This was truly an oasis.
Continuing to be utterly spoilt by Kenwood Travel, we were treated to a stay in one of the resort's 13 private villas, complete with private plunge pool. Stepping outside onto our patio – filled with a sumptuous cabana, sun beds, sofas and a shimmering pool –  I took a long, deep breath. Moments that truly take your breath away don't happen all that often in normal life, but in the space of just three days, I was (yet again) lost for words. This was, truly, the most beautiful place we'd ever stayed.
Our luxury stay didn't end there, however, as we were both treated to an hour-long aromatherapy massage in the resort's signature Talise Spa. An exquisitely designed spa, featuring 13-treatment rooms, male and female hammans, jacuzzis, plunge pools, a crystal salt room, steam rooms and even a state-of-the-art Cryo Chamber, this desert sanctuary has everything you'll need for a weekend of rejuvenation and relaxation.
After what we both agreed were the best massages of our lives, we finished our evening in the desert under the stars, eating at one of the resort's 5* restaurants. The sound of crickets filling the air as we walked back to our villa, we considered whether it was too late to delay our return home.
Was one more day in paradise too much to ask for?
What to do in Abu Dhabi: Day Four
After three busy – yet incredibly luxurious days – exploring the UAE capital, we enjoyed one last dip in the desert pool before heading to the airport. Conveniently located just a 25 minute drive from the airport, Jumeirah Al Wathab is the ideal location to base yourself for your final night in Abu Dhabi.
We (reluctantly) caught the 14:05 flight home, landing at 18:30 UK time on Friday evening. Stepping off the plane, the air suddenly feeling cold and biting, we made our way through the airport in a slight trance. A little like a desert mirage, we were already beginning to question whether our three days in Abu Dhabi had even happened.
A sandy, golden haven offering stories of Arabian nights and a rich and fascinating past, Abu Dhabi was a destination that blew us away and one that we're already desperate to return to.
Offering much more than glitzy brunches and towering buildings, Abu Dhabi is a city that hasn't forgotten its more humble beginnings; remaining a passionate advocate for its unique, complicated and rich past and one that is welcoming in a new and exciting future.
This was a paid press trip with Kenwood Travel.
Pin for later: