Oxford needs little introduction. Home to one of the world's most famous universities and romantic skylines, it's a city of bicycles, ringing bells, hidden college cloisters, sprawling meadows and cobbled pavements. Come the summer and the city is filled visitors enjoying a day trip to Oxford, with a heady mix of picnics, punts and wisteria covered colleges.
In the winter, the stained glass windows of the colleges are illuminated by candlelight and the city's covered market is filled with the scent of mulled wine. It's our favourite city on earth and one we could visit again and again, without ever growing bored.
So, if you're planning your own day trip to Oxford: where do you begin?
Below, you'll find everything you need to know to have a memorable day in one of the UK's most loved cities. If you're visiting Oxford with kids, there's also plenty of suggestions in our itinerary to keep toddlers and children entertained.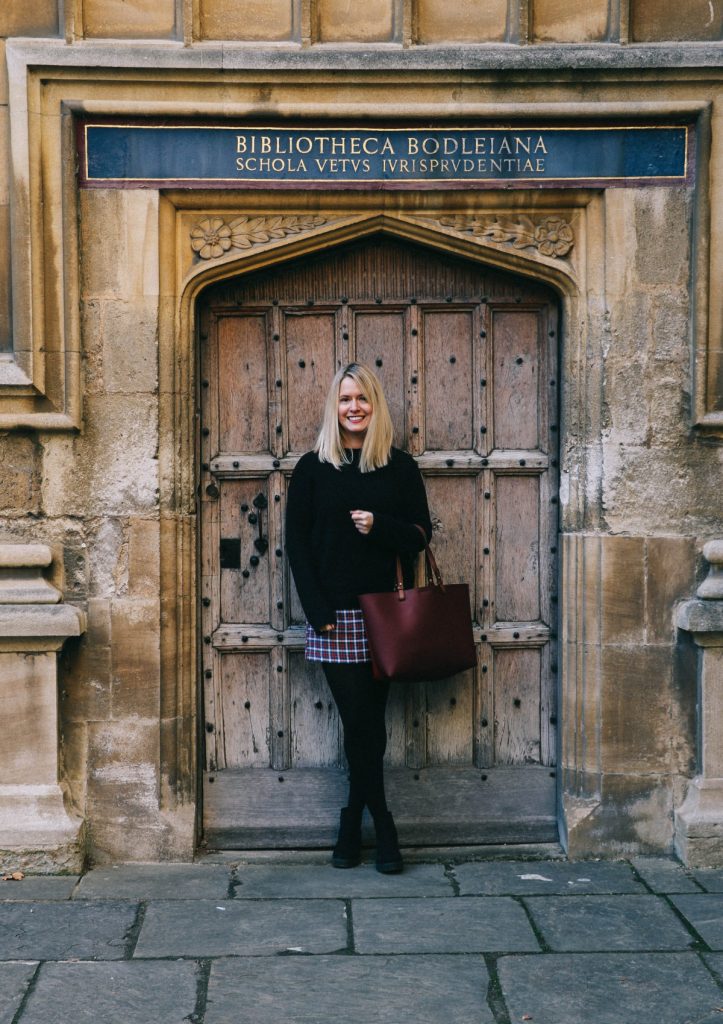 12 Things To Do In Oxford
1. Visit Oxford's Colleges
Oxford is a city of two parts: the grand exteriors of its 38 colleges and the secluded world within them. If you visit Oxford without peeking inside its colleges, then you've only seen half of this magical city. Thankfully, the majority of the  Oxford Colleges open to the public, allowing you to tour (certain) parts.
Take a look at this page for a guide to Visiting Oxford Colleges and what is open and when.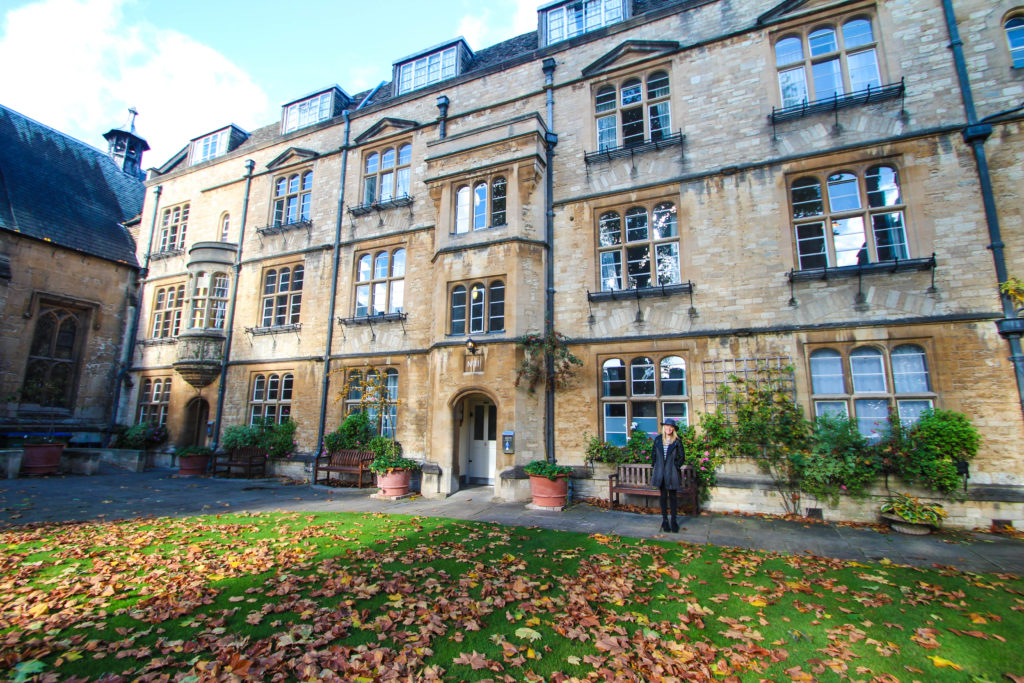 I was a student at Lincoln College – one of Oxford's smallest, but most beautiful colleges.
Founded in 1427, the college sits quietly on Turl Street and houses one of the smallest chapels (especially when compared to its grander peers). Dominated by an enormous stained glass window and dark cedar wood, it's the perfect place to enjoy some peace  and quiet whilst in the centre of the city.
Another favourite college of ours is the beautiful Worcester College. Throughout the summer, Worcester's 26 acres are filled with exotic trees and plants in bloom – even the odd banana tree resides here. It offers picture perfect scenes, including secret walkways and arches; perfect for anyone hoping to find their own secret garden.
Additionally, be sure to visit Merton College – Oxford's oldest college built in 1274. At Christmas, the college is particularly beautiful, with Christmas trees and lights filling the stone clad quads. Although smaller than some of Oxford's more infamous colleges (yes, Magdalen College – we mean you), this college housed two Kings: both Charles I and II. It has a magical feel, not least within its chapel, which features a delicate rose-inspired stained glass window.
If planning a day trip to Oxford , be sure to visit these historic and entirely unalike colleges.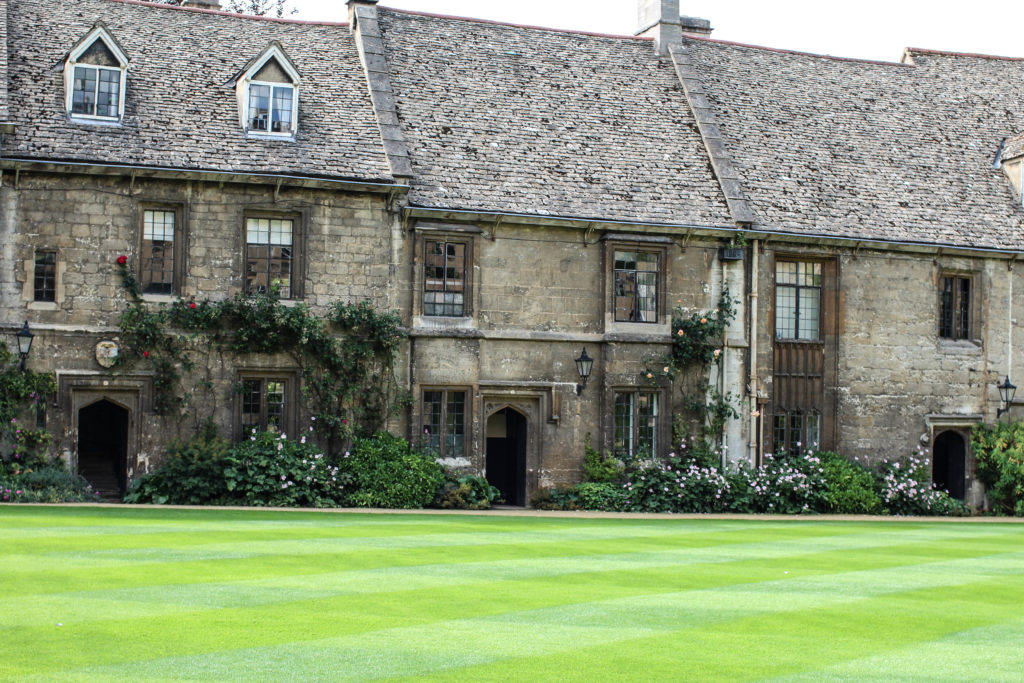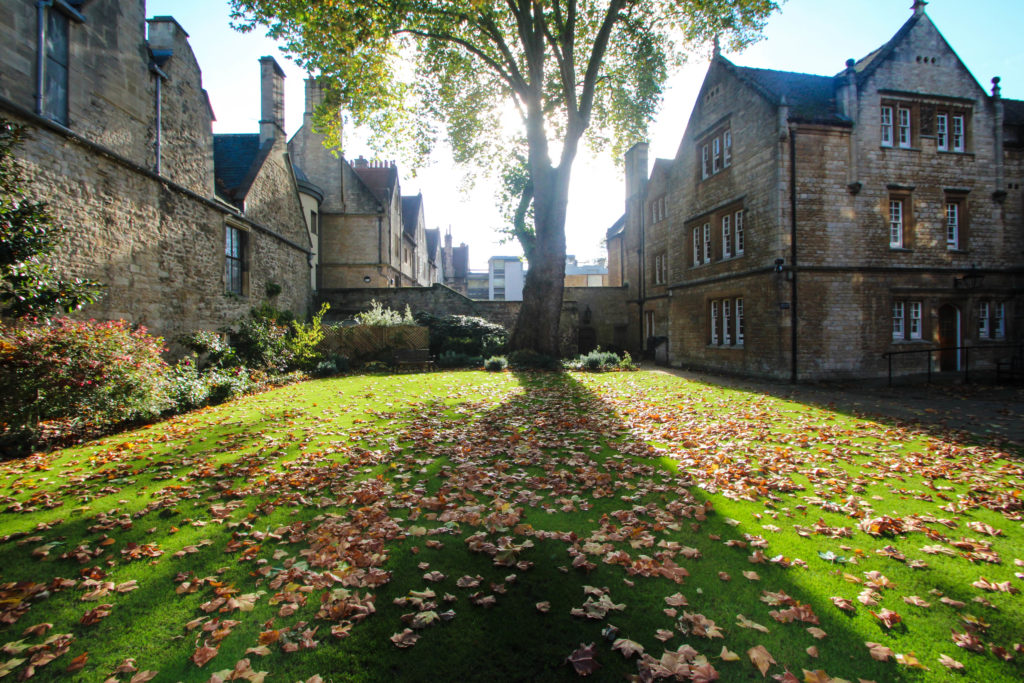 2. Harry Potter Sights in Oxford
I'm sure everyone is familiar with Hogwarts School: that (fictional) grand castle, filled with creaking bookshelves, flickering candles and hidden staircases.
Talking portraits aside, I'm sure that JK Rowling had one place in mind when imagining this illustrious school: Oxford.
Lo and behold, if you decide to enjoy an Oxford day trip, you'll discover that it houses many locations used throughout the Harry Potter films.
Christ Church College
First up is Christ Church College's hall: home to the Hogwart's dining hall. It's hard to believe that students casually eat their breakfast in here every morning, under the hall's soaring roof and delicately hammered beams – decorated with over 600 different heraldic images. Although it may lack a golden goblet or two, visiting Christ Church's grand hall transports you to a truly magical world.
Hint: use University Rooms to book your stay at Christ Church, (available throughout the holidays when the students have left). The rooms may not be the height of luxury, but they are cheap and will give you fantastic access to the college and its grounds.
Duke Humfrey's Library
Harry Potter's very own library can also be found in Oxford, housed within the University's Bodleian Library. The Duke Humfrey's Library provided the backdrop to Harry, Ron and Hermione's study sessions, and can be viewed as part of a tour of the Bod.
As students who have studied in Duke Humfrey's, we can confess  that it isn't as awe-inspiring or comfortable as you might think. Due to the historic nature of the building, you aren't allowed to take in food, drink or anything more than a pencil and laptop.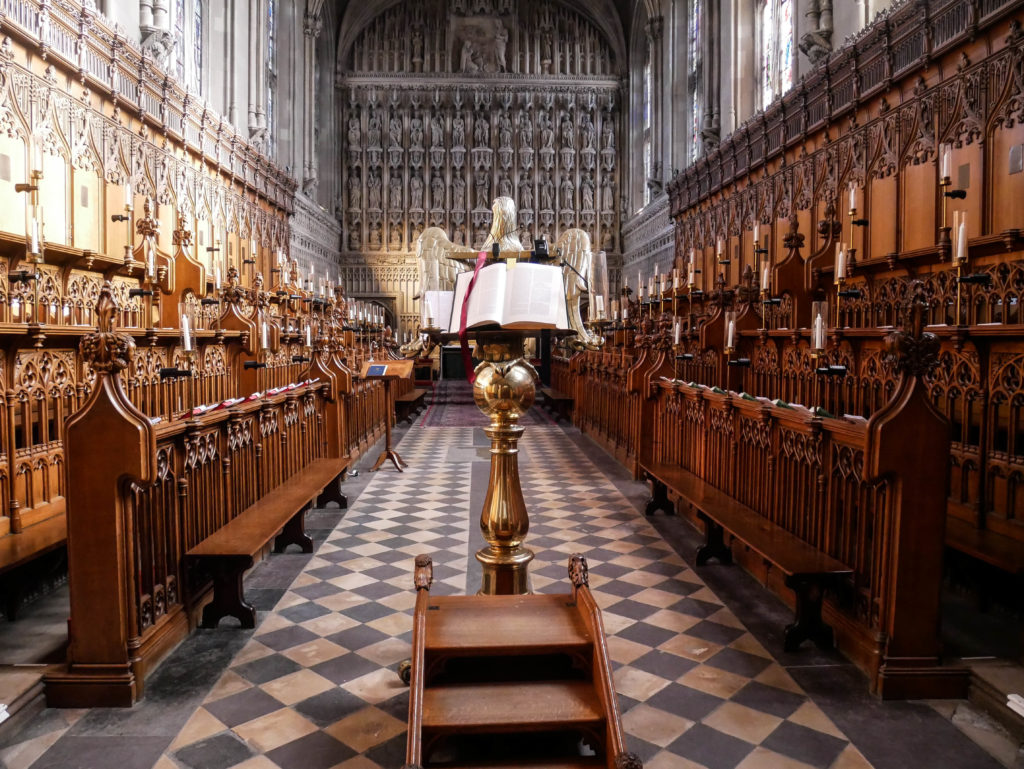 3. Visit the Prettiest Streets in Oxford
It's unsurprising that Oxford has inspired many magical stories and romantic poems. From Lewis Carroll's Alice's Adventures in Wonder Land, to the poetic reveries of W.H. Auden, Oxford has been the muse of many famous wordsmiths.
Walking through the city and it's obvious why. From the romantic, deer-filled parks of Magdalen College, to delicate architecture such as the Bridge of Sighs, Oxford feels like a dreamy film set.
However, our favourite parts of the city are those hidden amongst the towering colleges and churches. A perfect example of this is St Mary's Passage. Said to have inspired CS Lewis' The Chronicles of Narnia, this little alleyway is tucked secretly away between two buildings. To find it, spot the door with the lion's head knocker and the two golden fawns either side. Maybe, just maybe, you'll find yourself in a snowy wonderland on the other side.
No day trip to Oxford would be complete without wandering the cobbled Radcliffe Square. Home to the Radcliffe Camera Room (part of the Bodleian Library), the square is probably the most iconic spot in Oxford.

4. Visit Magdalen College Deer Park
No list of things to do in Oxford would be complete without a trip to the famous Magdalen College Deer Park.
Picture the scene: you've bagged yourself a new boyfriend and you've decided to take him to Oxford for a day of romance. Ready to lure him in with scenes of a frozen and wintry Oxford, you head to Magdalen Deer Park – ready to hold hands and spot the Fallow deer together. How quaint! How romantic! In reality, what happened was vastly different.
It was grey, drizzly and freezing, and as we walked stiffly around the park, snot poured out my nose.
However, visit another time of year and the park is gorgeous. Also ensure you take the Addison Walk, which circles a small island in the River Cherwell. It's particularly beautiful in the spring.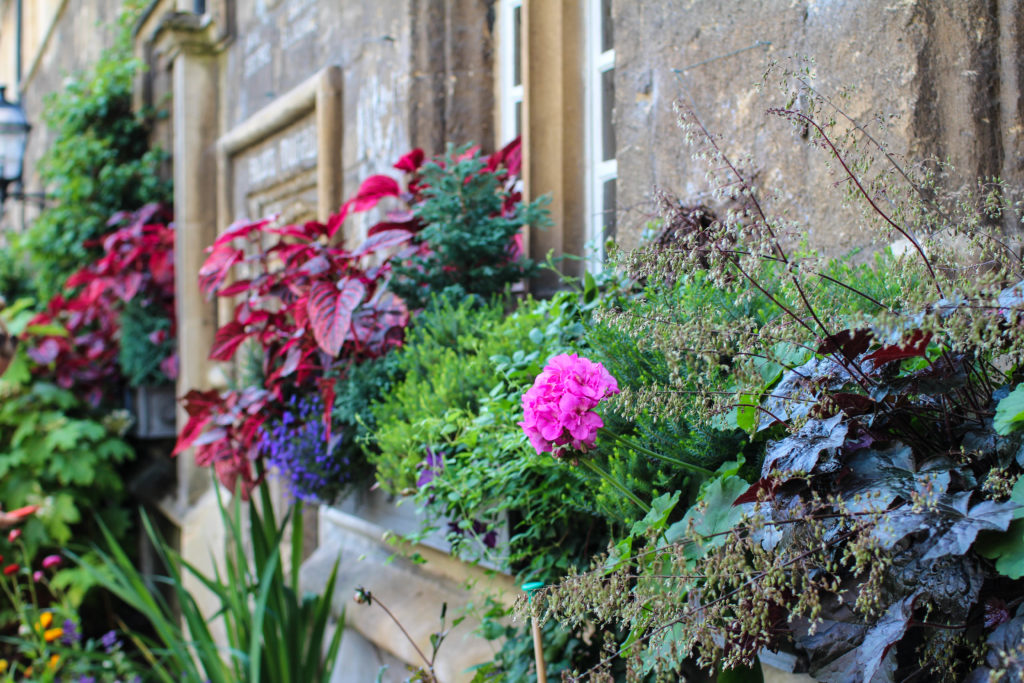 5. Climb St Mary's Clock Tower
For those looking to see the dreaming spires of Oxford in their full glory, head to the University Church of St Mary the Virgin and climb its clock tower.
The winding, narrow staircase of the tower may well constitute a fairly intense cardio session, but the views atop the tower are well worth the panting.  The view of the Radcliffe Camera Room is particularly impressive.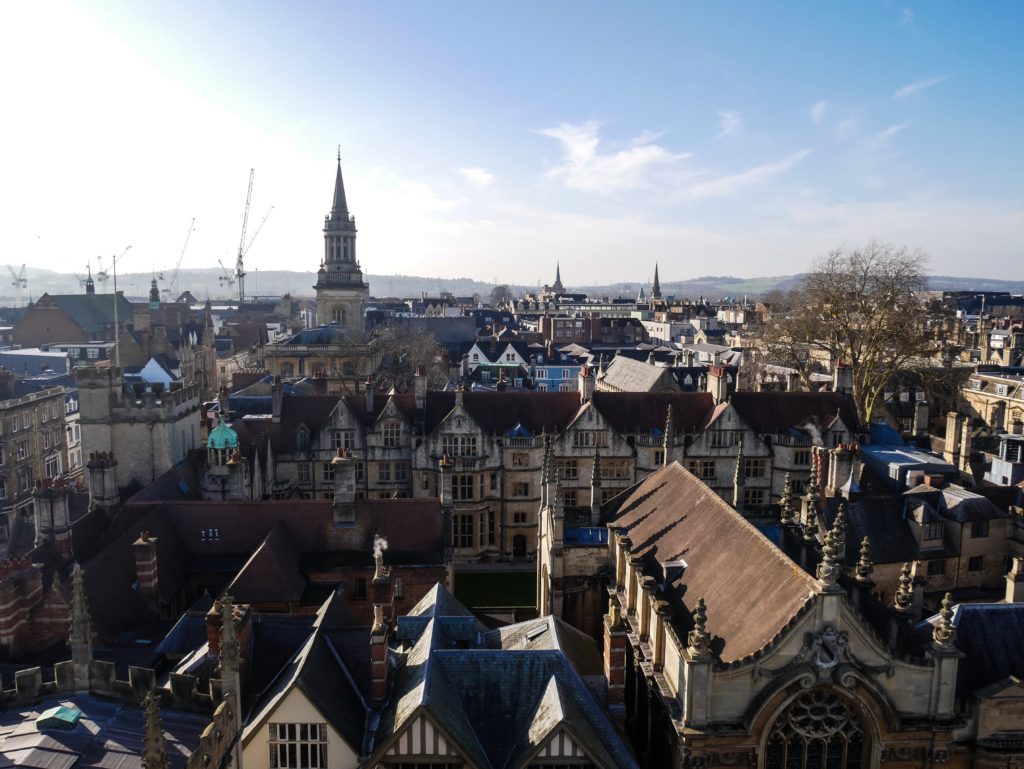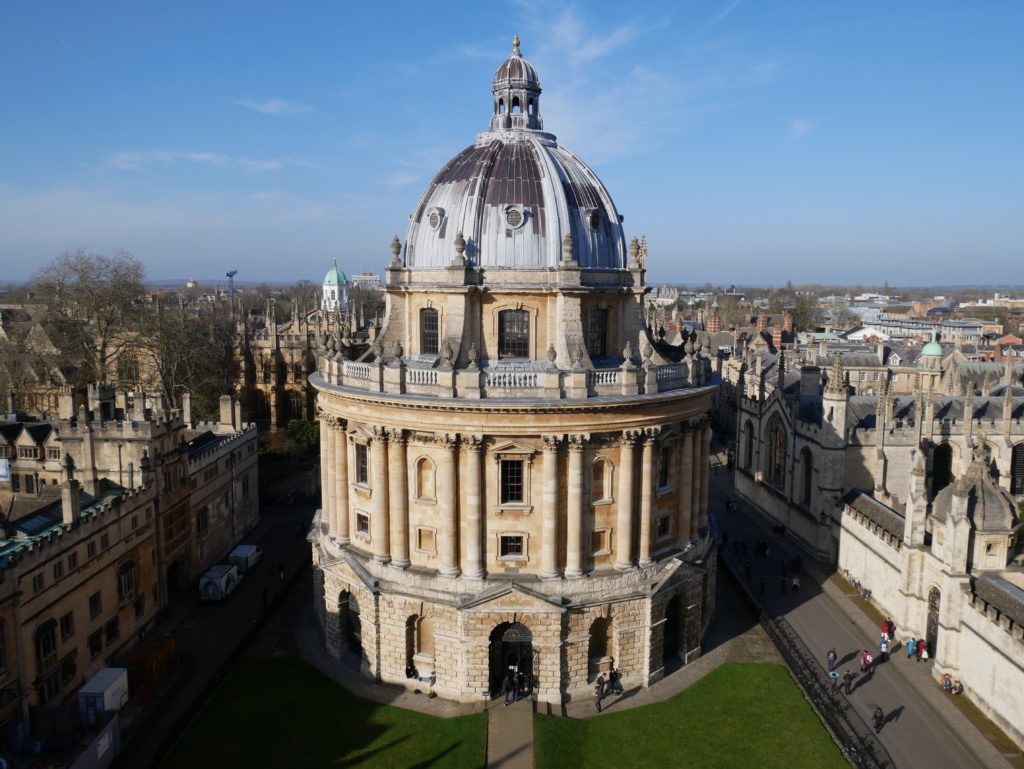 6. Visit the Story Museum (ideal for toddlers and children)
With many years passed since we studied at Oxford, I now find myself returning frequently to the city with my toddler. Our main reason for a day trip to Oxford nowadays is to visit the excellent Story Museum.
The Story Museum is an immersive, story-filled land of galleries and caters for both toddlers and older children. The Small Worlds room is dedicated to babies and toddlers and offers a patch-work land of stories and interactive play. Olive adored visiting here, especially jumping on the Three Bears Bed and riding on the Story Bus.
Each session must be pre-booked and also offers story time and songs, with a Story Guide.
For those a little older (although Olive has also visited here), the Galleries will take you through the Whispering Wood, into Narnia and even into an Enchanted Library. Although aimed at children, I love visiting the Story Museum and it makes for the perfect thing to do in Oxford with kids.
7. Explore the Pitt Rivers and the Natural History Museum
We have visited these museums more times than we can remember on our day trips to Oxford, but each visit has always contained a new discovery or encounter.
The Pitt Rivers Museum is home to social anthropology, and is crammed full of archeological and ethnographic items from around the world. It is a treasure trove of the world's weirdest and wonderful: including the infamous shrunken heads, tools for witchcraft and dazzling Egyptian relics. During my time studying at Oxford, many of my lectures took place in the Pitt Rivers Museum, and its shrunken heads (now sadly removed from display) were a surreal part of my everyday life.
As it's a little dark in there (it all adds to the atmosphere) you're handed a wind-up torch as you enter to help seek out all those hidden curiosities.
The Natural History Museum is also worth a visit; reminding me of a scaled-down version of that found in London. Wander its huge domed hall, to see full-scale dinosaur skeletons and plenty of taxidermy.
Again, now with a toddler in tow, The Natural History Museum is a brilliant place to bring children and, at weekends, you'll often find free activities and sessions taking place.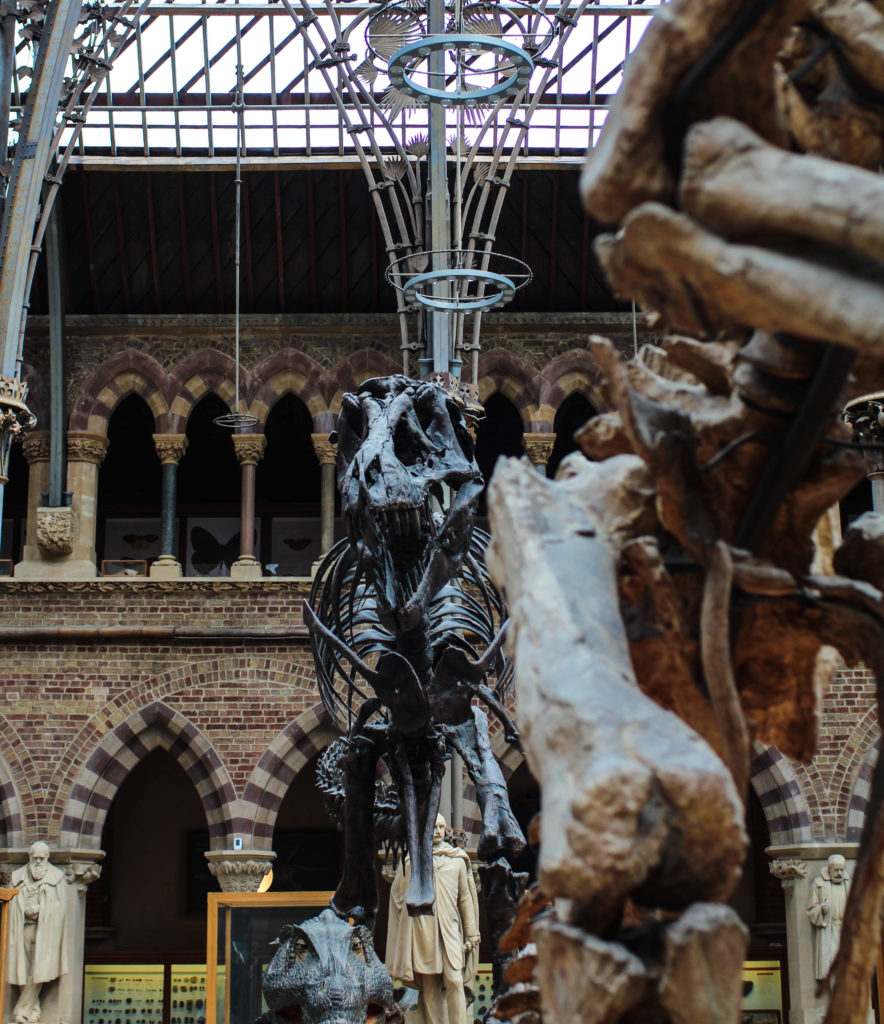 8. Visit an Oxford bookshop
One of our earliest childhood memories is spending Sundays picking new books to read at Blackwell's in Oxford. One of the most famous bookshops in student cities, wander the basement of Blackwell's, with it's impossibly huge inventory of books, or explore the lovely children's area.
Further north in Summertown, you'll find our favourite, Daunt Books.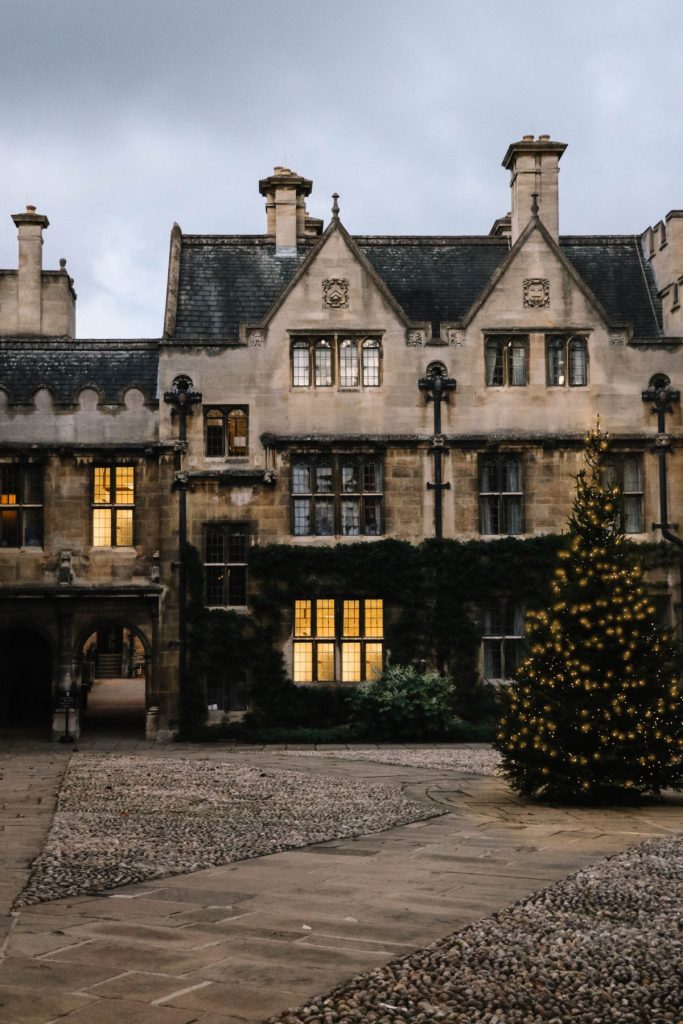 9. Go Punting at Magdalan Bridge 
I know, I know – it's a little cliché, but you cannot enjoy a day trip to Oxford without trying your hand at punting. In the summer months, grab some Pimms and head to the Magdalen Bridge Boathouse to hire your punt (or, if you're lacking in upper body strength, a pedalo or row boat).
Gently float down the River Cherwell, past weeping willows and banks of daffodils, for a truly quintessential Oxford experience.
10. Enjoy the best afternoon tea in Oxford
Afternoon tea in Oxford is a refined affair, offering the daintiest of china in the most beautiful of settings.
We have two favourite spots where we like to wile away an afternoon over a cup of tea and some jam coated scones. The Grand Café is one of Oxford's most famous – and beautiful – teashops. Incredibly, it is the site of England's first coffee house opened in 1650, and offers its guests a sparkling, glittering room to enjoy cocktails, delicious food and of course, its infamous afternoon tea. Warning: as you can't reserve a table, however, there may be a queue.
If the Grand Café is full, head up towards the equally wonderful Old Parsonage Hotel: a 17th century home covered in purple and pink wisteria.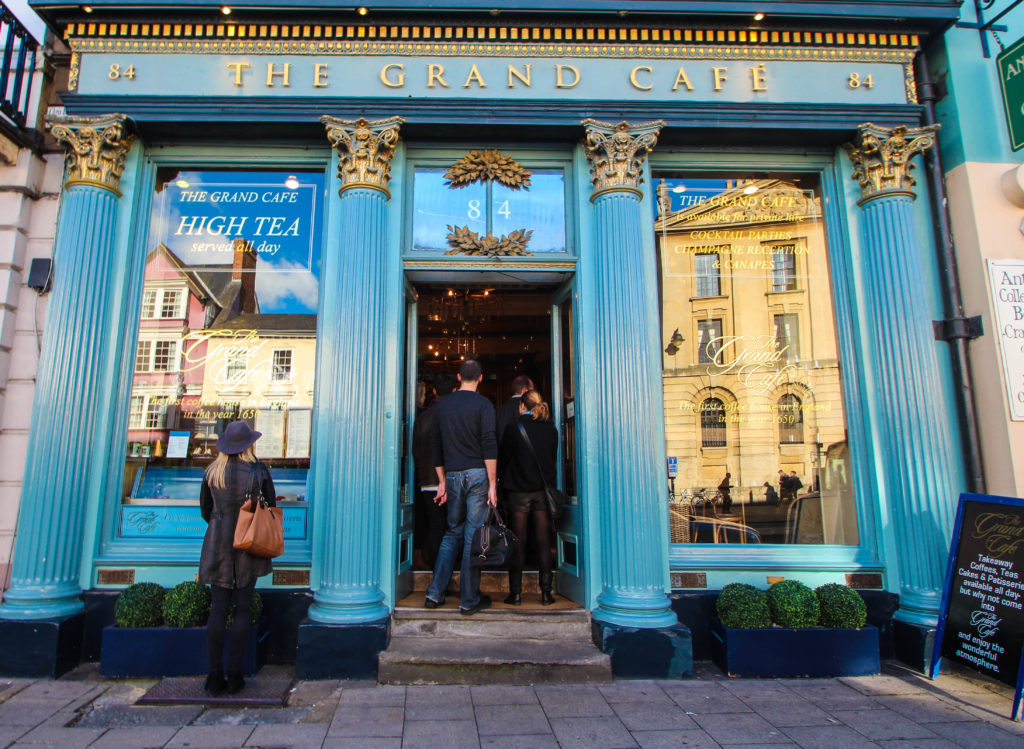 11. Explore the Covered Market
Housing over 50 independent traders and dating back to 1770, the Covered Market in Oxford is a brilliant place to come for coffee, lunch or to pick up a unique gift. Over the years, the Covered Market has vastly improved its food and drink offering and now boasts a Donburi, pizza, and pie restaurants, amongst many other eateries, including the delicious Ben's Cookies.
12. Shopping in Oxford
Oxford offers a brilliant mix of high-end shopping, alongside independent and boutique stores. Alongside the impressive Westgate Shopping centre, you will also find dozens of independent shops, including antique map and print shops. I once spent an entire day exploring just these (in fact, two typography prints now sit proudly above my desk as a result of this).
Perhaps one of the most famous antique print and map stores is Sanders, housed within a 16th century building on the High Street. Look down and you can see the cellar below through the floorboards.
Another real favourite of ours is the incredibly pretty Arcadia, filled with prints, trinkets and sparkling lights for your home. They also offer a lovely selection of second-hand books.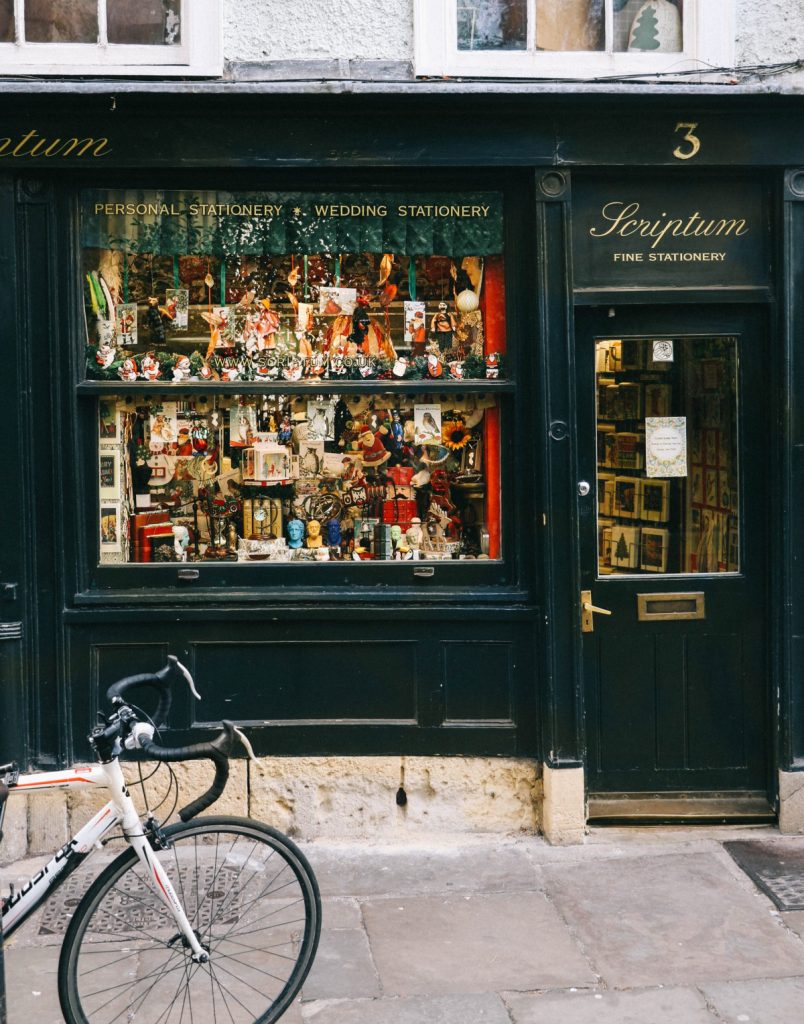 Lastly, don't miss the Alice in Wonderland inspired 'Alice's Shop' . I've bought many a birthday present here, ranging from small prints to Alice-inspired stationary. It really is lovely and a beautiful place to visit, especially if you're visiting Oxford with kids.
13. Where To Eat in Oxford
The Best Restaurants in Oxford
For a relatively small city, there is an enormous amount of choice in Oxford for places to eat. From excellent British pub food, through to delicate French-inspired cuisine, the city covers all bases.
One of our favourite spots for a cosy bite to eat is the Turl Street Kitchen: a Georgian and timber-filled building, channelling a distinctive stripped back feel. It offers cosy, home-made food over long wooden tables.
For a quirky place for dinner – tucked away from the city – head to the Cherwell Boathouse, for delicious seasonal food with views over the river and the many rowing boats.
Lastly, our absolute favourite restaurant in Oxford has to be the ever-romantic Gees. Housed largely within a large glass atrium that is lit up at night with hundreds of fairy-lights, it's a fantastically atmospheric place to dine in Oxford and the food is also exceptional.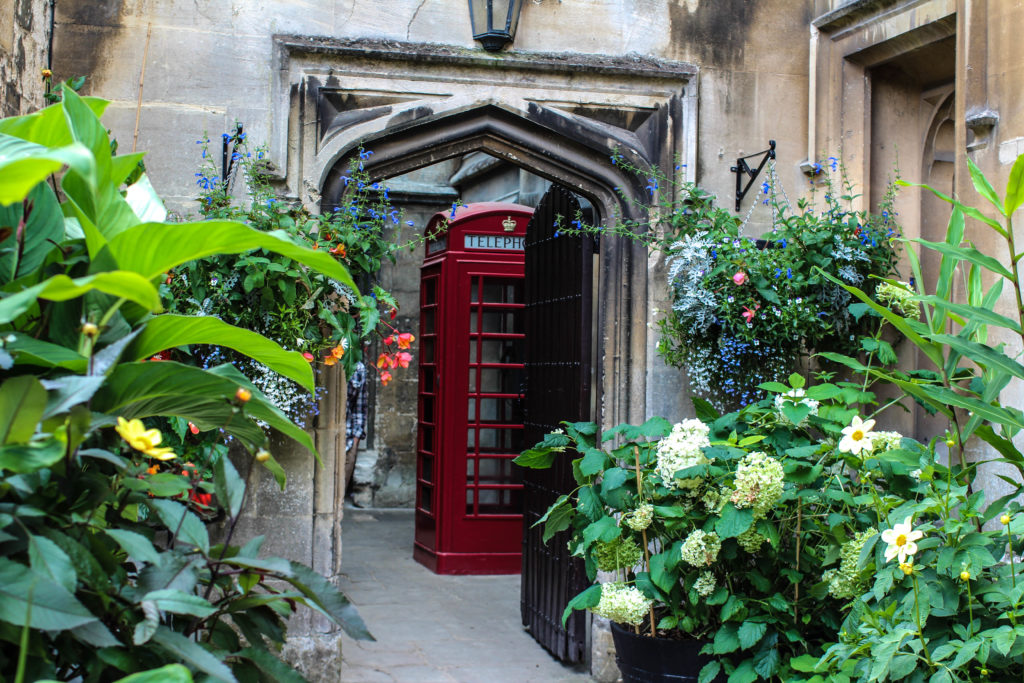 14. The Best Pubs in Oxford
There is nothing like a drink inside of one of Oxford's many pubs on a cold, wintery day. Likewise, if you decide to enjoy your Oxford day trip during the summer months, then why not sit outside in one of the pretty pub gardens?
With many of them boasting histories dating back to the thirteenth century, the majority of pubs are beam-covered buildings, with low ceilings, uneven floors and crackling fires.
For a taste of an exceptionally cosy pub, then pay a visit to the Bear Inn. One of the oldest pubs in Oxford, dating back to 1242, it is not only fantastically atmospheric (and tiny), but is also home to over 4,500 snippets of ties from various Oxford clubs.
For a little bit of modern history, take a walk across to the Turf Tavern: a thirteenth century ale house, where Bill Clinton notoriously 'did not inhale' a particular substance whilst visiting the University as a Rhodes Scholar.
If you fancy something a little more upmarket than a pub, then there are also no end of brilliant wine and cocktail bars to sample throughout the city. Our favourites include Joseph Perks & Co, Raoul's Cocktail Bar and the lively Kazbar.
A Day Trip to Oxford: Final Thoughts
Oxford is a small city, but one that can easily fill a day trip.
It's a British institution – a place where the traditions, histories and customs of the twelfth century continue to thrive. It's as British as David Attenborough and the BBC  – maybe even as British as the Queen herself.
But it's also a cosmopolitan and lively place, full of new bars, fantastic shopping and boutique hotels. It's romantic and welcoming, and equally mysterious and intriguing – full of little quirks and idiosyncrasies that you'll find nowhere else. It's the city where we studied, graduated and have explored over and over again.
It's a city like no other – and our very favourite city.