Birdsong was all I could hear when I woke up at our Unique Home Stays cottage. A chorus of melodies and harmonies, interrupted now and again by the crow of a rowdy magpie. Turning over, I heard the sound of a tractor rumble past; music from the driver's radio floating out the window. A dog barked twice and a pheasant squawked back. My bedroom window suddenly blew open, making the curtains billow and the pages of my book blow open – the remnants of unruly Storm Doris still sweeping the country.
I lay in my canopied bed for over an hour, listening quietly to these sounds – Somerset's very own wake-up call. My normal alarm clock comes courtesy of the noisy commuter train that arrives outside my house each morning; brakes screeching, automatic doors beeping and announcements blaring. In contrast, Somerset's wake-up call featured singing birds, rustling trees and bleating lambs. It was that idyllic soundtrack you hear piped from your overpriced lamp – the one that claims to wake you up gently with the luminous glow of a halogen bulb and the looped soundtrack of birdsong.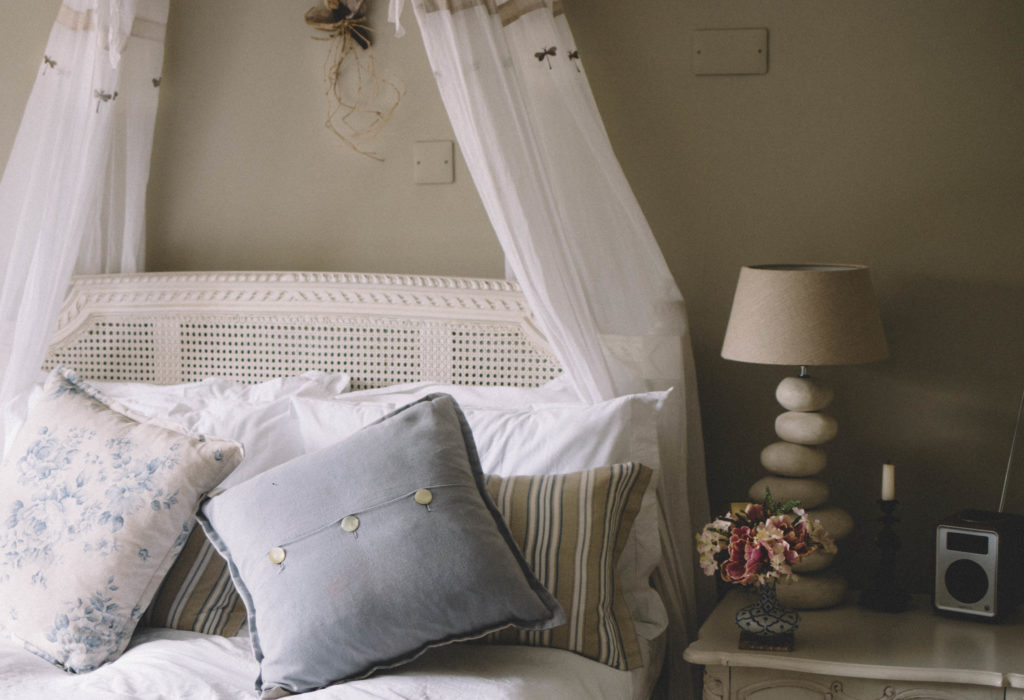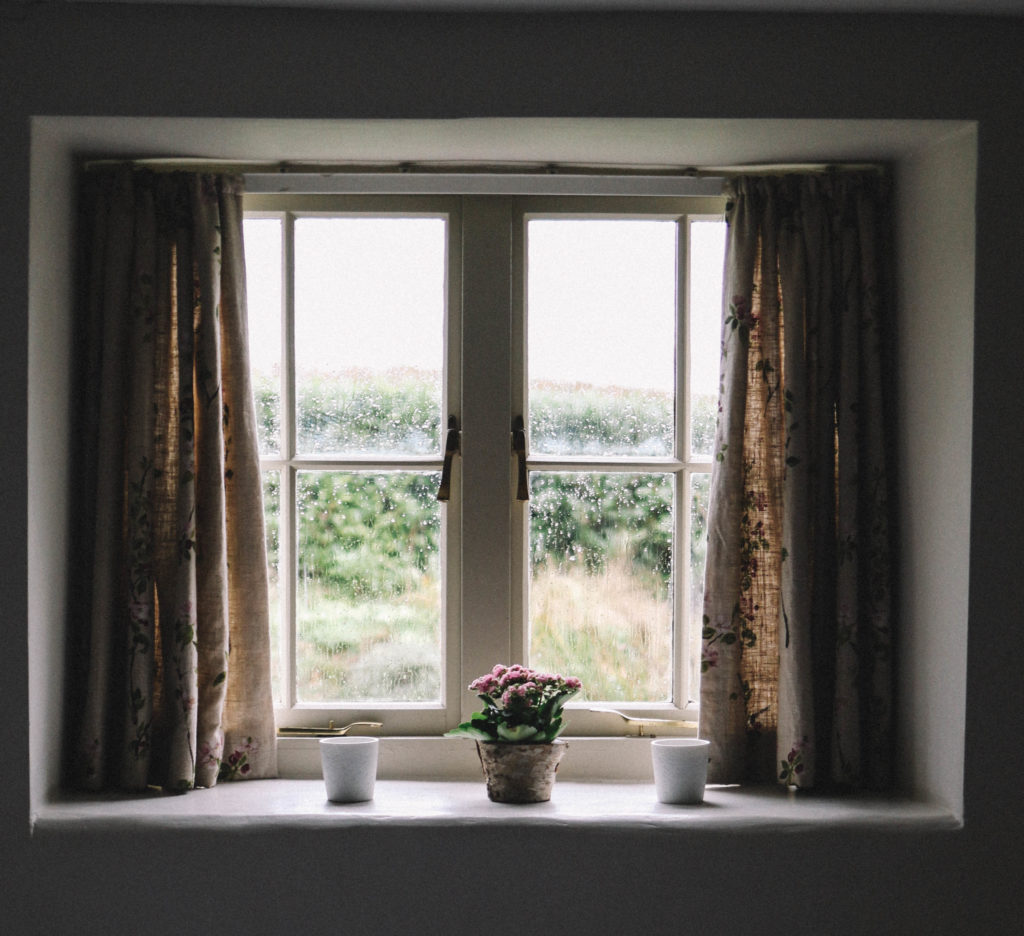 Review of Unique Home Stays, Somerset
After a stressful few weeks trying to figure out that modern-day conundrum of how to combine full-time work with a travel blog, I'd been dreaming of a few days away; somewhere to forget about deadlines, unit objectives and office quarrels that fixated on the volume of a radio. Already a devoted fan of Unique Home Stays – having had the pleasure of staying with them in Cornwall, Devon and the Isle of Skye – I therefore leapt at their suggestion that we escape reality for a few days, and retreat to the fairytale inspired Bluebell Grey cottage, in rural Somerset. After a day at my desk trying to meet deadlines, whilst being assaulted by Magic FM's entire repertoire of hits, their invite couldn't have come at a better time.
Unique Home Stays selects only the most beautiful, secluded and homely of retreats: offering cottages on windswept coasts; candle-lit wood cabins; and converted wagons warmed by crackling wood burners. They are, as they say, custodians to some of the UK's most beautiful private homes. Each stay with them has truly been as relaxing as the next. And so, minds set firmly on our country retreat, my boyfriend and I packed our bags one bright Friday morning and headed South West, for a weekend of cider swigging, cheese eating and beach walking heaven.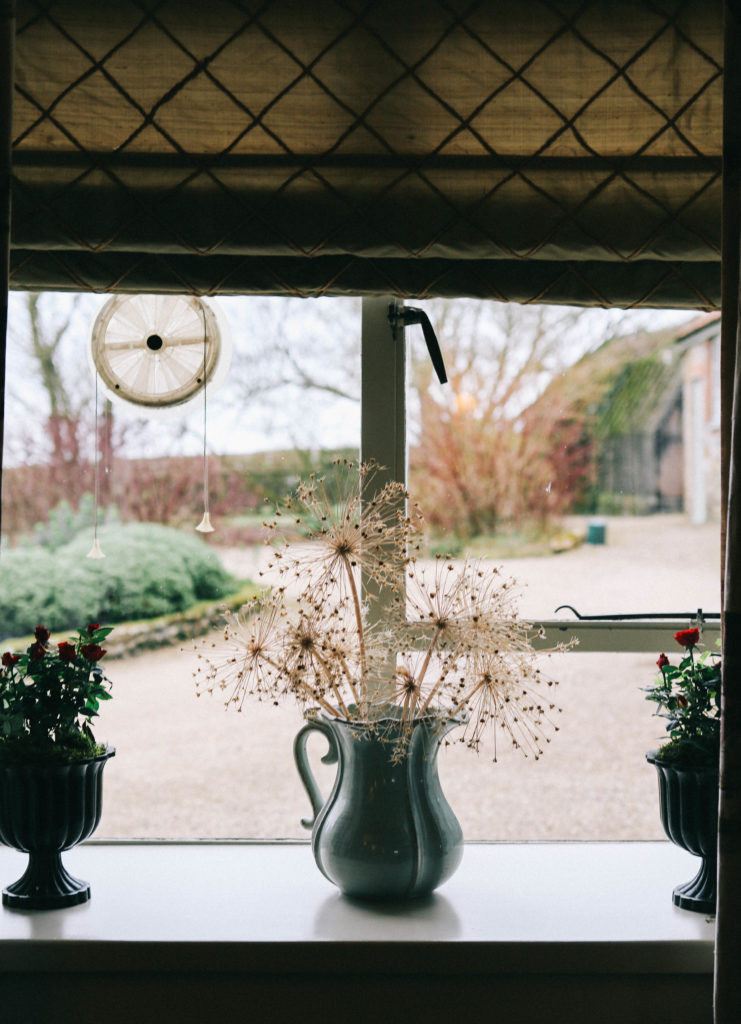 My boyfriend has only ever made cameo appearances throughout this blog – largely as the long-suffering passenger who is dragged along on road trips; a prisoner inside my red Renault Clio. As I race down country lanes and around hairpin bends, he sits silently in his seat, gripping the side and shifting under the weight of snacks that I insist we travel with. Sadly for him, this trip was no different. After a few hours on the road, speeding down lanes and swerving tractors, we arrived at Cricket Malherbie – the tiny hamlet where we would find our cottage. Now dusk, all we could see were the dark silhouettes of the trees ahead and the glowing windows of the cottages we passed. Even without the windows down, the smell of wood smoke filled the car. I felt like a smug participant in 'Escape to the Country'. Mike was just relieved to be alive.
Eventually, we pulled onto the sweeping drive that leads to the Unique Home Stays Bluebell Grey cottage. A traditional thatched cottage, crafted from water reed and wheat, Bluebell Grey is part of a traditional 16th century old rectory. Grade-II listed, with traditional honey-coloured stone and surrounded by roses, it reminded me of the cottage in 'The Holiday' – a veritable film star of a home. It was gorgeous. As we unpacked, we were met by Michael, the owner of this countryside haven. As with all Unique Home Stay hosts, he was lovely; quickly giving us a summary of the cottage, without insisting on showing us every light switch or kitchen utensil (it's happened before – I once crawled under a bed with an owner to stare vacantly at a trip switch). Letting Michael get back to his Friday night, we settled in for our first night in rural Somerset – cracking open the hamper of treats that was waiting for us.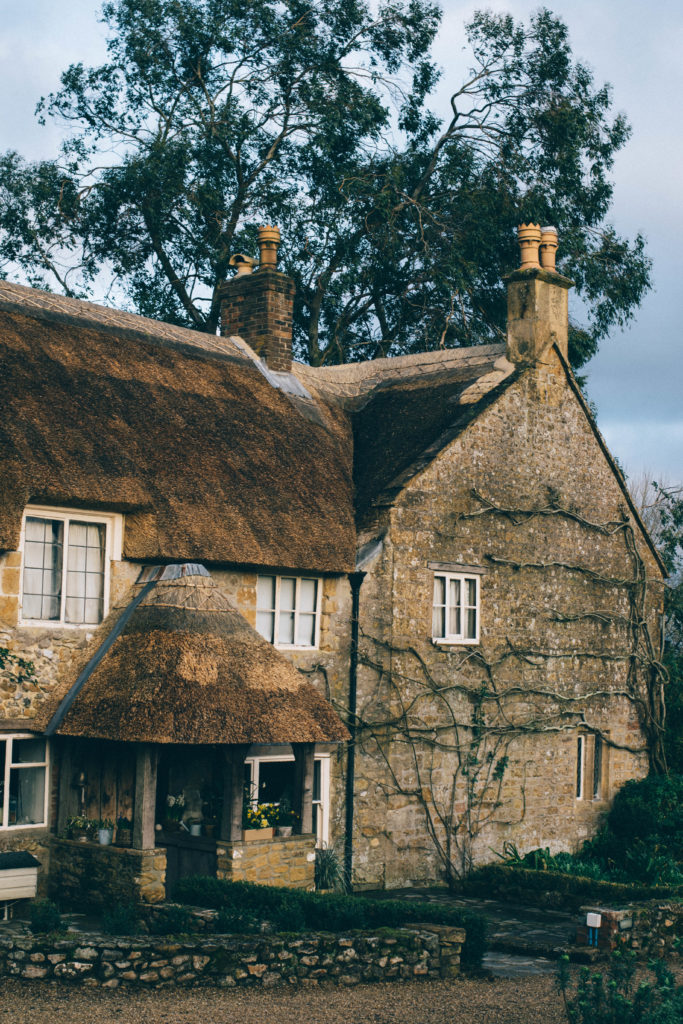 As mentioned, waking up in Bluebell Grey was unbelievably relaxing. After eventually getting up to close the window – Storm Doris blowing angrily outside – I put the kettle on and began to plan the day ahead. Mike is originally from Frome in Somerset, and so we agreed to head there for the day – exploring the very town where the Foo Fighters had played a secret gig just the night before. En route, we visited Shepton Mallet, home of Mulberry. For any label lovers out there, a visit to this beautiful old school house – home of the Mulberry factory store – is a must. Sadly, I'm no longer allowed these bags, having emptied a bottle of diet coke inside the first one that I owned. However, a walk around this warm, leather-scented building is still just as lovely – designer bag or no designer bag. Round the corner is also Kilver Court – a restored textile mill, now home to (discounted) designer stores. Boasting low ceilings and creaking staircases, this was less a generic shopping experience and more like visiting a listed building.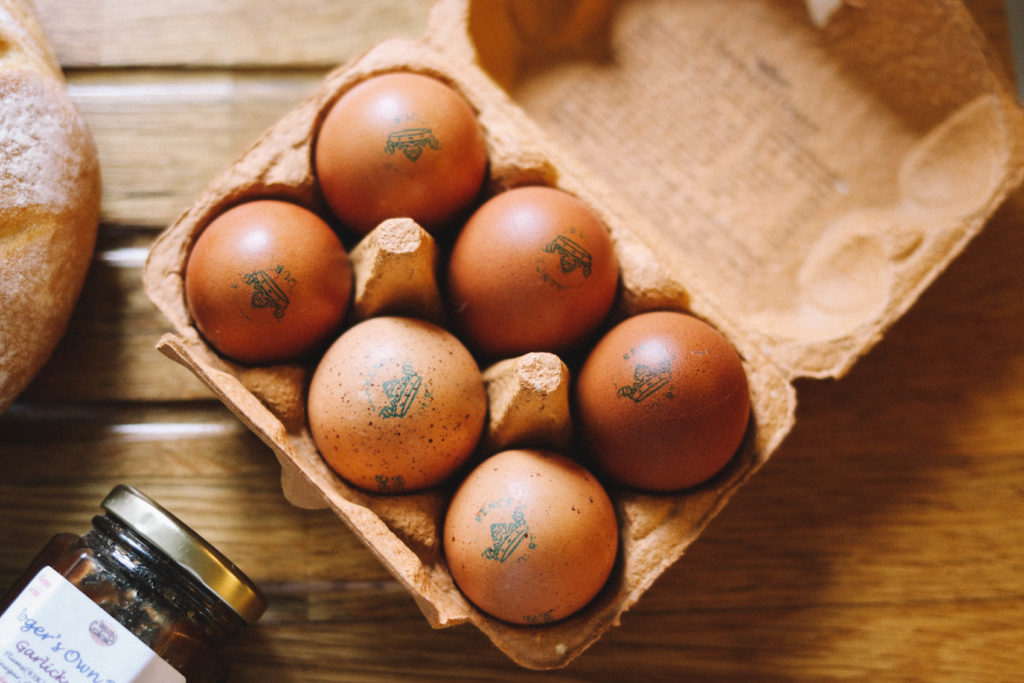 Visiting Frome
Having had our retail fix, we headed onwards to Frome – home to Jenson Button, a famous artisan market and of course, Mike. In the last ten years, Frome – inhabited by the infamous Fromies – has had something of resurgence. Originally a cloth making centre, this small town was Bath's more industrious neighbour, full of proud merchants and entrepreneurs, rather than those Jane Austen sorts. As the cloth trade died out, Frome was left without an identity – until, that is, the Fromies stepped in. Famous for its independent spirit, Frome recast itself as a haven for independent businesses and creative industries; filling itself with stores that would be more at home in Shoreditch than in rural Somerset. Thankfully, it wasn't an outpouring of Londoners that 'gentrified' the town – Frome is no Stoke Newington. But it was Frome's own community that restored its spirit, pulling together to create a distinctive and independent environment that would re-establish Frome economically, culturally and architecturally. The 373 listed buildings that inhabit Frome were painstakingly restored, a now famous market – the Frome Independent – was launched, and its cobbled streets, such as Catherine Hill, became hotbeds for independent clothing and gift stores. Walking around the town – looking in at its original restaurants, cosy cafes and shops brimming with handmade textiles and gifts, Frome felt like a smaller, fiercely independent version of Bath. And perhaps just a little more down to earth. Somewhere where the opening of a Starbucks would more likely be met with angry picketers, than swathes of latte-drinking professionals.
On our way home, my proud Fromie and I planned the night ahead, largely focusing on cheese and cider. But before we could batten down the hatches at Unique Home Stays Bluebell Grey, we passed magical Glastonbury. Of course, I needn't introduce this town – home to the world's most famous festival and mystical ley lines. However, outside of festival season, Glastonbury remains a town worth visiting. Forget Chris Martin or Beyonce's festival debuts – this is where Excalibur was forged.
Excalibur.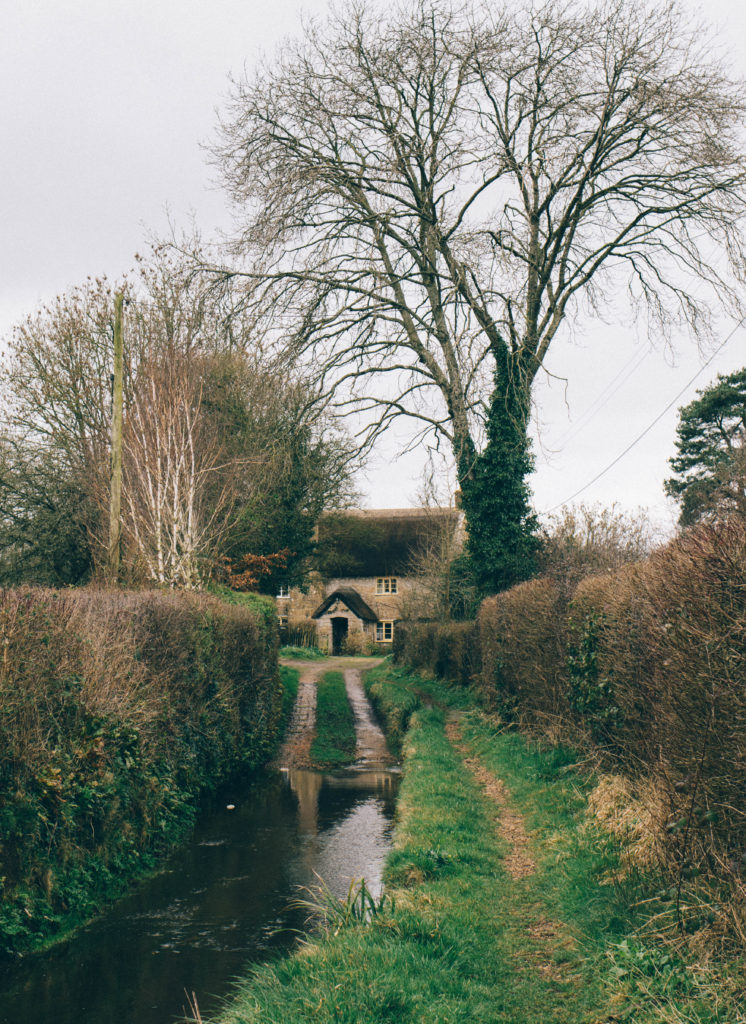 Visiting Glastonbury
Unlike Frome, Glastonbury's independent spirit is carved from a legendary mysticism, rather than artisan coffee houses. This small town remains the capital of alternative culture – a place for white witches, perpetually burning incense and tales of King Arthur. Step onto the high street and you'll spot shops filled with chakra-aligning crystals, colorful fabrics and adverts for meditation workshops. Aside from Michael Eavis' now internationally acclaimed festival, Glastonbury is a place to come if you want to hear stories of Avalon over a meal at the Hundred Monkeys Café, predictions of your future whilst munching on a veggie dish at Rainbow's End, or to hear an upcoming band at the ever-cool Bocabar; a now converted sheepskin factory. Be sure to climb the legendary Glastonbury Tor before you leave, to watch the sunset over the magical Somerset hills. Legend claims that King Arthur looked out over these very hills, and up at the very same starry sky, just before he met his death: whispering his final wish that Excalibur be thrown back into the lake.
Visiting West Bay
After a snug night back at the Unique Home Stays Bluebell Grey – complete with its nature-inspired soundtrack – we headed out again. This time, we were Dorset bound. Bluebell Grey is ideally positioned to visit Somerset, Dorset and Devon, and we took advantage of this by heading directly to Dorset's beautiful coast and the now famed West Bay. Visit West Bay at the right time of year and you may just see a musing David Tenant, strolling the sprawling beaches whilst trying to unpick yet another murder mystery. Now the backdrop to the popular series, Broadchurch, West Bay and its towering cliffs have become a regular sight on our television screens. Sadly, as I ran excitedly towards the beach – a gale blowing– all I was met with was a huddle of damp dogs. David was nowhere to be seen. Despite my disappointment that I wouldn't appear lurking in the background of an ITV drama, the beach still blew me away (metaphorically and physically). With golden beaches and towering sandstone cliffs, the sea was particularly wild that day – a blue and white foam that chased the dog walkers up the beach. We battled the elements and walked up the cliffs, for views out over Dorset and the sea. It was spectacular and evidenced just why ITV chose this particular spot for its drama series. With snot blowing seductively across our faces, we headed over to the popular Watch House café, where friends and families caught up over a full English breakfast. Naturally, we joined them.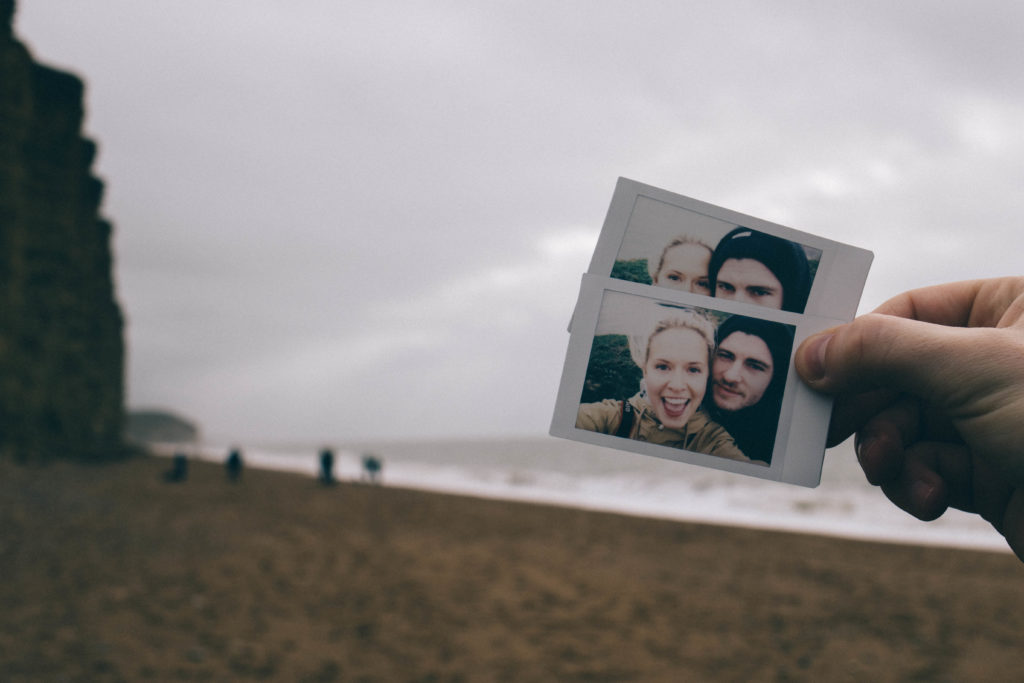 Visiting Lyme Regis
After exploring some of the antiques stores that border West Bay, we headed towards one of Dorset's most iconic holiday towns: Lyme Regis. Lyme Regis, home to Dorset's infamous Jurassic Coast, is somehow a place I've never visited (as mentioned in previous blog posts, many of my childhood holidays focused on the Normandy battle fields. Cheery). Mentioned in the Doomsday Book of 1086, Lyme Regis has been a fixture of England's South West coast for thousands of years. Not just a holiday town, Lyme Regis has a complicated and surprising history, featuring cameos from King Edward I; Queen Elizabeth I; a rebellion starring Prince Maurice; the real-life Lassie (who brought a WW1 solider back to life) and occasionally, David Tennant. It's hard to imagine such drama when wandering its quiet streets, with views immediately over the sprawling prehistoric coast.
For those who love browsing small gift shops or galleries, Lyme Regis won't disappoint. Favourites included Pug and Puffin and the uber stylish, Ryder & Hope. We also spent over an hour exploring the wonderfully eccentric bookstore, The Sanctuary. Overflowing with books (they cascaded out the door), the store creaked under the weight of literature. There were endless hidden gems, including a signed book by the one-time children's TV star, Andy Peters, and a postcard signed by Tony Hadley. It was a bibliophile's dream. After buying Cornish pasties from the aptly named Cornish Bakery, we headed down to the beach to eat fish and chips. Sadly for us, the storm had taken hold and we huddled together on a bench. With rain and wind hammering us, we hurriedly forked chips into our mouths, whilst taking it in turns to shield the other from the storm.
I ate more of my own hair than that delicious fried cod.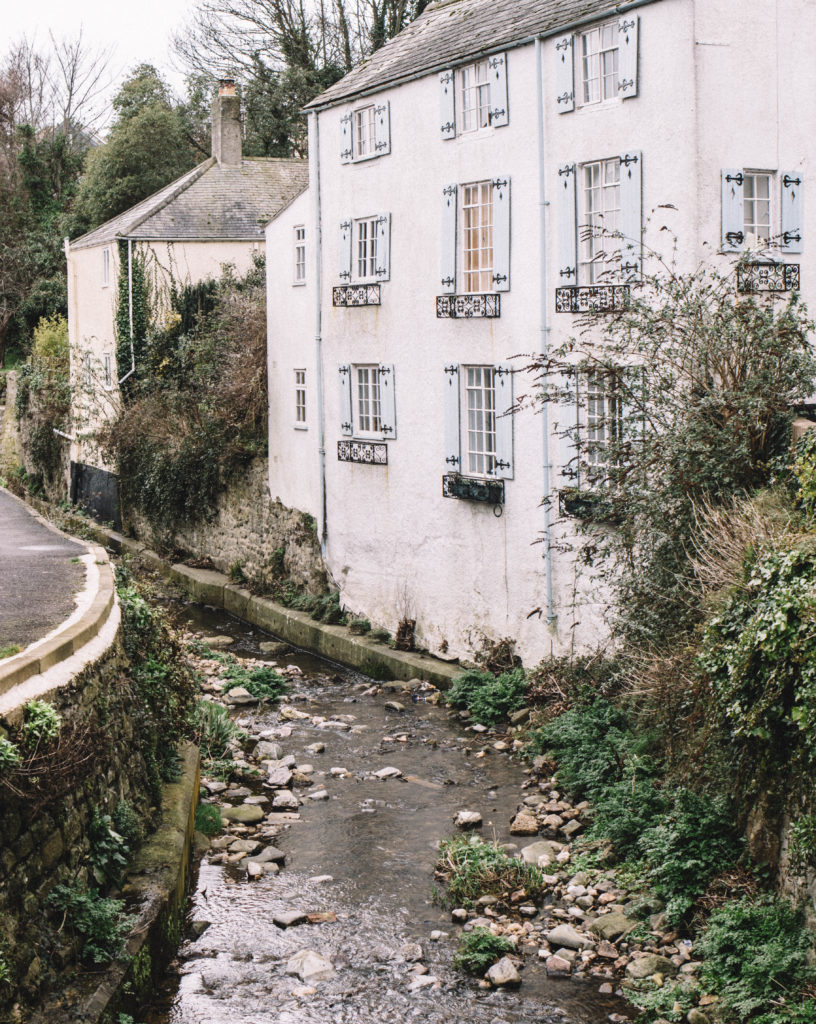 After a short walk across the beach, trying to spot unearthed fossils, we headed back to what had quickly become our haven: the Unique Home Stays Bluebell Cottage. The end of our weekend was nearing and it was time to down tools and relax, with the help of some Perry's cider and a Cornish pasty. Locking the door behind us for the last time, we closed the curtains and settled down in the cottage's warm lounge. The remnants of the storm still blowing outside, we lit the candles, poured the drinks and unwrapped our pasties. Covered in a wool blanket and with some fluffy socks courtesy of one of Lyme Regis' many gift shops, I couldn't have been happier. I laid back on the sofa and thought of King Arthur, the ley lines of Glastonbury, beautiful and proud little Frome, and the jurrasic coast that stretched out beneath us.
With the rain pouring outside, the wind blowing and the little cottage creaking, I could have thought of these many stories and listened to those sounds of Somerset, forever.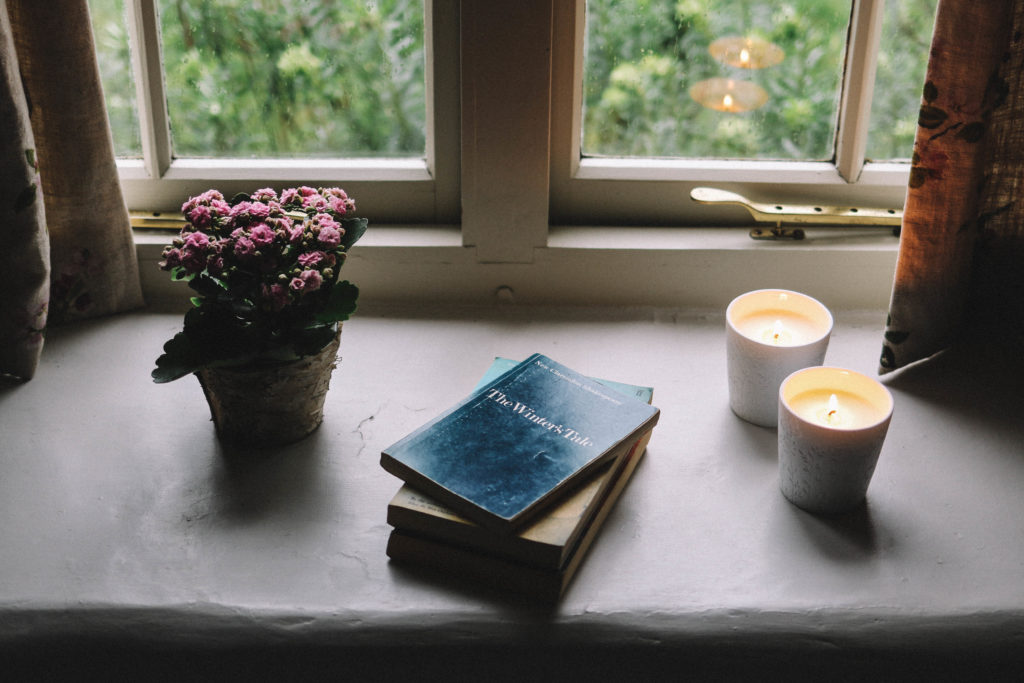 Thank you to Unique Home Stays, and Michael and Merietta, for such a wonderful weekend in Somerset.
Read our other stays with Unique Home Stays:
The Little Charcuterie: Cornwall
Pin it: