The Lake District is a veritable treasure trove of chocolate box cottages, achingly beautiful landscapes and soaring mountains.
Offering activities for all types of traveller – from those who enjoy a drink by a roaring fire, to those who want to try their hand at extreme sports – the Lake District is an incredibly versatile destination.
Enjoyed best by car, allowing you to take your time exploring the area's many hidden valleys, the Lake District is a true road trip destination (just ensure that you've had some experience driving along country lanes before you set off).
To help make the most of your Lake District road trip, below is our 3 day itinerary for exploring this beautiful part of the country.
Itinerary for Lake District Road Trip
1. Grasmere
The first stop on your road trip through the Lake District is the infamous Gingerbread shop in Grasmere.
For years, we'd heard tales of Grasmere's delicious gingerbread; a recipe created by Victorian cook Sarah Nelson in 1854. A unique recipe, Grasmere Gingerbread is a mysterious blend of both sweet and spicy; biscuit and cake.
Unlike any other gingerbread you'll try, Sarah began selling her delicious treats on a tree stump outside her modest cottage – the same cottage where the gingerbread is still sold today.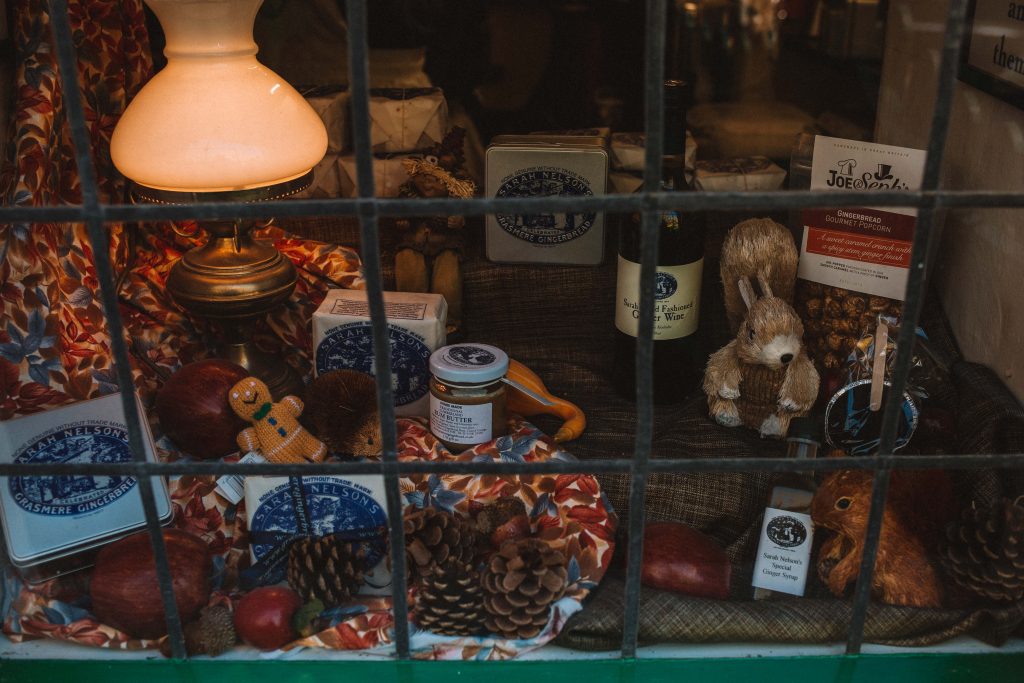 Following our noses – the scent of brown sugar and cinnamon making our stomachs rumble – we discovered Grasmere Gingerbread shop tucked behind the village church; its chimney already releasing plumes of sugary smoke.
With a small queue forming outside the tiny store, we stood excitedly in line. (Note: in the summer months, you may find you have to queue for quite some time before entering the shop).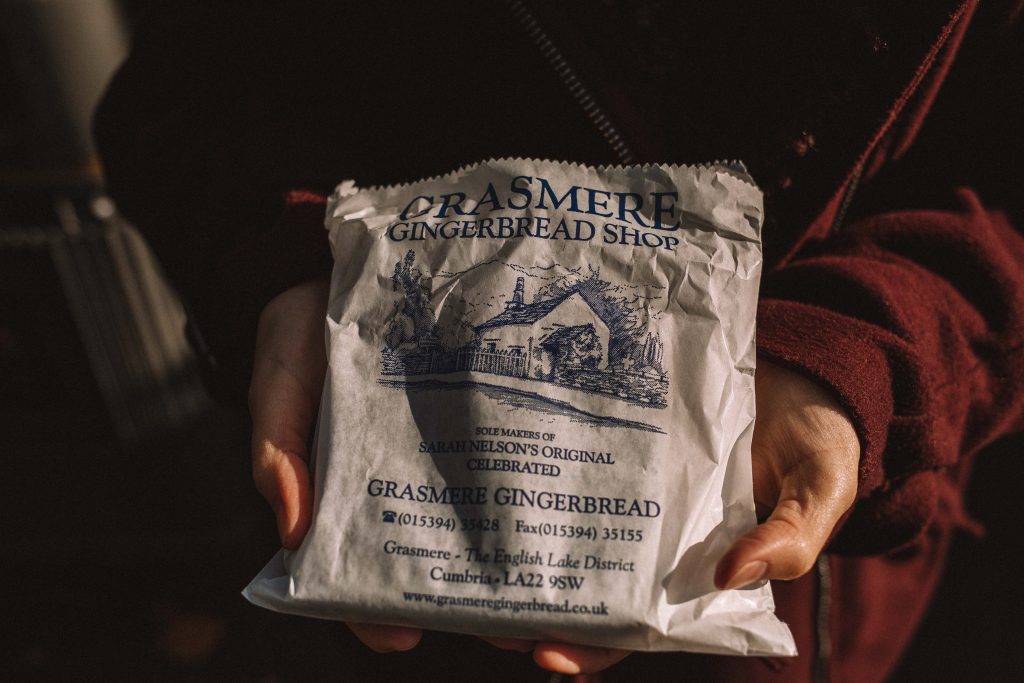 Gingerbread successfully secured from inside the tiny store, we continued to wander the sunny, quiet streets of Grasmere, paying a visit to Wordsworth's grave, located in the graveyard next door.
Wordsworth lived in Grasmere from 1799 – 1808, and his home – Dove Cottage – is now a museum. A must for any literature fans or for those on a road trip to the Lake District, visitors can explore his beautiful home before moving on to the specially built museum, where his original manuscripts are housed.
2. Second Stop: Ambleside
As one of the most popular towns in the Lake District, no trip to the area would be complete without a visit to pretty little Ambleside.
As well as providing a central spot for shopping and hotels, Ambleside is home to some key tourist attractions – including the wonderfully quirky Bridge House.
Now owned by the National Trust, Bridge House is a 17th century conundrum. Formed of just two small rooms (one below and one on top), this tiny house, set over Stock Ghyll beck, is said to have once housed a family of seven.
The mind boggles.
Free to enter, we took a deep breath in when we squeezed into the lower ground room of Bridge House.
No more than two meters wide and with a roaring stove in the corner, it was impossible to imagine family life here. Built over the river to avoid land tax, the building was originally used as an apple store – a rather more appropriate use than as a house for a family of seven.
Perhaps one of the smallest attractions we've ever visited, this tiny, but perfectly formed, house was a highlight of our road trip to the Lake District; our imaginations running wild as we considered life in this little home.
3. Third Stop: Rydal Hall
Just outside Ambleside lies Rydal Hall and its mesmerising grotto.
A 16th century home, the gardens to Rydal Hall are free to enter and lead to a beautiful hidden spot.
The Hall's small grotto was built by its original owner – Sir Daniel Le Fleming – as a spot from which to enjoy the estate's waterfall. Cautiously following the path that leads downwards towards the cascading water – yellow and orange leaves fluttering overhead – the autumn sunshine warmed our backs. Settling on a bench adjacent to the river, we opened a flask of tea and watched as the waters babbled noisily past.
4. Fourth Stop: Hill Top (Beatrix Potter's House)
There's one particular memory from my childhood that's always stuck in my mind.
Wrapped up in my dressing gown after my Sunday night bath, I'm holding a hot water bottle as my Mum reads to me my favourite book: 'The Tale of Mrs Tiggywinkle'.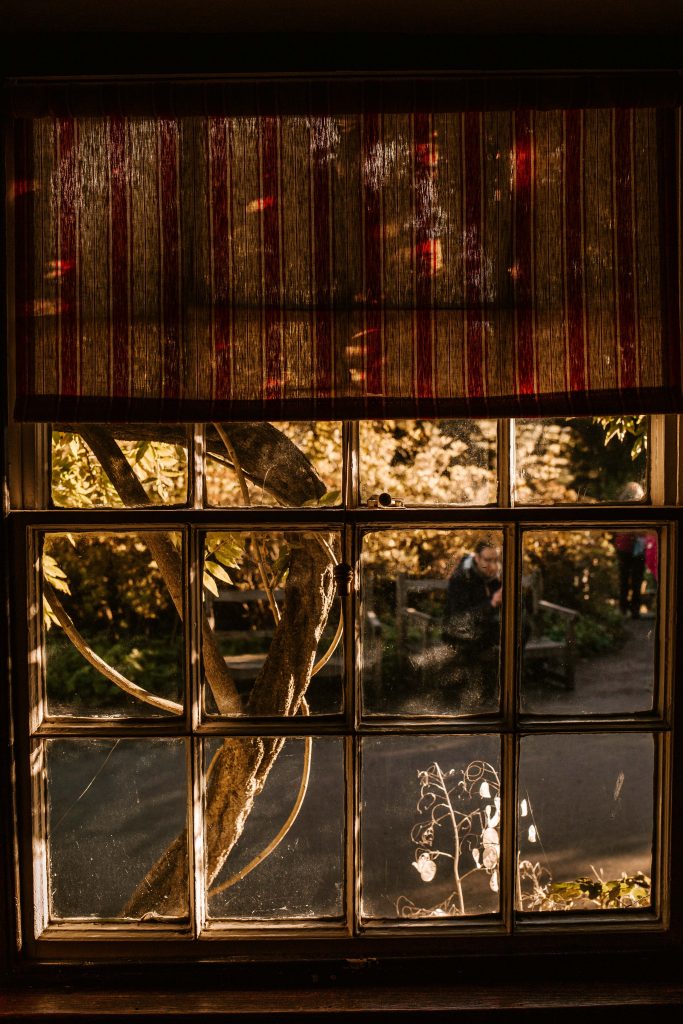 A washerwoman hedgehog, Beatrix Potter's story follows her as she lives out her life in a small cottage nestled in the Lake District. I'm not quite sure why I remember this moment so clearly, but it's perhaps a testament to Ms Potter's unique ability to capture the imaginations of children (and adults) worldwide.
As such, there was no doubt that when we took our own road trip around the Lake District, we'd pay a visit to the author's former home – Hill Top – now owned by the National Trust.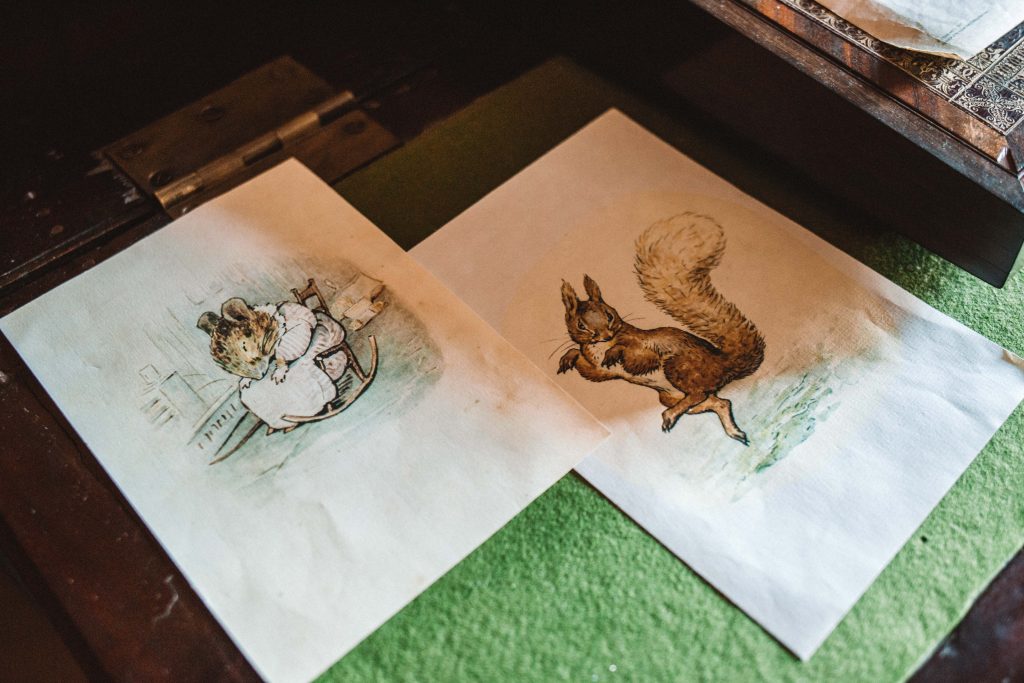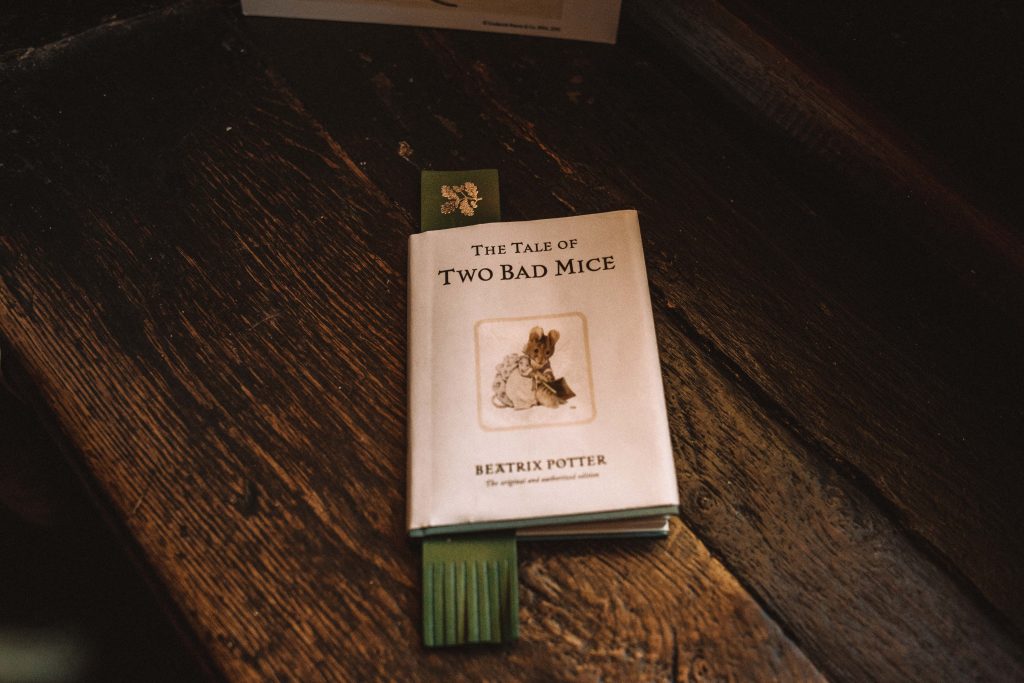 Located six miles from Ambleside, this 17th century farmhouse is a lovely place to explore; the house preserved as a museum to Beatrix and her furry friends.
Bought by Beatrix in 1905 using the money earned from her first book – 'The Tale of Peter Rabbit' – the cottage and its surrounding landscape was a source of continued inspiration for the author. In the end, 13 of her 23 books were written here – Squirrel Nutkin, Mrs Tabitha Twitchit and Tom Kitten emerging from the lush green landscape that surrounded her.
Take your time exploring this incredible cottage – including its flagstone floors and peaceful library (where you can see Beatrix's original ink drawings), before heading outside to walk Hill Top's half acre garden.
Here you'll find a neatly organised vegetable patch and rhubarb garden; the very place that Jemima Puddle-Duck is said to have once hidden her precious eggs.
For non-National Trust members, entrance to Hill Top costs £10.90 (or £12.00 with Gift Aid).
5. Fifth Stop on a Lake District Road Trip: Slater Bridge
Located in the remote village of Little Langdale sits Slater Bridge.
One of the Lake District's most ancient pedestrian bridges, visiting Slater Bridge is a little like stepping into Middle Earth. Now one of the most picturesque bridges in the area, we set off to Slater Bridge on the final morning of our road trip through the Lake District, keen to catch a glimpse of this postcard-worthy scene.
Pushed for time, we drove to Little Langdale where a walking route guided us from Elterwater to Slater Bridge (taking just ten minutes).
Stepping out of the car, our first encounter with Slater Bridge came courtesy of a lost sheep.
Shyly peeping at us, this curious little lamb turned slowly and trotted away – heading down a winding country lane. Apparently Cumbria's cutest tour guide, we followed the sheep as he picked his way over a lush green hill – Slater Bridge appearing in the small valley below.
It was a little surreal, but a wonderful way to be introduced to one of the Lake District's most famous scenes.
6. Sixth Stop on a Lake District Road Trip: Coniston Water
One place you must visit during your road trip around the Lake District is beautiful Coniston Water.
Our own drive to Coniston was a beautiful one – taking us  along winding roads shrouded in a frosty fog. Arriving just a short while later, we pulled into an empty lay-by next to the water, watching as two regal swans landed silently next to us.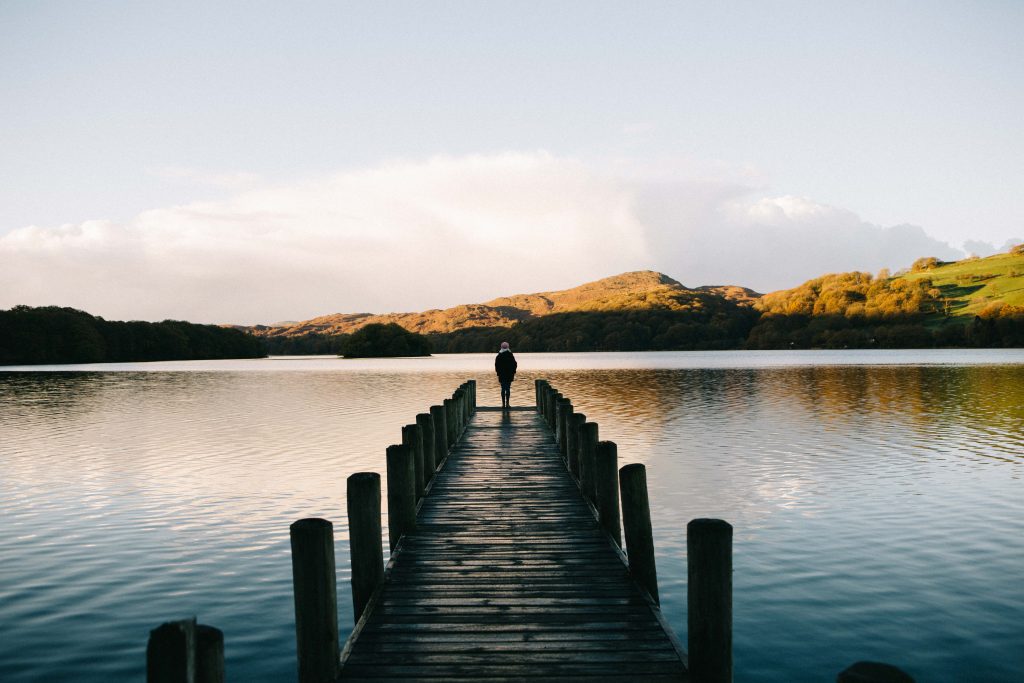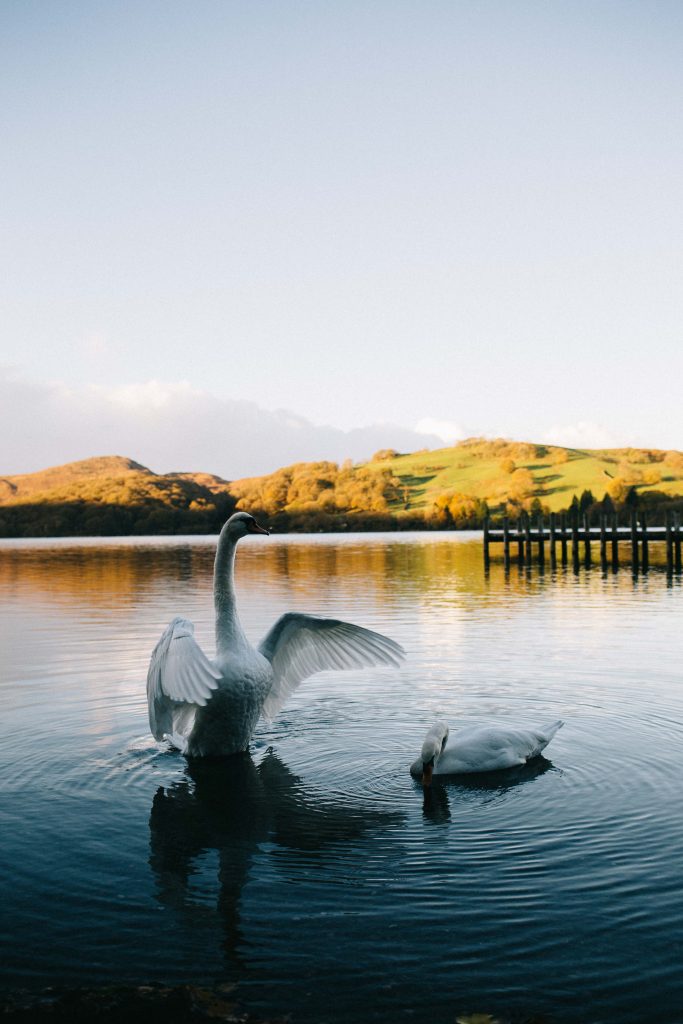 The autumn sun beginning to rise, we walked to the end of the jetty and sat at its end; the two swans gliding curiously past. Fortunate enough to have seen many beautiful sunrises over the last few years, this one felt particularly special.
Entirely alone, we watched as the Lake District slowly came to life – the morning light changing from pink to gold.
Where To Stay in the Lake District
Self-catering accommodation in the Lake District
The Lake District is well-prepared for tourists, with an endless number of hotels and bed & breakfasts on offer.
However, and during our own stay, we opted for the self-catered option and were fortunate enough to find the cosiest of apartments, nestled in the hills of Spark Bridge. Courtesy of Holiday Cottages, our apartment was an oasis of calm and located within Summer Hill House – a former Georgian Manor.
With large bay windows overlooking the distant hills, it was the perfect spot to relax with a steaming mug of tea after a long day of exploring.
Located just a short ten minute drive from both Coniston Water and Lake Windermere, Summer Hill House was an ideal base from which to explore the wider area; allowing us to truly make the most of our road trip to the Lake District.
The Best Hotel in the Lake District
Our favourite hotel in the Lake District is Another Place Hotel, Ullswater. We fell in love with this hotel so much that we brought our Mum back here for her 60th birthday.
Located on Ullswater Lake, with an indoor swimming pool boasting panoramic views across the water, this really is the place to come to if you want to unwind.
After a long day on your Lake District road trip, why not treat yourself to a beauty treatment (or two), or, if you're feeling adventurous, enjoy some wild swimming.
If you're truly looking to splash out, book the Joules Suite. Individually designed by Joules, the suite is adorned with the brand's bedding, furniture and homeware.