This compilation of our favourite sustainable baby clothing brands contains affiliate links.  
The Bright Company
The Bright Company has been my creative light in the otherwise 'tractor' dominated landscape of baby boys' clothes.
Gently advised by my friends that no newborn baby would want to sleep in miniature corduroys or finely knitted mohair sweaters, I began the hunt for warm and comfortable sleepsuits (a piece of clothing apparently better suited to tiny toes, sensitive skin and exploding nappies).
However, around an hour into my search, I came to the realisation that baby sleepsuits exist in a bit of a creative void (and a depressingly gendered one at that).  My options were apparently limited to sleepsuits decorated in (and only in) a familiar line up of green dinosaurs, rabbits, a grizzly bear and a jolly blue tractor.
I could (at best) perhaps opt for an aggressively labelled 'red brick' colour sleepsuit (which, for all intents and purposes, was 'pink').
Now, I do completley understand that my baby will have no opinion on what I dress him in. He's not going to critique his outfits; assessing their colourways or offering up thoughts on their presumptions about gender.
It's also more than likely that I'll be so exhausted I'll willingly dress him in a bag for life.
But, it did feel frustrating to only be able to find sleepsuits that were so limited in design, colours and creativity. Although it might be heresy to admit, I really dislike Peter Rabbit.
Thankfully, and just as I was about to give up, however, I came across a brand that was finally doing things a little differently: The Bright Company.
Not only a brilliantly creative and sustainable baby clothing brand, The Bright Company also cater for kids and adults, too. The result is that their products are a little more mature and firmly design-led: offering up bright, fun and dazzling sleepsuits and pyjamas decorated in bold graphic prints.
Even better, The Bright Company are sustainably minded. Using only GOTS certified organic jersey cotton – free of any nasty dyes or chemicals –  their clothes are soft, safe and geared entirely towards ethical fashion. They are also careful to only work with family-run factories based within the EU, promoting worker rights and ethical standards.
One thing you'll notice about The Bright Company's sleepsuits is that they stand out; but in the very best way. From their Beetle Juice inspired black and white striped Monty sleepsuit, to another decorated in a bold moon print (complete with contrasting cuffs), their designs are as far removed from pastoral tractor scenes as you can get.
(Thankfully).
After agonising over their designs for a week or so, both Claire and I opted for their festive themed Monty sleepsuit, decorated in a Christmas Special Stars design (£25).  Adults can also get in on the act and buy their own matching pyjamas. We also went for a Muslin Baby Suit each; one in green and one in dusky pink (£34). These are 100% cotton muslin and incredibly soft – all whilst ensuring they don't stretch (something I sometimes find with cotton).
Award-winning, bold and one of the best sustainable baby clothing brands on the market, The Bright Company should be a go-to for anyone conscious to buy ethically (and for those who have an aversion to baby blue and roaring dinosaurs).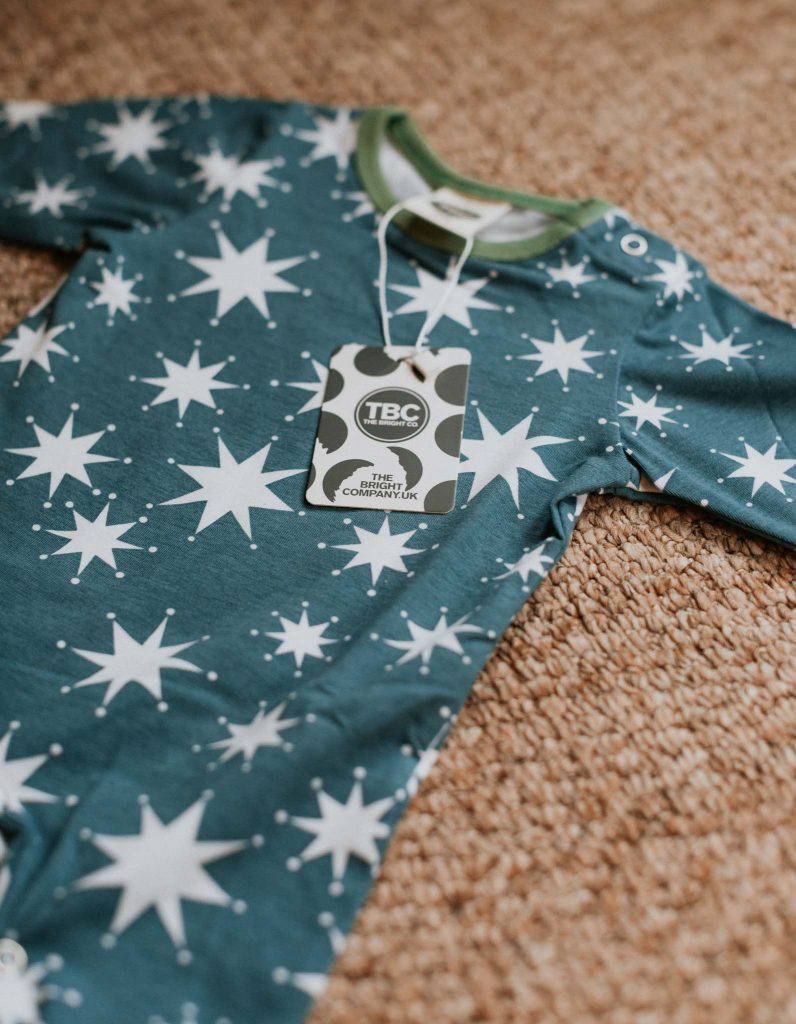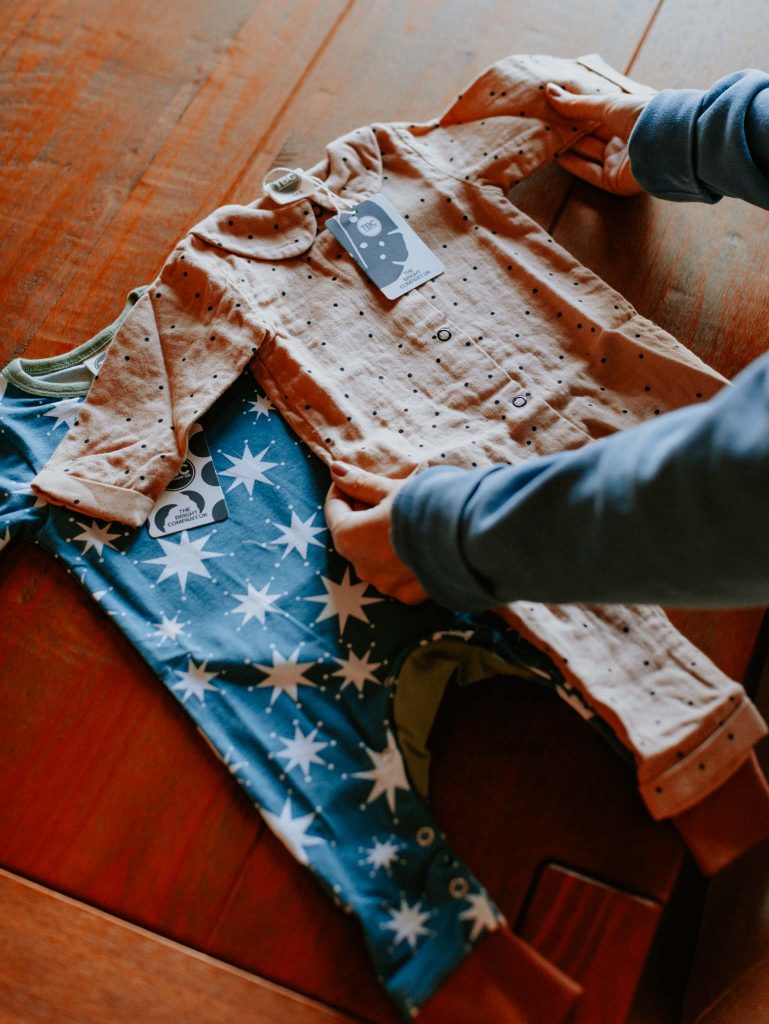 2. Kids of April
I came across the chunky-knit dream that is Kids of April while browsing the (fantastic) small business, Dawn and Day.
Offering simple and wholesome designs, made only from natural materials (and all within Europe), this brand produces a limited amount of sustainable baby clothing, from an equally small range. As such, nothing here is mass-produced or unethically made, with each piece made carefully and to a fantastic quality.
The sizes are very broad and generous (e.g. 0 – 6 months), which also means your baby will get plenty of wear from them (especially if you like to see a newborn in a big, oversized knit). Crucially, each piece of clothing is also made from non-irritating materials, such as 100% cotton.
I took the plunge and ordered two of their chunky sweaters in Toffee (€32) and their famous Rainbow Speckle option (€36), and can vouch for their incredible quality and softness.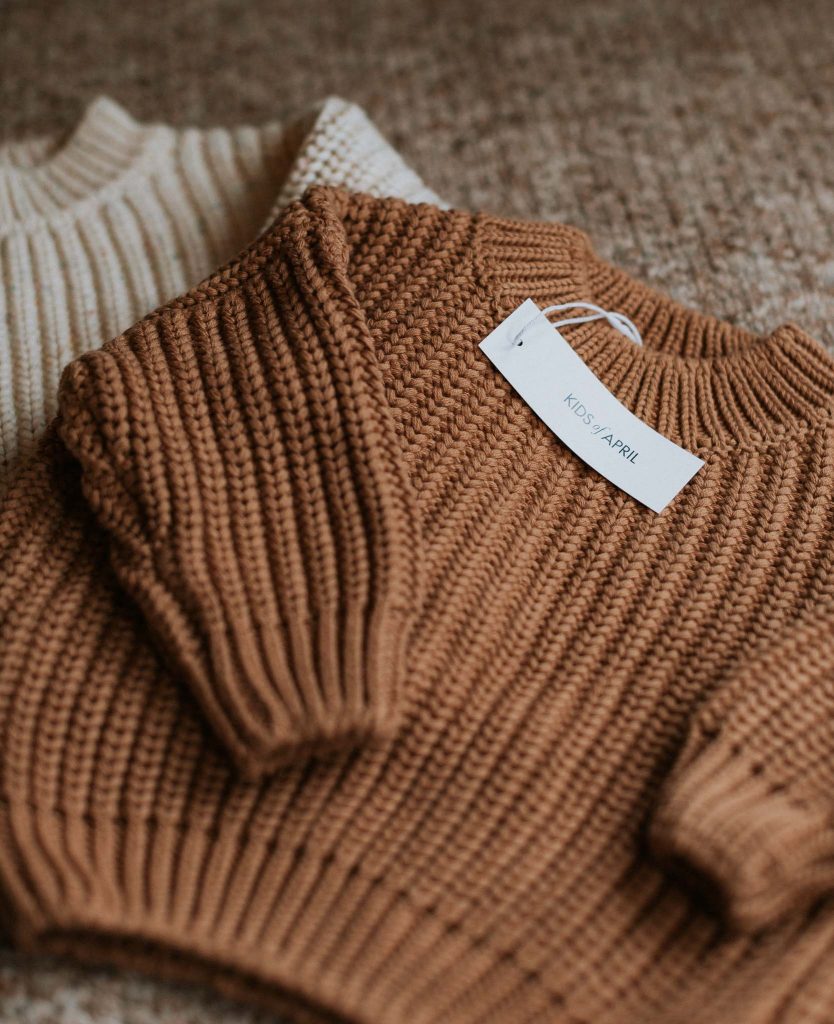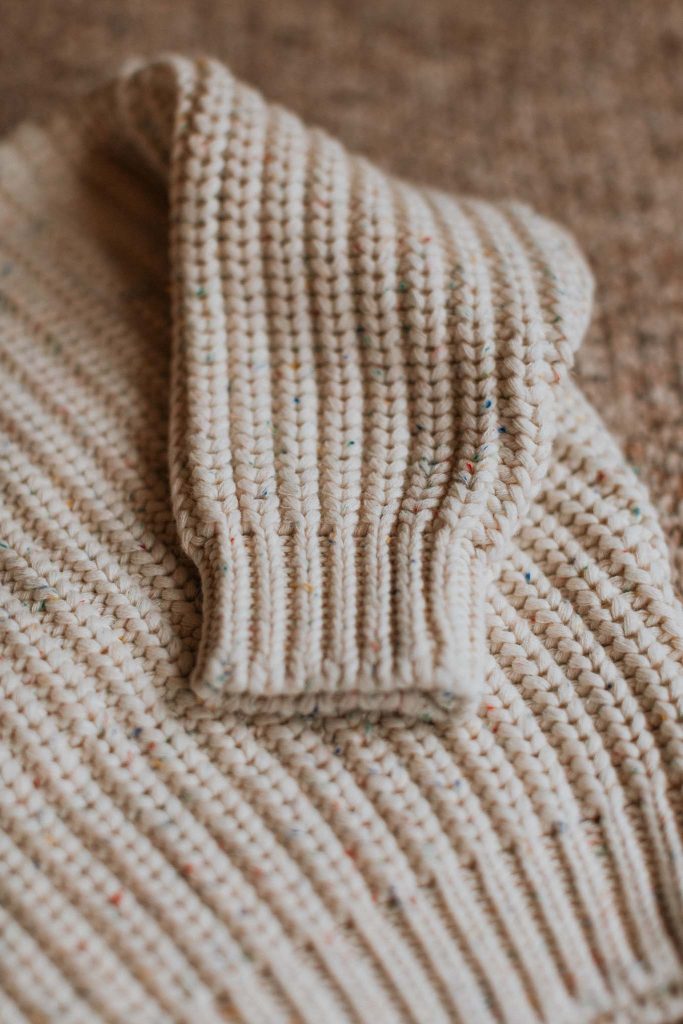 3. Natural Baby Shower
In terms of uncovering sustainable baby clothing brands, Natural Baby Shower are perhaps the obvious place to go.
After a spell in New Zealand, partners Vics and Clifton wanted to re-create the sustainable and ethical market they'd discovered down under (a place where the mantra 'buy well, you'll buy once' prevails). Determined to provide parents and children with natural, sustainable products that benefitted from low environmental footprints, the couple set up Natural Baby Shower; dedicating themselves to sourcing and selling only sustainable baby clothing and accessories.
Fast forward to 2020 and Natural Baby Shower has already scooped the award for 'Best Online Retailer' at The Baby Awards 2019; now offering customers choice from an extensive list of sustainable baby brands.
These include the likes of Joolz (fantastic for sustainably made prams), The Little Green Sheep (their moses baskets look lovely) and Organic Zoo (another go-to for creatively bold and sustainable baby clothing).
One brand in particular that I discovered on this fantastic site was Merino Kids; offering 100% natural and sustainable baby clothing and sleepwear. Made entirely from merino wool (something they refer to as a 'powerhouse fibre'), their clothes are soft, incredibly warm and long-lasting.
I decided to try their beautiful looking (and easy to use) Cocooi Swaddles and Go Go Sleeping Bag (in a winter weight). This is an international award-winning sleeping bag (no less), that uses merino wool to provide a breathable material that allows your baby to regulate their own body temperature.
Follow Natural Baby Shower on Instagram to stay updated on the latest sustainable baby clothing brands they have on offer.
4. Pehr
Facebook knows me too well (unsettlingly well) and it wasn't long before my weeks of browsing for sustainable baby clothing caught up with me.
Scrolling through the usual updates from my mum (and the odd viral dog-related video), an advert for some beautifully designed rattan baskets popped up. Trying my best to scroll past them before temptation set in, I was then accosted by another advert; this time from John Lewis promoting the same baskets.
Relenting, I discovered that these beautiful creations were made by a USA-based brand called Pehr (for now UK folk can find a limited selection of their products online at places like John Lewis, although they are due to launch international shipping in 2021).
Founded by Jen Kelly and Becca Perren, Pehr is a female-led, ethical and sustainable business; dedicated to sustainable manufacturing, design and practicality.
One thing I love about Pehr are their conscious partnerships; working with Care & Fair and Good Weave, all of whom are organisations dedicated to providing educational opportunities for women in developing nations.
Eventually, like the weak-willed woman I am, I succumbed and bought two of their lovely baskets (via John Lewis) for the nursery – perfect for storing toys, muslin cloths and blankets. I also (just casually) browsed their US site and now firmly have my eye on some of their beautiful sustainable baby clothing, especially this little number.
5. Millk
For a long time now, it's seemed as though Australia has benefitted from the bulk of sustainable baby clothing and fashion brands.
Pioneering the 'natural motherhood' aesthetic that now dominates Instagram (think earthy hues, wooden toys and babies called 'Acre'), it seemed that new parents in Australia were unable to move for wooden toys, French linen romper suits and natural rubber pacifiers.
However, before it all became a bit twee, a company came along that made sustainability less an Instagram ideal and instead more accessible: Millk.
Dedicated to making just a few items well, Millk is all about honest, simple and expectedly 'dirty' childhoods – complete with mud stains and grazes. With each of their items designed to be passed down, Millk produce sustainable baby clothing that is soft, versatile and flexible; keeping your baby happy, comfortable and primed for adventure.
I got just a few staple items from Millk, including a few of their seasonal bases (in both 'olive' and 'almond') and these super soft base pants.  Just opening their very cool starch (and therefore biodegradable) packaging made me feel ever so slightly more relevant.
I'm hoping that these few pieces from Millk will last and last – and can be stored away for either future additions to our family or for friends' babies.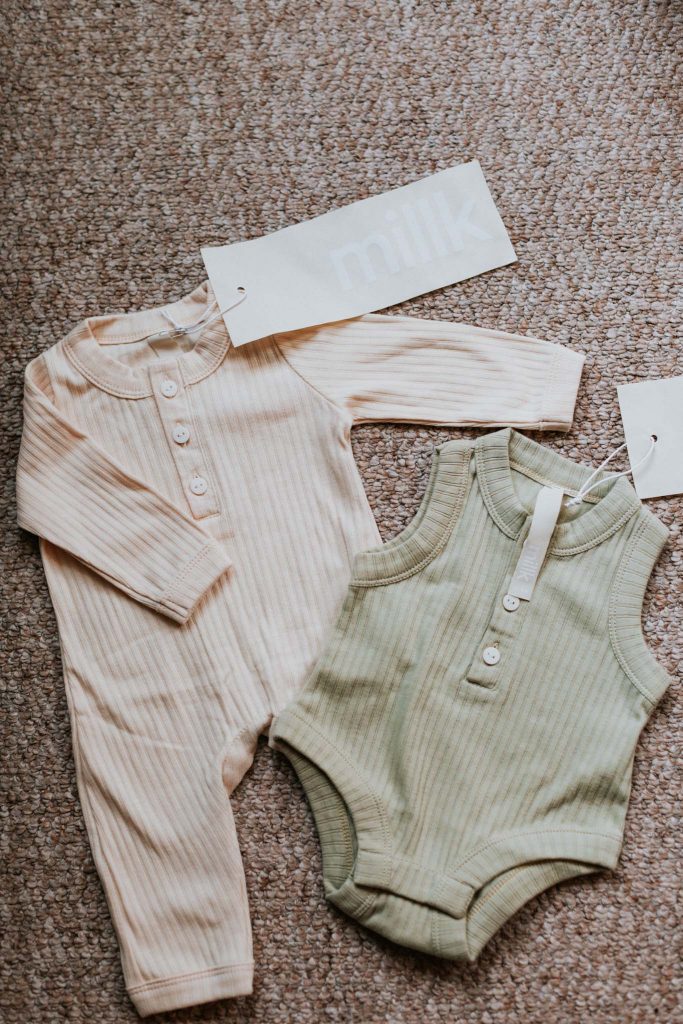 6. Little Green Radicals
Perhaps it's the name that gives it away, but Little Green Radicals is a brand determined to pioneer sustainable, fairtrade and sustainable baby clothing and accessories.
Set up by Nick Pecorelli in 2005, Little Green Radicals was one of the first UK brands to receive Fairtrade Certification (meaning their farmers receive a guaranteed price for their cotton and an additional premium that they can use as they wish). Now organic certified and plastic free, it's perhaps one of the most authentically sustainable baby brands available in the UK.
Their online store offers a huge array of colourful, beautiful and sustainable clothing; from cute snowsuits to plastic free natural skincare. A sucker for cord, I also love their collection of Nordic Bear dungarees and adventure jeans – perfect for woodland rambles.
7. Baby Mori
I'd already heard quite a bit about Baby Mori via friends with babies.
Discussing their phenomenal softness (Baby Mori clothes are made only from bamboo cotton), this seemed to be the go-to brand for the sleepsuits, sleeping bags and tiny leggings needed for those early days of babyhood.
Dedicated to using only the softest organic and sustainable materials, Baby Mori appeared on the scene in 2015 and has quickly become one of the best known ethical and sustainable baby clothing brands.
Aside from their ridiculously lovely clothing, one thing I really like about Baby Mori is their transparency. From just the briefest of looks at their website, you're told where their clothes are made – two factories in Izmir, Turkey (the founder of the company also happens to be Turkish), with the rest crafted at carefully chosen factories in Asia.
Well known as a textile capital – and one that produces high quality clothing – all items created in Turkey have to be made of GMO free and GOTS certified cotton. As such, they are (truly) soft to touch and provide fantastic longevity (I've got a few secondhand Baby Mori clothes and all are in incredible nick).
For baby essentials, Baby Mori is expensive (although, most ethical and sustainable items are that little bit more pricey). To try to navigate this, I tried to buy most of my items during the Black Friday sales, including these zip-up sleepsuits, joggers and sleeping bag.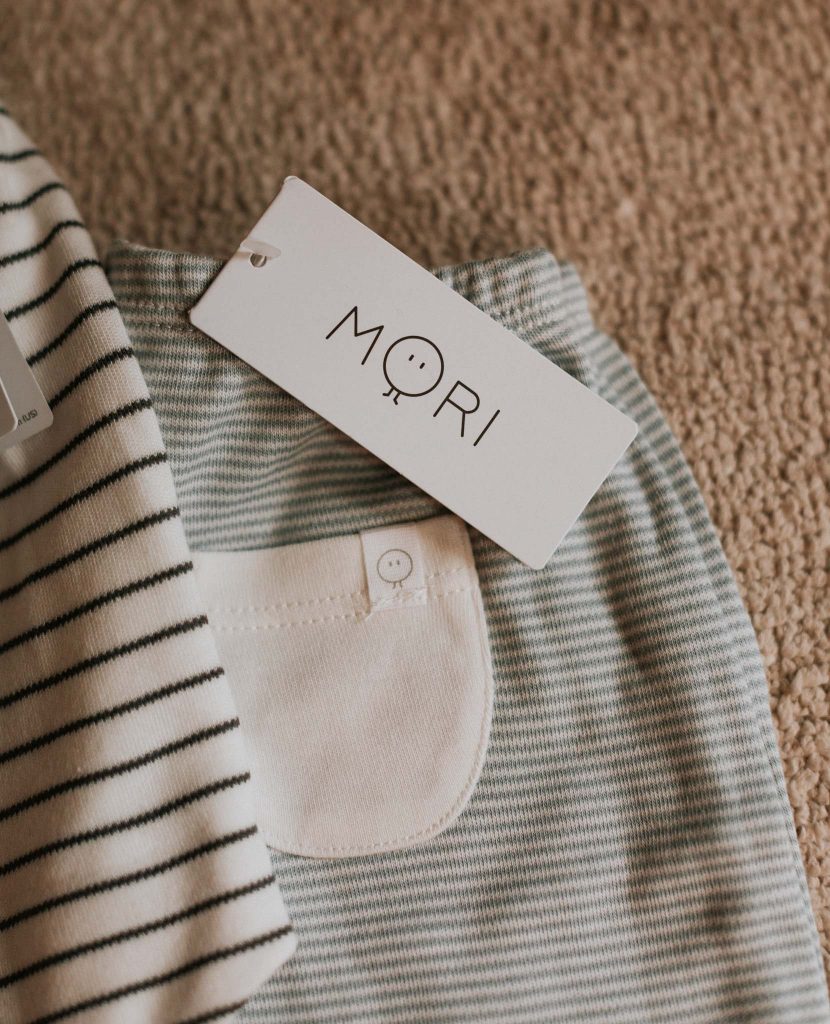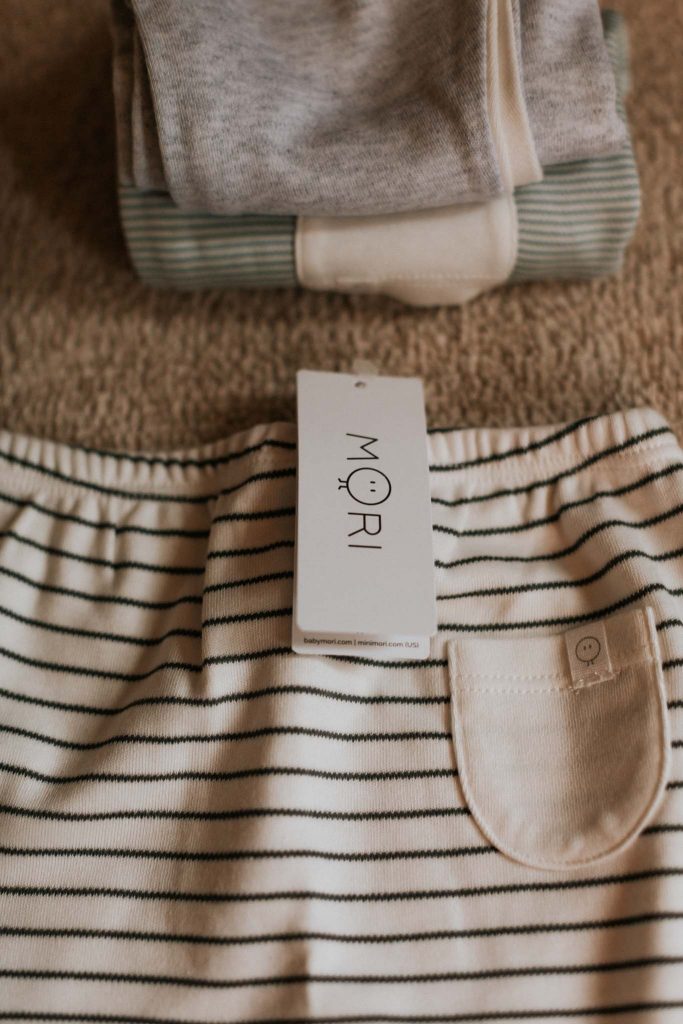 8. Gro
Gro represent everything that I admire about independent and ethical brands.
Personally guided and overseen by founder Anette Nordup – and dedicated to organic and ethically sourced materials such as cotton and cashmere – this Danish company produces tasteful and beautifully simple sustainable baby clothing and accessories.
Available in the usual earthy and humble tones we've come to associate with contemporary Scandinavian brands, the clothes produced by Gro are quietly fashionable and comfy; letting children be, well, children.
And all without a tractor applique in sight.
Gro very kindly sent each of us one of their 100% cotton 'cuddle cloths', unbelievably soft baby blankets (100% wool) and two very handy clutch bags – perfect for storing nappies and wet wipes, while on the go.
I now just need to save up for one of their original cotton baby blankets.
9. Ergopouch
One thing I've been keen to buy (in the hope that it helps induce a bit of sleepiness in the baby) are a handful of baby swaddles and sleeping bags.
Roaming the internet for a sustainable version of these, I stumbled across Ergopouch; an Australian company declaring themselves to be the 'innovators' of 'natural and organic' sleep products for babies and children.
Founded by Alina Sack in 2005 (who describes herself, at the time, to be 'super sleep deprived'), Ergopouch began in Alina's own living room; created with the help of her sewing machine and some natural textiles. After creating her first sleeping bag – and getting the seal of approval from her son – Alina began selling her products; creating a sustainable, cosy business empire in the process.
Perhaps their most popular product is the award-winning ergoCocoon 2 in 1 baby swaddle sleeping bag (starting at £23.99); perfect for both newborn babies and those a little older (and who want to free their arms). Made from sustainable, breathable fabrics (organic cotton) and also hip friendly, I already have one of these clever little bags on my baby wish list.
10. Smallable
Smallable has quickly become one of my favourite online stores – not only for sustainable baby clothing brands, but for life in general.
Beginning life as an online concept store for time-poor parents who hadn't the capacity (or energy) to research high quality baby products, today Smallable is a place to come for everything related to family life: from armchairs to dummies, nappy wipes to bras.
Aside from making shopping a breeze, Smallable also prides itself on being dedicated to 'production and conscious consumption'; working (only) with brands who demonstrate environmental protection, ethical production and local limited production.
For me, Smallable is a little like a sustainable and cheaper version of NET-A-PORTER: a place to come to find fun and stylish children's clothes and outfits (and the odd lamp for your living room). Thanks to them, I've become unnervingly obsessed with Spanish brand, Bobo Choses (because who could deny their child this cat cardigan or this retro knit?) and ethical toy brand, Serba.