As the Mum of a terrible sleeper, I've searched high and low for natural sleep remedies for toddlers. Leaving no stone unturned in my attempt to improve my toddler's sleep, I've been documenting my trials and tribulations on Instagram.
Having collected together a tribe of women on the platform, who also struggle with their toddler's sleep, I've enjoyed sharing my (sometimes withering) verdict on some of these sleep-promoting products.
To help other Mums out there, who are still, like me, sleep-deprived long after the newborn days have passed, I've pulled together a list of 10 popular natural sleep remedies for toddlers. These are products that have filled my social media feed, promising a better night's sleep for both me and my child.
So, do these natural sleep remedies for toddlers actually work? Here's my honest review of 10 of the most popular sleep products on the market.
10 Natural Sleep Remedies for Toddlers
1. SleepyPatch Sleep Promoting Stickers
After weeks of an advert for SleepyPatch popping up in my Instagram feed, I eventually caved and bought a pack of these sleep promoting stickers. I bought just one pack of 24 for £13.00 as an initial test and, unfortunately, I doubt I'll be buying any more.
The sleep promoting stickers are suitable from ages 2+ and are made from a mixture of essential oils that are said to help promote sleep. Designed to help your toddler unwind and fall asleep, you simply stick a patch to their pjs just before bedtime.
The essential oils are then said to last for up to four hours.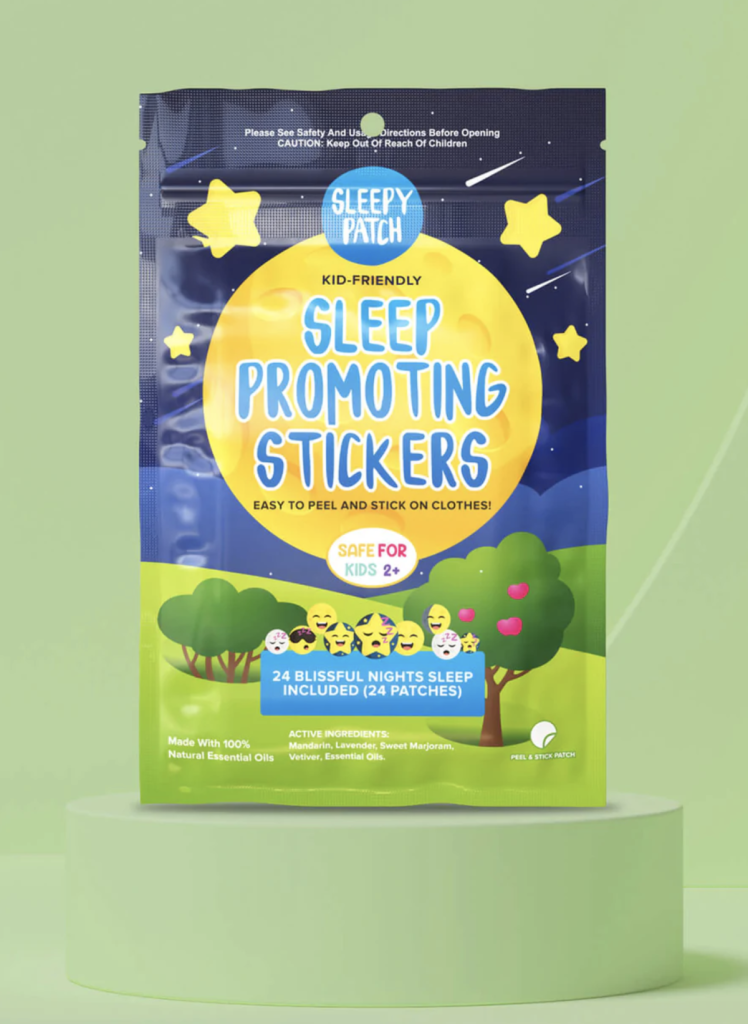 I must admit, on the first night of using them, I thought I'd hit the jackpot. Olive was in a particularly hyper mood that night and I feared the worst when it came to getting her to sleep. Within 20 minutes of applying the patch, however, and she was sound asleep.
What was this black magic?
Unfortunately, this first night now appears to have been a fluke and I can't say they have helped her drift off any faster since. She's also very aware of the sticker and will pull if off if she sees it.
Perhaps when she's older the stickers might work nicely as part of her 'sleepy bedtime' routine, but for now, they don't seem to be helping. I'd also say that the stickers don't smell particularly strongly and seem to lose their scent very quickly.
2. The Little Elephant Who Wants to Fall Asleep: A New Way of Getting Children to Sleep (Book)
Continuing my quest to find natural sleep remedies for toddlers, I was recommended the curious book 'The Little Elephant Who Wants to Fall Asleep'. Unlike your usual bedtime stories, this book has been specifically written to promote sleepiness in your toddler, or child, as you read to them.
Written by behavioural scientist Carl-Johan Forssen, the book is written in a hypnotic, almost meditative style, that encourages gentle speech and lots of yawning on the part of the reader.
The book is more substantial than I expected and holding Olive's attention throughout the book has (so far) proven unsuccessful. In fact, the only person who's fallen asleep reading it is me, with the endless yawning prompts sending me into a very drowsy state.
Having said that, I really like this book and will continue using it as part of Olive's bedtime routine. As she gets older, I think she will enjoy it more, and I think the science on which the book is based will help with the winding-down process.
The author has also written a previous book called 'The Rabbit Who Wants to Fall Asleep,' which I will also be purchasing in anticipation for Olive's increasing attention span.
Sale
3. Lizzie Loves: Be Sleepy Sachets
One of my current trials for helping Olive sleep is using the Lizzie Loves: Be Sleepy Sachets.
A number of Mums on Instagram recommended this to me, having struggled to get tart cherry juice down Olive. Cherry juice is said to be a natural alternative to melatonin tablets, helping to build the body's melatonin levels over the course of the day, therefore promoting better sleep at night.
After a week of devising various ways to put the cherry juice in Olive's food and drink, and with little success, the Sleepy Sachets from Lizzie Loves were recommended to me as an easier alternative.
The Sleepy Sachets contain sour cherry, magnesium, lavender and chamomile, and can be put in your toddler's milk, water or mixed in with their food.
I was really excited to try these sachets, but am currently still building up Olive's taste for them. I initially tried dumping a whole sachet in her bedtime milk, but she spat it out immediately and refused to drink anymore. Instead, I'm now slowly building up the amount of sachet I put in her milk until she's used to the taste.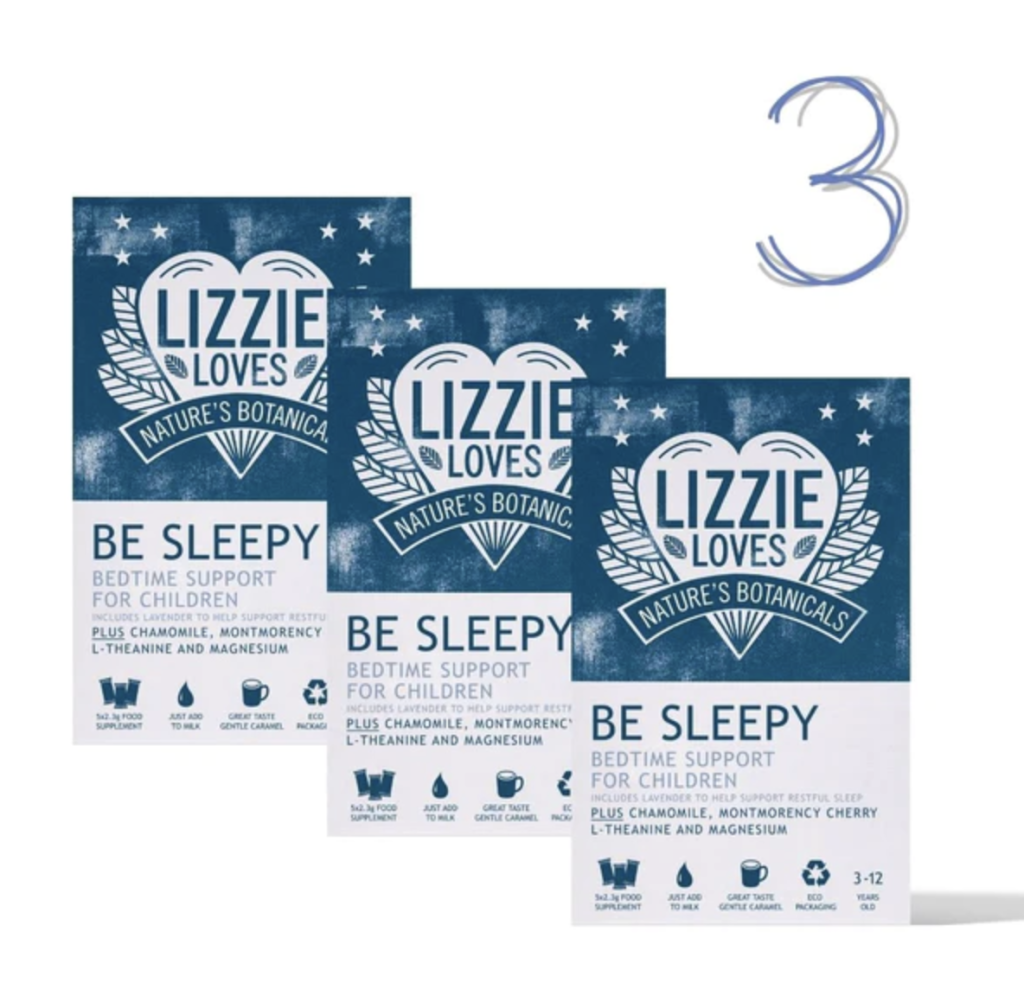 As yet, there's been no miracle solid night's sleep, but I should also state that having recently turned two, I think we are in the midst of a sleep regression. Strong sedative aside, I'm unsure there's much that'll make Olive sleep through the night at the moment.
And so, for now, I'll continue using the sachets, hoping to build her levels of melatonin.
4. Glow Dreaming UK Lamp
Another product that has chased me around the internet is the Glow Dreaming UK Lamp.
Now, I must admit that I haven't bought this product yet. At over £70 for the lamp and the natural oils set, it seems like a very heavy investment for pieces of kit that I already have in Olive's bedroom.
Glow Dreaming claims to be a 5-in-1 sleep aid that supports sleep through: a red LED light, pink noise, humidifier that creates a cool mist to help easy breathing and medicinal grade oils designed to relax muscles and mind.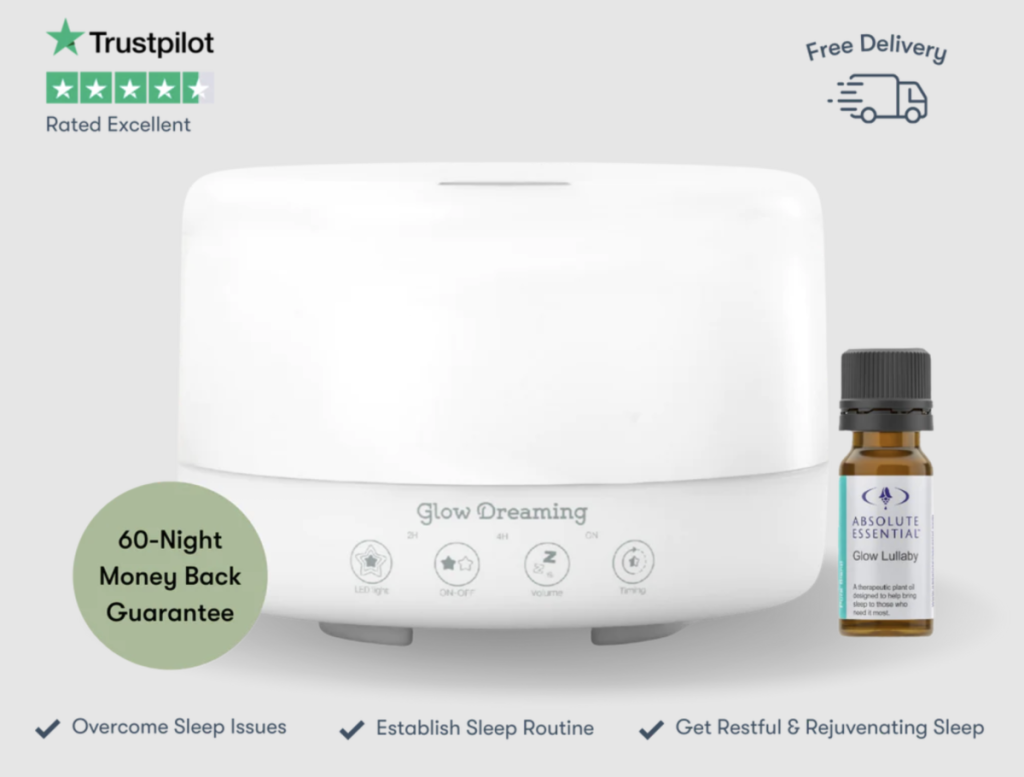 We already use a red LED light via Olive's Hatch machine, combined with pink noise, and have obviously tried the essential oils with the Sleep Promoting Stickers. I'm therefore dubious if combining these into one product would have any drastic affect on Olive's sleep.
I am very intrigued, however, and maybe it's something I'll try later down the line.
5. Weighted Blanket for Children
I have been a big fan of the Aeyla Weighted Blanket for many years and use mine every night. I was therefore delighted when I realised they also offer a weighted blanket for kids. In the same understated style as the adult one, I immediately bought one for Olive, excited to see if she would enjoy the same benefits that I do.
We transitioned Olive to a toddler bed at 18 months and so she is used to her own duvet and pillows. As a hot little being, however, she usually has the quilt off within minutes of falling asleep, and I was worried if she'd even like the sensation of a weighted blanket on her.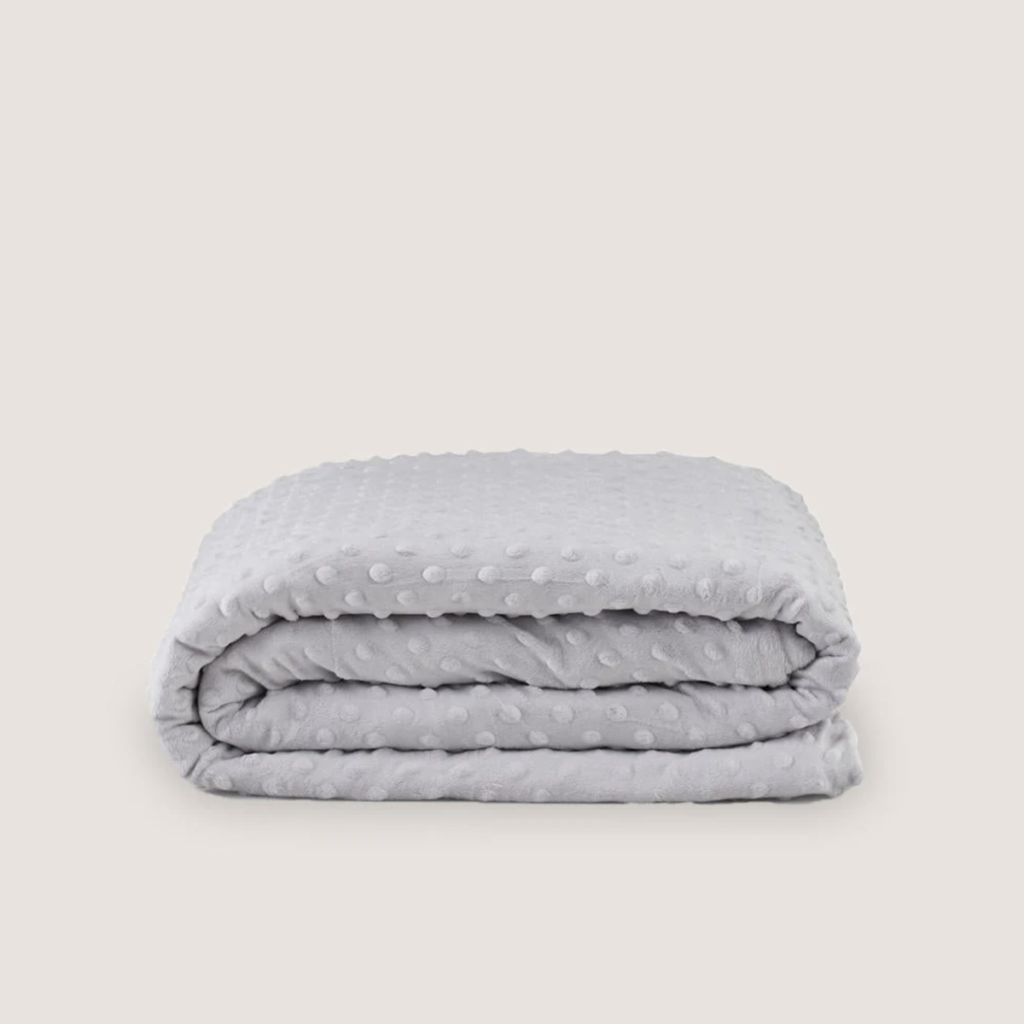 Much to my surprise, however, she really enjoys the blanket and appears to like the pressure of the blanket on her feet. Although it hasn't transformed her sleep, it has become a staple of her bedtime routine and does seem to help calm her and make her feel secure.
I should note, the 2kg blanket is designed for 3+ but I'm using it already at 2 years. I don't think she finds it too heavy and seems to be able to move it off her easily if she wants to.
6. Pink or Brown Noise
Although I'd heard of white noise for helping a baby sleep (we have used the brilliant Hatch since Olive was a few weeks old), I only recently discovered the concept of 'pink' or 'brown' noise. Pink noise is said to be more soothing on little people's ears than white noise, as well as  enhancing slow-wave sleep by regulating brain waves.
I've added pink noise to Olive's Hatch machine at night time and I'll admit, it's far more soothing than white noise. If you're looking for a specific pink noise product, I can recommend the SnüzCloud, which can hang from a cot or a pram.
SnuzCloud 3-in-1 Baby Sleep Aid - Portable Plush Toy for Newborn with Night Light, Soothing Sleep Music and White Noise with Adjustable Volume
CALMING EFFECT: Sleep every parent wants more of it! Introducing a 3-in-1 sleep aid to help your little one enjoy the ultimate slumber. Easy to use for a relaxing bedtime and naptime, helping to comfort and settle your baby when you need it most!
SOOTHING SOUNDS: Choose from pink and white noise, calming lullaby, waterfall, and heartbeat to mimic the familiar sound of their mum's womb, with adjustable volume. 2 gentle light options - calming pink glow or soft white light for feeding in the dark.
SOFT & CUDDLY: Wrapped in a super soft plush fabric, this tactile and comforting sleep aid is created for little hands to hold and cuddle as they drift off for a dreamy bedtime. The perfect sleep buddy!
LIGHTWEIGHT & PORTABLE: The cosy design and handy velcro strap makes it ideal for using on a cot, crib, or when out and about, easily attaching to your pram and car seat. Conveniently battery-operated with automatic shut-off after 20 minutes.
AWARD-WINNING: Snuz believes that a happy parent and baby starts with a good night's sleep. We're dedicated to making nap times as stress-free as possible with stylish designs and superior quality. Recognised by Made for Mums and Junior Design Awards.
7. Green Time
As far as natural sleep remedies for toddlers go, 'green time' is by far the easiest and inexpensive method to try.
Simply put, it's making sure your toddler gets plenty of time outdoors – which has been easier said than done during the winter months.
Fortunately, Olive goes to nursery on a farm and so is outside most days, enjoying the gardens and animals, but I've started to build in some 'green time' each evening. I now aim to get her out on her bike or scooter for 20-30 minutes before her dinner, so she gets a final rush of fresh air.
Although this has been a very simple tweak, I do think this has hugely improved her evening routine. Rather than playing in her playroom, perhaps not ridding herself of her endless toddler energy, she now seems much more relaxed and tired come bath time.
8. Magnesium Sleep Kid Spray
Described as a 'marvellous mixture of magnesium chloride and lavender to help relax energetic titchy little snapperwhippers before bed', I currently have this Magnesium Sleep Kid Spray on order.
A simple spray that massages into the skin (preferably after a bath), magnesium chloride is designed to help relax muscles and lull your little one into a restful sleep. Although I'm not expecting miracles, this seems like a nice product to incorporate into the bedtime routine.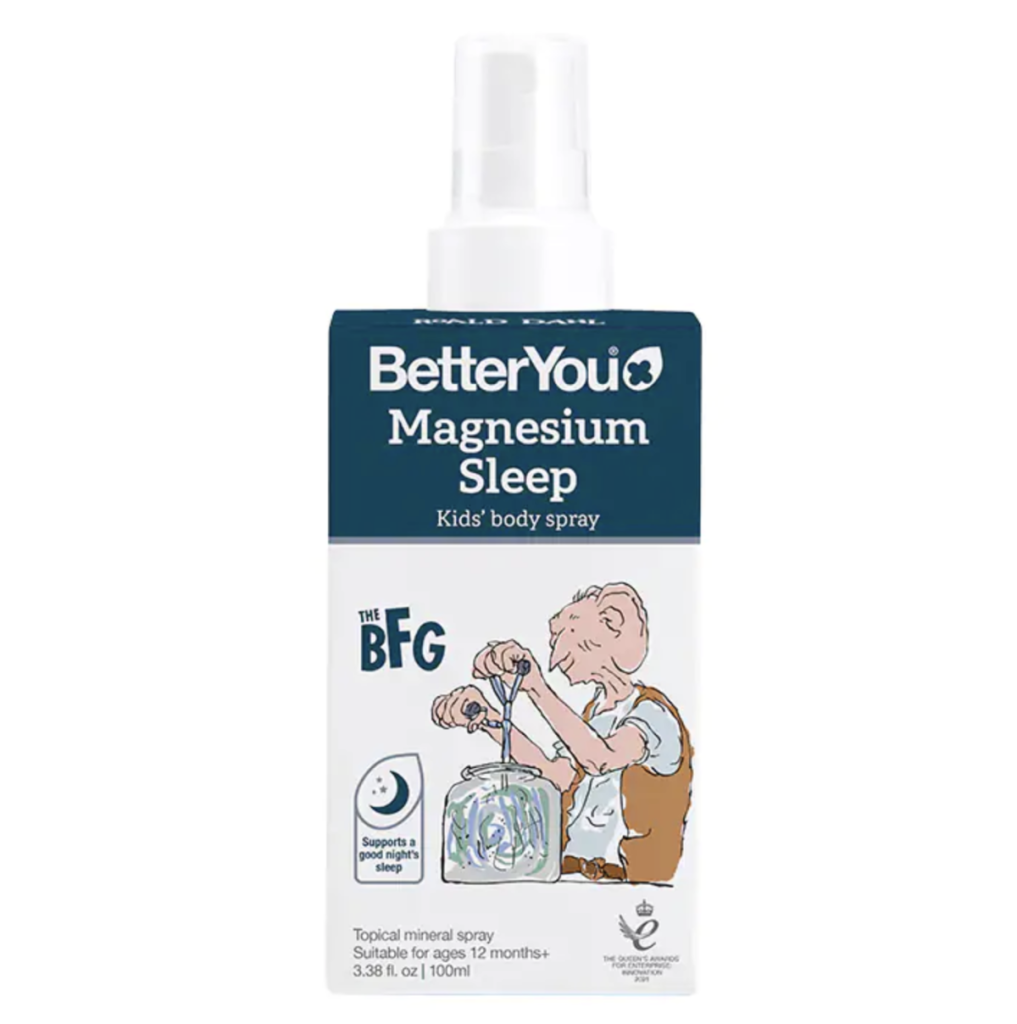 9. Relaxing Music
An oldie but a goodie, we have been playing Olive relaxing music during her bedtime routine for the majority of her two years.
We use her Toniebox, which both she and we love. At night, we have two bedtime Tonies that sing lullabies, and Olive adores putting these on herself to listen to as she gets ready for bed.
Although I highly doubt relaxing music would keep Olive in her bed at night, it's definitely part of her healthy bedtime routine and creates positive sleepy associations.
tonies Toniebox Starter Set incl 1 Creative Toddler Toys, Educational Toys for 3 Year Old Girls and Over, Screen-Free Audiobooks and Kids Music Players, Wireless Speaker, 7 Hr Battery, Red
What it is: Our Toniebox is a new and innovative audio player for kids, great for bedtime stories or as a kids' music box. It's screen-free and so easy to use that even 3-year-olds can operate it
How it works: Placing tonies audio characters on the Cube begins playback automatically and taking them off stops it. Pressing the ears changes the volume. Tapping the sides changes tracks. Simple!
For kids' needs: Kids love to take the Toniebox on journeys. The battery of the portable speaker holds up to 7 hours runtime. The box is padded, robust, and has no sharp edges
Parents love it: No complicated assembly and no over-stimulating flashing screens that are so common on kids toys today. Just simple, screen-free playback
Delivery details: The Starter Set has got all you need to get started: the Toniebox, a Creative-Tonie, a charging station, a UK plug and an easy to understand instruction manual
10. Pam the Penguin Sleep Trainer
Pam the Penguin Sleep Trainer, is an alarm clock and sleep trainer for toddlers who have limited understanding of time. A little more creative than the standard Gro Clock, Pam will tell your little one when it's time to get up, based on a traffic light system of colours.
She is also connected to a wireless speaker, so you're able to play music through her during bedtime or throughout the night.
At just turned two, I think Olive is still too young for Pam at the moment, but I have it in my Amazon basket for later in the year. As a lover of cuddly toys, I feel she's more likely to buy into Pam and her colours rather than the traditional Gro Clock.