Travelling with Baby and Toddler Checklist contains affiliate links.
Prior to having Olive, I had limited knowledge of what would need to be on a travelling with baby and toddler checklist. For child-free me, travel essentials had included a silk eye-mask, hours of downloaded Netflix and some cosy, fluffy socks.
For a long time, I was that traveller who would watch with pity as sweaty parents struggled past with their mountain of suitcases and baby paraphernalia. Smugly pushing along my small carry-on suitcase, I'd feel a little bad as parents wrangled bulky items onto the 'oversized luggage belt' and sorted through piles of emergency nappies.
But now? Well, how the tables have turned.
Fast forward a few years, and I now find myself in the same sweaty shoes as those manic parents. Jostling through the airport with a toddler and enough suitcases to suggest we're relocating across the world – I presume that the ghost of childless Claire would be shaking her head.
Now that I've completed several flights and holidays with Olive, however, and with a few more wrinkles and hints of grey hairs, I feel a little wiser when it comes to what you need to pack when travelling with a baby or toddler.
As an apology for all those years of head-shaking and smug smiles, therefore, I've decided to share a few of these hacks and must have travel items when travelling with children.
Here's my ultimate travelling with baby and toddler checklist.
1. The Best Travel Cot for Babies and Toddlers
Although this may seem incredibly obvious, I cannot stress how important a good-quality travel cot is for baby travel essentials.
Despite your Mum's claims that babies can sleep in a box/and or chest of drawers, a baby (or at least mine) does enjoy a certain level of comfort and space to stretch out in. Furthermore, and baby's comfort aside, a travel cot that won't take an hour to construct is also an essential if you want to enjoy your holiday and keep your marriage intact.
After intense research, we opted for the Bugaboo Stardust travel cot and playpen. Sold on its 'pop-up' style (and it really does pop-up in seconds), the lightweight frame and compact style made travelling with it surprisingly easy.
Although it is expensive at £199.00, I think it's worth the investment and can also be used as a playpen.
We checked the Bugaboo Stardust in as one of our free 'baby items' with both British Airways and EasyJet, and it travelled really well.
2. The Best Pram for Travel
As the owner of a fantastic, but tad heavy, Silver Cross pram, I knew I'd need to invest in a more travel friendly stroller before travelling with Olive.
Taking to Instagram – where I seek all important life advice – I was immediately hit with a mountain of messages regarding the BabyZen YoYo. "It's the only pram you'll need!", "it's the best travel pram out there!" were the typical sort messages I received about this colourful and uber-modern pram. Intrigued and, I must admit, already very influenced, I headed off to my local John Lewis for a test-drive.
As the kind assistant unfolded the YoYo at impressive speed, I immediately noticed that the pram didn't fully recline. As the Mum of a particularly fussy baby when it comes to nap time, my heart sunk knowing that this wouldn't be the pram for us. After a quick scoot around the shop floor, I was also a little worried about how the pram's small wheels would hold up on different terrain. Although it might be ideal for the smooth tarmac of London, I'm not sure it's the pram for a more adventurous holiday.
Panicked and unsure if another pram as compact and lightweight existed, I asked the shop assistant for another recommendation. Nodding confidently, she took me to what she assured me was her favourite choice, the Ergobaby Metro+ Stroller.
I was immediately sold. Lightweight, compact, reclining to 180-degrees, with a generous canopy to keep your baby snug and sturdy back wheels, the Ergobaby Metro+ really is the ideal travel pram and a key baby travel essential. It even has plenty of space underneath to stash the endless amount of baby items you accumulate over the course of the day.
The Ergobaby Metro+ was ideal for our first holiday with a baby. We kept Olive in the pram until boarding and then swiftly folded it down and stored it in the overhead cabin. The big perk of this was that there was no waiting around for the pram to come off the luggage belt once we landed. The wheels also held up brilliantly on all sorts of terrain and it was so light and easy to manoeuvre.
Perhaps most importantly, with its fully reclining capabilities, Olive slept soundly in it while we explored.
I've been so impressed with it, it's actually become my main pram for day-to-day use since getting home. I've now invested in the additional support bar (Olive loves to put her feet up on it) and the winter footmuff.
Although the pram is only suitable for babies from six months, you can also buy a newborn attachment for it. And the best bit? It's cheaper than the Babyzen YoYo at £299.00. 
A key product to add to your travelling with baby and toddler checklist.
Read our full review of the Ergobaby Metro+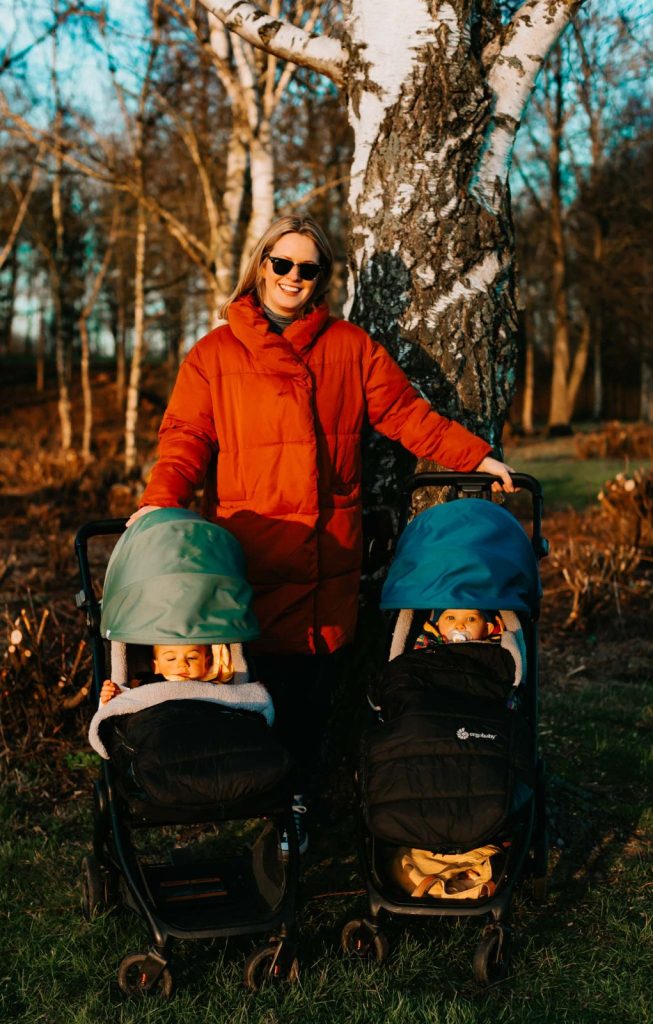 3. Travel Friendly Baby Bottles
The most obvious thing to add to your baby packing list is baby is bottles. Although I breastfed Olive, I regularly pumped to buy me a little freedom and this is no different when travelling.
Both Laura and I used the MAM bottles for Olive and Henry, and one of the many reasons for using them is their easy sterilising function. There really is no more painful task in parenthood than endlessly sterilising bottles and so we liked to keep this task as simple (and fast) as possible.
The creators of the MAM bottle have thankfully recognised this and have blessed time-deprived parents with bottles that sterilise in just three minutes in the microwave: genius. Being able to sterilise on the go in a hotel or holiday apartment was hugely useful and meant one less thing to worry about when feeding Olive as we travelled.
4. Snooze Shade for Travel
If there was one product in the history of child rearing that I would recommend to every new parent, it would be the Snooze Shade. A product sent from heaven, this contraption revolutionised my life with Olive and saved my sanity.
I'm not exaggerating.
Quite simply, the Snooze Shade is just that: a shade to put over your pram to protect your baby from the sun and/or help them to sleep on the go by blocking out sunlight.  Made from a breathable mesh, the shade is ideal to use when travelling to a sunny location, or to simply block out the bright lights of shops or restaurants.
Olive often sleeps on the go in her pram and, as a baby, dropped off at lightning speed once the Snooze Shade was deployed. Combined with the Ergobaby Metro+'s generous canopy, the Snooze Shade helps to create a dark, cosy cocoon for your baby to sleep in.
I would be as bold to say that if there was just one item to buy on this travelling with baby and toddler checklist, it would be this: the heaven-sent Snooze Shade.
5. The Best White Noise Machine
Babies are delicate creatures and travelling somewhere new can unsettle them.
We use – both at home and away – the brilliant Hatch Baby Rest Sound Machine. After months of using our phones to endlessly blast out white noise, we decided to upgrade to the Hatch after hearing rave reviews. Again, not the cheapest at £59.99, the Hatch is definitely an investment, but one that will see your baby through to childhood.
Operated by an app on your phone, you can control the different types of sounds, colour and volume coming from your Hatch from anywhere in the house. Used as a white noise machine for babies, as a night light for toddlers, or using the 'time to rise' setting for over-eager early risers, the Hatch is a multi-functional gadget.
I really enjoy using the soft yellow light, along with the sound of rain when feeding Olive before bedtime. It causes drooping eyelids for us both.
We found the Hatch equally invaluable while we were away in both giving Olive a familiar sound that she associates with sleep and in blocking out the unusual sounds of somewhere new. Indeed, even at two years old we still travel with the Hatch to provide a familiar light in her room at night.
Another essential for your travelling with baby and toddler checklist.
6. The best travel highchair
Early on in my travels with Olive, there was one thing that I didn't consider when thinking of what to pack when travelling with a baby  – and that's a highchair.
Booked into Airbnbs, I failed to consider the lack of highchair provision before we arrived on holiday, and quickly came to realise that this was quite the issue when it came to dinner time. Wrangling a wriggling, food covered baby on the floor of a home you don't own is a stressful experience and one I'm not looking to experience.
Since my first travel experience with Olive, I've since discovered the brilliant Chicco Pocket Booster chair, which fits on a normal chair to transform it into a high chair.  This is incredibly easy to travel with and I keep it in my car, ready for any restaurant or situation where I might need a highchair.
I still use this with Olive now she's a toddler, and is incredibly useful to keep in the boot of your car or to sling in your suitcase.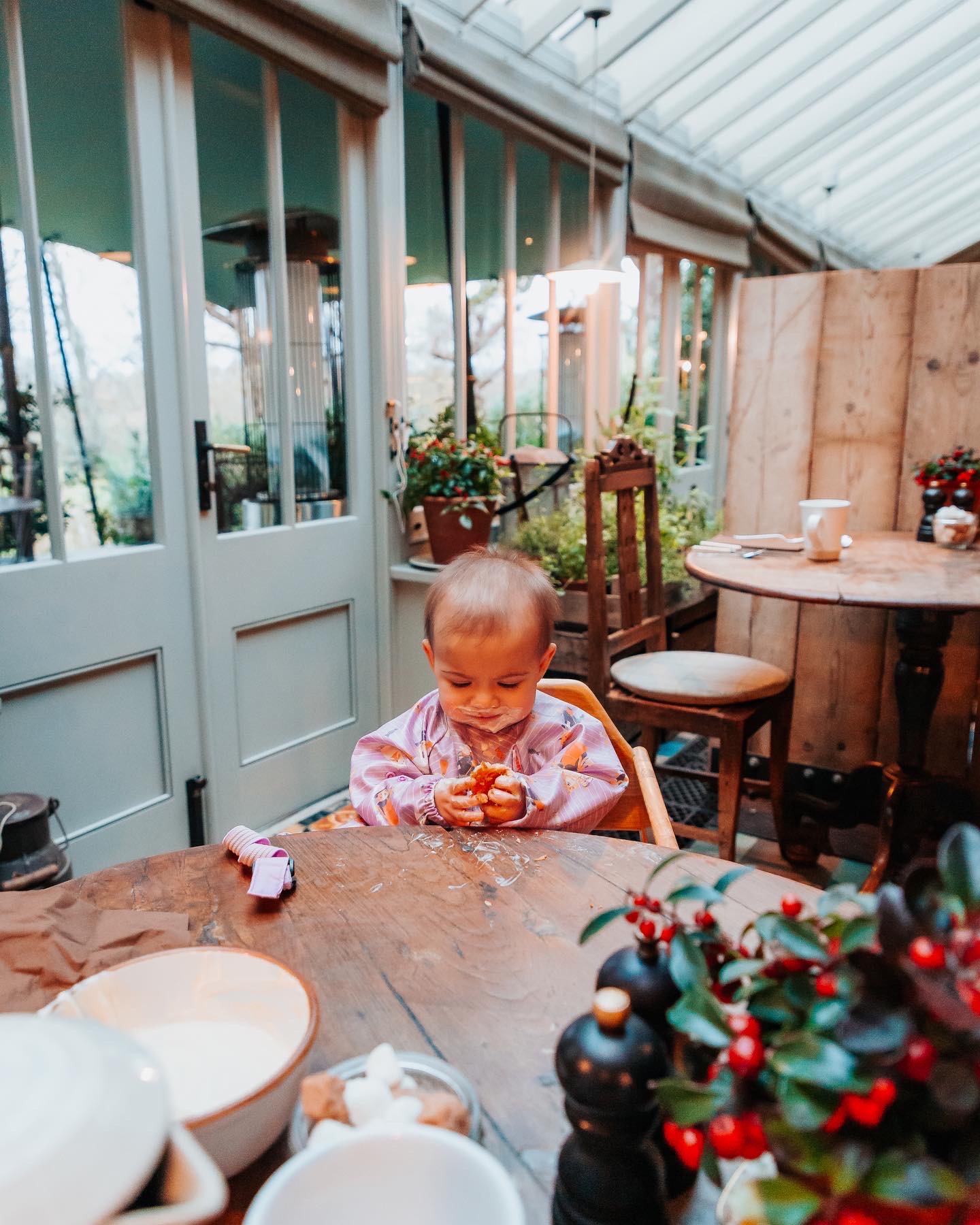 7. Car Seat Travel Bag
Another suggestion from the wise people of Instagram, which I was oblivious to the existence of prior to a baby, was a car seat travel bag.
Although the bag has its obvious pluses in terms of protecting your car seat and making it easy to carry through the airport (it goes on your back like a backpack), its true value is far sneakier.
You see, the giant car seat travel bag is also the ideal vessel for smuggling extra baby and toddler paraphernalia through check-in, without having to pay for yet another suitcase. "Fill it to the brim!", "I stuff all my nappies in there", "load that baby up", were some of the suggestions from gleeful parents of Instagram.
Of course, I dutifully did as I was told. Did it work? Well, not entirely.
Arriving at the EasyJet check-in, we nervously handed over the bag so that it could have its 'oversized luggage' sticker put on it. Much to our horror, however, the easyJet crew member opened the bag, thus revealing our secret, shameful stash of nappies, wet wipes, socks and anything else we had flung into it last minute.
We were rumbled.
Although the staff member let us keep a few bits in there, we were sternly told off and ordered to relocate the secret stash into our existing suitcases. It was a humiliating experience. Our homeward journey with British Airways, however, was far more successful with the bag not even given a second glance as it was tossed onto the luggage belt.
You win some, you lose some, as they say – but it's a gamble worth taking.
8. A Mini Steriliser for Travel
Although MAM bottles have us covered when it comes to self-sterilising, ensuring the endless toys and dummies that are tossed on the floor of the plane/rental car/restaurant/bathroom floor while travelling is not as easy.
For small items like dummies, which need to be extra clean after exploring the dusty, crumb covered corner of a plane seat, I use a mini steriliser. With a USB charger, this is an easy travel essential to fling in your day bag, whilst preventing any germs wiggling their way into your baby's mouth when away.
As an aside, for larger toys that won't fit in a steriliser, I use Milton Wipes.
9. Travel Purflo Sleep Bag
A baby sleep bag is an essential for any parent but the Purflo Sleep Bag goes one step further when helping your little one get to sleep. Cleverly designed with a little pocket in the back and double zips at the front, your baby can be safely fastened into their car seat while in their sleep bag. The result? You can easily transfer your sleeping baby from their car seat to cot without having to wake them up to get them bedtime ready.
Genius and a must for your travelling with baby and toddler checklist.
10. Bath Mat for Baby/Toddler Travel
If you're travelling with a baby, bath time is always a little stressful when it comes to travel.
Once Olive was too big to be washed in a sink or a bidet (no judgement please), and being mobile enough to wriggle and slide around a bath, we decided to pack a bath mat to keep her accident-free when it came to her nightly soak.
This might seem like a small essential, but having tried to bathe Olive in a big slippy bath before, it's best to bring a grippy bath mat, to ensure that bath time remains a relaxing experience for all.
11. Toddler Suitcase Scooter
Now Olive is a fiercely independent two year old, navigating an airport isn't as easy as it once was when she simply sat in her pram. For her birthday, therefore, we bought her, her own suitcase come scooter.
I'm hoping her own scooter will lessen the chances of having to carry or drag a heavy toddler through departures and will add a little excitement to her travels.
12.  MiaMily Ride on Suitcase for Children
I stumbled across a viral TikTok of this genius suitcase, and am now longing to give it a go. The Swiss brand MiaMily offer a revolutionary suitcase, which comes complete with a (genius) built in seat for your baby or toddler to sit in.
Forget gimmicky kids' suitcases, these are beautifully designed suitcases for adults that comes with a ride-on seat for children, or simply as a seat for adults (not a bad thing when you're stuck in a long check-in queue).