Do you suffer from travel anxiety?
We can help you overcome anxiety and see the world.
As travel bloggers and new Mums, finding a cabin approved stroller that was both lightweight and compact was a task we took very seriously.  Painstakingly reading endless reviews online, alongside 'test-driving' various strollers in store, we were dedicated to finding the very best cabin approved strollers available to us in the UK.
And – after two long months of investigation – we finally had a winner: the Ergobaby Metro+ Compact Stroller.
We admit, this hadn't been the first lightweight travel stroller on our list, with many suggesting the BabyZen YoYo  instead. However, we genuinely believe that the Metro+ is superior to the YoYo in so many ways.
The best bit? It's also cheaper than many of its competitors at £299.00.
If you're therefore looking to invest in a cabin approved stroller this year, here's our 10 reasons why you should definitely buy the Ergobaby Metro+ Stroller.
1. It's a Compact Stroller
Given the title of this blog post, the most obvious reason why the Ergobaby Metro+ Stroller is the ideal travel companion is its small size and is a foldable cabin size stroller. This means you can take the stroller onboard with you, folding it up quickly and easily, before putting it in the overhead bins.
This is ideal for those travelling with just hand luggage – or simply for those who don't want to have to hold a baby while they wait for the pram to come off the luggage carousel. Indeed, the last thing you want after a long flight is a painful wait with a restless, tired baby in your arms.
We've stored the Ergobaby Metro+ in the overhead cabin lots of times and it works perfectly as a stroller for airplane cabin. Furthermore, you only need one hand to fold the stroller, meaning you can still hold thebaby in the other.
2. It's a Very Lightweight Stroller 
Alongside being one of the best compact strollers out there for travel, the Ergobaby Metro+ is also incredibly light and easy to manoeuvre (over almost any terrain).
Prior to purchasing the Metro+, I was using a Silvercross Pioneer, which was brilliant, but very bulky – and I needed both hands to push it around corners.
On my first outing with Olive in the Metro+, I actually nearly pushed her into the road because the pram was so agile in comparison (at just 7.8kg). It really is an ideal lightweight stroller for those wanting to sip a coffee on the go, while still feeling fully in control of the pram and its precious cargo.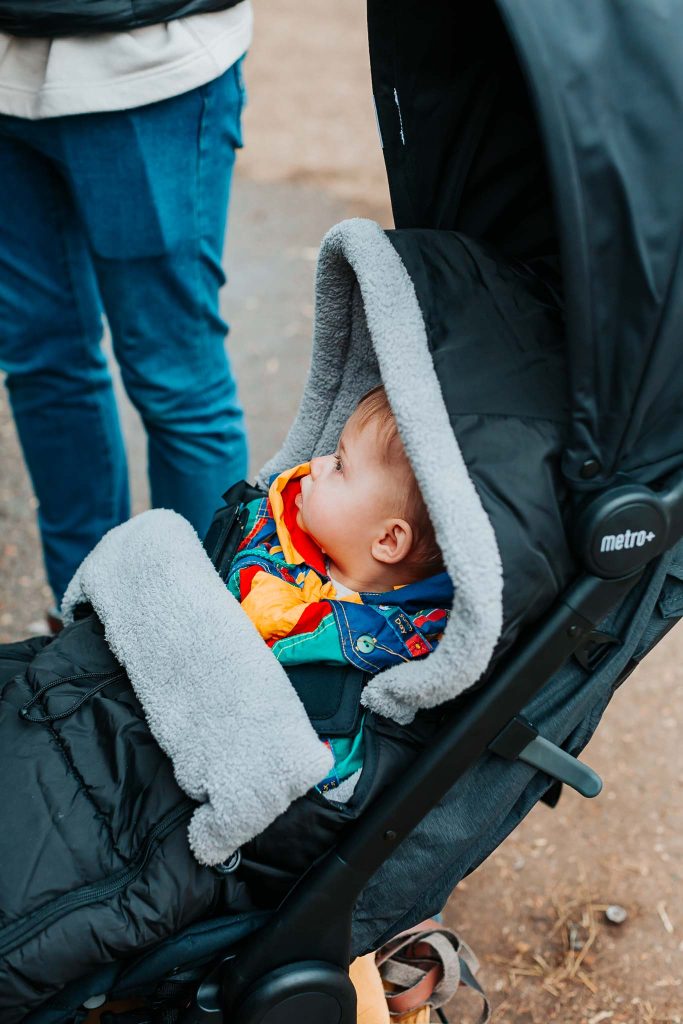 3. Flat Reclining Seat for Naps on the Go
One of the biggest selling points when it came to deciding on the best cabin approved pushchairs was the fact that the Ergobaby Metro+ offers a 180 degree reclining seat. Ideal for naps on the go -something that's incredibly important when travelling – the Ergobaby Metro+ Stroller has allowed us to explore destinations while Olive has slept soundly in her pram.
With a generous sun shade (more on this below), the reclined seat creates a cosy, cocoon-like snug for your baby to sleep in.
4.  A Generous Sun Canopy
Another key requirement for a travel stroller is a generous sunshade.
If your baby is anything like mine, babies and toddlers are tiny vampires who hate nothing more than direct sunlight. The Ergobaby Metro+ sunshade pulls over your baby in a dome-like fashion, creating a cool, dark cave for your little monster to hide in.
The sunshade on the Ergobaby Metro + is also made from UPF-50 material and has a mesh window to ensure airflow through the stroller. It also comes with a magnetic 'peek-a-boo' window, so you can check in on your baby on the go.
Ergobaby has also recently launched a new range of gorgeous sunshade colours, which can easily be swapped and attached to the pram.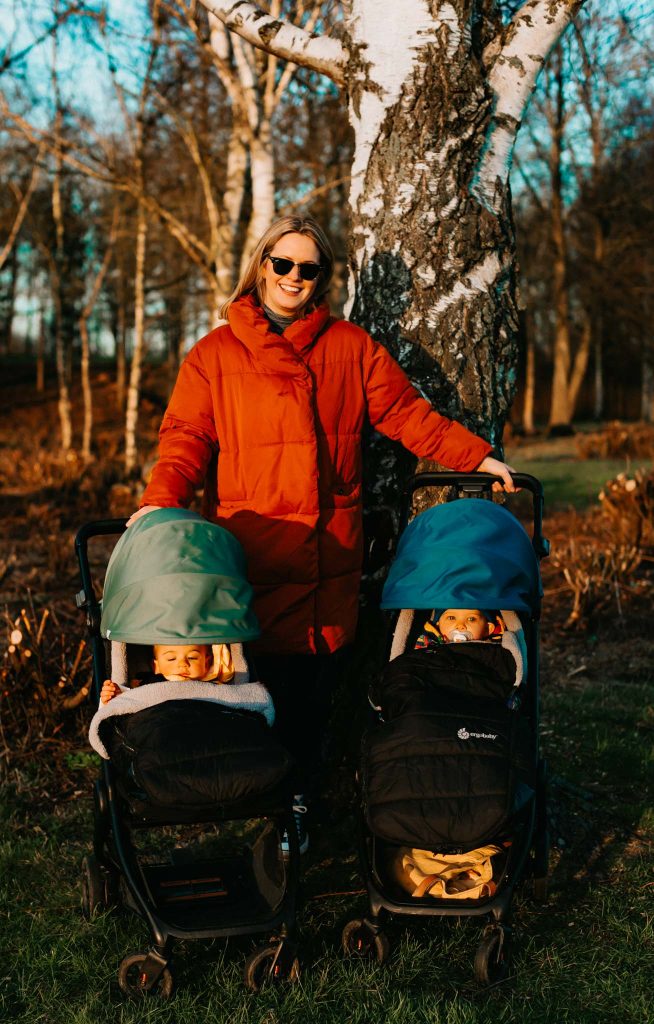 5. It's Newborn Friendly
During my extensive research, I was surprised to learn that the Ergobaby Metro+ is suitable from newborn to toddler. With clever concealed newborn 'flaps' on the frame and the end of the seat turning up to create a nest for your little baby, this pram is a brilliant alternative to the traditional newborn pram.
Had I known about this sooner, I would have been very tempted to have bought the Ergobaby Metro+ for my own newborn baby. It would definitely have been a benefit to me post c-section, when lugging and assembling a large bassinet and pram was pretty uncomfortable.
6. Space to Stash Your Stuff
Despite it being a compact, cabin approved stroller, there's still a surprising amount of space built into the Ergobaby Metro+ stroller storage basket. Although it doesn't have as much room as my previous Silver Cross pram, there are still enough pockets to put a few bags and accessories for Olive.
There is also a handy pocket compartment at the back of the pram, which again accommodates a surprising amount of baby paraphernalia. I use this pocket to keep my phone and camera in when I travel, as well as endless snacks for the baby.
7. Tried and Tested Durability
Despite being lightweight, the Ergobaby Metro+ is impressively durable and its wheels can tackle most terrains admirably.
With spring suspension, the stroller is an incredibly smooth ride – and we've used it across cobbles in Oxford, over grass and muddy tracks in Scotland and are about to take it to the beaches of Italy.
This is another big difference that I noted between the Ergobaby Metro+ Stroller and the BabyZen YoYo. The wheels on the Zen are very small and felt quite fragile. In fact, some friends have commented that the wheels on their YoYo have even broken, when trying to use it on anything other than pavement.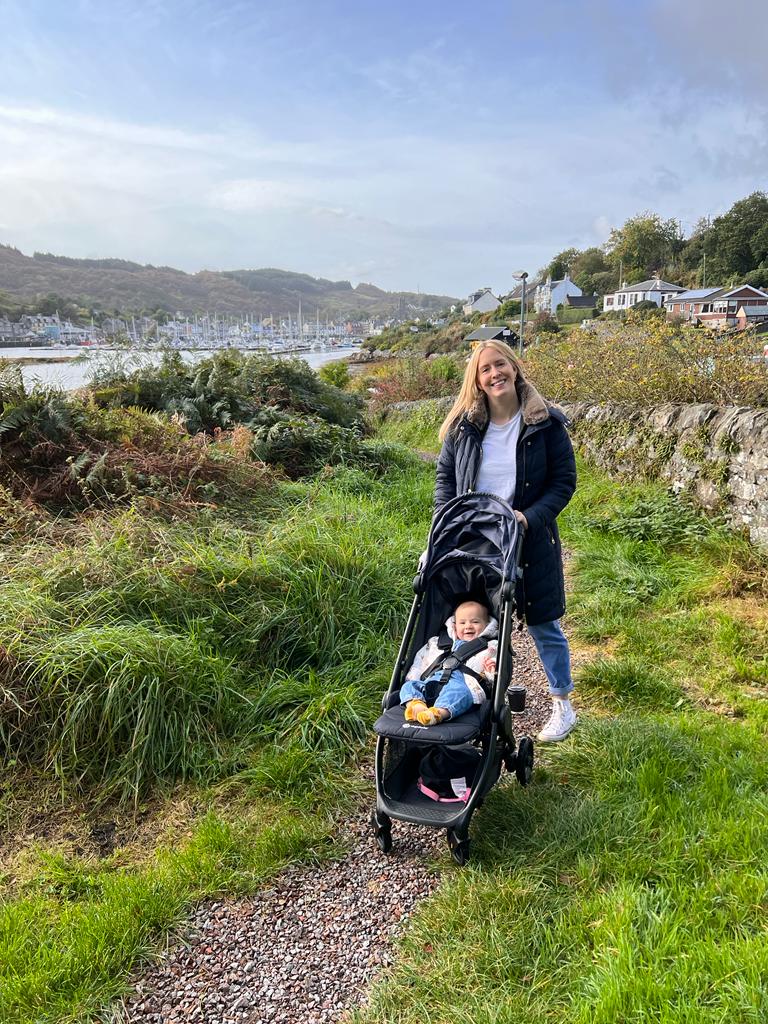 8. Extra Padding (Very Comfy)
One of my worries about buying a lightweight stroller was that the seat might not be particularly comfy. Again, however, I was pleasantly surprised by the generous padding found in the Ergobaby Metro+ seat, which has in fact been declared the number one padded seat of any premium, ultra-compact stroller.
Judging from Olive's long naps in the pram, I can only guess that these claims are genuine.
9. All the Extra Accessories for the Ergobaby Metro+
For a lightweight, cabin approved stroller, the Ergobaby Metro+ offers a surprising amount of accessories to personalise and enhance your pram. These include:
10. Adaptable and Customisable
Our final reason for making the Ergobaby Metro+ the best cabin approved stroller in the UK, is due to its customisable features. As well as the broad range of accessories available, the stroller also comes with an extendable handlebar, that's been ergonomically designed to help improve your posture and encourages you take strides that suit your height.