After writing about the Ten Truths of the First Trimester, I began wondering what recommendations I'd give if someone asked me for my first trimester 'must-haves'.
After three months of symptoms including sickness, thirst, tiredness and aching boobs, it turns out that I'd built up quite the 'toolkit' to help me survive the notoriously unpleasant first trimester of pregnancy.
On reflection, some products I bought turned out to be totally useless, including – shock horror – ginger biscuits and peppermint tea. However, there were also some products that quickly became a necessity. These were my loyal companions; each supporting me through that rollercoaster ride of the first twelve weeks.
Below is my round-up of these essential first trimester products.
A Guide to Your First Trimester Must-Haves
Sickness Bands
One of the first things I purchased, when the morning sickness really hit, was a pair of sickness bands. Assured by friends that these little bands really did help lessen the nausea, I bought a pack of six on Amazon, demanding next day delivery.
The theory goes that the plastic balls included in the bands apply pressure on a acupressure point on your wrists, which in turn helps to alleviate that perpetual sick feeling.
Although I have no idea if these little bands did actually help – or simply had a psychosomatic effect – they did seem to lessen the nausea, especially if I remembered to put them on as soon as I woke up.
For this reason, and at less than £10 for a pack, I think they're definitely worth a punt.
My only advice is to remember that you have them on when you're around people who don't yet know you're pregnant. On multiple occasions, I had to pretend they were very thick hairbands.
Buy your sickness bands on Amazon here. 
2. Relieve the Heave Spray
A handbag essential, My Expert Midwife's 'Relieve the Heave Spray' is designed to help alleviate those feelings of nausea (and, of course, the urge to heave). Combining a gentle blend of peppermint, lemon and grapefruit essential oils, this spray was a miracle worker in helping to bring me back from the brink of a gag-fest.
As well as spraying it around me whenever I felt sick, or was due to come into contact with a 'smell nemesis' (i.e. the fridge), I also sprayed this on my pillow at night time before I went to sleep. The calming oils helped me to slow down my breathing and with it, help manage my nausea.
Buy your Relieve the Heave Spray on Amazon here.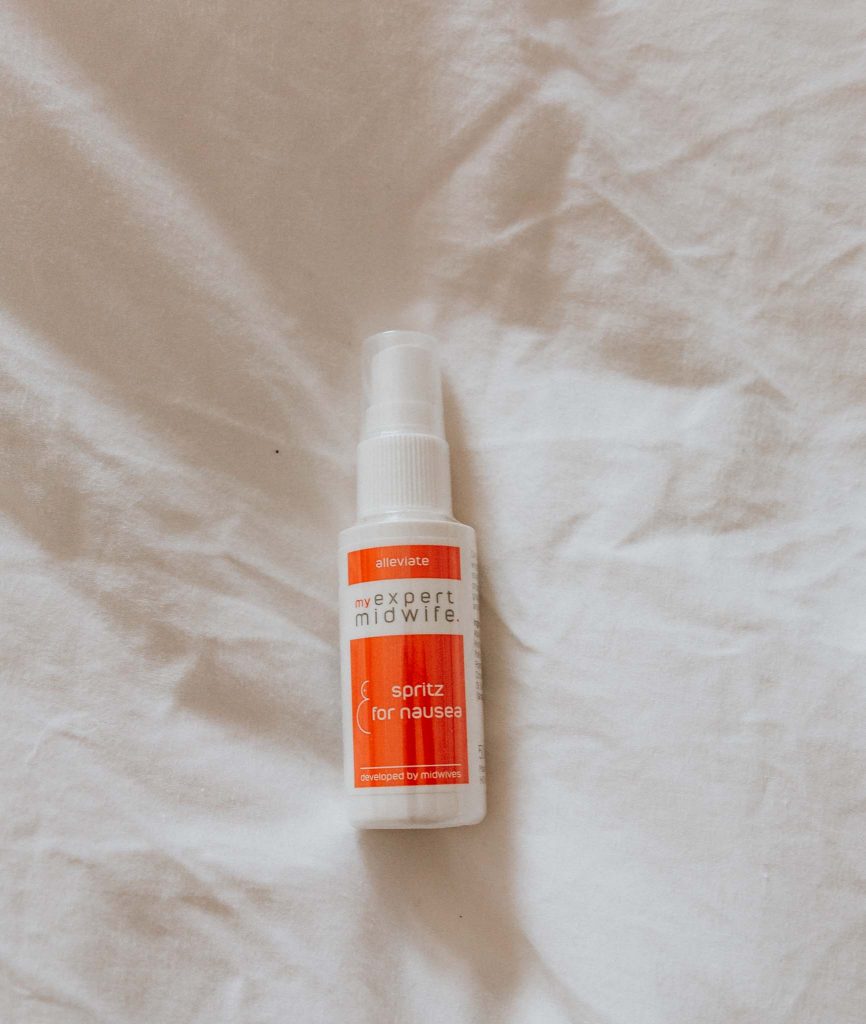 3. The Humble Water Bottle
An essential first trimester must-have is, a little unexcitingly, a water bottle. Firmly placed in my bag before I left the house, having access to cold water when I was out and about became an imperative.
In fact, I was so reliant on sips of cold water to help keep the sickness at bay, that I became confused as to how other people were able to walk around without also constantly sucking on a bottle or a straw.
If possible, try to use a water bottle that keeps your water as cool as possible. According to research, it's the coldness of the water that can help most in quenching thirst and detracting from nausea.
I used a Chilly's stainless steel water bottle to keep my water ice-cold – it felt like heaven to down that icy water each time the sickness arrived.
Buy a Chilly water bottle on Amazon here. 
4.  Soft, Non-wired Bras.
Soft, non-wired bras are a definite first trimester must-have.
Even when sleeping.
Feeling as though I'd returned to my adolescent years thanks to painful, swollen boobs, I quickly realised that my normal underwired bras would be of no use – wearing them was a little like being cut in half with cheese wire. It therefore wasn't long before I was roaming the aisles of M&S looking for a softer alternative.
Stretchy, supportive and soft, non-wired  bras or crop tops will help lessen the uncomfortable feeling associated with your boobs during the first trimester. I wore the H&M bra top (recommended below) while I slept too, to help lessen the pain when I turned over at night.
Buy a non-wired bra top from H&M here. 
I also bought a few soft, non-wired nursing bras that are still ideal for the first trimester, but also come with opening cups for breastfeeding later on. I decided that even if I don't end up fitting into these bras once the baby is born, it's no real loss as they've been perfect throughout my pregnancy (and very reasonably priced).
Buy the MAMA 2-pack Nursing bras from H&M here.
5. Scooby Snacks
Continual access to snacks during the first trimester is must-have for any woman.
(And second, and third).
Helping to combat nausea and pesky low blood sugar, which seems to go a little haywire in the first 12-weeks of pregnancy, making sure your cupboards and handbag is full of snacks is essential throughout your first trimester.
Best snacks to eat during the first trimester (that are vaguely healthy):
Almonds: I found these reassuringly nice and bland, so easy to stomach. They also ensured I was getting plenty of iron and fibre.
Dried fruit: I found the chewiness and refreshing taste of dried fruit a good distraction from the nausea and it helped to give me a little natural sugar lift.
Cereal/fruit and nut bars: I liked being able to take small nibbles of these bars;  my favourite are KIND bars.
Plain, greek yoghurt: bland, easy to swallow and full of calcium.
Satsumas: for unknown reasons, I found it easy to stomach satsumas during the first trimester. The zingy smell helped with nausea, while the juiciness helped with thirst and my dry mouth.
Mini Cheddars: not necessarily healthy, but a cheesy cracker does wonders for the sickness, I promise.
Tonic Water (sadly without the gin): I craved sour, savoury flavours during the first trimester and tonic water, complete with its bubbles and coolness, really hit the spot when it came to lessening my nausea. Add a splash of lemon to really distract those tastebuds.
6. Elasticated Waistbands (Ditch the Jeans)
Although it's unlikely that there will be any signs of a pregnancy bump during your first trimester, you may well find yourself caressing a little bloated 'hump' instead.
Within just a few weeks of pregnancy, my stomach ballooned (thanks to progesterone) and I was struggling to do up the buttons on my usual summer dresses.
Irrational fears of a multiple pregnancy quickly set in.
Taking to the internet and reassuring myself that the phantom twins were but bloat, I quickly replaced my tight high-waisted jeans and dresses with anything with an elasticated waistband. This included maternity leggings (I concluded I'd be getting use out of these throughout the entire pregnancy, so it was never too early to buy some), smock dresses and multiple versions of Monki dungarees.
I would say the Monki dungarees were my most worn item during the first trimester  -and I'll continue to wear them long after pregnancy, I'm sure.
Buy my favourite Monki dungarees here. 
7. A (Good) Pregnancy Pillow
With little knowledge of pregnancy before finding myself with child, I'd always assumed that a pregnancy pillow was for later on in pregnancy (the third trimester, onwards).
Surprisingly, however, we discovered that in terms of first trimester must-haves, a pregnancy pillow should be firmly on your list.
Indeed, helping to keep your hips and lower back supported while you sleep is really important from early on in pregnancy – and can help you adjust to new sleeping positions as you progress throughout your pregnancy (i.e. when you find yourself trapped only on your left side from 20 weeks onwards).
Buy your bbhugme Pregnancy Pillow here.
We were incredibly fortunate enough to be gifted a bbhugme Pregnancy Pillow to trial and, eight weeks on, I can't imagine life without it. Forget first trimester must-haves, this pillow will be a permanent addition to my sleep routine for years to come.
Much to my husband's disappointment.
8. A High Quality, Gentle Toothbrush
Another unexpected first trimester must-have is a high quality, gentle toothbrush. As it turns out, on top of painful boobs, bloating, sickness and exhaustion, pregnant women can often enjoy bleeding gums during pregnancy.
Hurrah.
Due to an extra build up of plaque thanks to those good old pregnancy hormones, swollen and bleeding gums during the first trimester are surprisingly common. Fortunately, this isn't something I experienced and I put this down to one of my favourite ever purchases: my Philips Sonicare Diamond Clean toothbrush.
This brilliant, electric toothbrush (which, as an aside is also ideal for travel) kept my teeth plaque free throughout the first trimester and my teeth and gums squeaky clean.
Buy your Philips Sonicare Diamond Clean toothbrush on Amazon here.
9. A Deeply Nourishing Moisturiser
According to Google, it's never too early to start moisturising during pregnancy in order to keep that skin supple and expandable. Eager to get into the swing of moisturising, to both help reduce the threat of stretch marks and to avoid dry, itchy skin, I did a lot of research on the best moisturisers to use during pregnancy.
As a devotee to Aveeno Daily Moisturizing Lotion (I've never found a moisturiser that keeps my skin softer or more nourished), I decided to continue with this, while adding in a more intensive serum.
Already a fan of the My Expert Midwife's, 'Relieve the Heave Spray', I decided to try their 'Fantastic Skin Elastic' serum for use on my stomach and boobs. A silky serum designed to reduce tightness, itchiness and stretching, this magical lotion is also said to help lessen constipation when you massage it onto your bump.
It also smells divine – a blend of citrus and grapefruit notes that I find really uplifting.
I adore this product and now at 24-weeks pregnant, remain stretch mark free with soft and non-itchy skin. In terms of first trimester must-haves, this product should be high on your list.
Buy My Expert Midwife, Fantastic Skin Elastic on Amazon here.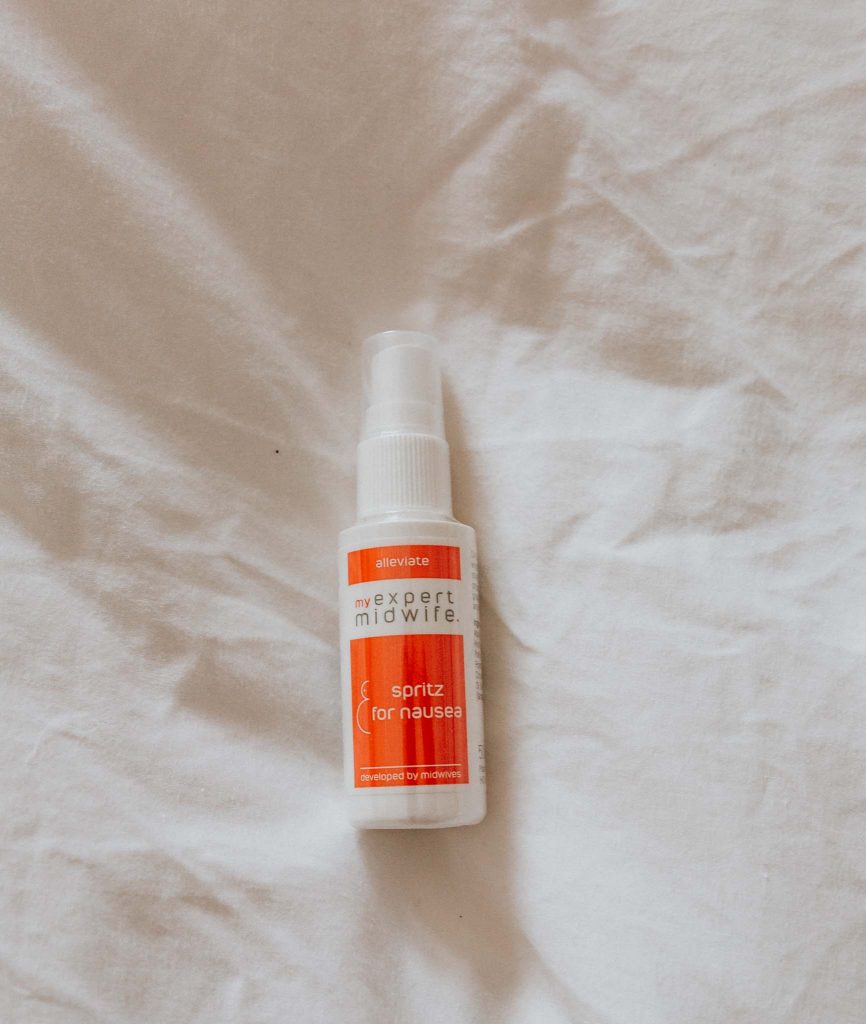 10. A Pregnancy App
I'll admit that before falling pregnant, the idea of pregnancy apps or online forums felt a little too much. With plenty of friends with children, I didn't really see why I would need to join an app or online forum to help me through the first trimester.
Turns out I was wrong – very wrong.
Although my friends do have their own band of merry kids, it turns out that none were available for the 24/7 intense questioning I had regarding every first trimester ailment. Not wanting to harass them at 2am when I was waiting for the bowel cramps to pass (it's a thing), I quickly found myself signing up to a few pregnancy apps instead.
Writing late night messages on these various forums, asking whether my stomach cramps were normal, I discovered an instant community of women going through the exact same symptoms as me.
We were immediate cramp friends forever.
For first trimester must-haves, pregnancy apps became one of my favourite 'tools' in my toolkit and helped to keep me calm and sane during many moments of irrational worry.
My favourite pregnancy apps, so far, have been:
1. Flo App
I was already signed up to Flo to track my period cycle, but changed to their 'premium' subscription once I fell pregnant. The app has some very handy forums that cover issues regarding all trimesters.
The only snag is it's both a UK/US app and so the information can be a little different to UK guidance (alongside different trimester dates – confusing).
2. Pregnancy+
This is my favourite app for tracking my baby's growth, with cute weekly updates to tell me the baby's size according to sweet, animal or fruit. Its weekly articles on what to expect in terms of your own body and baby's development are also really useful.
3. Baby2Body
This app is one of my first trimester must-haves. A workout app designed for pregnant women, it is a little pricey (£12 a month), but provides excellent weekly workouts and guidance for those looking to stay active during pregnancy.
4. Peanut App
This relatively new app has been hugely popular over recent months. An online forum for women that covers everything from fertility to motherhood, this free app is designed with community in mind. Allowing you to find other users in your area (think a Tinder for pregnant ladies), this is a particularly helpful app to have on your phone during the Covid pandemic, when you might feel a little isolated.
11. Pregnancy Supplements
There was only one thing I knew about first trimester must-haves and that was the need to take a pregnancy supplement.
What I didn't know, however, was that not every pregnancy supplement might agree with you.
As soon as I found out I was pregnant, I dutifully made my way up to the shops to buy a pot of Pregnacare supplements. However, I quickly decided to ditch these after four consecutive nights of rocking back and forth on the toilet thanks to stomach cramps. According to my midwife, the high levels of iron in Pregnacare can irritate your already sluggish stomach.
I next opted for some Pregnacare gummies. I chose these as they had less iron in them and were (hopefully) easier to swallow during morning sickness. They looked like innocent gummy bears.
Delicious, right?
Unfortunately,  the pregnancy gummies smelt and tasted repulsive: not what I needed during 12-weeks of nausea and sickness.
Eventually, after many trials and tribulations with pregnancy supplements, I found that Boots own-brand Vitamin D and Folic Acid supplements worked perfectly for me.
Not only did they give me exactly what I needed during the first trimester (I wasn't iron deficient) they were also tiny in size, meaning I had no trouble swallowing them during bouts of morning sickness.
Having spoken to my midwife, vitamin D and folic acid are the only two supplements you really need to be taking in the first trimester. As my iron levels were good and I was making sure I was getting other vitamins through my diet, the Boots own-brand proved ideal.