This guide to the best maternity clothing brands contains affiliate links. 
As a high-waisted jeans and t-shirt sort of girl, finding myself having to dress for pregnancy was trickier than I'd expected.
Desperately searching the internet for 'the best maternity clothing brands' late one night (as my skirt zipper pinged open for the second time that day), I found myself directed to outdated and vaguely depressing maternity wear sites.
They were the sort of stores that presumed that now that I was pregnant, I'd only be interested in flowery print wrap dresses and Breton stripes.
Worried that my days of dressing like 'me' were numbered, I sent out a frantic SOS message to my friends, asking for their recommendations.
Thankfully, with their help and a little more searching, I discovered that there are actually plenty of maternity (and non-maternity) clothing brands out there that cater for women who still want to dress like themselves during pregnancy.
(Although, begrudgingly I did have to give up on the high-waisted jeans).
Now that I've hit my maternity wardrobe stride, I thought it might be useful to put together a guide to the best maternity clothing brands (and more general high street brands) that have kept me clothed and fashionable this last seven months.
And, ladies and gentleman, all without a flower print wrap-dress in sight.
Best Non-Maternity Brands for Pregnancy
Despite wanting to invest in some staple maternity pieces during my pregnancy, I was also keen to keep buying as many non-maternity clothes as possible.
Worried that I'd end the nine months with a wardrobe full of redundant maternity wear and a limited budget, I decided to shop 'normally' where I could.
Surprisingly, this has been much more straightforward than I thought and I've found plenty of my favourite non-maternity brands still work for me throughout pregnancy.
Monki
A forever favourite clothing brand of mine is Monki. Long before I became pregnant, I discovered Monki's cloth dungarees and have worn them religiously ever since.
Much to my relief, these baggy dungarees have also been ideal during pregnancy. With plenty of space, I've worn these throughout both trimesters so far and think I might be able to squeeze into them for a little while longer yet (fingers crossed).
For those not wanting to 'reveal' their bump immediately, these dungarees are also very good at hiding your expanding tummy: ideal for your first trimester.
Monki's clothes, more generally, also tend to be loose fitting and so work well throughout pregnancy and beyond.
Buy the Monki cotton dungarees here.
Olive
One of my favourite non-maternity (yet perfect for pregnancy) clothing brands is Olive.
Similar to Monki, their 'one size' approach means that most of the dresses and jumpers are loose fitting anyway – therefore ideal for pregnancy. I've found their smock dresses and cardigans are fantastic essentials in my maternity wardrobe and it's satisfying to know that I can continue wearing them long after pregnancy (especially as Olive tends to be on the pricier side).
Joules
My final favourite non-maternity clothing brand, that has stoically seen me through pregnancy, is Joules.
Having been fortunate enough to enjoy a press trip to the Lake District with this iconic British brand last year, my wardrobe was already full of their clothing long before I became pregnant.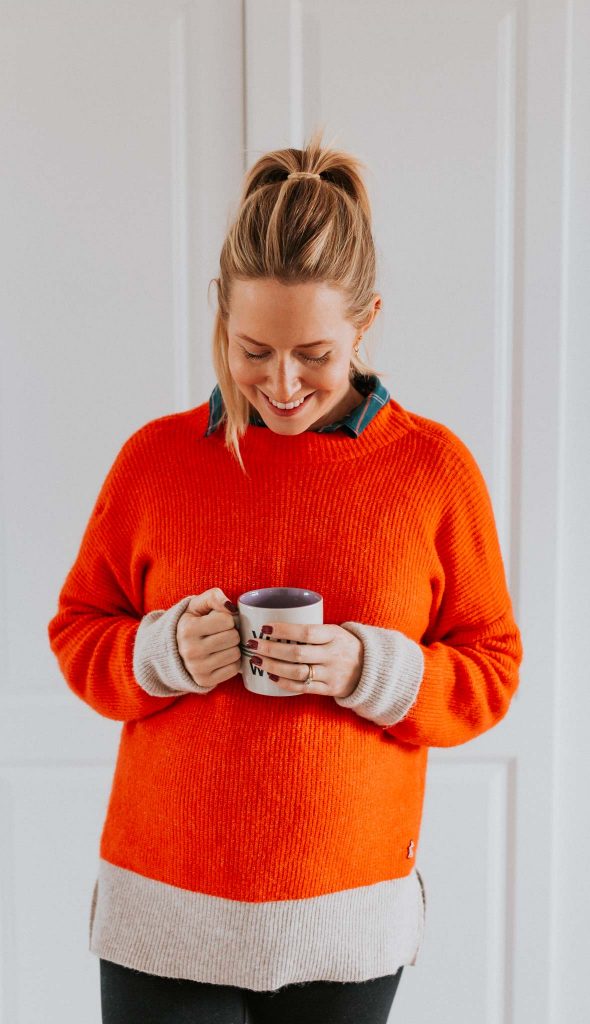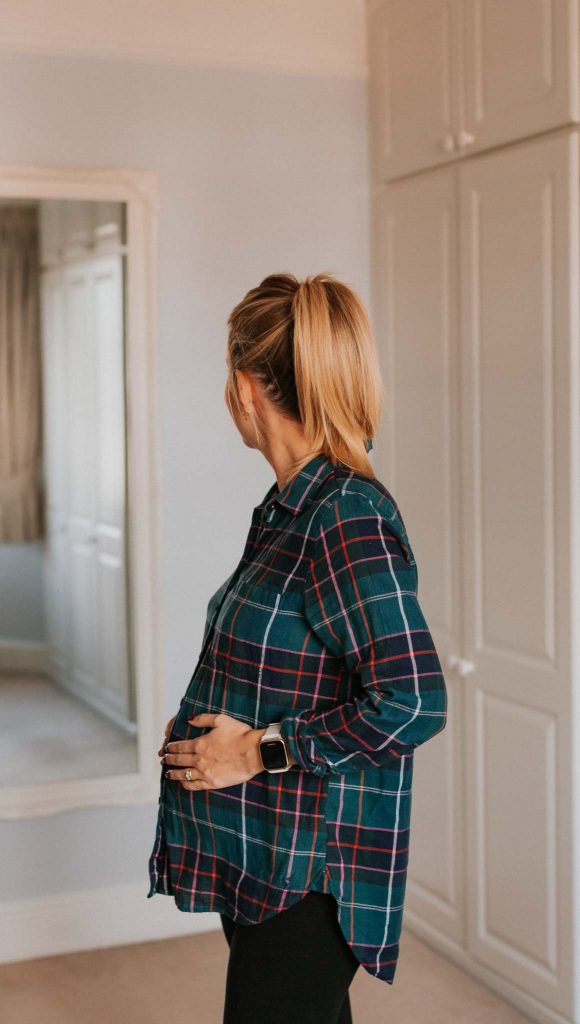 I've been really pleased to find that most of my existing Joules clothing has still fitted throughout my first and second trimester – especially their turtlenecks and baggier knitwear. Even better, lots of Joules' skirts have elasticated waists, so can stretch nicely over the top of any bump.
Shop Joules' full range here.
The Best Maternity Clothing Brands: Final Thoughts
Far from feeling like an oblong frump during my pregnancy, I've found myself thoroughly enjoying dressing my bump over the last seven months. During a time when your body is changing – and changing fast  – it's both challenging yet exciting to be trying new styles.
With just a few of (in our opinion) the best maternity clothing brands listed above, I've found dressing like 'me' to be far easier than I initially thought throughout pregnancy. In fact, in many ways, I've been able to be even more creative with my clothing and explore new styles.
My only fear? How I'll ever give up on those maternity leggings.