This summary of the best winter skincare products for 2020 contains affiliate links.
This year has been hard on us all; impacting our mental and physical health, and displacing old routines with lockdowns, mask-wearing and curfews.
I've definitely spent most of the year feeling as though I'm suffering from permanent vertigo. In and amongst abruptly halting any travel, seeing friends and family, or even enjoying a quick jaunt around the local shops, I've also let a lot of my old routines and habits slide.
This has been especially true for those relating to beauty and wellbeing. In the face of a global pandemic, finding the energy to moisturise, style my hair or even bother with a flick of mascara has, apparently, been near impossible.
As a result, 2020 will forever be known not only as the year of Coronavirus, but the year I also managed to not wash my hair for ten consecutive days.
However, with winter upon us and light at the end of the Covid-tunnel, I've been forced to take stock. Staring at myself in the mirror last week, it was impossible to ignore my now aggressively grey skin and the bruise-coloured bags that have set up camp beneath my eyes.
My neglected skin badly needs a little TLC; a squirt of serum, a rich face mask or a little rub of an exfoliant.
Even a bit of lip balm would do.
Over the last week or so, I've therefore been furiously researching the best winter skincare products for 2020 and stocking up where I can. Shopping across an array of brands (and price points), I've experimented and trialled each; rounding up below those that I think have had the fastest and most genuine impact on my skin. I've also included a few products that I've been using for a few years now and continue to swear by.
So, for anyone else looking a little more grey than radiant at the moment (i.e. most of us), I hope that this small list encourages you to treat yourself as we crawl towards the finish line; ensuring you take a moment to rest and rejuvenate.
The Best Winter Skincare Products for 2020
I was eyeing up this little bottle of vitality whilst on my (unbeknownst to me) final flight of this year, as we travelled to Marrakech.
With many reviewers declaring this Vitamin C Serum to be your 'fail safe' option when it comes to sloughing away those dead skin cells, this little green bottle of radiance – containing 7.5% Ascorbic Acid (Vitamin C), Hyaluronic Acid and Collagen – seemed the obvious option to obliterate (quite literally) the results of 2020.
I've always been a little nervous about using beauty products containing ingredients such as acids, as my skin has a tendency to be a little sensitive and unpredictable. However, the Mario Badescu Vitamin C Serum is still gentle enough to calm, rather than aggravate my face, leaving it smooth and glowing.
Thanks to pregnancy, I've also discovered areas of hyperpigmentation on my face (a natural fall out of growing another human being), which were starting to bother me a little. Thankfully, I've noticed a considerable improvement since using this product. It's definitely levelled and balanced out the overall tone of my face; and the darker, browner patches are less noticeable.
In terms of scent – I noticed that some people had suggested it had absolutely no fragrance, whilst others commented that they found it a little strong and overpowering. Personally, I think it has a lovely and lavender-like fragrance; perfect for putting on just before bed (it's advised you apply the Vitamin C Serum every other night) to feel squeaky clean, or in the morning to wake yourself up a bit.
Overall, I'd absolutely go as far as to say that this is definitely one of the best winter skincare products for 2020 and has, without a doubt, resurrected my skin from its pale and grey grave.
Votary Intense Overnight Mask (£85 for 50ml)
Created by British make up artist, Arabella Preston, Votary has become a skincare range regarded with a 'cult-like' status by its devotees; filling shelves and beauty cabinets across the county.
A range that is, realistically, out of my price range (I usually prefer to keep my purchases below £20), I hadn't (until now) given Votary a second thought. However, upon realising that my skin looked like discarded grease-proof paper, I realised I had to act.
Doing a little more research, one thing I was excited to discover – and hadn't appreciated – was that Votary is both 'green' and 'clean'; made largely of plant oils (each blended by Arabella herself) and sustainably packaged.
While Votary does offer a whole range of products, one thing I was specifically after was a rich, leave on mask that would pump a little life and hydration back into my pandemic-weary skin. Doing some more reading up on the best winter skincare products for 2020, I noticed that Votary's Intense Overnight Mask was mentioned a lot; with reviewers claiming that after just one use, they woke up to plumper, calmer and rejuvenated skin.
It sounded fabulous.
This luxury mask, blended largely from plant oils, puts its magical powers down to a carefully created blend of natural additions and more potent, active ingredients. These include hyaluronic acid, oat kernel flour, narcissus and camu camu extracts (a fruit, before you ask) and plenty of rosehip oil.
Opening the Votary Intense Overnight Mask for the first time and the first thing I noticed was its lovely scent. It has a creamy, comforting fragrance (no doubt attributed to its oat kernal flour) and is one that suggests it has a nourishing and wholesome sort of quality.
Light and bouncy to touch, the mask goes on incredibly well and provided my rosacea-prone skin with a much needed cool down. Thankfully, it doesn't sit heavily on the skin – so there's no need to worry about staining your pillows or feeling uncomfortably sticky – and it is almost completely absorbed by the morning.
Peering hopefully into the mirror the morning after the first application, I noticed that my skin looked noticeably smoother – especially some of the finer lines around my eyes. It also looked significantly more hydrated and calmer, which is not the norm for my skin first thing in the morning (it's normally quite red and aggravated in places – especially on my cheeks).
For the rest of the day, my skin felt incredibly soft and I noticed that my foundation went on much more smoothly than normal.
Overall, it's a mask that I'm really looking forward to continuing using – especially during these colder nights and central-heating charged days (a season when my skin tends to swing unpredictably between red and inflamed, to dry and drab).
For this reason, the Votary Intense Overnight Mask is more than deserving of a place on the podium for the best winter skincare products for 2020.
Beauty Pie Plantastic Cleansing Balm (Beauty Pie members pay £14.01 for 100ml)
I've had a Beauty Pie subscription for a while now and can only rave about their delicious products.
Subscribers are able to sign up to different membership tiers, or 'Buyers Clubs' (i.e. monthly subscription fees) that offer in return different 'rewards' e.g. £10 a month allows you to shop up to £100 of beauty products per month (saving, on average, around 80%).
(If you don't want to sign up to the scheme – you can also purchase their products separately).
Not only a bargain, the products on offer are truly brilliant; with some of my best winter skincare products for 2020 discovered via this brand.
One product I've started using lately and love is the 'Plantastic' Apricot Butter Cleansing Balm.  A nourishing, rich balm made from rosehip seed oil, apricot butter and vitamin E, this little pot of goodness has become one of my favourite things about bedtime.
It (quite literally) melts away my makeup – removing all the dirt and grime from the day – in moments, leaving my skin incredibly soft and smelling incredible (it has a delicious apricot fragrance).
As it is so nourishing, I also feel as though it leaves a protective barrier behind; helping my skin stay hydrated in the face of cold winters and extreme fluctuations in heat and temperature.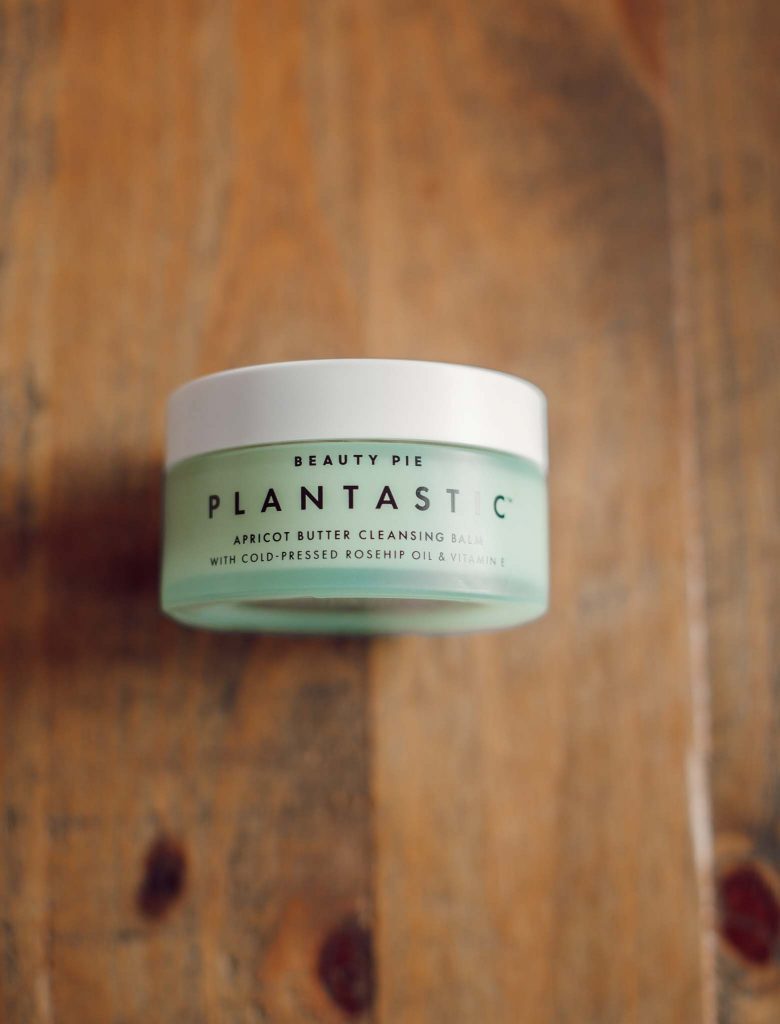 Beauty Pie Super Healthy Skin Amazing Sleep Oil (Beauty Pie members pay £18.69 for 50ml)
Another of my Beauty Pie finds this year has been the incredibly nourishing Super Healthy Skin Amazing Sleep Oil.
Lightly fragranced and silky to touch, this oil offers a powerhouse of ingredients that are perfect for weather-beaten and stress-worn skin. Developed in Switzerland and featuring a blend of anti-aging algae extracts, fatty acids, linoleic, evening primrose oil, omega 3s,  borage oils and vitamins A and E – this wonder oil transformed my skin almost overnight.
One thing I really appreciate is its lightness; something you don't always get with facial oils. It goes on almost like a serum and by the time I wake up in the morning, it has been completely absorbed.
In terms of value for money, this oil is also much cheaper than some of the more expensive brands listed here – yet delivers almost identical results. Consequently, it's probably my favourite winter skincare product for 2020.

As I've (dutifully) done for the last two winters, this December I'll absolutely be returning to my much loved Fresh Pressed 7-Day System with Pure Vitamin C booster and the Clinique Fresh Pressed Renewing Powder Cleanser with Pure Vitamin C (which come as seven little sachets).
To use this revolutionary little system, you simply: wash your face with the powder cleansers (you add water to the powder and gently mix in your hands until it transforms into a soft foam); take one of the 'boosters' and 'release' the active Vitamin C (sealed in the top of the booster) into the liquid concentration below and shake; pump two drops of it into your hands and mix with a moisturiser.
Apply to your face, both morning and night.
Surprisingly rich, the cleanser removes all traces of my make up and leaves no tell-tale 'tight' or drying sensation behind. Following this, I mix the Vitamin C booster with my moisturiser and circle it into my skin. It is incredibly light and is absorbed almost immediately.
Usually within two to three days days, I notice an immediate difference to my skin. Previously grey and dull, my skin is always visibly brighter – glowing, even. In fact, when I first started using these products in 2018, a friend asked if I'd had a chemical peel.
Although I'd perhaps not use it all year round, the Clinique Fresh Pressed 7 Day Challenge is the ideal winter saviour and therefore (remains) one of the best winter skincare products for 2020.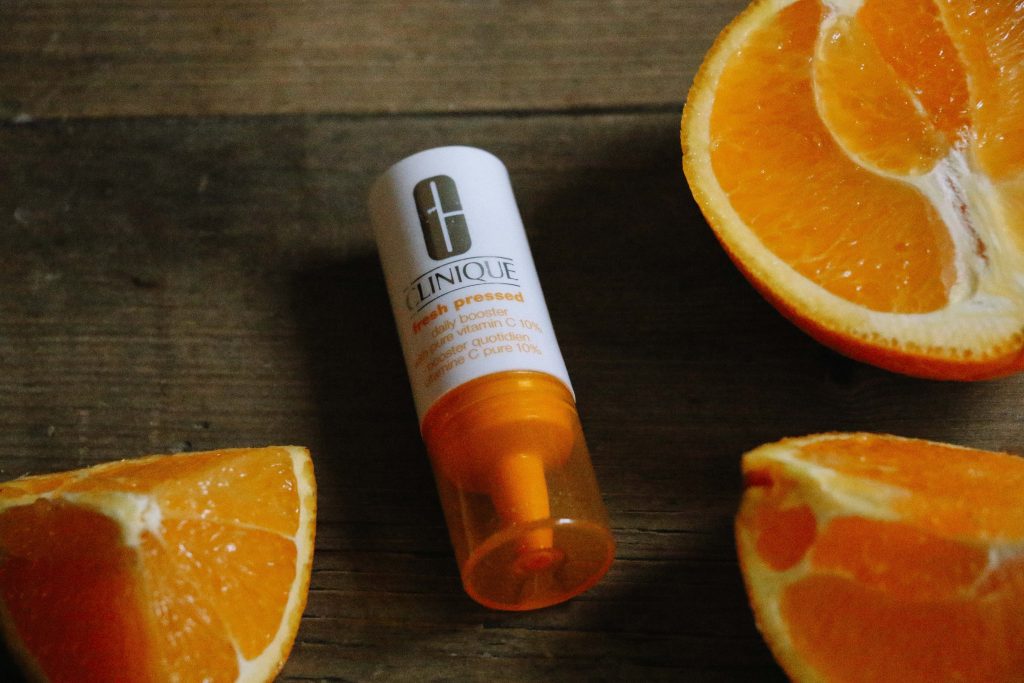 Crème de la Mer (£68 for 15ml) & The Regenerating Serum (£285 for 30ml)
Crème de la Mer
For most of us, Crème de la Mer has long been synonymous with its price – and it's definitely fair to say that this brand is indeed a luxury one.  However, for those with extremely dry and dehydrated skin (and deeper pockets) the results of regularly using Crème de la Mer are extraordinary.
Ultra-rich and made from deeply nourishing and anti-oxidant sea minerals (or what they call their 'Miracle Broth'), this moisturiser has almost superhero-esque powers when it comes to calming and maintaining healthy, nourished skin.
From experience, to use the cream, it's best to warm it between your fingers before applying (you'll know it is ready as it becomes translucent). From here, all that is to be done is to gently apply to the neck and face.
Having now made one pot last nearly two winters (you only need to use a very small amount each time), I always notice that my skin is undeniably brighter, fuller and incredibly soft each time I return to it.
La Mer, The Regenerating Serum
Having never used the La Mer serum before (just the famous moisturiser), I was unsure what to expect when I first started applying this product (I was lucky enough to receive a press sample). I'd initially anticipated that it might be a gel formula, but discovered that it is in fact a light cream: La Mer's signature richness ever present.
Containing the coveted Miracle Broth (that includes a powerful anti-irritant), the serum is said to diminish the look of lines and wrinkles; using two powerful marine and plant-based ferments to support the skin's natural collagen.
As I've mentioned, as a long-time sufferer of sensitive skin and rosacea, I was keen to see how the Miracle Broth might help calm my skin this winter – something it has absolutely done. Since using the serum, I've noticed my skin is less irritable and red in the mornings and the bumpy rash I often get across my cheeks has all but disappeared.
Declared to be a 'miraculous' skincare range, Crème de la Mer and its partner in crime, the La Mer Regenerating Serum, definitely fulfil their brief. Rather than feeling tight or irritated, my skin has instead felt smooth and soft; a dewy glow left behind each time I use it.
Yes, I'll admit that both products are incredibly expensive, but with this expense does come genuine – tangible – quality. For this reason, they had to feature on this list of the best winter skincare products for 2020.