It's not often that you'll find me sitting down to write a hotel review. Aside from struggling to think of an inspirational way to describe a mattress, I often find that a hotel is well – just a hotel. A place to lay my head at night or brush my teeth in the morning. In fact, it's rare that I have much to say about my hotel experiences at all.
Until, that is, our time at 25hours Hotel, Vienna.
A delightfully quirky and nostalgic stay, our time in the mysterious 'Analog Zimmer' at 25hours Hotel was unlike anything I'd experienced before. A stripped-back haven that perfectly complimented the digital detox that we were embarking on whilst exploring Vienna, the Analogue Room provided us with space to decompress in complete offline luxury.
Still intrigued? Read on to find out more about our analogue hotel experience at 25hours Hotel, Vienna.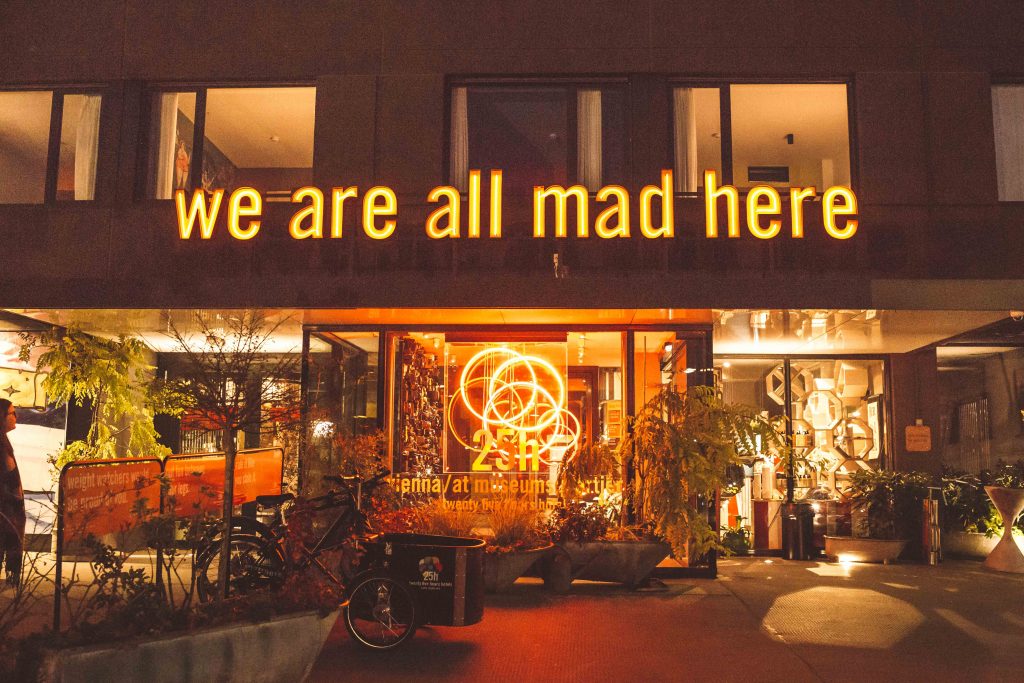 The Location of the 25hours Hotel Vienna
25hours Hotel Vienna is located in the city's upmarket MuseumsQuartier. Handily located within the 7th District, right on the edge of the old town, the hotel is within walking distance of many of the city's main attractions (read our guide to the prettiest spots in Vienna here).
With an unmissable Alice in Wonderland inspired neon sign at its entrance ('We are all mad here'), the hotel commands an inviting, if not eccentric, presence. Unlike any of its baroque-inspired neighbours, the hotel's exterior is playful and modern; providing only a hint of what is really on offer inside.
Getting Around Vienna
For those less inclined to explore sprawling Vienna by foot, the 25hours Hotel Vienna offers two other modes of transport – both of which are completely free to guests.
Completely at home within a city designed for bikes, 25hours Hotel Vienna offers eccentric yellow Schindelhauer pushbikes to its guests, each of which comes complete with a handy tour map to help you navigate the city's cycle routes. Alternatively, hotel guests can also explore the city in their very own Mini. Correct, your very own Mini – and entirely complimentary.
The nearest metro station to the hotel is Volkstheater U-Bahn Station, just a two-minute walk away.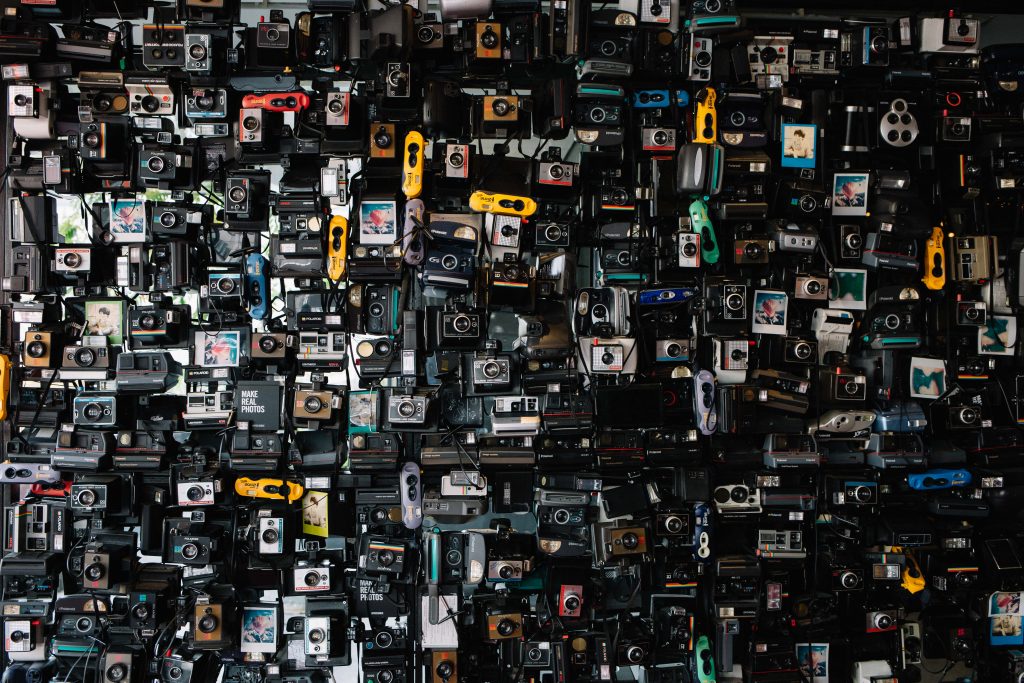 The 25hour Hotel Vienna, First Thoughts
Walking into the hotel's reception area, we were greeted with our first hint of what would lay ahead: a wall of analogue cameras lining the entrance. Mesmerised by the flashing lights, we stood transfixed for a moment, trying to remember the last time we'd used a film camera.
Little did we know that we were soon to be reacquainted.
Known for their unique designs, 25hours Hotels embrace individuality; each carefully curated to reflect a particular city's style or identity. Indeed, their motto – 'Been to one, been to none' – ensures that there is nothing 'chain' like about this brand. Instead, their hotels fit seamlessly and cleverly into each urban surrounding.
Having experienced a 25hours Hotel previously in Hamburg (a hotel situated by the city's docks), it quickly became apparent that 25hours Hotels hold true to their motto. In fact, the only similarities between these two establishments were their friendly staff and eclectic design.
Framed by a lion's cage and a sign that read: 'Don't Feed the Monkeys,' the reception area alone was unlike anything I'd seen before in a hotel. Surrounded by vintage memorabilia, including a pin ball machine, a swing bench and a photo booth, the hotel's entrance was in itself an immersive experience.
Enchanted by the tiny circus we'd found ourselves in, it took at least ten more minutes to make our way to the front desk.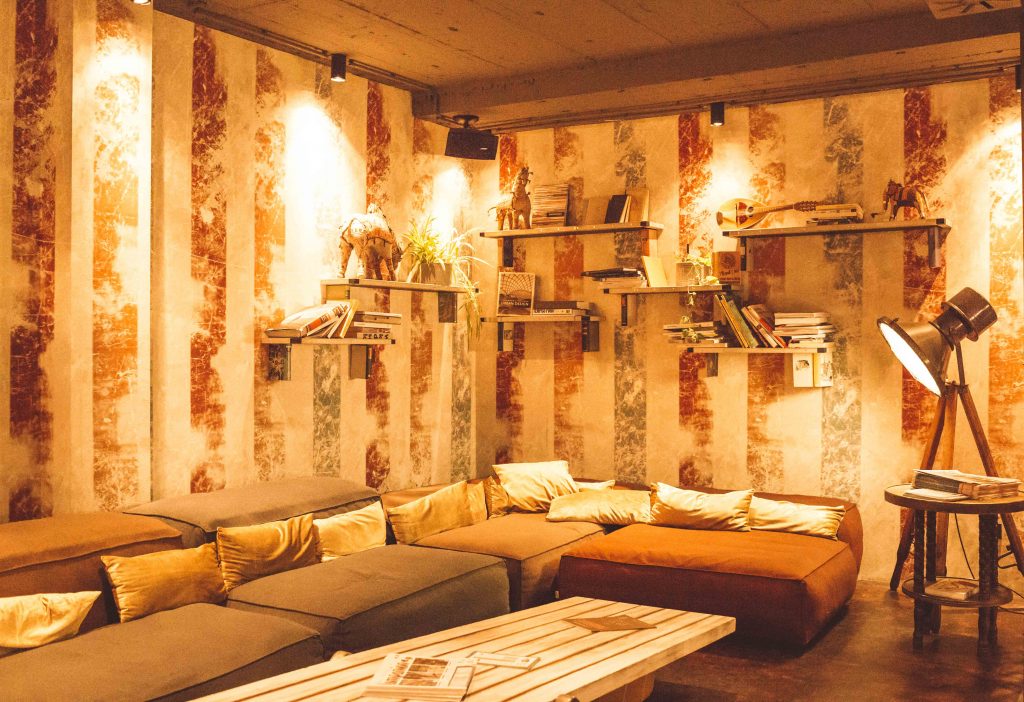 "You'll be staying in our special experience room," the receptionist whispered conspiratorially. "We don't like to give it all away, but I hope you liked the 1980s".
Curiously accepting the room key from her, we made our way up to the fourth floor, unsure of what we were about to find. Would we be wearing shell suits for the entirety of our stay?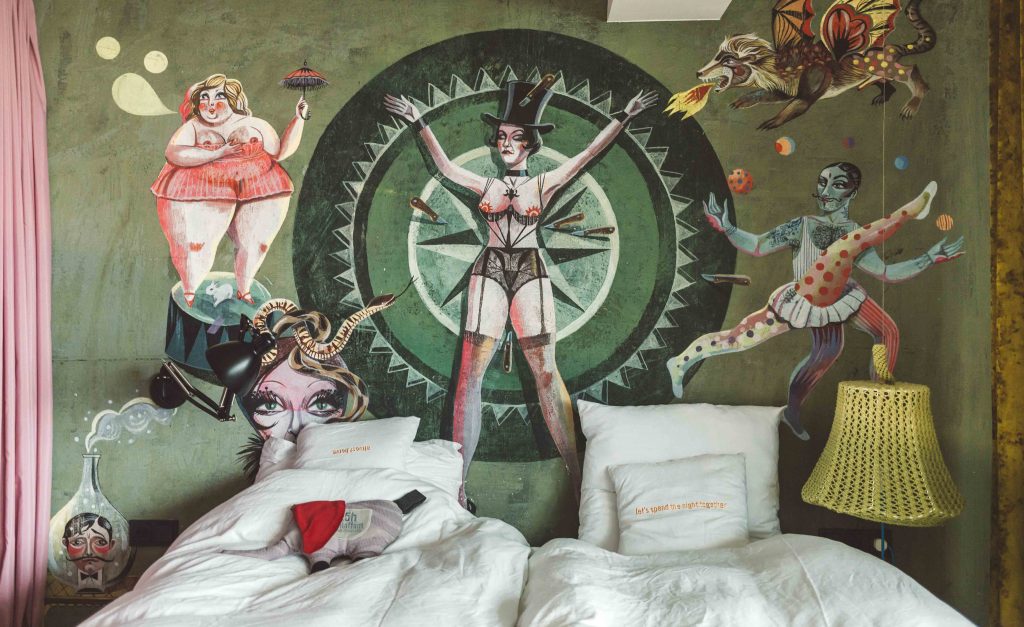 A Review of the Analog Zimmer (Analogue Room) at 25hours Hotel Vienna
Opening the door to our mysterious 'Analog Zimmer' was a surreal experience. Stepping over the threshold and into the suite, we abruptly left 2018 behind and instead found ourselves in a 1980s bubble. Long gone were the usual modern day luxuries found in a hotel room, and instead, objects from an increasingly bygone era stood in their place.
Over the last two years, 25hours Hotels have been rolling out analogue rooms to all their European residences.
Partnering with Supersense – a company aimed at preventing the demise of analogue products – the retro rooms are home to 16 products from the analogue era. These carefully selected objects 'invite guests to act, think and get inspired' and – it seems – switch off entirely from the relentless hum of the modern world.
Surrounded by powdery pink walls and circus inspired murals, we excitedly set to work and began our analogue-inspired treasure hunt. With the vinyl record player turning softly in the background, we instantly forgot about the busy, digital world that existed outside. Instead, we were distracted by items long forgotten to us: a typewriter, a Polaroid camera and a VHS player (complete with old video tapes).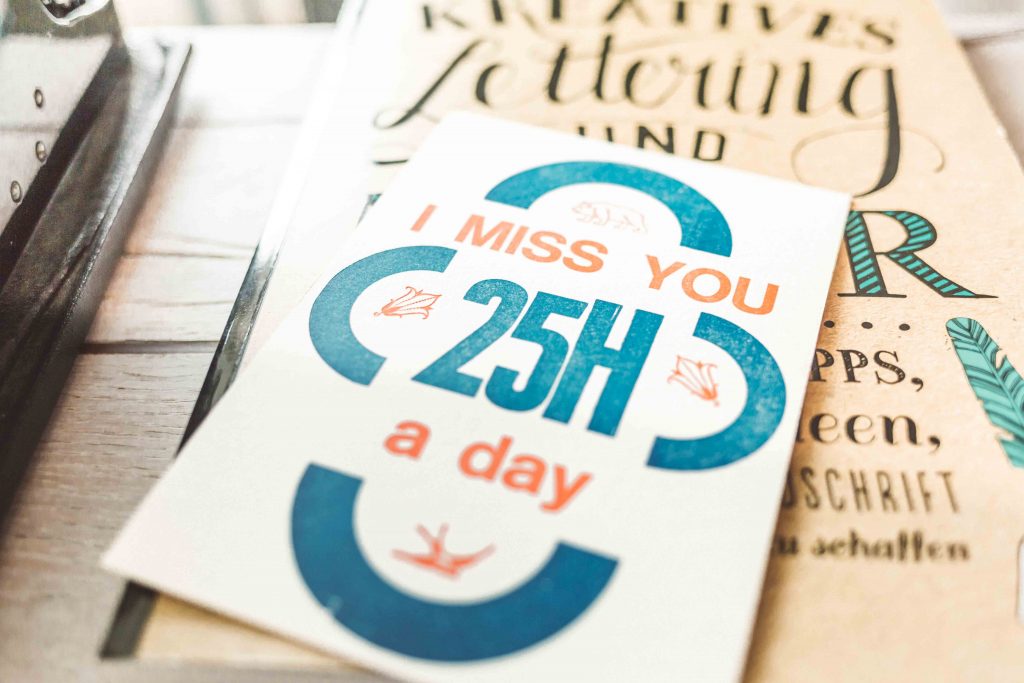 You'd be forgiven for thinking that at the age of 32, the analogue era was something we'd be pleased to be rid of. Following a childhood filled with glitchy VHS tapes, bulky Walkmans and temperamental TV signals, the analogue age was surely an era we were happy to see the back of.
Yet instead, we were filled with the excitement of two people who had never experienced modern luxuries before. Leaping on the bed, we scrambled through the VHS tapes, immediately seizing upon the teenage classic: Titanic. Pushing it into the VHS player, vivid memories of our childhood came flashing back as we patiently waited for the tape the rewind. Even the sound of the tape spinning reminded me of a rainy Sunday c.1998.
Forget 'Netlix and Chill', we were living our best VHS lives right now, settled under the duvet as Jack and Rose's romance played out in front of us.
On our hotel room's balcony, we discovered a further relic from the analogue age; a small exercise bike. Slightly delirious with excitement, I jumped on the bike as Laura filmed – the traffic below oblivious to the 3o-somethings cycling frantically above them. All that was missing was a bright leotard and skin-clad leggings.
Next to the push bike, at the other end of the balcony, sat an extravagant roll-top bath. Shivering slightly in the November cold, we concluded that our prudish British ways weren't quite ready for such a show of exhibitionism; although it was a nice touch nonetheless.
Perhaps our favourite object in the analogue room was the original Polaroid camera. Immediately stashing it in my bag, we took the instant camera out with us as we explored Vienna; capturing candid moments in black and white film. With no option to re-take a photo, the moments we recorded seemed strangely sentimental.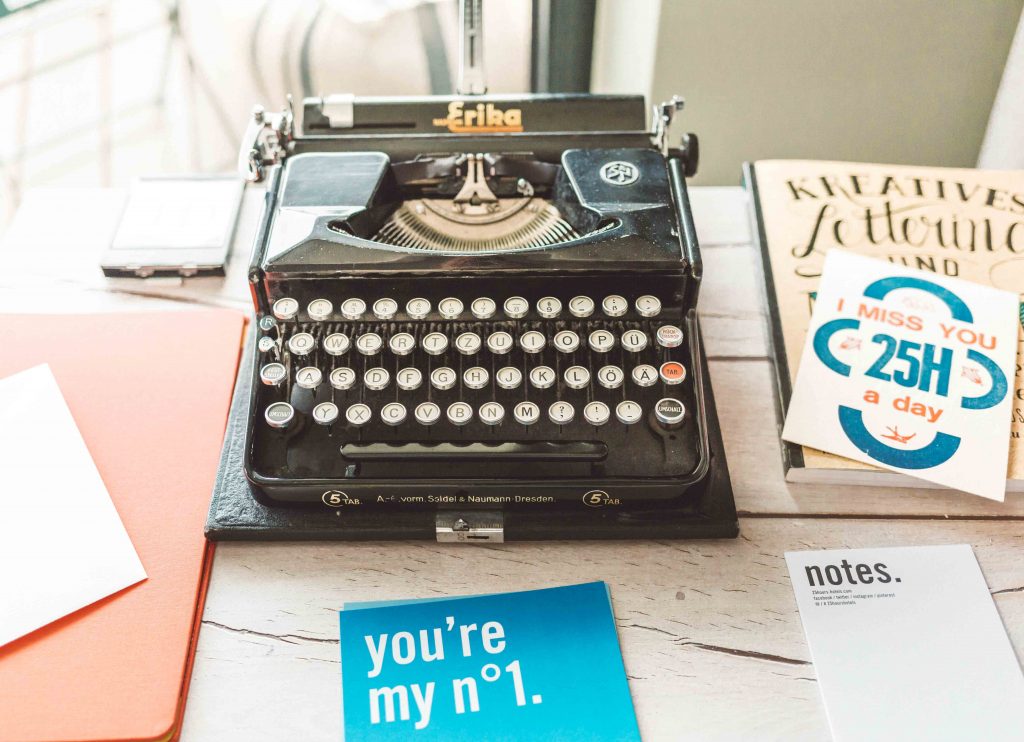 A hotel room that encourages its guests to discard their mobile phones for a life offline, the Analog Zimmer is the perfect city break companion. Encouraging you to slow down and stay present, we found our stay at 25hours Hotel Vienna to be a more mindful, relaxed and ultimately fun, experience.
Exactly what a holiday should be.
Note: wifi is available in the analogue rooms for those guests anxious to remain online.
Other Features of the 25hours Hotel Vienna
1500 Foodmakers Restaurant
Perhaps our favourite area of the hotel (after our analogue room), was the restaurant: 1500 Foodmakers. Located on the ground floor, this LA inspired bistro serves Italian cuisine on shiny zinc tables. Following the advice of the restaurant's slogan:  'Fuck it, eat pizza', we indulged in delicious crispy based pizzas and a few beers each night, snug in the knowledge that our room was just a short walk away.
Note: a delicious buffet style breakfast is also served here each morning, costing hotel guests £16 per person. A cheaper 'grab and go' option is also available for £6.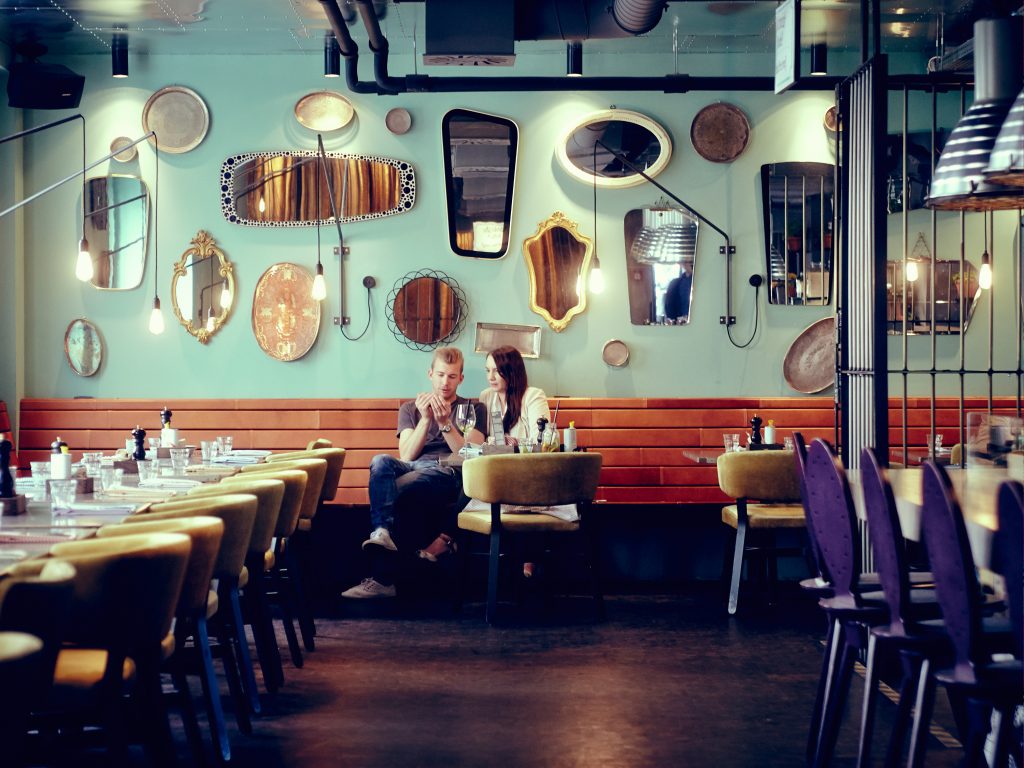 Mermaid's Cave at 25hours Hotel Vienna
Having previously enjoyed a quirky rooftop sauna at the 25hours Hotel in Hamburg, I had come prepared ahead of our stay in Vienna. Located on the basement floor, the Mermaid's Cave boasts a gym, sauna, steam room and general relaxation area. After a long day pounding the city's streets, the cave offers a very welcome sanctuary.
The Roof Terrace (Dachboden Loft)
The crowning jewel of the 25hours Hotel Vienna is its rooftop terrace bar: Dachboden. Located on the 8th floor of the hotel, the bar boasts panoramic views across the glittering metropolis of Vienna, and is an incredibly popular spot with locals. We enjoyed a hot chocolate and piece of cake up here one afternoon; the effortlessly cool surroundings complementing the rest of the hotel's general ethos.
The 25hours Hotel Vienna: Final Thoughts
The perfect companion to our digital detox , the 25hours Hotel Vienna offered an irresistibly fun and retro sanctuary. Unexpectedly relaxing, the room forced us to slow down – to take our time with activities and, as cliche as it sounds, to live in the moment.
A brilliant addition to the 25hours Hotel offering, this is the ideal place to stay for those looking to truly escape reality whilst away.
More Vienna reading:
Pin it: Going Analogue – 25hours Hotel, Vienna