This guide to a weekend in Totnes, Devon, includes a review of a complimentary stay, courtesy of Boutique Retreats.
I'd heard rumours about Totnes during our last visit to Dartmoor.
Sat inside the warm ceramics studio belonging to Penny Simpson – enveloped by the wilds of Dartmoor's rolling hills – we'd asked for suggestions for places to visit during our stay. Outside of afternoon hikes and making our way through a pile of books, what else should we do?
"I rarely get off the Moor", Tash, Penny's apprentice had admitted, "but when I do, I normally head to Totnes". Noticing that I'd clearly never heard of the place, she explained that Totnes was a little like nearby Glastonbury – a hippy town.
"But it's got a much younger, more upcoming feel to it", she added, "and I'm not sure they like to be called hippies anymore".
I was intrigued – listening as Tash described Totnes' popular vegan scene, its boutique stores and its ethical and sustainable high street.
Perhaps Glastonbury's alternative crown was slipping.
However, we never did make it to Totnes: our plans scuppered when a heavy blanket of snow fell across Dartmoor, covering it like a thick quilt. Confined to ancient villages and creaking inns (not, of course, that we were complaining), all that was left to do was read up on this mystical town.
Closing my local guidebook that evening, I decided to make it my mission to one day visit Totnes: exploring a town that had declared itself to be not only founded by giants, but twinned, no less, than with Narnia.
A Weekend in Totnes
Where To Stay in Totnes
With the rush of Christmas over for yet another year and Claire headed to Prague, Mike and I decided to escape the disorientating festive limbo with a trip down to Devon.
Any regular readers might know that the South West is one of my favourite spots to retreat to – with Somerset, Devon and Cornwall regularly featuring as the backdrop to my long weekends away.
As such, and despite the heavy, grey skies that were attempting to dampen our Christmas cheer, we hoped that a trip to the coast might brighten things up. At least the wintery storms and rare moments of sunlight would be improved with a hint of sea air and the sight of rolling hills.
With our plan in place, we began browsing Boutique Retreats. A brilliant company that has provided us with some of our most memorable UK breaks to date, it wasn't long before we stumbled across a photograph of a beautifully built barn-style cabin, complete with a churning river running below it.
With even more photographs hinting at a roaring wood burner, a sleek granite kitchen and endless views of rolling woodland, we quickly added the property to our shortlist. However, it wasn't until I spotted the cottage's location that I knew we had to visit.
This beautifully appointed home was just a stone's throw from the magical town I'd been waiting to visit: Totnes.
Rogues Roost
Reading a little more about the beautifully designed cabin, we came across its name: Rogues Roost. Designed with just two guests in mind, the cabin was the (bijoux) vision of David and Ludmila, who lived just next door.
Ideal for honeymoons, peace-seekers and (in our case), those making a last minute bid for freedom from the tub of Quality Streets, Rogues Roost was – according to the description – a true pastoral bolthole.
Snug, beautifully designed and located at the edge of a clearing, it was the perfect spot to see through the last few days of the year.
We quickly booked our spot and began packing.
Inside Rogues Roost
Walking up the hillside to the cabin, we were met by the Roost's proud owners: Ludmila and David.
"You're our guniea pigs", David announced, as we wrestled our bags out from the car. "We've only just finished the cabin, you see – it's been a labour of love". He quickly motioned to his back, grimacing. "We've put a lot of work into it".
With the outside garden already carefully landscaped – sprigs of fresh rosemary and the first hints of daffodils peering out from the flowerbeds – the effort that had gone into creating Rogues Roost was clear. Although entirely new, it felt that it had been here for an eternity.
The Kitchen and Living Area
After talking us through the cabin's extensive features – under floor heating, heated towel rails, a state-of-the-art kitchen and a very clever ventilation system – David left us to explore.
Walking across plush carpets and past freshly painted walls, we headed straight towards the Roost's open plan living and dining area. With a cosy snug to one side, and a large (and unbelievably beautiful) kitchen to the other, the entire area was filled with evening light and the sight of stars – thanks to the room's bi-folding doors and enormous skylights.
However, the centrepiece of the space was surely the wood burner: a sleek, tall furnace that looked more like a sculpture than a fire. Already filled with kindling and dried wood, all we had to do was light a match before the fire roared to life.
The Bedroom & Bathroom
As Rogues Roost is intended as a couple's retreat, there's just the one bedroom. Hovering over the living area on a mezzanine floor, the bedroom is illuminated by windows from nearly every angle. Additionally, and thanks to the wood burner below it, the room stays beautifully warm.
With two large VELUX windows directly above the bed and a small balcony to the right, it felt as though the great outdoors had been brought inside our little cabin.
Waking up to views of the river and the sight of clouds hurrying across the sky above us, the room made for an incredibly peaceful and quiet sanctuary; something that I'm sure David and Ludmila had carefully planned.
The bathroom was also a stand out feature of the home: with a large window offering (yet more) views of the village, a large standalone tub (made for two, I should add) and a rainforest shower. David and Ludmila had also left a small selection of lovely local toiletries, alongside fluffy and soft towels.
Lighting a candle after dinner and wandering upstairs to the warm bathroom, I spent most of our first night at Rogues Roost in the bathtub; gazing up at Devon's wintery night sky.
The Outdoor Area
Although Devon's wet winter wasn't perhaps the ideal time to explore Rogues Roost's outdoor offering, we nonetheless put our wellies on and had a look around.
The living areas bi-folding doors open immediately onto a private terrace, complete with luxury wooden loungers, a pergola – with the beginnings of a rose plant wrapping its way around it – and a long garden that traced the outskirts of the nearby woods.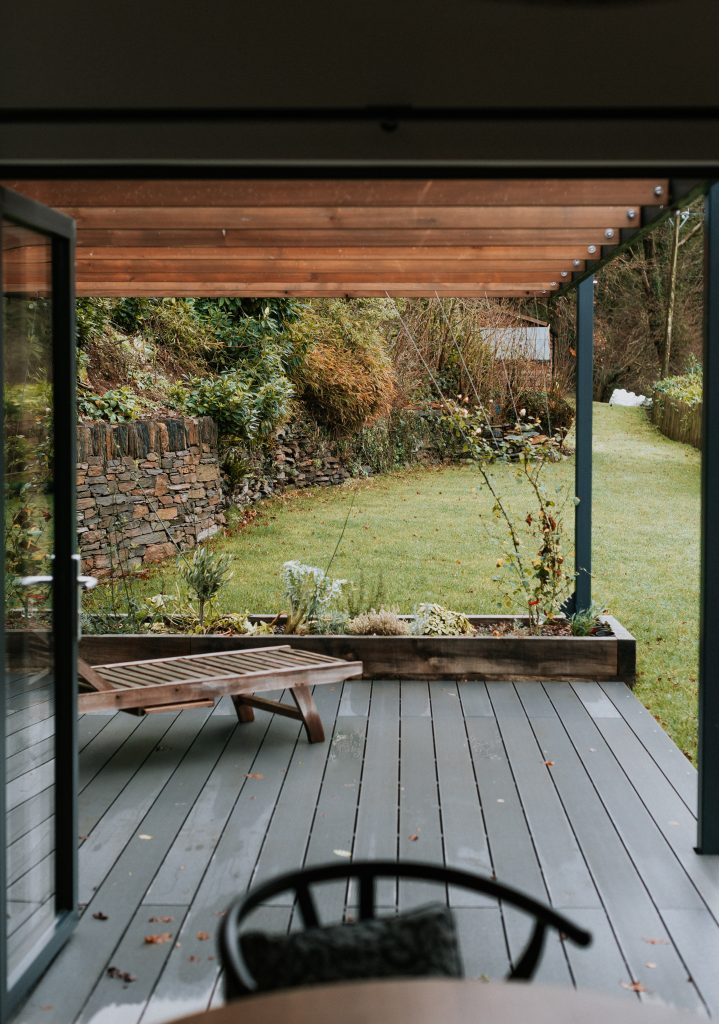 Complete with a BBQ and riverside views, I imagine that summer on this private terrace would be nothing short of idyllic. Indeed, with the garden's flowers bursting into life, the sound of the nearby babbling brook and with views of the green, lush hillside in the background, a summer's day here would be beautiful.
Rogues Roost can be booked online, with prices beginning at £575 for a long weekend in Totnes or a mid-week break.
A Short Introduction to Totnes
Although Glastonbury has been fabled as England's mystical capital, Totnes has long been flying its own worthy flag.
A place that not only has its own currency (intended to support mutual trade between local businesses), but a Norman style motte and bailey castle, an endless stream of environmentally aware stores and vegan food stalls, and – wait for it – even its very own model of shoe (known as the 'conker'),  Totnes surely deserves the title of the UK's most alternative town.
Although perhaps once something of an eccentric outsider, Totnes' new age radicalism has grown into something much more relevant – much cooler, in fact. It even has a new term for itself – an 'urban utopia' – an understanding that is aimed at doing away with the town's former links to crystal clutching locals and tie-dyed trousers.
Now home to celebrities such as Ben Howard, Damon Albarn and Jennifer Saunders, Totnes – like many of the towns throughout the South West – has become a beacon of sustainability and creativity: a place for yoga, ethical fashion, incredible food and coffee spots, and a dedication to the arts.
Located close to the River Dart, the neighbouring Dartington College of Arts and the nearby coast, it's this blend of wholly modern living, utopian values and coastal glamour that makes Totnes just so appealing.
How To Spend a Weekend in Totnes
Explores Totnes' Sustainable and Ethical High Street
After eventually prizing ourselves away from Rogues Roost, we drove the short distance into Totnes, parking at the top of the town (on busy days, I'd advise parking at the top of the hill. Here you'll avoid the worst of the traffic and the expensive parking fees).
Getting out the car – a wintery gale blowing down the hill – we stood at the top of the hill and peered downwards; Totnes weaving its way towards the churning waters of the River Dart.
A busy Saturday morning, we soon joined the crowds to browse Totnes' proudly independent and ethical high street; passing by banjo players, sizzling food carts and dog walkers piled high with scarves and hats.
The high street itself deserves fully exploring. There are some fantastically eclectic stores here, including trendy fashion boutiques and incense-infused shops selling tarot cards and menstrual cups.
Make sure you visit all parts of the high street, as it spills across three sections: Fore Street, The Plains and The Narrows.
Some of my favourite stores included:
Me and East was the first store we stumbled across when exploring Totnes  – and what a lovely stumble-upon it was. A dedicated champion of the Great British High Street, this lovely shop only stocks independently made items, sourced from either sole artisans or small teams.
One of the owners even has a small jewellery bench in the shop, where we watched her work. Her pieces were so beautiful, I ended up buying myself a pair of the Frida Mini Studs.
A colourful haven of sustainably made clothes, all created by the fair hands of British independent labels, Colony was perhaps my favourite store in town.
Declared by the Sunday Telegraph to be in the UK's top 50 of fashion boutiques, Colony also sells a wide range of gifts and accessories, including a heavenly all natural skin range that I discovered when visiting.
You cannot visit Totnes without making the short pilgrimage to Conker Shoes.
The town's very own footwear institution, Conker Shoes (or simply 'Conkers' for short), has been making its own distinct style of boots since 1977. Once perhaps laughed at behind closed doors, Conkers today are now leading the way in bespoke footwear; with their colourful and on trend boots making fashion lists across the country.
Head inside and design your own bespoke pair, or simply browse their ready-to-wear creations. Made entirely from cruelty free leather, their Derby Boots  (in particular) caught my eye when we visited.
A small eco-supermarket in itself, Ben's Farm Shop was the – perhaps unsurprisingly – brainchild of market stall owner Ben, who sold sausages at Totnes' weekly market.
With a small family of shops and restaurants now under his belt, Ben's Farm Shop offers 'good food from good farming'; providing locally sourced meats, dairies, fruits and vegetables from across South Devon.
Although not strictly in Totnes, if you are visiting the area, then be sure to pay a visit to Nkuku Lifestyle Store and Cafe.
Although Nkuku is a global brand, it decided to set up shop in a collection of derelict barns close to Totnes and the village of Harbentford (where Rogues Roost is also situated).
Deserted for over twenty years, Nkuku bought and transformed the barns; creating an incredibly beautiful and stylish space. They even went as far as opening the first Nkuku Cafe here: a place we visited several times.
On site you'll find a large barn, where reclaimed 'one-off' pieces can be found – from fire pits to elaborate chests – alongside an active workshop. Inside the main barn, you'll also find Nkuku's kitchen and homeware, alongside their textiles and lighting ranges.
A peaceful, softly lit space, this Nkuku store was one of our favourite finds during our weekend in Totnes and comes highly recommended.
Best Coffee Spots in Totnes
The Almond Thief, Dartington
Nearly everyone we spoke to in Totnes recommended a trip to The Almond Thief, found in nearby Dartington.
A craft sourdough bakery, complete with resident cafe, The Almond Thief is the place to come on a Saturday morning with a pile of newspapers and an empty stomach. Be warned, it can get extremely busy – particularly at the weekends – so arrive early if you can (also, do not be put off by its industrial estate location).
The Curator Cafe
Having walked the length of Totnes, we ended up at the bottom of the town's hill; the river raging in front of us. Hearing a door open and the warm smell of coffee float out, we turned around to find the Curator Cafe.
Busy, warm and filled with the chatter of families and locals catching up after the Christmas festivities, the Curator Cafe was the perfect spot for some (incredibly good) coffee, all whilst enjoying views of the nearby river.
Part of a wider establishment (with a highly rated restaurant upstairs), this trendy spot – filled with eclectic Italian memorabilia – is a lively place to soak up the spirit of Totnes over a mug of freshly ground (Ethopian) coffee.
Again, this is a popular spot and fills up quickly – so aim to visit earlier, or perhaps later in the day.
Best Places to Eat in Totnes
The Cott Inn, Dartington
No weekend in Totnes – particularly during those bleak winter months – would be complete without finding a cosy country pub and tucking into a traditional Sunday Roast.
Which, of course, is exactly what we did.
Having been recommended The Cott Inn by David and Lumila, we made the short drive out of Totnes towards Dartington, where this traditional thatched inn has been welcoming guests since the 14th Century.
Walking inside and we were met with a rush of warm air; the inn's wood burning stove crackling loudly. Decorating the building's low beams were wreathes of holly and ivy, and candles flickered in every window.
Ducking under the stooping beams, we walked through the creaking building towards the back, where we snuggled into a corner and ordered two roast beef lunches and a glass of red wine. Reasonably priced and wonderfully atmospheric, our afternoon at The Cott Inn was a genuine highlight of our weekend in Totnes.
Rumour Restaurant and Wine Bar
Housed in (yet another 14th Century) building, Rumour has been a resident of Totnes' high street for centuries.
Having spent its formative years as a toffee factory and jazz bar, it is now one of the town's most popular restaurants; offering mouth watering locally sourced dishes and a vast array of hand-picked wines.
Good Food Sunday Market
Whilst Totnes has its fair share of cosy inns and sleek wine bars, its food scene is regularly celebrated for its expansive range of vegetarian and vegan restaurants.
This diversity of dishes is perhaps no better experienced than with an extended trip to the town's popular food market (held the third Sunday of every month, from 9am – 3pm). Welcoming over sixty different stall holders, the Market showcases Totnes' passionate vegan scene (from Sri Lankan to Turkish food, vegan cakes to healthy fuel bars). Devon's biggest food market, ensure you head here if the stars align and you're in town when this foodie celebration comes around.
Riverford Field Kitchen
Although we ran out of time to visit Riverford Field Kitchen during our most recent weekend in Totnes, Claire and I were fortunate enough to eat here during out last visit to Dartmoor.
A restaurant-come-garden, this fantastic place feeds straight from the land that surrounds it; with seasonal food served daily. Dining here is a communal affair, with long shared tables and benches inviting guests to dine together, chat and share the incredible organic food.
Extremely popular, booking is highly advised and be prepared to try a little of everything – there is no menu to speak of, just seasonal food straight from the garden.
Visit Totnes Castle
Urban utopia aside, Totnes has yet another string in its bow: an impressive ancient history.
Walk to the top of the town and you'll discover one of the country's best preserved Norman Castles. With a history that extends far beyond the town's alternative phase, Totnes is in fact an original Saxon town. Known for its lucrative trade and (coin issuing) mint, Totnes has long been at the heart of English history.
Today, you can even re-live a little of this Saxon past, with a walk up to the Castle Keep, now owned and maintained by English Heritage. With breathtaking views across Totnes and wider Devon, it's a fantastic spot to come on a clear day. There's also a lovely walk to do around the Castle's moat, which proves a popular picnic spot come the summer.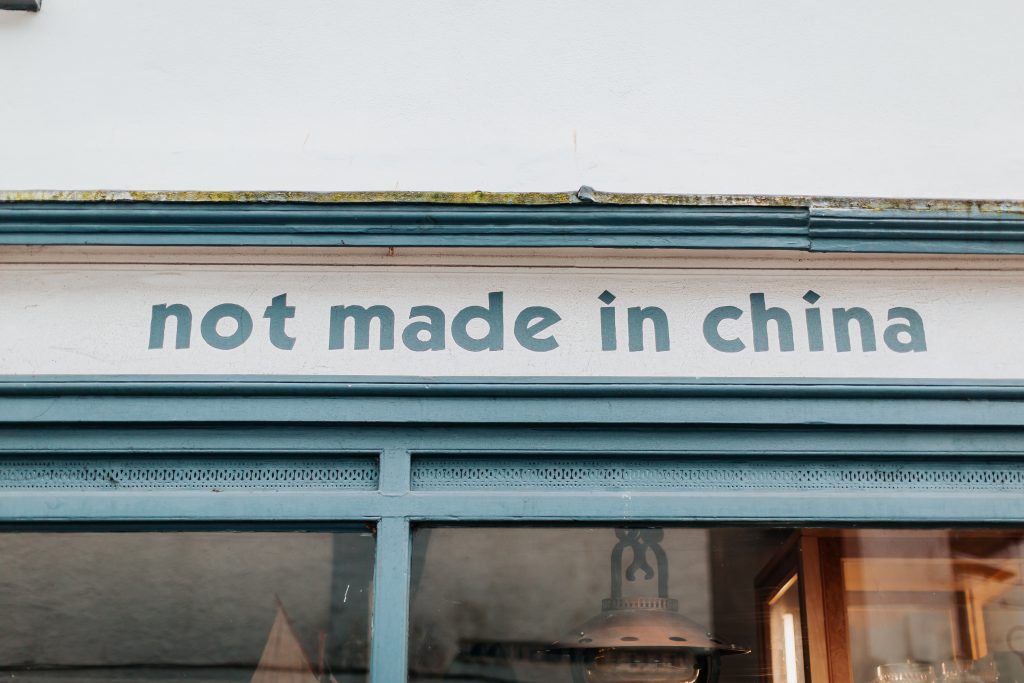 A Weekend in Totnes: Final Thoughts
Whilst you might be tempted to spend your weekends exploring Devon's seaside towns – Clovelly or Woolacombe, Illfracombe or Dartmouth – why not instead try somewhere a little different; exploring South Devon's more Bohemian side?
With a rich and impressive history (the town is said to have more listed buildings per head than any other town in the country), a passionately alternative outlook on life and a trend-setting high street, a weekend in Totnes is as laid back as it is surprising.
All you need is a cosy place to stay, your canvas bag (no plastic here) and an open mind.
You never know, you might just find yourself.