Our review of Iberostar Selection Lagos Algarve Resort was sponsored by Thomas Cook as part of a paid partnership.
Drawing back the curtains at the Iberostar Selection Lagos Algarve Resort, I stood in a happy silence as the sun streamed into our room. Quietly opening the door that led to our private balcony, I wandered across the decking and towards our glittering private pool.  Below, the Atlantic Ocean lapped at the Algarve's golden sands and a gust of fresh sea air blew in. As our trips are usually filled with activities and meetings, I could hardly remember the last time I'd enjoyed two whole days of sun and relaxation – until now.
Wheeling our suitcases into the dazzling white lobby and lounge, we had been momentarily stunned by our unexpectedly modern surroundings. Sleek and bright, this was not your typical all-inclusive hotel. Met by Louisa, the hotel manager, (despite the clock now reading 10.45pm), she quickly ensured that we received a glass of  cold Prosecco and warm towels. It was a small gesture, but one that would set the tone for the rest of our stay.
How to Get to Iberostar Selection Lagos Algarve from Faro Airport
We flew from London Luton airport to Faro, via EasyJet. From here, we were greeted with a comfortable private transfer, with the journey from Faro airport to Lagos taking just under an hour.
Flights to Faro are also available via most UK airports.
We noticed that there was plenty of parking available at the hotel, and had we been staying for longer than three nights, we most certainly would have hired a car. The resort is situated perfectly on the coast and adventuring along the Algarve's rugged coastline would be incredibly easy to do.
Review of Iberostar Selection Lagos Algarve: Accommodation
Opening the door to our room at the Iberostar Selection Lagos Algarve was an unexpected surprise. With an adjoining lounge area with generous sized wardrobe space, a large bedroom area and huge bathroom, this was a far more lavish affair than we had been anticipating.
Peering out onto the balcony, most of it now shrouded in darkness, we presumed that the large decking area ahead of us must be a shared, communal area.
How wrong we were.
"Wake up, wake up, wake up," Laura yelled, as I struggled to lift my head up from the silky soft pillow. "This isn't a shared area at all Claire – it's all ours". Jumping out my bed, I ran across to the window. In front of us lay a private decking area (large enough to host a party or two), complete with a cabana, sofa area, eating area, deck chairs and private pool.
Dishevelled and still in my pyjamas, I peered speechlessly around me – unsure what to sit on or investigate first.
As it transpires,  we were staying in Iberostar Selection Lagos Algarve's finest of rooms: the Private Pool Sea-View Suite. With seven of these lavish sea-view suites on offer, Iberostar more than meets its 5* status.  This quiet, private space only added to our relaxation levels during our stay, with us spending most of our time here. For those looking to truly treat themselves, the private suites come highly recommended.
Private pool suites aside, Iberostar Selection Lagos Algarve has plenty of other generous accommodation options on offer, with prices ranging from £110 – £226 a night dependent on the category of room. These include sea view, pool view and garden view rooms. 
Having a snoop inside a couple of these, each seemed equally generously sized, with the same cool, calm and minimalist interiors.
Review of Iberostar Selection Lagos Algarve All-Inclusive
Once suspicious of such offerings, our love for an all-inclusive break began last year when we enjoyed a Caribbean escape thanks to Sandals. Realising that an all-inclusive offers the rare chance to switch off entirely, we soon became converts to the luxury all-inclusive. As we (quickly) came to realise, there's no shame in allowing your body and mind to vegetate every now and again. In fact, it's good for the soul.
The all-inclusive offering at Iberostar Selection Lagos Algarve was impressive, with a seemingly endless selection of food and drink on offer throughout the day. Beginning each morning with a freshly cooked omelette and steaming coffee, followed by grilled fresh fish and Mediterranean vegetables for lunch, and finally a paella and Portuguese beer for dinner, we dined and drank like kings (or should that be Queens?)
Unlike some all-inclusive hotels, Iberostar focus on the traditional cuisine of the country, meaning that traditional Portuguese dishes always came top of the menu.
Aside from the self-serve buffet selection at the Principle Restaurant, there was also a 'show-cooking buffet' complete with resident chefs, offering fresh Portuguese dishes made to order.
An à la carte restaurant was also attached to the Principle Restaurant, for those looking for a more formal, slower-paced setting. This restaurant had a dress code (long trousers for men) and felt a little more upmarket than the casual buffet selection.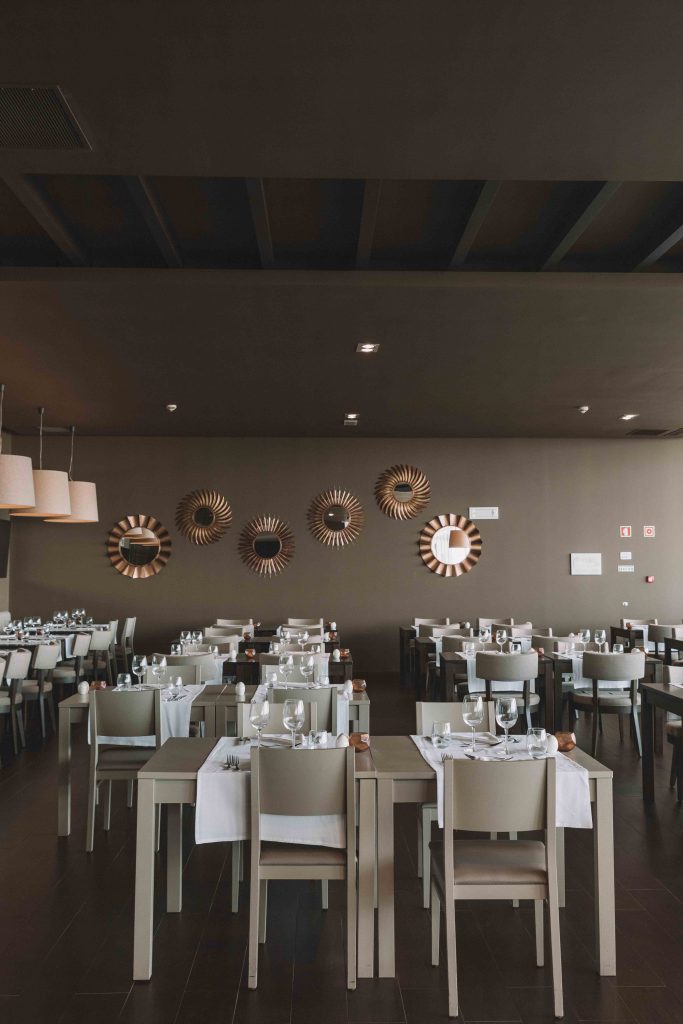 The resort also offers a bar with balcony views (ideal for an afternoon cocktail) and poolside bars that offer light snacks and drinks.
With a bar or restaurant a few minutes' walk from any of the pools, we found our appetites were more than catered for throughout our stay. For all-inclusive guests, a wrist band is given to you as you arrive, permitting you free rein over the bars and restaurants. We wore them like a badge of honour, spending much of our three days eating – excessively.
For those looking for more dining freedom, Iberostar also offer half-board, b&b and room only rates. Rooms and meal plans can be found here.
During our stay, we headed into Lagos old town for one of our evening dinners. A forty-minute walk or ten-minute taxi journey (around 9 euros), we were eager to explore the town that's so fondly spoken of by its visitors.
Deciding that it would be rude not to sample the delights of the local cuisine, we put a call out on social media for restaurant recommendations and were soon met with one that caught our eye.
Walking into The Garden and we were met by a vision of cascading flowers, wind chimes and a vibrant mural of a cresting wave. Having been offered a space on two worn, but incredibly cosy sofas, our waitress handed us two brightly coloured blankets to keep us warm.
With a distinct bohemian, surfer vibe, The Garden offers delicious (and reasonably priced) fresh fish and meat dishes. A lovely place to escape to for a lazy lunch or evening dinner, The Garden is also a must for any cat-lovers out there, with many furry friends on hand to keep you company.
Review of review of Iberostar Selection Lagos Algarve Spa
With a long-weekend break centred around relaxation and indulgence, we decided it would have been rude not to try one of the resort's celebrated spa treatments.
With an extensive list of both traditional and slightly more alternative treatments on offer, selecting just one proved unexpectedly difficult. Eventually opting for Reflexology and a Thai/Chinese massage, we donned our fluffy dressing gowns and made our way down to the spa, located on the bottom floor of the resort.
Promptly met by our beauty therapists, we said our goodbyes to one another as we were led into dark, exquisite smelling treatment rooms.
My hour-long reflexology session was a relaxed blur of gentle pampering and relaxing music. Having finally peeled myself away, I tried out the hotel's other spa offerings; including a jacuzzi, experience showers, sauna and steam room. This area is tucked away at the back of the spa and overlooks the pool and gym. These experiences are free to use for those who have booked a treatment and cost 15 euro for those wanting access to the facilities alone. 
Review of Iberostar Selection Lagos Algarve Pools
The Iberostar Selection Lagos Algarve boasts 4 swimming pools, one of which is heated. Despite having our own private pool, we were keen to try all of the pools around the resort, with each offering a slightly different experience. The largest pool lay at the heart of the resort, overlooked by the restaurant and pool side bar. With complimentary canapés and glasses off fizz served during lunchtime, I self-declared this the 'glamorous pool'.
Located on a lower level and closer to the beach, was a smaller, quieter pool with an additional bar area. I particularly liked this pool, as we could hear the sound of the nearby waves as we snoozed under our umbrellas. Finally, Iberostar Lagos boasts an indoor pool, adjacent to the spa. This spot was ideal for a late evening swim after a luxury spa treatment (or two).
With so much space and pool areas on offer, I noticed (with glee) that the pools and bathing areas were crowd free. Unlike some European resorts – where guests arrive at 6.30am to claim their sun lounger with a towel – our hotel felt calm and spacious.
A Beachfront Resort
One of Iberostar Selection Lagos Algarve's defining features was its beachfront location. Nestled on the famous Praia de Mera beach – a vast expanse of powdery soft sand that leads up to the town of Lagos – it was just a 4-minute walk to the Atlantic from our resort. Being able to hear and see the waves from our suite was a highlight of our stay; with the dark blue sea forming the perfect backdrop as the sun set.
On check in, we were given two cards for beach towels, and told that the hotel offers guests a cluster of beach beds and umbrellas once on the beach. Just a hop, skip and a jump away, having the option to spend our day between both the sea and the pool made for a lovely addition to our stay.
The Iberostar Wave of Change Programme
As travellers interested in sustainable travel, we were greeted with an unexpected surprise when we arrived at our Iberostar Selection Lagos Algarve resort. Looking curiously at our hotel key cards, a giant 'recycle' sign printed on both, the hotel's manager, Louisa, explained to us the Iberostar Wave of Change movement.
A global brand, with resorts in over 35 countries, Iberostar are committed to  reducing the use of plastic and promoting the responsible consumption of seafood and the improvement of coastal health.
Striving to be entirely free of single-use plastic in their resorts (the aim is to be plastic-free by 2020), Louisa explained that all the hotel rooms are plastic-free. The usual small plastic toiletries bottles have been instead replaced with larger, multi-use bottles made from recycled materials. Organic and just as luxurious, these larger bottles are found in the bathroom and shower area. Not stopping there, however, Iberostar have recently replaced their staff's original polyester uniforms with ones made from recycled plastic.
For a global, all-inclusive chain, we found this element of Iberostar particularly surprising and impressive. Knowing that we were enjoying a holiday in a resort that respected its surrounding environment and ecosystem was the cherry-on-top of our stay.
Final Review of Iberostar Selection Lagos Algarve
Unsure of what to expect from our long weekend away with Iberostar, we boarded our plane home with an unexpected sense of calm and relaxation. It was an unusual feeling, given that our usual itineraries often leave us needing requiring another holiday in order to recover.
The ideal break for those looking to unwind; to enjoy the sea, sun, sand and local cuisines, Iberostar Selection Lagos Algarve offers the perfect escape from reality. So, why not grab a friend, or family member, this summer and head to the Algarve?
Your body and mind will thank you for it.
Review of Iberostar Selection Algarve