University Arms Cambridge Hotel Review
Our University Arms Cambridge Hotel review contains affiliate links and our stay at the hotel was a complimentary stay.
Rumoured to be Cambridge's oldest hotel, the University Arms has been standing guard over the city's windswept Parker's Piece for over a century. Beginning life as a turreted coaching inn, before falling victim to 1960s functionalism and its fondness for tarmacked carparks, the University Arms has assumed many guises.
However, and following its most ambitious makeover yet, this Cambridge institution has now taken on a new role: this time as Cambridge's coolest hotel.
Following an £80 million refurbishment and a helping hand from architect John Simpson and designer Martin Brudzinksi, the University Arms – a now portico fronted vision in white – is the place to come for sophisticated cocktails, mouth-watering meals and afternoon tea enjoyed amongst crowded mahogany bookshelves.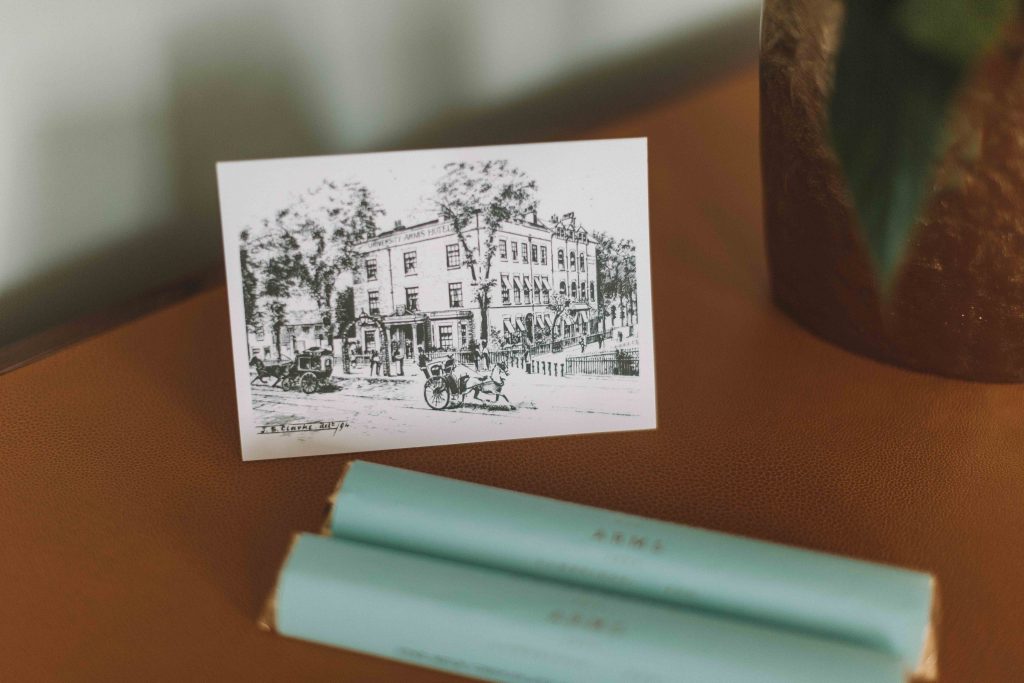 For anyone wondering where to stay in Cambridge, the University Arms also offers 192 beautifully appointed rooms and suites, with each suite themed around one of Cambridge's illustrious alumni. 
Featuring lofty Edwardian ceilings, lead-lined windows and Farrow and Ball hued walls, this glittering renovation has resulted in a hotel that is perfectly positioned between past and present; a place of Edwardian proportions, filled with twenty-first century luxuries.
Having browsed photos of the hotel online and – admittedly – having spent very little time in Cambridge, we jumped at the chance to enjoy a complimentary stay at this newly reborn hotel. With an autumn chill already biting at the heels of summer, and the leaves beginning to turn from green to red, it seemed the perfect time to finally make a visit to Cambridge and with it, this dazzling new hotel.
University Arms Cambridge Hotel Review: First impressions
Regent's Street, Cambridge, is perhaps not the place you'd expect to find a grandiose, columned building. A busy high street, filled with boutique shops, little eateries and – perhaps unavoidably – food giants such as Pizza Hut, this street is not the city's most handsome.
However, all this is soon forgotten once you pull up at the University Arms. 
Arriving outside the building's newly-designed entrance (the former car park has – thankfully – been replaced by a portico fronted turning circle), our car doors were promptly opened by hotel staff. 'Concierge and Valet will take care of your car', a smiling member of staff promised as we headed inside.
Entering the vast entrance hall and the heady smell of geranium hit us. The masterpiece of London's Victorian perfumers, D. R. Harris & Co, this wall of scent was immediately evocative of warm summer nights, flowering cottage gardens and afternoon cricket matches.
Picked specifically for the University Arms, the scent was – undeniably – Cambridge, bottled. 
An almost atrium-like lobby, the entrance to the University Arms – with its large bank style doors and windows – is filled with natural light and on this particular day, warm August sunshine. Featuring traditional Cambridge blue timber panelling, monochrome marble flooring and subtle art-deco lighting, the lobby sets the tone for the wider hotel: a place of timeless glamour, mixed with impeccable Cambridge etiquette.
 Rooms at the University Arms Cambridge
Having been checked in, we were kindly led to our premium suite – Number 401. 
As mentioned, each of the University Arm's 12 suites are inspired by Cambridge alumni, from Stephen Hawking to our own host – Virginia Woolf. Featuring artwork and photographs of these alumni, each suite also features a carefully curated bookshelf relating to the individual, masterminded by Heywood Hill of Mayfair.
Walking into the (enormous) room and we were hit by a bibliophile-inspired paradise. A whopping 290 square foot, the room – a cool blend of powder blue and mustard yellow – featured a large sitting area, king sized bed, writing desk, large dressing room and a bathroom that could rival that found at Abu Dhabi's Emirates Palace.
However, and despite the impressive size of the room, it was the smaller details that stood out. Throughout the room, brand new books – each relating to the life and work of Virginia Woolf – were dotted around; by the bed, next to the bathroom and on the large bookshelf. A writing desk – reminiscent of the one Ms Woolf would have used – sat in the corner; a bronze reading light arching over it. On the walls hung portraits of Virginia Woolf, and bottles of whiskey and cut crystal glasses glinted on a sideboard.
The dressing area even featured a pretty dressing table and stool, with some of Virginia Woolf's most famous pieces carefully piled on top of it.
Luxurious, but also highly personalised and brilliantly eclectic, the room was perhaps the best part of our day out in Cambridge. Making a cup of tea, we spent our first two hours here lounging on the sofa and browsing through the books; making the most of our literary bubble.
The Bar and Brasserie at The University Arms
A former coaching inn, the University Arms has long been a place to stop for a plate of food, a pint of beer and a cosy place to rest one's head. 
However, what's on offer today is likely to be world's apart from the mutton stew or local ale that would have been once offered.
Today, the University Arms is home to the Parker's Tavern – a gorgeously designed English brasserie serving up classic British dishes, all cooked with imagination and care. Think steaming dishes of slow cooked spaghetti bolognese, roasted pave of lamb and creamy bowls of Cambridge Burnt Cream. 
The vision of head chef, Tristan Welch, the menu reminded me of the sort of thing we might eat on the High Table at Oxford, albeit with more flair, flavours and nuances than my college's poor chef could have ever imagined. It was certainly British, familiar and local, but at the same time filled with surprises.
Walking through the bar and into the restaurant – another Martin Brudzinski triumph – and it was difficult not to feel relaxed, perhaps even sleepy. Lit by soft lighting, glowing bulbs and flickering candles, the bar and Parker's Tavern were both decorated with thick, blue velvet sofas, Victorian like wallpapers and deep yellow leather chairs. Indeed, it was a truly stunning place to eat during our day out in Cambridge.
Sat next to the window – with views of the sun casting its last rays over Parker's Piece – we ate until we could eat no more; saving just enough space for the 'pick your own' gelato option for desert. Surrounded by the buzz of chatting friends, celebrating families and erudite professors deep in conversation, we sat backed and soaked up every minute of our time in Parker's Tavern. 
It was University life all over again, except not quite as we remember it.
The cost of a main course at Parker's Tavern starts at £16. 
The Library at The University Arms
After a hearty meal, pass back through the Tavern and towards the University Arm's cosy library space.
With a large, open fire taking centre stage and the surrounding room filled with bookshelves, red velvet sofas and couples enjoying an after dinner aperitif, the Library is a place for relaxation, pots of tea and obligatory book browsing.
As we noticed (enviously) you can also enjoy the University Arm's celebrated Afternoon Tea inside the Library; watching as the leaves blow across Parker's Piece with a melt-in-the-mouth plum pudding scones, slices of iced saffron and rose cake and Duke of Cambridge Tarts.
Likewise, for those hoping to float down Cambridge's waterways on a punt, or lounge in the nearby Parker's Piece, then the hotel also provides beautifully created picnics, designed by Head Chef, Tristan Welch. In terms of things to do in Cambridge, this pretty picnic is high on our lists.
Other Facilities at The University Arms
Aside from its homely interiors, world class restaurant and quiet Library, the University Arms also offers guests access to its Cambridge blue bicycles and a small, but high quality gym. For those looking for somewhere beautiful to wed, or a venue simply to spice up the dreaded staff away day, then the hotel's stunning Ball Room is also available for hire.
With beautiful stained glass windows and wood panelled walls, the room reminded me of a Cambridge college hall.
University Arms Cambridge Hotel Review: Final Thoughts
Having spent just one night reviewing the University Arms, we are confident to say that this is surely one of the city's most exciting and beautiful hotels. A unique blend of Cambridge college life, country manor chic and fastidious designer detail, this special hotel is one you'll want to return to again and again; with a new suite, new book and new dish to sample each and every time.