During our digital detox to this famous Austrian capital, we found ourselves with plenty of time to discover the prettiest spots in Vienna. With the city's famous architecture, cobbled streets and cosy coffee houses feeling more in focus without the bleep of notifications, we explored the city with just a trusty map and dog-eared guide. A city with beauty waiting around every corner, Vienna is truly a photographer's dream: Gothic, Art Nouveau and Expressionist architecture blended to create perhaps Europe's most beautiful cityscape.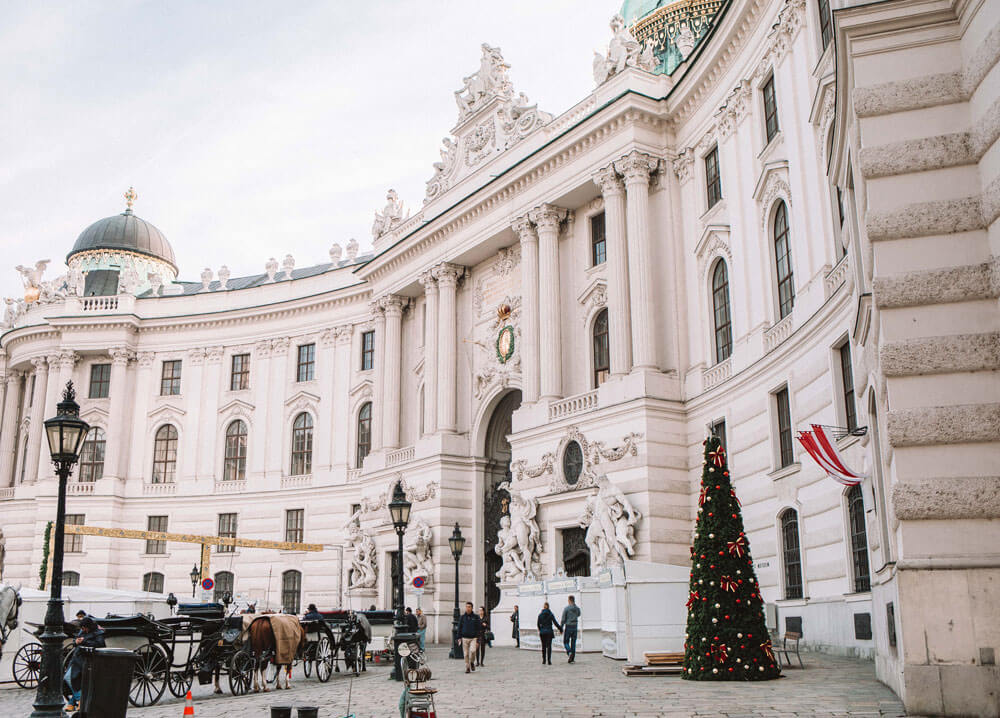 With only three short days to explore the city, below is our succinct guide to some of the most photogenic places in Vienna, ideal for those who – as we were – are short on time. From small, warmly-lit coffee houses, to soaring cathedrals, below is our selection of the six prettiest spots that can be found in this handsome European city.
Getting Around Vienna
A quick note on transport in Vienna. Ahead of your adventures, we advise that you purchase a handy Vienna City Card. Offering free public transport and discounts on over 210 attractions throughout the city, the card is well worth the €17-29 price tag (dependent on the number of days you purchase it for). With an incredibly easy to use underground and tram system, the card will ensure that getting around the city is a seamless activity.
To pre-book tours and attractions around Vienna, take a look here.
The Prettiest Spots in Vienna
Vienna's Opera House
The Vienna State Opera House or Wiener Staatsoper, is the city's main landmark and as such, is perhaps the best place to begin exploring Vienna's prettiest spots. A little like pasta is to the Italians, or saunas are to the Finnish, opera is part of the cultural fabric of this city, with a whopping 10,000 individuals attending a Viennese concert every night.
Located on the busy ring boulevard inside the city's 'first district', the Opera House was built in 1869 and offers concerts 300 days of the year. Considered to be one of the most important opera houses in the world, a visit to Vienna would not be complete without securing yourself a ticket here. Of course, it is also incredibly beautiful, topping the list as Vienna's prettiest spot.
Behind the scenes tours of the Opera House can be booked here.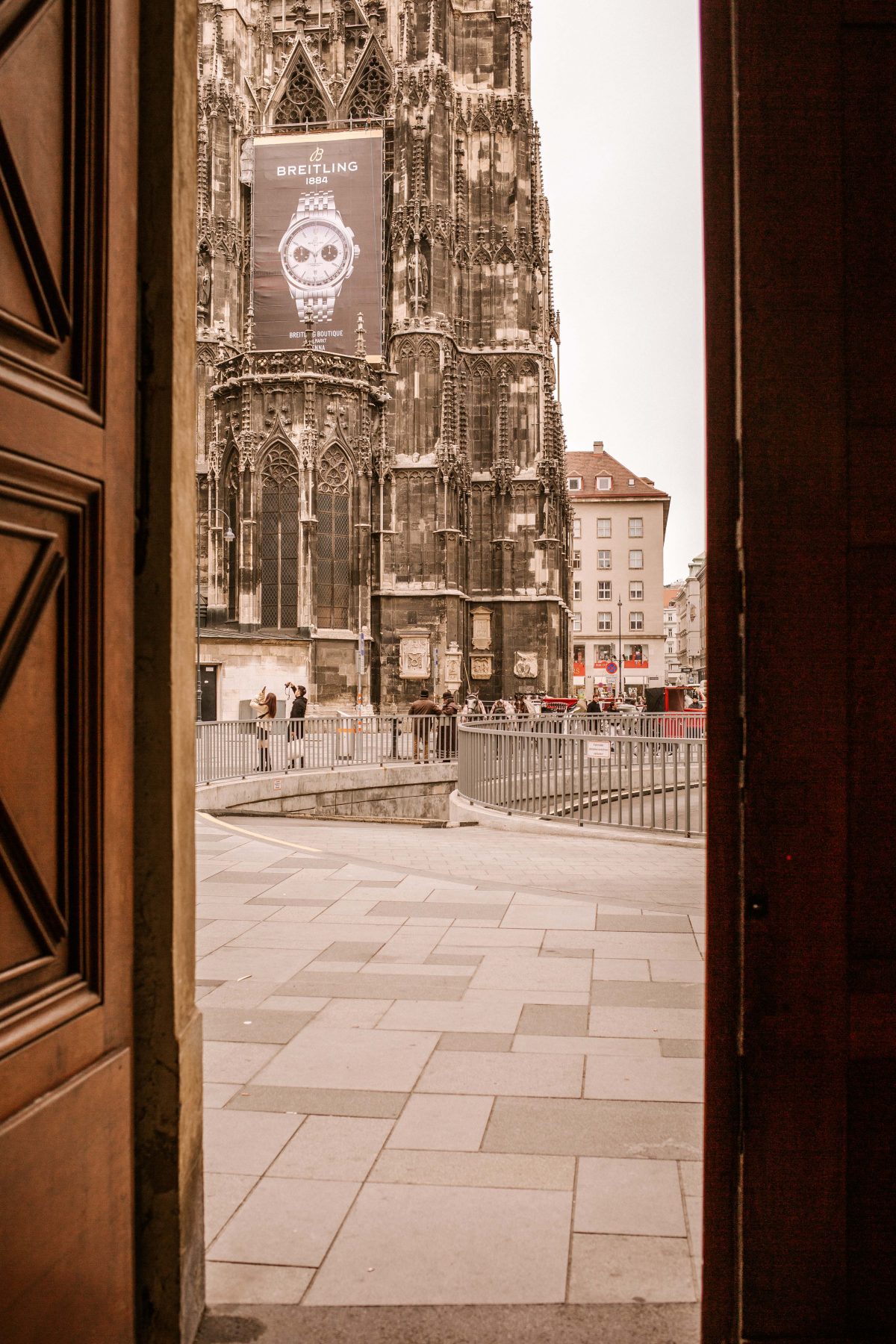 Vienna's Coffee Houses
It is not just opera that forms the life blood of the city, but Vienna's many coffee houses too. Intrinsically linked to the city's historical, cultural and political past, some of the prettiest spots in Vienna can be found within the four walls of these velvet-lined cafes.
Now listed by UNESCO as forming an 'intangible cultural heritage', these traditional Viennese coffee houses once provided a sanctuary for composers such as Beethoven and Mozart, Noble Prize winners, artists, and psychoanalysts such as Freud. The ideal place to rest your tired feet after a day exploring the city's streets, below are our pick of our favourite Viennese coffee houses and cafes.
Demel
Stepping inside the cosy haven of Demel as the city's lamps flickered on, Laura and I looked around at our surroundings in an excited daze. This was surely any sweet-tooth's paradise. Founded in 1786, Demel quickly became a sugary Mecca for Vienna's citizens; including Emperor Franz Joseph I. Now a bustling store, cafe and working kitchen, Demel is a delicious escape from the city's busy streets and one of the most 'instagrammable' spots in Vienna.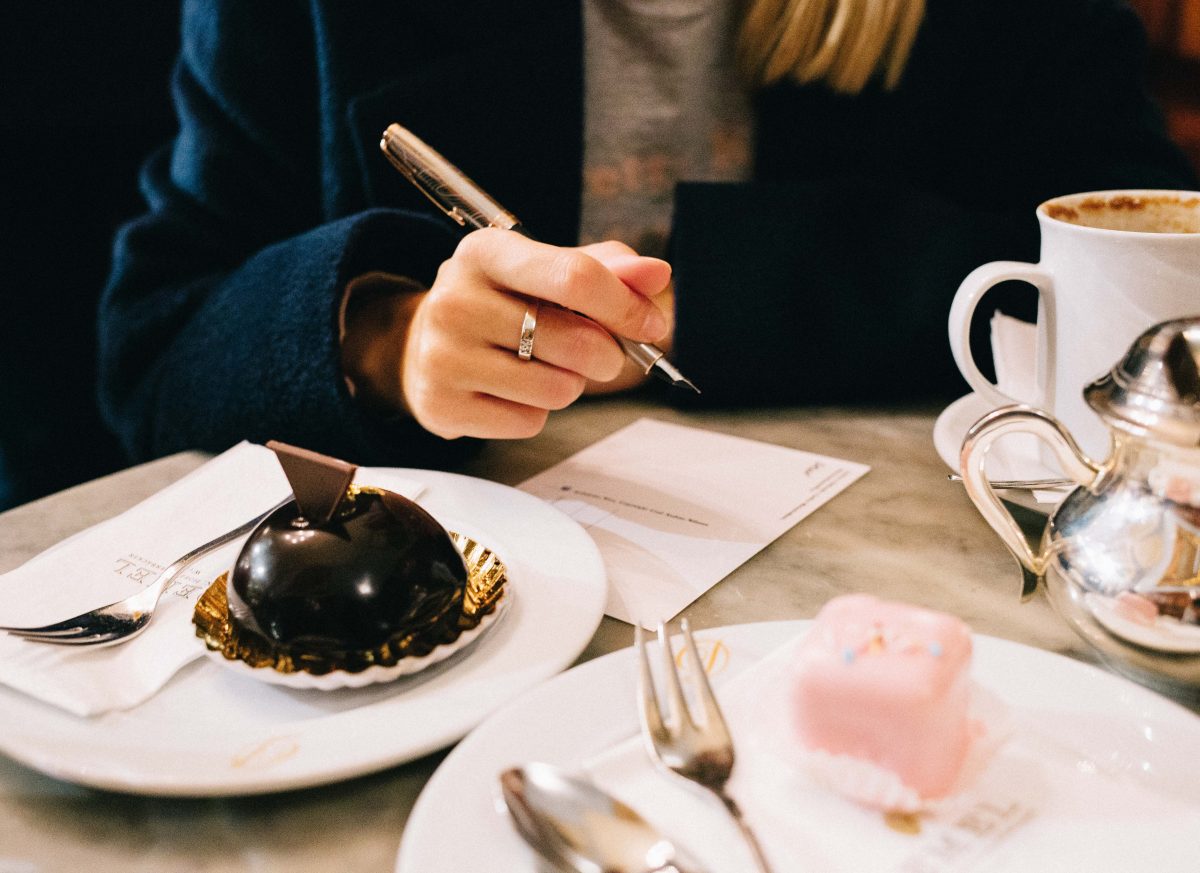 2. Café Central
One of the city's most famous coffee houses, Café Central opened its glittering doors in 1886. Located on one of the grandest streets in Vienna – Herrengasse – this is a coffee shop of glitz, grandeur and notable visitors. Said to be the meeting place of some of the world's greatest storytellers, philosophers and poets, Café Central has played a key role in the city's past and is, of course, one of the prettiest spots in Vienna.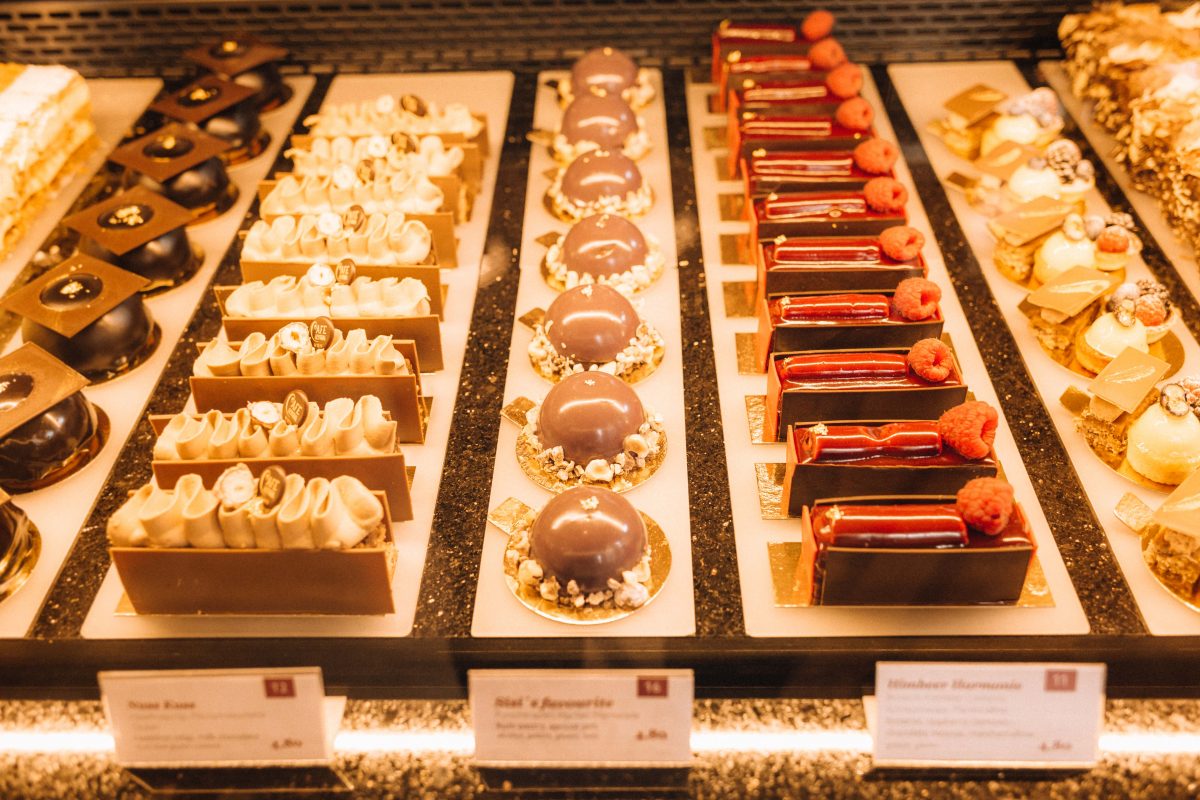 Despite being closed for four decades after WW2, the café nonetheless retained its glamour, having miraculously avoided any damage during the bombings. A place to escape reality, Café Central is a place to come for an indulgent afternoon of delicious Viennese specialties and treats, including the culinary classic: Apfelstrudel with vanilla custard.
Note: without a reservation, the queue for a table at Café Central can be incredibly long. Plan ahead to avoid disappointment.
3.Hotel Sacher
For opulence, luxury and indulgence, head to Hotel Sacher. Boasting quite the price tag, Hotel Sacher is perhaps only for those looking for a particularly special treat. Head to their cafe (Cafe Sacher) for a taste of their original and world-famous, Sacher Torte. Devised in 1832, when a young apprentice chef, Franz Sacher, was asked to create a dessert when the chef de cuisine had fallen ill, the Sacher Torte soon became a European sensation. With the recipe remaining a well-kept secret, only tortes produced by Sacher can be said to be the 'Original Sacher-Torte'.
Not only one of the prettiest spots in Vienna, Hotel Sacher is also an undoubtedly resplendent place to stay whilst exploring the city, with double rooms beginning at €500 (not including breakfast).
4.Kleines Café
The smallest and most perfectly formed coffee house in Vienna,  Kleines Café is located in the equally photogenic Franziskanerplatz, and is a tiny delight of a place to visit. With a distinctly bohemian feel, left over from the city's Art Nouveau days, Kleines Café comes alive in the summer when its visitors spill onto the pretty square outside. This is perhaps the perfect spot for those looking for a more relaxed and (cheaper) Viennese coffee house experience.
5. Café Sperl
Café Sperl, whilst not as grand as Café Central or Hotel Sacher, was perhaps our favourite of Vienna's coffee houses. With well worn corner seats, a 'no mobile phone' sign on the counter, international newspapers and large windows overlooking the busy streets, Café Sperl was a place that seemed to transport us back to a fantastically nostalgic Vienna.
Opened in 1880, this is yet another coffee house with a rich past. Said to have played host to not only the artists, musicians and philosophers of the day, but notable military figures also, Café Sperl offered a coffee-scented sanctuary to varying social classes and political views.
Described by UNESCO as places where 'time and space are consumed, but only the coffee is found on the bill', the Viennese coffee house is as much an experience as it is a place to refuel. Indeed, a trip to Vienna without a visit to one of these historical institutions would be almost heretical.
Stephansdom (St. Stephen's Cathedral)
Ironically nicknamed 'Little Stephen' by Vienna's locals, the city's soaring gothic Cathedral is undisputedly one of the most photogenic spots in Vienna. Boasting an unusually colourful roof – forming the shape of the city's Royal and Imperial double-headed eagle and coat of arms – Little Stephen is undoubtedly the city's pride and joy. Unlike many of the buildings in Vienna, St Stephen's Cathedral miraculously escaped the bombings of WW2 and has stood proudly over its younger neighbours ever since its build in 1137.  For those keen to see the city from above, the Cathedral's Tower Room can be reached via the building's mere 343 steps.
Information on all tours of the Cathedral, including the towers and catacombs, can be found here.
Or, alternatively take a look at city tours and attraction passes here.
The Belvedere Palace 
Two baroque jewels in the city of Vienna, the Belvedere Palace and Museums offer some of the prettiest spots in Vienna. Housing the celebrated work of Klimt and his iconic 'The Kiss' painting, Belvedere Palace is not only a World Heritage site, but a leading art gallery.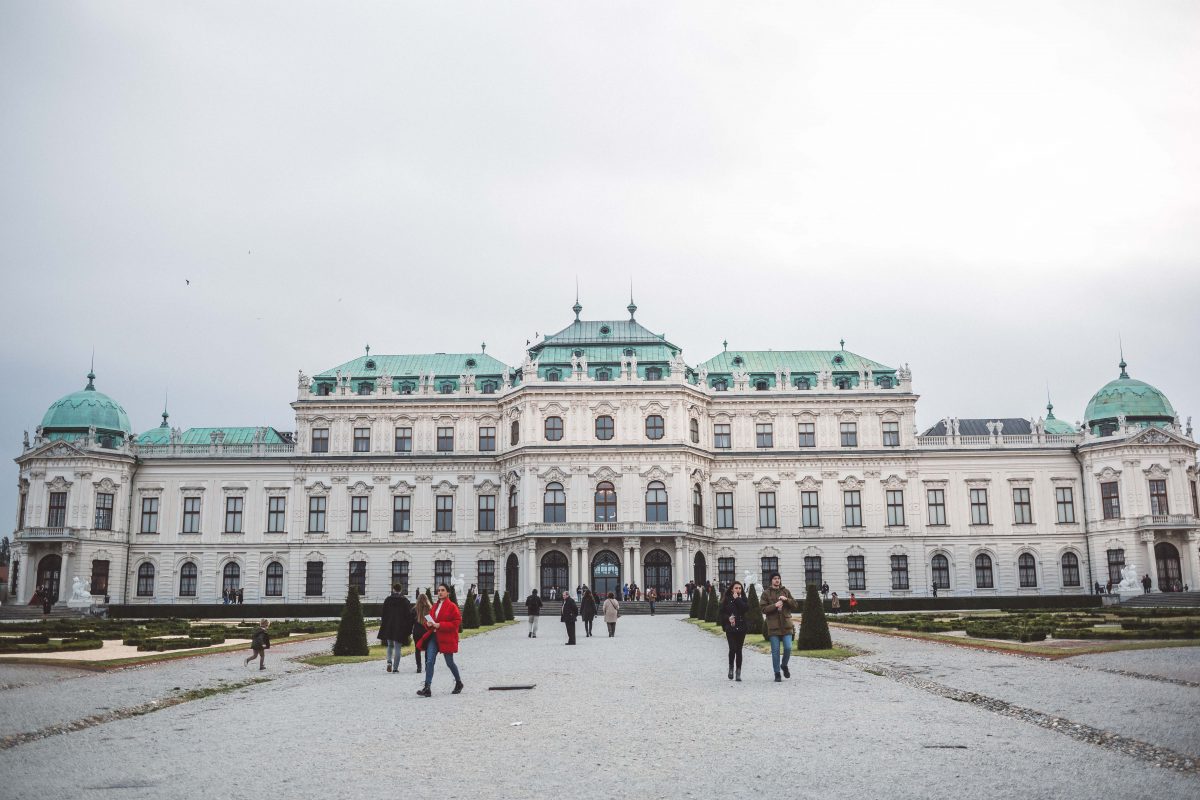 Originally built as a summer palace for Prince Eugene of Savoy, the Belvedere Palace is now one of the leading baroque masterpieces in Austria. Consisting of two parts – Upper and Lower Palace – the two buildings are linked by a baroque inspired garden. Even with winter setting in, these carefully curated grounds were a pleasure to explore; offering some of the most instagrammable spots in Vienna. Klimt's work can be found in the Upper Belvedere, whilst Prince Eugene's apartments can be toured in the Lower Belvedere.
Hundertwasserhaus
An altogether different take on Viennese architecture, the Hundertwasserhaus is perhaps the quirky cousin of the more traditionally pretty spots in Vienna. In stark contrast to the handsome architecture of the Vienna State Opera House, Hundertwasserhaus is instead a colourful and dynamic celebration of Expressionist Style.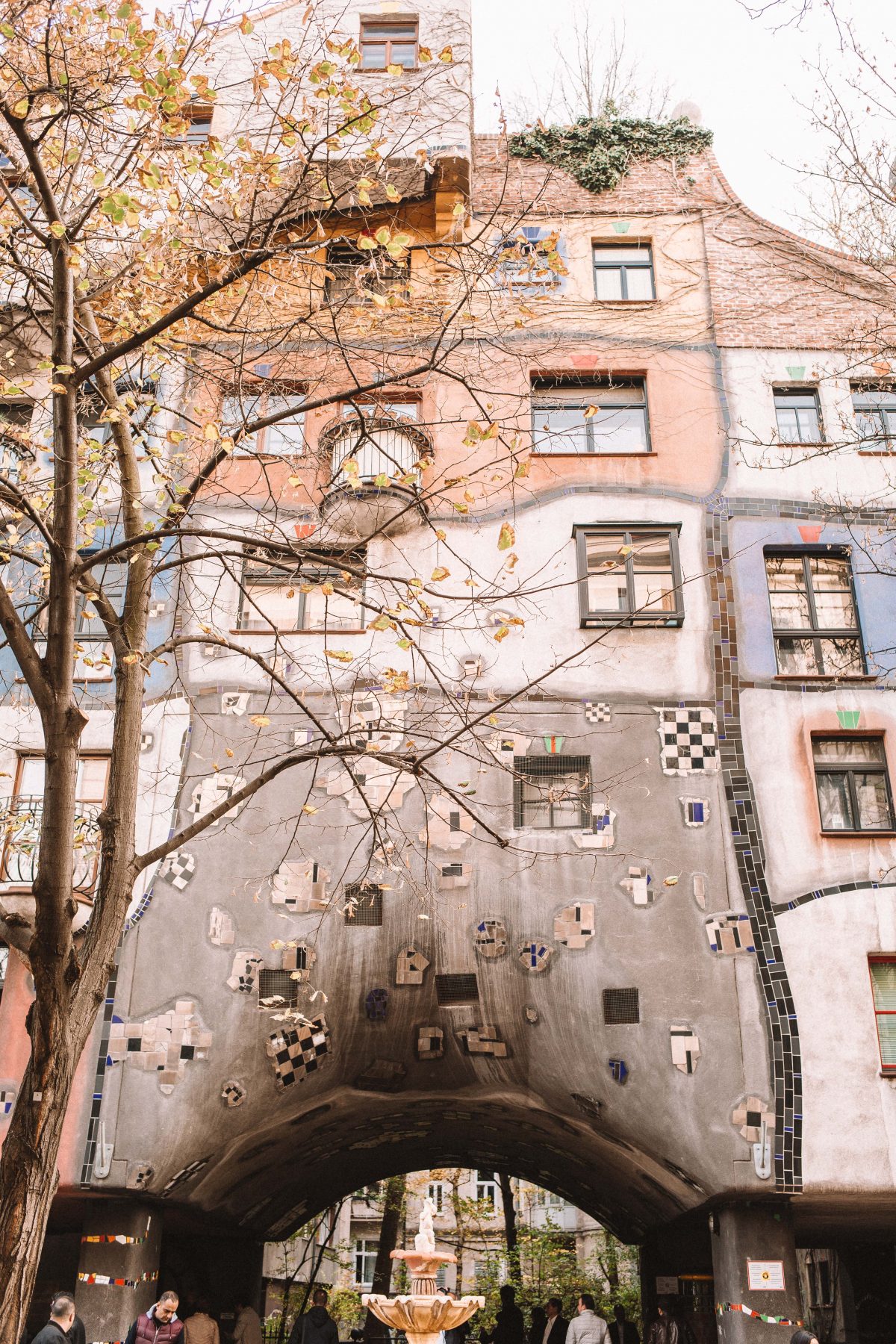 Arriving mid-afternoon at the Hundertwasserhaus and the crowds had already arrived. Clearly topping the charts as one of the prettiest spots in Vienna, this is an attraction that you should arrive early for. Most beautiful in the summer – when over 200 trees and plants decorate the many balconies and terraces – Hundertwasserhaus is a small tropical oasis in the heart of the city.
Griechengasse (Greek Street)
For those looking for a glimpse of old Vienna at its very best, a wander down the narrow, cobbled lanes of Greek Street is a must. A small, unassuming passage connecting two Greek Churches, Griechengrasse is bursting with the Art Nouveau architecture that decorates the surrounding Fleishmarkt.
Perhaps one of the prettiest spots in Vienna, grab a coffee from the small tavern at the top of the street and let the city's walls transport you back to a Medieval time.
At the top of the lane lies the perfectly formed Griechenbeisl – Vienna's oldest bistro pub. Dating back to 1447, the restaurant was once frequented by the likes of Beethoven, Schubert and Strauss. It is perhaps the perfect place to end your tour of Vienna's most beautiful spots, over a cold beer and fresh schnitzel.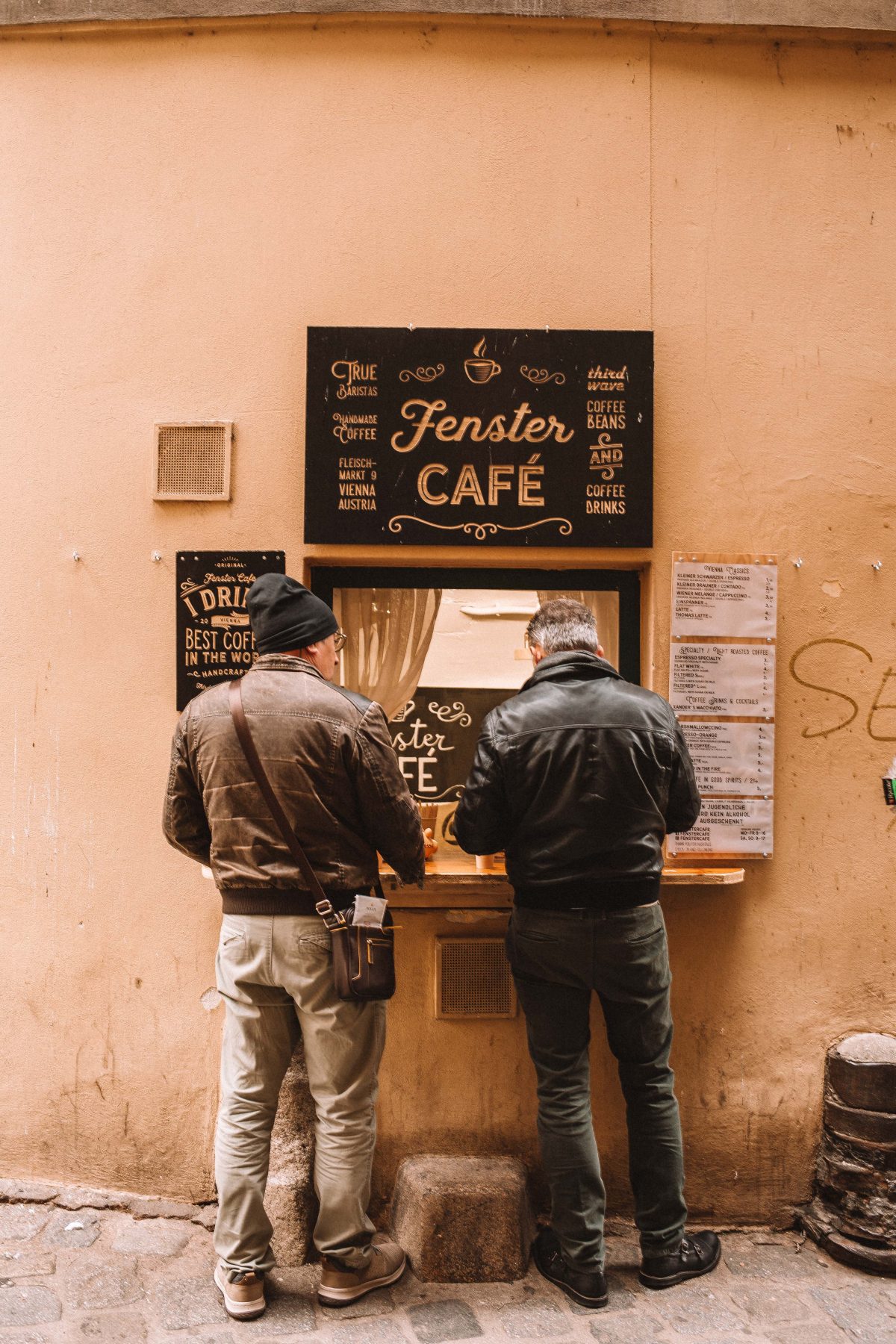 From soaring Gothic towers to quiet, contemplative coffee houses, this is just a short summary of the prettiest spots in Vienna. A city of contrasting architecture – Wes Anderson inspired Art Nouveau buildings through to the baroque masterpieces of the Belvedere Palace, Vienna is an incredibly photogenic city. Best explored by foot, or by the city's equally beautiful tram system, Vienna is a city to savour; just like its famous Apfelstrudel.
A morning walk through its small sleepy squares, rewarded with a thick slice of Sacher Torte, confirmed for us that exploring the prettiest spots in Vienna is nothing less than a treat. Just remember to bring your camera with you.
Looking for further European city break inspiration?
Pin for later: