This list of the 11 best things to do in Amman, Jordan, contains affiliate links.
You'll be forgiven for overlooking Amman as a standalone destination – I certainly did.
When planning our fourth TTT Tour, this time to Jordan, we focused almost entirely on our visit to the country's crowning jewel – Petra. Alongside exploring this ancient city, we also wanted to ensure our itinerary included a visit to the country's famous Wadi Rum desert, alongside an obligatory float in the Dead Sea.
Amman, our gateway to Jordan, was simply going to be a place we crashed in after our late night flight, before venturing onwards.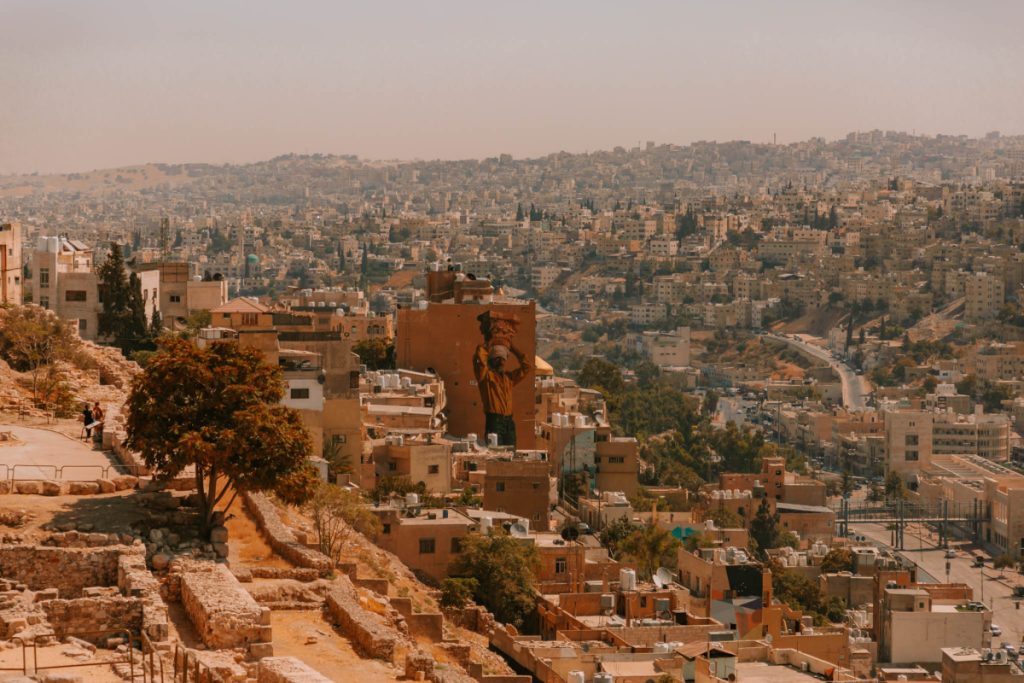 However, due to the amount of time we had in Jordan – and following a chat with our team at Intrepid Travel – we decided that it was perhaps worth allocating at least one day to Amman; just so that we could take an obligatory look around.
I'm so glad we did.
Amman, although largely a product of the 20th century, is a city of two parts. Whilst its leafy boulevards and glittering malls may feel a little UAE in nature, atop one of its seven hills sits an impressive slice of history: Jebel Al Qala'a – the oldest part of Amman, established around 1800 BC.
Still home to the city's historic Citadel, this site is a tapestry of civilisations and events, spanning the Bronze, Iron, Roman, Byzantine and Umayyad periods. Here, perched some 850m above sea level, visitors can wander ancient palaces (thought to have housed the Governor of Amman in AD 720) and run their hands along the ruins of the Roman Temple of Hercules.
Alongside this dizzying history, Amman is also home to a smorgasbord of cultures. As a place that has welcomed wave after wave of immigration, this is a welcoming and tolerant capital, filled with rich cultures and diverse populations (including a recent influx of 4440,000 Syrian refugees).
Together, this blend of luxury malls, unbelievable history and vibrant cultures makes Amman a uniquely intoxicating place to visit – and one we'd urge you to spend time exploring.
Below is what we believe to be the 11 best things to do in Amman, Jordan.
11 Best Things to do in Amman, Jordan
1. Check-in at the Best Hotel in Amman
Amman is a city with a number of beautiful and luxurious hotels.
When planning our Tours, we knew we wanted to start on a high – checking in to one of the best hotels in Amman: the W Amman.
With residences across the world, the W hotels are aimed at 'modern jet-setters'; designed with Millennial and Gen Z audiences in mind. Delivering eclectic design, colourful rooms and incredible service, the W Amman was no different: a beautiful, luxurious and unforgettable place to stay.
I could wax lyrical about this hotel for hours if need be, but my (condensced) highlights include: the outstanding and generous service we received, the superb food (we had private dining for our group of 15 and it was truly phenomenal) and the views that the pool and bar afforded across Amman.
We didn't have time to book in for a spa treatment, but we did get to use the hot tub and from what I saw, the entire spa setting was divine.
If you do decide to spend 24 hours in Amman, then I'd definitely urge you to book a night here at the W Amman – you won't be disappointed.
2. Visit the Museum of Jordan
Before you head off to explore more of the city, why not begin your whirlwind 24 hours in Amman with a little introduction to this corner of the Middle East – with a visit to The Jordan Museum.
Costing 5JD to enter, the Museum has been declared one of the best in the Middle East, offering a fantastic introduction to a country with a complicated and impressive past.
Here you'll find the famous Dead Sea Scrolls – Jewish and Hebrew religious texts, not found until 1946 – alongside the oldest-known human statues, found in Ain Ghazal.
3. Grab a Bite to Eat at Hashem Restaurant
If you're spending just 24 hours in Amman, then you need – nay, you must – make sure you tuck into at least one portion of falafel.
For the best falafel in town, head to Amman's famous Hashem eatery. With queues forming outside it for over 50 years, Hasheem's falafel is the stuff of legends – and even includes a 'stuffed' variation.
The atmosphere here is lively: tables crammed alongside one another, and locals mixing with tourists. The menu is 'street-food' focused rather than fancy, but packs a punch in terms of flavour. Expect middle-eastern staples such as hummus, moutabel and flatbreads.
Be warned, this place is fast paced and as such, offers a no frills dining experience. Expect a few crumbs when you sit down.
4. Browse and Shop On Rainbow Street
With just one day in Amman, shopping might (understandably) fall to the bottom of your list.
However, if you do have the time, it's well worth making the trip to Amman's atmospheric Rainbow Street.
One of the city's most famous streets, Rainbow Street is lined with bustling restaurants, eclectic souvenir stores and some excellent people-watching spots. Grab a coffee and some baklava, and enjoy uncovering some of the city's most loved food stalls and stores.
If you can, pop by Turtle Green cafe, for a pitcher of iced-tea. Alternatively, head to the very cool, Al Quds, for a plate of delicious falafel. Mr Lollies, an ice lolly shop, is another Jordanian institution and the perfect place to cool down with an ice cream.
In the summer, Rainbow Street also hosts a fantastic souk of its very own (Souk Jara), where you can pick up some beautiful handcrafted souvenirs, alongside enjoying live music and fresh street food.
If you're visiting out of souk season, then be sure to alternatively drop by the Wild Jordan Centre, where you'll find stores filled with gifts and products made in the country's nature reserves – including Bedouin crafted jewellery.
For craft and art lovers, a visit here is definitely one of the top things to do in Amman.
5. Head to Amman's Roman Theatre
One of the best things to do in Amman, Jordan is definitely to visit the city's incredible Roman Theatre.
A short twenty-minute walk from Rainbow Street lies one of Amman's star attractions: its impressive Roman Theatre.
Sitting snugly the bottom of the Citadel and surrounded by Amman's iconic sandy-coloured buildings, the Roman Theatre dates back to Roman Philadelphia and was thought to be built during the reign of Antoninus Pius, in the 2nd Century AD.
In short, it's an exceptionally old building.
This magnificent three-tier theatre was meticulously restored in 1957 and recently became a venue again – welcoming guests to a host of music events, including Jordan's Oprah Festival. Able to host 6,000 patrons, the theatre costs just 2JD to enter, including entry to the two onsite museums, dealing with local traditions and folklore.
Visit here to imagine Amman during Roman times, as rulers, the military and the public crowded in to watch thrilling tragedies and raucous comedies, as the sun set over Amman's rolling hills.
6. Watch the Sunset at the Citadel
The Citadel is perhaps Amman's biggest tourist draw and as such, has to be visited during your 24 hours in Amman.
It's also a relatively cheap place to visit, costing 2JD to enter. You can also find private tour guides at the entrance, costing around 15JD per hour.
Perched on Amman's tallest of hills – Jebel Al Qala'a – the ancient Citadel has witnessed an epically long history. As such, this site is dedicated to not just one period of time, but reaches across a vast, expansive timeline of different civilisations and epochs.
Indeed, it's considered to be one of the world's oldest continuously inhabited places.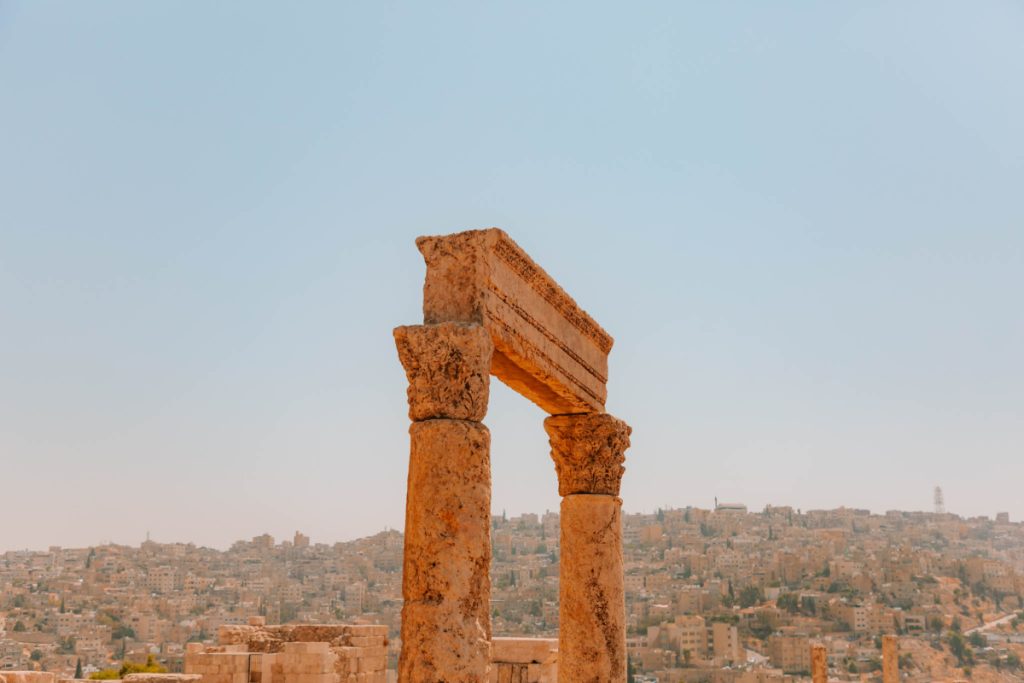 The Citadel's most impressive spot features two soaring pillars, which once upheld a Roman Temple dedicated to Hercules. Behind these soaring structures you'll find an enormous marble hand, which would have once belonged to an enormous statues of the Roman God. Estimated to have towered over the landscape at 40 feet high, this original statue of Hercules likely fell during a catastrophic earthquake.
Another impressive spot in the Citadel is the Umayyad Palace, built in the early 8th Century. Home to the Governor, the Palace includes a number of restored rooms, including its famous 'audience hall'.
While there is a lot to see within the Citadel itself, this spot also affords the most amazing views across Amman – particularly at sunset. We'd therefore highly recommend visiting in the late afternoon, ensuring you get to see the city in its most flattering of lights.
7. A Glass of Wine at Cantaloupe
Although a Muslim country, Amman's nightlife is surprisingly vibrant (however, as with many Muslim countries, alcohol is expensive).
For a night of spectacular views enjoyed over a glass of wine, head to Cantaloupe – a gastropub boasting a lovely rooftop terrace. Overlooking downtown Amman and Rainbow Street, you can watch as the sun fades and the evening crowds begin to emerge; enjoying a tasty steak along the way.
8. Visit Amman's Most Eclectic Souvenir Shop
As your 24 hours in Amman comes to an end, be sure to stop by one of the city's most intriguing souvenir shops.
Al Afghani is a family business, dating back to 1870s Palestine. Specialising in gifts and goods from across the Middle East, this shop is overflowing with everything from pottery to lamps, jewellery to precious gem stones.
For those looking for something a little more modern, head to JoBedu for your own taste of 'Arab swag'.
9. Hammam in Amman
If you're looking for the best things to do in Amman, then look no further than this oh-so relaxing activity.
For anyone who has followed our previous adventures to Morocco or Istanbul, you'll know that we love nothing more than a Hammam (also known as a Turkish bath).
Thankfully, there are plenty of places in Amman to enjoy your Hammam – offering a deeply relaxing, and exhilarating scrubbing, experience.
Perhaps the most luxurious Hammam experience can be found at the city's Willow Stream spa, found at the city's Fairmont Hotel. For a more authentic experience, however, be sure to stop by Argana Hammam, who specialise specifically in both Moroccan and Turkish Hammam experiences.
Another slightly cheaper Hammam is offered at the Sultan Ahmad Turkish Hammam, where you can enjoy an authentic, gender-segregated Turkish Hammam.

10. A Cooking Class at Best Sitti
We love to try and include a cookery class within our tour itineraries and so far, have managed to shoe-horn them into all our trips. They're a great way to not only get to know the local cuisine better, but to also support local associations and charities.
We therefore had to include one in this list of the best things to do in Amman, Jordan.
To finish your 24 hours in Amman, we'd therefore highly recommend booking a cooking class at the popular Beit Sitti. Here, you'll learn how to make authentic Arabic food, all within a lovely and cosy environment.
With lessons beginning at a very reasonable 35JD, budding chefs are invited to 'Grandma's House', where sisters Tania, Dina and Maria invite you into their family home for two hours of cooking, eating and endless chatter.
One thing we love about these classes is their affiliation with local refugee women (from Syria, Iraq and Palestine), who are not only invited to work at the school, but to share their own recipes and flavours with visitors.
You can arrange cooking courses that cover breakfast, lunch and dinner.
11. Enjoy a Meal at Habibah Downtown
We loved this restaurant when visiting the city and although unassuming, I still think a visit here is one of the best things to do in Amman.
A proud resident of the city since 1947, Habibah Sweets has been producing mouth-watering and incredibly popular pastries, covered in cheese and a sweet syrup. Although the combination might sound a little odd, believe me when I say it's absolutely delicious.
Although you can't eat in here, it's definitely worth joining the queue – just to grab one of these special pastries before you wolf it all down curb-side.