Before heading to Morocco to launch our first Twins That Travel Tour, we received a number of commonly asked questions from our group of female travellers.
Having only visited North Africa once as a teenager, I felt a little unprepared for their questioning; instead relying on our brilliant team at Intrepid Travel for advice. From what to wear whilst exploring the souks, through to general safety in the city, it seemed that there was a fair bit of uncertainty – and many questions – when it came to visiting Marrakech as a tourist.
However, having now visited Morocco, and subsequently fallen head over heels in love with the country, I feel much better equipped to answer some of our most commonly asked questions. We hope that our answers will not only help you plan your own trip to Marrakech, but will reassure you that you'll be visiting a cosmopolitan city full of warmth, personality and irresistible charm.
So, and without further ado, below are eight things you need to know before visiting Marrakech.
Our Top Tips for Visiting Marrakech: Frequently Asked Questions
1) What should I wear when visiting Marrakech?
The question we received the most – and one we were asking ourselves – was what to pack for a trip to Marrakech. Indeed, packing for Marrakech (and a trip to the desert) took a little more consideration when compared to packing for our usual European destinations.
As a predominantly Muslim country, I was eager to ensure that my wardrobe was respectful of the culture and environment surrounding us. After a lot of research, and having read this handy post by The Travel Hack, I settled on a number of key pieces that proved invaluable during both my time in the city and later, the Agafay desert.
Although I saw plenty of tourists wearing denim shorts and small tops, I would not advise doing this – simply out of respect for the destination and Moroccan culture. We generally ensured that our shoulders and knees were therefore covered at all times, and we dressed modestly.
Once within the confines of our hotel, however, your wardrobe can be more relaxed. On our rooftop pool at 2Ciels hotel, for example, the dress code was predominantly bikinis, shorts and t-shirts.
A packing list for Marrakech:
2-3 midi or long skirts
Breathable trousers i.e. culottes
T-shirts that cover your shoulders
Dresses that cover both shoulders and knees
A pashmina or scarf that you can use to cover your shoulders, if necessary (when visiting a mosque, for example)
A sun hat
Comfortable shoes (open toe sandals are also fine)
A jacket or warm jumper for the cooler nights (if you're travelling outside of the summer season, it can get a little cold in the evenings)
A cross-body bag (for safety) when walking through the medina and souks
When we left Marrakech and headed to La Pause Camp in the Agafay desert, our wardrobe relaxed a little. Staying at a French owned resort, in the middle of an oasis, the dress code was more that of a usual holiday destination. When in the desert, the lighter and breezier your clothing (i.e. long dresses) the better; to help protect you from the heat.
Indeed, one tip we were told was that in hotter weather, it's better to have all of your skin covered, to prevent it from retaining any heat.
What to pack for the Agafay Desert:
A warm jumper/jacket for the evenings
A water bottle and wet wipes
A small rucksack
Sunglasses and sun hat
Pashmina/scarf
Comfortable trousers you can wear if taking a camel ride
Cotton-based, breathable clothing to help with the heat
Jumpsuits and long kaftans (to keep the heat off your skin)
Warm pyjamas (the evenings can get a little cooler)
Warm socks for the evening
Remember to also save some space in your suitcase for the inevitable colourful scarves, sandals and jewellery that you'll pick up along the way. For those really looking to shop, we would advise that you bring an empty carry-on suitcase with you. There's nothing more disheartening than staring at a gilded lantern, knowing that there is no chance of fitting it in your suitcase (said from bitter experience).
2) Can you drink alcohol in Marrakech?
As a Muslim country, I was unsure how accessible alcohol would be in Marrakech. I was surprised to find, however, that the majority of restaurants we visited served alcohol with our meals.
The city also offers a number of cosmopolitan rooftop bars and clubs, including our hotel – 2Ciels. Out of the four restaurants we visited, there was only one that didn't serve alcohol. Of course, drinking openly on the streets of the city is not advised (and disrespectful), but drinking within a restaurant or bar is widely accepted.
Asking our tour guide, Tariq, whether it was common for women to visit bars and clubs alone (or in groups ) in Marrakech, he replied with a grin and said:  'Of course, this is a democracy'.  Somewhat surprised, we soon learnt that Marrakech is a liberal city; one where a solo female traveller – or group of females – can travel safely. The majority of clubs and bars are found outside of the medina (or old town), but there are a few rooftop bars within the walls of the old city, including the wonderfully atmospheric Café Arabe.
For further information, here is a handy guide to some of the trendiest bars in Marrakech.
3) Is solo or group female travel safe in Marrakech?
Group female travel in Marrakech
As a group of female travellers, there were some trepidation when we began our first medina and souk tour. Having experienced Tunisia's souks – an overwhelming and slightly uncomfortable experience as an awkward teenager – I braced myself for the worst.
Moving through the winding alleyways of Marrakech's souks, however, was an unexpectedly enjoyable and entertaining experience. Aside from the calls to visit stalls – and the popular 'Hello Spice Girls!' comment – we weren't subject to any uncomfortable attention or harassment. I have no doubt that this was, in part, due to our tour guide, Tariq; although when we did travel without him, we experienced no problems at all.
The most helpful advice offered by Tariq (before we entered the souks solo), was to avoid conversation with anyone unless we were looking to enter into a genuine negotiation.
Tariq's second piece of advice was to avoid taking any photographs in the main square – Djemaa El Fna – particularly with those looking to engage with you. The square is typically bursting with snake charmers and touts, who will often demand a fee if they appear in your photograph.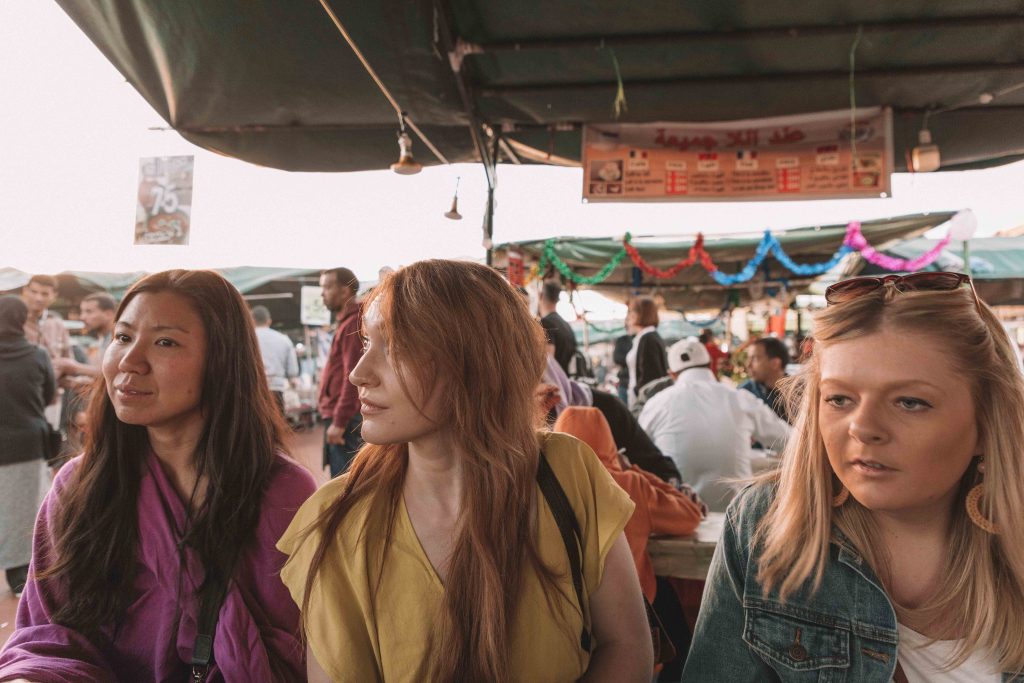 Solo female travel in Marrakech
Although we didn't undertake solo female travel whilst visiting Marrakech, members of our group continued on (solo) after the tour had ended. Indeed, one of our group travelled to nearby Essouria – a beautiful coastal town, and aside from a pair of stolen flip flops on the beach (classed as a petty crime), she encountered little other problems.
Ultimately, however – and like any other country – travelling solo in Marrakech requires a certain degree of common sense and self-awareness.
Tips for visiting Marrakech as a female traveller:
Dress appropriately (cover shoulders and legs)
Research areas, particularly before walking through them at night
Ignore unwanted attention (retaliating to cat-calling will not help)
Avoid taking photos in Djemaa El Fna
Be firm but polite ('La' meaning 'no')
Always carry with you the phone number of your hotel, should you require help or transport
4) What is the easiest way to get around Marrakech?
Marrakech by foot 
Marrakech, a city known for its bustling souks, horse-drawn carts, crowded medinas and revving motorbikes, is one that requires a little patience to get around.
For those staying inside the medina, you will be able to explore much of the old city by foot. In fact, there's perhaps no other way to explore these winding souks, as the narrow alleyways invite pedestrians only.
Taxis in Marrakech
For those located outside of the medina, taxis are cheap and easy to come by. The metered, beige Mercedes taxis are the safest option, although some will try to tell you that their meters are broken (something that happened to us). After a little research, it seems that this happens most commonly in areas where taxis are particularly popular, i.e. at Djemaa El Fna and Jardin Majorelle.
It's therefore perhaps wiser to try and flag down a taxi on the streets, and always agree your price before your journey begins.
A typical fare for a taxi ride within the city is usually between Dh8 and Dh20.
Calèches (horse-drawn carriages)
For those with more time on your hands, you will find plenty of horse drawn carriages – known as calèches – in Place de Foucauld, next to Djemaa El Fna.
Offering a tour of the city's main sights (for a fixed price), the carriages are a leisurely way to see the city. An animal welfare charity called SPANA work closely with the caléches in Marrakech, to monitor the wellbeing of the horses; ensuring water troughs are placed along the main tour routes. Although this isn't a form of transport that we would support, the horses did appear to be in good health and were protected from the sun whilst in the square.
Bus
Local buses are also available in Marrakech, with Alsa providing a useful timetable.
5) What is crime and safety like in Marrakech?
Although I wasn't particularly concerned for our safety before visiting Marrakech, it was a question that cropped up in certain discussions.
As an incredibly cosmopolitan city, Marrakech suffers from no higher crime rate than other international cities. Indeed, the highest 'category' of crime in the city is pick-pocketing and theft, and Morocco is the only country in North Africa to be categorised as 'low level' risk by the Foreign Office.
To avoid petty crime, our tour guide versed us on medina and souk etiquette before leaving the hotel. The main tip was to wear a small cross-body bag that can be put in front of you to avoid pick-pockets. As I mentioned above, avoiding taking photos of snake charmers and street artists will also help you avoid any uncomfortable demands for money.
This blog post is hugely helpful in explaining the most common tourist scams run in Marrakech. The good news is that all can be easily avoided if you have prior knowledge of them and employ some common sense.
6) Will I get sick when visiting Marrakech?
Now, we have a confession. Prior to visiting Marrakech, our biggest concern in leading a group of travellers was whether we would fall foul of the dreaded traveller's belly. On a previous trip to Marrakech five years ago, Laura unfortunately came away with more than just a few souvenirs – instead contracting salmonella.
Having also fallen unwell in Tunisia, we naturally prepared ourselves for the worst.
Thanks to some handy tips from Tariq, however, our tummies came away unscathed from our Moroccan experience. This is despite the fact that we enjoyed a local foodie tour and organic cooking class in the Moroccan countryside.
To help lessen the risk of a traveller's tummy whilst in Marrakech (or Morocco more generally), it's advised that you take the following precautions:
If you can't cook it, peel it, or boil it, forget it
Bottled water (also check the seals on the water bottles before buying them)
Ensure the hot water for your Moroccan tea has been fully boiled (i.e. steaming as it's poured)
Eat some of the local yoghurt to assist your gut in 'getting to know' the (good) local bacteria
Avoid fresh salad washed in water
Advised medication to take with you to Morocco:
Rehydration salts
Imodium (only to be used if necessary; it's better to let whatever is upsetting your stomach out if possible)
Buscopam (for stomach cramps)
Ibuprofen and paracetamol
All of the restaurants we ate at in Marrakech and La Pause were truly delicious, including the food we ate on the foodie tour. We particularly enjoyed Nomad, located in the medina, and Al Fassia, a restaurant run entirely by women.
7) Do I need a VISA when visiting Marrakech?
For European and US visitors, you do not need a VISA before visiting Morocco. For US citizens, your passport does require a minimum of six months left on it before its expiration, whilst the threshold is three months for UK residents.
Upon entry, your passport is stamped for a stay of up to three months. We found the process to be fast and painless. Compared to some of the claustrophobic, snaking queues of US airports, our journey in and out of Morocco was entirely stress-free.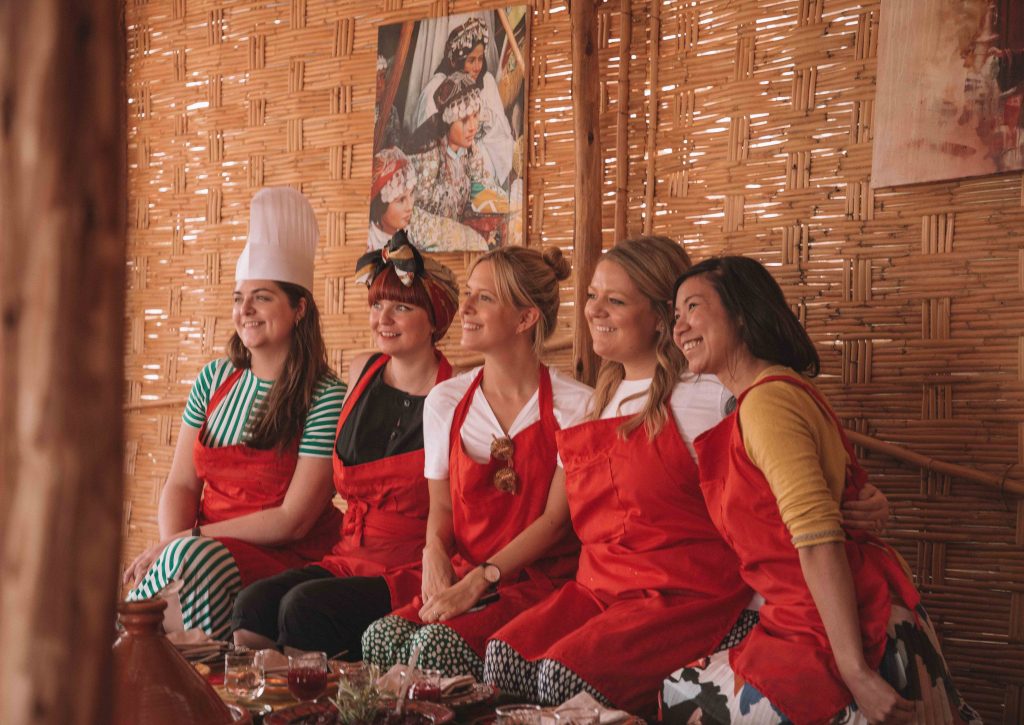 8) What is the currency in Morocco?
The Moroccan Dirham is a closed currency, meaning that you are unable to access it before visiting the country.
This caused a little bit of worry ahead of our trip for some of our group who were arriving a few days earlier. We quickly discovered, however, that there is no need to panic, as there are a plethora of ATMs available at the airport.
For those wishing to avoid ATM charges, you can convert US dollars, Euros or British Pounds whilst in the country, although the queues for this service are generally longer.
Whilst Visa and Mastercard are widely accepted in Marrakech, as well as Euros and US Dollars (unfortunately, Australian and New Zealand dollars aren't accepted), having the local Dirham is required for souk shopping. Locals tend to also round the money up, meaning that you can be more precise (and save money) if you have the local currency to hand.
Remember: you're prohibited to take Moroccan Dirham out of the country (the most you can leave with is 1000Dhm, which is around £65).
Final Thoughts on Visiting Marrakech
Despite some concerns or hesitations before visiting Marrakech, our time in the city was one filled with laughter, delicious food, welcoming characters and captivating sights. No different to any other international city I've visited, Marrakech is as city that truly welcomes tourists with open arms.
In fact, we enjoyed our visit so much, we will be returning for a second TTT Tour to Morocco in March 2020.
Pin it: