Our day trip to Kew Palace came about thanks to our sponsored ambassadorship with Historic Royal Palaces (HRP). Throughout the summer months, we will be using our Historic Royal Palaces membership to gain access to some of the country's most beautiful palaces; exploring the bedrooms and ballrooms once graced by wayward kings and illustrious queens. To find out more about a HRP membership, please see here.
Grabbing my Historic Royal Palaces membership card and sunhat, I rushed out the door to catch my train. The sun beaming down, I couldn't think of anywhere else I'd rather be headed than Kew Palace and its surrounding Royal Botanic Gardens. Having already explored Kensington Palace, Hampton Court Palace and the Tower of London as part of our HRP ambassadorship, it was time to head to a spot that I've wanted to visit for a long time.
Although I've seen plenty photographs of the Royal Botanic Gardens, I didn't know too much about Kew Palace itself. Far smaller than any of its neighbours and a little dwarfed by Kew's sprawling grounds, this pretty pink palace is often overlooked.
Despite its small stature, however, Kew Palace has played host to just as much royal drama as its fellow castles and towers. Although originally bought as a country retreat, Kew Palace soon became a (albeit beautiful) prison for a so-called 'mad' King.
Intrigued to learn more? Below is a round-up of everything you need to know about visiting Kew Palace, including its Royal Kitchens, Queen Charlotte's Cottage and the Great Pagoda.  Nestled in the jungle-esque Royal Botanic Gardens, a visit to Kew Palace makes for a perfect summer's trip.
Just come armed with comfy shoes: there is a lot to explore.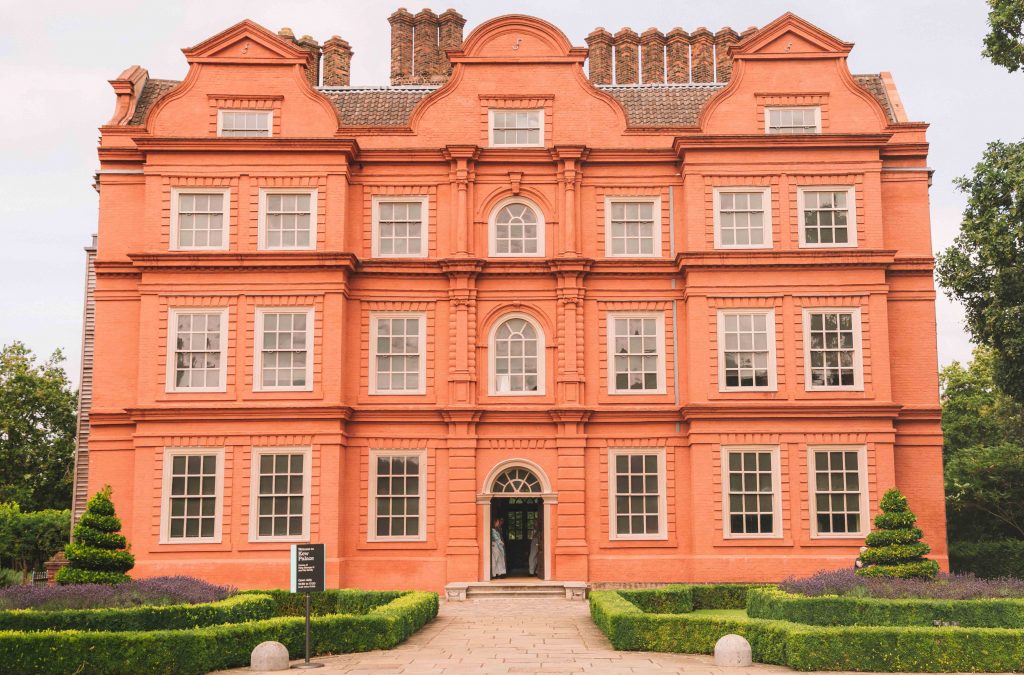 How to get to Kew Palace
Kew Palace is located in the leafy suburb of Richmond, West London. For those travelling by car, parking is £7.00 for a full day and there are 300 parking spaces available.
Faced with the dreaded M25, we opted to catch the train instead. Conveniently, the nearest tube station to the Palace is Kew Gardens and is located just a short five minute walk from the ground's Victoria Gate entrance. Alternatively, there are many bus and train routes available – check here to plan your journey.
Opening times
Kew Palace is open seasonally, from April until the end of September. The Great Pagoda stays open for a little longer, throughout weekends in October and over the October half-term. Full details of its opening hours can be found here.
Historic Royal Palaces Membership and Kew Palace
Historic Royal Palaces membership works slightly differently at Kew Palace, where you'll still need to pay to enter the wider Royal Botanic Gardens.
HRP members receive a 10% discount off their ticket, which will give you access not only to the gardens but to Kew Palace, the Royal Kitchens, the Great Pagoda and Queen Charlotte's Cottage.
A Historic Royal Palaces membership will also allow you to book onto special behind the scenes evening tours of Kew Palace (highly recommended). From Scandalous Stories at Kew to more general Kew Palace evening tours, these events are your chance to discover exclusive corners of the palace.
During the summer months, the Royal Kitchens at Kew also offer live historical cooking sessions. Want to learn how to cook traditional Georgian dishes such as 'Mutton Chops in Disguise?' Find out more here.
Who lived at Kew Palace?
Britain's smallest royal palace, you might be forgiven for thinking that Kew Palace lacks the history and depth of its peers. A little unassuming from the outside, I also wondered the same – unaware of just how much history this bijou palace had to offer.
Unlike palaces such as Hampton Court or Kensington, Kew Palace didn't start life as a royal digs. It was instead built by a Flemish merchant named Samuel Fortrey, in 1631. Interestingly, the house – known as the Dutch House – was originally built opposite a far larger Tudor mansion, which sadly no longer stands.
However, this pretty pink abode soon caught the eye of King George II and Queen Caroline in the 1720s, who decided to lease the house for their three eldest daughters. With their summer home at Richmond Lodge and six children in tow, they were in desperate need of a bit of extra space.
What struck me as I entered Kew Palace was just how much it felt like a family home.
Far from palatial, Kew Palace houses modest sized rooms filled with cosy furniture and rich decorations. Wandering through its corridors, it was easy to imagine life here during those rosy summer months; the princesses playing cards, reading books and enjoying lazy summer suppers.
The Palace is also home to many intimate displays of Queen Charlotte's belongings, including her poetry books and (impressive) geometry drawing book. It's said that Queen Charlotte was originally chosen as the King's wife due to her youth and beauty, whilst her intelligence was strategically down-played.
However, looking at her collection of books and drawings, it's clear to see that the Queen was scientifically minded, with a keen interest in botany and geology.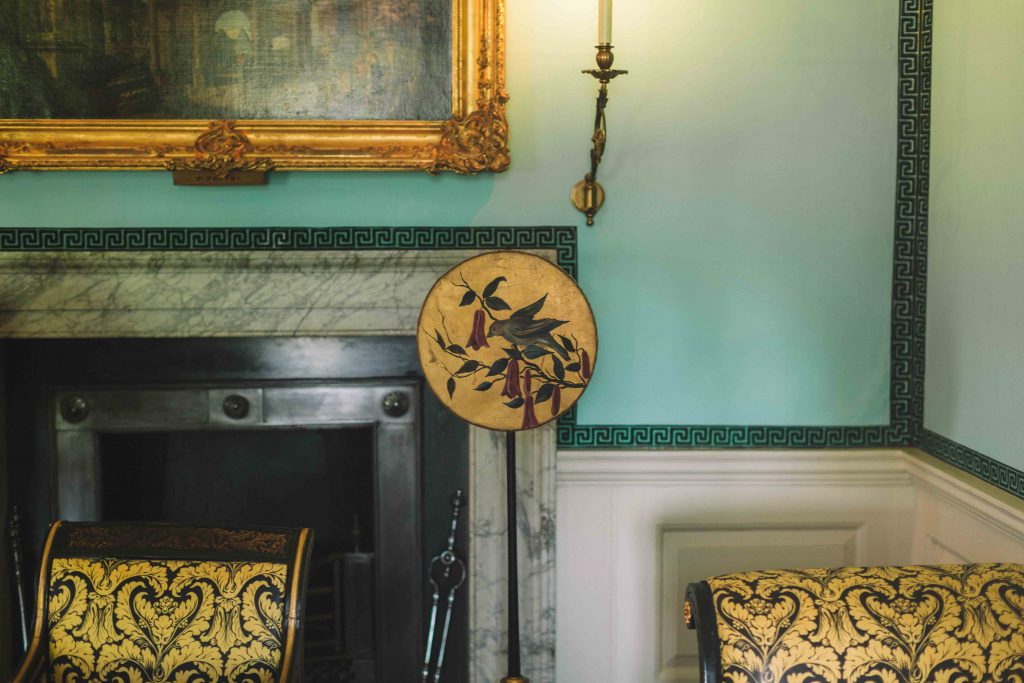 The Madness of King George III and Kew Palace
This warm family home, brimming with life (George and Charlotte went on to have 15 children), took on a darker side in 1788. Declared 'mad', King George III was incarcerated here in order to undergo (dubious) treatments.
Known in many storybooks as the 'mad king', King George III's story is a sad one. Possibly suffering from something similar to bipolar disorder, the King's condition was far from understood. Instead, he was ostracised and alienated – even from his beloved Queen Charlotte.
Kew Palace reflects the impact that George's illness had on the family, with Princess Elizabeth's flamboyant Grecian style bedroom located between her parents' rooms. This is said to be so that she could act as an intermediary between her parents during more difficult times, when relations became strained. It's recorded that the King became increasingly aggressive over the course of his illness and was eventually kept in solitude.
Peering around Princess Elizabeth's room, an adult stuck between her parents' arguments, it's easy to see why the Princesses complained about life at Kew Palace. The daughters are said to have found staying here boring and were forced to spend their evenings with their parents well into adulthood. In fact, the house was said to have become so cramped that the 'poor' Princesses were forced to hang their dresses on the back of their bedroom doors.
During George's time at Kew Palace, a band of increasingly bewildered doctors attempted to treat him.
A bath was even found in the Royal Kitchen, which is thought to be where he took medicinal soaks. Sadly, however, their attempts were ultimately unsuccessful. Stand in the room that leads to the kitchen quarters and you'll stand where George was once led in a straight-jacket out of the Palace.
This story upset Queen Victoria (his granddaughter) so much that she eventually had the route bricked up.
Queen Charlotte's Death at Kew Palace
Perhaps the most poignant room in Kew Palace is Queen Charlotte's bedroom, which features the very chair that she died in on 17 November 1818, aged 74. It's said that the Queen had been suffering from Dropsy and during her recovery, caught pneumonia. After her death, the downstairs dining room (pictured below) was draped with black silk and her coffin was placed in the middle of the room – surrounded by candlesticks donated from the Tower of London.
To avoid causing the King any distress during her funeral procession (he too was gravely unwell by this point and incarcerated at Windsor),  hay was placed on the cobbled streets to ensure that he couldn't hear the passing procession.
Despite the dining room harbouring some more morbid memories, it's still used by the Royal Family: the Queen even celebrated her 80th birthday here in 2006.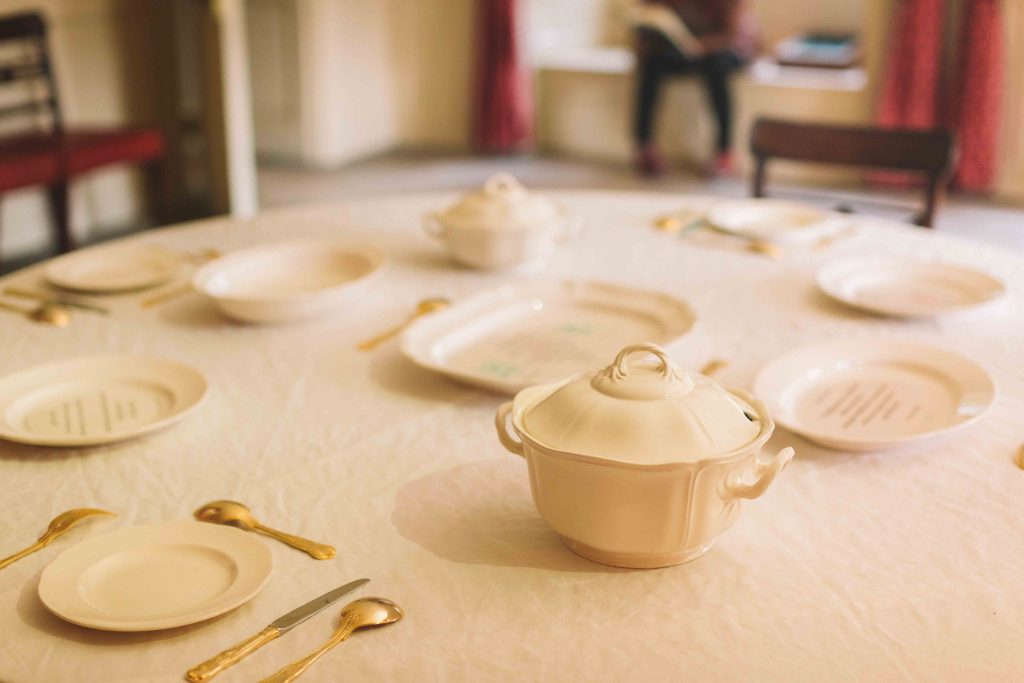 Aside from the carefully restored rooms on the ground and first floor, Kew Palace still retains some original rooms that have been left untouched.
On the second floor, you'll discover the partially restored rooms of Princess Amelia and Princess Augusta. What I found most fascinating were the scraps of original wallpaper and pink paint that had been leftover by the Princesses; a small glimpse into their tastes and style. A Gothic fireplace is also found in one of the bedrooms (far outdating the house) and is said to have been installed at the request of Princess Amelia.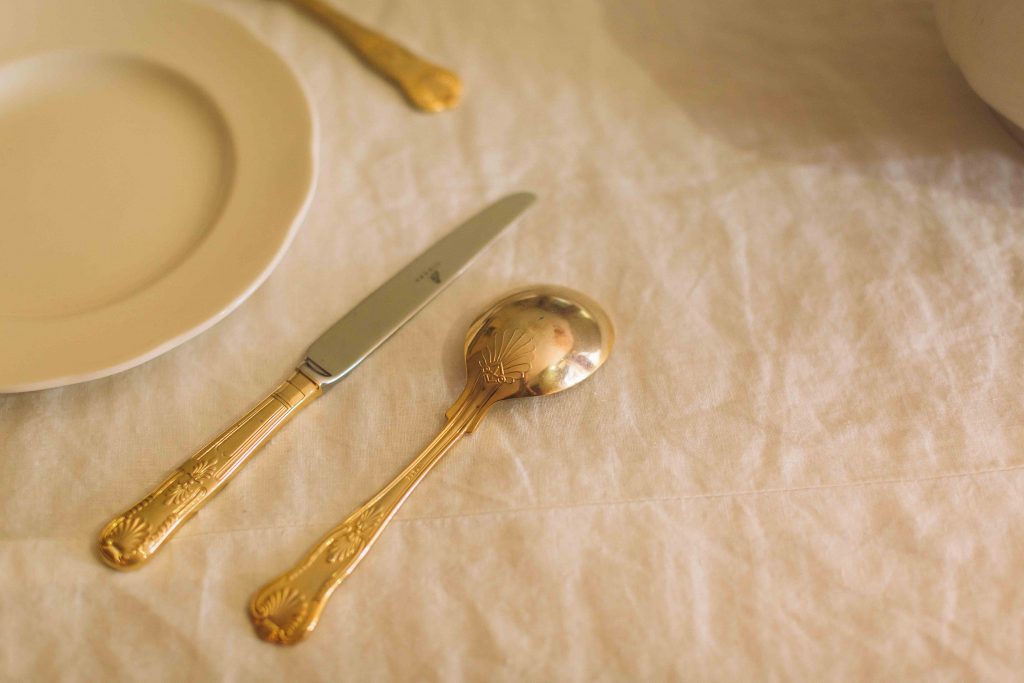 Continue down the hallway and you'll discover (behind an unassuming door) a shadowy staircase.
Used during the war by soldiers on watch, the attics of Kew Palace take on an altogether different feel. Climbing the stairs, we discovered long-forgotten graffiti and notes written on the walls, penned by bored soldiers and military men. Most hauntingly is perhaps a 'witch mark' left on one of the wooden beams; used to ward off evil spirits.
It perhaps comes as no surprise that it's this part of the Palace where mysterious and ghostly moments are said to occur. If you fancy your own ghostly encounter, the spooky attics (once servant quarters), can be experienced during the members' evening tours of the palace.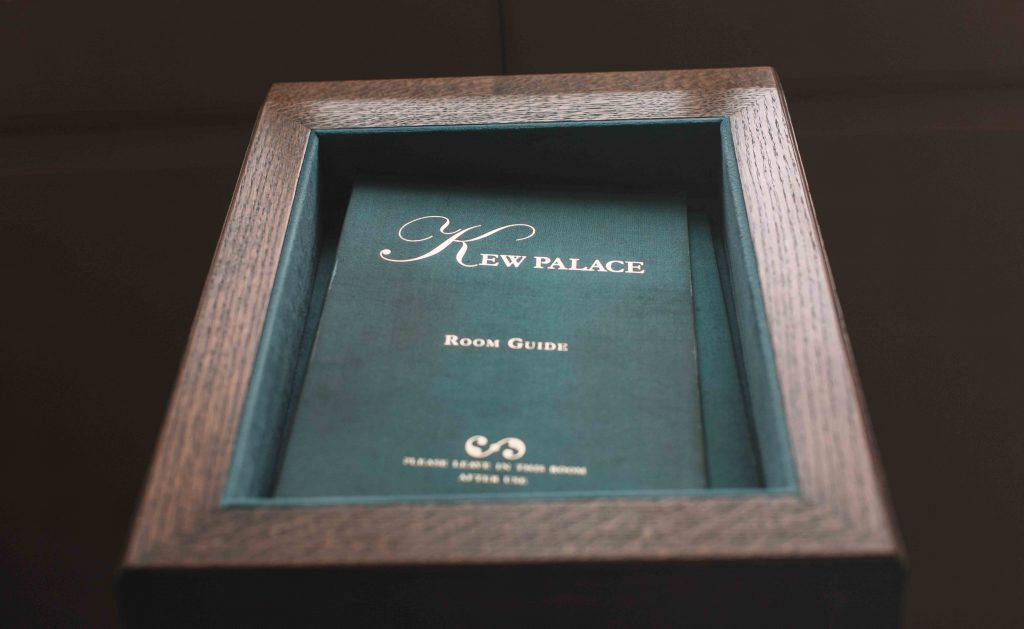 Queen Charlotte's Cottage
Back out into the sunshine and we were on a mission. 'It's definitely this way', our guide, Sophie, said as we turned off onto a narrower, less trodden path. The sunlight glinting through the trees, it felt like we were on a tiny adventure to find a fairytale cottage.
Indeed, Queen Charlotte's Cottage is purposely tucked away from prying eyes; a secluded hideaway for once fatigued royals.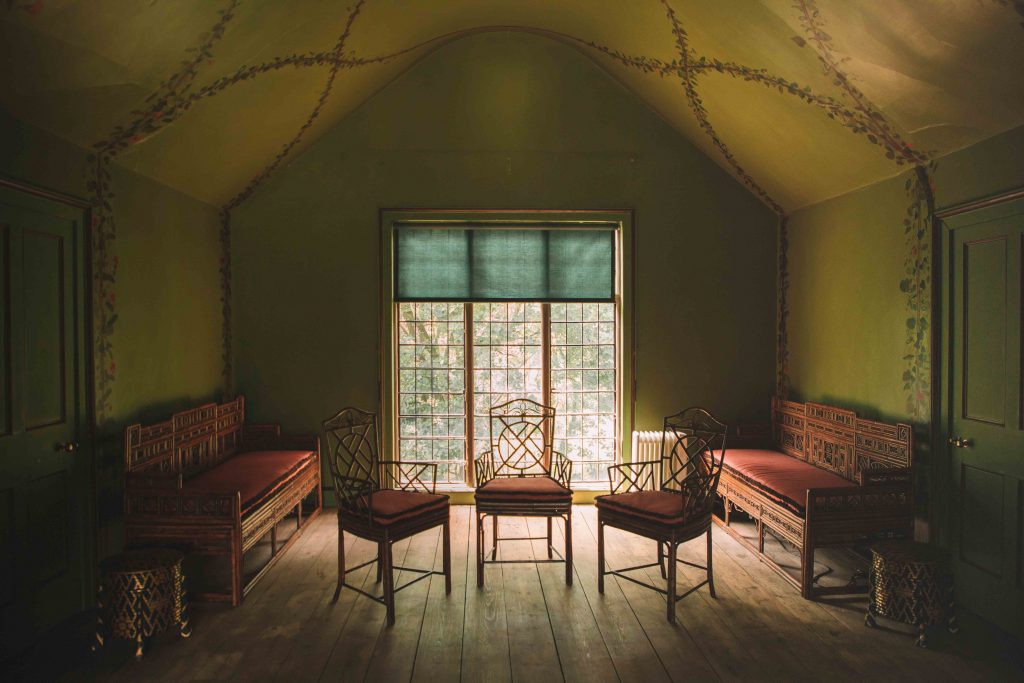 Built as a cottage orné (a decorated, rustic cottage), Queen Charlotte's Cottage is perhaps my favourite spot found at any Historic Royal Palace.
World's away from the lofty Tudor rooms of Hampton Court, or the regal dining rooms of Kensington Palace, this little cottage feels like something from Goldilocks and the Three Bears. In fact, this was the point of the cottage – it was a place to come to enjoy a pot of tea and sandwiches after a ramble through Kew's grounds. Featuring just two rooms and a kitchen, this little bolthole would have been an intimate and curious place to visit.
'Kangaroos once lived out there on the lawn', our guide, Cat, said. Confused, we turned to stare at the very ordinary patch of grass that lay in front of Queen Charlotte's Cottage. Once a paddock, this patch of land was apparently home to exotic animals including black swans, buffaloes and the first kangaroos to have ever arrived in England.
Surrounded by a 300-year-old bluebell wood, this would have been a fairytale spot for Queen Charlotte and her children, and one that would – even by today's standards – seem more than a little surreal.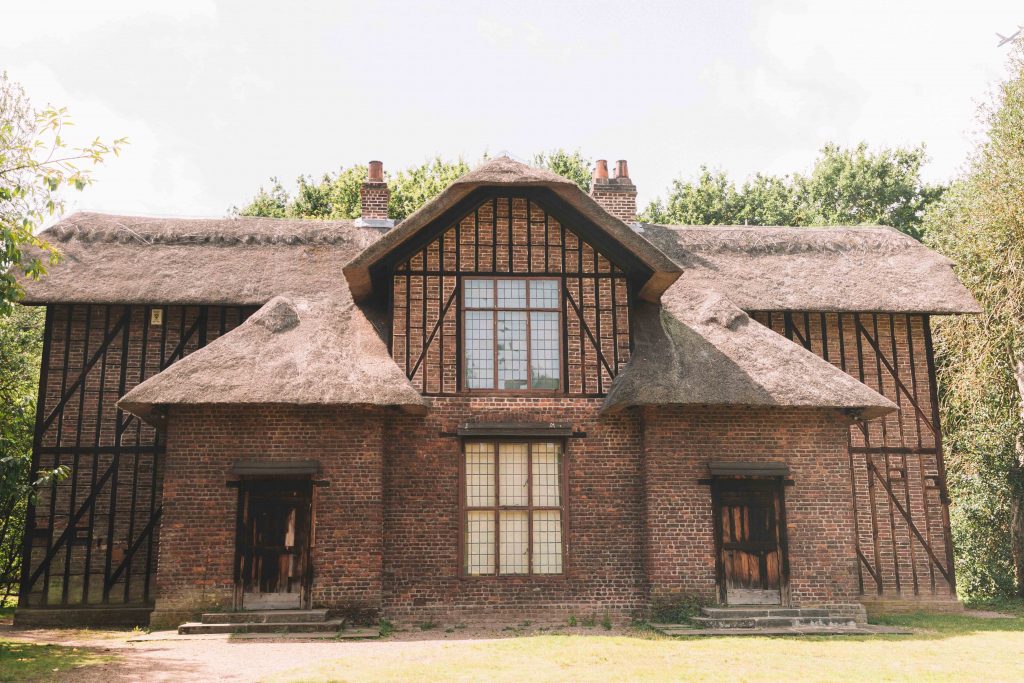 With a passion for interior design, it was Princess Elizabeth (the Queen's third daughter), who designed the interior of Queen Charlotte's Cottage. Her talents are revealed in the intricate hand-painted flower and bamboo murals that adorn the ceiling of the first floor room. With large windows either side, this room would have once been filled with views of the lush green gardens and their exotic residents.
It was lovely to imagine Princess Elizabeth quietly painting here, having escaped the tight confines of Kew Palace and the tension brought about by her father's illness. Sadly, however, the King never got to see his daughter's hard work. It's said that on the afternoon that he was meant to visit the cottage, there was a great storm, which prevented him from travelling down.
After that, he was never fit enough to make the visit.
The cottage was last used, formally, by the Royals in 1818, when the infamous double Royal Wedding took place at Kew Palace (read more on that here). It's said that the weddings took place here due to Queen Charlotte's ill-health and inability to travel.
Strictly off the record, however, there are rumours that Princess Margaret has since held secret parties at Queen Charlotte's Cottage – something we would love to have seen.
Queen Charlotte's Cottage opening times: the cottage is open during weekends only, from 11:00 – 16:00.
Royal Botanical Gardens, Kew
Of course, it's impossible to visit Kew Palace without diving into the surrounding Royal Botanical Gardens. One of the most diverse gardens on the planet, wandering through this UNESCO Heritage Site only adds to the experience of visiting Kew Palace.
Chihuly Artworks, Kew
The first thing that caught our attention as we made our way through Victoria Gate was the mesmerising orange and yellow artwork by Chihuly. Created by world-renowned glass artist, Dale Chihuly, his mesmerising artwork is scattered across Kew's grounds; adding even brighter splashes of colour to this watercolour landscape.
Temperate House
Having explored Kew Palace, Queen Charlotte's Cottage and the Great Pagoda (more on that later), there was one more building that we were keen to explore at the Royal Botanic Gardens.
Temperate House is the largest Victorian glasshouse and a true feast for the eyes. Described as a 'glittering cathedral', this intricately built glasshouse, complete with swirling, delicate staircases, is home to 1,500 species of plant from all over the world.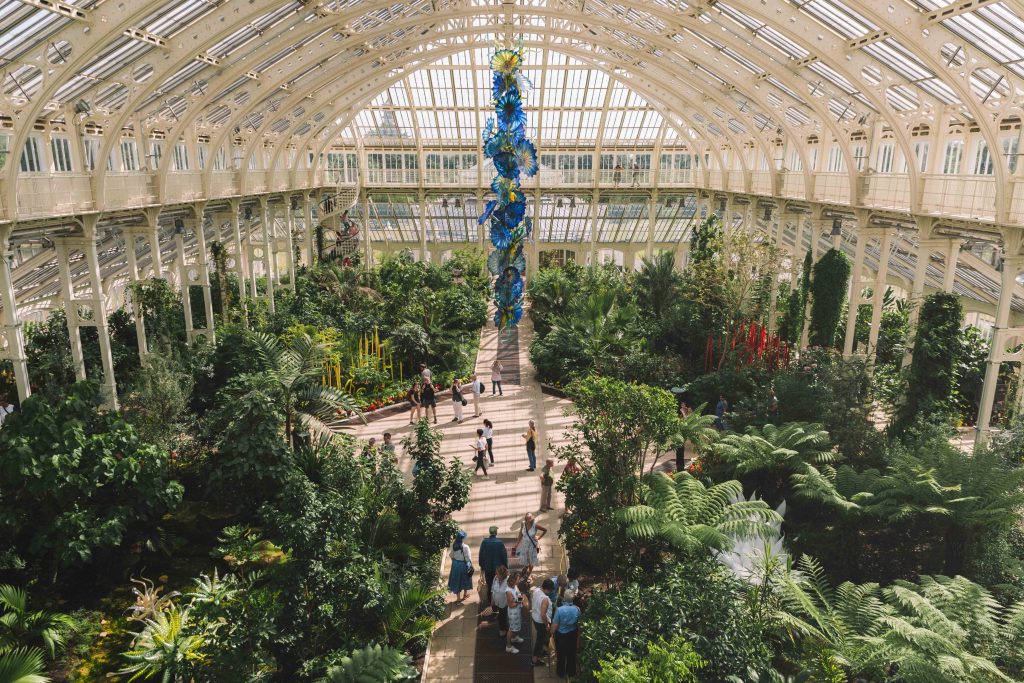 With sunlight pouring in, this was a place that was difficult to leave (despite the suffocating heat). Most recently, Temperate House underwent a 5 year redevelopment project to restore it back to its former Victorian splendour and was re-opened in 2018. This spot is a must-see for anyone visiting Kew Palace and the surrounding gardens.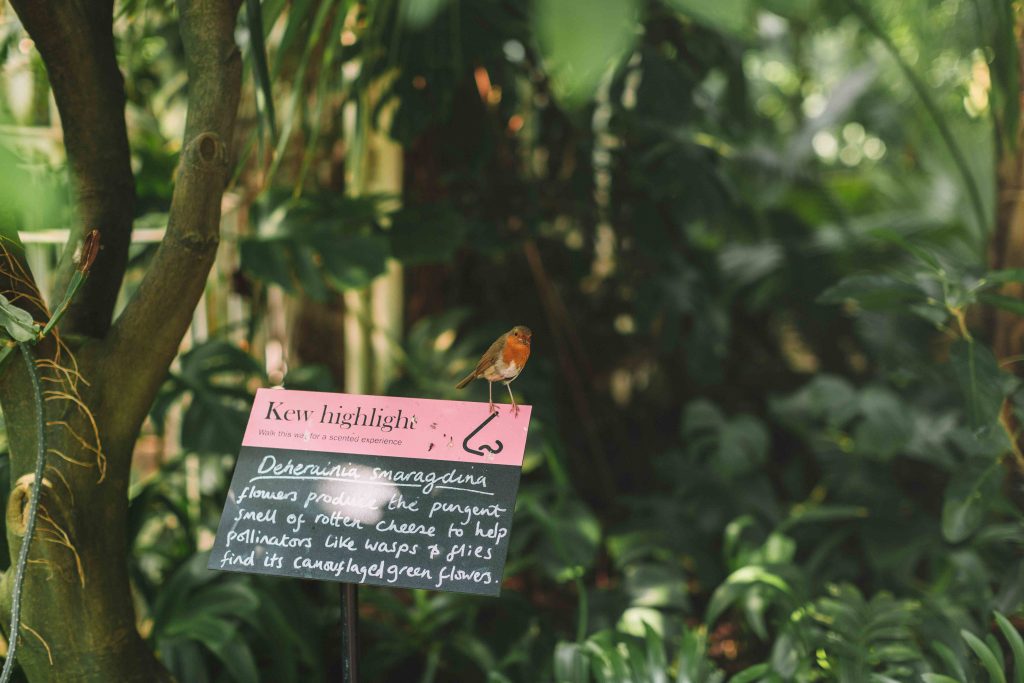 Palm House
Despite it being an unusually hot 31 degrees, we took a deep breath and entered into the gardens most exotic site: the Palm House. Home to the oldest pot plant in the world, this rainforest building is a humid, misty paradise for those looking to escape the British country garden.
Many of the plants found within the Palm House are either endangered or extinct in the wild, and Kew scientists are therefore using them to unlock sustainability solutions for the world's rainforests.
The Great Pagoda, Kew
Admission: the Great Pagoda is free to climb for HRP members.
The heat of the day now settling over Kew, we approached the dazzling Great Pagoda.
'Just to warn you, there are 253 steps to climb', Sophie said breezily we gazed upwards at the 10 roofs and 80 dragons that adorn this Georgian structure. Following a two year restoration project, the Great Pagoda was re-opened in the summer of 2018, having been restored to its full Georgian splendour. Gazing up, I could only commend the brilliant job that the Historic Royal Palaces team had done; the 80 dragons that once covered the pagoda (but mysteriously vanished in 1784) now replaced with light-weight 3D copies that dance in the sunlight.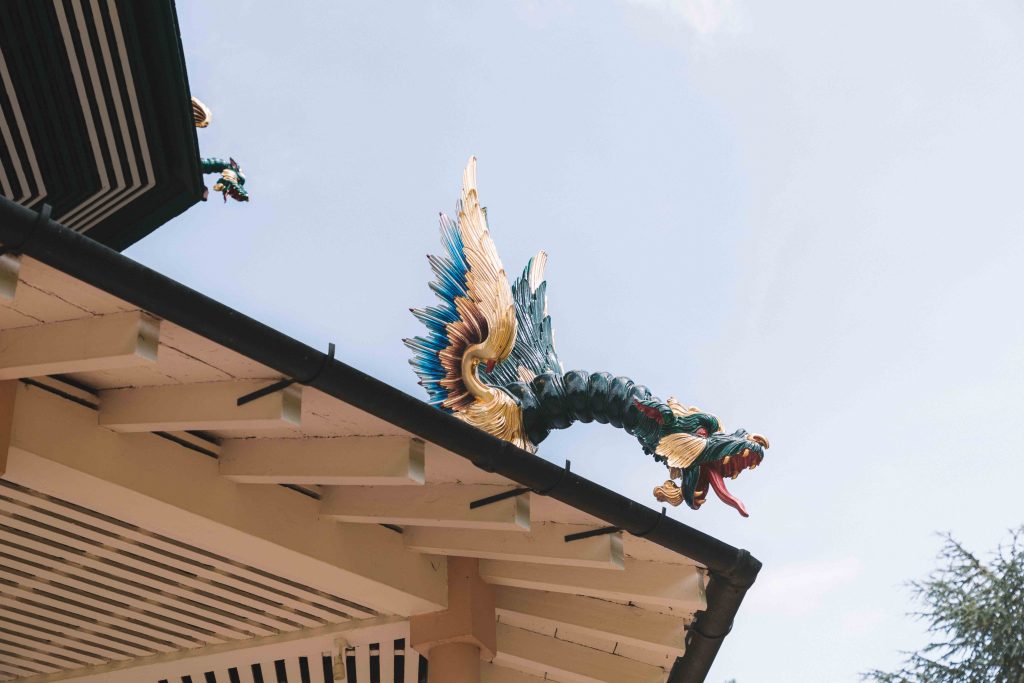 Originally designed by Sir William Chambers, the Great Pagoda was commissioned by King George III's mother: the founder of Kew Gardens.
Designed during a time when Chinese inspiration was extremely popular in English gardens (known as 'Chinoiserie'), the Pagoda was a dazzling triumph – aside from one small detail, that is. According to Chinese tradition, a pagoda should have an uneven number of floors: yet this pagoda has ten. To this day, it's said that Chinese visitors will give a slight shake of the head when discovering this unfortunate oversight.
Having gazed up long enough, it was time to embark on our 253 step journey to the top.
With promised panoramic views over the city of London, I took a deep breath and began the climb; imagining how incredibly tall the building must have seemed in the 18th century. Indeed, upon its completion, Chambers' contemporaries weren't convinced that it was possible for such a structure (50m tall) to remain standing.
Despite their worries, however, the pagoda has survived whilst other buildings on the site, including a Turkish Mosque and Moorish Alhambra, have sadly been lost.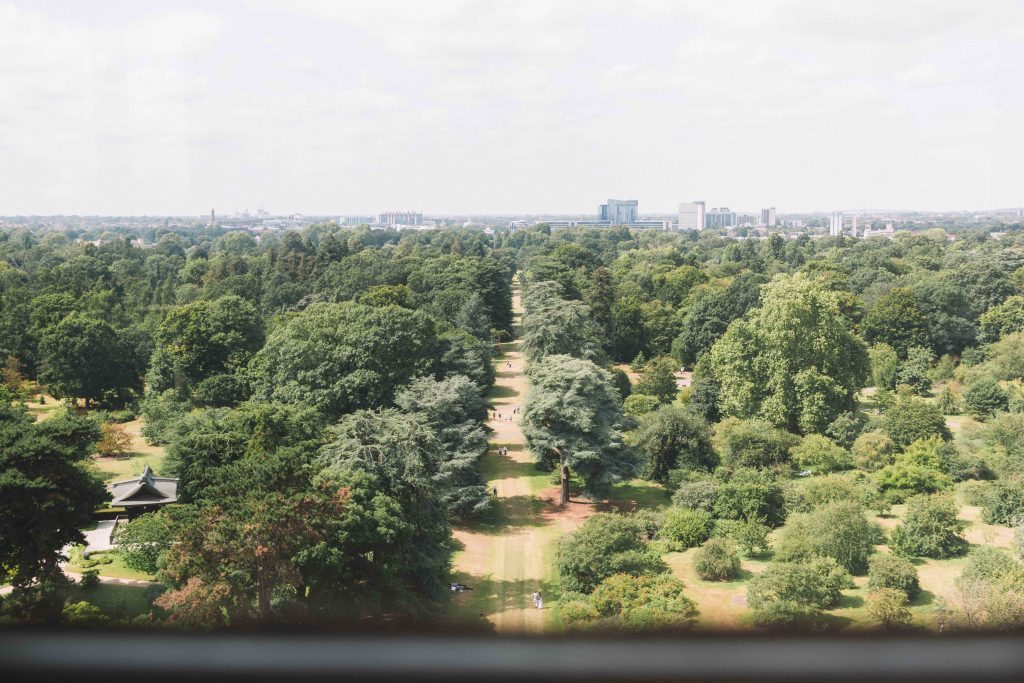 A sweaty ten minutes later and we staggered onto the tenth floor; a cool breeze passing through the windows. From here, the vast expanse of Kew seemed to come to life; the city that surrounded it glinting like a steely forest. For the royal family and its visitors in the 18th century, this view from the tenth floor must have seemed staggering.
Despite being built as a place for leisure, the Great Pagoda took on an altogether different role during WWII. During this time, it was used as a research base by British bomb designers to test their latest inventions.
The Beehive, Kew
For those looking for a slightly more futuristic structure to explore, then head to the fascinating 'Beehive'.
A man-made replica, this dizzying structure provides visitors the opportunity to discover what life is like inside a working beehive. With 1,000 LED lights glowing in time with the vibrations of the honey bees that surround it, this is a brilliant – and somewhat magical – exhibit to experience.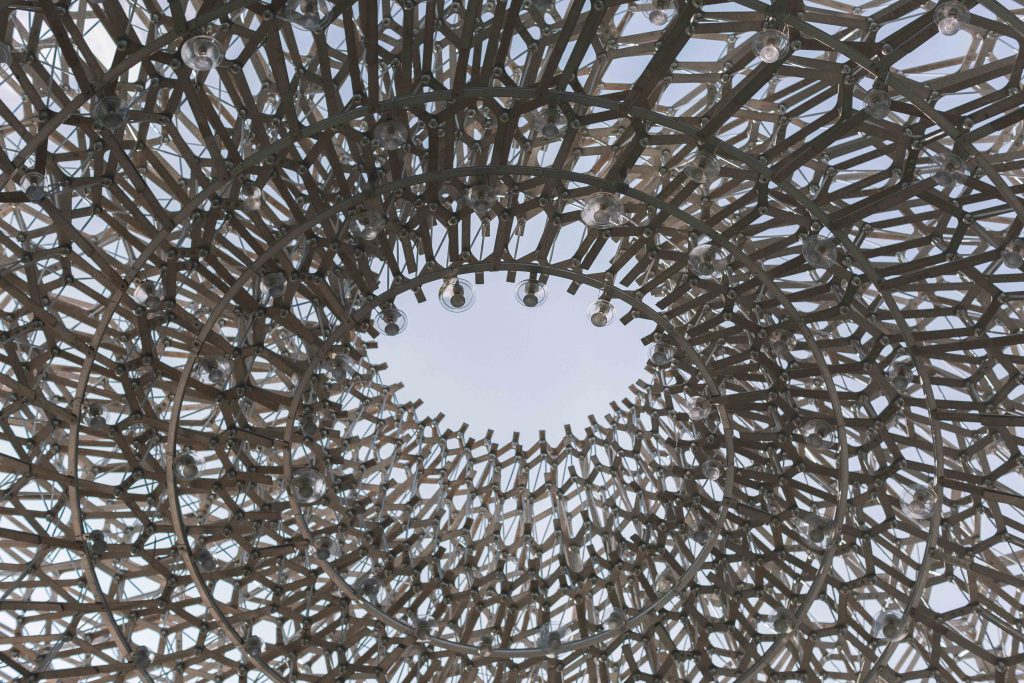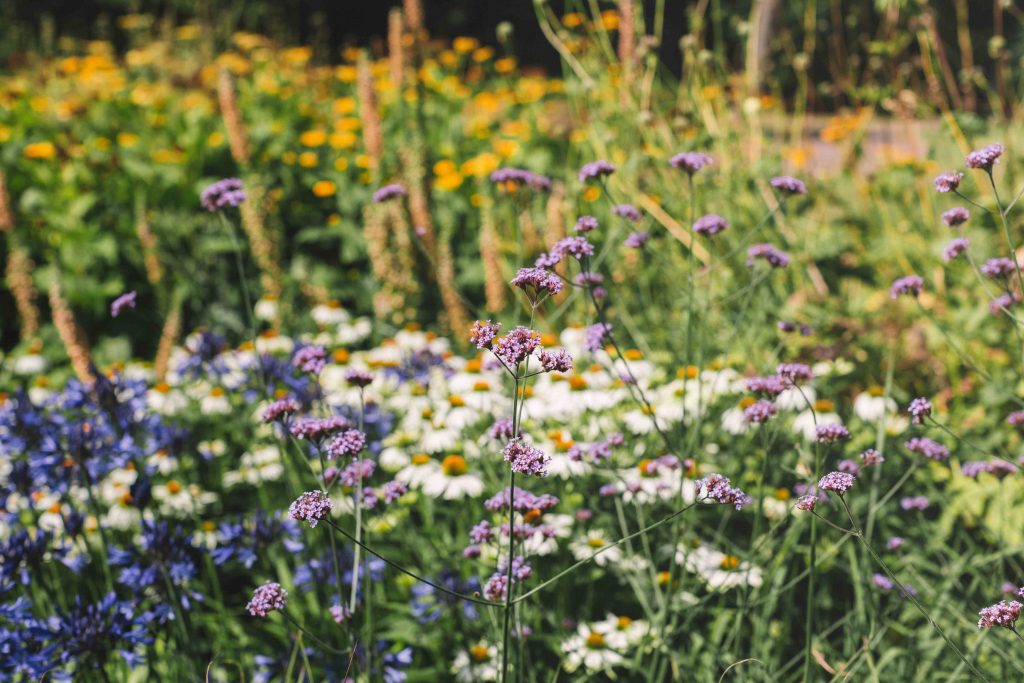 Final Thoughts: Kew Palace and our Historic Royal Palaces Membership
Our legs now aching, we made our way slowly back to the train station. A site so incredibly rich with history and beauty, we concluded that a visit to Kew Palace and the Royal Botanic Gardens of Kew could compete with any European city break or exotic adventure. Tucking my Historic Royal Palaces membership card back in my purse, I felt incredibly grateful to have such a beautiful spot on my doorstep.
This summer, our Historic Royal Palaces membership has reminded us just how much there is to discover, all without ever leaving the UK. Boarding our train home, we felt a rush of renewed excitement as we planned our next Historic Royal Palaces adventure.
Who knew what new royal scandals and stories we had in store.
Pin for later: