Our visit to explore the redevelopment of Hillsborough Castle came about thanks to our sponsored ambassadorship with Historic Royal Palaces (HRP). Throughout the summer months, we'll be using our Historic Royal Palaces membership to gain access to some of the country's most beautiful palaces; exploring the bedrooms and ballrooms once graced by wayward kings and illustrious queens. To find out more about a HRP membership, please see here.
Watching Belfast's skyline flash by, our taxi headed out of the city and towards a destination that I'd been excited to visit ever since our HRP ambassadorship began.
We were here to explore the redevelopment of Hillsborough Castle and Gardens, located in north-west County Down. Since its grand opening in April 2019, I'd heard gushing reports about this royal residence; with testimonies of its homely decor, royal family photographs and newly restored walled garden. They were stories that had left me convinced that if I was lucky enough, I might just catch a glimpse of a royal wandering the grounds.
Naturally, anticipation was high as we entered the picture-perfect village of Hillsborough, a mere twenty minutes later. An unassuming place filled with colourful homes and pretty shops, this village is perhaps not the sort of place you'd expect to find a royal residence. In fact, had we not glimpsed Hillsborough's gleaming gates, it's likely we'd have driven through it altogether.
Below is an overview of our tour of the redevelopment of Hillsborough Castle and Gardens. A royal residence like no other, filled with warmth, history and endless flower-filled gardens, we left Hillsborough with a newly found soft spot for this special family home.
More than just a local attraction, we'd highly recommend taking a long weekend to explore this special castle and the green, rolling downs that surround it.
How to Get to Hillsborough Castle
Hillsborough Castle, located in the village of Hillsborough, is just a short 25 minute car journey from the centre of Belfast.
We flew to Belfast on a quick 55 minute Easyjet flight from London Luton airport the day before, allowing us time for a little bit of sightseeing. Whilst in the city, we stayed at the effortlessly chic Bullitt Hotel, which is located within Belfast's beautiful Cathedral Quarter.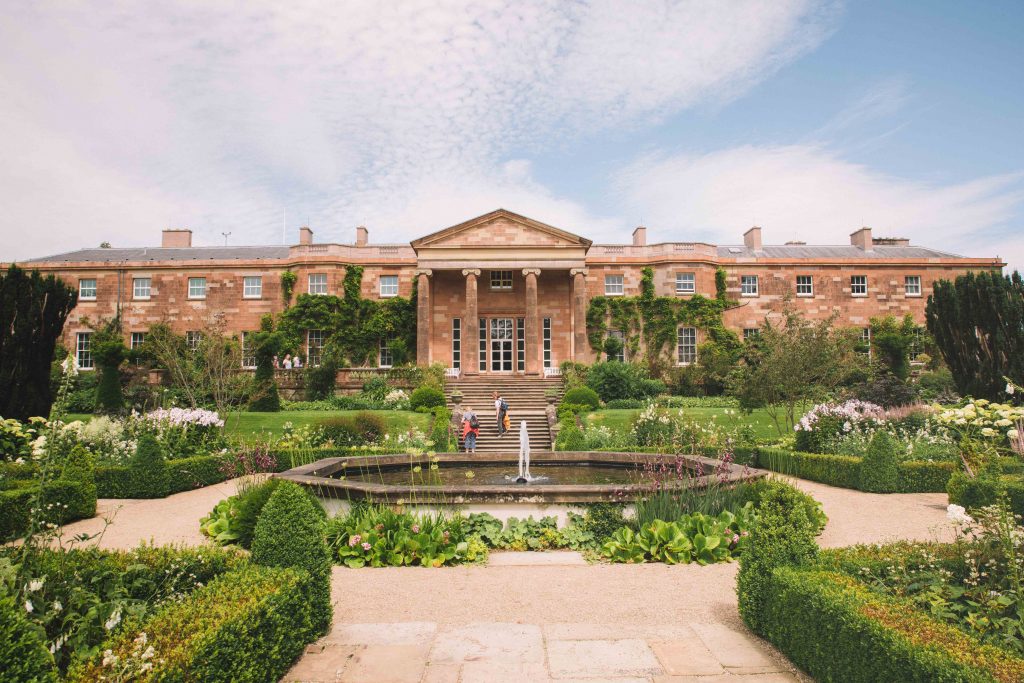 For those driving to Hillsborough Castle (car hire is available from Belfast airport), free parking is readily available at the lower site, located just off the A1.
Hillsborough Castle opening times: Hillsborough Castle is open all year round and you can check opening times here. As the Castle is still used by the royal family, it can close unexpectedly – so do remember to check ahead before your visit.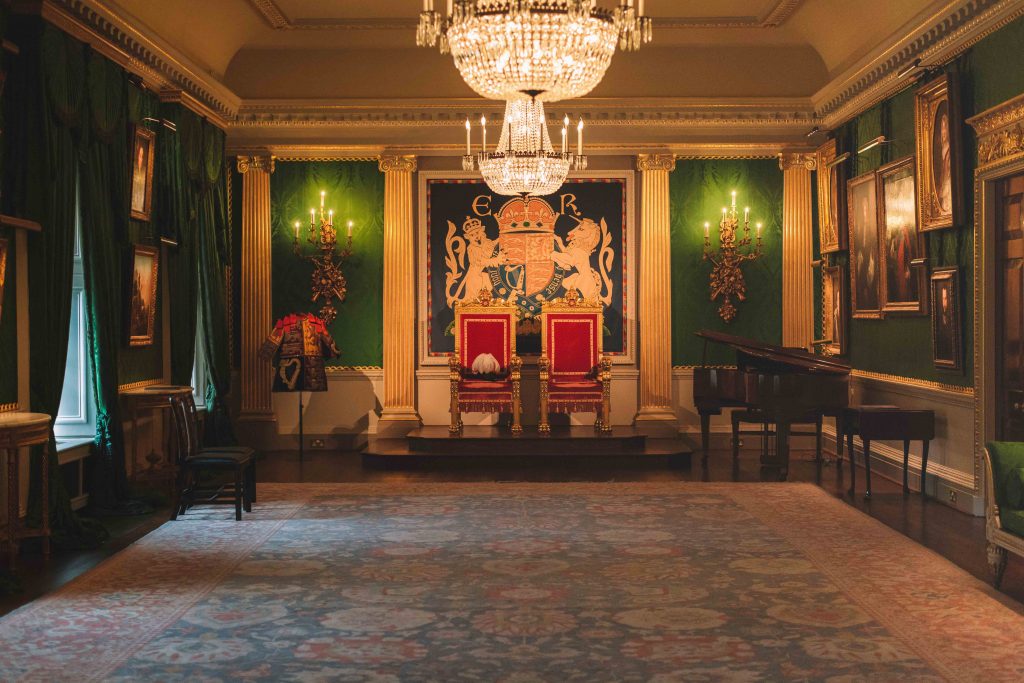 Historic Royal Palaces members are granted free access to both the castle and gardens at Hillsborough. For non-members, you can buy a combined ticket for Castle & Gardens, which includes the guided tour of the house. Alternatively, you can buy a garden ticket separately for those just looking to wander its grounds.
Unlike some of the other Historic Royal Palaces, Hillsborough Castle can only be viewed via a pre-booked 45-minute tour. To book yours, take a look here.
The History of Hillsborough Castle
Like Kew Palace, Hillsborough Castle didn't begin life as a royal residence. Instead, it was built in the 18th century by Wills Hills, the first Marquess of Downshire, as a home for his family. The Hill family were one of the most prominent land-owning families in the area, owning over 130 miles of land that stretched to Dublin.
Despite its name, Hillsborough Castle isn't really a castle at all, but rather a 'Irish Big House'. The title of 'castle' was often given by owners in order to reinforce the antiquity and importance of their family name.
It's a trick that I've decided to employ for all my future homes.
The Hills family made full use of their faux castle, throwing extravagant parties and balls. In 1937, the fort adjacent to the castle was used to celebrate the marriage of Lord Hillsborough, with the family inviting 3,500 of their tenants to the festivities. The wedding was so extravagant, with free-flowing food and alcohol, that 13 people actually succumbed and died of alcohol poisoning.
Those Hills clearly knew how to through a party.
The Hill family continued to live at Hillsborough Castle until the end of the 19th century. By this point, they were spending more and more time at their other estate and eventually decided to sell in 1925.
Astonishingly, the house was bought for just £25,000 by the British Government as the new residence for the Governor of Northern Ireland. Governors had been appointed to represent the monarch in Northern Ireland after the partition in 1921 and continued in this role for the next fifty years.
Hillsborough Castle is now also the official Northern Ireland residence of The Queen, with members of the royal family visiting regularly since 1922. Alongside this, the house still plays host to the Secretary of State for Northern Ireland and with it, critical peace talks.  Indeed, this once 'Irish Big House' boasts quite the political history.
Historic Royal Palaces Redevelopment of Hillsborough Castle and Gardens
With the support of Historic Royal Palaces, Hillsborough Castle and Gardens recently underwent a £24 million pound redevelopment  – formally opening to the public on 18 April 2019. Aside from the refurbishment of the castle's interior, the redevelopment also included the building of two new restaurants, the revival of its walled garden and the creation of a new visitor centre.
The result is a thoughtful renovation that has reinstated Hillsborough Castle as a grand Georgian estate.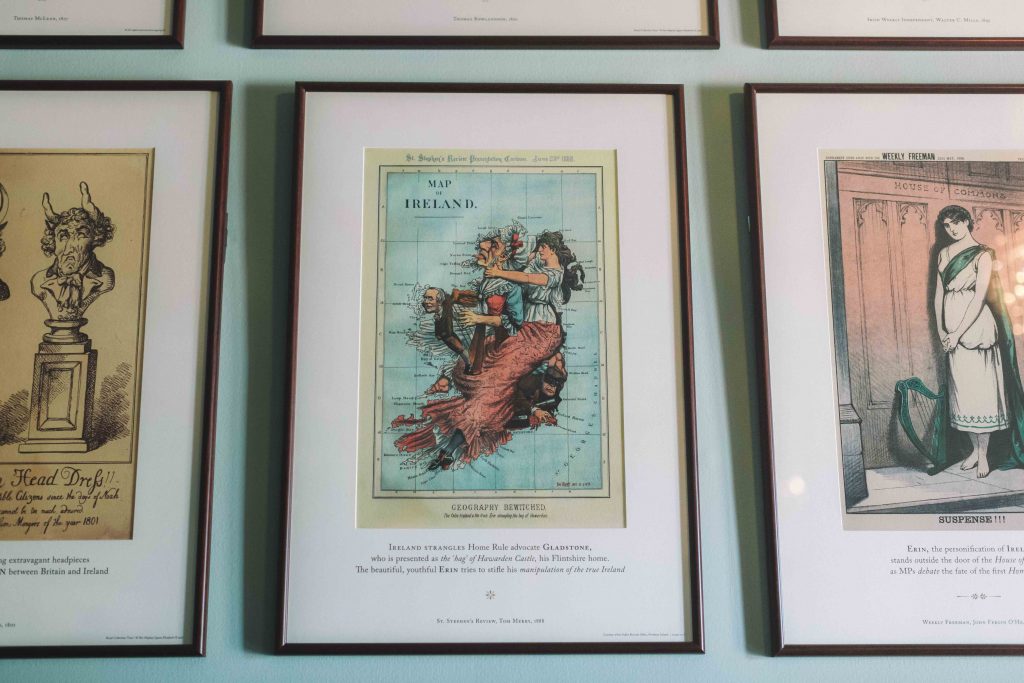 Hillsborough Castle State Rooms
'Welcome to Hillsborough', our guide, Kieron, said – a little glint in his eye.
Making our way through the unassuming entrance (an entrance that Kings, Queens, politicians and – oddly – Gary Barlow, have all used), I was excited to finally be inside the castle that I'd heard so much about.
All guided tours of Hillsborough begin in this State Entrance Hall; a room decorated with portraits of the castle's many  protagonists. These towering paintings are not only impressive, but provide an excellent introduction to Hillsborough, the Hills family and their motivation for building this 'Irish Big house'.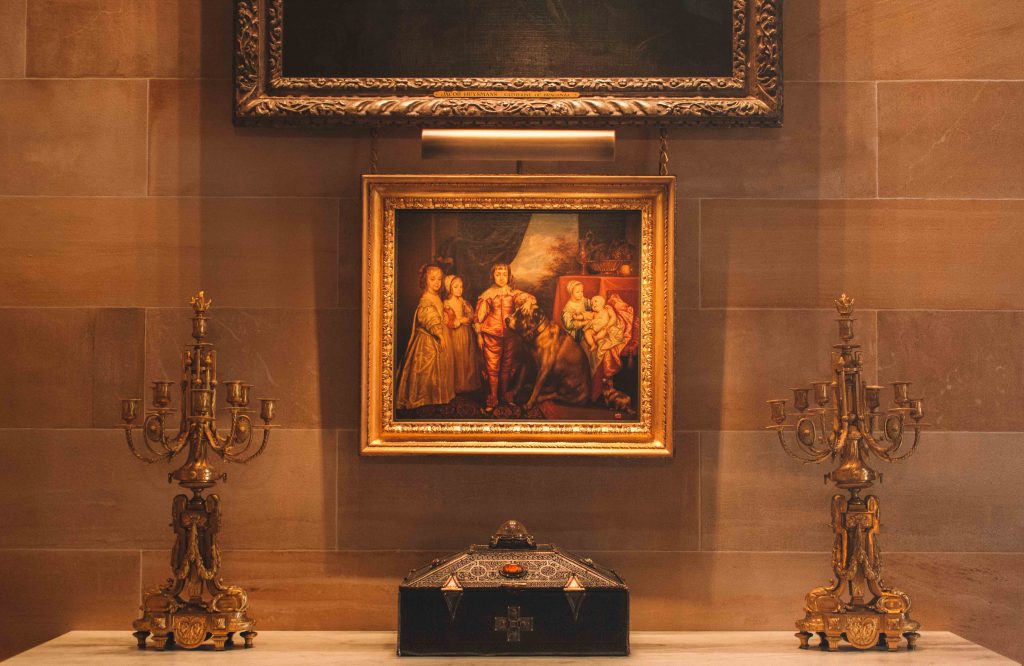 Whilst passing through the entrance, keep your eyes peeled for a shiny spade. This is just one of a number of tools around the castle that are used by the royals during the ceremonial planting of trees.
As mentioned above, the redevelopment of Hillsborough Castle and Gardens involved the careful restoration of its State Rooms. Sadly, a large fire ripped through the castle in 1934 – destroying many of the rooms' original features. Whilst some effort had gone into recovering these spaces, they were left a little worse for wear until HRP's extensive restoration began.
As such, what is on display today is a slice of Georgian glory that hasn't been witnessed at this castle for over eighty years.
The State Dining Room
'There's something for you in the State Dining Room that I think you'll like', Kieron said as we made our way into the first exquisitely decorated State Room.
To my left, I immediately clocked something sparkling on a plush red cushion. 'Before you get too excited',  Kieron warned, 'it's a replica tiara, but one that has been made by the team who made the royal jewels for the series – 'The Crown'.
More than satisfied with this, I stood patiently as Kieron placed the (unexpectedly heavy) tiara on my head. Grabbing a mirror, I stared at my reflection before demanding plenty of selfies. Aged 32, my dream had finally come true – I was a princess.
You'll be pleased to hear that the tiara is on permanent display in the State Dining Room and can be tried on by all guests: whether you're young, old or simply feeling a little diva-esque.
Glittering tiaras aside, the State Dining Room is a sumptuous example of Georgian design. In continual use since it was built, this room has welcomed many monarchs, including the Queen during her Coronation Tour in 1953.  It was also within this room that we learned the story of the humble pineapple; a fruit once so revered that people would hire them for display during dinner parties.
In fact, Hillsborough Castle boasts one of the earliest surviving pineries (a house specifically designed to grow pineapples), dating back to the 1770s. This meant that the class-obsessed Hill family had their own supply of pineapples readily on hand, just in case they needed to impress any visiting guests.
I could almost imagine it myself: 'Wills, grab the pineapple – the Jones' have popped round'.
The State Drawing Room
I have a confession: out of all the palatial rooms I've had the pleasure of exploring as a Historic Royal Palaces ambassador, it's the State Drawing Room at Hillsborough Castle that's been my favourite.
Walking into this flowery, peaceful haven, I hesitated. Were we really meant to be in here? Had Kieron taken a wrong turn? Unlike some of the more regal state rooms that we'd explored, the State Drawing Room felt like something from the royal family's private quarters.
With family photos adorning the room's many desks and surfaces, we looked around in awe – convinced that this was not a room members of the public should be privy to.
A room said to be inspired by the Queen Mother's taste (think: 'Laura Ashley'), the room's pastel decor is based on the feminine 'inter-war' ideal of a country house drawing room. Adorning its tall walls are contemporary works of art by Irish artists and even a watercolour painted by the HRH Prince of Wales himself.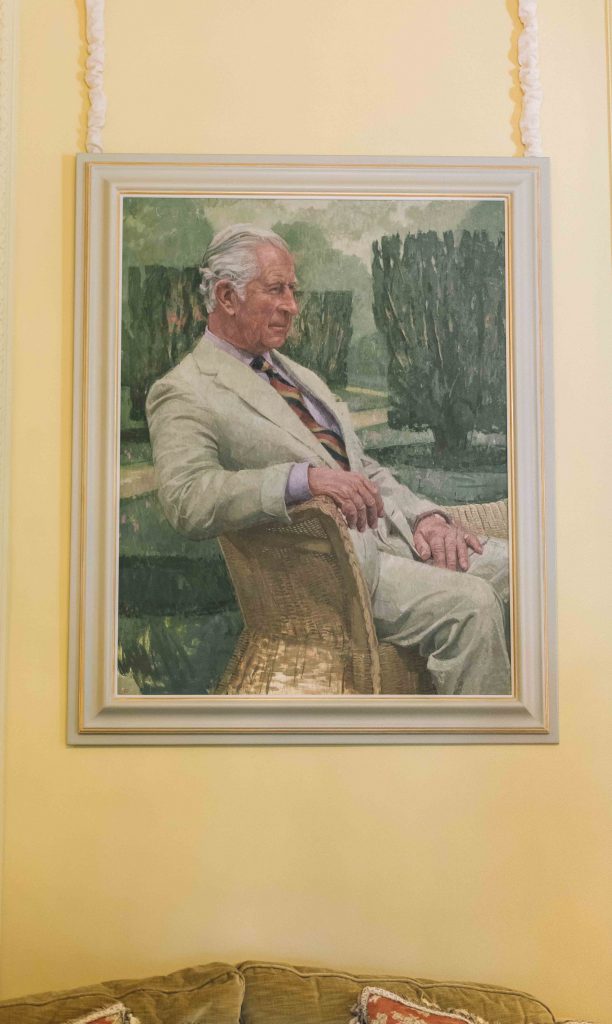 Cosiness aside, however, the State Drawing Room – like most of the castle's state rooms – has played its own important role in our nation's history. Indeed, it's within this room that Margaret Thatcher met with Irish Taoiseach, Garret FitzGerald, in order to sign the Anglo-Irish Agreement in 1985.
The Red Room
'It's time to test your historical knowledge', Kieron said as we made our way into the sumptuously named 'Red Room'.
Opening the door, we entered into what would have once been referred to as a 'cabinet'. Rather than a piece of furniture, a cabinet was a room filled with collections of art, drawings and books. Without photographs to hand, this was the cabinet owner's way to – well, show-off; passing around paintings and exotic books acquired on his or her travels.
Today, the Red Room has been exquisitely restored in keeping with this cabinet design; every inch of its walls filled with paintings and trinkets.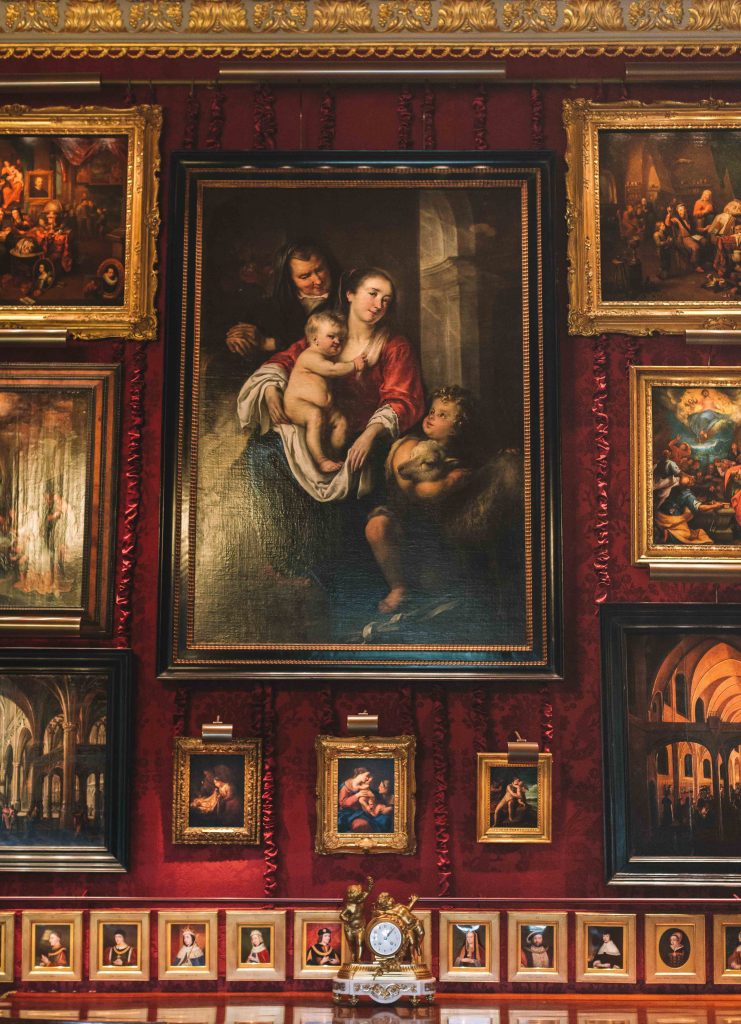 However, it was the small, bone-miniature paintings that really caught my eye.
With a penchant for monarchial history, Prince Albert commissioned this beautiful collection of 40 miniature portraits of British sovereigns and consorts in 1943. It's said that he and Queen Victoria would use them to test their knowledge of the family tree; like a slightly more ornate version of 'Guess Who?'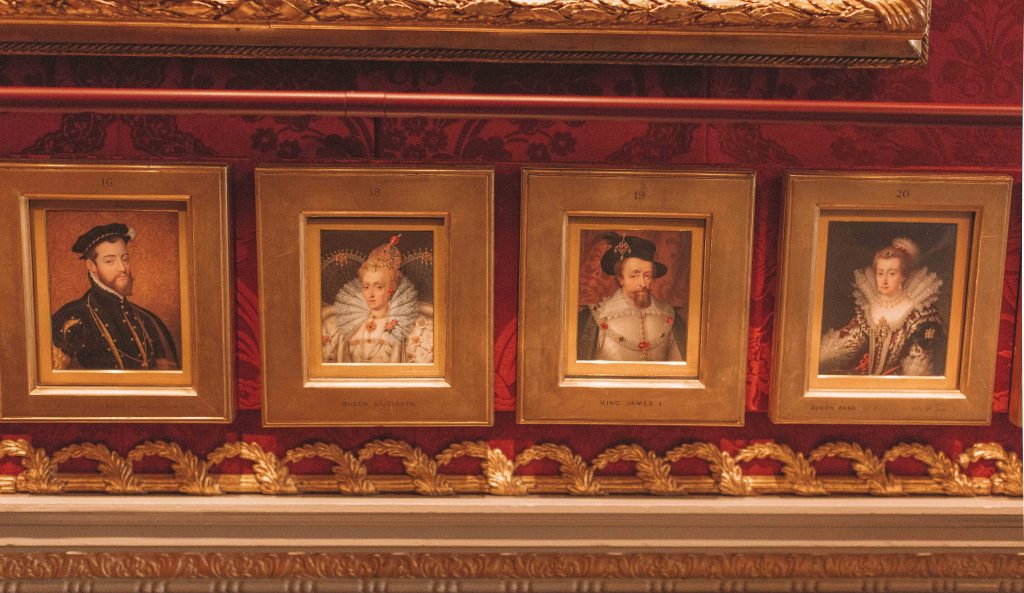 'Do you think you could name them all, then?' Kieron asked as we stared at the paintings' unimaginable detail. To save our blushes, we won't tell you how we did, however – you can test yourselves here, on Hillsborough Castle's own Instagram page.
Lady Grey's Study
Walking into Lady Grey's Study and we were met with a duck egg blue delight of a room.
Created in 1936, after the great fire, the study was formally part of the servants' staircase, before it was turned into one of the more peaceful corners of the castle. Named after Lady Grey of Naunton – the wife of Lord Grey of Naunton and last Governor of Hillsborough Castle – this room is peaceful, intimate and welcoming.
The room, like many of the state rooms, has played host to many key political figures and is said to be former Secretary of State, Mo Mowlan's, favourite room in the castle.
Staring around this beautifully restored room, Kieron casually pointed at the two chairs that sat either side of the fireplace. 'Oh, and George W Bush and Tony Blair sat here, during secret talks regarding the invasion of Iraq.' Stopping in our tracks, we stared at the two unassuming chairs; slightly in awe of just how much history had taken place within these four peachy walls.
The Redevelopment of Hillsborough Castle Gardens
Our fascinating tour now complete, we stepped out of Hillsborough's softly lit state rooms and into the dazzling July sunshine.
Waiting for us was the incredibly knowledgable, Claire Woods, Head Gardener at Hillsborough Castle. Along with a dedicated team, it's Claire's job to care for the extensive 100 acre grounds of Hillsborough Castle; a task that is no mean feat.
As with the redevelopment of Hillsborough Castle, the gardens have also undergone extensive restoration and are continuing to be revived to their former glory. For all garden lovers out there, Hillsborough's grounds are a true delight to explore; littered with history and hints of exoticism.
During our stroll through the gardens we passed between peaceful woodland, trickling streams, sweet-smelling rose gardens and the tranquil Lady Alice's Temple. Taking a seat on the Temple's bench, Claire told us how Tony Blair had sat in this same spot during his talks with George W Bush. Mo Mowlan is also said to have retreated to this tranquil spot when she needed time away from her tense political agenda.
Gazing out of the Temple and across the gardens, it was easy to see why these highly strung politicians found such solace here; it's a truly beautiful place.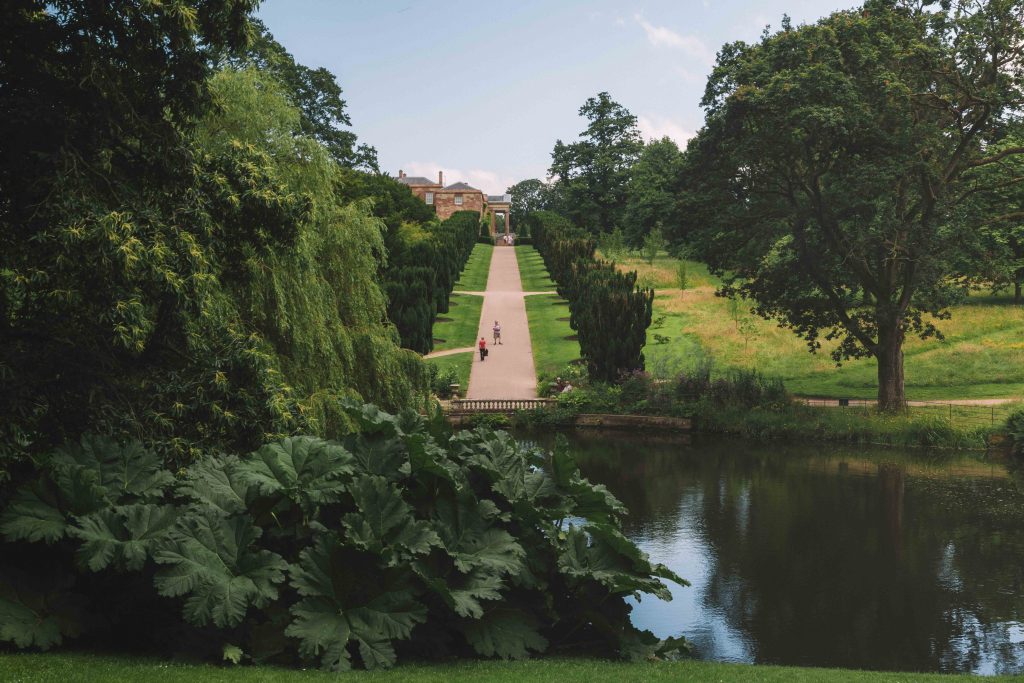 Hillsborough Gardens were developed from the 1760s onwards, and as such, are still revealing themselves to the current gardeners.
As we walked through a section of woodland, Claire explained that palm trees had been discovered here, hidden amongst the thick native vegetation. Keen to preserve what would have originally been here, the woodland has now been cut back and the palm trees preserved in order to reinstate the garden's once exotic feel.
Hillsborough Castle's Walled Garden
Looking at our itinerary, my eyes were drawn to a particular job title.
According to our piece of paper, we were now about meet the 'Keeper of the Walled Garden'; a slightly mythical title that I was more than a little jealous of.
The Keeper of the Walled Garden turned out to be the very friendly Adam Ferguson, who was clutching some newly harvested carrots as we shook hands. The Walled Garden now alive with organic produce such as green beans, potatoes, berries, cabbages and rhubarb, it was hard to imagine that just over a year ago, this spot was simply a field filled with grazing sheep.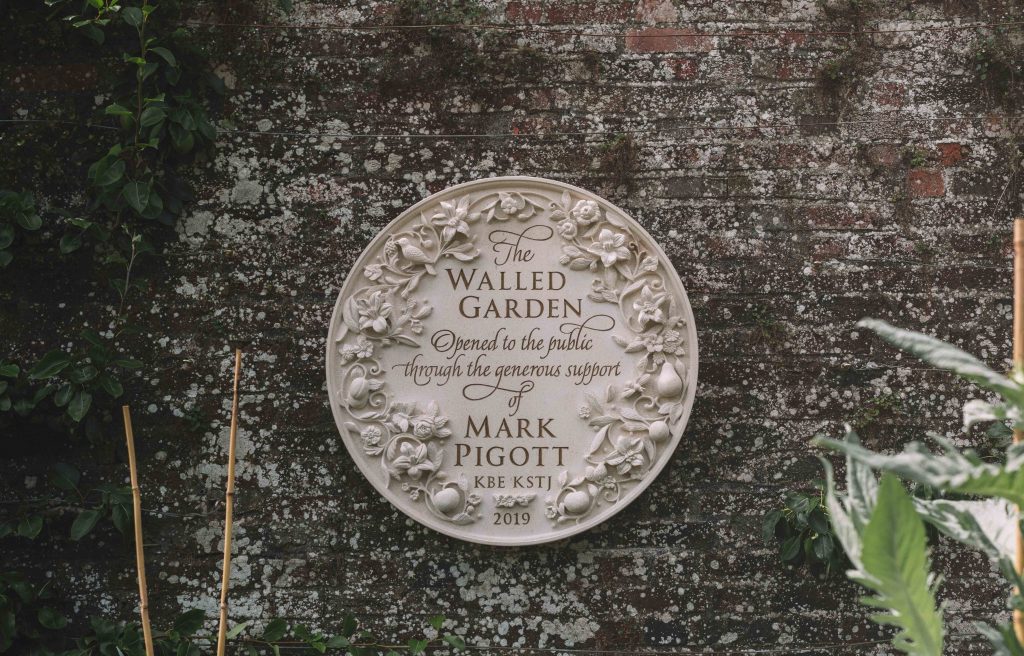 Indeed, the Walled Garden was very much part of the redevelopment of Hillsborough Castle and Gardens. Thanks to an incredible amount of hard work, the 4 acres of garden have now been returned to the traditional 4-quadrant layout; every inch of this land overflowing with flowers, herbs, produce and topiary.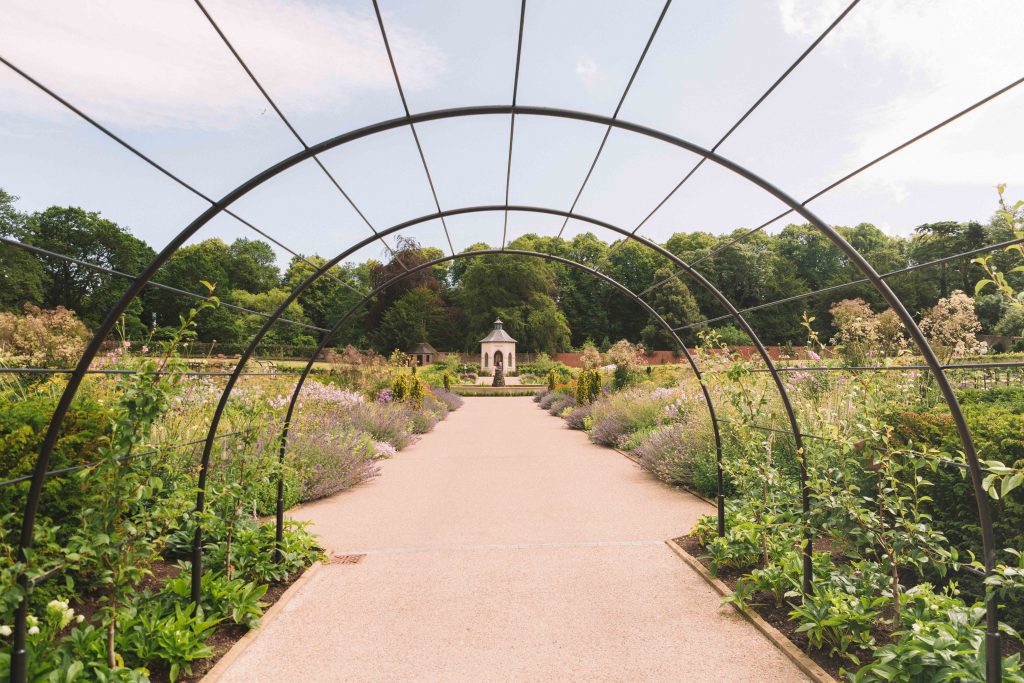 Wandering through the flower beds, busy bees visiting wild flowers and volunteers harvesting baskets of runner beans, Adam provided us with an incredibly knowledgable tour of this working garden; describing the many hours of work that go into keeping this small oasis thriving.
And the best bit? Watching as the harvested produce was immediately walked up to the castle's 'The Yellow Door' restaurant. Indeed, with lunch time just around the corner, we'd be seeing those carrots again very soon.
Summer Events at Hillsborough Castle and Additional 2019 Tours
As with all the Historic Royal Palaces, Hillsborough Castle and Gardens have some brilliantly creative events and tours happening over the summer months.
Below is just a small taste of what is to come:
1. Horrible Histories
The incredibly popular 'Horrible Histories' will be visiting the castle with a live stage production of 'Gorgeous Georgians and Vile Victorians,' performed in the gardens. This production will take place Saturday 10th – Wednesday 14th August 2019. Find out more here.
2.  Hillsborough Castle Family Tour
The family tour has been created with families and children in mind (aged 5-11). As with the traditional tour, the family tour will take you through the castle's state rooms to uncover the intriguing belongings left behind by their former residents.
3. Hillsborough Gardens
There is plenty to help children explore the grounds of Hillsborough Castle this summer, including 'bugnoculours' and bug identification kits.
4. LGBTQ+ Tour of Hillsborough Castle
Perhaps one of the most interesting tours coming up at Hillsborough Castle and Gardens this year is the new LGBTQ+ tour. The tour follows the changing attitudes towards sexuality and relationships over Hillsborough's rich 300 year history and will run on the 31 August, 28 September, 26 October and 30 November 2019.
Final Thoughts: the Redevelopment of Hillsborough Castle and Gardens
With home time fast approaching, we headed to the castle's restaurant for one final mug of Irish tea. Gazing out over the walled gardens, the sun continuing to shine down, I felt a pang of jealousy that Adam and Claire get to enjoy these beautiful grounds all year round. Nestled away in their sleepy village, the castle and its staff seemed to live in an almost alternate universe; a sublime and beautiful Georgian world.
A beautifully restored former 'Irish Big House,' with exquisite gardens, the redevelopment of Hillsborough Castle and Gardens is a true delight to explore.
With Claire promising us that the gardens have something new to see every season, we'll certainly be back very soon.
Read about our other Historic Royal Palaces visits:
Pin it: