'You're going where?' Mum asked, interrupting my attempts to update her on my whereabouts over the coming month. Mildly annoyed that she had disrupted my finely-tuned recital – complete with flight numbers and departure dates – I repeated: 'We're going to Margate, Mum. The place by the sea.'  Clapping her hands so loudly that the cat leapt from her lap, she spent the next hour spinning tales of her childhood, or more specifically – tales of her childhood summer holidays in Margate. "There are SO many things to do in Margate," she said, "You're going to love it."
As children who mostly spent their summer holidays on the Costa del Sol, her stories of those hazy, English summer days left me feeling mildly envious. Tales of visiting the town's theme park – Dreamland – with her four siblings; their pockets lined with bags of 2ps ready for the slot machines, sounded idyllic. They would spend their evenings feasting on fish and chips on the beach; the salty sea air adding its own hint of flavour, and build sandcastles on the golden sands. I left my parents' house feeling a bubble of excitement at the prospect of our own upcoming micro-adventure to the English seaside. The time had come – albeit 20 years later than most – to carve out our own seaside memories in a town that had provided my Mum with so many of her own.
And so, a few days later, squeezing the car boot shut as picnic baskets, walking boots and sun hats made their bid for freedom, we set off on the 2.5-hour drive to the Isle of Thanet, the most easterly point in Kent. Also known as the 'Garden of England', this is where nostalgic Margate sits; overlooking golden beaches and clear waters. Plugging in my specially curated playlist for the journey, we set off from Milton Keynes with the optimistic, 'Here Comes the Sun', record blaring from the car.
Below is a summary of what to do in Margate: a (hopefully) useful guide for anyone planning a trip to this beautiful spot by the sea.
A Guide to Things to Do in Margate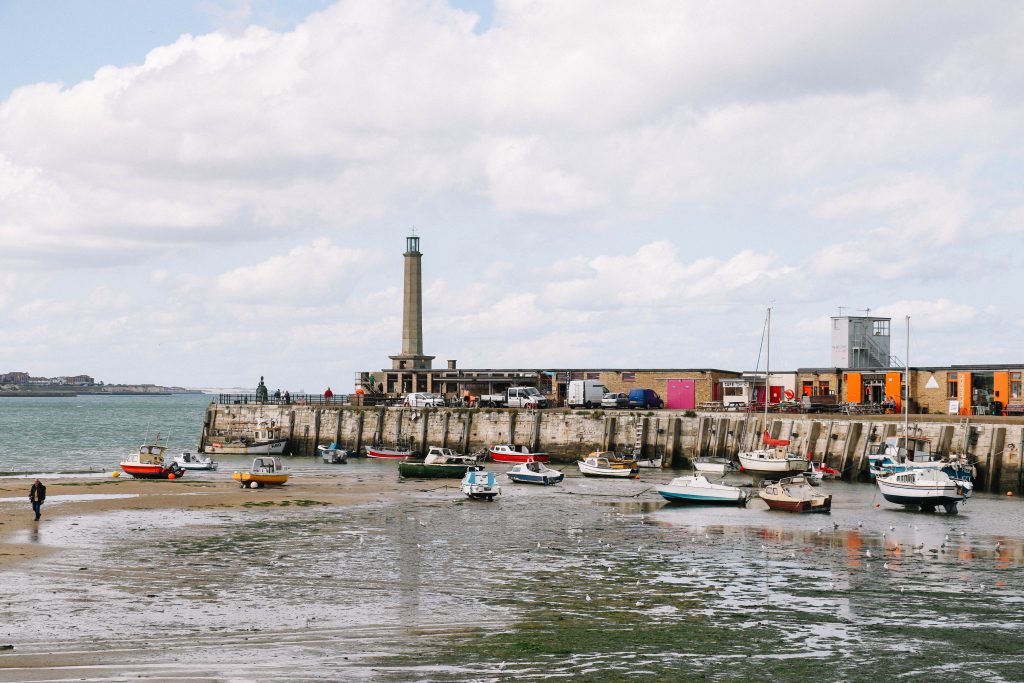 Seagulls soaring overhead, we arrived in Margate a few hours later; the smell of salty seaweed wafting through the open windows as we pulled up. Originally named 'Meregate' – meaning marsh gate due to its location between two tidal creeks – Margate was one of the first seaside resorts in the UK. A town of firsts, it was also the pioneer of deck chairs and donkey rides. The beach already crowded with sunbathers and brave souls plunging into the sea, we walked along the beach front to our first stop in Margate: the Turner Contemporary – one of the UK's leading art galleries.
Things to do in Margate: Turner Contemporary
Not somewhere we would have associated with the seaside, this leading art gallery sits where JMW Turner once lived, fervently devoting many of his years to capturing the vast expanse of skies that surround this coastal town. Since opening in 2011, this small but perfectly formed gallery has welcomed over 2 million visitors.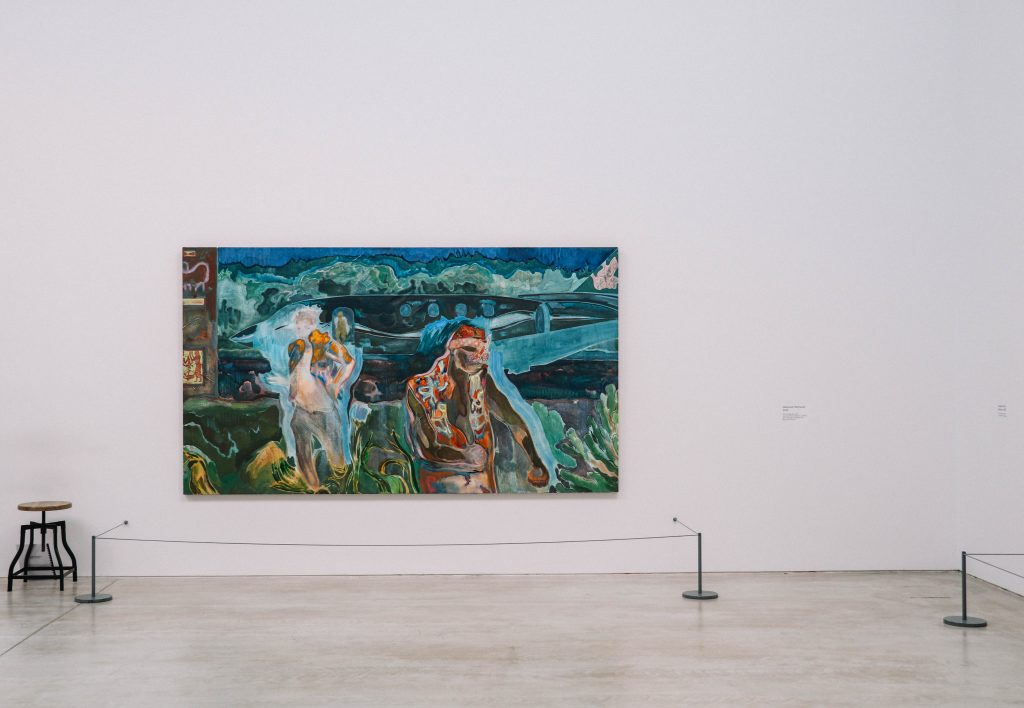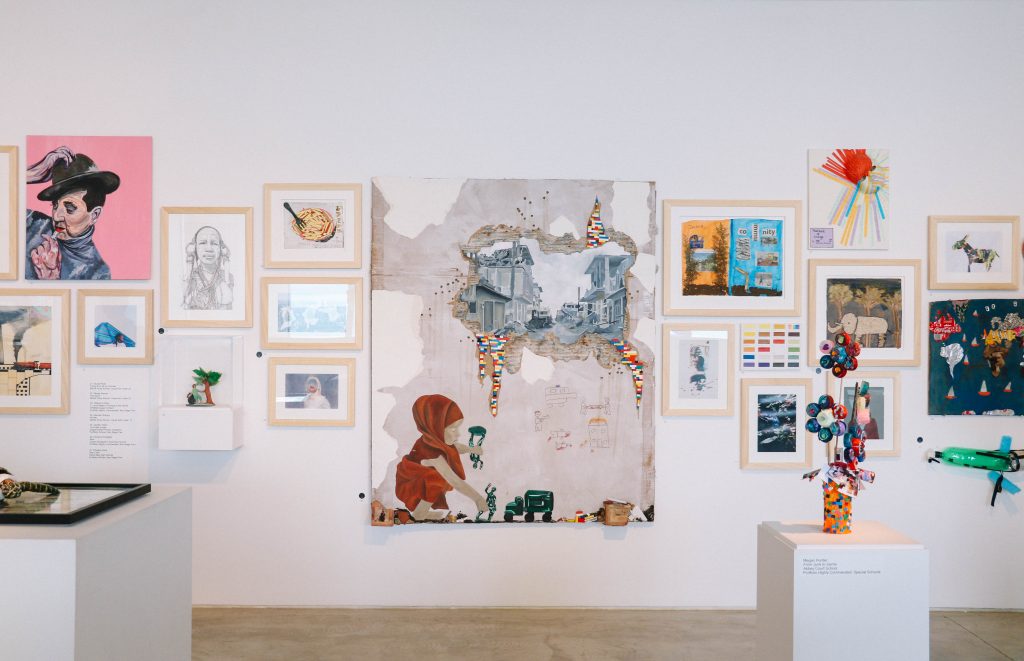 Phyllida Barlow's exhibition of large, colourful sculptures was our first sight, followed by Michael Armitage's brilliant exhibition of large oil paintings applied to traditional lubugo bark cloth. His paintings explored cultural and political attitudes in Kenyan society, and filled the white walls of the exhibition space with both colour and vibrancy. A small selection of Turner's watercolour sketches were also on display; a nod to an artist whose work is now synonymous with this small piece of England.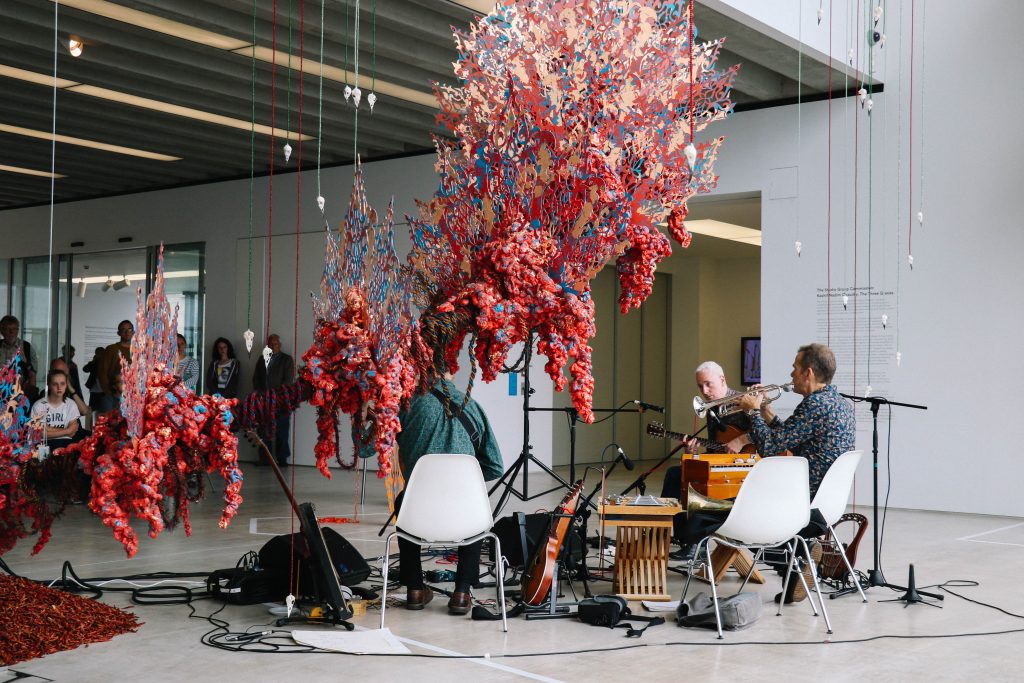 Exploring Turner Contemporary was a fantastic way to introduce us to Margate: proving that this once clichéd ageing seaside town, has much more to offer than chip vans and recollections of a golden heyday.  Following our tour, we had lunch in the gallery's restaurant – our table overlooking the sea as the tide swept out and seagulls raced in to assess the debris. We'd only been in the UK's first seaside town for a couple of hours but were already completely charmed by it; our excitement levels only increasing at the thought of our next stop.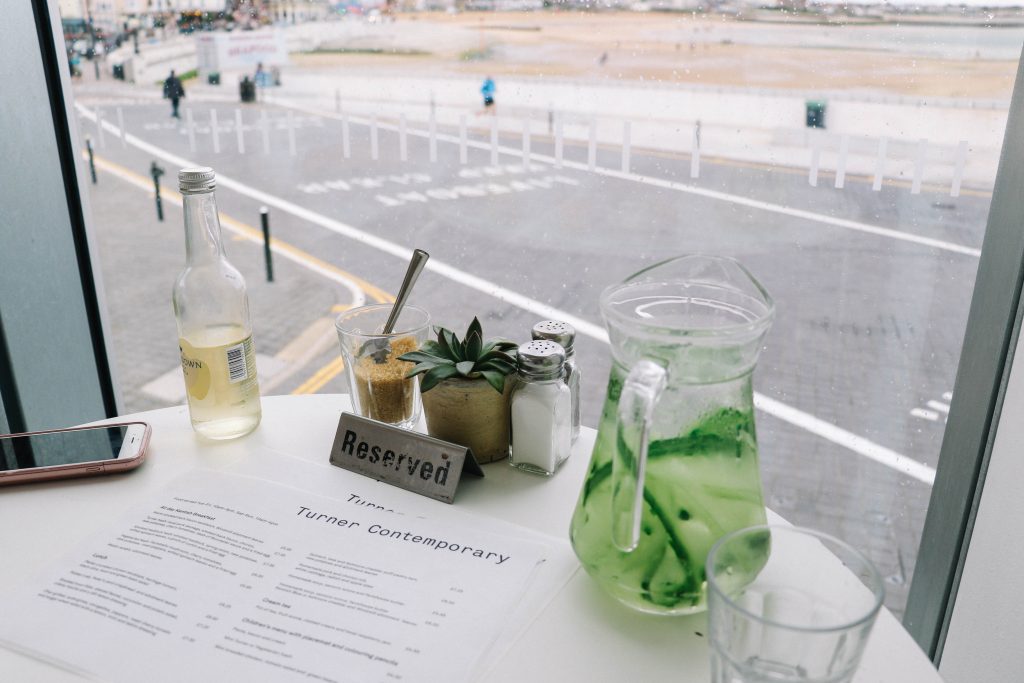 Things to Do in Margate: Visit Dreamland
Stepping through the gates of Dreamland – a place that had once welcomed my Mum and grandparents – was like stepping into a by-gone era; the colourful helter-skelter reflecting the sun in rainbow colours across the park.  Once one of the UK's top ten visitor attractions, Dreamland had originally been home to a zoo, a miniature railway, a cinema and ballroom. It was one of the UK's oldest surviving amusement parks before it was threatened with closure in 2003 to make way for a new housing estate.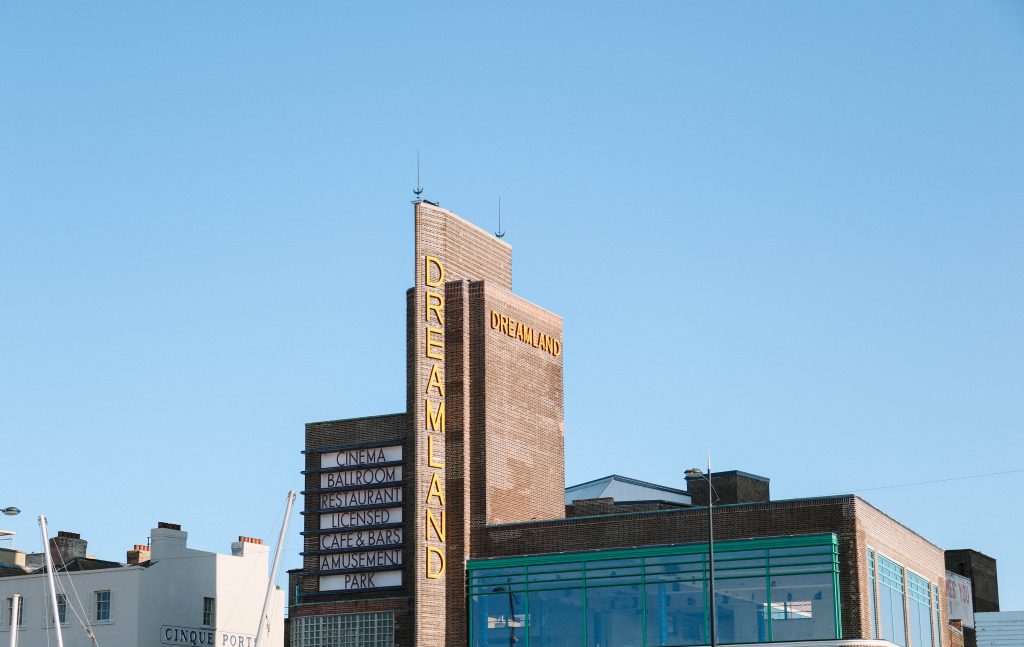 A 'Save Dreamland' campaign, however, secured the park an £18 million investment, and it reopened in 2015; a bright, candy-filled phoenix from the flames. Many of the rides in the park have been meticulously and lovingly restored since the 1920s, including our favourite ride – The Scenic Railway. This wooden rollercoaster, led by a bright turquoise dragon, was the first ride to capture our attention as it hurtled past the entrance; ride-goers shrieking with delight as they raised their arms in the air. Bubbles floated into the sky and children with giant pink candyfloss clouds walked excitedly past; the sun beating down on us all.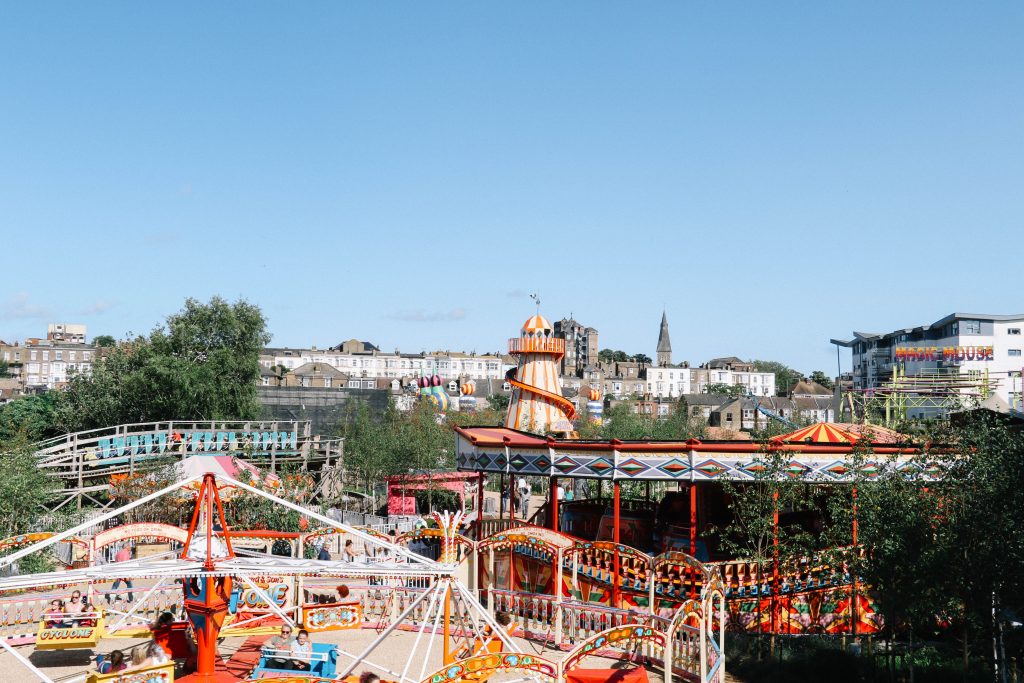 Dreamland seemed like the happiest place on earth.
Our afternoon was a glorious blur of rides, including the helter-skelter; dodgems; mirror maze; swings; Ferris-wheel; wooden rollercoaster; and bouncy castle – all enjoyed under perfect clear blue skies and fluffy white clouds. The food at Dreamland is as carefully considered as the rides, with an authentic Street Food Market offering fish and chips, tacos, pizzas, Asian delicacies, vegetarian food and, most importantly, vegan candy floss!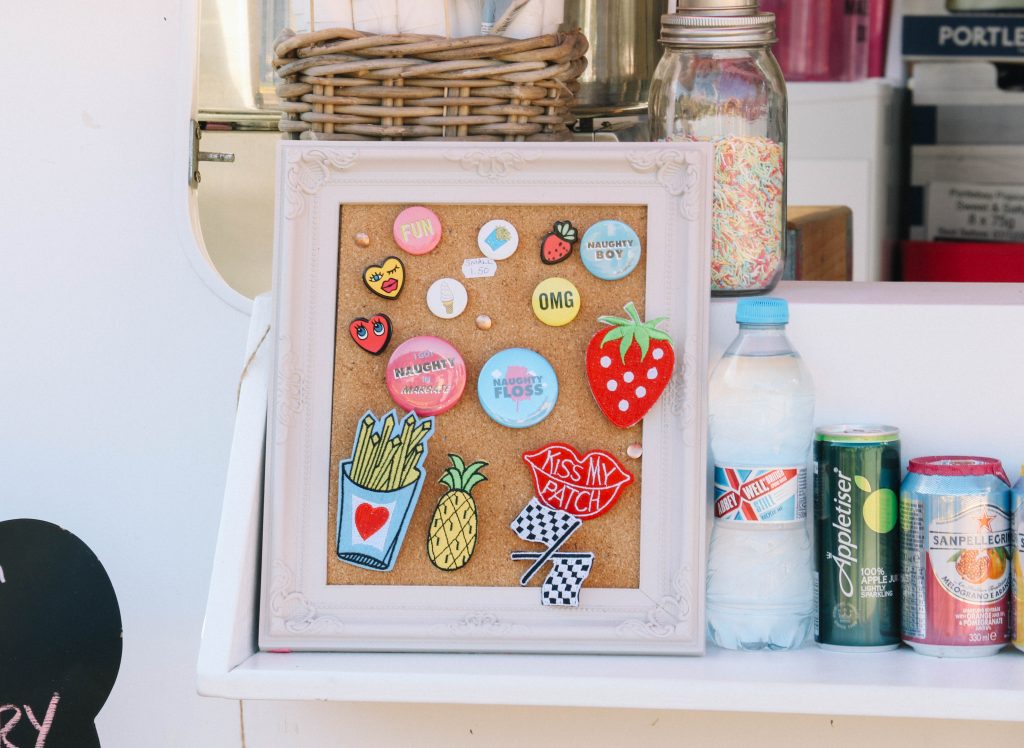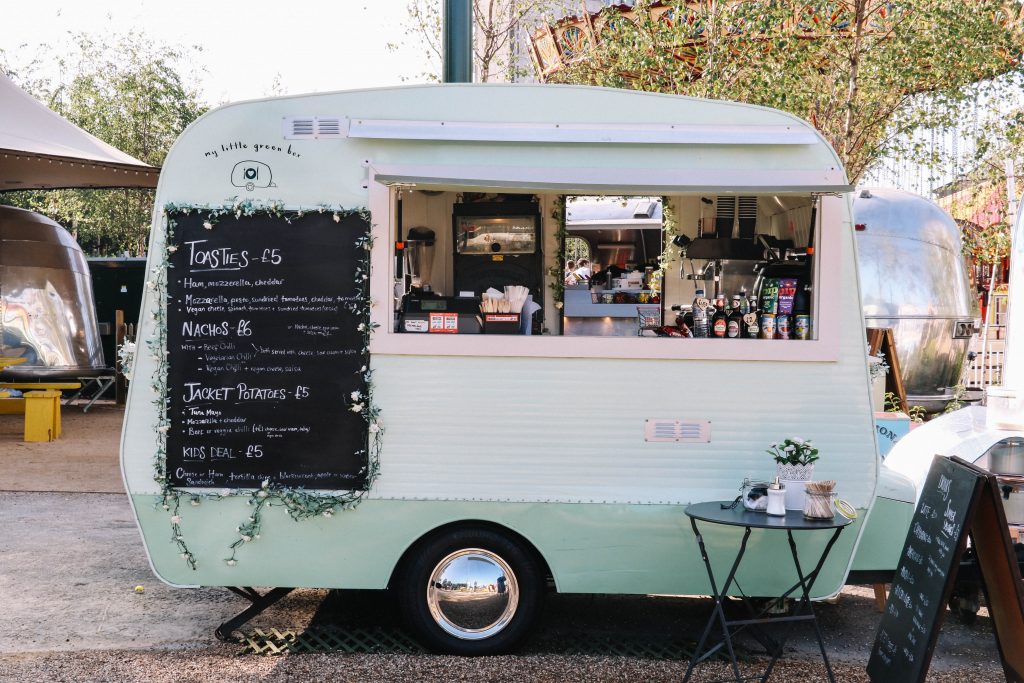 Lazily chewing on a salty chip, I watched a little girl shriek with delight as she flew down the 'Born Slippy' slide into the arms of her Dad; her happiness palpable through the sticky, summer heat. It reminded me of one of my Mum's own memories and it was lovely to think that Dreamland was still creating such treasured childhood recollections so many years on.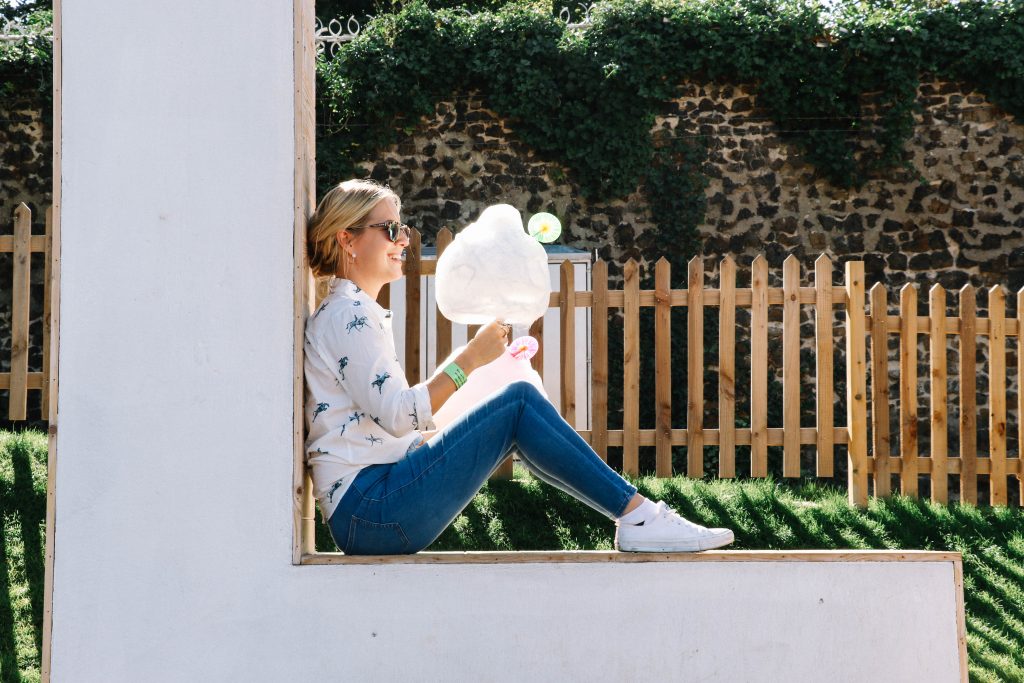 After ensuring that we had covered every ride the park had to offer, and having tasted more varieties of candy floss then we dare to admit to our dentist, it was time to say goodbye to this happy bubble known as Dreamland. Our final activity before leaving the park was a game on a (strangely addictive) vintage pinball machine from the 1980s: a fitting way to end our retro afternoon in the sun.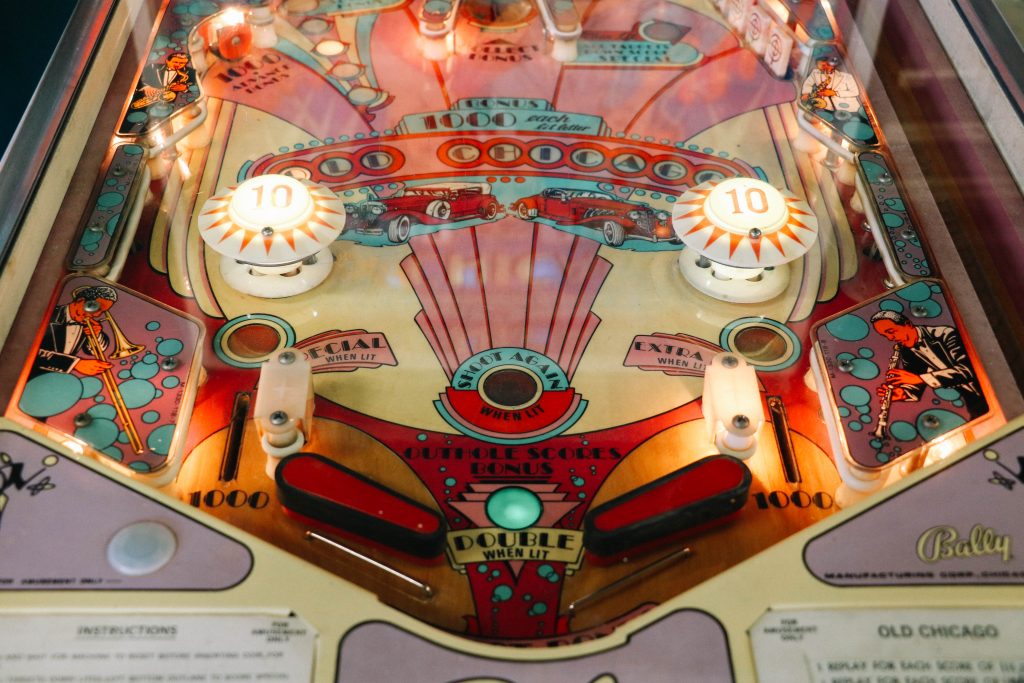 Making our way down to a quirky double decker bus – one that was finding a new lease of life as a beach café – we settled on the seafront to lap up the final warmth of the sun's rays and indulge in our favourite past time: people watching. Sandy dogs – tongues and tails wagging – played in the sand, whilst their owners gazed out to sea. As is common in any destination we visit, we let our minds wander to what a lovely life those living here must have: the thought of Sunday strolls along the beach before a roast in a cosy pub, selling this lifestyle all too easily. As the sun began to dip over the late August evening, it was time to head back to our hotel – the Sands Hotel Margate – for a final evening treat.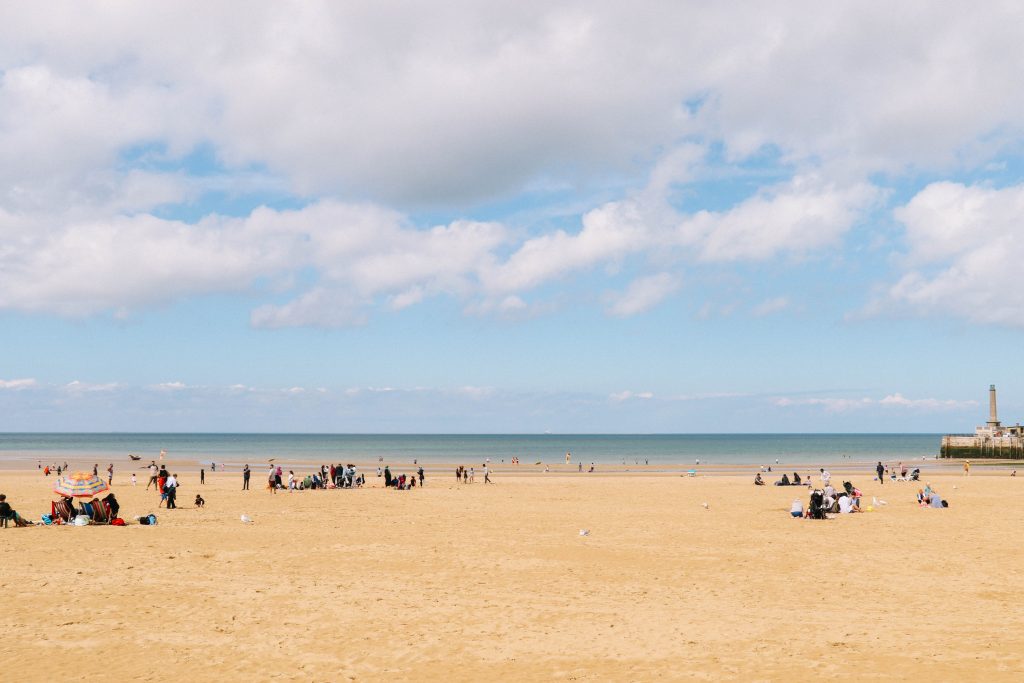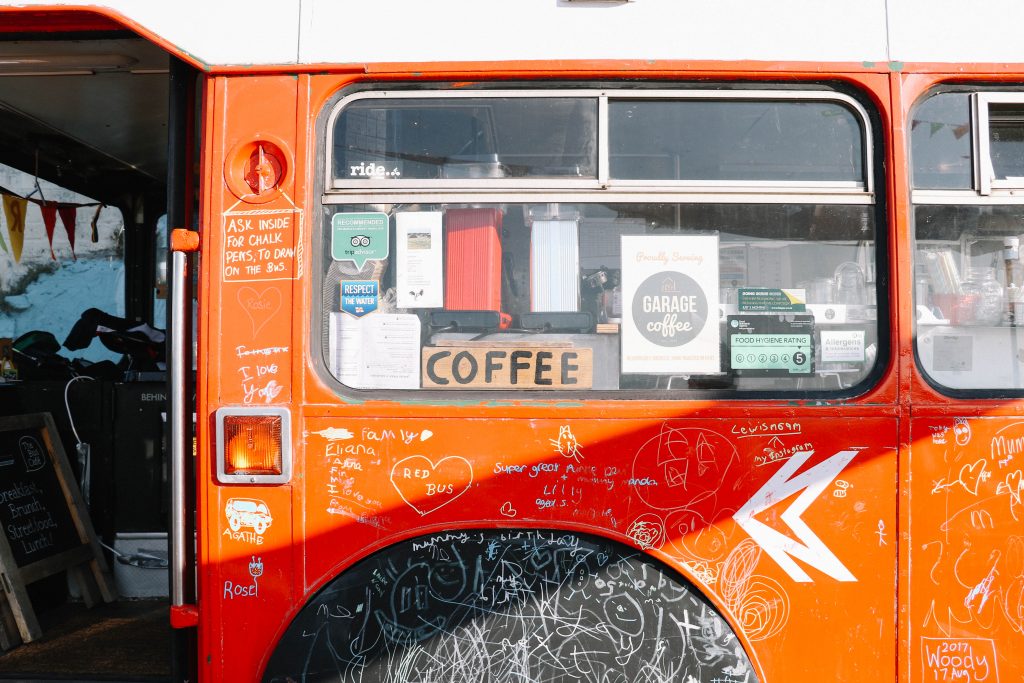 Things to Do in Margate: Rooftop Evening Drinks
Opening the door onto the rooftop terrace of the Sands Hotel – the breeze throwing our hair across our eyes in messy clumps – it took a moment to notice the scene surrounding us. The sky was the same colour as that fluffy pink candyfloss we'd eaten so greedily earlier; stretching in pastel swirls as far as the eye could see. Nestling into a giant sofa and with a glass of prosecco in hand, we toasted Margate as we watched the sun slowly dip below the horizon. It was one of the most beautiful sunsets we've had the privilege of watching. Indeed, in the words of Turner: 'The loveliest skies in Europe are over the Isle of Thanet'.
We couldn't have agreed more.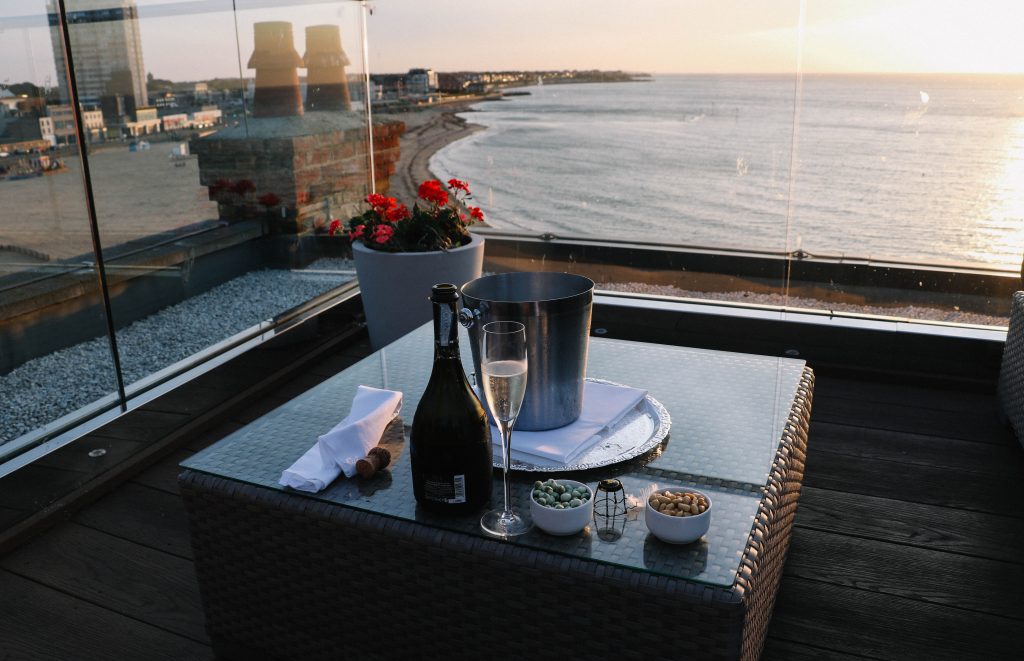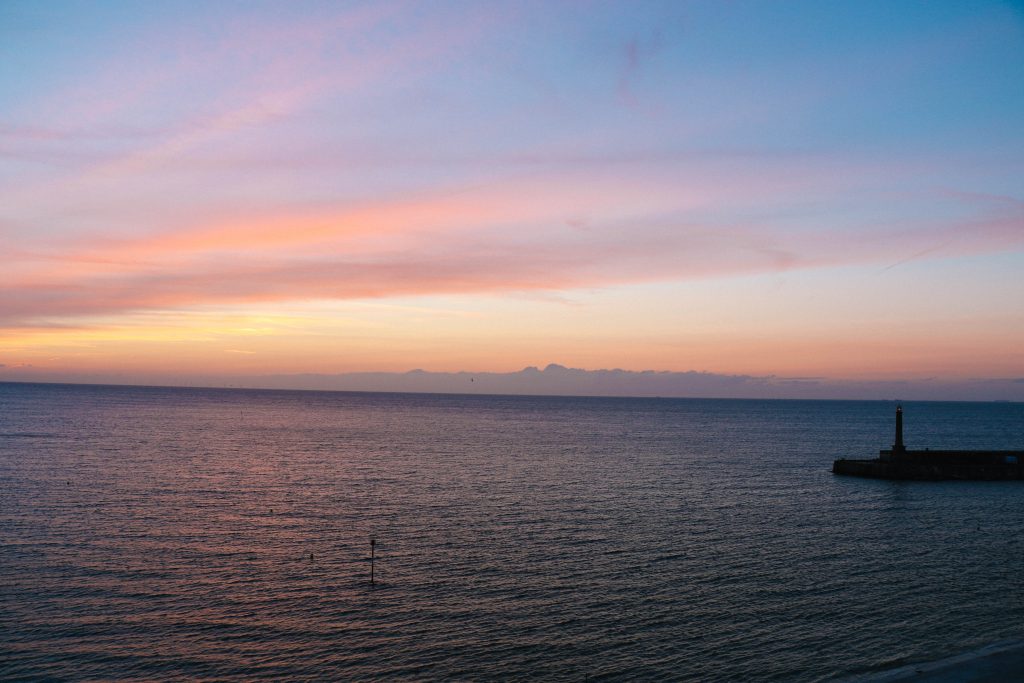 Our hair now a tangled mess of salt and candyfloss, we piled into our beds and reflected on our day. As adults, the chance to play – a pastime most of us have forgotten – is rare. Margate, however, had provided us with this exceptional opportunity to escape adult life and instead channel our energy into escaping a mirror maze, or to drive chaotically in to each other during a frantic Dodgems chase. It was no wonder that my Mum held such fond memories of this small corner of the English coast.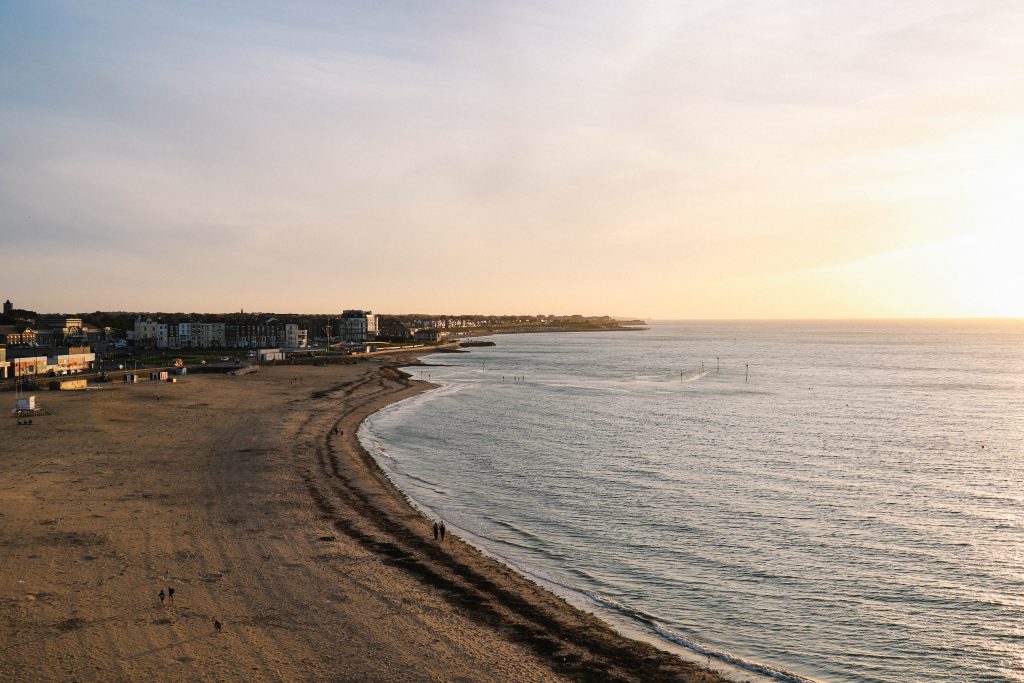 Things to do in Margate: Boutique Shopping
Nose pressed against the glass, I yelled across to Laura to hurry over. Our morning had begun with an exploration of the boutique shops of the old town of Margate, and I had just spied an exceptional piece of clothing. Bustling into the shop – Fox & Spindle – ready to snap up the dinosaur pinafore dress hanging on display, I realised that my assumption of this seaside town was wholly wrong. Far from dust-covered antique stores, or tatty souvenir shops, Margate is home to quirky, one-off boutiques that wouldn't look out of place on the streets of Shoreditch, London.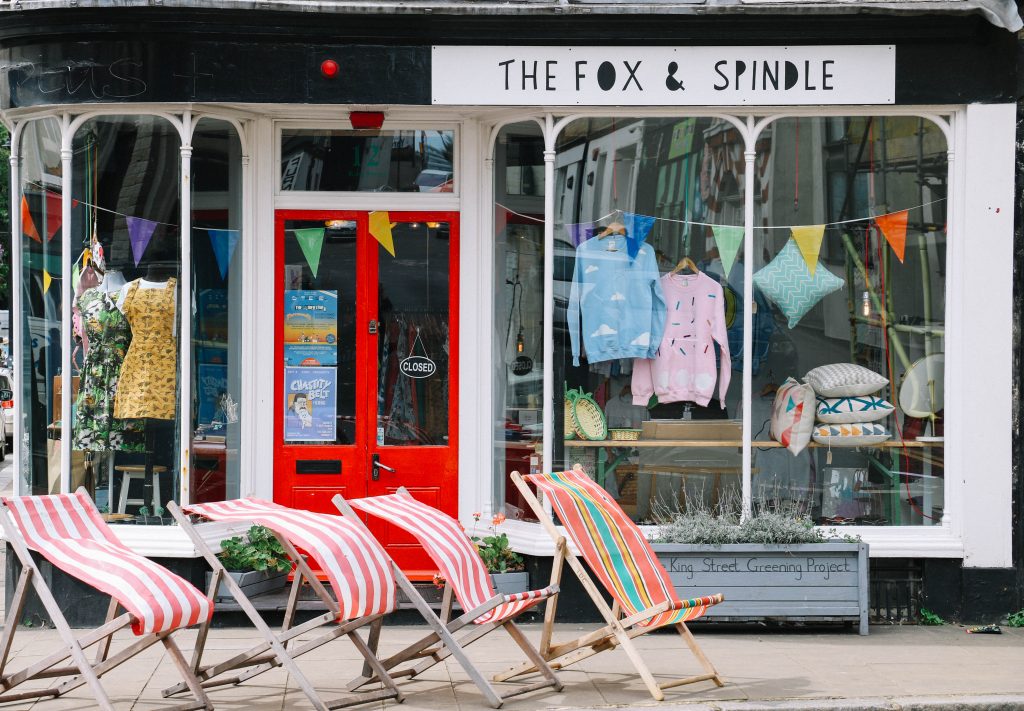 Other vintage shops worth a rummage in are Paraphernalia (where I stocked up on countless vintage postcards), Junk Deluxe and Hunky Dory. Another intriguing spot is the Shell Grotto. Discovered in 1835, this mystical cavern is home to 21 meters of winding passages, decorated with a whopping 4.6 million shells. It is covered in images of trees, oysters, gods and goddesses and the most curious thing about it? No one knows why it was made or by whom.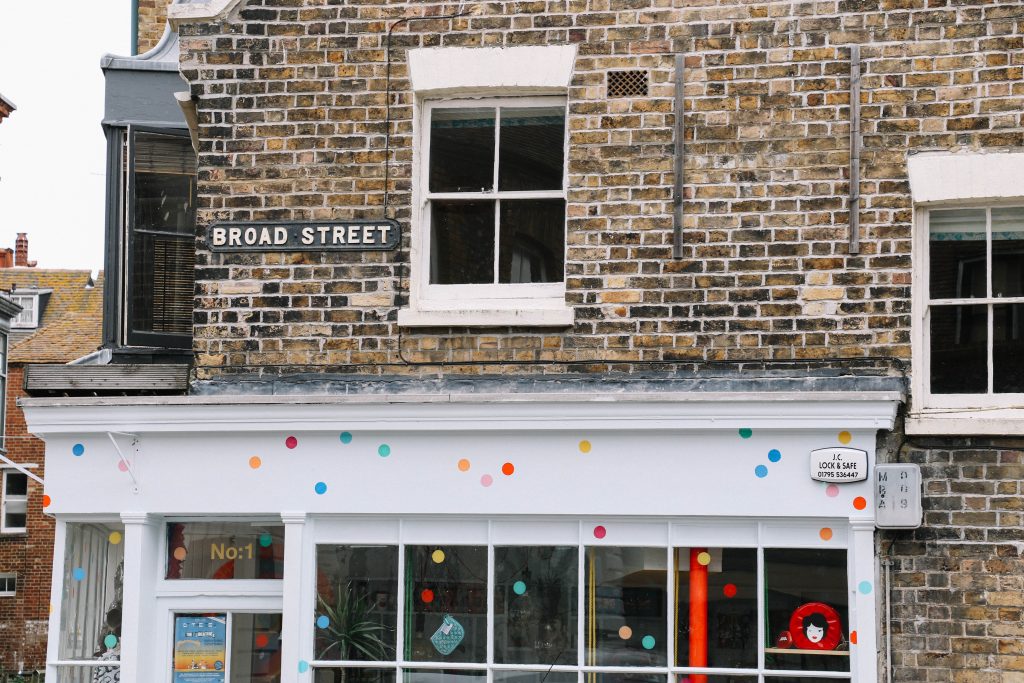 Things to do in Margate: Seaside Brunch
After getting caught in a brief rainstorm, we had headed for brunch at the beautifully quirky BeBeached restaurant along Margate's seafront; surrounded by bright pink and rainbow coloured deck chairs. As was becoming commonplace during our time in Margate, we were yet again surprised; this time by the food on offer in the town. Forget stuffy tearooms, Margate boasts an eclectic mix of restaurants, bars and eateries that could rival any cosmopolitan city. As the waves swept in, we feasted on baked eggs with bacon and mushrooms, alongside a large side of eggy bread: another childhood favourite.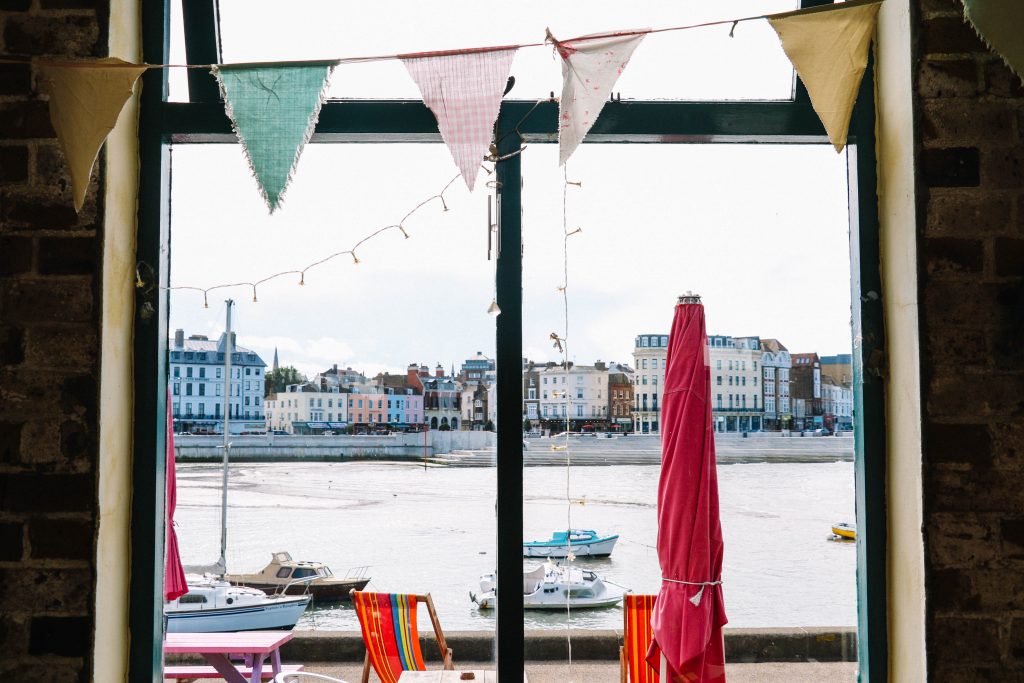 The final leg of our journey would take us to more of Kent's beautiful beaches, beginning with Botany Bay; just a six-minute drive from Margate in the adjacent town of Broadstairs. Another seaside town located along the Isle of Thanet, Broadstairs offers seven golden beaches, a traditional fishing harbour and, most importantly, its quintessential 1950s ice cream parlour, Morelli's.
Things to do in Margate: Beach Walks
Slipping our shoes off, allowing the soft, warm sand to slide between our toes, we made our way across the beach; dodging kites and beach balls as we went.  Settling in a quiet corner by the chalky cliffs, we spread out our large picnic blanket – the corners fluttering in the breeze – and sat back to assess the busy scene surrounding us. The beach was alive with movement and laughter. From a boy busily burying his brother in the sand, to an elderly couple reclining in deck chairs – each sipping from small thermal flasks – Botany Bay was providing the perfect summer's backdrop for its many happy beach-goers. A short walk from here is perhaps the even prettier Kingsgate Bay; a secluded bay with still, almost turquoise water, overlooked by the eighteenth-century Kingsgate Castle. It is picture-book pretty. We settled atop one of the grassy banks overlooking this serenely quiet beach and watched families explore the rock pools below.  For the more adventurous amongst you, Joss Bay – a 200m long beach and an ideal surfing spot – is just a short walk further along the coastal path that links these many beaches.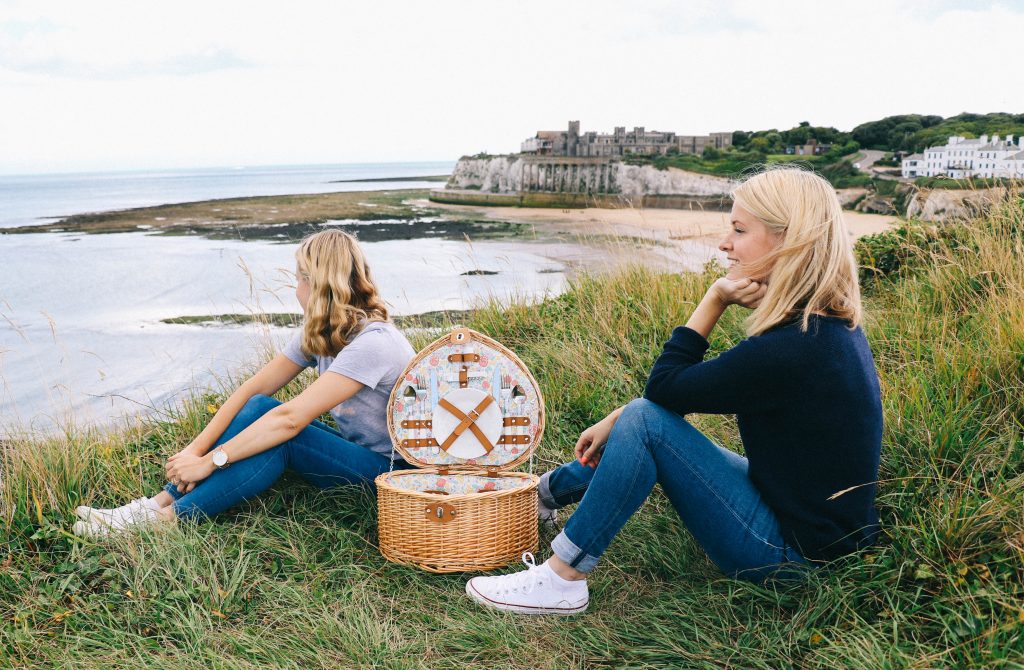 Things to do in Margate: Afternoon Tea
The final stop on our micro-adventure to the English seaside was a traditional afternoon tea at the Yarrow Hotel in Broadstairs. As we devoured warm scones, clotted cream, cakes, macaroons and sandwiches, the traditional English weather (rain) arrived. Against a backdrop of pouring rain and howling winds, we clutched our steaming porcelain cups of tea and reflected on our adventure to Margate – both agreeing that this was a town that had captured our hearts.  Indeed, how couldn't we love it? It was in our DNA: a consequence of our Mum's many happy summers spent here.
As 'millennials', an invitation to the English seaside is one we would have likely declined a few years ago. Taught that in order to 'travel' we had to purchase a plane ticket, the thought that England could offer its own adventures was not one we'd have entertained. Just show us Thailand, instead. Yet, the last year has proven that adventures can be had even on your own doorstep – and all without punishing airport queues or expensive flights. Far from a derelict seaside town, Margate surprised us at almost every turn. A vibrant coastal hub, bursting with colour, innovation and charm, the town is an ideal destination for visitors of any age; even us 'millennials'. Offering boutique shops and cafes, retro amusement parks, rooftop bars and a high speed train connection to London, Margate is the ideal city escape.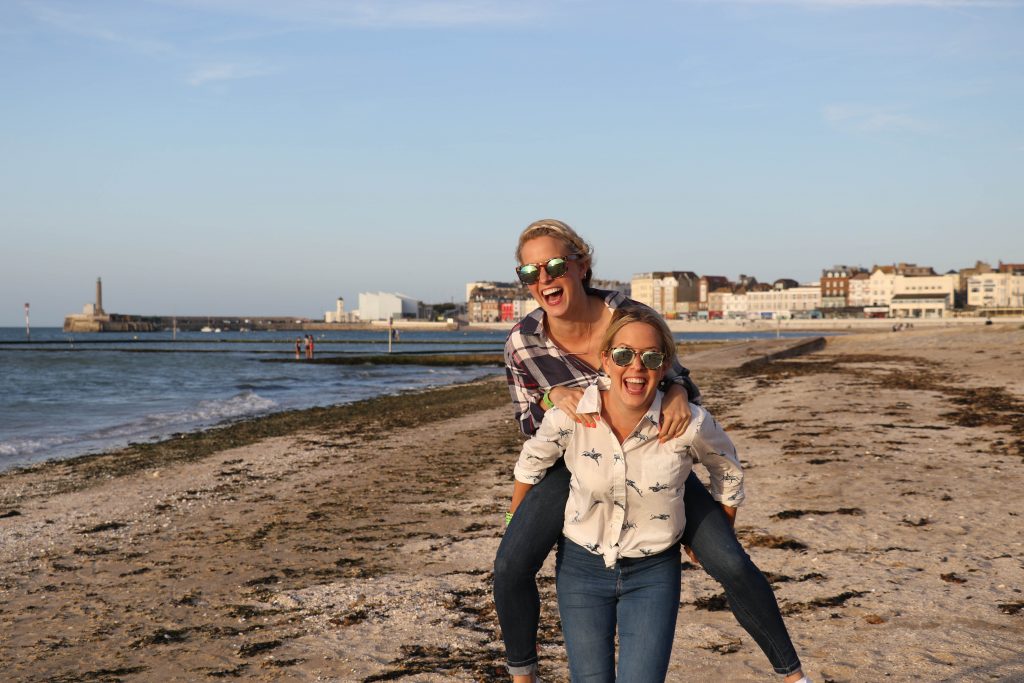 My Mum was right: with a pocket full of 2ps and a bag of chips, you just can't beat it.
Inspired to take your own micro-adventure in England? Find out more about what the UK has to offer using Visit Britain's brilliant resource to help plan your trip.
Thank you to Visit England, Visit Kent and Visit Thanet for organising such a wonderful trip.
Other UK weekend break ideas:
Pin it: