Do you suffer from travel anxiety?
We can help you overcome anxiety and see the world.
This review of the best underseat cabin bag contains affiliate links.
Faced with the recent travel chaos witnessed in UK airports, I was keen to travel with hand luggage only on a recent trip to Gdańsk.
Unfortunately, however, budget airlines no longer offer the option of a free, small suitcase on their flights. Instead, passengers are now charged for anything bigger than underseat cabin luggage.
Consequently, this can quickly turn your budget trip into something far more expensive and, even worse, a disaster if your luggage is lost (something that seems to be happening with increasing frequency).
Determined to therefore not spend a penny more on the flights we booked to Gdańsk (via Wizzair), I decided to set myself the challenge of travelling with just an underseat cabin bag (or cabin approved backpack) for my 4 day trip to Poland.
My only problem? I didn't have any luggage big enough and I had no idea where to look for the best underseat cabin bag. After two years of living alongside a pandemic and a newborn, I was completely out of the loop when it came to travel hacks and packing tips.
Fortunately, however, my brilliant friend, Monica – from The Travel Hack – had recently designed an underseat cabin bag with Cabin Max, perfect for my situation. Created with easy packing and travel in mind, I decided to order the Cabin Max Travel Hack Underseat Backpack for my trip.
My experience of travelling with just this cheap cabin suitcase was (genuinely) nothing short of revolutionary.
Bypassing long security queues and avoiding rows over overhead cabin space, travelling with just a cabin flight bag was fantastic and something I'll try to do far more of in the future.
Given my positive experience of travelling with hand luggage only, I thought I'd put together a quick review of why I think the Travel Hack Underseat Backpack is the best underseat cabin bag out there.
The Dimensions For The Travel Hack Backpack
The dimensions for the Travel Hack Backpack are 40cm x 20cm x 25cm underseat backpack.
This makes it the ideal underseat bag for most popular airlines, including Easyjet, Ryanair and Wizzair. For those unsure of current underseat cabin bag dimensions, below is a quick summary.
Easyjet: 45 x 36 x 20 underseat cabin bag
Wizzair: 40 x 20 x 30 underseat cabin bag
Ryainair: 40 x 20 x 25 underseat cabin bag
British Airways: 55 x 40 x 23 – underseat cabin bag
Although the Travel Hack Backpack works within all of these dimensions, I was still concerned that once I'd stuffed my bag to the brim, it would be too big. Much to my relief, however, I still had over 2 inches to play with once I was fully packed.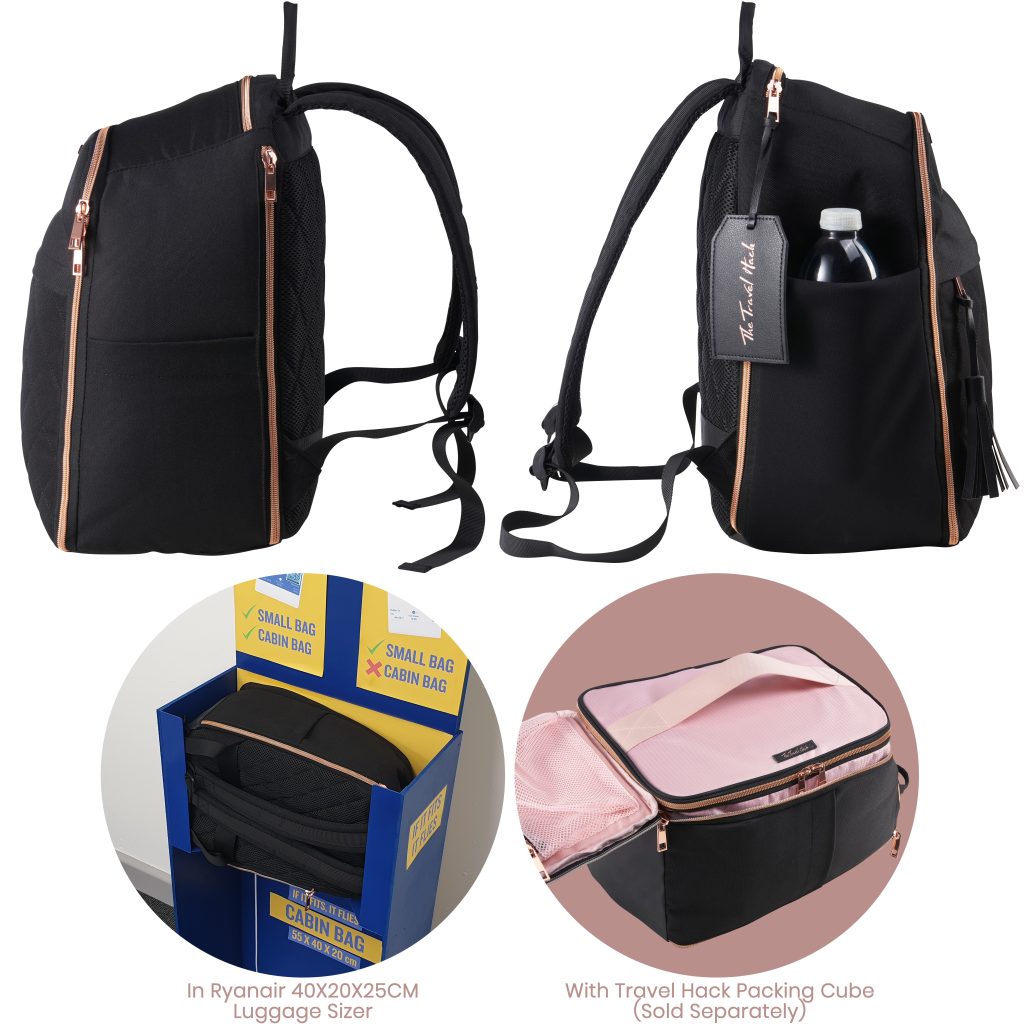 Features of The Travel Hack Underseat Backpack
A Top Pocket for Easy Access to Essentials
One of my biggest bugbears about using cabin bags for air travel is the the faff involved when trying to access smaller items, such as my purse or headphones.
The Travel Hack Backpack has this problem solved, with an incredibly handy (and surprisingly deep) top pocket. This provides easy access to your travel essentials, including passport, keys and your wallet.
I found this pocket incredibly helpful and it meant that I wasn't constantly opening and closing my backpack in the airport.
An External Padded Laptop Pocket
As someone who flies regularly with a laptop bag, I was worried about how I'd fit it into the bag, alongside all my clothes and toiletries.
Again, the Travel Hack Underseat Backpack saved the day with a handy external back pocket for your laptop. This made whipping the laptop out at security a breeze – and meant I could also access it easily on the plane without too much faff.
Fully Unzips (Like a Suitcase)
One of the trickiest parts of travelling with a cabin bag rucksack is easily accessing your clothes and toiletries once you've reached your destination. Often falling into a backpack-created black hole, travelling with a backpack usually means crumpled clothes and a constant searching for items that have fallen down into the murky depths of your bag.
The Travel Hack Backpack, however, fully unzips like a suitcase.
Incredible.
Transforming into a teeny, tiny suitcase, the backpack makes access to your clothes easy. During my recent trip, I didn't even bother unpacking – but instead kept my belongings in their handy compartments within the case. The adjustable straps also make it super comfortable to wear – even when full to the brim with your belongings.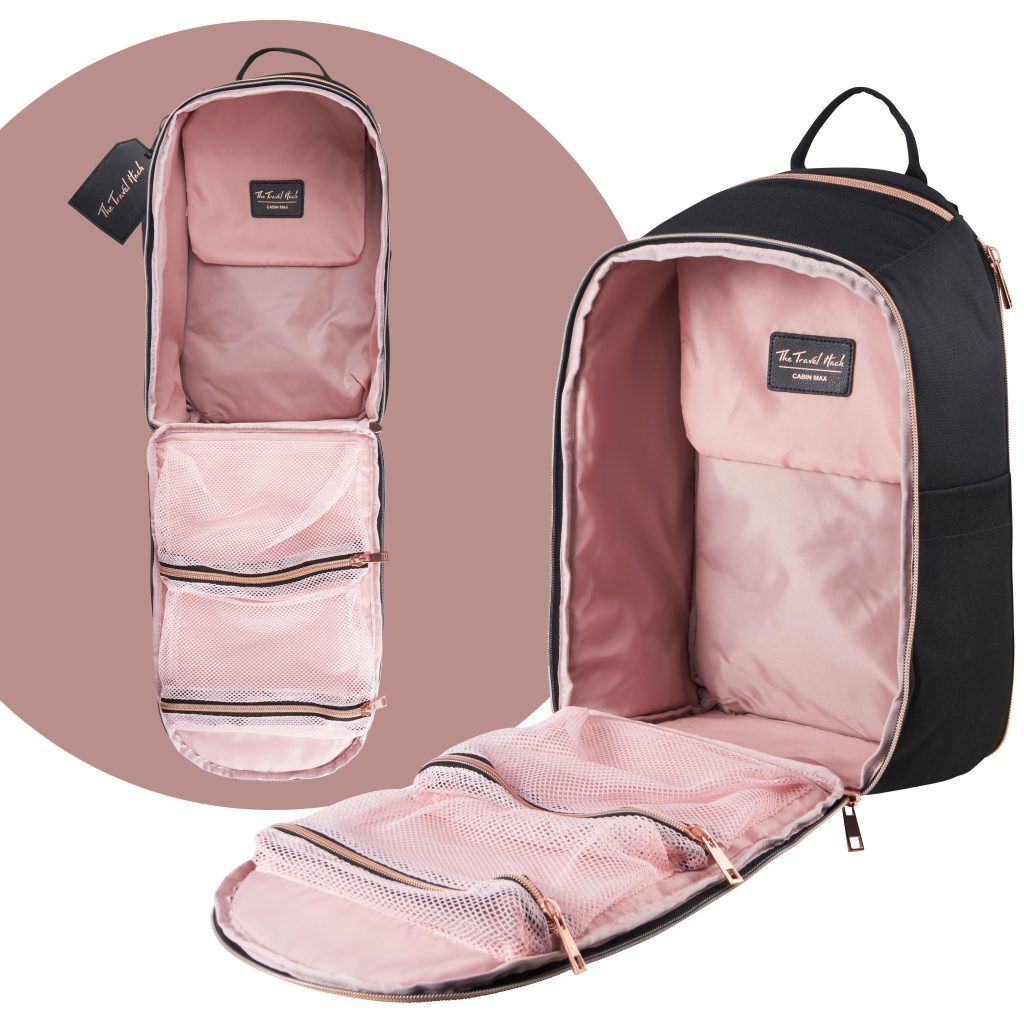 20L Internal Capacity
For such a small and lightweight cabin approved backpack (just 0.6kg), the Travel Hack small cabin bag can take a surprising amount of luggage. With a whopping 20L capacity, I was surprised by just how deep the backpack is and just how much I could fit in to the main compartment.
In the main compartment, I was able to fit:
3 dresses
1 x set of pjs
Underwear
One pair of sandals
Cardigan
Shorts
2 x t-shirts
Electric Toothbrush
Book
Glasses
I've also just ordered the Travel Hack Compression Packing Cube to create even more space for my next trip. With the help of a compression cube and the bag's compression straps, I'm confident that I could easily travel with this backpack for a week's holiday – quite the claim.
Internal Zip Pockets for Extra Organisation
Another reason why I think the Travel Hack Backpack is the best airline under seat bag, is its two spacious zip mesh pockets on the inside of the backpack. Ideal for storing your toiletries, makeup and electronics in, it means that you can save the bag's deeper space for just your clothes.
This also made the backpack less lumpy when fully packed and made accessing my liquids during security incredibly easy.
I also recently used the backpack for a family trip to Sicily, using it as my carry-on bag for my toddler. The pockets were ideal for storing wet wipes, nappies and snacks and made for the ideal baby travel bag.
In fact, I'm still using it as my everyday bag now I'm home.
The Verdict: My Review of the Travel Hack Underseat Backpack
So, the real question is: did I manage to travel with just underseat luggage for my four night trip?
Yes, yes I did – and with surprising ease.
Breezing past the long check in queues and relaxing into my seat as other passengers fought over cabin space, I was incredibly smug that all of my worldly possessions were under the seat in front of me.
A backpack designed for travel, with easily accessible compartments, the Travel Hack Backpack is (in my humble opinion) is one of the best cabin bags out there and definitely one of the best cheap cabin cases.