This article – how to stop a panic attack on a flight – contains affiliate links.
As a full-time travel blogger with a fear of flying, I've become a bit of an expert when it comes to stopping panic attacks on a flight.
In fact, over the years, I've compiled my very own toolkit of techniques and distractions to help me stay panic free while 40,000 feet in the air.
Most importantly, I've learned that however anxious or panicked you feel on a flight, you will be OK.
A panic attack mid-air doesn't spell disaster for you or means an awful holiday. Just like crying or laughing at your inflight entertainment, it's simply an emotion that will pass if you step back and give it the space to peak and ebb.
To help you on your next journey, I've put together a list of the things that have helped me stop a panic attack on a flight. From useful breathing apps, to telling a flight attendant how you feel (I promise, it will make you feel better), I hope these techniques give you a little more confidence when it comes to managing anxiety on a flight.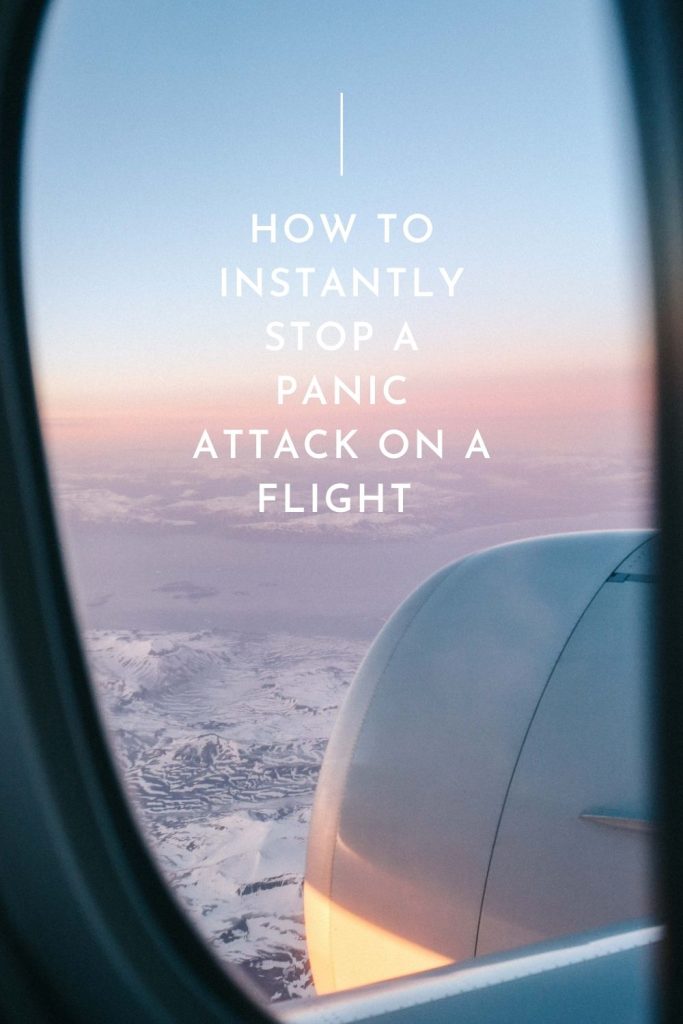 Top 10 Tips for How to Stop a Panic Attack on a Flight
1. Your Thoughts Aren't Facts
There are endless reasons why you might experience a panic attack on a flight. The most common reasons are due to a fear of flying (i.e. thoughts that the plane will crash) or due to claustrophobia (i.e thoughts of feeling trapped on a plane).
The cause of a panic attack in both of these situations is simply thoughts – and your brain taking these as fact. For example, taking the thought that the plane will crash as truth, despite the reality of it occurring being incredibly unlikely.
To explain this a bit better, we like to use the 'banana example' – (hang on in there, it'll make sense in a minute).
If someone told you that you were a banana, the likelihood is that you'd laugh it off and not give it a second thought. You're not a banana, you're a human, obviously.
However, this statement holds as much truth as someone telling you that your plane will crash – truly. Why is it then, that you take the latter thought as fact, when you are able to shrug off (apparently) being a banana so easily?
Learning to observe your anxious thoughts as nothing more than 'brain farts' – fantastical lies dreamt up by your brain – rather than stone colds facts, can help manage escalating thoughts and with it – panic attacks.[/vc_column_text]
Do you suffer with flight anxiety? Take our bitesize online course to help you fly with confidence.
2. Distraction is Key
One of the most unhelpful things you can do when feeling anxious is to give your (irrational) thoughts your time. Instead, distracting yourself as much as possible on a flight will help to lessen the chances of your anxiety taking hold.
This isn't to say we want you to actively repel the thoughts – you'll only end up fighting with them. Instead, take a deep breath, acknowledge them as 'banana thoughts' and simply let them be – floating harmlessly through your mind.
When we board a flight, we're now armed with various activities to keep our brains distracted. Some good distraction activities are:
Mindfulness colouring books
Write in a journal
Play a game (I like Word Scramble or similar on my phone)
Plan your itinerary for your upcoming destination
Clear and sort through the photos on your phone
Reply to emails and save them in drafts
Listen to a playlist specifically for takeoff that makes you feel confident/relaxed
Meditate using a guided meditation app like Headspace who have a Fear of Flying guided meditation.
Read a book that you're already invested in
Bring small containers of your favourite creams and beauty products – have a tiny pamper session
Conversations – start a conversation, preferably with a stranger. You'll be amazed how much this relaxes and refocuses your mind
I often see people knitting, sewing, crocheting on flights – all calming activities
Put a comedy on – laughter relaxes your brain and sends signals that you're calm
I find that the busier I am on the flight, the easier it is to settle. I may look like a workaholic – typing away on my laptop or writing in a journal – but productivity and focus is my secret weapon when it comes to stopping panic attacks on a flight.
3. Breathing Exercises with an App
One of the most effective ways to stop a panic attack on a flight is to focus on your breathing. As you become more anxious or panicky, your breathing can become shallow and fast, which can lead to increased anxiety and feelings of being out of control.
Learning how to slow down your breathing, focusing on deep breaths from your stomach rather than from your chest, will help calm your nervous system and dissipate the feelings of anxiety.
Below are our favourite apps that offer guided meditation and breathing exercises to help keep you calm and relaxed. All apps also offer brilliant calming sleep stories (for long haul flights) and 'SOS casts' for those needing support if having a panic attack on a flight.
4. Let Others Know You're Feeling Anxious
When you're feeling anxious, it can be hard to tell others that you're struggling.
This is particularly true when you're on a flight, particularly if the idea of telling people feels embarrassing – or as though you're escalating the situation.
From our experience, however, telling someone – be it the person you're travelling with or cabin crew – can feel like a sudden release valve; dissipating anxiety almost immediately. Wrenching you out of your own anxious brain, talking with someone about your feelings really can help stop a panic attack on a flight.
Can Flight Attendants Help with Panic Attacks?
When writing this post, we asked a few flight attendants how they were trained to support people suffering with a panic attack on a flight –  their responses were hugely comforting.
Flight attendants are trained in first aid  – and this covers panic attacks and supporting people with anxiety on a flight. This training includes the questions they should ask someone having a panic attack and how to manage you out of one.
They recommend that if you're a nervous flyer, it's best to make it known on arrival, so that the team around can check in (if you want) – ensuring you feel supported, safe and calm.
A few years ago, during an overnight flight to the Caribbean, I was struggling with my anxiety. As everyone else was asleep, I went to where the flight attendants had congregated and told them I was feeling anxious.
They were brilliant and chatted to me, while letting me look through the duty free makeup. It might not seem like a huge gesture, but knowing I was being gently supported and not alone (with my own increasingly irrational thoughts), stopped my panic attack in its tracks.
The best bit? The flight attendants didn't look at me like I was deranged. In fact, they seemed totally nonplused by the fact that I was panicking – something that calmed me down almost instantly.
5. Manage Your Flight Diet
For those feeling anxious on, or before, a flight, I find there are two camps of people.
The first camp (like myself) feel so sick that the thought of eating is near impossible. Forget a big breakfast before boarding a flight; you'll usually find me nibbling on an apple and swigging endless water in an attempt to quench my dry mouth.
The other camp, however, are those who reach for the comfort food when they feel anxious. From binge eating a packet of crisps at 5am, to knocking back a bottle of beer on the plane,  this crew manage their anxiety through excessive consumption.
Unfortunately, however, neither approach is particularly helpful when managing anxiety on a flight. Anxiety and gut health go hand-in-hand – and when sugar levels peak or dip, this can lead to increase feelings of anxiety and panic.
The best approach is to therefore maintain a healthy and nourishing diet while on a flight. This includes: plenty of water (avoiding alcohol and caffeine), healthy snacks and nourishing meals that include moderate protein and slow release carbohydrates.
6. Visualise Your Happy Place
It sounds cliche – but this technique really does work.
When you're in the midst of a panic attack, you can feel far removed from reality. Rather than letting your brain run wild, learning to centre it via visualisations – particularly of your 'happy place' – can calm a panic attack on a flight.
I like to visualise my 'happy place' on take-off, which (ironically) I find very grounding. For me, my happy place is under my duvet with my daughter, singing nursery rhymes while she plays with my hair. This visualisation reminds me how lucky I am and of the safe little world I have to return to, once I've enjoyed my trip away.
7. Move Your Body
One of the best things you can do if you're having a panic attack on a flight is to get up and move. Although your brain might be telling you to curl up in a ball, this often makes feelings of panic more intense.
Instead, getting out of your seat, moving your limbs and marching about, can help to work the adrenaline from your body. I find walking up and down the plane a few times, observing other passengers relaxed and enjoying their flight, helps to remind me that I am also in a safe place.
8. Download a Comforting TV Series
A key piece of my anxiety SOS kit is a comforting TV series – downloaded to my phone. This usually means endless episodes of Friends, Gilmore Girls and (don't judge) Dragons Den.
When I'm feeling anxious, tuning into a TV series that is sure to make me laugh or feel happy, always makes me feel better. I've tried downloading documentaries or programmes I haven't watched before, but I haven't found this as effective. Instead, I now go for familiarity and something that reminds me of being at home, relaxed.
Tuning into a Friends episode that I've seen one hundred times is an easy and oddly comforting diversion for my brain.
9. Cold water and Fresh Scents
Focusing on your other senses when you're having a panic attack on a flight can work wonders in helping you. When my anxiety is particularly bad on a flight, I'll often go to the toilets to run my wrists under the tap. The cold water will cool my increasingly hot and bothered cardiovascular system – and the act of cold water running over my hands has a calming and mindful effect.
I also find that fresh, calming scents to spray on my wrists, or around my seat, also works well in keeping me focused and calm. I highly recommend any of the Neom sprays, which I always have packed in my liquids bag.
10. Encourage the Panic
The final tip for how to stop a panic attack on a flight might come as a surprise to you.
Indeed, the thought of encouraging a panic attack might seem like madness while onboard, but it can be the most effective way to stop a panic attack in its tracks.
When we begin to feel anxious, the most common reaction is to try and 'stop' the anxiety; running away from our thoughts, rather than just letting them 'be'.  Next time you feel anxious or as though you're going to have a panic attack, try to therefore look anxiety in the eye and welcome it in.
"Come on then, do your worst," is the phrase I like to bravely mutter.
In that moment, as you egg a panic attack on, you may (will) find that the exact opposite happens. For anxiety to escalate it needs you to react to its sensations with fear – therefore creating a nasty cycle of anxiety and fear. By meeting these emotions with patience and tolerance, anxiety's fire can no longer burn – you're quite literally dousing its flames.
So next time you feel as though you're panicking on a flight, why not invite anxiety in – welcoming it, rather than trying to run from it. My prediction is that it'll likely disappear before you've even been able to pull out a chair.
11. Calm your panic with Sensate 
We were recently sent the Sensate 2 to trial and this has proved a brilliant gadget in helping me stay calm during flights. This anti-anxiety device works by using sound and vibrations, which travel through your sternum to your vagus nerve, to calm and relax you.
To activate it, you simply pop the Sensate on your chest bone (it comes with a lanyard, so you don't need to hold it), pop in your headphones and select a track on the app. Optionally (and I found this makes the whole experience extra calming), you can also add the weighted eye mask to your face.
The mixture of calming sounds, and deep vibrations (imagine the same feeling as humming), deactivates the flight or fight mode, often felt during a panic attack and helps keeps you calm, as well as promoting good sleep.
I recently used the Sensate 2 on a flight to Iceland during take off, and found it very useful in helping to calm me. It does come with a hefty price tag, but I use it every night and have seen a huge difference in my quality of sleep and general anxiety.
[/vc_column][/vc_row]