After two summers experiencing the best things to do in St Ives, this beautiful town in Cornwall has quickly become one of my favourite places to visit in the UK.
A bustling, Cornish seaside town offering not one – but four – beaches, a Tate Gallery and a huge variety of places to eat and drink, St Ives makes for the ideal summer holiday spot.
Below, I've rounded up the best things to do in St Ives, including tips on getting around the town, my favourite luxury self-catering options and the best places to catch a sunset cocktail.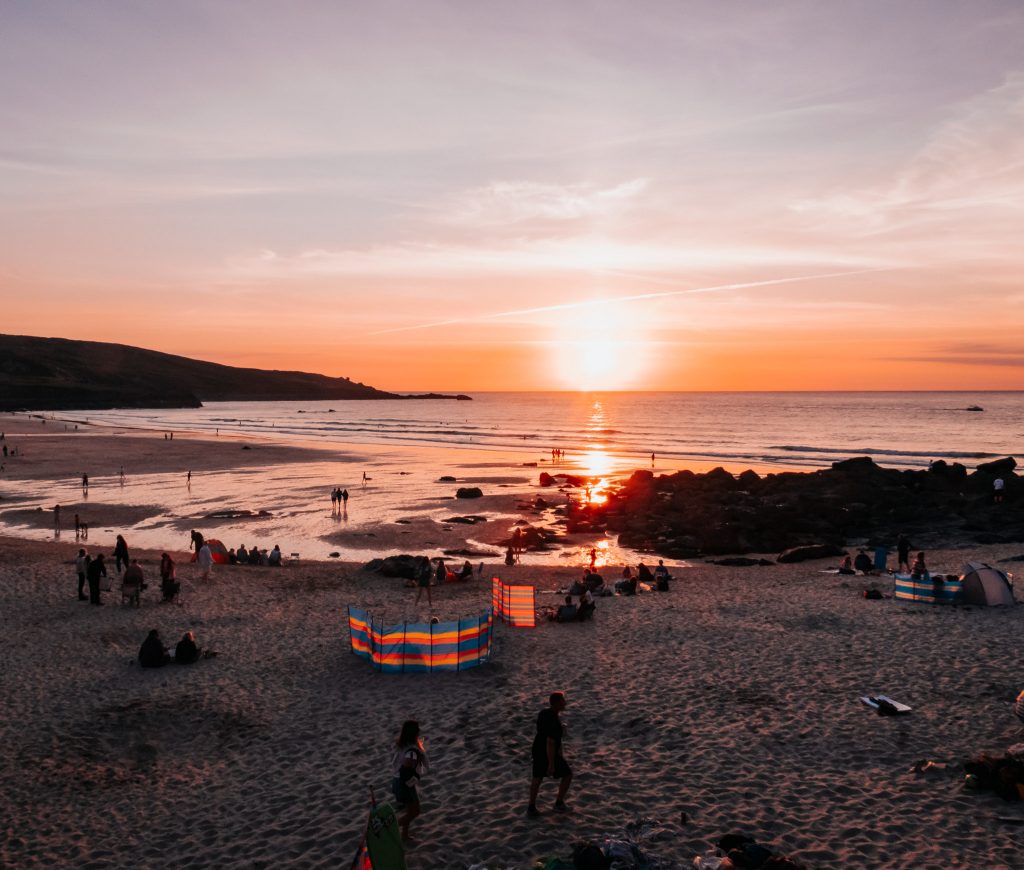 Things to do in St Ives: FAQs
Can You Park in St Ives, Cornwall?
It's a well known fact that parking in St Ives is, to put it mildly, not an easy task. With thousands of tourists piling into the seaside town daily, finding a parking space is a little like finding Willy Wonka's golden ticket.
However, having already bought our Rover Permit, and with accommodation booked in the town centre, we decided to risk what many strongly advise against.
The results were mixed.
During our first two days in St Ives, we struck gold with parking right outside our apartment in the Island long-stay car park. The following few days proved trickier, however, and we struggled to find any parking in the Council car parks.
The fraught 45-minute drive between the car parks wasn't a particular highlight of our holiday and if you can avoid using your car once you arrive in St Ives, I'd highly recommend it.
Parking Alternatives to St Ives
If you're keen to avoid the horrors of finding a parking space in St Ives, you may want to consider staying in Carbis Bay, instead. From here, you can catch the train to St Ives, which is just three minutes long.
Additionally, the St Ives train station is in the centre of the town, making exploring St Ives by foot relatively stress free.
Things to do in St Ives, Cornwall
The Cornish fishing town of St Ives is perhaps one of the most popular holiday destinations in the UK.
Boasting a picture-perfect harbour, a maze of cobbled streets brimming with shops and restaurants, four sandy beaches and the title of 'Art Capital of West Cornwall,' St Ives is a lovely place to visit.
Below is a round-up of the top sights in St Ives, including a few activities for those rainier days.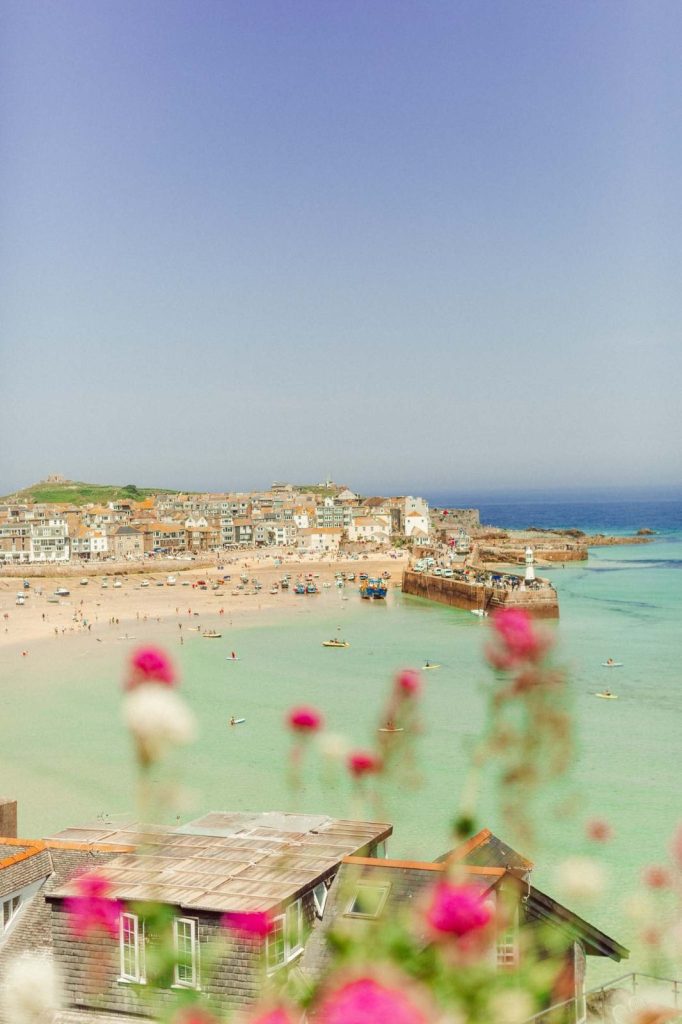 1. Explore the Beaches in St Ives, Cornwall
A day spent on the town's sandy beaches must surely top any list of things to do in St Ives.
St Ives has four beaches varying in size and number of attractions. We had the hard task of testing them all during our stay – below is a quick summary of our findings:
Porthmeor Beach
The most popular and largest beach in St Ives is Porthmeor beach. With the Tate on one side and the Atlantic Ocean on the other, this beach is incredibly popular with both surfers and swimmers.
We found this to be the best beach to set-up at, ready for a day of people watching and sunbathing. Located near the centre of town, its location made it easy to use as a base; nipping back to our apartment or into town to grab a bite to eat.
What mesmerised me most about Porthmeor Beach is the colour of the sea here. A brilliant turquoise blue, its shimmering blue waters could easily be mistaken for the Caribbean.
However, and despite its Caribbean hue, the Atlantic Ocean is definitely substantially nippier than the warm waters of the Caribbean; so be sure to bring a wetsuit if you're planning on surfing or swimming.
The beach did get busy very fast, with experienced beach-goers arriving with their wind breakers, deck chairs and BBQs. Yet despite this, we still managed to find peaceful spots on the beach on both of our 'beach days'.
Tip: watching the sunset on Porthmeor Beach is a must. We joined the crowds here, many of whom had already lit crackling fires and were roasting marshmallows.
Porthminster Beach 
Porthminster beach is the second largest beach in St Ives. Located next to the train and bus station, this beach is perfect for those arriving by public transport.
Another sandy, palm-tree lined paradise, Porthminster Beach offers views out to Godrevy Lighthouse; a view that inspired Virginia Wolf's 'To the Lighthouse'. With calmer waters, this beach is ideal for 'safe swimming' and for families.
Harbour Beach
Unsurprisingly, Harbour Beach is located in the centre of town and offers another sandy, family-friendly alternative when the tide is out. Surrounded by the solid harbour walls and the hustle and bustle of town, this is the perfect spot for a morning coffee and breath of fresh air.
Porthgwidden Beach
Porthgwidden Beach is the smallest of the beaches in central St Ives and was located less than a minute's walk from our apartment. With golden sands and offering a very sheltered location, this beach was a lovely place to come for an evening game of bowls.
This beach was particularly popular with families and has parking (Island car park) and a restaurant on the site, making it an easy option for visitors.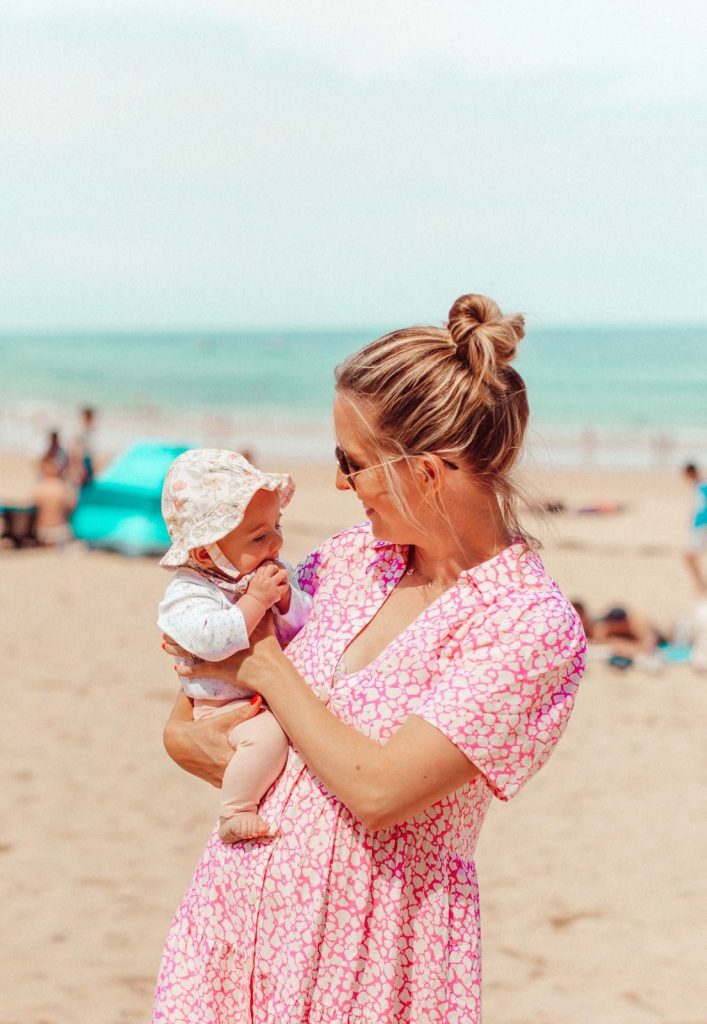 2. Enjoy the Coastal Walks in St Ives
South West Coastal Path
After a lazy Sunday breakfast, we decided to blow away the cobwebs by picking up part of the South West Coastal Path. We joined at Porthmeor Beach, which took us out towards Clodgy Point and back round again in a loop.
This was a beautiful walk, filled with coastal views, colourful flora and rich wildlife. The path was a little steep at times, so I would recommend wearing some firm trainers or walking boots.
Alternatively, from St Ives, you could walk in the opposite direction to Carbis Bay. This is a gentler walk along an old railway line and is approximately 1.25 miles long.
You can research other walking/hiking routes here.
3. Enjoy the Art & Culture of St Ives
Tate, St Ives
As the 'Art Capital of West Cornwall,' St Ives boasts many galleries, including The Tate, St Ives. Opened in 1993, the gallery is a gleaming white building sat opposite Porthmeor Beach. Offering contemporary art and regularly changing exhibitions, this is a lovely place to lose yourself in.
4. Shopping in St Ives, Cornwall
One of my favourite things to do in St Ives is to stroll the cobbled streets, browsing its many independent stores. From clothing to pottery, unique artwork to vintage books, St Ives really does have it all.
My favourite independent stores in St Ives are:
Best Luxury Self-Catering Accommodation in St Ives, Cornwall
For our first visit to St Ives (when I was 8 weeks pregnant), we opted for a small, but perfectly formed, studio in the centre of the town. Hardy's Studio is located a stone's throw from Pothgwidden Beach and is a quick stroll into town.
Ideal for a couple or solo traveller, Hardy's Studio makes for a great base for exploring the town and is managed by Cherished Cottages.
On our second trip to St Ives – with a four month baby in tow- we decided to splash out on an apartment with plenty of space and sea views. Keen to find somewhere with a balcony – so we could enjoy dinner outside while Olive slept – we stumbled across St Ive's Bay Penthouse managed by Cornish Gems.
This really is a show-stopper of an apartment, overlooking Porthminster beach. For those looking to blow their budget, this two bedroom penthouse is worth every penny.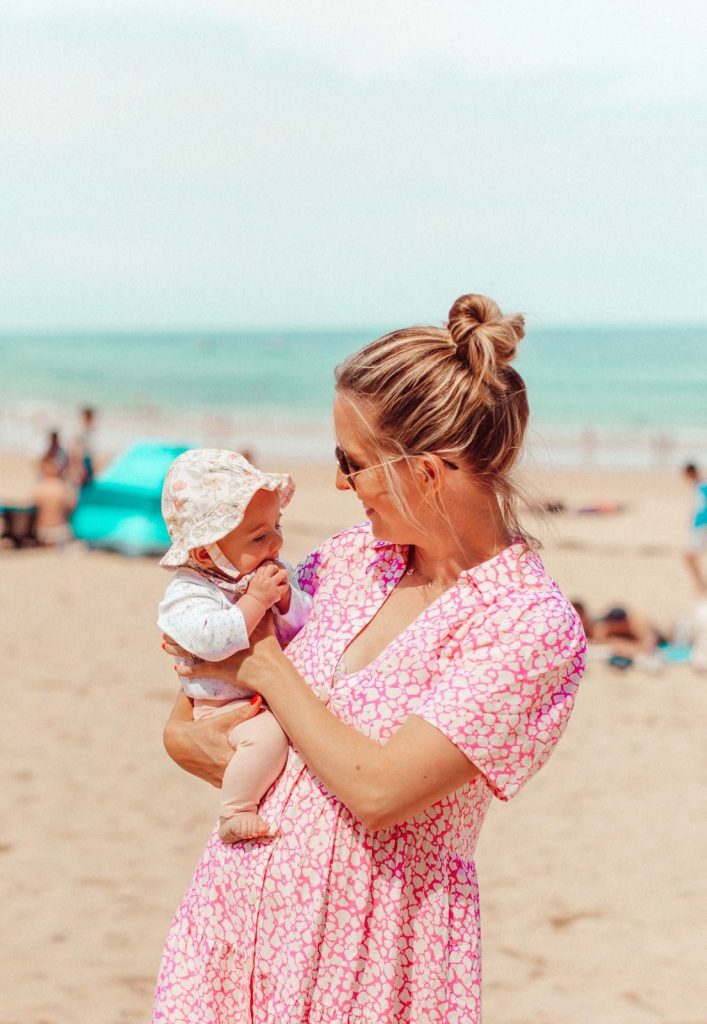 Where to Eat in St Ives
Surely one of the best things to do in St Ives is to simply gorge on all the delicious food that fills the town?
Indeed, one of the biggest bonuses of staying in St Ives is the sheer number of restaurants and cafes you'll find on your doorstep.
Keen to pre-book as many restaurants as possible before our stay, I turned to our Instagram community for some suggestions. It quickly became apparent that there were a number of firm favourites. Below is a round-up of the best restaurants in St Ives.
1. Porthmeor Beach Cafe
Porthmeor Beach Cafe was perhaps my favourite dining experience in St Ives. Boasting secluded heated pods for groups, Porthmeor Beach Cafe is a particularly popular spot during the evening, when people gather on the terrace to watch the mesmerising sunset over the beach.
Despite its name of a 'cafe', the restaurant offers up a delicious, fresh and varied menu. We visited for lunch during a 'beach day' and it was lovely to  simply amble lazily along the beach for a delicious meal. As the sun shone brightly above us, we gazed out to sea over fresh mussels and frites.
We did attempt to book a pod for sunset on our final night, but unfortunately it was fully booked. I would advise checking the restaurant's website regularly as cancellations did seem quite frequent.
2. The Mermaid
This unassuming little seafood restaurant, located in the old fishing quarter of Ives, was handily situated just around the corner from our apartment.
The Mermaid is one of the oldest, family-run restaurants in the town, which means that getting a table can prove tricky. In fact, during our time in St Ives (July), the restaurant was booked until September.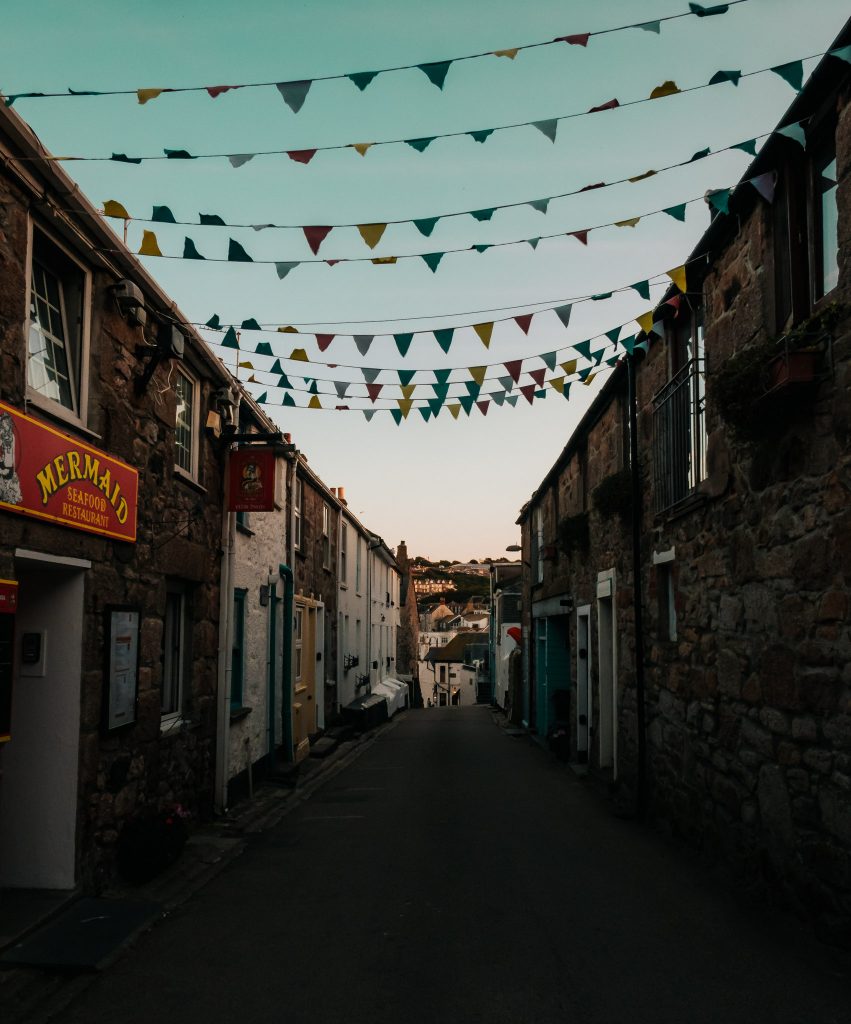 If you're unable to get a table, the restaurant does have an open hatch serving delicious paella and beer throughout the summer. We also sampled their takeaway service one evening and enjoyed it just as much as our meal inside the restaurant.
3. Porthminster Kitchen
For those looking for a more formal meal in St Ives, head for an evening filled with beautiful harbour views at Porthminster Kitchen.
We visited the restaurant on our final night and thoroughly enjoyed both the food and the setting.
For warm evenings, balcony seating for couples is available, but we opted to sit inside to feast on gourmet fish and chips, hake fillet and zingy lemon tart.
4. The Hub
The Hub was the most popular restaurant suggestion from our Instagram friends. Located along the harbour, The Hub is an ideal location for both couples and families looking for mouth-watering burgers and other indulgent treats. We were also told that their breakfasts are equally as delicious.
5. Blas Burgerworks
Another burger-based restaurant that came highly recommended in St Ives was Blas Burgerworks. This spot only offers a take-away option, but is ideal for those looking for an early dinner while the children sleep.
6. Fish and Chips on the Beach
When it comes to things to do in St Ives, fish and chips on the beach is a must.
In fact, our fish and chip experience, under the orange glow of sunset on Porthmeor Beach, was probably one of my favourite memories here.
You'll be spoilt for choice when it comes to places to grab your fish and chips from in St Ives. We bought ours from The Albatross, St Ives, which claims to be the oldest fish and chip shop in town, frying since 1918.