This guide on what to see in Istanbul in 3 days contains affiliate inks.
When putting together the itinerary for our second TTT Tour, we had just one worry: would 3 days in Istanbul be enough?
In a city notorious for its traffic, its sprawling neighbourhoods and the no small matter that it straddles not one, but two, continents – would we be chewed up and spat out before we even caught a glimpse of this city?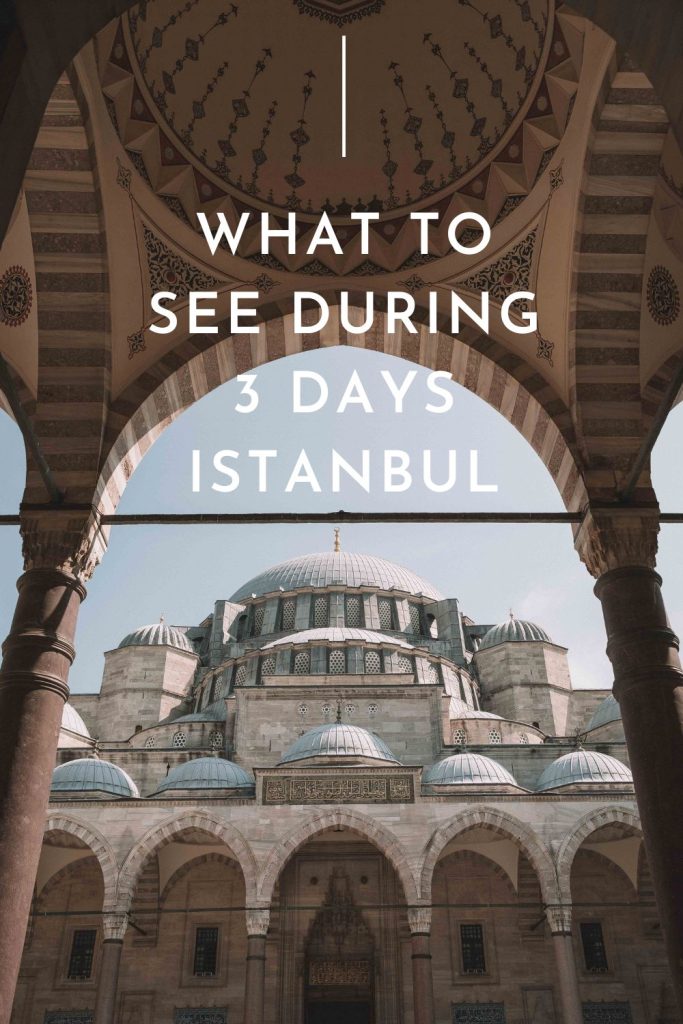 Keen to ensure that our tour would still include a quick diversion to Cappadocia, we decided that we'd just have to bite the bullet and commit. With a long list of things to see in Istanbul- including the Hagia Sophia and the frenetic Spice Markets – we prepared for an intensive 3 days of sightseeing.
Below is the itinerary that we followed, covering what to see in Istanbul.
Including the best places to eat in Istanbul, where to enjoy a sunset cocktail and, of course, where to find the city's most jaw-dropping historical sites, we hope you find this guide useful.
How To Get Around Istanbul
Home to a dizzyingly large population – 16 million in total – Istanbul is vast.
With two sides: its 'European' side and an 'Asian' side (separated by the Bosphorus Strait), you'll need to do a little planning before you set off.
However, getting around during your 3 days in Istanbul – particularly if you shuttle between the old city and some of its newer parts – is relatively easy, thanks to the city's beloved tram, metro and ferry system.
As mentioned above, the easiest (and most economical) thing is to buy an Istanbulkart. The card itself costs 6 TL (the equivalent to 86p) and can be easily topped up.
Istanbul's Metro
The metro is a quick and easy way to get around the city; particularly if you're on the European side. Although it can get a bit crowded, it's regular and cheap.
We stayed in Karaköy whilst we were in the city and it was therefore incredibly easy to hop between the historic part of Istanbul and its more recent parts.
The metro runs from 6am – 12 or 1am, and one journey will cost you around 5 TL (i.e. pennies). A really handy annotated metro map – including its key stations – can be found here.
Istanbul's Tram System
I love a tram – who doesn't? Istanbul's tram system – a little like Lisbon's –  is lovingly regarded and whilst a little battered, is a regular sight on the city's streets.
As with the metro, you can use your Istanbulkart to pay for your fare.
The tram line you're most likely to use as a tourist is the Bağcılar-Kabataş Tram (T1). This is a great line for hopping between the old and new city, and runs every ten minutes or so.
Again, a single journey will cost you around 5TL.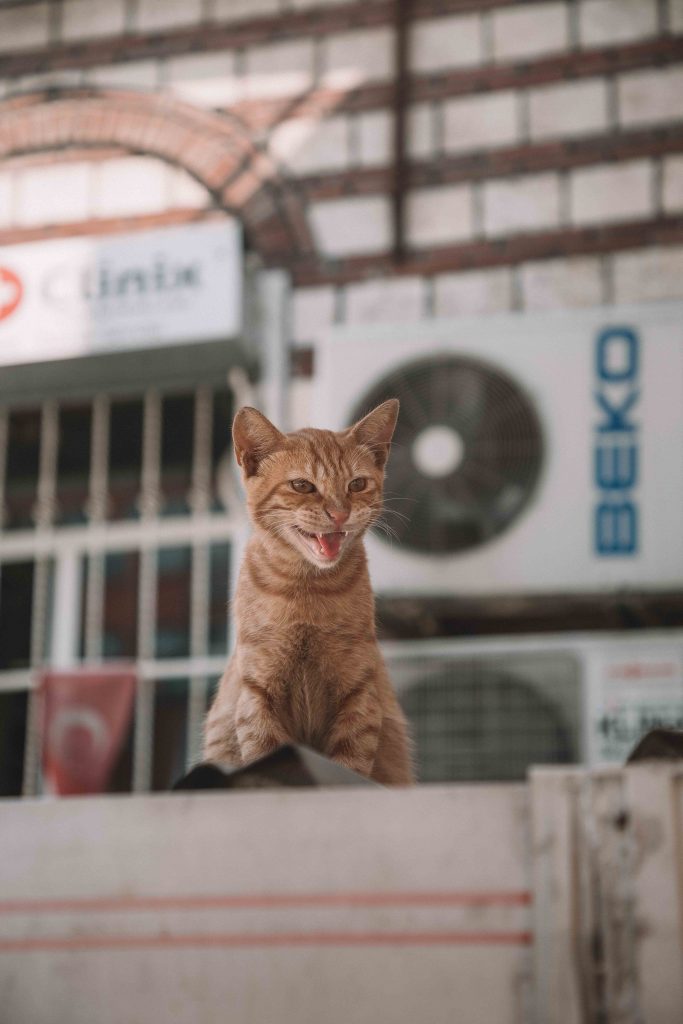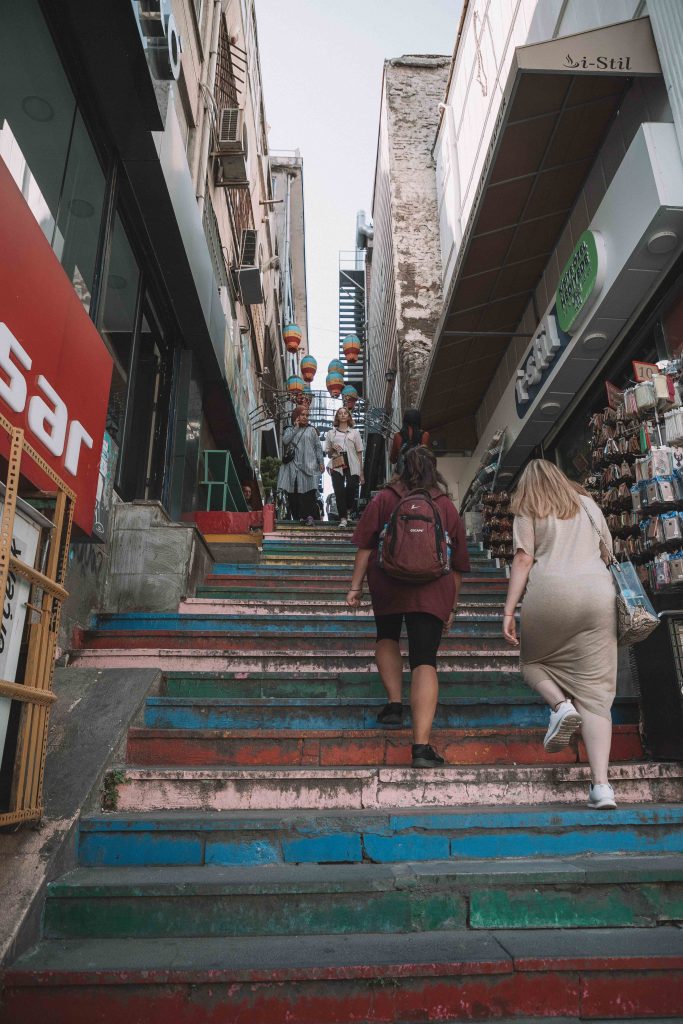 Istanbul's Ferries ('Vapur')
Divided by the glittering Bosphorous Strait, Istanbul is a city wedded to the water. As such, ferries are a convenient and reliable way to get around. In terms of what to see in Istanbul, a ride on one of these ferries is definitely one.
For a centrally located ferry station, head to Karaköy.
What To See In Istanbul In 3 Days
Day 1
7pm – Evening Drinks & Panoramic Views
As most will arrive in Istanbul in the evening, it's time to catch the last of the city's rays with a quick walk to the jaw-dropping, 360 Istanbul.
A short 15 minute stroll from our hotel, this bar offered our first glimpse of Istanbul's sheer size and reach. Arriving on the top floor of the bar, we were met with sweeping panoramic views; all of Istanbul's seven rolling hills filling the skyline (one of the most iconic things to see in Istanbul).
Ordering some cocktails, we settled down to watch as a fiery orange sun dipped below the skyline; the call to prayer ringing out across the city.
8.30pm – Dinner At at Sıdıka Meze Restaurant, Istanbul
As with all of our tours, we try to eat as locally and sustainably as possible. As such, and given the 'female empowerment' element of our tours, we were keen to eat at restaurants run by women.
As such, the beautifully boutique Sıdıka Meze Resatutant – owned by Sıdıka – seemed the perfect fit. Tucked away in the Beşiktaş neighbourhood of Istanbul, this unassuming little restaurant glowed warmly as we arrived; the smell of garlic floating out from the open door.
Serving up mouth watering plates of traditional Turkish meze, the restaurant is a great place to introduce yourselves to the local dishes. It was a wonderful way to kick start our 3 days in Istanbul and a restaurant I would highly recommend visiting.
 Day 2
9.00am – Explore Istanbul's Most 'Instagrammable' Neighbourhood
After breakfast at our hotel, we made the short walk towards what our guide – Aynur – declared to be Istanbul's 'hipster hangout'.
Spanning the wider area of Karaköy – most specifically the streets adjacent to the Museum of Modern Art –  here you'll find beautiful street art, a colourful 'umbrella' lined street, concept stores and buzzing coffee shops.
Filled with young people meeting for brunch or after work drinks, it all felt a little Shoreditch.
Browse the Street Art
Be warned: the back streets of Karaköy are addictive; lined with busy restaurants and winding vines that grow overhead. Throughout this area there is plenty of prominent street art to see, including a mural made from used spray can bottles.
In particular, head towards Murakip Sk. to see some great pieces.  In terms of what to see in Istanbul, this is a great hipster alternative to the more traditional sights.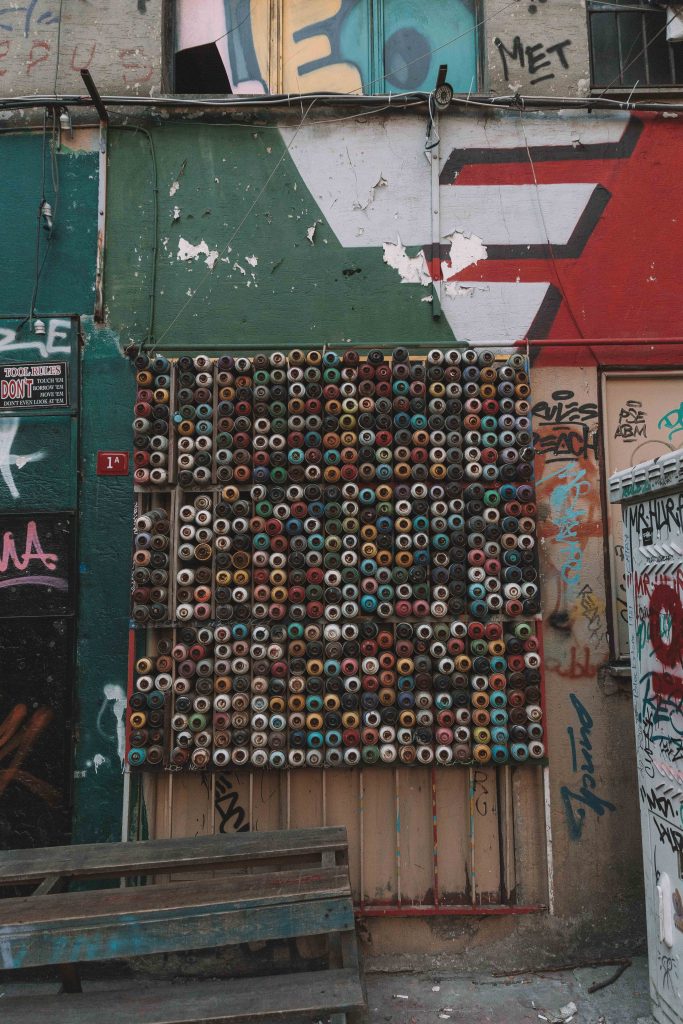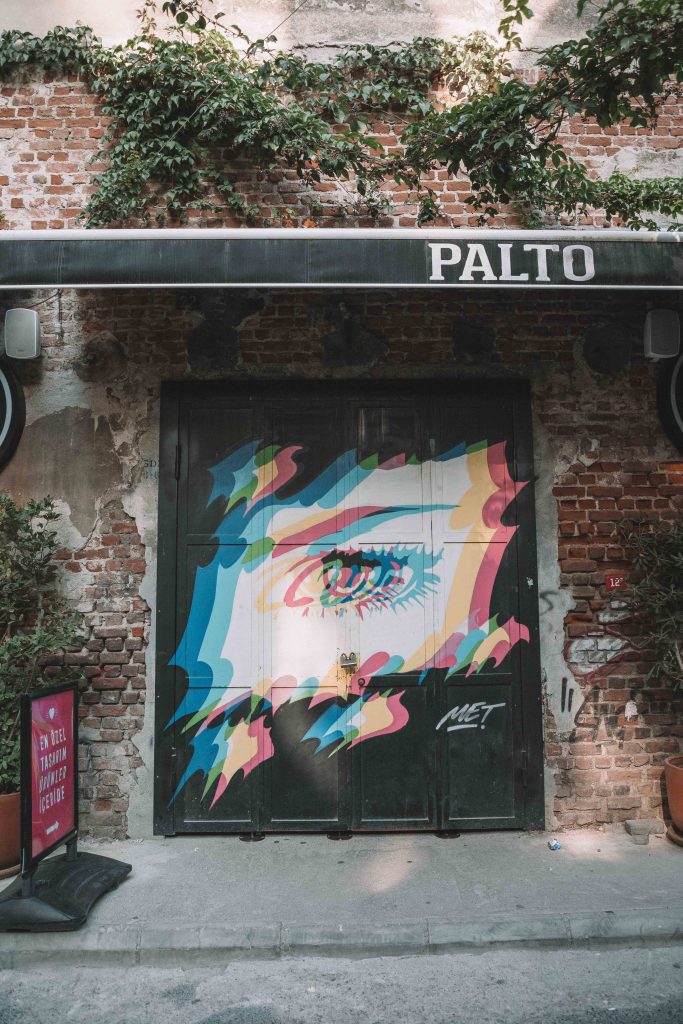 Grab a Coffee
Even at 10am, this area of winding streets and independent stores was alive with young professionals and students.
One particularly lovely spot was 'Fil' – a bookstore come coffee shop (found on Akçke Sk.). A collaborative space open to freelancers and artists, this shop has a lovely, homely atmosphere.
Opposite this shop, the vintage camera filled Ilmisimya Cafe & Art Space offers a similarly hipster and creative space.
Explore a Rainbow of Umbrellas
Just around the corner from 'Fil' lies the regularly 'instagrammed' Umbrella Street (Hacı Tahsin Street). Whilst the name perhaps speaks for itself, this permanent installation is regularly photographed and in terms of what to see in Istanbul, is definitely one.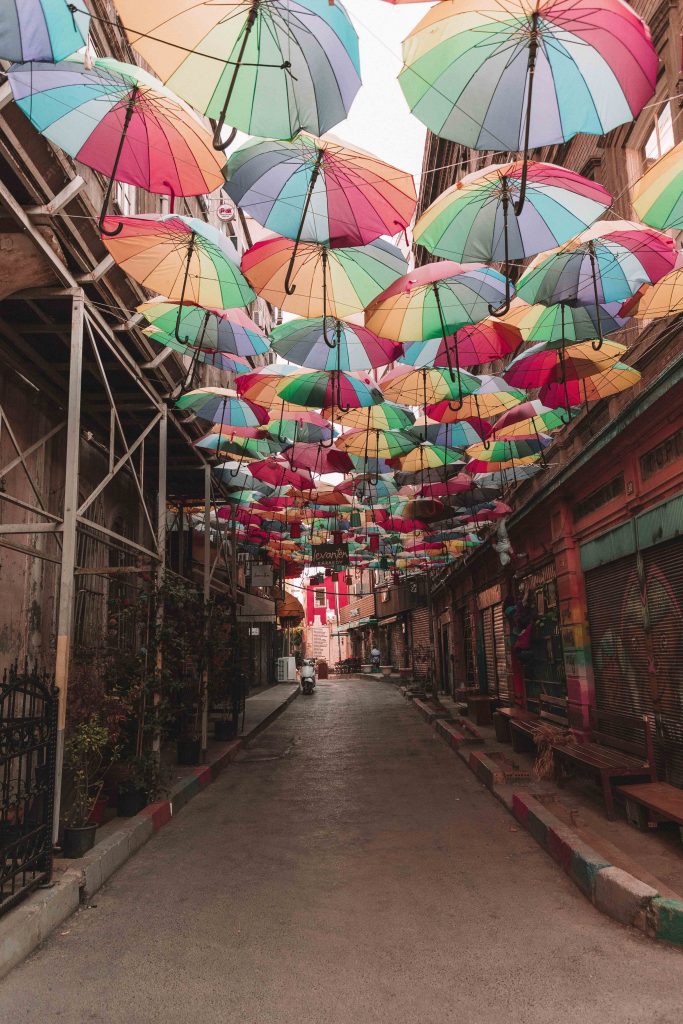 12pm: Lunch At Karaköy Çorba Evi
Karaköy Çorba Evi offers over 21 varieties of soup: from the mysteriously named 'Mother and Daughter Soup', to the less appetising sounding 'Sour Soup'.
If you're feeling adventurous, opt for the  'Iskembe' soup (cooked with tripe) –  a Turkish delicacy. It's said to be delicious.
1pm: Head to Istanbul's Famous Grand Bazaar
It's time to leave behind the port of Karaköy and head towards historical Istanbul, crossing the water as you go.
Taking the tram from Karaköy, we disembarked at Beyazıt – Kapalıçarşı station (one journey costing around 5 TL).  Stepping off, it felt as though we had arrived in a whole new city; one far removed from the modern Istanbul that we had experienced so far.
The Bazaar itself is not difficult to find; stretching 30,700 square meters and across 60 streets and alleyways.
However, with 22 different entrances, getting your bearings might take a little time.
The best place to start is at the Bazaar's historic centre, İç Bedesten, built by Mehmet the Conqueror in 1461. Meaning 'indoor arcade', the Bazaar is quite unlike the dusty souks of Marrakech and instead a dazzling indoor mall – one that stretches for miles.
Boasting over 500 stalls (known as 'dolap') and 5,000 shops, the Grand Bazaar is a place you must visit during your 3 days in Istanbul. In terms of what to see in Istanbul, this Bazaar is also definitely one.
As with Marrakech's souks, do feel free to haggle when buying anything here – it's expected.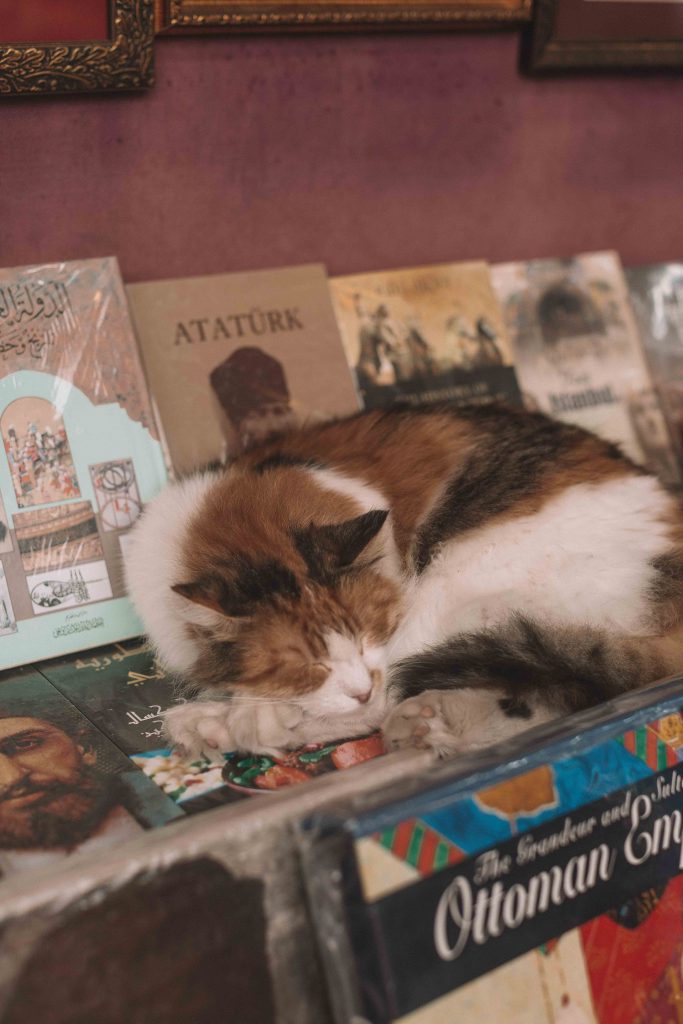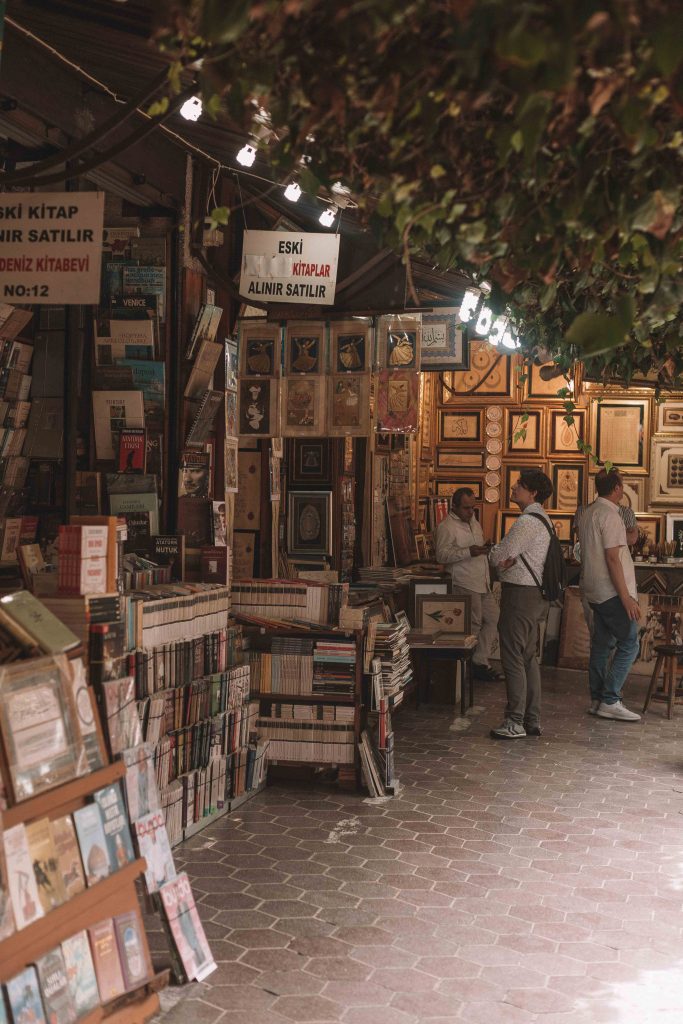 3pm: Head to Istanbul's Spice Market (or 'Mısır Çarşısı')
A short walk from the chaos of the city's Grand Bazaar lies the similarly crazy Spice Market.
Built in 1664, this smaller 'bazaar' was initially part of the 'Yeni Camii' or 'New Mosque' district. Alongside offering a dizzying number of spices and fragrances –  including Turkish specialities such as 'Sumar' and 'Pul Biber' – the market also features dozens of little eateries selling traditional Turkish ice cream (made from goat's milk) and piles of sticky baklava.
4pm: Time For A Turkish Hammam
If there's one thing you must do during your 3 days in Istanbul, it's a Turkish Hammam.
Our inaugural Turkish Bath experience would take place at The Galata Istanbul Hotel, in their luxury spa – the 'Cesme'.  Claimed to be one of the most beautiful spas in the city, we were in for a treat – with a traditional scrub and 'bubble massage' awaiting us. It was a heavenly experience.
If you are interested in experiencing a Hammam during your 3 days in Istanbul- particularly a luxurious one – I would highly recommend the Cesme Hammam.
8pm: Head to Taksim Square for Dinner
 Day 3
Your final day in Istanbul will be an unforgettable one: taking in some of the top things to see in Istanbul.
9am: Catch the tram to Sultanahmet Station
9.30am: Hagia Sophia (or 'Aya Sophia') 
Just a short walk from the station is the awe-inspiring Hagia Sophia; one of Istanbul's most famous structures.
Indeed, when it comes to what to see in Istanbul, this Mosque comes top of the bill.
Originally built as a Christian basilica nearly 1,500 years ago, it was Emperor Constantius who first ordered the creation of the original Hagia Sophia in 360 AD. However, following two fires (due to its wooden roof), the original building was rebuilt under the orders of Emperor Justinian I in 532.
Completed in 537, it is this structure that still stands today.
Now a museum, visitors are able to explore both the ground and first floor of the building; its enormous space filled with dappled rays of sunshine and twinkling chandeliers.
It's an incredibly atmospheric and humbling spectacle, and one you should not miss during your 3 days in Istanbul.
10.30am: The Blue Mosque 
Perhaps one of the best things to do in Istanbul is to visit the mighty Blue Mosque.
Having derived its name from the spectacular blue İznik tiles that fill its interior, this exceptionally beautiful building was built under the guidance of Sultan Ahmet I (1603–17) and soon declared one of Turkey's most beautiful mosques.
If you're planning on visiting, please note that visitor numbers are limited to ensure the preservation of the Mosque. It also closes six times a day for prayer.
12.30pm: Lunch at Ali Baba Kanaat Lokantasi
Declared to be the best place for beans and rice in the city, this unassuming little restaurant directly faces Süleymaniye Mosque.
Offering hearty traditional Turkish food, including its famous plate of 'fasulye' – or dried beans – we had an unexpectedly delicious lunch here. Incredibly cheap, we opted for the beans and a plate of rice – two simple dishes that blew us away.
2pm: Head to Süleymaniye Mosque
This sun-drenched mosque was our last stop during our 3 days in Istanbul. Having already wandered through the halls of Hagia Sophia and the Blue Mosque, we assumed that the Süleymaniye Mosque would be fairly similar.
What we hadn't banked on, however, was its unforgettable views.
Straddling both the European and Asian parts of Istanbul, with clear views across the city's seven hills and its famed 'Golden Horn', the grounds of Süleymaniye Mosque are worth a visit in themselves.
When it comes to what to see in Istanbul, the views from this Mosque should come high on your list.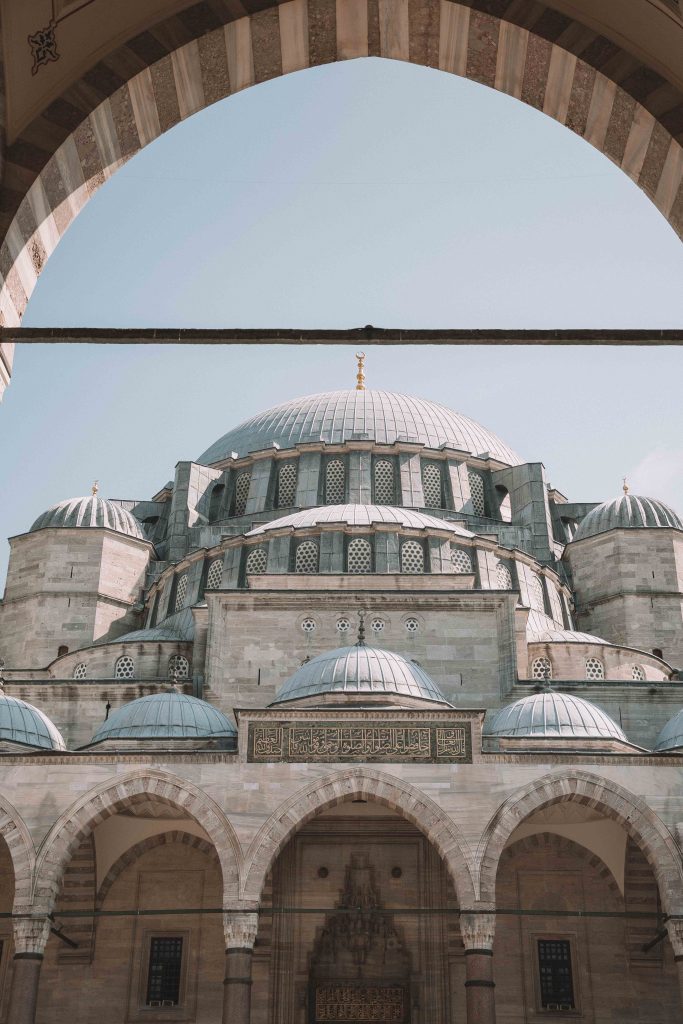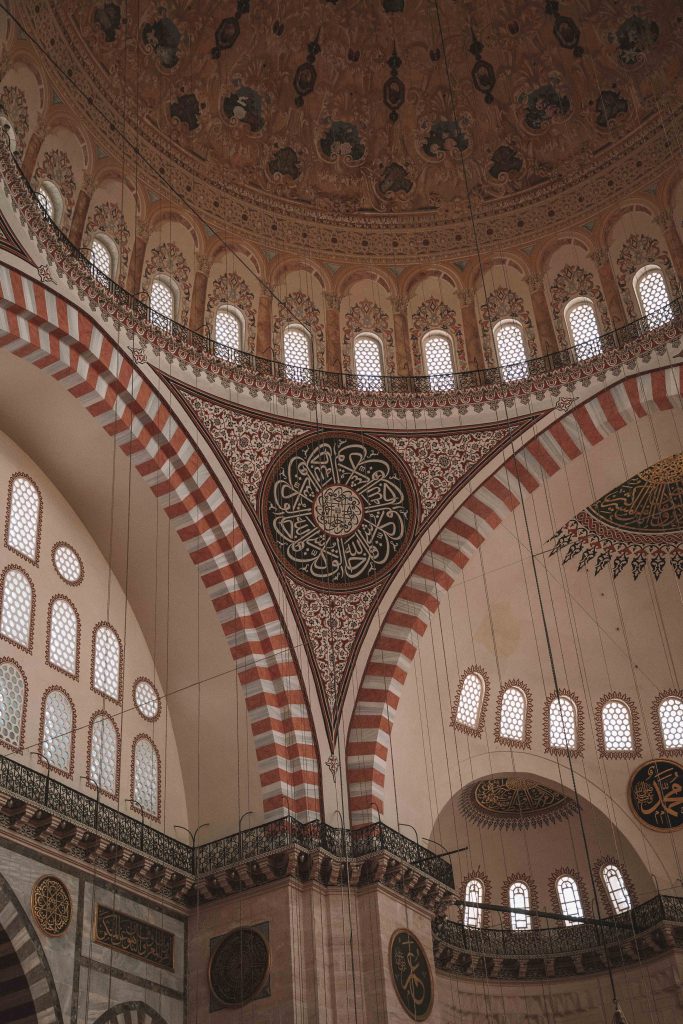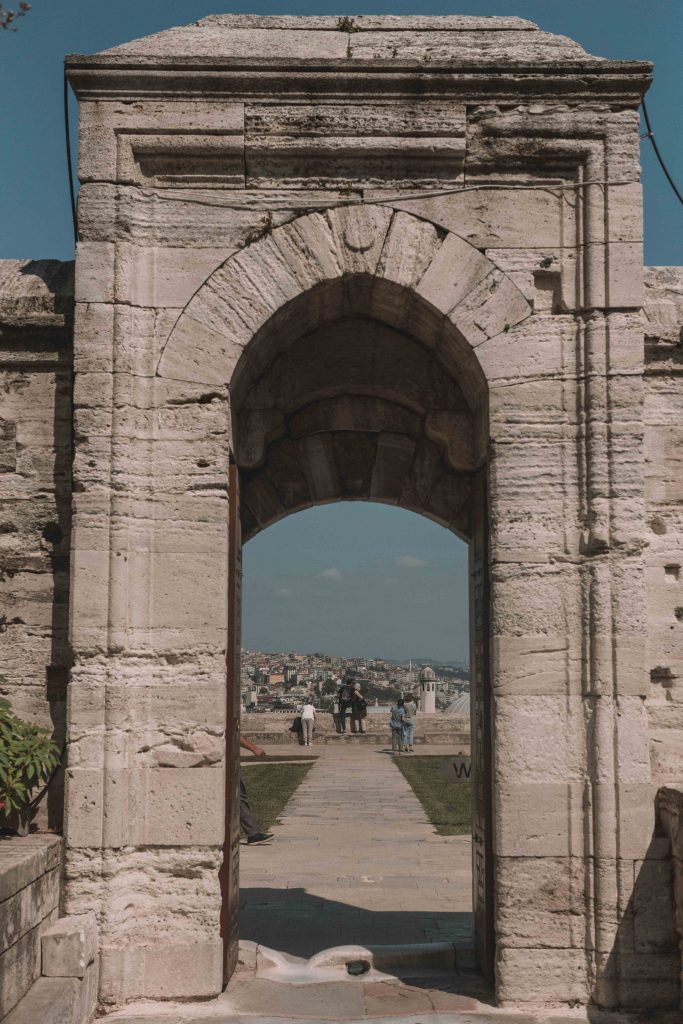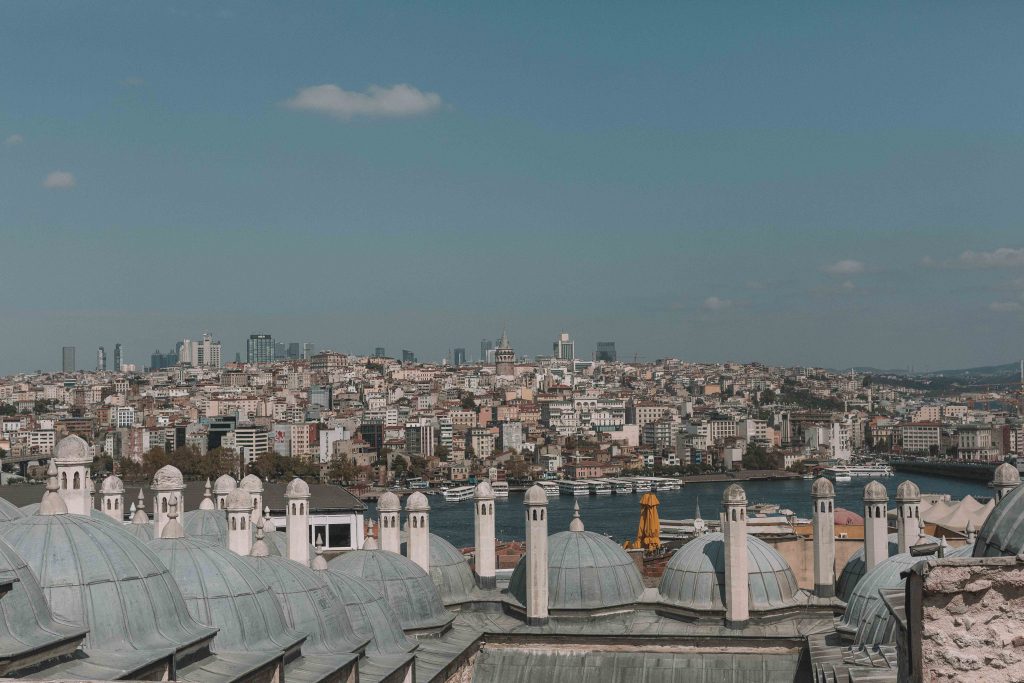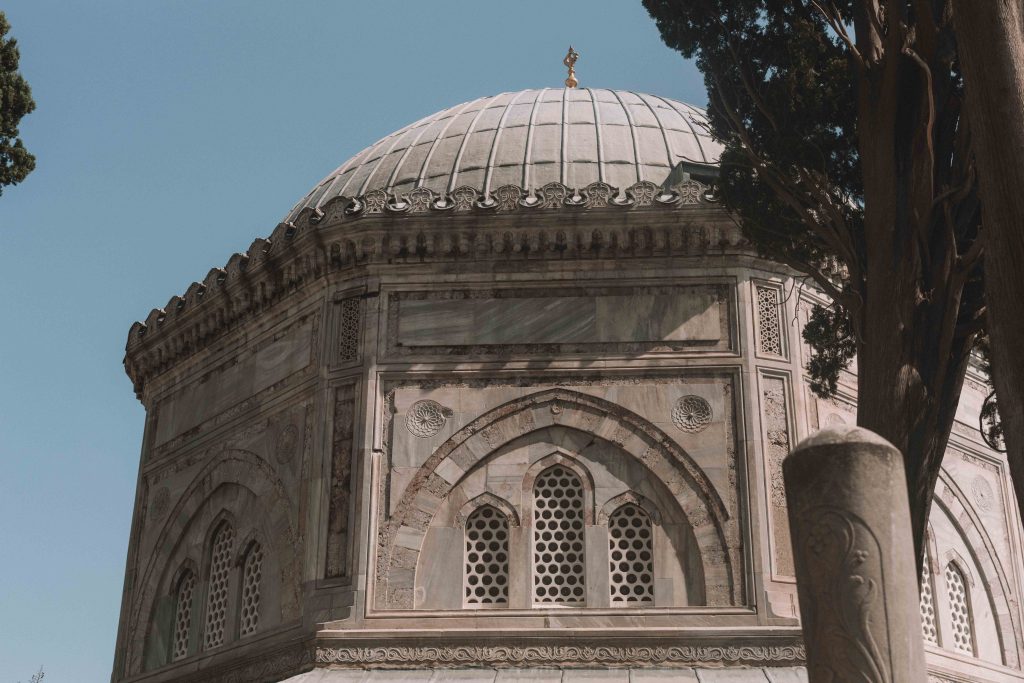 7pm: Dinner At Duble Mezze Bar, Istanbul
As our 3 days in Istanbul drew to an end, we decided to end our tour in style – heading to the jaw-dropping Duble Mezze Bar, Istanbul.
Found back in the port of Karaköy, the Bar not only offers traditional (and delicious) meze, but also provides unlimited wine, beer or Raki (alongside a set meal). However, the crowning feature of this place was its breathtaking views – particularly at sunset.
Gathering on the Bar's balcony, we watched as Istanbul's skyline turned a heavenly pink, before blushing a deep scarlet. Ahead of us, the Golden Horn glowed and the city's buildings began to light up.
It was the most brilliant way to end our 3 days in Istanbul – and an unforgettable evening in what is a truly unforgettable city.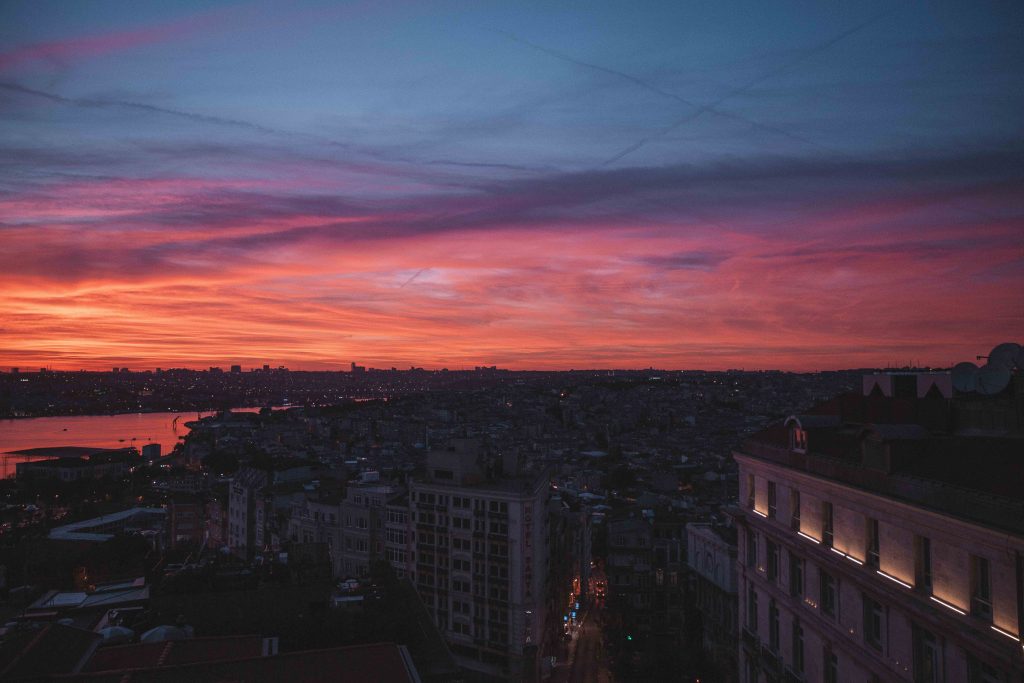 What to see in Istanbul in 3 Days: Final Thoughts
Given the sheer number of words dedicated to this blog post, even I find it a little difficult to believe that it's possible to fit all of the above into just 3 days in Istanbul.
However, fit we did – and in style. Far from feeling exhausted or overwhelmed – and thanks to the city's public transport system – we managed to strike a balance between sight seeing and relaxation.
From exploring the hipster streets of Karaköy and enjoying morning coffees, to tackling the pulsing crowds of the city's Grand Bazaar, our 3 days in Istanbul allowed us to experience both sides that this city has to offer.
Of course, there's still much more to do in terms of what to see in Istanbul, but given that we had just 3 days to cover its top spots? I think we did very well indeed.