A ride in a Cappadocia hot air balloon has been on my bucket list for years.
In fact, I can still remember the day that I discovered this mystical, balloon-filled landscape. Scrolling through Instagram one grey afternoon, I paused at a video of hot air ballooning in Cappadocia and was immediately transfixed.
Mesmerised, I watched as hundreds of hot air balloons floated through sugary pink skies; a lunar like landscape falling away below them. Awe-struck, I began to furiously research its location; discovering that it was in fact Cappadocia – a remote region in central Turkey.
Within minutes my mind was set: it would now be my life's mission to experience to take a hot air balloon ride in Cappadocia, Turkey (despite my severe vertigo).
Five years on, and while deciding the second destination for our TTT Tour, I realised it was the ideal time to create an itinerary that would finally take me to the mythical place of hot air balloon rides.
Deciding to plan an adventure that would take in the sights and sounds of both Istanbul and Cappadocia, I spent the next four months obsessing over what life would be like in a Cappadocia hot air balloon.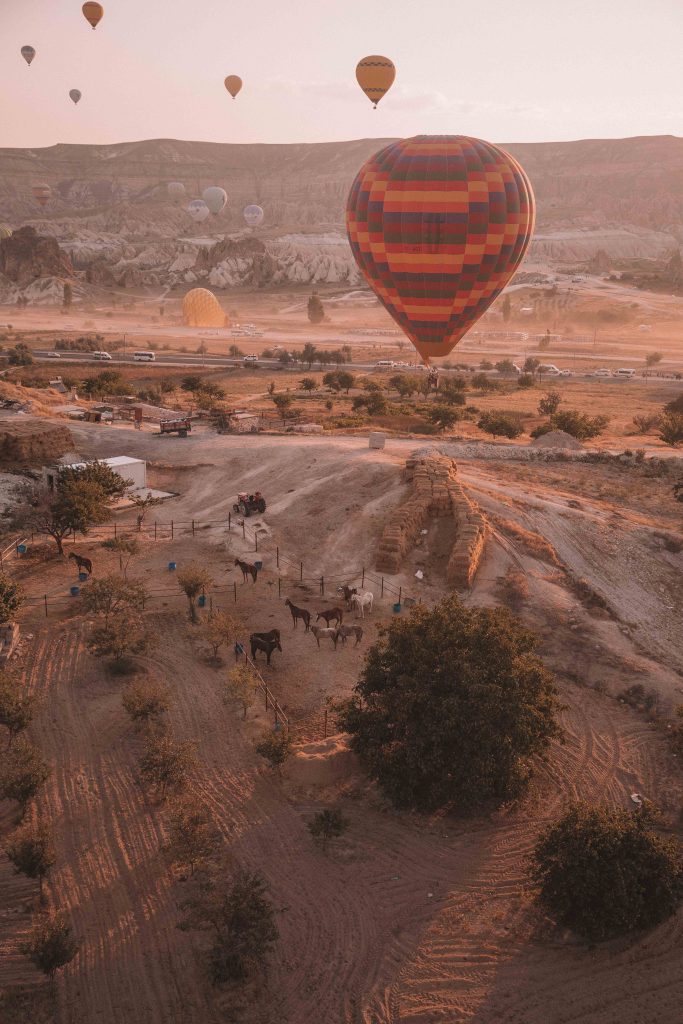 After ticking off this magical experience, I thought it might be helpful to put together a guide to how to take a hot air balloon ride in Cappadocia, Turkey.
This guide details how to get to Cappadocia from Istanbul, where to stay in Cappadocia, and how to plan a hot air balloon ride in Cappadocia. 
1. Where is Cappadocia in Turkey?
Cappadocia, formerly known by its Persian name 'Kapadokya' (meaning 'the land of the beautiful horses'), is located in central Anatolia – the heartland of Turkey.
Known for its 'fairy chimneys', Cappadocia is home to bizarre rock formations and legends that have spanned centuries. The region's curious landscape is the result of a process that began many millennia ago, when a nearby volcano littered ash across the region.
Quickly, this molten deposit turned into a soft rock, whilst eventual erosion created the peaked landscape that we see today. This unusual topography was soon utilised by humans, who built vast and cavernous underground cities beneath the chalky ground (more on that later), alongside cave dwellings and elaborate churches.
Indeed, whilst hot air ballooning in Cappadocia is certainly one of the region's draws, there is also plenty else to see and do in Cappadocia.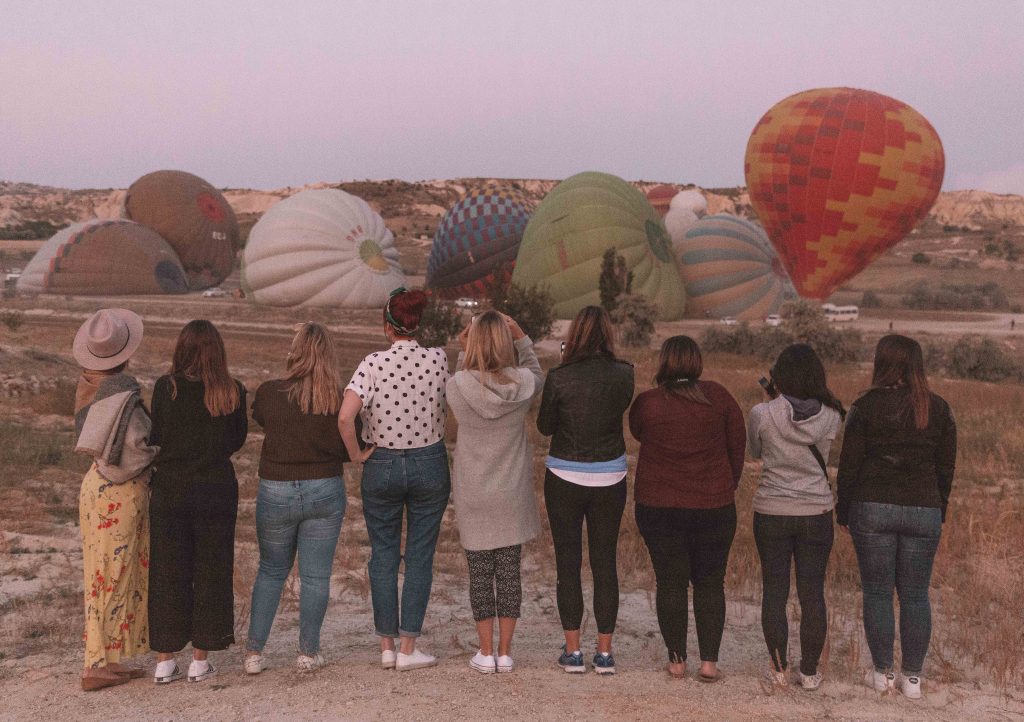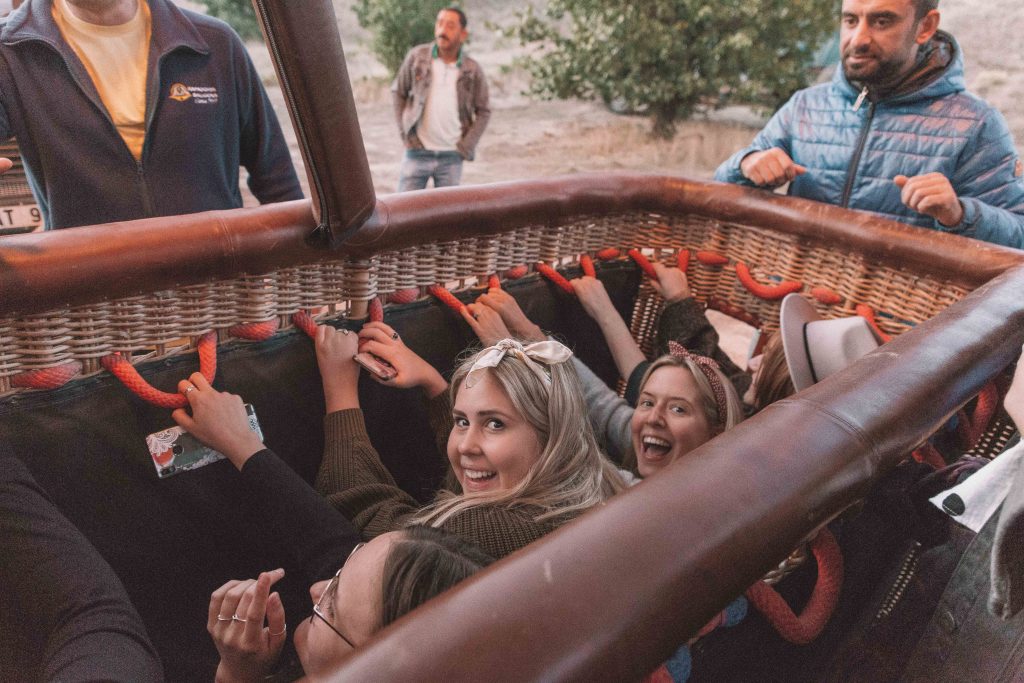 2. How do you get to Cappadocia (from Istanbul)?
The easiest way to reach Cappadocia from Istanbul is to jump on an internal flight to Kayseri airport.
We took a Turkish Airlines flight, which took just over an hour. From here, we took a hour long private transfer from Kayseri to Urgup; one of the centrally located towns in Cappadocia.
For those not on a pre-arranged tour, it's possible to hire a car at Kayseri airport and drive into the region. The roads were clear and easy to navigate during our visit and I imagine they would make for a fairly stress free drive.
Alternatively, there are shuttle buses from Kayseri airport that run regularly into many of the towns throughout Cappadocia, including Göreme, Urgup and Avanos.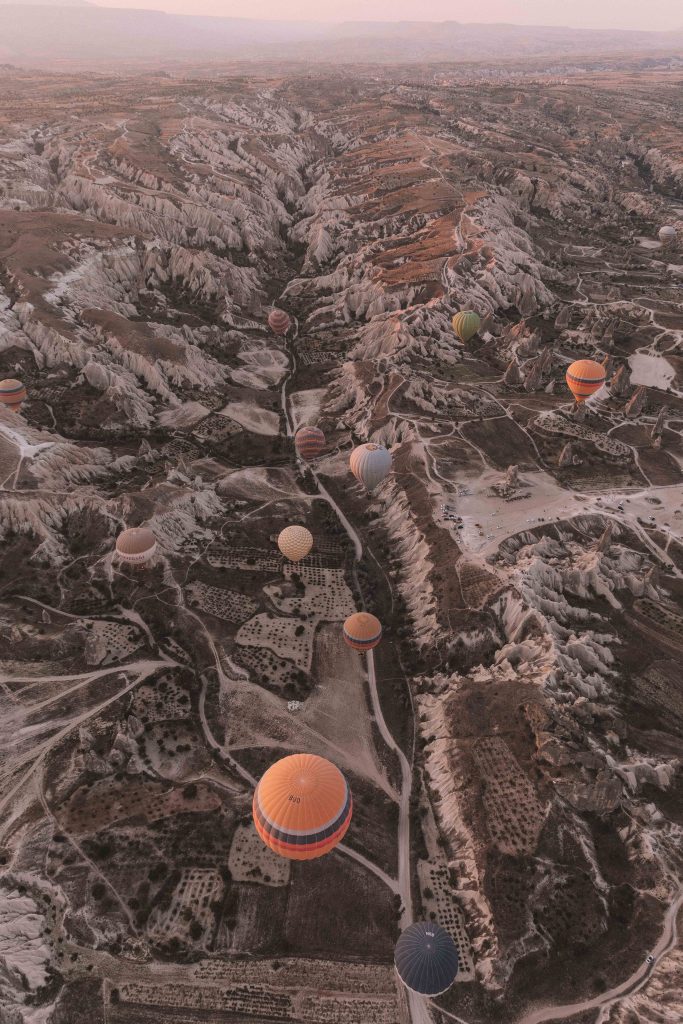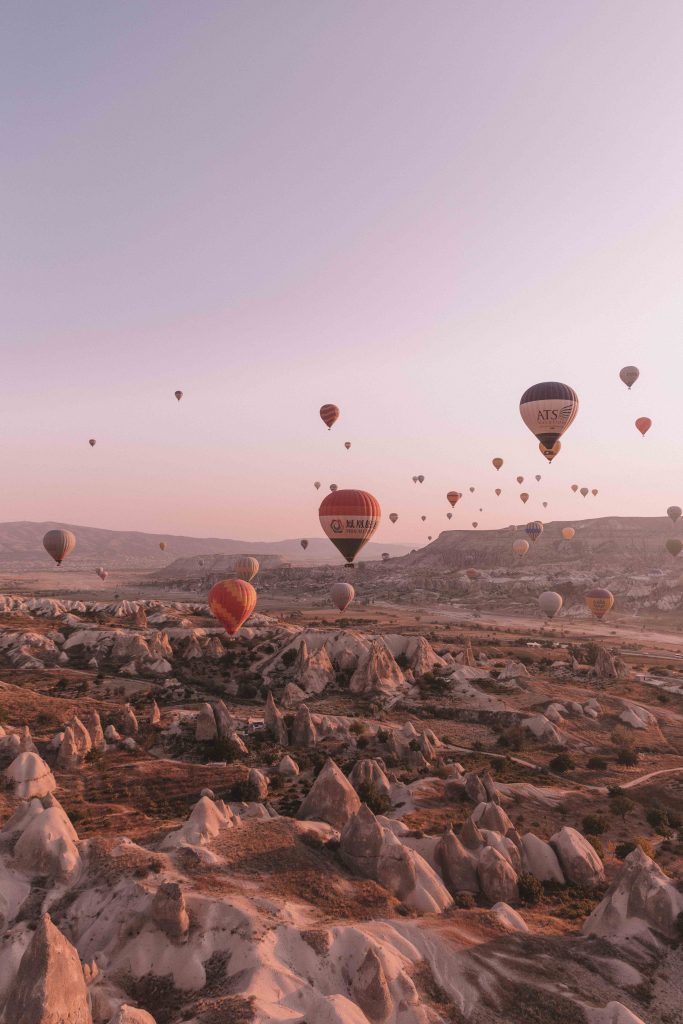 3. How Much Does a Hot Air Balloon Ride in Cappadocia cost?
Our hot air balloon ride in Cappadocia cost £195.00 per person and was arranged via Kapadokya Balloons.
The company has been running for 25 years and employs experienced pilots and ground staff; all facts I found very reassuring before our flight. As we were on our own tour, our flight was pre-arranged through Intrepid Travel, but you can book individually here.
What's included in a Cappadocia hot air balloon package?
We decided to opt for the company's 'deluxe' hot air ballooning package, which included:
Transfers to and from your hotel
Insurance
A snack and drink before the flight
1.5 hour ballooning session, rising up to 1,500m
Champagne and snacks to finish
A certificate
Although the price seemed a little steep at the time, I can confirm it's worth every penny. It felt like we had plenty of time in the air to really enjoy the experience and despite my initial nerves, I felt entirely safe.
It's important to note that your hot air balloon ride in Cappadocia cannot be guaranteed and may be cancelled due to poor weather. We were incredibly lucky with the weather and enjoyed bright, clear skies.
However, the following two days were cloudy with thunderstorms and rain, and all flights were consequently cancelled.
It's therefore recommended that you allow a few days in the region so that you can (hopefully) re-book onto another flight if you're unfortunate enough to have yours cancelled.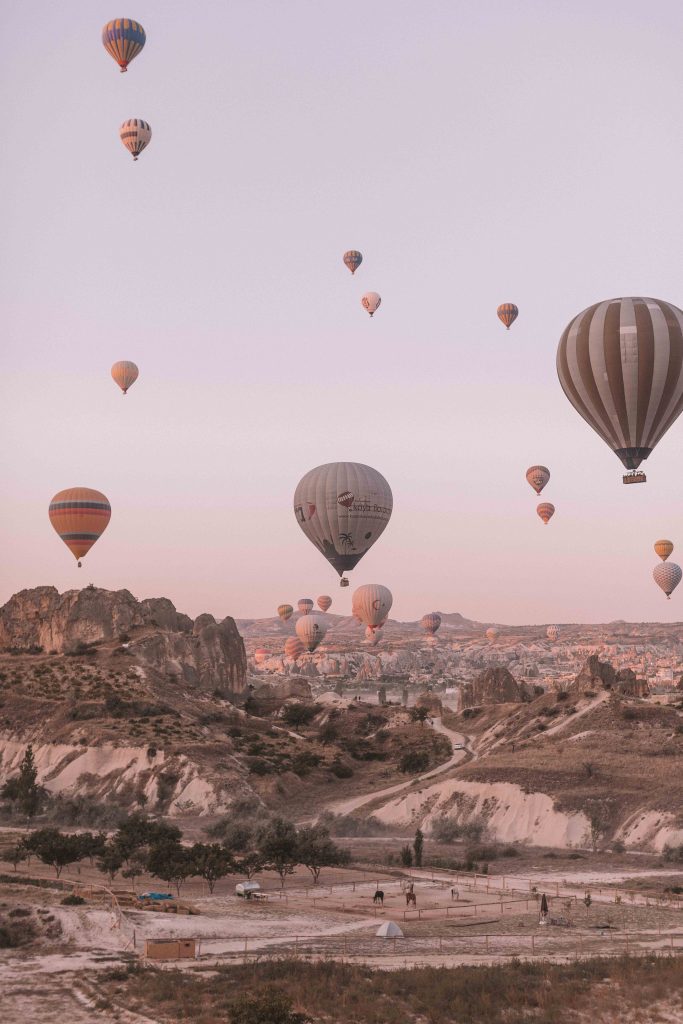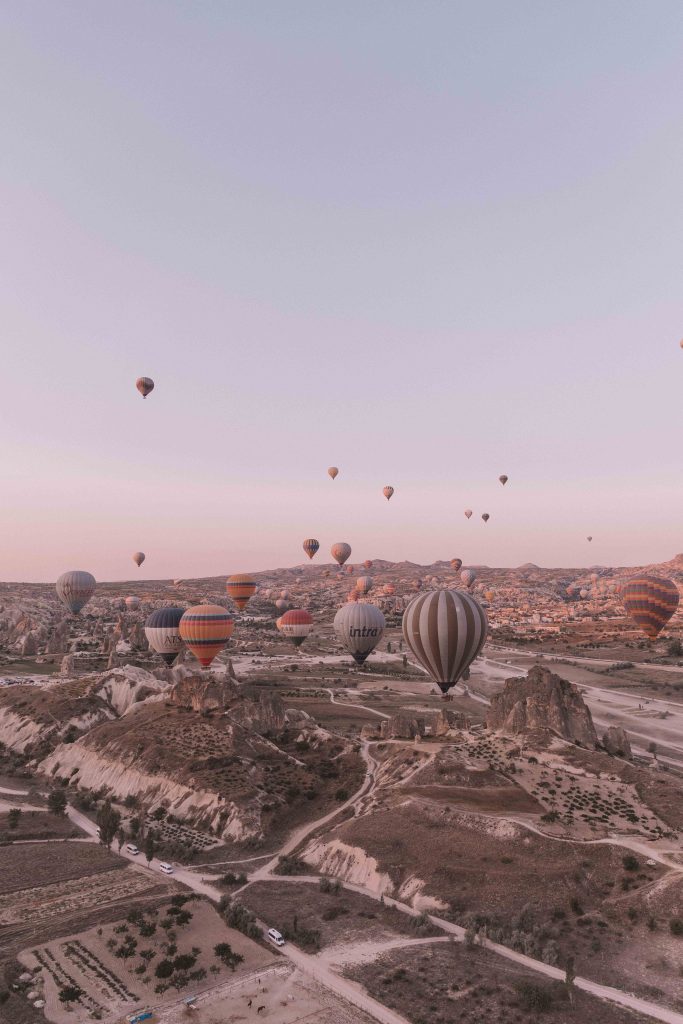 4. When is the best time to visit Cappadocia?
We visited Cappadocia in September, when the peak summer season had passed and the weather was cooler. The best times to visit Cappadocia are either March to June or September to November, when there's less crowds and the weather is pleasant.
Although the hot air ballooning season in Cappadocia is all year round, the winter months are bitterly cold and you have a higher risk of your balloon ride being cancelled due to strong winds.
5. What should I wear for a hot air balloon ride in Cappadocia?
The best thing to wear for a hot air balloon ride in Cappadocia is lots of layers – 5am in Cappadocia is not warm.  I opted for a pair of light trousers, t-shirt, thick wool cardigan and a hat. When you're 800m above land, it's very chilly although I was surprisingly snug amongst my fellow passengers in our basket.
Also remember to pack a pair of sunglasses, it's very bright on a clear sunny day.
6. What is Hot Air Ballooning in Cappadocia like?
Waking up as my alarm buzzed at 4.30am, I momentarily questioned whether this hot air balloon ride in Cappadocia would be worth the early start.
With a pick-up time of 5.15am, I dressed warmly (the mornings are cold in Cappadocia) and waited for our transport. Once on board, we began our journey out of Urgup; watching as the mini bus' headlights illuminated an almost sci-fi like landscape.
Arriving as the inky darkness began to dissolve, we sat huddled in the minivan; chewing nervously on Turkish pastries.
Just as we were about to embark on a group nap, I noticed the silhouette of a billowing balloon in the distance. Despite the darkness, it seemed that the landscape was beginning to stir. Piling out of the car, we scrambled up a small hill and watched as the early morning light revealed a sea of inflating hot air balloons.
We were so distracted by the scene that we initially didn't hear the sound of our pilot calling us down. "It's time", he shouted, ominously. Turning around, our balloon – which moments ago had been nothing more than a flat mass of fabric – was now a giant dome; its billowing sides obscuring the rising sun.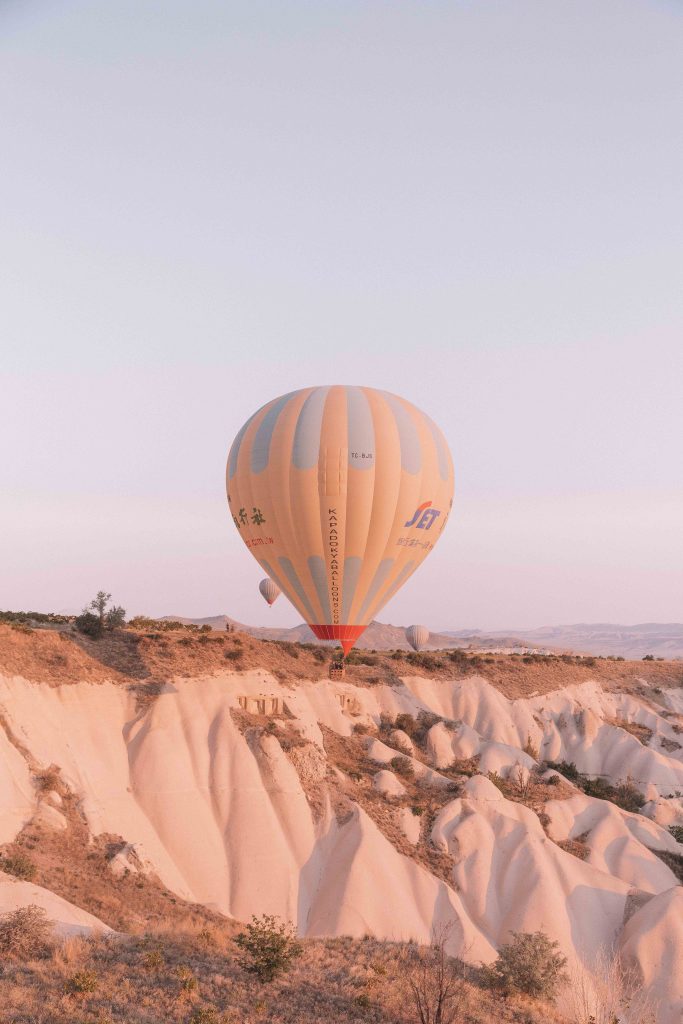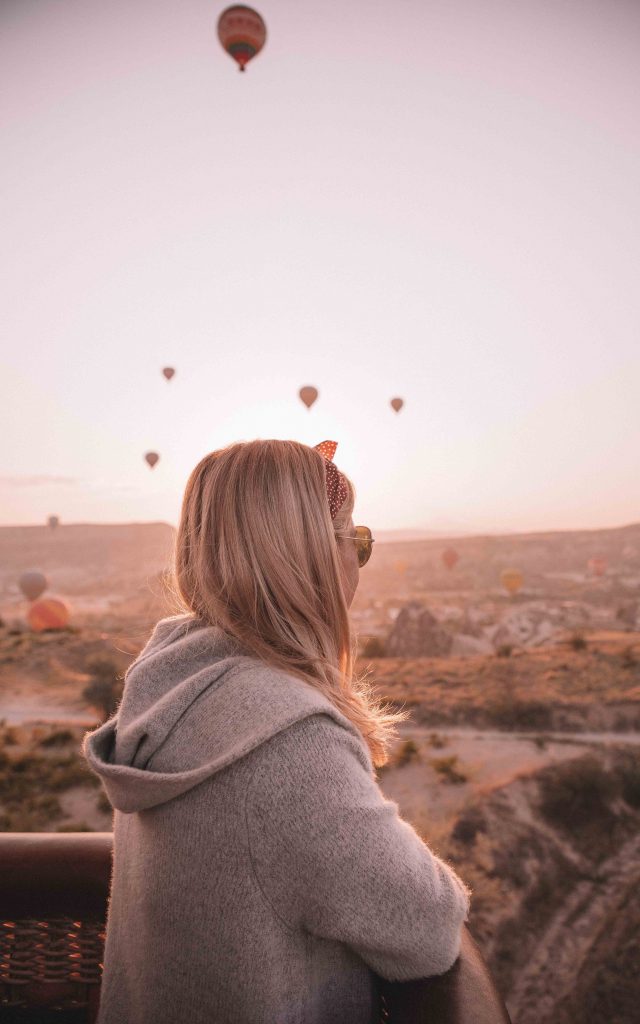 The first thing I noted as we approached our balloon was just how large the hot air balloon baskets are. With premonitions of me clinging to a tiny picnic-like basket, it was reassuring to see that they were in fact almost the size of my car at home.
Our basket was divided into two, with the pilot in the middle separating two different parties. Surprisingly, the basket actually housed twenty people, with room to spare. Indeed, rather than being crammed in like sardines, we had room to move around the sides of the basket, taking it in turns to make the most of the different vantage points.
A Hot Air Ballon Ride in Cappadocia, Turkey
Dramatically, fiery orange flames were suddenly blasted into the balloon. As the ground staff gradually untied the ropes, we waited in silence as our basket began to slowly lift; gently climbing into the sky like a bubble rising in water.
Grabbing each other's arms, we watched as the people below us transformed into tiny, small dots. Gazing around, we watched as dozens more hot air balloons joined us in the sky; the entire panorama filling with a rainbow of orbs.
It was – undoubtedly – the most beautiful scene I've ever witnessed.
How high does a hot air balloon ride go in Cappadocia?
Over the course of our 1.5 hour hot air balloon ride in Cappadocia, we would rise and fall like feathers on a breeze; the landscape continually changing as we rounded new corners and bends. Below us, we watched as wild horses galloped through ravines and flocks of birds flew past.
The entire experience was completely surreal.
We reached our highest altitude at 1,500m when – and just for a moment – I grew slightly concerned that we were headed to space. From here, the hot air balloons below looked like tiny, colourful pin balls, scattered across the landscape like a piece of modern artwork.
Time passed in a blur and soon it was time to descend. High on adrenaline, we got into the required 'brace' position as our hot air balloon made a peaceful landing. Slightly disappointed that we didn't have a more dramatic descent, we emerged from our basket triumphant and ready for our final treat: a champagne breakfast.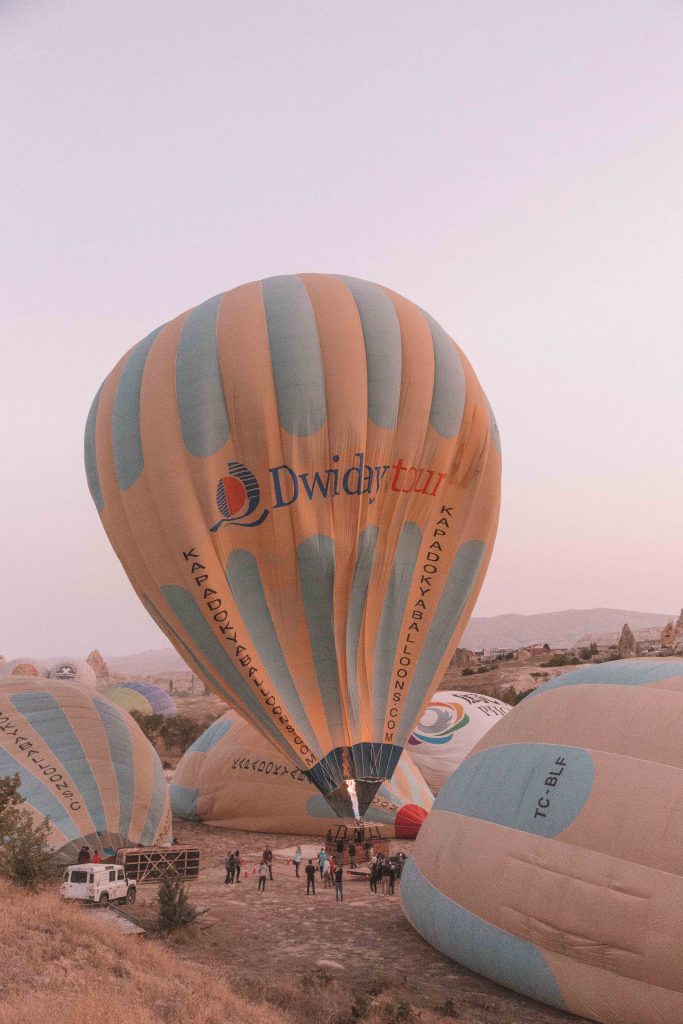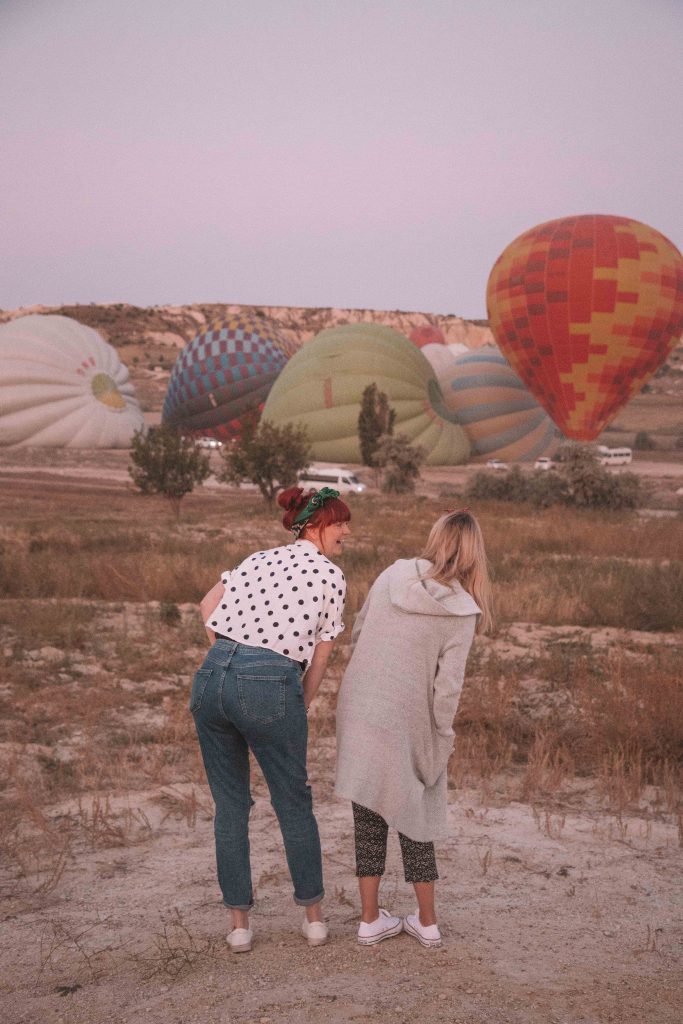 5. Where to Stay in Cappadocia, Turkey
Aside from the hot air ballooning experience itself, Cappadocia deserves some wider exploration.
As such, you'll need to choose from the dazzling array of hotels that now fill the region. Although finances might be a factor, I'd urge you to consider staying in one of the region's more traditional hotels: a cave hotel.
The Cave Hotels in Cappadocia
A visit to Cappadocia would not be complete without a stay in an authentic cave hotel.
Replicating how people in the area would have once lived, many of the hotels in this region are built into the caves to recreate (in a far more luxurious way) the troglodyte dwellings of the past.
Keen to experience this for ourselves, we stayed at the 4* Exedra Hotel,  which is located in Urgup – a short drive from Göreme.
Our stay at Exedra was a peaceful one, with light-filled public spaces offering hammocks and swings, bright foliage and attentive staff. For those considering a cave hotel in Cappadocia, this spot comes highly recommended.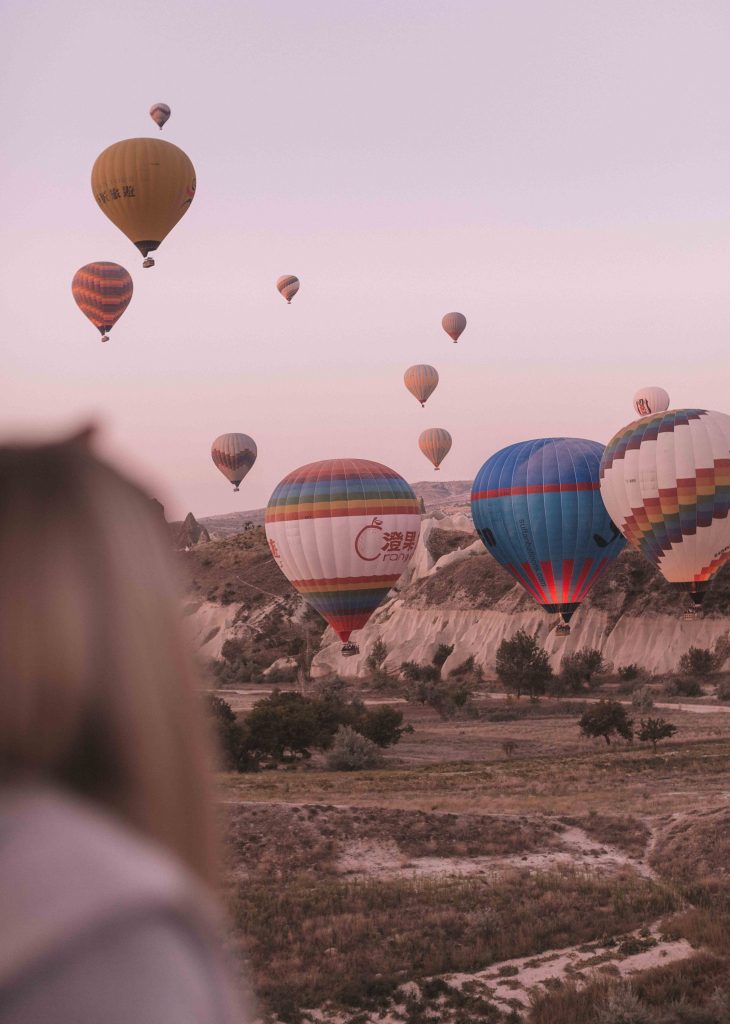 6. Things to do in Cappadocia
If hot air ballooning isn't for you, you'll be relieved to hear that there is still plenty to see and do in this region.
Below are just a few highlights that might help you fill a few days in Cappadocia.
1. A Traditional Meal at a Homestay
On our first night in Cappadocia, we headed for a traditional Turkish dinner at the home of Nuray, a Cappadocian local.
Slipping off our shoes, we were warmly welcomed into her traditional cave home, where we enjoyed a night of delicious dishes and excellent company. Having had to leave her job due to poor health, Nuray focused on her passion for cooking and now welcomes visitors from around the world into her home; cooking for them with both care and passion.
After a cup of apple tea, we took our places around Nuray's kitchen table, where we were set to work helping to prepare the food.
Salivating as the smell of fried onions, mince meat and creamed lentils filled the cosy kitchen, we chatted, laughed and listened as Nuray guided us through the recipes.
After two hours of (largely Nuray) cooking, we feasted on creamed lentil soup, fresh salad and aubergines stuffed with mince meat and onions. It was one of the loveliest meals I've had in a long time and we went to bed that night content and full.
For those looking for an authentic experience whilst in Cappadocia, I would highly recommend a homestay dinner. Our experience was booked through Intrepid Travel who help to organise our TTT Tours.
2. A Soft Hike Through 'Love Valley', Cappadocia
For those looking to stretch their legs, a soft morning hike through the intriguingly named 'Love Valley' is a, well, interesting way to begin the day.
We enjoyed an hour long hike after our hot air balloon ride through this area – its name becoming increasingly ironic as we explored the landscape. Rounding the corner, we were met with a sea of giant 'fairy chimneys', which loomed large on the hilly landscape. These 'fairy chimneys', however, bear an uncanny resemblance to a male body part – and the entire scene caused a lot of sniggering.
I'll leave you to guess what they reminded us of.
The Underground Cities of Cappadocia
There are 36 underground cities in Cappadocia, which are classed as troglodyte cave-cities dating back as far as 5,000 years.
During our time in Cappadocia, we visited Kaymakli Underground city, which is the broadest of all of the cities in the area. So large, in fact, that only 30% of it is open to the public.
Kaymakli Underground City was built by the Indo-European Phrygians during the 8th-7th centuries BC. Christians expanded these caverns to add chapels and inscriptions, which were then further expanded during the Byzantine era.
During this time, Christians sought refuge in the underground caverns from the Muslim Arab raids that were happening throughout the region. The caves continued to be a place of refuge during the Ottoman era and even into the 20th century (1909-1911), when the Cappadocian Greeks attempted to escape Ottoman persecution.
Making our way down into the fascinating tunnels that lead into the underground dwellings, the overhead sunlight was quickly snuffed out. Soon, we were hunched and walking through increasingly tight spaces, built over four levels.
It's said that this is one of the narrowest cities, in terms of tunnels, with Derinkuyu city having more wider and taller passageways. (Something to consider if you're on the claustrophobic side).
The tour was fascinating, with visitors free to explore the various rooms that filled this city – including churches, wineries, bedrooms and cellars. In fact, the city is so pristinely preserved that the local village that sits above still uses some of the traditional dwellings for food storage and stables.
3. Visit An Award Winning Potter: Chez Galip, Cappadocia
Located near the village of Avanos is the pottery studio of Turkey's famous potter: Galip Korukcu.
Producing some of the best pots in Turkey, Galip, has been a potter for over fifty years. Having learnt his trade from his father, Master Galip now passes his skills down to his apprentices, who are scattered throughout the studio.
Our group were given the chance to have our own go on the pottery wheel, before we explored the gallery and its dazzling plates, bowls, mugs and pots. For those looking to pick up a traditional piece of Cappadocian pottery, this is the place to come.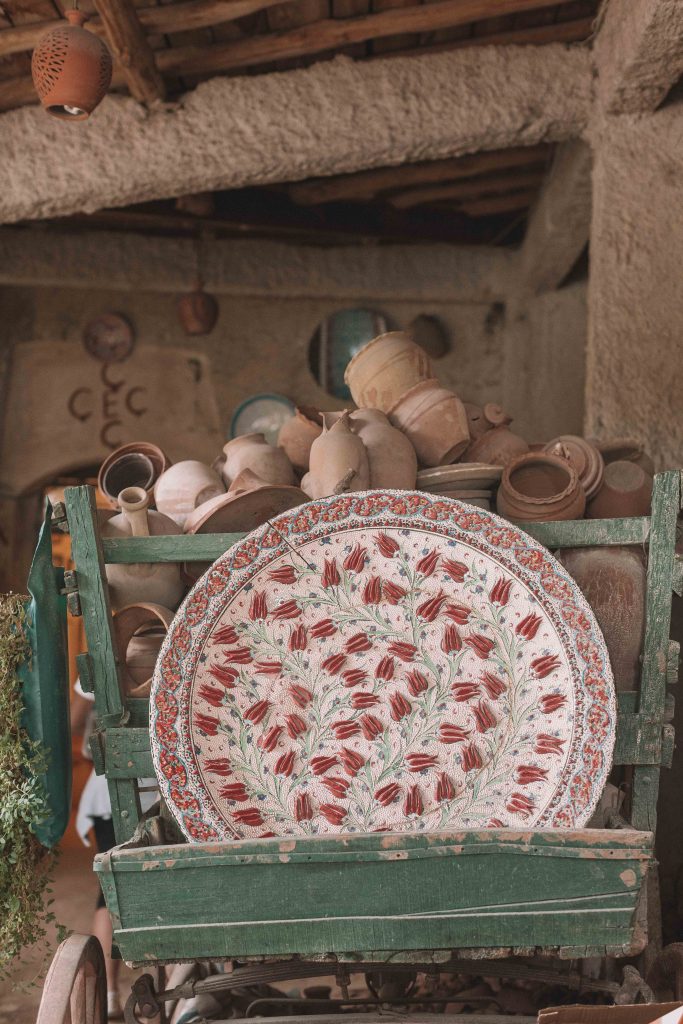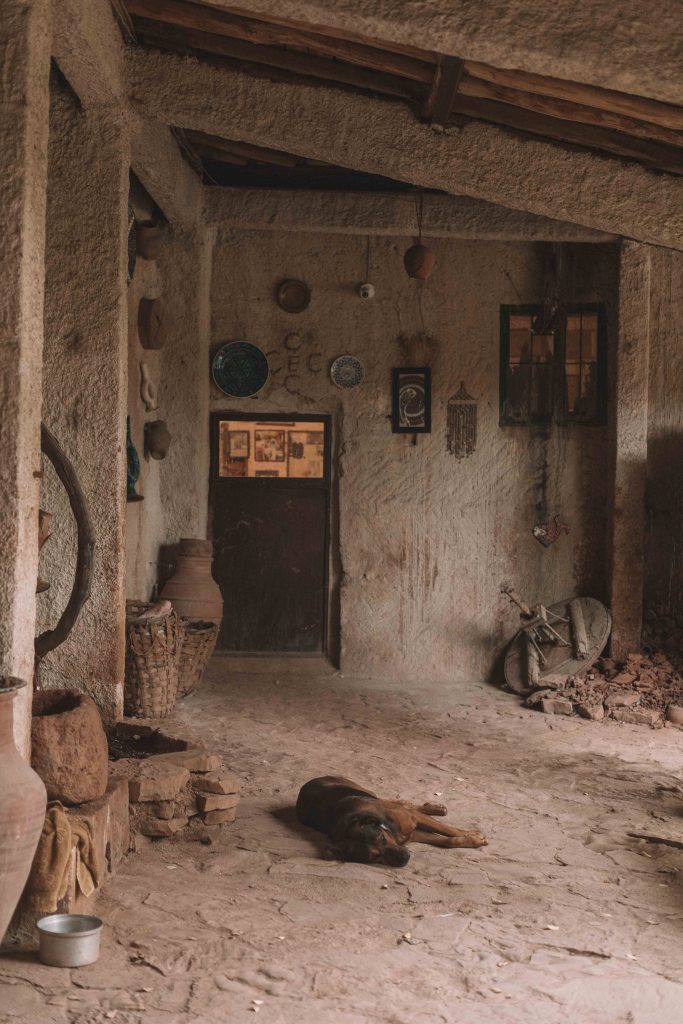 Is Hot Air Ballooning in Cappadocia worth it?
In a world where social media portrays a (largely) distorted reality, I was unsure whether hot air ballooning in Cappadocia would be worth it.
Would the reality be a complete disappointment when compared with the mesmerising video that I'd seen on Instagram all those years ago?
The answer is, in short, no.
My experience of hot air ballooning in Cappadocia far surpassed my expectations and has left me with one of my most treasured travel memories to date. Less than a week on, the entire experience already feels like a dream; one of pastel pink skies, a glowing sunrise and a sense of floating on air.
My only regret? I wish I could have done it over and over.
Experiencing a hot air balloon ride in Cappadocia really is a dream come true.