Pretty Taormina is a destination that I've been desperate to visit since my love affair with Italy began in 2012. On my first visit to Italy, it was Sicily's west coast that I ventured to; staying in the hidden gem of Scopello. Exploring this slower-paced, tourist-free spot was an excellent introduction to Sicily, yet it was the island's glitzy east coast that intrigued me most. Dwarfed by the mighty Mt. Etna, and scattered with glittering hilltop towns, it's this side of the island that perhaps offers the full dolce vita experience.
Six years since my first visit to the island –  and having visited Italy annually ever since (including for my own wedding) – I thought it was about time I returned to the place that sparked my Italian love affair. The result is the below guide on things to do in Taormina, Sicily; a small but intoxicating town nestled on the island's east coast.
How to get to Taormina
In order to get to Taormina, we booked surprisingly cheap flights to Catania airport from London Luton with Easyjet. The total cost was just £210 per person. Catania is the closest airport to Taormina (a 1-1.5 hour drive) and is located on the island's east coast. Alternatively, for those looking to see more of the island, frequent flights to Trapani and Palermo are also available from the UK.
Catania Airport to Taormina
For those flying into Catania airport, there are four transport options when it comes to travelling onwards to Taormina. They are listed below in order of price:
1. A private airport transfer to Taormina (£££)
There are a number of private tour companies in Sicily that can arrange private transfers to and from Taormina. We requested a quote from Experience Sicily, and were given the price of 90 euros each way.
2. Car hire from Catania Airport (££)
Parking in Taormina is particularly difficult, with a permit required for those wishing to park in the centre of town. This means drivers will either need to park in one of the town's carparks situated on its outskirts (this can cost up to 15 euros a day), or arrange parking with your hotel. For those exploring Sicily more extensively, a car is essential – however, for those staying in and around Taormina, it's far easier to use public transport and taxis.
Catania airport offers your usual car hire options including Avis, Europcar and Hertz.
3.  A bus from Catania Airpot to Taormina (£)
Grabbing the Interbus from Catania Airport (which runs every 30 minutes) is the most affordable option for those visiting Taormina on a budget. Located handily outside of the arrivals terminal, a return ticket to Taormina is just 15 euros per person. Knowing that Taormina was an expensive town, and wanting to save as much money as possible for seafood and wine, we opted to take the bus.
Air-conditioned and stress-free, it was an easy and cheap way to travel to Taormina.
4. A train from Catania to Taormina (£)
If you'd rather avoid the bus, the final option is to catch the train from Catania station to Taormina. Please note, this will require that you to initially catch a bus to the train station from the airport.
Note: taxis in Taormina are eye-wateringly expensive. We caught a taxi down to the train station (an 8 minute drive) and it cost 15 euros. This was the same price as a return bus ticket from Catania Airport. All taxis are metered, so plan ahead in order to stay within budget.
Where to stay in Taormina
It's perhaps no surprise that Taormina is an expensive town to stay in. With high-rollers arriving each summer to enjoy Taormina's glitz, this is a town filled with luxury – therefore costly – hotels. For those looking for a particularly special stay, the Belmond Grand Hotel Timeo is perhaps one of the most luxurious residences in Taormina. Fellow travel blogger, Angie of Silverspoon London, recently stayed here – you can read her full review here.
Where to stay in Taormina on a budget
Keen to keep costs down, we opted to book an Airbnb in Taormina. We booked Villa Cappuccini, which was located just a short walk outside of the ancient city walls. Simple but comfortable with a bedroom, small kitchen, bathroom, balcony and shared pool (available at the hotel next door), this little home suited our needs perfectly.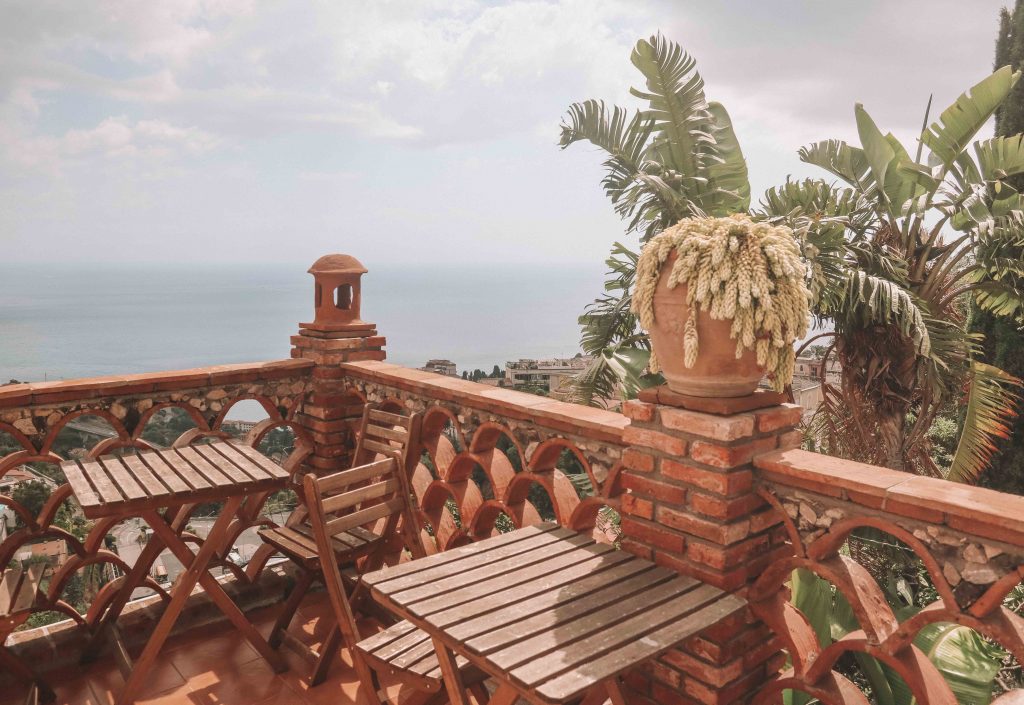 For a five night stay, we paid just £402. 
Alternatively, for those really looking to keep costs down, staying in Naxos – located at the bottom of the rocky hill that leads to Taormina – is a feasible alternative. Offering cheaper accommodation prices, this is an excellent spot to base yourself if you're happy to catch the bus up to Taormina.
Ten things to do in Taormina, Sicily
With the finer details out the way, it's onto the important stuff: things to do in Taormina. Not just a pretty face, Taormina is brimming with history, ancient sights, delicious food and picture-perfect beaches. With something to suit everyone, below is our round up of ten things to do in Taormina.
1.Teatro Greco Taormina
Admission price: 10 euros per person
No visit to Taormina would be complete without a visit to its crowning jewel: Teatro Greco, Taormina. An Ancient Greek theatre built in the third century BC, this breathtaking venue hangs between mountain and sea; views of Mt Etna and the glittering Tyrrhenian Sea visible on the horizon. Built initially by the Greeks, and then further refined by the Romans (who added an ingenious fabric roof), Teatro Greco is an unforgettable sight.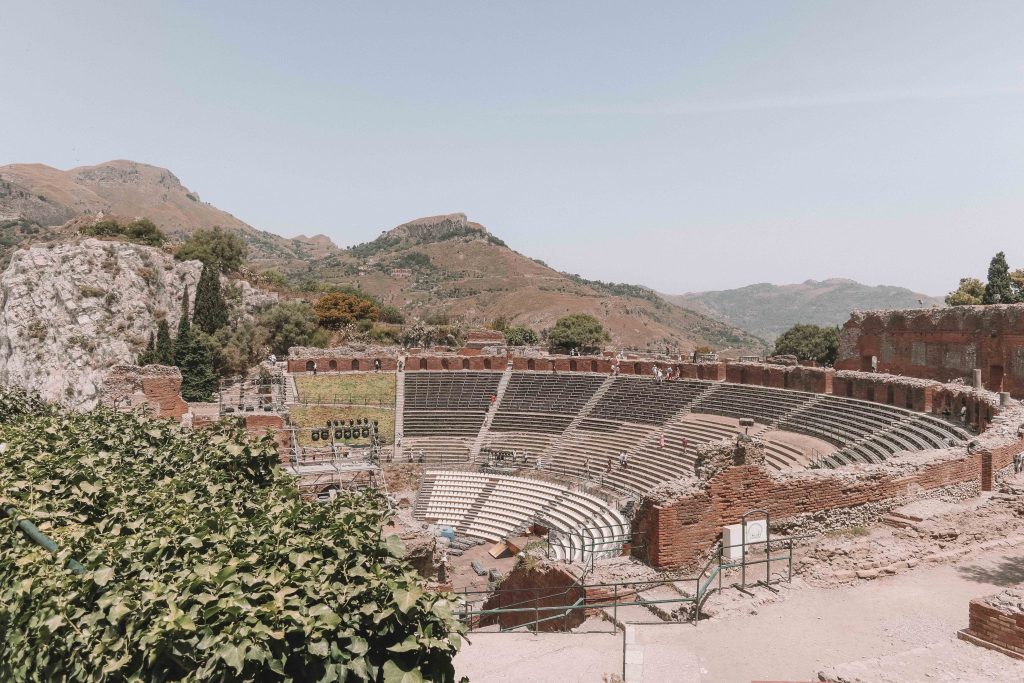 Preserved in its original horse-shoe shape, the theatre would have originally been used by the Greeks to perform plays during late winter and early spring. Later rebuilt by the Romans, the theatre underwent further construction, with pillars added to transform it into a venue fit for gladiatorial battles and games.
Having wandered many of Italy's amphitheatres – including Verona's – I would go as far as to say that this one is by far the most photogenic.
Tip: arrive early to avoid the crowds and midday heat.
2. Isola Bella
Admission price to the island: 4 euros per person
The pebbled beach of Isola Bella is a picture-perfect, turquoise delight and can be found at the bottom of the lofty rocks of Taormina.
As well as being unbelievably beautiful, Isola Bella possesses a fascinating past. Once home to Lady Florence Trevelyan, a Scottish aristocrat, I discovered that the island has an unexpectedly British connection. Exiled to Sicily by Queen Victoria after a rather public affair withEdward VII, Florence bought Isola Bella in the 1870s. Building a house atop the rocky island, Florence settled on the island, before marrying an Italian doctor and creating a wonderful exotic garden to enjoy.
Isola Bella is now a nature reserve, boasting beautiful botanical gardens and a small, but perfectly formed, museum. For the price of 4 euros, it's well worth digging in your pockets for some loose change. For keen snorkelers, the crystal clear waters around the island are well worth your time. Boat trips around Isola Bella's hidden grottos are also available from the beach.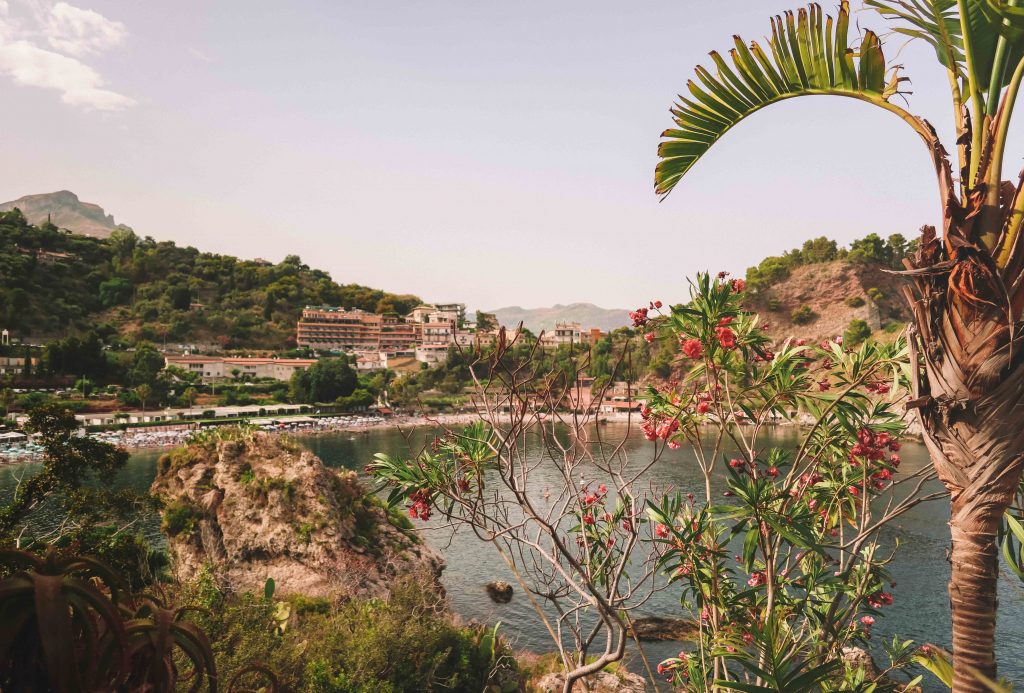 Sunbathing on Isola Bella
There are a number of hotels and companies located across the beach from Isola Bella, all of which offer sun loungers, access to changing rooms and toilets. These ranged from 20 euros for the day (which we chose) to 35 euros a day. For those looking to save themselves some money, bring your own parasol and chairs and pitch up on the slither of beach that leads to Isola Bella.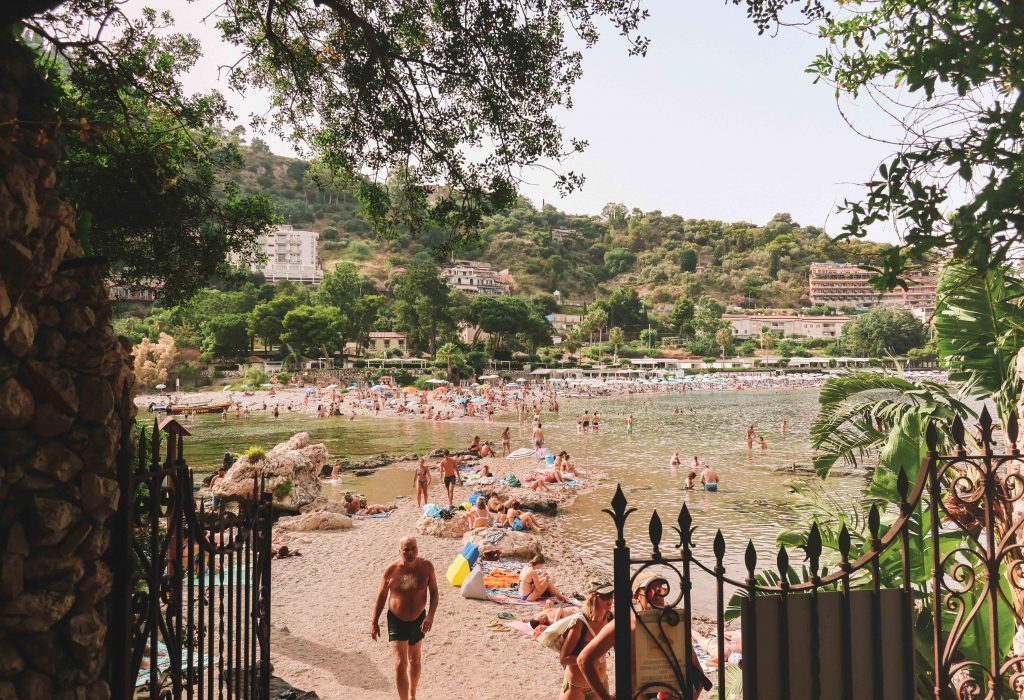 Remember, however, that this is a pebbled beach, so do come prepared.
How to get to Isola Bella from Taormina 
The easiest way to get to Isola Bella is to take the cable car, which connects the town with the beach of Mazzaro. From here, it's a 10 minute walk to the beach (down a healthy amount of steep steps). A return ticket on the cable car is 8 euros per person and is well worth the price for anyone keen to avoid tackling 300 plus steps in sweltering heat.
Tip: for the best views of Isola Bella, visit the viewing point at the end of Via Luigi Pirandello at sunset.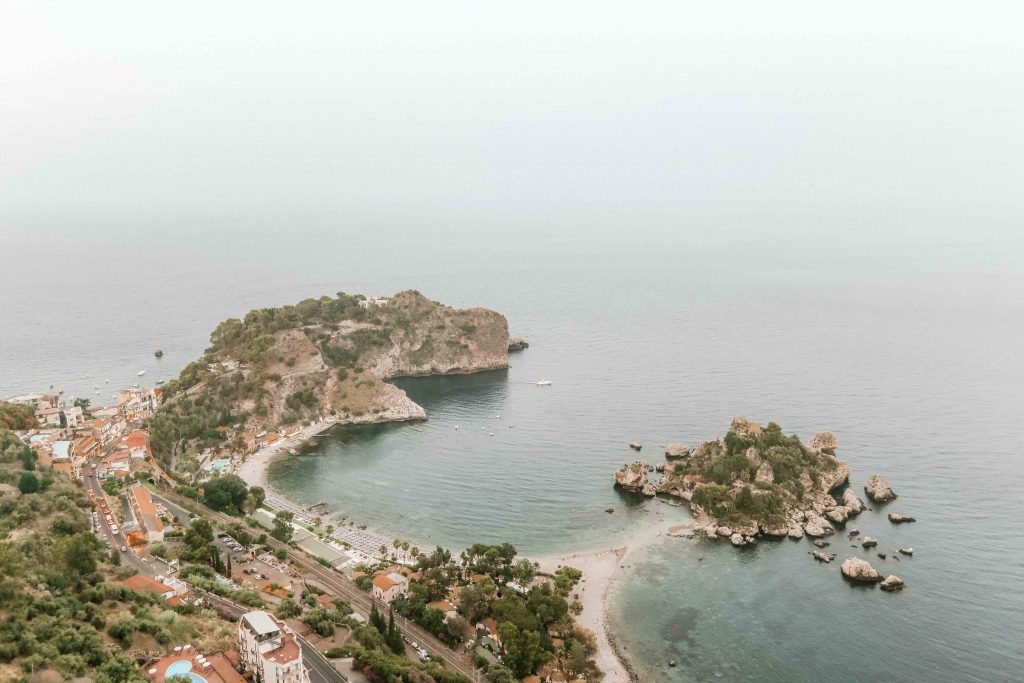 3. Villa Comunale
Admission: free
Continuing with our story of Lady Florence Trevelyan, Villa Comunale is her garden inspired masterpiece. Now a public garden, Villa Comunale is the place to come to escape the crowds and offers a veritable paradise of plants, trees, fountains and coastal views.
You'll also discover interesting, Peter Pan-esque, like buildings (known as Victorian follies) dotted throughout the grounds.
4. Hike to Madonna della Rocca Church
For those looking for some additional exercise to work off all that cannoli and seafood, then embark on the modest hike from the centre of town to Madonna della Rocca Church.
We decided to do this hike early one morning, before the heat of the day kicked in. Offering glittering views across the sea and out towards the Teatro Greco, this is an achievable hike (around 40 minutes) and offers some spectacular views.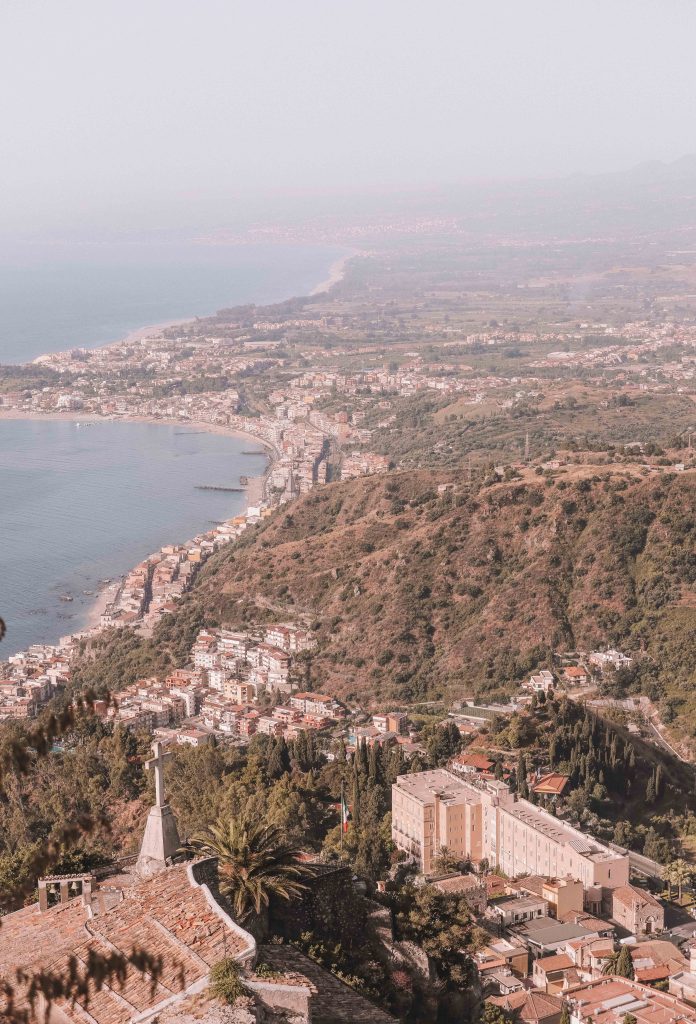 The Madonna della Rocca Church was built on the rock in the 1640s and is a rustic and modest church. Situated next to a long-abandoned monastery and castle, it harbours fascinating stories and legends of how it came to be. You can still walk up the castle steps for some additional views of the coast.
5. Stroll through Corsa Umberto I
Taormina's pedestrian-friendly main street is a hive of activity, complete with enticing alleyways to get lost in. Stroll through here as the evening crowds begin to form for a truly captivating Sicilian experience. From designer stores to small delicatessens selling delicious wines and cheese, shopaholics will also find themselves returning to these streets for a spot of distinctly Italian retail therapy.
Keep following Corsa Umberto until it leads you to the town's oldest quarter, Borgo Medievale, home to pink blossom lined streets and Taormina's grand Cathedral.
6. Enjoy Sicilian Cuisine
One of my greatest indulgences when visiting Italy is enjoying the local dishes and Italian cuisines. From brazed beef cheek and mash potato in Tuscany, to traditional Ragu in Bologna, sampling local delicacies is the best way to spend any summer's evening.
Whilst visiting Taormina,  I was therefore keen to try its local and authentic food. This consists mainly of fresh seafood, creamy cannoli and refreshing lemon granita.
Below is a list of the best spots of authentic Italian food in Taormina
For the best cannoli in Taormina:
One of Sicily's most beloved sweet treats is cannoli. In short, these are tubes of fried pastry dough, filled traditionally with ricotta, chocolate or cream, and are often topped with candied fruits and grated chocolate.
On my quest to find the best of these sweet treats, I discovered the delightful little Minotauro. Bursting with sweet treats, this is the best place to come in Taormina for a traditional cannoli.
For the best granita in Taormina:
Something of a hotspot in Taormina, the infamous Bam Bar is the place to come for the best granita in town. Granita, another traditional Sicilian treat, is a semi-frozen desert made from water, sugar and lemon flavouring. The perfect antidote to a hot summer's day, I lost track of how many of these granitas I enjoyed in the end.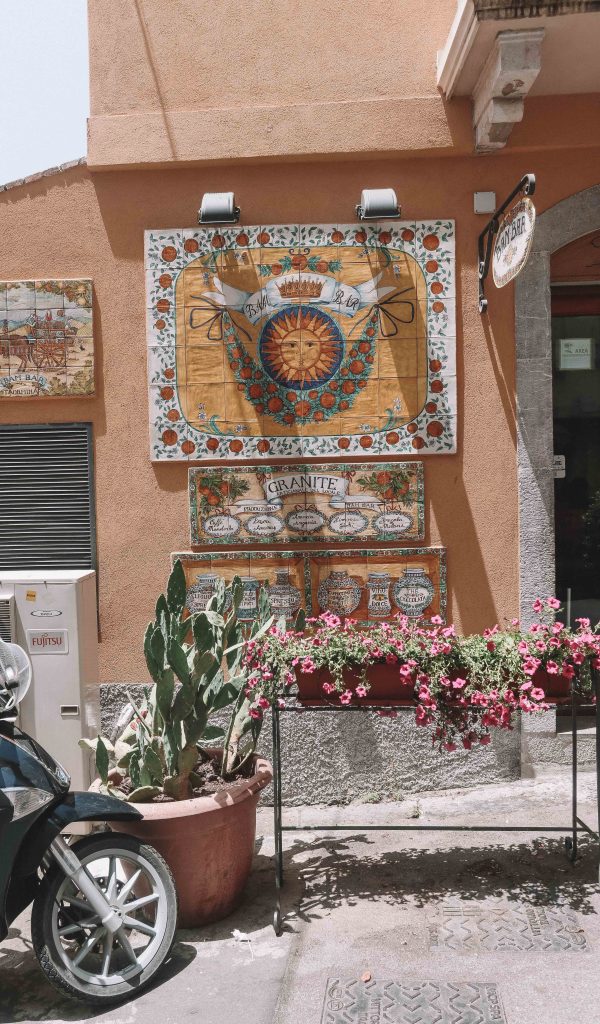 For the best cheese boards in Taormina:
I owe this find entirely to Tripadvisor. Unassuming from the outside,  La bottarga del formaggio is a cheese and meat deli. Walk through the deli and up the stairs, however, and you'll discover  a beautiful terrace restaurant offering the best calorific cheese and meat boards in town.
We opted for the medium sized platter (vegetarian options are also available) and a glass of local red wine each. It was a simple dinner, but perhaps the best we had whilst in Taormina.
Tip: this is a busy spot so book ahead.
For the best pasta in Taormina:
It was our Airbnb host who recommended the hidden gem of Timoleone Cafe in Taormina. Tucked away down a street that leads to Teatro Greco, the Timoleone Cafe offers a simple, yet delicious, menu focusing on fresh salads and steaming bowls of pasta. With pistachio being one of the regions most celebrated products, I treated myself to pasta sprinkled with pistachio and chilli.
The Cafe also specialises in Sicilian craft beers – an excellent way to see out the last light of the day.
Looking for more recommendations? Take a read of this helpful post by Angie of Silverspoon London on some of the best restaurants and bars in Taormina.
7. Day trip from Taormina to Syracuse
For those staying in Taormina for more than a couple of days, a day trip to Syracuse should be high on your list. Located on the tip of the south-east coast of the island, Syracuse is a magnificent marble delight and offers some of the most well-preserved and fascinating Ancient Greek ruins in Europe.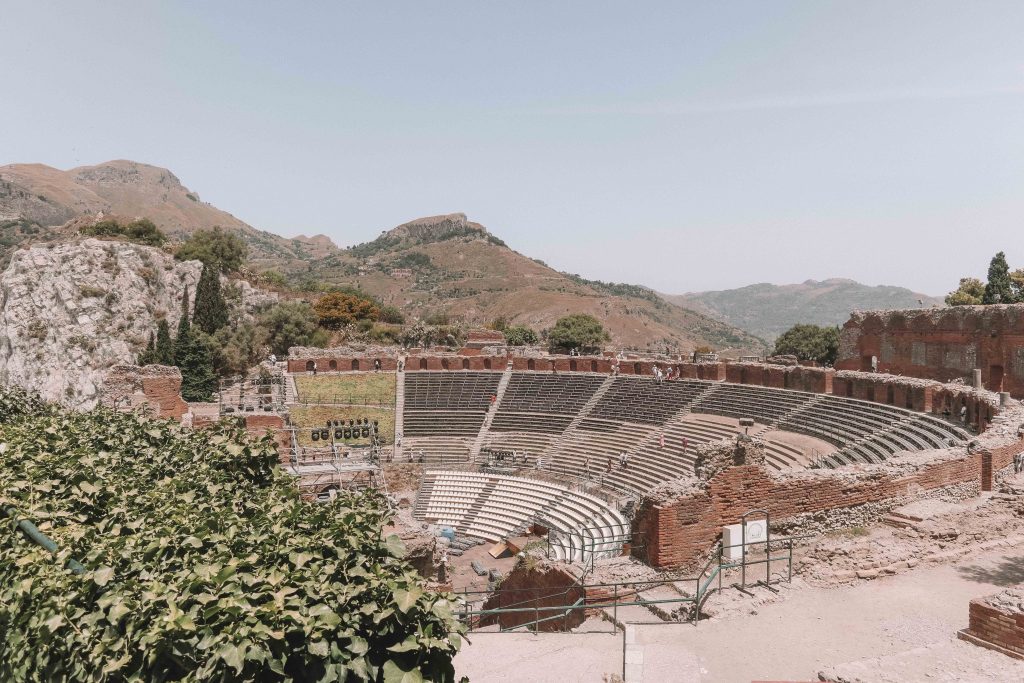 In its heyday, Syracuse was larger than Athens or Corinth; its extensive ruins now found in the Parco Archeologico della Neapolis.
After exploring the ruins, head to Syracuse's heart: the island of Ortiga. Also known as Città Vecchia (Old City), Ortiga is the city's show-stopper, boasting ancient ruins, pearly white buildings and romantic cobbled streets. Spend an afternoon getting lost here, and let the alleyways lead you to glittering shores, impressive castle and an awe-inspiring Duomo.
How to get from Taormina to Syracuse
Getting from Taormina to Syracuse was an easy process (aside from the 15 euro taxi from Taormina town centre to the train station). For those looking to save money – and with more time to spare – the Interbus can also drop you at the station from Taormina's central station.
From the station, we took the train (18 euros each return) to Syracuse, which took 1 hour and 50 minutes. The train journey itself is a pleasant one and rumbles along the coast with the sea on one side and Mt. Etna on the other.
8. Mt. Etna wine tour
Sampling regional wine is another favourite pastime of mine when in Italy. Unfortunately, and on this occasion, we ran out of time to do so – but I had identified a particularly intriguing wine tour that takes you around the stony base of Mt. Etna. A region that's produced wine since the 8th century (thanks to the island's fertile volcanic soil), visitors can taste 'volcanic wines' on board the Etna Train.
The train and 'wine bus' will take you through the region's many wineries, allowing you to hop on and off to enjoy a tipple as and when you please. If you fancy taking the tour yourself, you can find out more here.
9. Castelmola
Located high above Taormina sits the lofty Castelmola.
Another 30 minutes onwards from Madonna della Rocca church (by foot), this hilltop village and castle offers spectacular views over the town and coastline.
For those who would rather avoid the hour long hike, you can also catch the Interbus, which runs every 15 minutes from the centre of town. With temperatures already hitting 28 degrees by the time we reached Madonna della Rocca church, we decided to save this hike for another time.
With the promise of an almond wine bar at the top of the village, however, the hike sounds well worth the effort.
10. Watch a concert at Teatro Greco
Having explored Teatro Greco by day, returning to the Greek theatre as night fell was an unforgettable experience.
Before heading to Taormina, we searched the many concerts that would be playing during our time on the island (note: concerts only take place during the summer months) and were thrilled to see that the 1970s band, 'America', would be performing.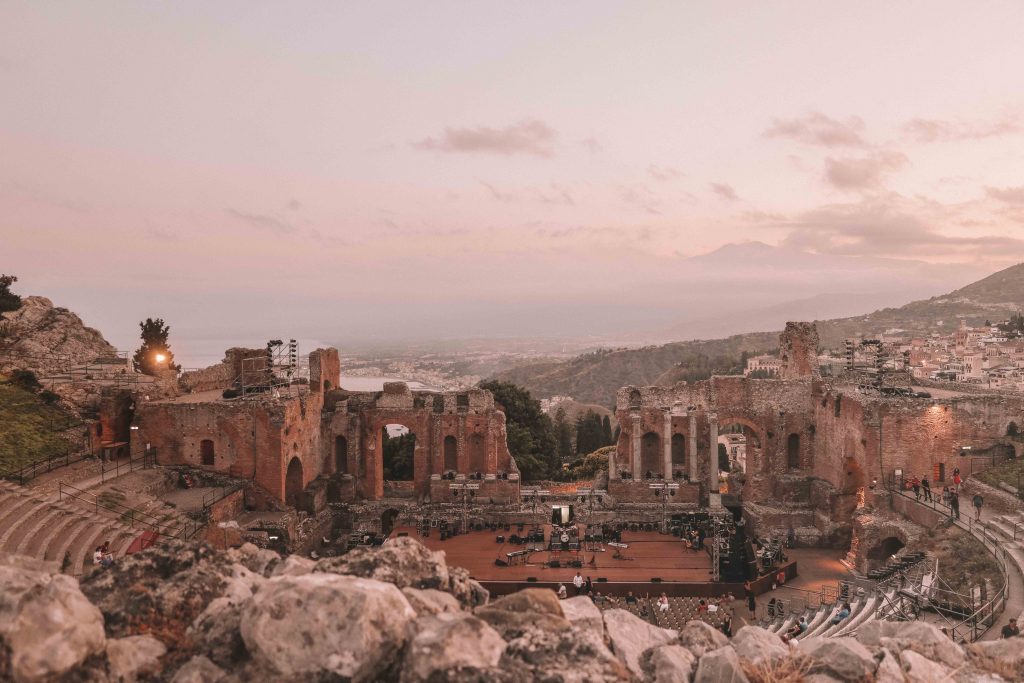 Having had the pleasure of watching the opera, 'Carmen', at Verona's amphitheatre during our honeymoon, we eagerly booked tickets to see the band (just 30 euros each).
Arriving as the sun began to set, we made our way to the top of the theatre for perhaps one of the most beautiful views I've ever seen. With Mt. Etna a misty silhouette to my right and the marble-like sea to my left, this venue felt nothing short of a film set.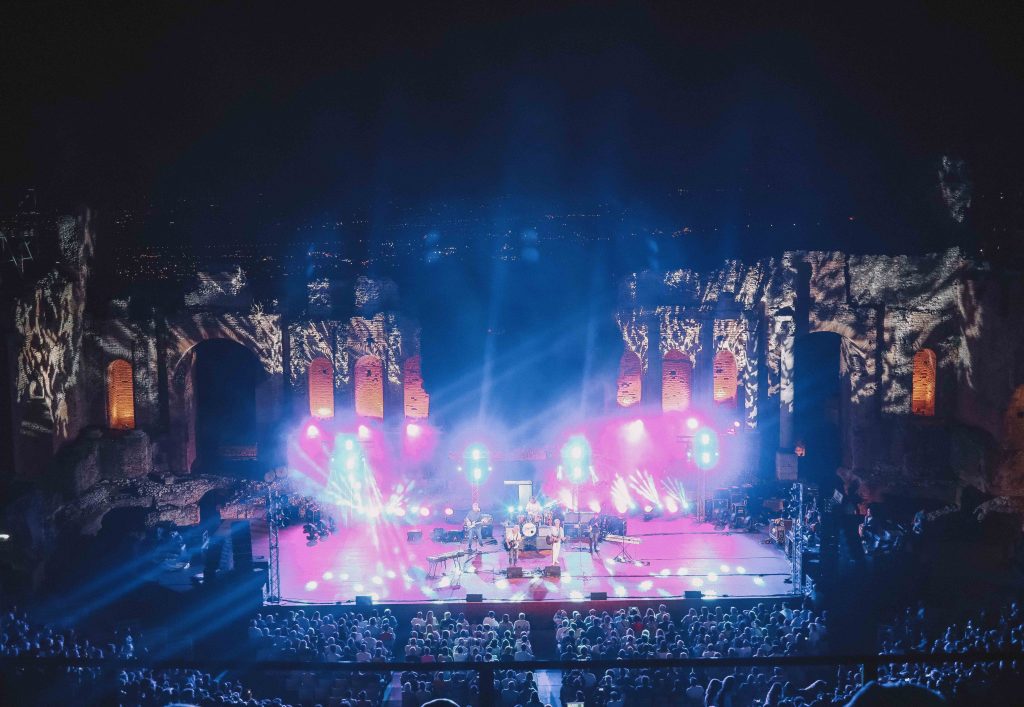 The concert was the perfect way to end our trip to Taormina. With glittering views of the town below, our evening here firmly cemented Taormina as one of my favourite Italian destinations to date. I hope that you'll find the time to enjoy it, too.
Looking for more Italian inspiration? Have a browse:
Pin: